Happy Wayfarer is reader-supported. When you buy through links on our site, we may earn an affiliate commission.
For every traveler stepping into the bustling world of aviation, one burning question never fails to arise "How long before departure does boarding start?". This query is not uncommon, because each airline has its unique guidelines and practices regarding boarding timeframes.
Let's examine the boarding start for domestic and international flights when to check your bags for a flight as well as US airports with minimum important timings. So, fasten your seatbelt and prepare for takeoff as we start our journey through the world of air travel.
How Long Before Scheduled Departure Time Does Boarding Actually Begin?
A flight's boarding process normally starts 30 to 45 minutes before the scheduled takeoff time. However, this may vary based on:
The airline;
The airport;
The specific flight (domestic or international flight).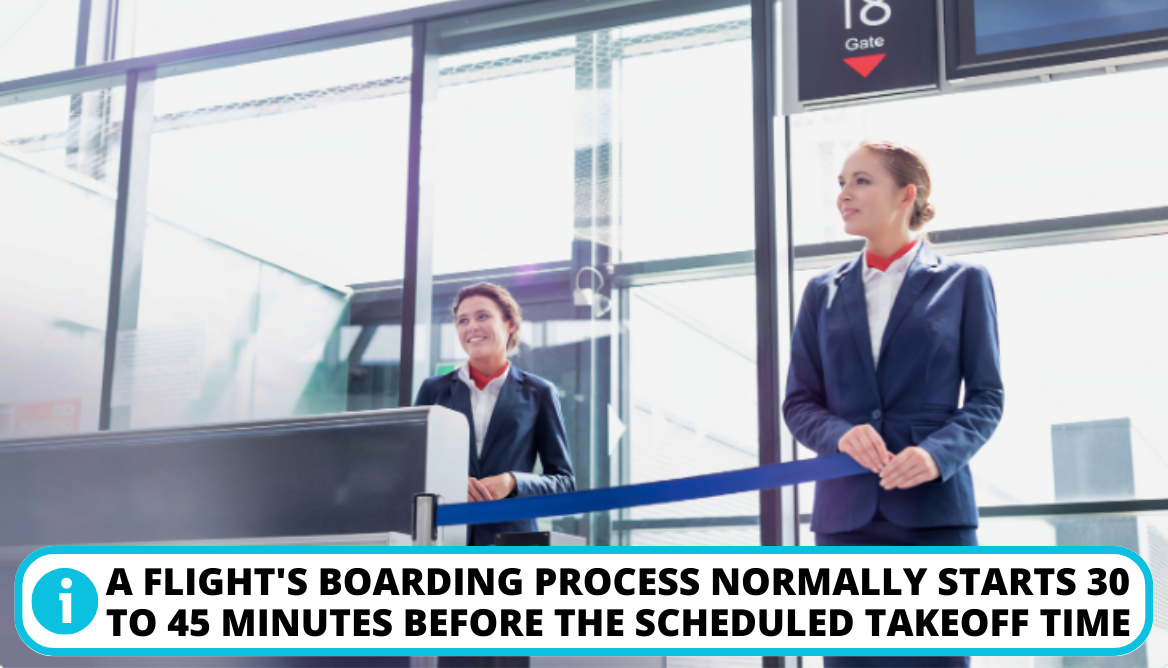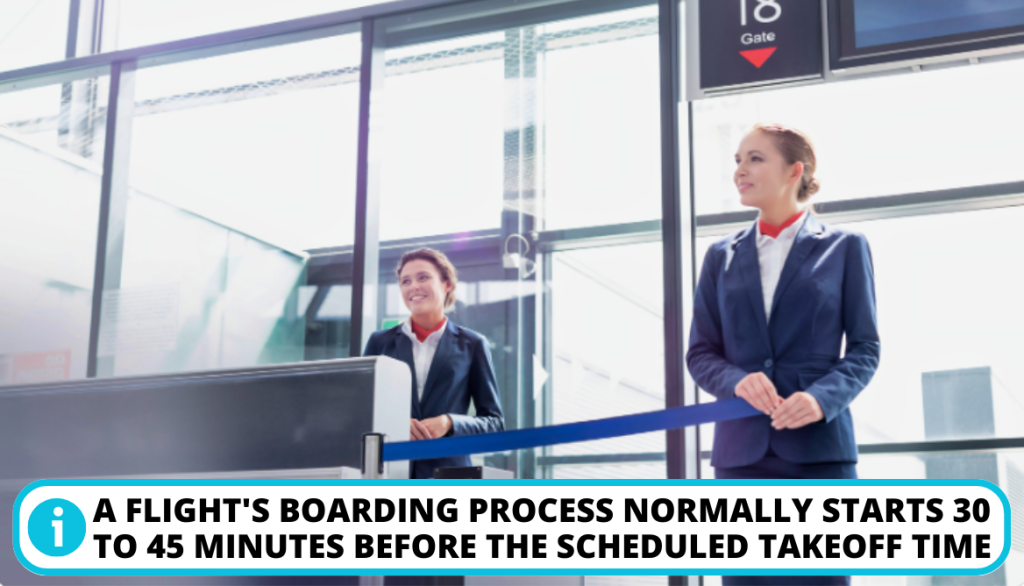 For flights with larger aircraft or high demand, certain airlines may begin boarding even sooner.
Important! To be on the safe side and avoid any potential issues, it's a good idea to arrive at the airport well in advance of your departure time. This way, you'll have ample time to go through all the necessary procedures and be ready for the scheduled take-off time.
Commencement Of Boarding For Domestic Flights
Airlines suggest you arrive at the airport at least two hours before a domestic flight but the boarding process typically begins 30 to 45 minutes before departure time. Some airlines might start boarding slightly earlier during peak travel times.
The boarding process is usually divided into groups or zones, and passengers are called to board in a specific order. Here's a typical boarding sequence for domestic flights:
1. Pre-boarding
During the pre-boarding phase, passengers who require special assistance, such as those with impairments, elderly travelers, or families with young children, are typically permitted to board first.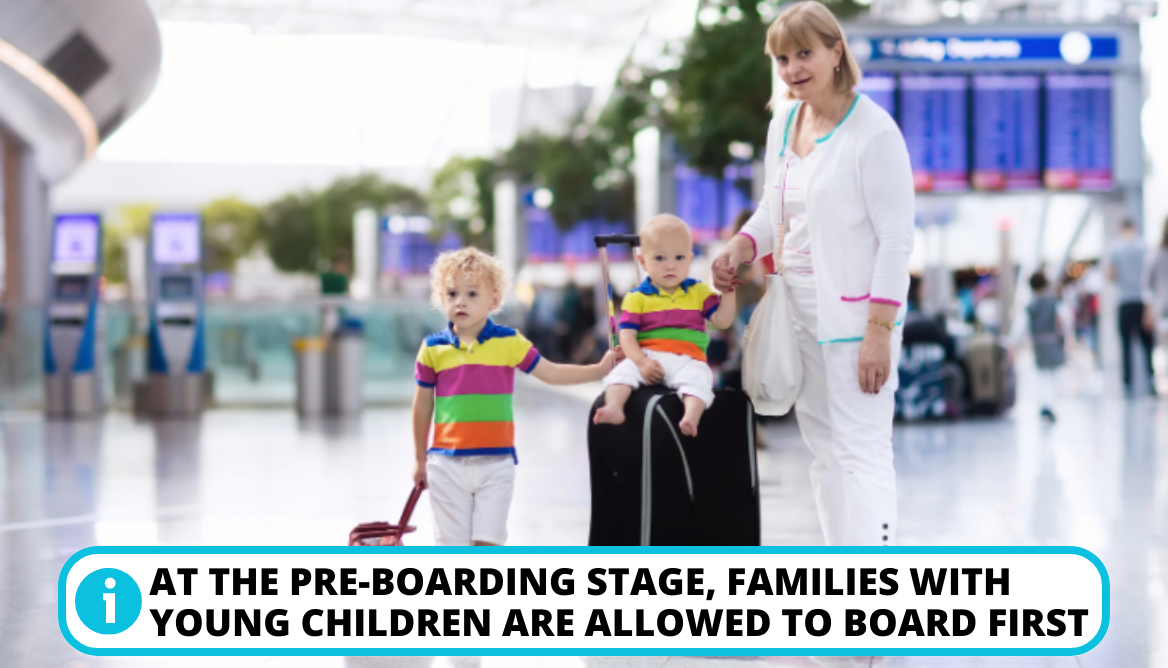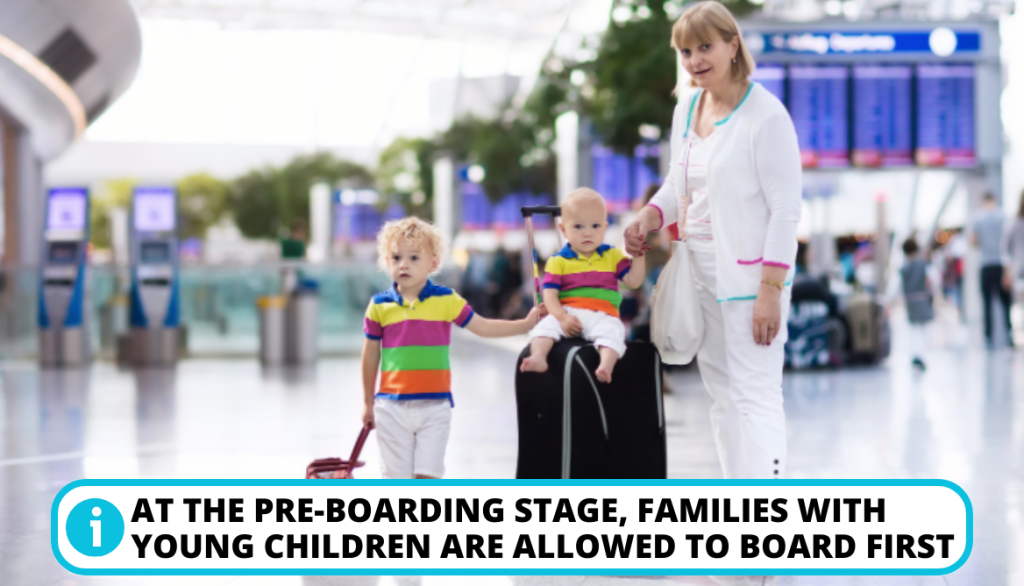 2. Priority Boarding
Some airlines offer priority boarding to their frequent flyers, premium class passengers, or passengers who have purchased certain fare classes. These passengers get to board before the general boarding begins.
3. General Boarding
Once priority and pre-boarding are complete, the rest of the passengers are invited to board the aircraft. Usually, this is done in groups or in rows, starting from the back of the plane and moving toward the front.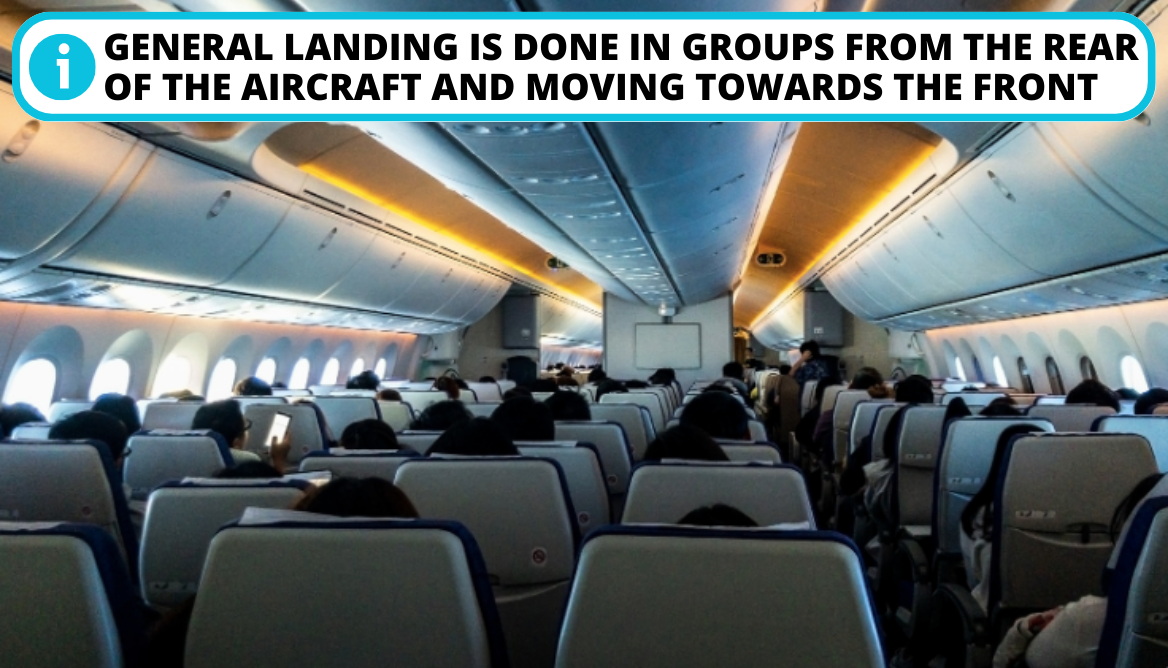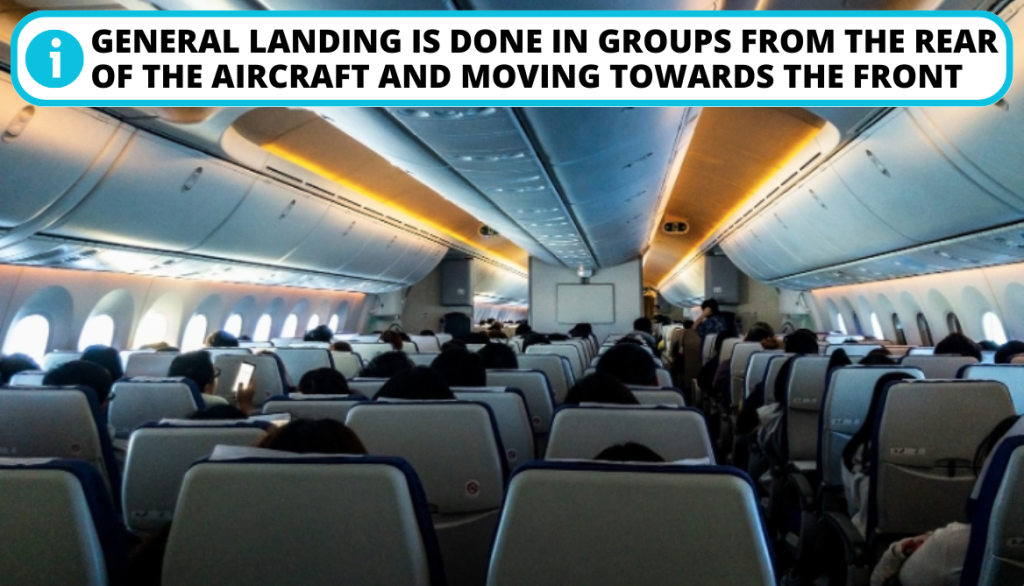 4. Preferred Boarding
This is offered to passengers who have purchased specific fare classes or have frequent flyer status that is not at the elite level. Passengers here have boarding access after priority passengers but before the general boarding.
Note: The boarding process for domestic flights is generally quicker and smoother than for international flights due to fewer passport checks and customs procedures.
Commencement Of Boarding International Flights
Airlines often start checking in 45 to 60 minutes before departure for overseas flights. This additional time is necessary to allow for extra security checks, immigration inspections, and other processes for travelers entering and leaving their nation.
The boarding sequence for international flights is similar to that of domestic flights, including:
Pre-boarding for special assistance passengers;
Priority for elite customers.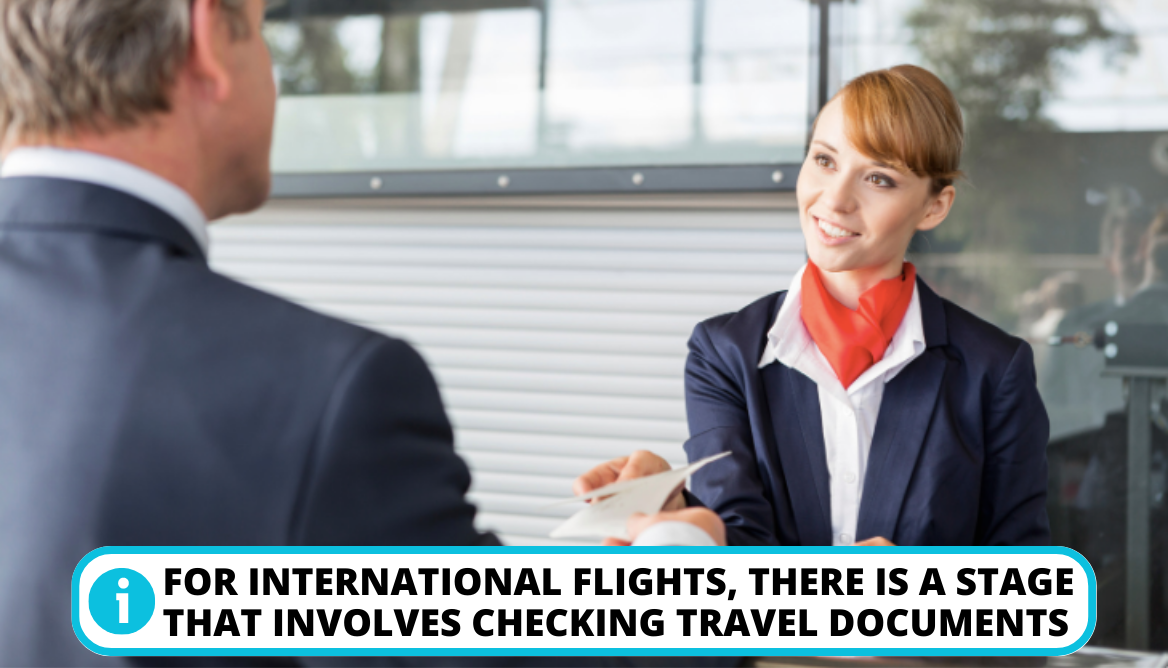 However, there is an additional step for international flights, which involves the verification of travel documents, such as passports and visas.
Important! Always check with the airline or review your flight itinerary for any specific boarding instructions or updates before heading to the airport. It is even more important to arrive at the airport early for foreign flights to enable enough time for these additional checks and processes.
Note: Boarding on American Airlines flights usually ends 15 minutes prior to departure in respective of the destination.
General Overview of Boarding Practices for American, United, Delta, and Southwest Airlines
"Now, let's look at the current boarding practices and time for American Airlines, United Airlines, Delta Air Lines, and Southwest Airlines as of 2023."
1. American Airlines
American Airlines typically uses a group boarding system. Passengers are divided into several groups based on their fare class, frequent flyer status, and priority.
These groups are usually numbered, with higher numbers boarding later. The boarding groups typically follow this order though specific details may vary:
Group 1: ConciergeKey members, First Class, and Business Class passengers
Group 2: AAdvantage Executive Platinum and Oneworld Emerald members
Group 3: AAdvantage Platinum Pro and Oneworld Sapphire members
Group 4: AAdvantage Platinum and Oneworld Ruby members, eligible AAdvantage credit card holders
Group 5: Main Cabin Extra passengers
Group 6: Main Cabin passengers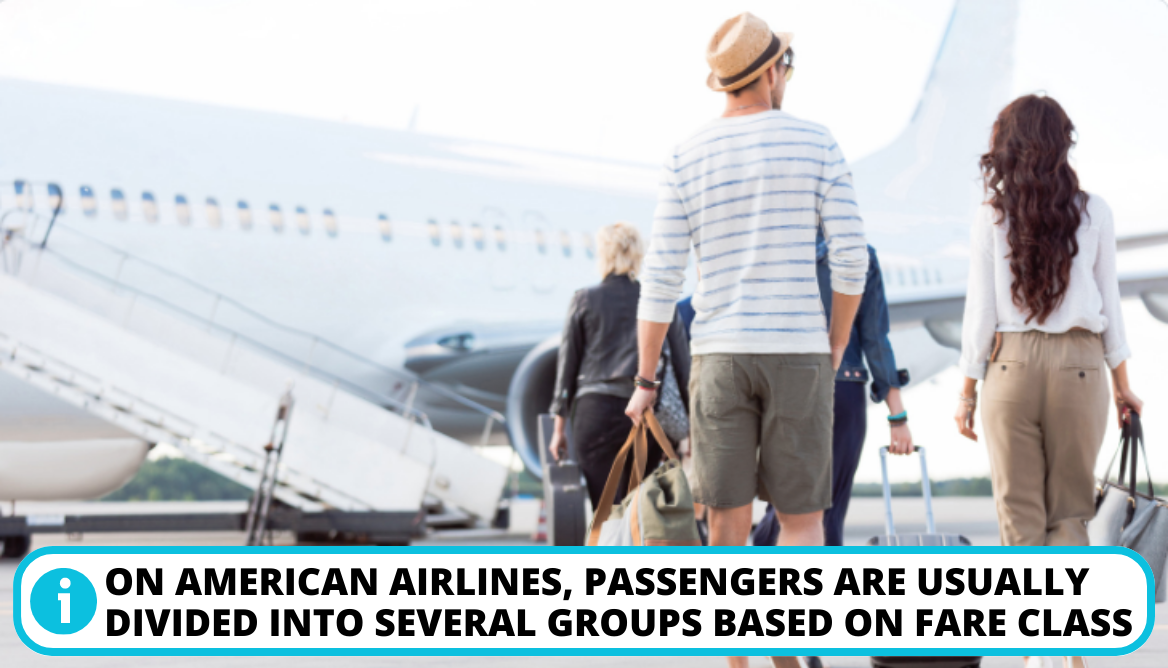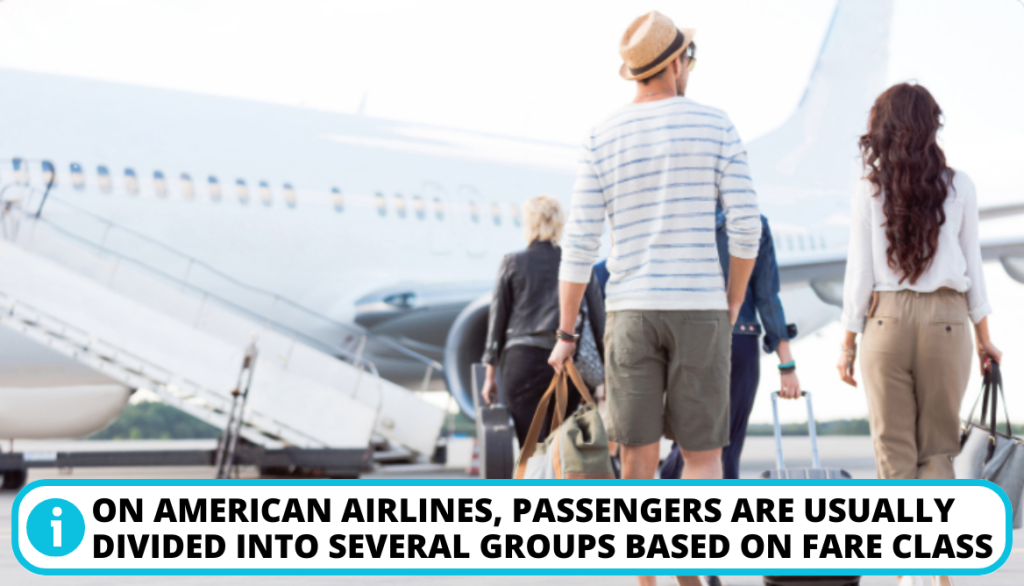 2. United Airlines
They also employ a group boarding system. The boarding groups are similar to American Airlines but may have slightly different names or orders:
Group 1: Global Services members, United Polaris passengers, and United First Class passengers
Group 2: Premier 1K members and United Business Class passengers
Group 3: Premier Platinum members
Group 4: Premier Gold members
Group 5: Premier Silver members, United credit card holders, and Star Alliance Gold members
Group 6: Economy Plus and basic Economy passengers
3. Delta Air Lines
Delta uses a zone-based boarding system, where passengers are assigned to specific boarding zones based on their fare class, frequent flyer status, and other factors. The zones may vary depending on the aircraft and flight route, but generally follow this pattern:
Zone 1: Delta One passengers.
Zone 2: Delta Premium Select, First Class, and Delta Comfort+ passengers.
Zone 3: Delta SkyMiles Medallion members like Diamond, Platinum, Gold, Silver.
Zone 4: Main Cabin passengers including basic economy.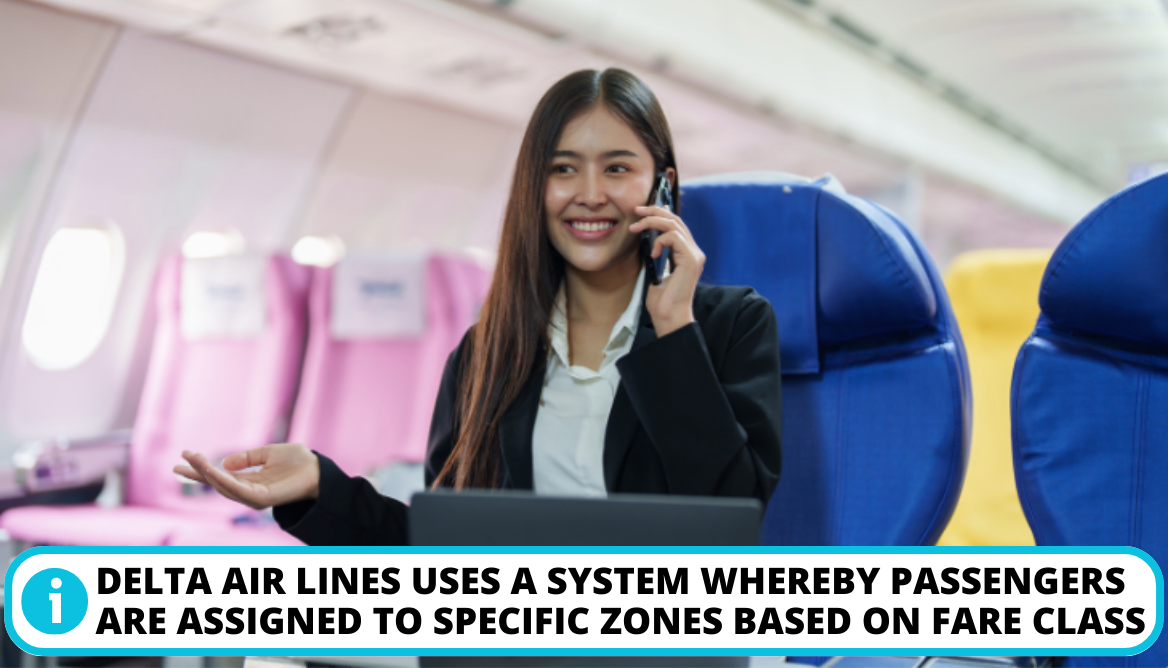 4. Southwest Airlines
Southwest Airlines follows a unique boarding process known as "Open Boarding" or "Family Boarding." There are no assigned seats on Southwest flights, and passengers are instead assigned a boarding group and a number within that group based on their check-in time.
Passengers board in the order of their group and number, and they can choose any available seat on the aircraft.
Pre-boarding: Passengers with disabilities or those needing extra assistance
Group A: Passengers with A1-A60 boarding numbers
Group B: Passengers with B1-B60 boarding numbers
Group C: Passengers with C1-C60 boarding numbers
Below is a table summarizing the approximate timing for when boarding typically starts before scheduled departure for American, United, Delta, and Southwest Airlines.
| | |
| --- | --- |
| | |
| | 30 to 50 minutes before departure |
| | 35 to 50 minutes before departure |
| | |
| | 30 minutes before departure |
Important! Keep in mind that specific boarding practices and times may vary depending on the flight route, airport procedure, aircraft type, and size or special circumstances.
How Early Can You Check Your Bags for a Flight?
It's crucial to know when you can check your bags to reduce airport stress and wait times. Here are a few fundamental rules to follow even if the precise time for bag check-in can change depending on the airline, the airport, and the kind of aircraft.
Domestic Flights
Most airlines enable you to check your bags beginning two hours to three hours prior to departure at the airport desk or bag drop-off location. While smaller airports with fewer flights may have shorter check-in periods, some larger airports and popular routes may have extended check-in durations.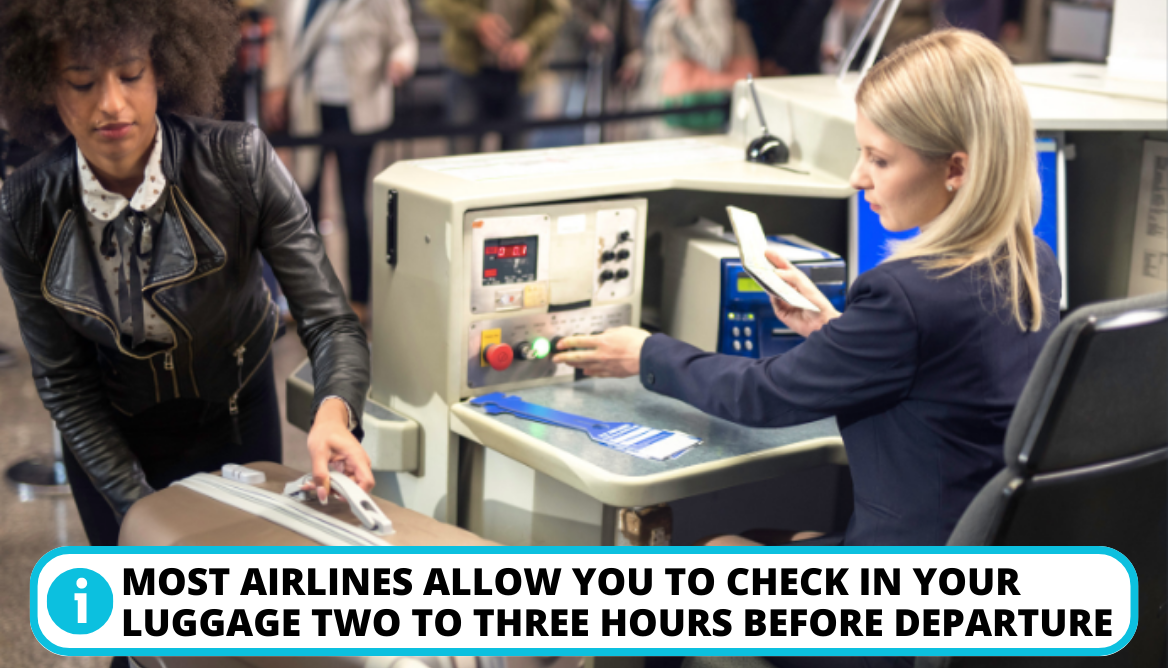 International Flights
Airlines typically open their check-in counters and bag drop services around 3 to 4 hours before departure time. This is due to the additional time required for immigration, security, and customs procedures for international travel.
Check out more detailed info in our detailed guideline: "How Early Can You Check Your Bags for a Flight".
When Is The Boarding Process Stopped?
A few minutes before departure, the flight's boarding process often comes to an end:
The precise boarding time can change depending on the rules of the airline and the procedures at the airport, but it usually concludes about 10-15 minutes before departure.
It's possible that late passengers won't be allowed to board the plane once the boarding process has ended.
If there are no more people to accommodate, any open seats may be assigned to standby passengers or left unfilled.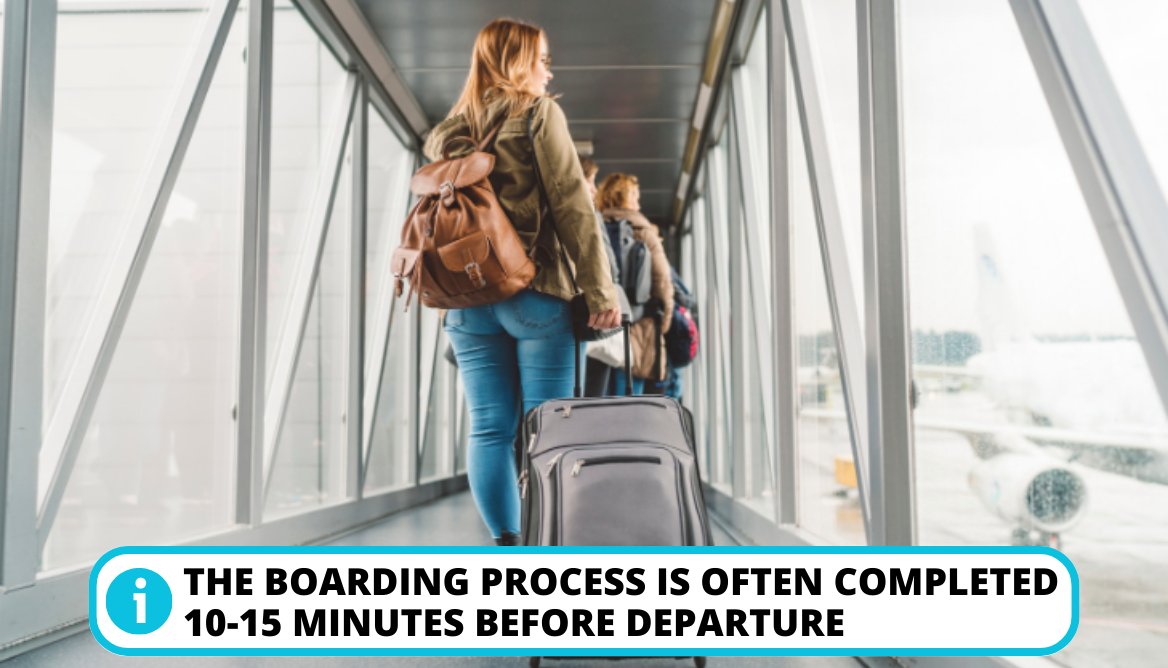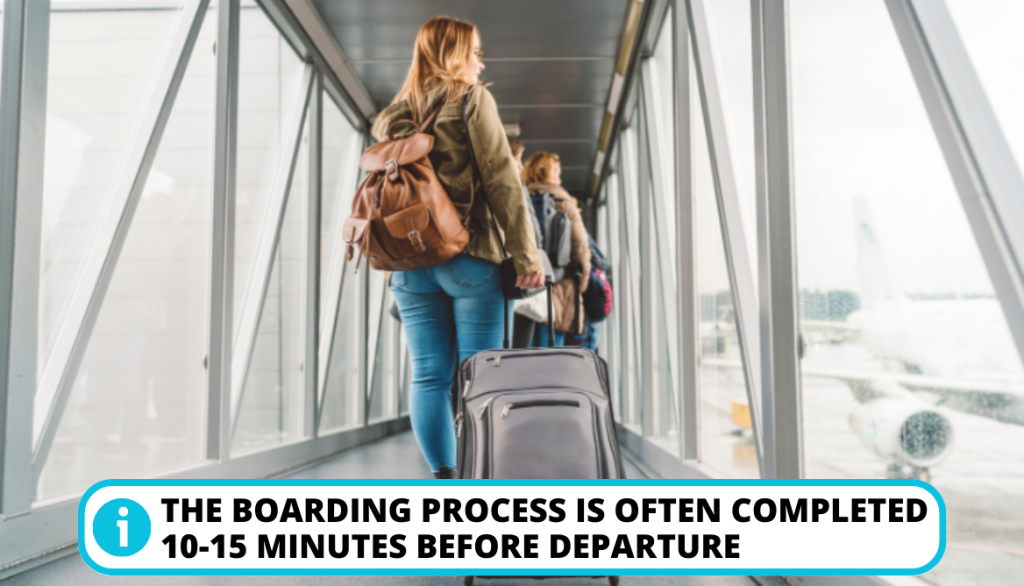 Important! You must be at the airport in advance of time to check in, complete the boarding procedure, and make sure you don't miss your flight.
United States Airports With Their Unique Minimum Requirements
Some US airports have specific minimum requirements for various purposes. The table below shows the minimum check-in time for most flights within the US, both non-stop flights with checked baggage, and carry-on luggage.
| | | | | |
| --- | --- | --- | --- | --- |
| | US Non-Stop Flight with Checked Bag | US Non-Stop Flight with Carry-on Bagage | US Connecting Flight with Checked Bag | US Connecting Flight with Carry-on Baggage |
| | | | | |
| | | | | |
| Chicago O'Hare United Airlines (ORD): | | | | |
| | | | | |
| | | | | |
| | | | | |
| | | | | |
| | | | | |
| | | | | |
| | | | | |
Note: Please keep in mind that these hours can change based on the airline and other variables, so it's important to clarify with the airline and confirm the precise requirements before your trip.
Obtaining an Earlier Boarding Time to Accommodate a Special Need
Passengers can request early boarding due to special needs. Airlines often provide assistance and accommodations for passengers who require extra support or have specific requirements.
This can include individuals with disabilities, medical conditions, or those who need extra time and assistance during the boarding procedure. To request early boarding, passengers should follow these steps: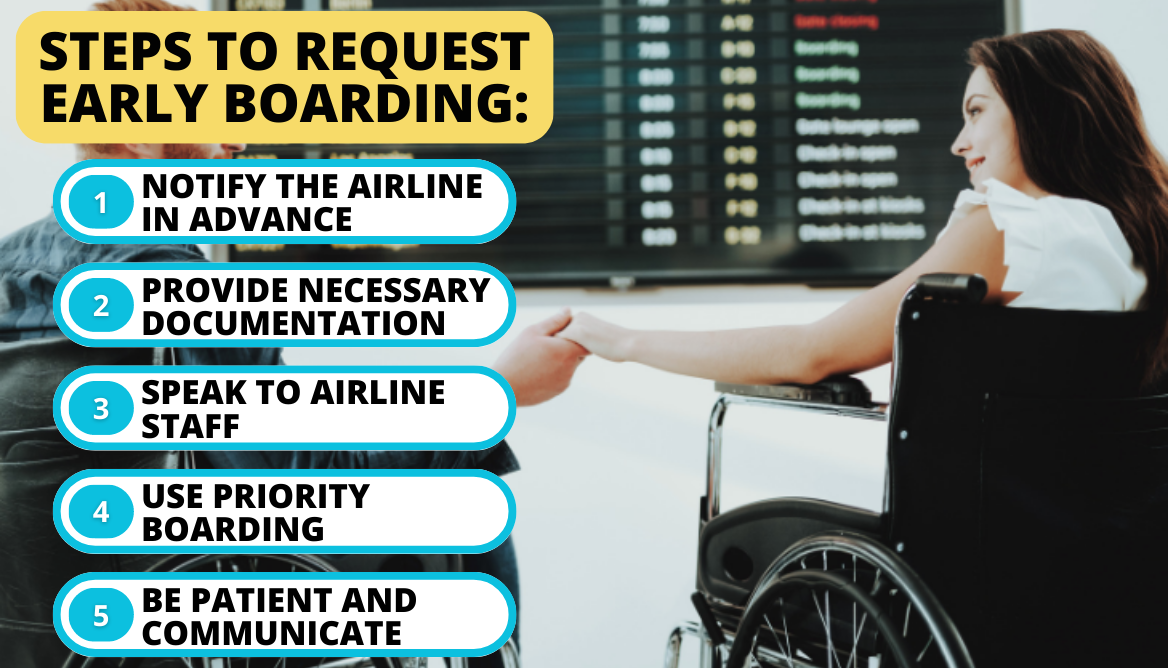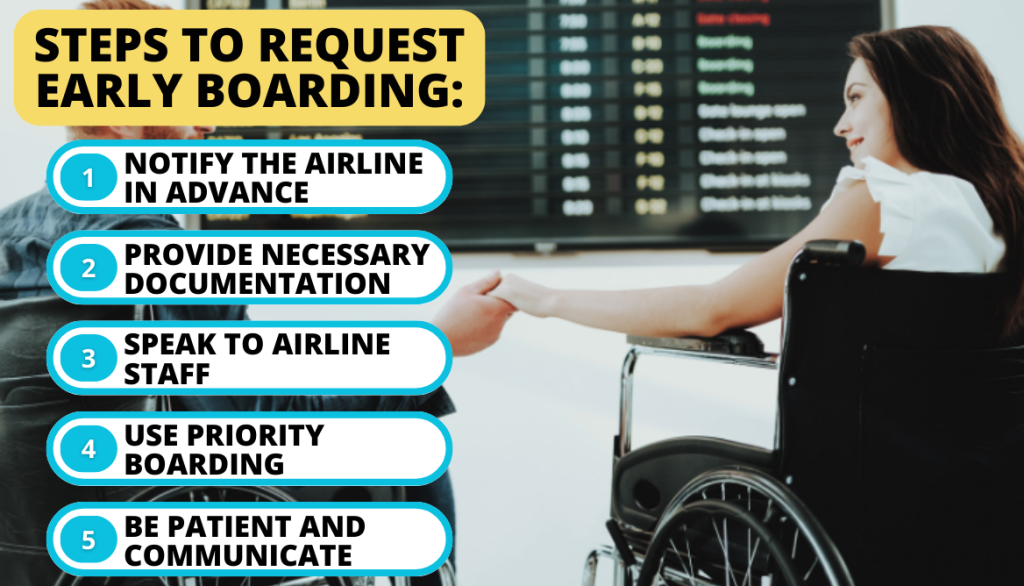 Notify the airline in advance: It is recommended to let the airline know about any special requirements you may have when purchasing your ticket or as soon as possible prior to the departure date. The majority of airlines have a separate department for customer service that deals with specific requests and allowances.
Provide necessary documentation: You may need to present medical records or other pertinent information to support your request, depending on the unique requirement. This aids the airline in determining the precise assistance needed before the scheduled departure time specified.
Arrive early at the airport: Passengers with special needs should plan to arrive at the airport with plenty of time before departure. This allows the airline staff to make appropriate arrangements and ensures a smooth process.
Speak to airline staff at the airport: Once at the airport, inform the airline staff at the check-in counter or the gate about your request for early boarding due to your special need. They will guide you through the process and provide any necessary assistance.
Make use of priority boarding options: Some airlines have priority boarding options for travelers with special requirements, which may include pre-boarding ahead of regular travelers. Whenever these services are offered, use them.
Be patient and communicate: During the boarding process, be patient and communicate your needs clearly to the airline staff. They are there to assist you and ensure your comfort and safety.
Important! Remember that different airlines may have specific policies and procedures for handling special needs, so it's best to check with the airline directly for their guidelines and to make necessary arrangements before the scheduled departure time.
FAQ
Can I arrive 1 hour before the flight?
No, you can't arrive 1 hour before the flight. It's advisable you arrive at least 2 to 3 hours before departure time for domestic flights and 3 to 4 hours before for international flights. This allows enough time for check-in, security checks, and boarding procedures.
How do I know my boarding time?
You can know your boarding time by checking the boarding pass. After you check-in (either online or at the airport), you will receive a boarding pass that includes essential information about your flight, including the exact boarding time and gate number.
Additionally, you can find your boarding schedule on the flight itinerary provided by the airline.
Is the boarding time the same as the departure time?
No, the boarding time is not the same as the departure time. The boarding time is the time at which the airline begins the boarding process, allowing passengers to enter the aircraft and find their seats.
On the other hand, the departure time is the actual time when the aircraft is scheduled to take off from the airport. There is usually a time gap between the boarding time and the departure time to complete various pre-flight procedures.
Can I make my flight 30 minutes before?
No, you can't make your flight 30 minutes before. The check-in counters often close around 30 to 60 minutes before departure time, and if you haven't completed the check-in process by then, you may not be allowed to board the flight.
Moreover, airports can be busy, especially during peak travel times, and you might face long queues at security checkpoints and boarding gate. To avoid the risk of missing your flight, it's better to follow the airline's guidelines and arrive at the airport with ample time before departure.
Conclusion
Understanding the boarding process and check-in timings is essential when embarking on a journey through the air. Although it's a general rule that boarding starts between 30 and 45 minutes before departure.
It's crucial to be aware that this might change based on the airline, airport, and flight circumstances. Generally, for domestic flights, bag check-in opens around 2 to 3 hours before departure, while for international flights, it's around 3 to 4 hours before departure.
Have you ever encountered challenging experiences during boarding? Share your stories with us! in the comment section.