Happy Wayfarer is reader-supported. When you buy through links on our site, we may earn an affiliate commission.
The captain's dinner may be a familiar term to you, but when is the Captain's dinner on Carnival cruise? On board Carnival Cruises, guests can participate in fun activities and enjoy themed nights out. One of such activities is the Captain's Dinner.
In this article, I will explain what a captain's dinner is about, what to wear to the captain's dinner when it takes place, and if it is a must for you to attend. Let's begin!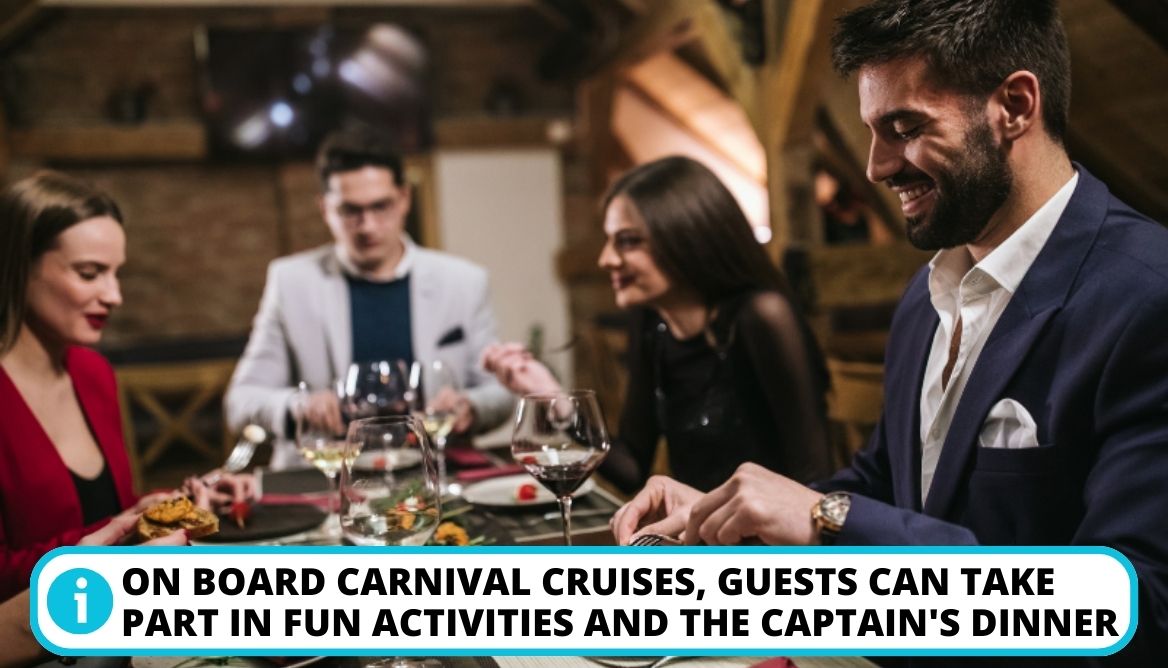 What Does the Captain's Dinner Entail on a Cruise Ship?
The term "Captain's Dinner" can be used to describe several distinct cruise ship activities. On most contemporary vessels, it is an occasion of formal dinner, often accompanied by a pre-event gathering where attendees can interact with the ship's captain.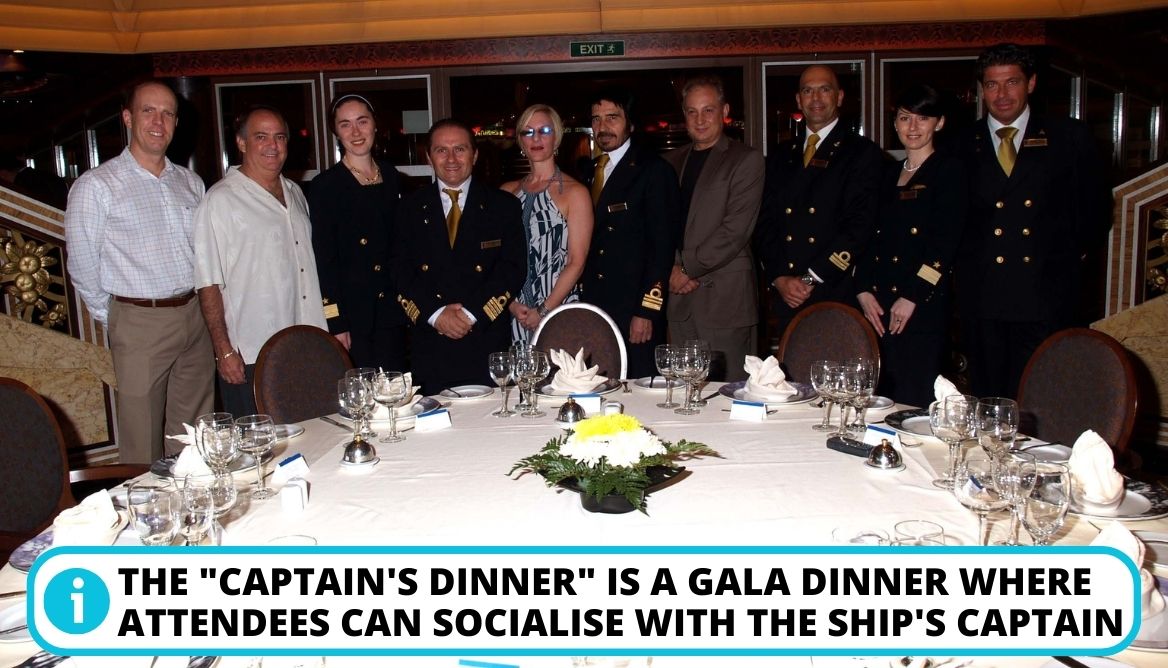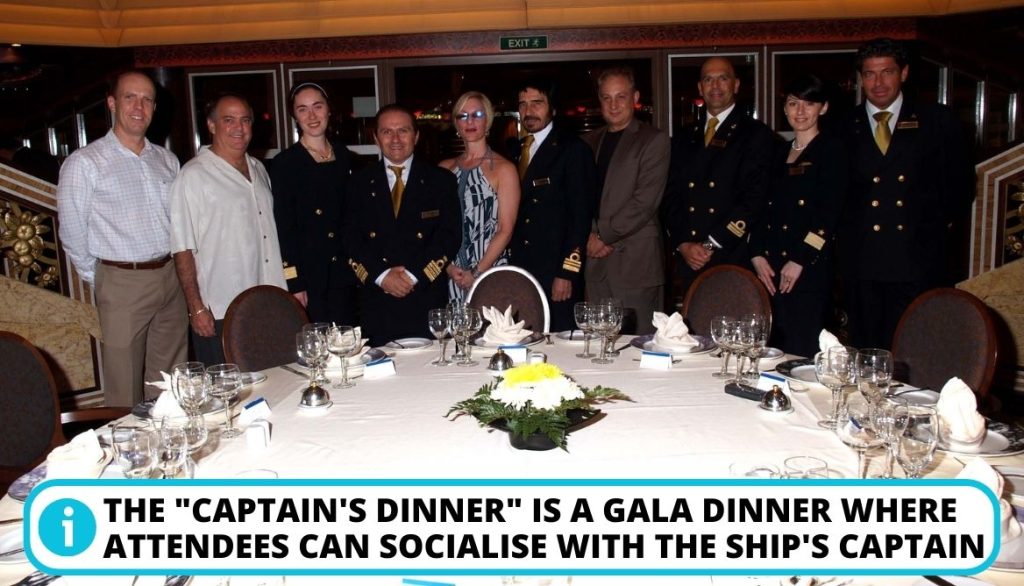 The concept of a Captain's Dinner, often known as the Captain's Table, has been a longstanding tradition in cruise line experiences.
This invariably signified a singular aspect – the chance for patrons to accompany the vessel's captain to the most desirable table within the dining establishment for the evening meal.
On specific trips, it still refers to eating at the captain's table as in the past.
Does the Captain's Dinner Still Exist?
Captain's Dinner, once regarded as thrilling and limited, has experienced a decline in prominence within the past two decades. The term typically denotes the initial formal evening at sea and a dinner with the captain, which may be accessible to a more extensive gathering or all individuals on board.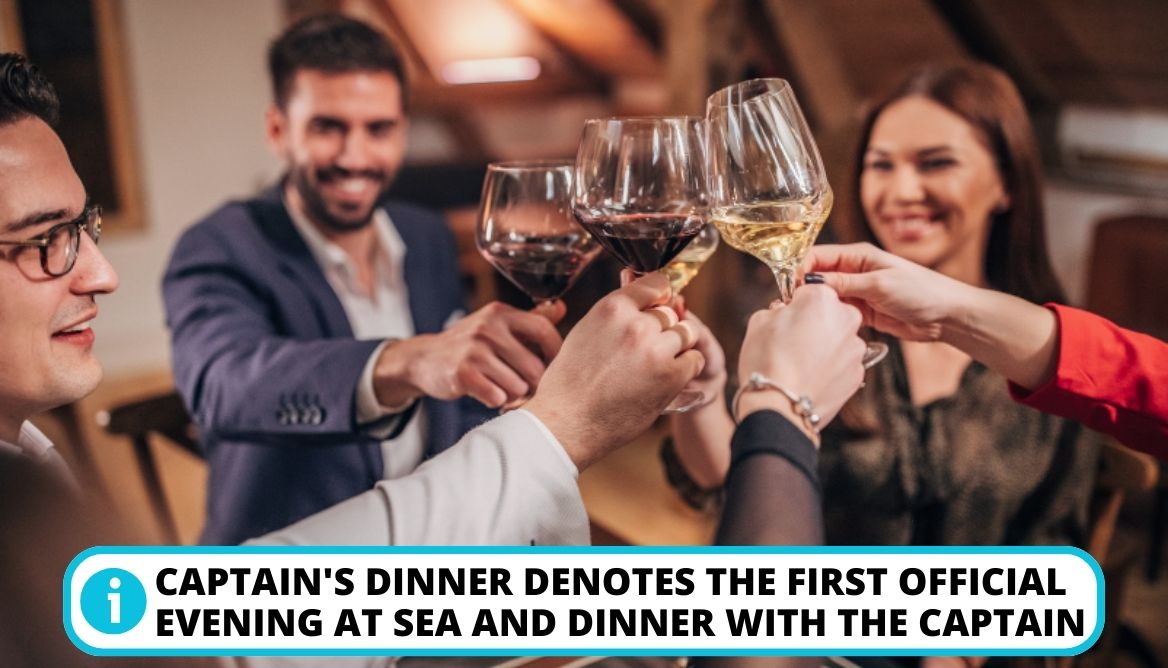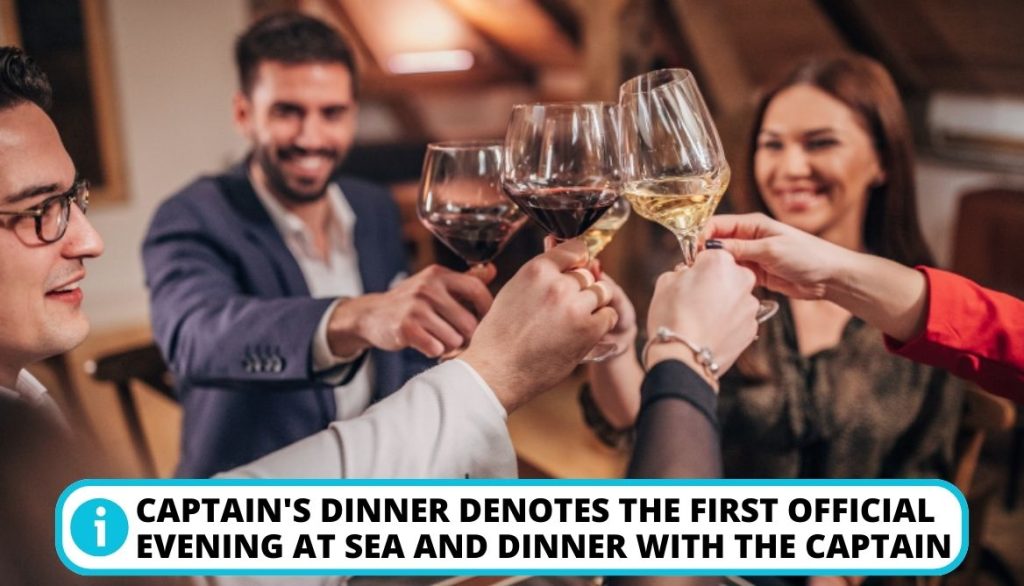 What Has Changed in the Captain's Dinner?
Several things have changed, including the following:
One potential scenario has the ship's captain delivering a formal address at the commencement of the evening meal, followed by the subsequent events unfolding customarily.
In certain instances, alternative cruise itineraries may include a pre-dinner cocktail reception, during which the captain is in attendance, allowing visitors to engage with them and potentially get a photo opportunity with the captain.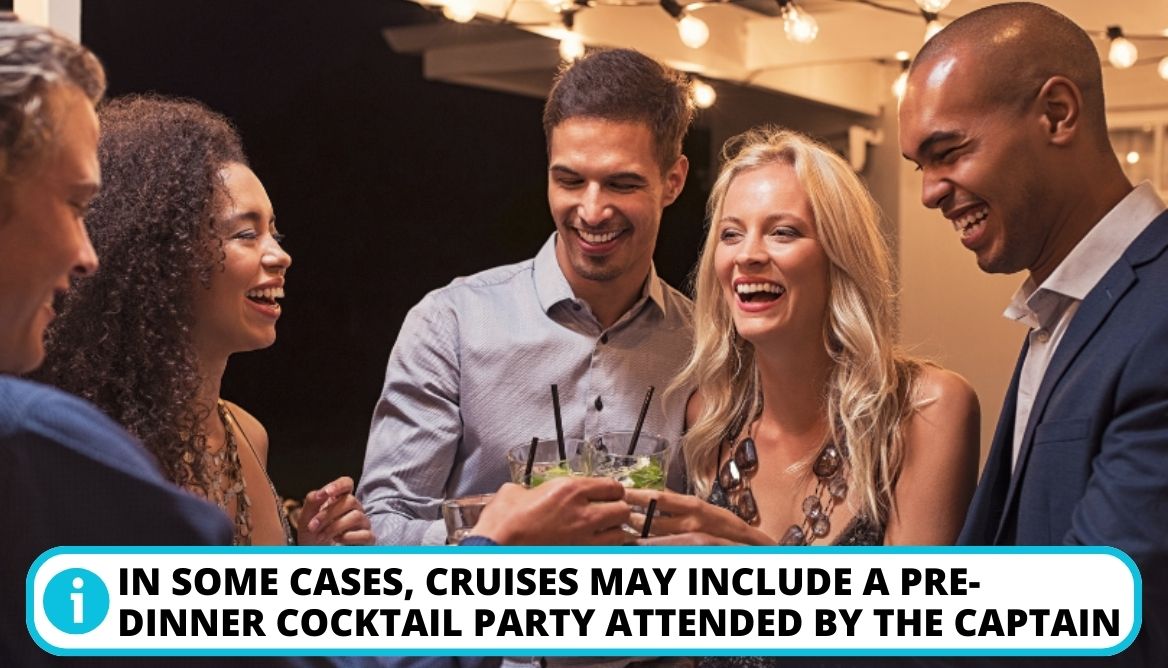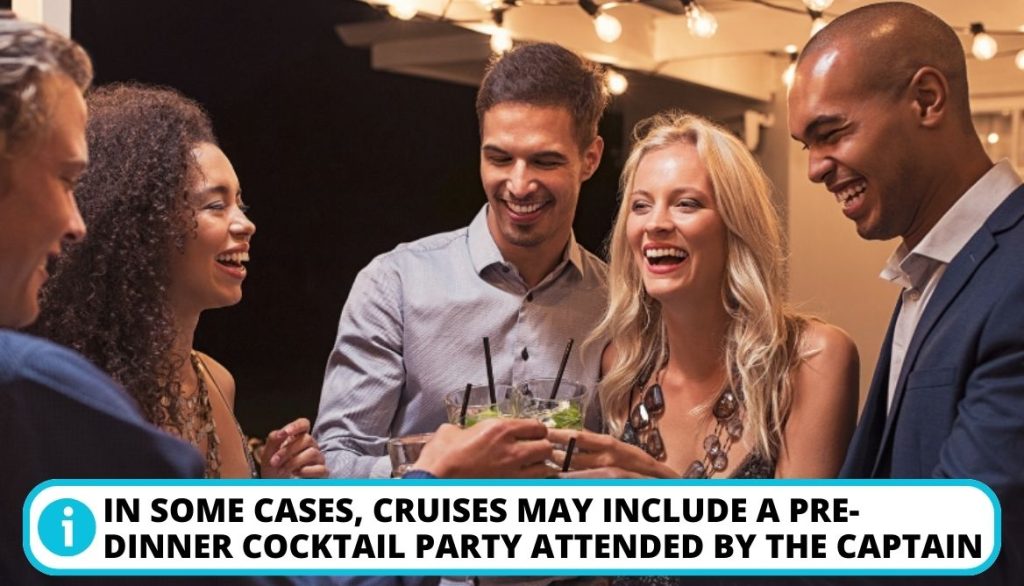 When Is the Captain's Dinner on Carnival Cruise Line?
The second day of a Carnival Cruise is typically reserved for the Captain's Dinner. However, the schedule is flexible and may vary to accommodate the trip.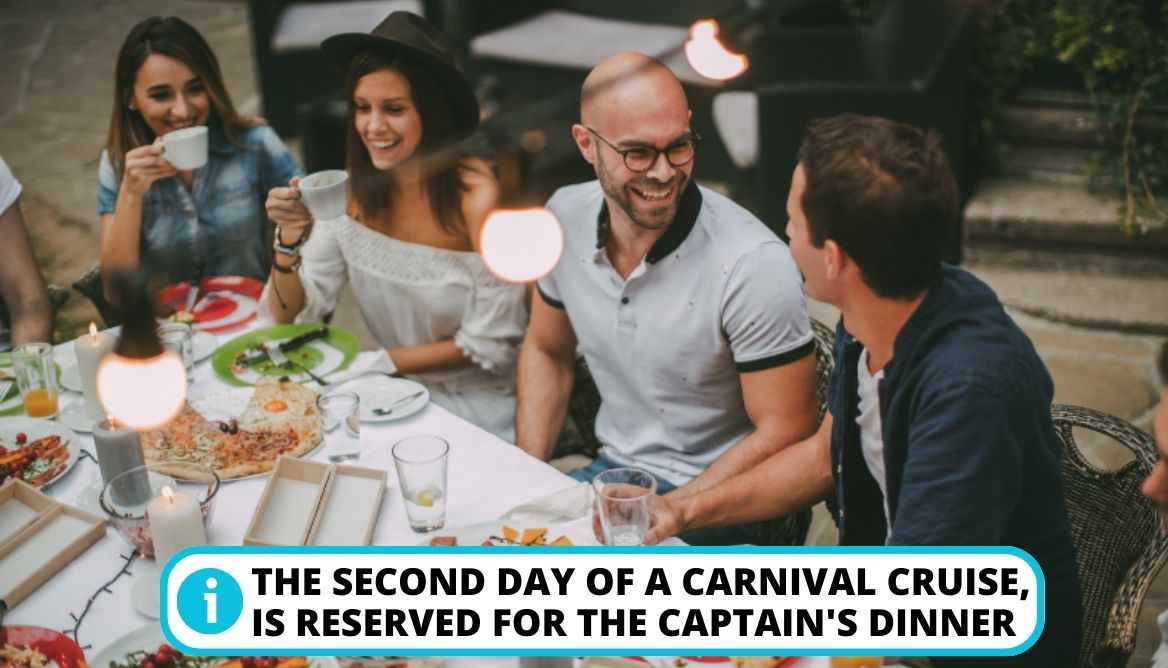 There will be a formal dinner when the captain and crew can be photographed with guests. It's typically incorporated in the trip's price and happens once or twice. Here are the highlights:
For this occasion, the main dining area will be appropriately furnished.
On this night, visitors will be seated at predetermined tables and treated to a unique supper menu and performance.
The captain and his crew have their table.
The gathering is kicked off with a toast from the captain.
You should get there early to secure a comfortable seat at this popular event.
What Does a Formal Night on a Carnival Cruise Mean?
Throughout the voyage, one or two formal events called "Formal Nights" are hosted by Carnival voyage. Except for the event days, this is the same as the Captain's Dinner.
Formal Night spans multiple evenings over the voyage, whereas Captain's Dinner is a dedicated event on the second day. Formal attire is required; you can choose from various fine dining options.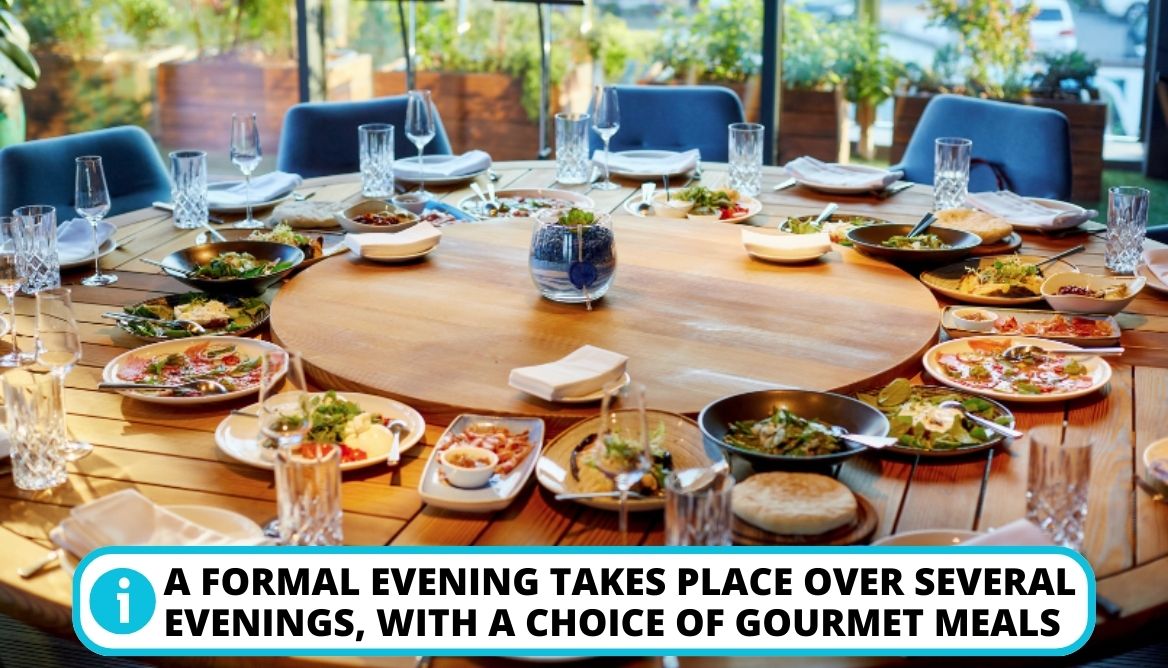 What Is the Average Number of Formal Evenings on a Carnival Cruise Line?
The cruise duration determines how many nights are designated as Formal evenings (Cruise Elegant).
There is often only one formal night on a short (two- to five-day) cruise.
You may count on two formal nights if your cruise is six days or longer.
The inaugural formal night often occurs on the voyage's second night or third day. The subsequent formal evening is usually planned for the second or third day preceding the conclusion of the cruise, contingent upon the specific itinerary.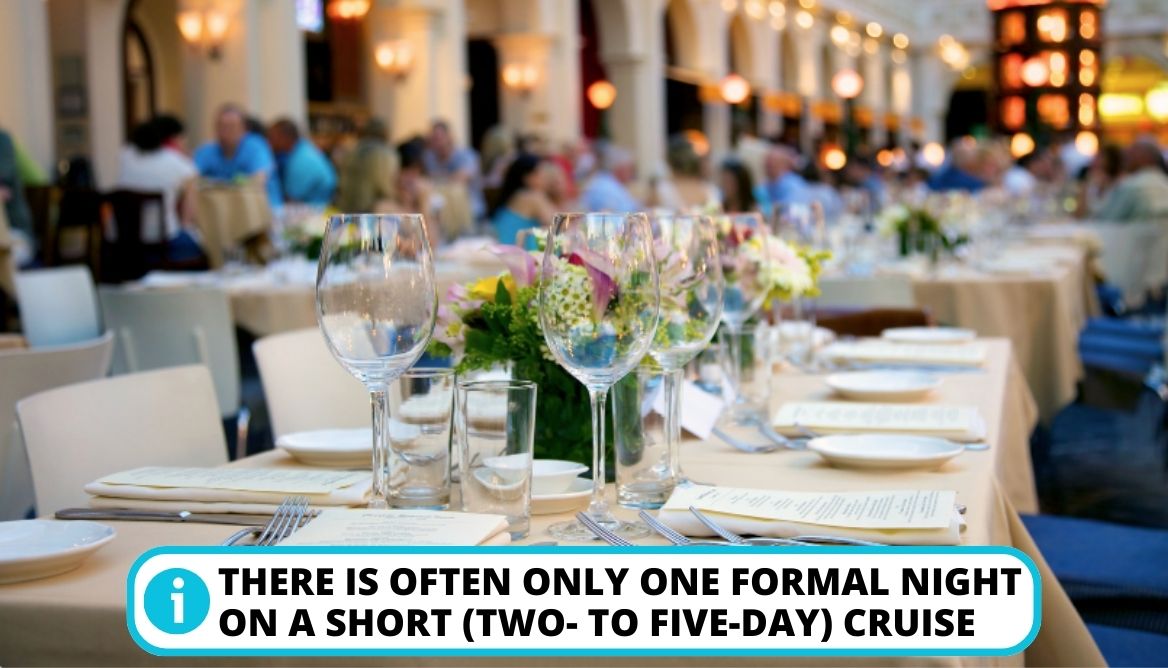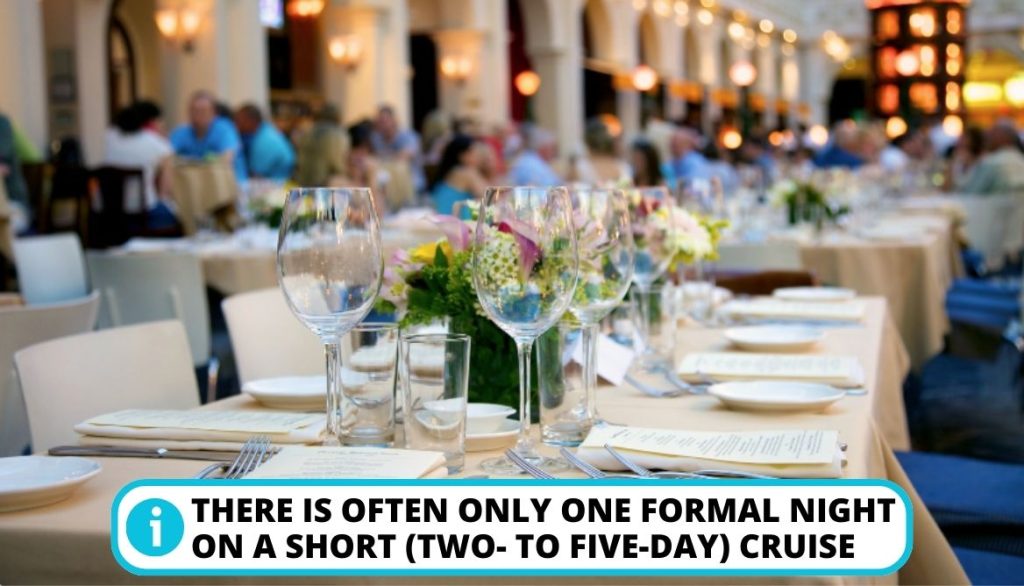 Does Everyone Have to Attend the Captain's Dinner at the Main Dining Room?
The answer to this question is not universal because it will vary depending on your chosen cruise line. Before booking a cruise, it is recommended that you contact the cruise line directly to learn about their unique regulations. You can glimpse Captain's Table, one of the ship's finest restaurants, at some point during your voyage.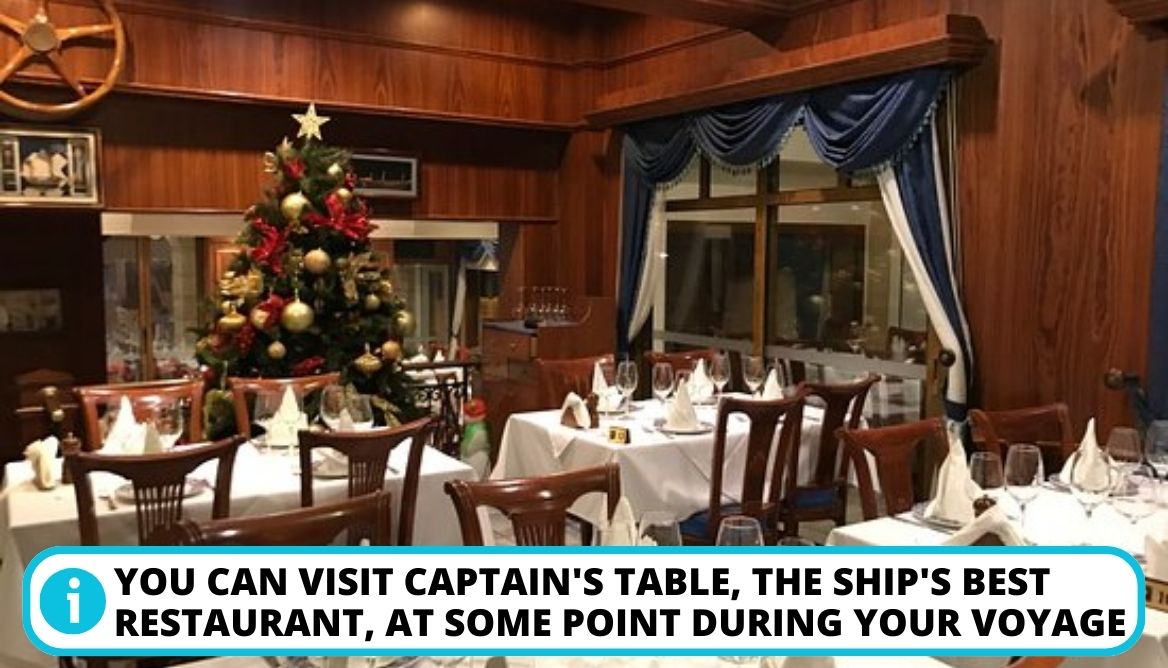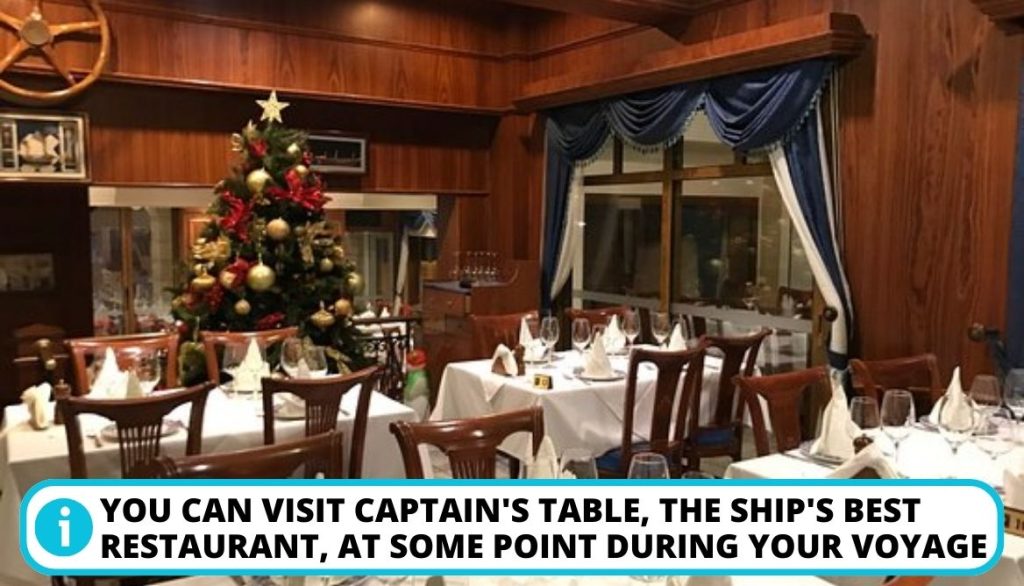 How Does One Go About Having Dinner With the Captain?
You can request a few ways to join the captains' table for dinner. What happens during the captain's dinner?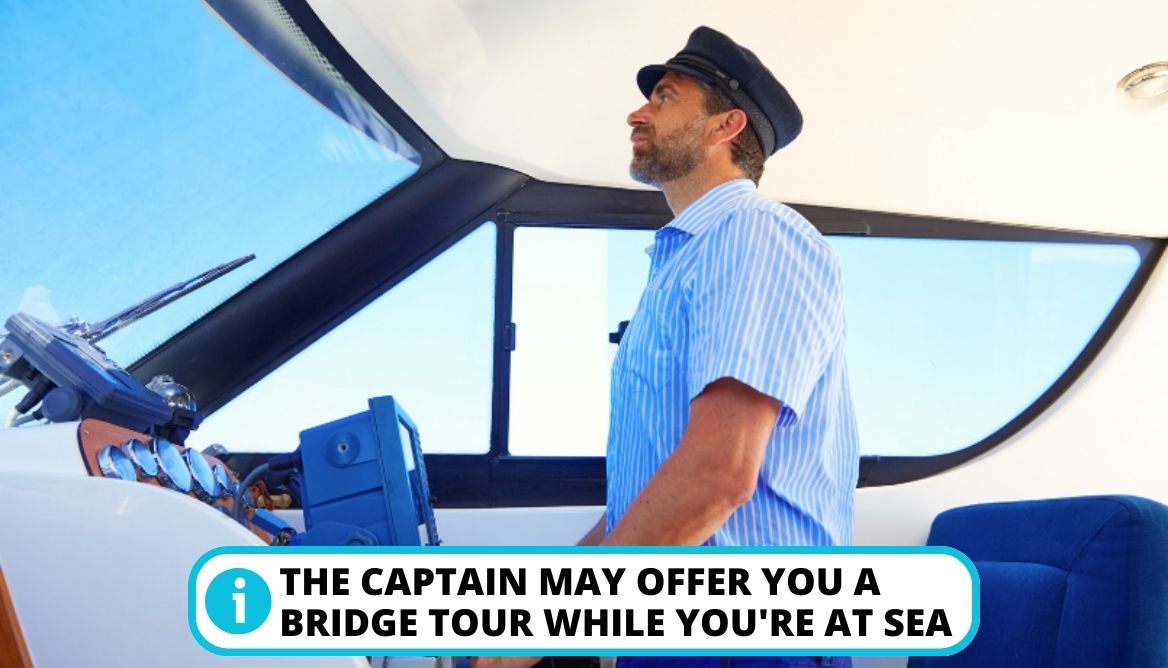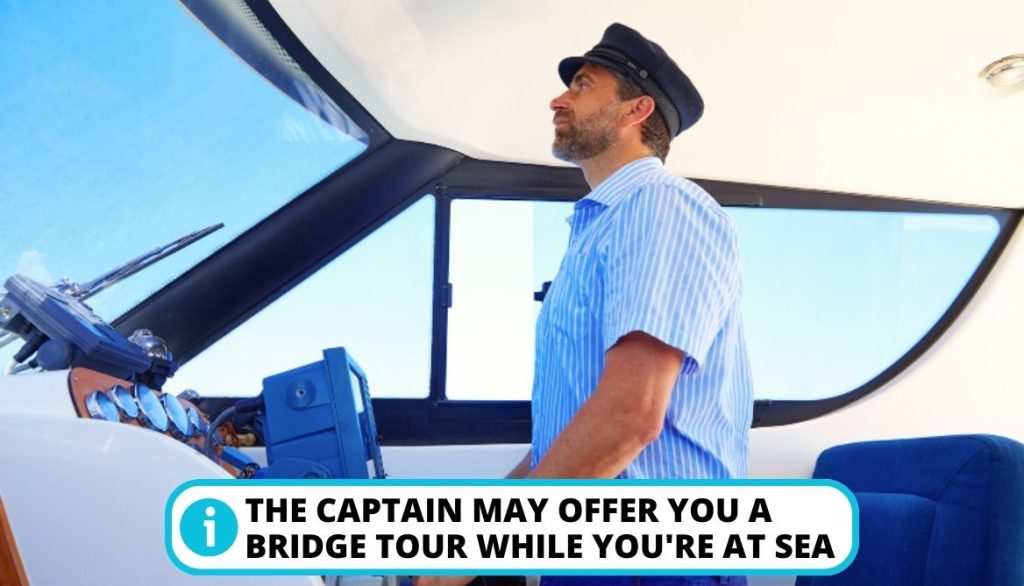 When having a cocktail party, the captain's table service typically includes a photograph of the captain after that.
In rare instances, the captain may delegate sitting duty to another senior staff member.
In addition, the captain may offer you a bridge tour while you're at sea.
Formal Night
A formal evening aboard a cruise ship is something that requires advanced preparation. The shipmates have a blast getting to know one another and enjoy a good time during Captain's Night. This should, however, not make you tense.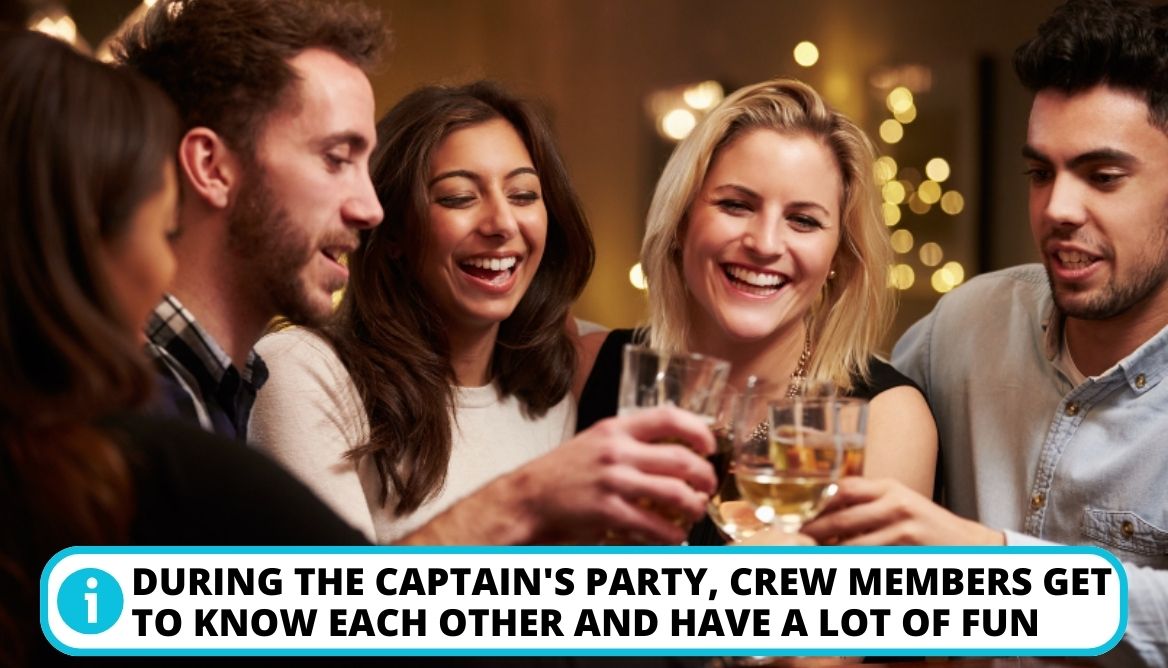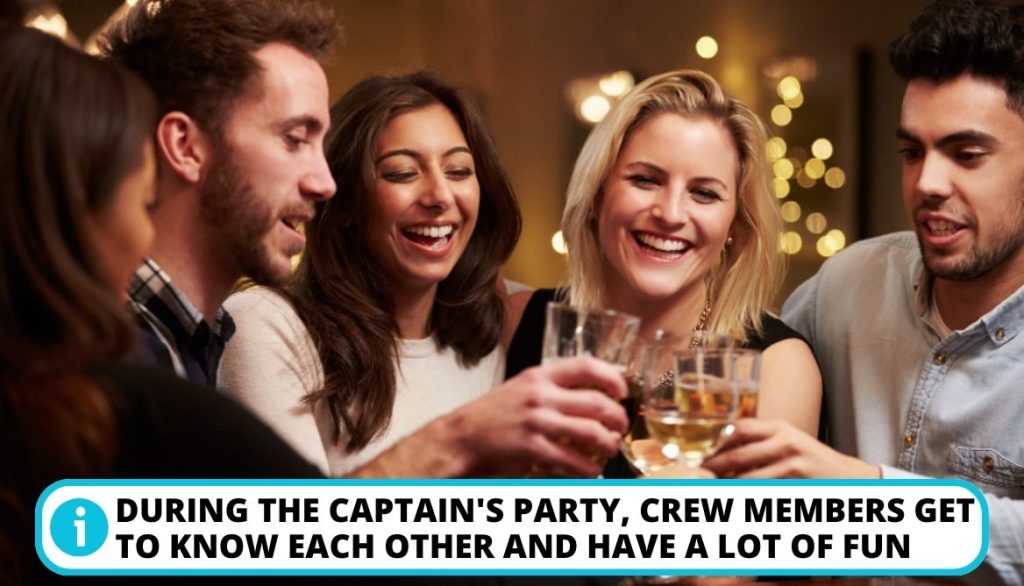 To maximize your time, you should:
Schedule your arrival on the cruise for early evening.
Remember that a formal night is more than just a chance for visitors to don their finest attire.
Given this is such a momentous event, the cruise ship's official photographers will be present to take pictures.
Determining Appropriate Dress Code for the Captain's Dinner on Carnival Cruise Lines
Occasionally, a captain's reception or ball may be organized with formal nights on cruises. Most cruise lines establish dress standards for captain's balls to ensure attendees wear acceptable dress during the elegant night. Men are advised to make use of: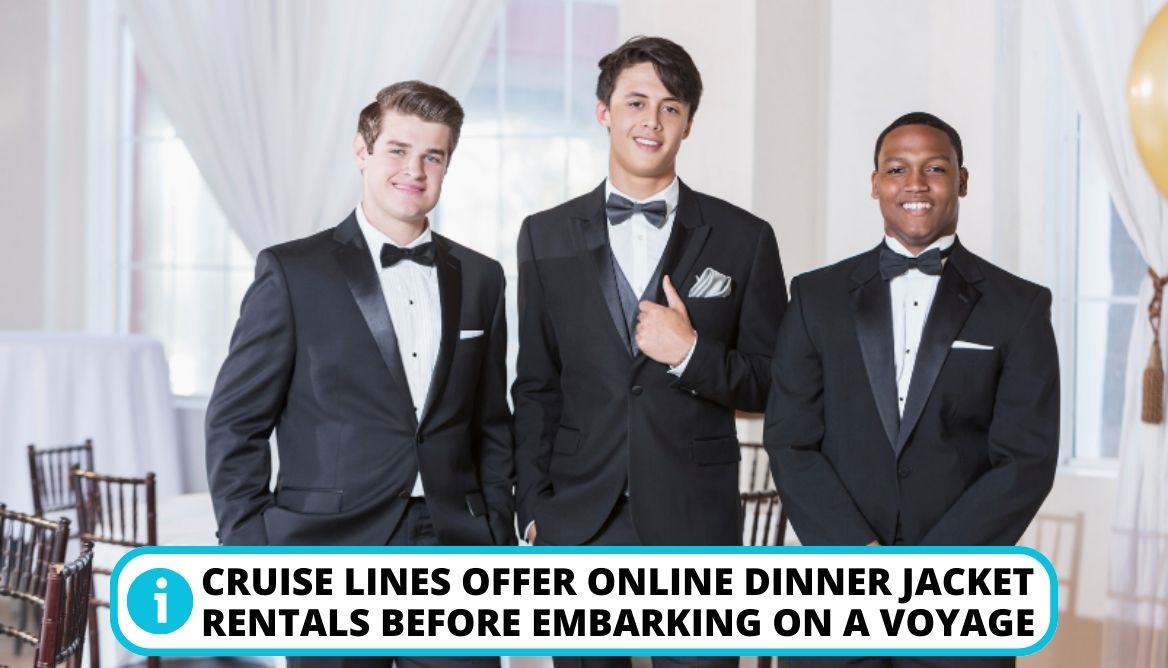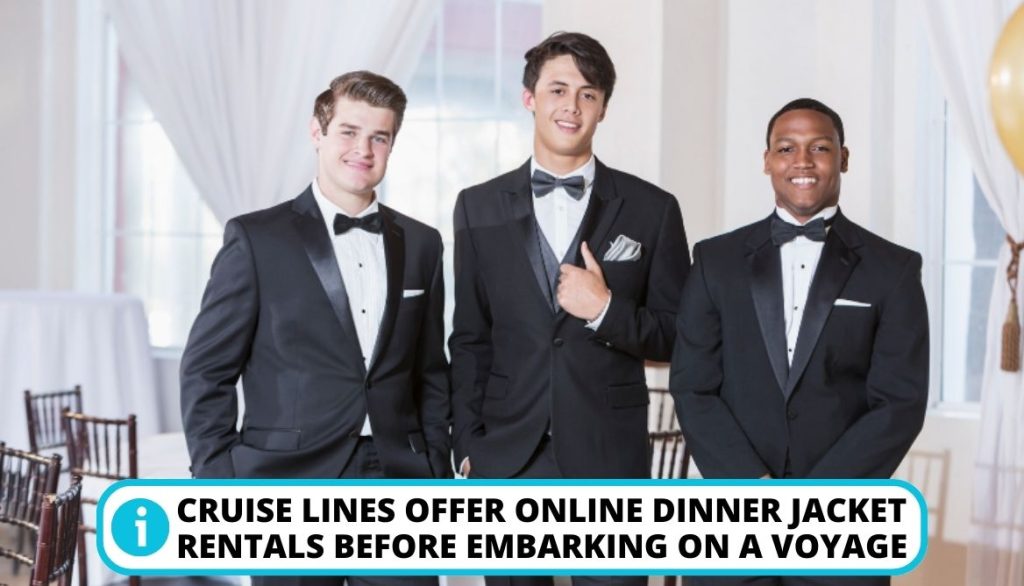 The sport coat;
Button-down shirt;
A well-chosen tie.
For women, it is imperative to:
Discard outdated cocktail dresses and gowns currently stored in one's wardrobe.
Instead of choosing to wear flip-flops within the cabin, it is advisable to consider alternatives such as heels, flats, or elegant sandals.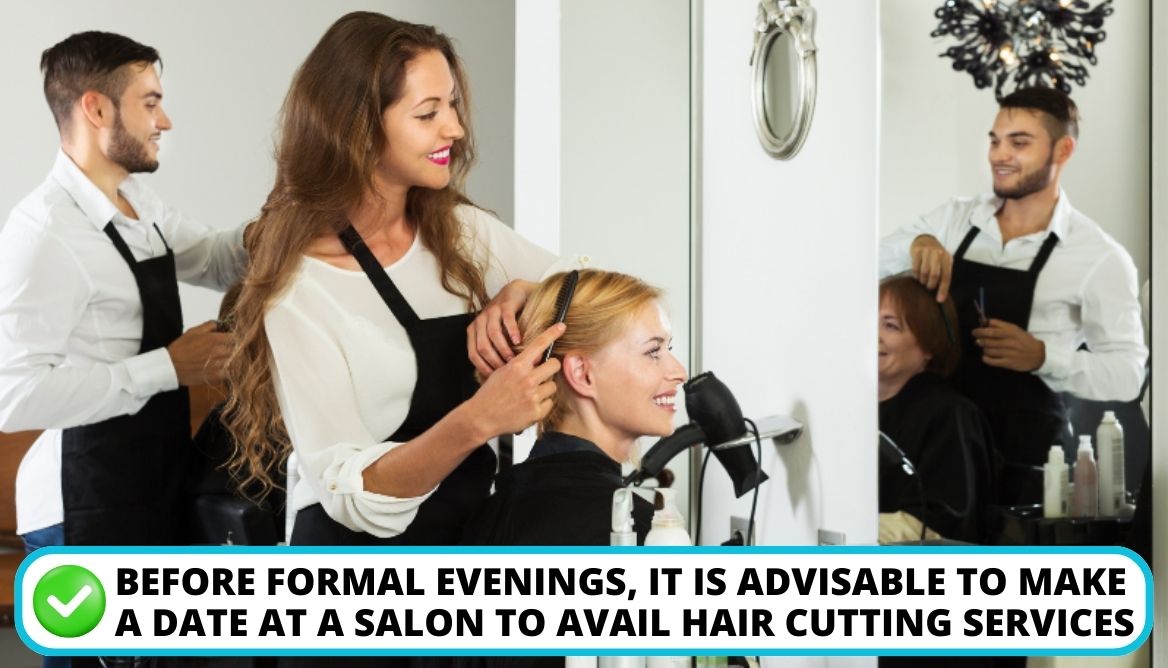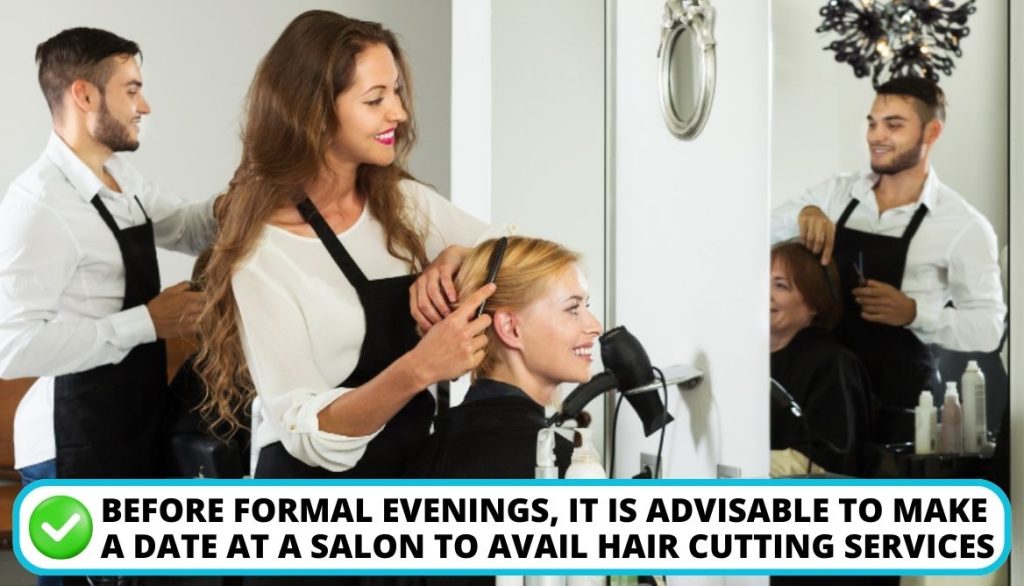 Typically, cruise lines offer the convenience of online tuxedo rental services before embarking on a voyage. Before the formal nights, it is advisable to schedule a date with the salon on the ship to avail oneself of hair-cutting services and manicure and pedicure treatments.
Elegant Cruise Elegant Event: Formal Evening Outfit
Guests at a "cruise elegant" affair are expected to dress formally during this elegant night. Acceptable men's attire includes: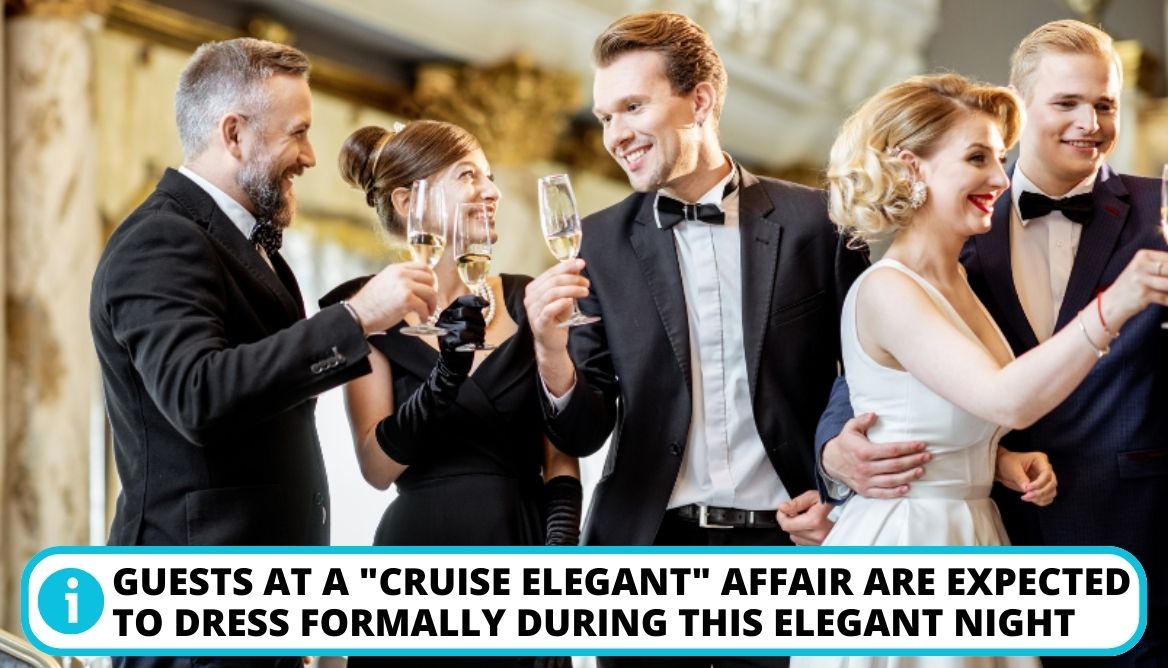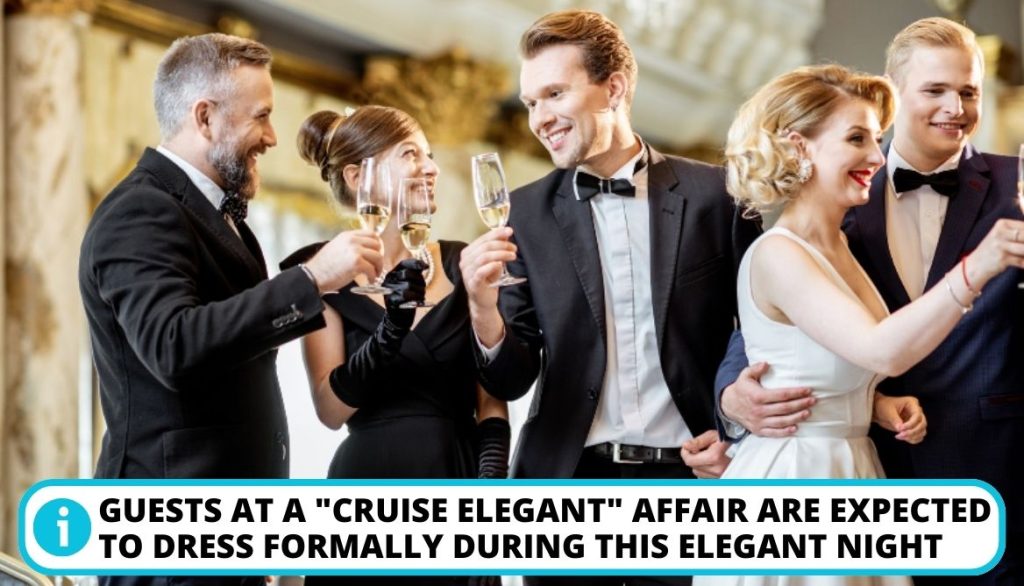 A sports coat;
Dress shirts with suits or dress slacks.
Women can wear anything like:
Cocktail dresses;
Pantsuits;
A skirt and blouse.
Note: Some attendees may wear tuxedos or evening gowns for the event.
Unwanted and Sometimes Forbidden Elements of Closet at the Dinner
However, guests on the carnival cruise are asked to refrain from putting on the following items in Carnival's main dining room: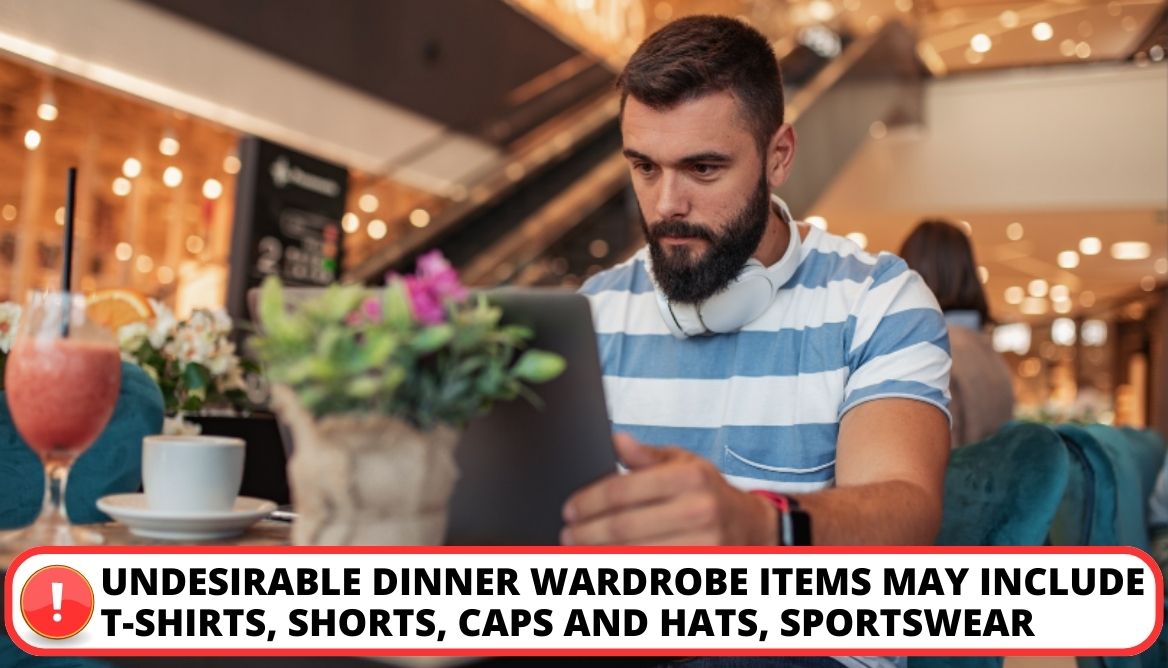 Men's sleeveless button-downs;
Denim cutoffs;
T-shirts;
Shorts;
Caps and hats;
Sportswear;
Swimwear;
Flip-flops.
When and How Can I Reserve a Table at the Captain's Dinner on a Carnival Cruise?
The Captain's Dinner is available to all Carnival Cruise passengers. However, reservations are strongly suggested. Here are some tips for reserving a table at the captain's table on your Carnival Cruise: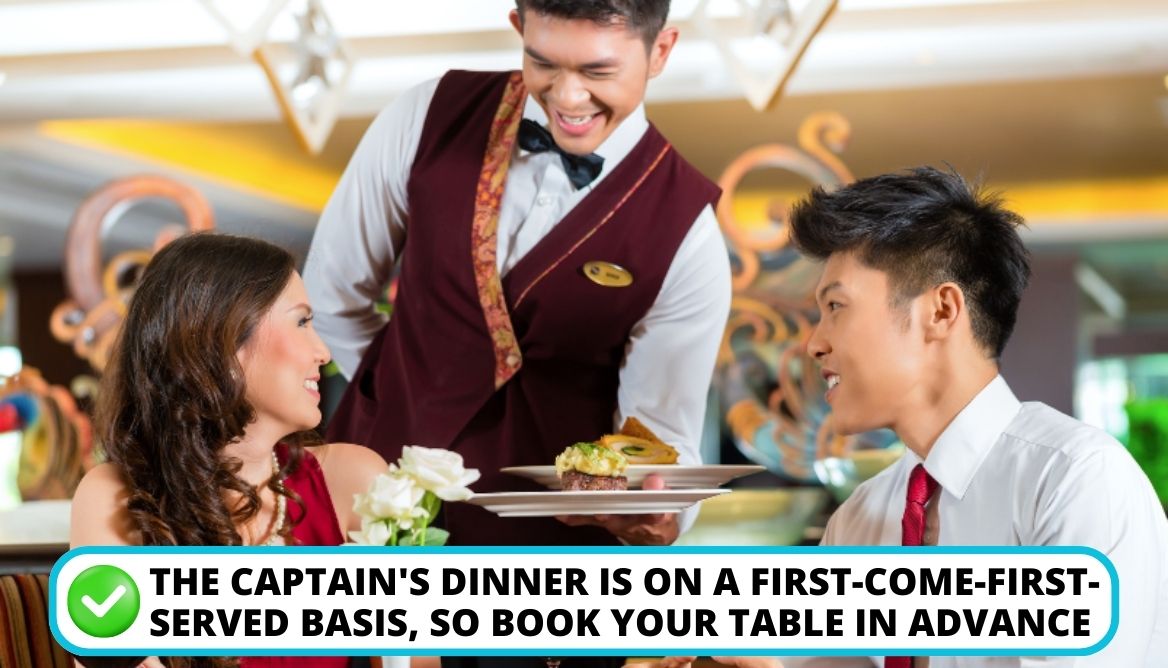 You should see if this is part of the itinerary of your carnival cruise.
You can reserve a cabin on carnival.com in advance of your cruise. Use the "cruise manager/Manage my booking" link to reserve a spot for yourself and your travel companions.
To finalize your reservation on the carnival cruise, full payment is required when booking.
The Carnival cruise line may be reached at (800) 764-7419, where you can also reserve a spot at the Captain's Dinner or acquire any other information you might need.
Captain's Dinner operates under a "first come, first served" policy, so don't delay making your reservation.
The Captain's Dinner Menu on the Carnival Cruise
The Captain's Dinner menu in the main dining rooms of Carnival cruises includes a variety of delectable foods, such as: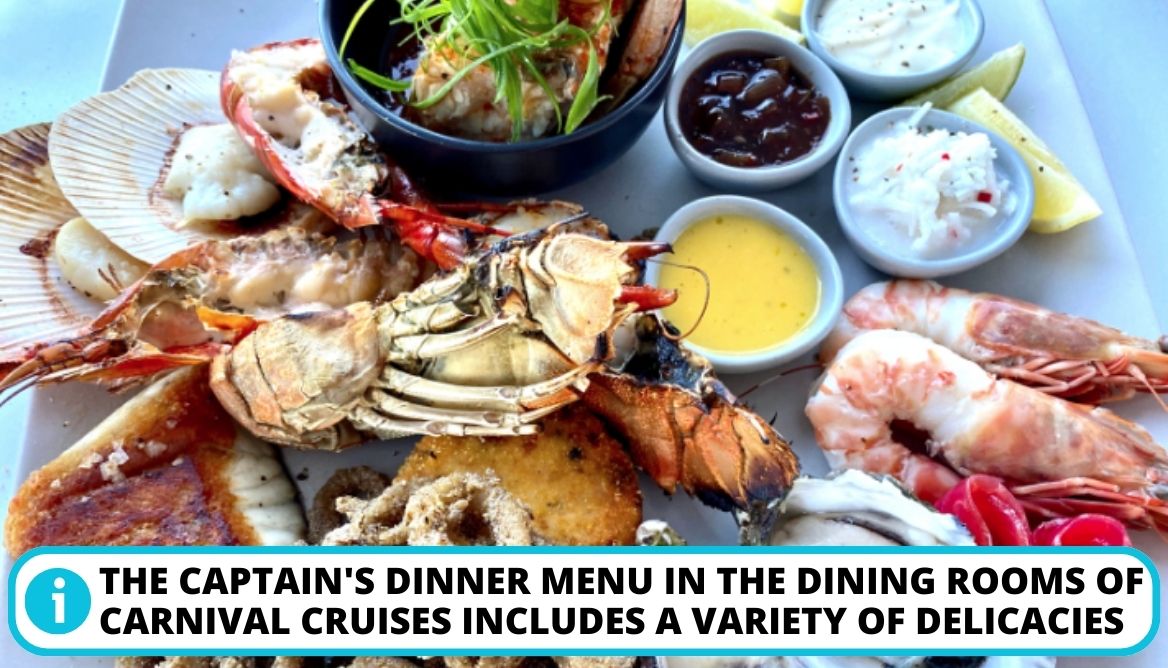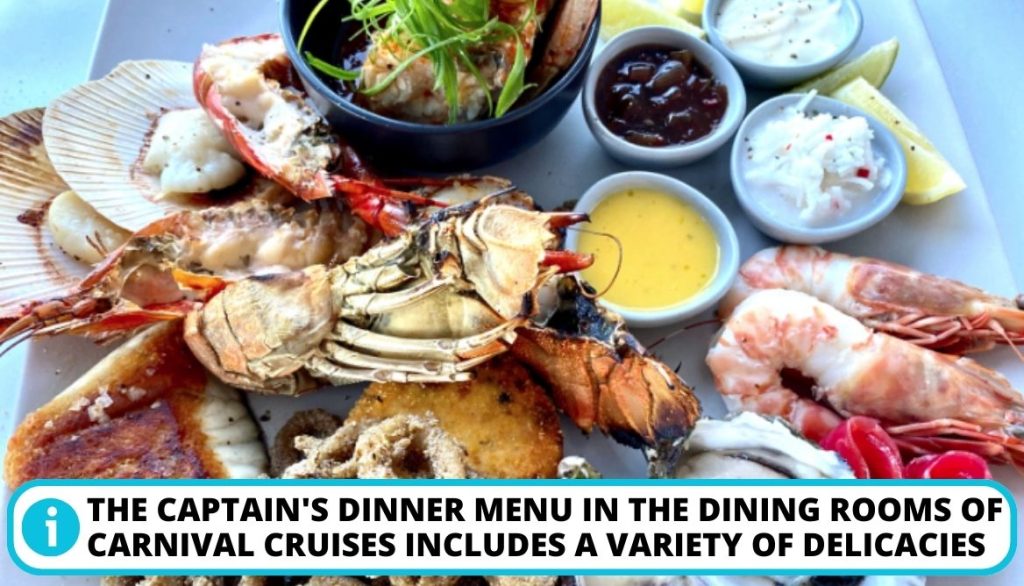 Shrimp cocktail;
Chocolate lava cake;
Soup of the day;
Grilled salmon;
Caesar salad;
Filet mignon;
Lobster tail.
There may be changes to the menu depending on the specific vessel and the particular cruise. There are multiple factors contributing to this phenomenon, like:
The accessibility of food;
The destinations visited by the cruise ships;
The expertise of the culinary personnel.
FAQ
How Much Is Dinner at the Carnival Captains?
Dinner at the Carnival Captain's main dining room is $18 per person. If you have a child under 11 years you will pay for them $6 if they order from the kids menu.
How Do You Get Invited to the Captain's Table on a Cruise?
The social hostess or host on board is your best bet for a seat at the captains' table in the main dining room for dinner. You'll likely encounter them while boarding, and they'll be the ones to hand out invites.
How Long Is Chef's Table on Carnival?
The chef's table at the carnival will take two to four hours. Attendees can anticipate a more extended and lavish supper that is more of an experience than a simple meal.
Is the Captain's Dinner Worth It?
Yes, the captain's dinner is worth it. You will gain invaluable experience that is well worth the cost. Make reservations for this supper one night in advance if your cruise is only half-board.
Conclusion
Even though the custom of having dinner at the cruise ship captain's personal table still exists, it is much less prevalent than it once was. Even when held more regularly, participation was still limited to a select few. That's why you should jump at the chance to dine with the captain at his table on today's cruises.
Ensure you are appropriately dressed. Men, prepare your tuxedo, and women, prepare your cocktail dress or evening gown. Even if you do not get a chance to dine with the captain, enjoy the first formal night, where the captain throws a welcome aboard party.
I hope you now understand how the captain's dinner happens, what you are expected to wear, and when you should attend the dinner. Please share this article with your friends.