Happy Wayfarer is reader-supported. When you buy through links on our site, we may earn an affiliate commission.
You might be curious about what to wear for passport photo and what is not allowed. You are entitled to ask questions and receive personalized responses. This post will classify the items that can and cannot be worn.
Things that are permitted for passport photos include a few types of hats, medically necessary glasses, hats worn for religious reasons, tattoos, jewelry, piercings, and hearing aids. What to avoid donning for your passport photo:
Glasses
Headgear or hats
Facial jewelry
Headphones
Uniforms
Camouflage attire
Does It Matter What You Wear in a Passport Photo?
Anyone who looks at your passport will first see your passport photo. The dress code for this shot should be striking without being over the top. You should dress formally for a passport photo so that you appear your best on the glossy photo-quality paper that they are printed on.
Things You Are Allowed to Have for Passport Photos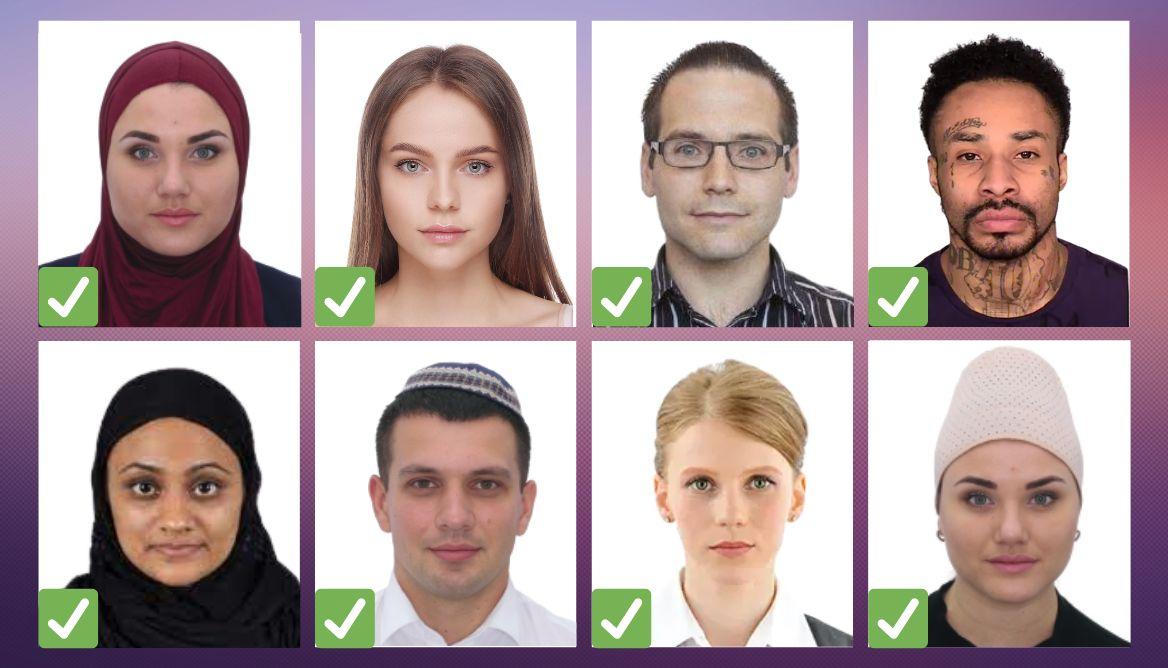 As you get ready for a great passport photo session, you can bring the following items with you: Keep in mind that some attires are allowed due to religious or medical purposes.
Certain Hats
Certain hats worn for religious or medical reasons are excluded from the rule that they must be removed prior to taking a passport photo. For example, a Sikh's turban is an integral part of their identity, hence they should be allowed to wear it in passport photos. The same rule applies if you have a religious commitment stopping you from completely taking off your hat.
Glasses for Medical Reasons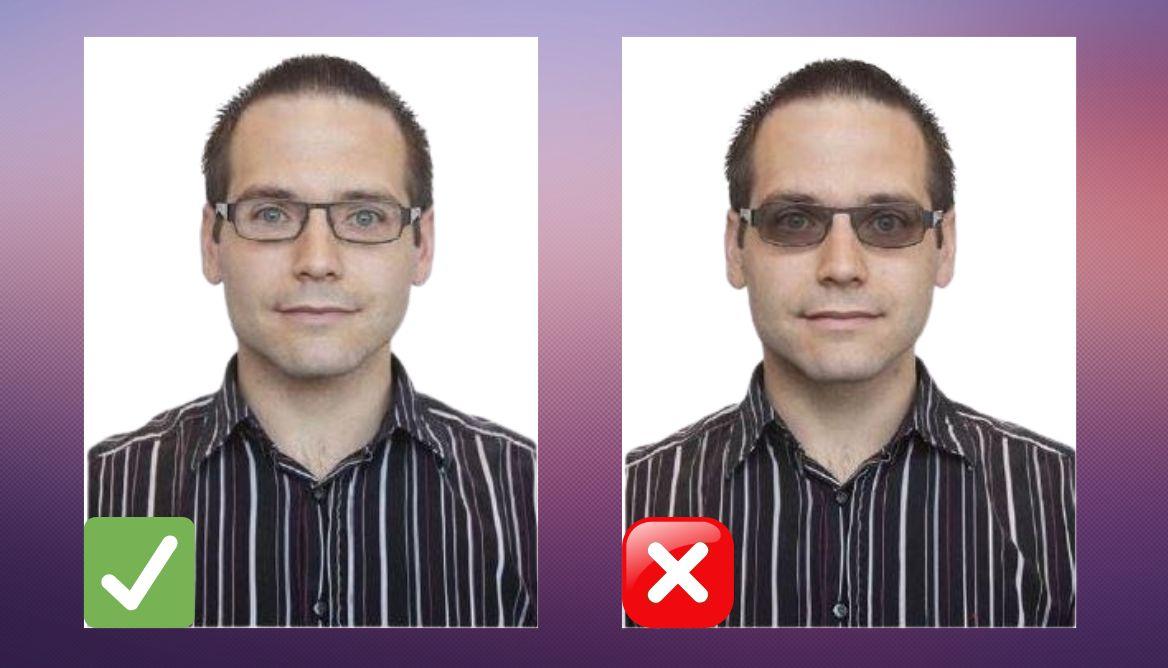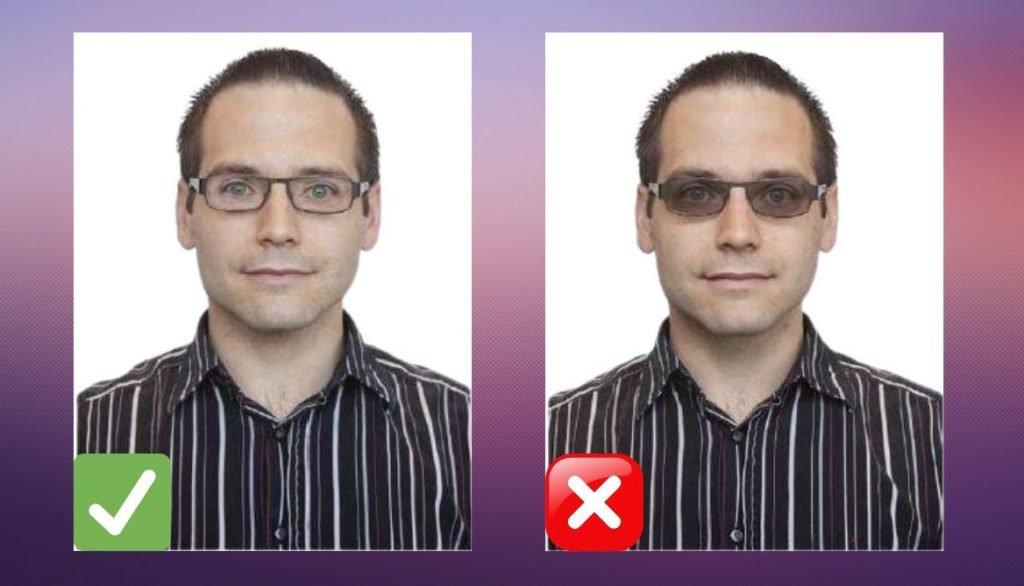 If you have to wear eyeglasses in your passport photo, you must submit a signed doctor's statement verifying that you are required to wear glasses for medical reasons. Your spectacles should not contain any logos or markings and must contain plain and colorless frames.
Hats for Religious Purposes
Wearing a hat for religious reasons is acceptable and may be mandatory depending on your faith. In that situation, it's best to call ahead to the passport agency to find out what kinds of hats are permitted.
Tattoos
It's acceptable to include permanent tattoos in the photo as long as they aren't offensive.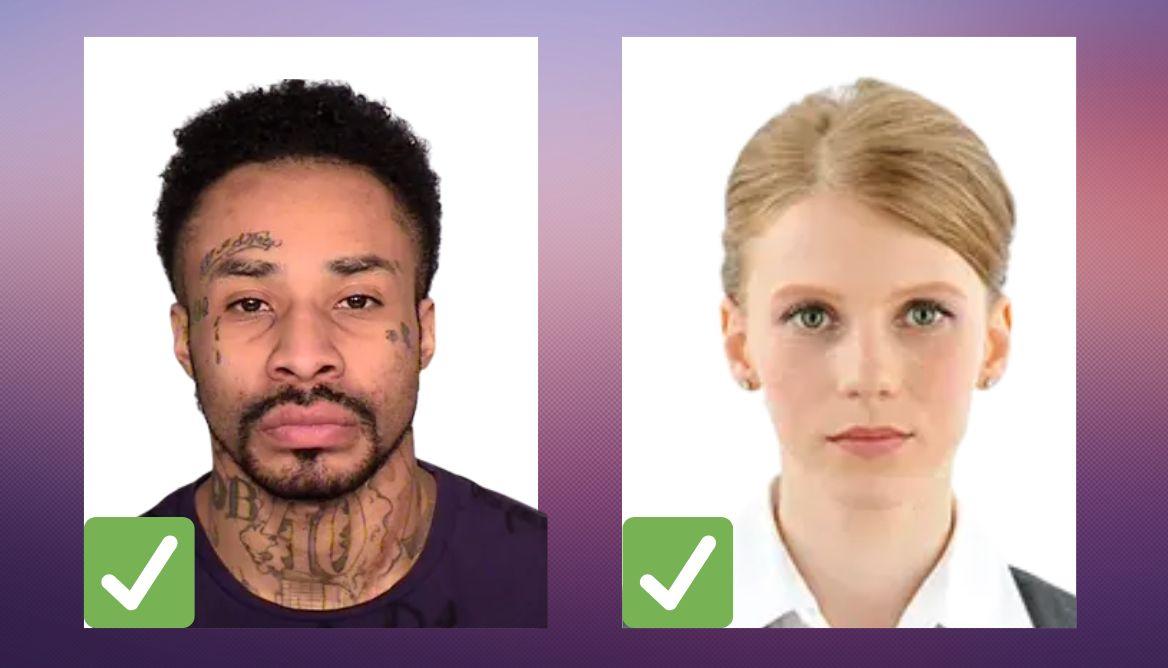 Wear Jewelry and Piercings
Passport photos can be taken with jewelry on, but they can't cover any part of your face. You also need to ensure that it is not too dazzling or distracting.
Hearing Aid
For people using hearing aids, you can have it with you during passport photo taking if:
The devices have been approved by the State Department.

The devices are clearly visible in the photo.

You indicate in your

passport application

that you are using a hearing aid.
What Not to Wear for a Passport Photo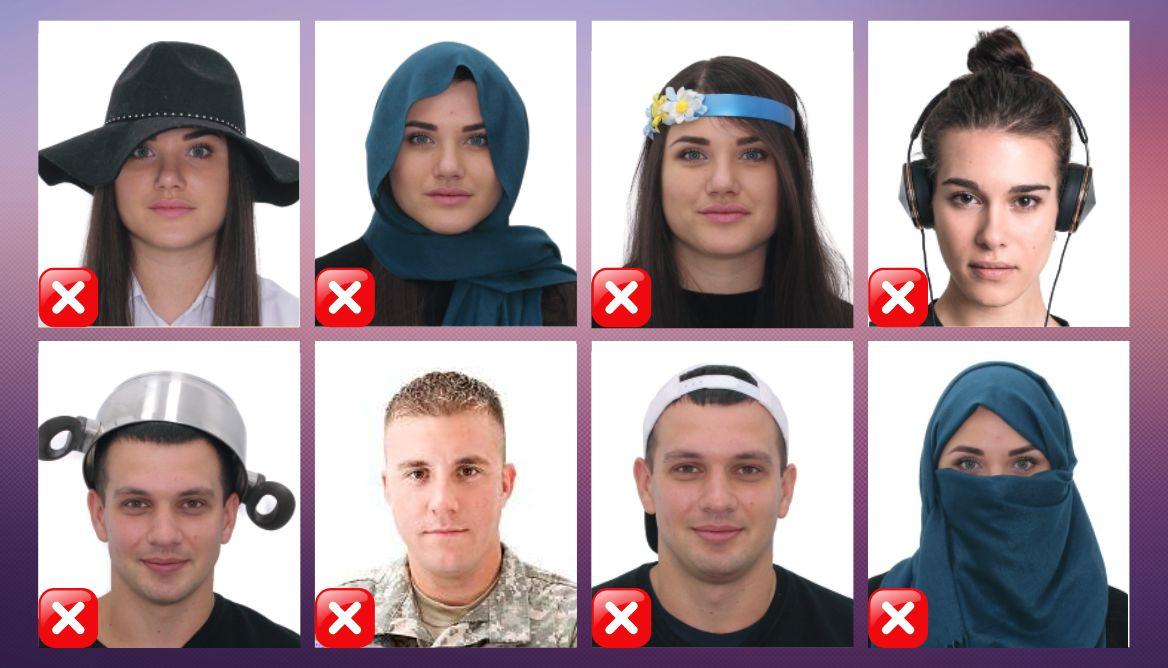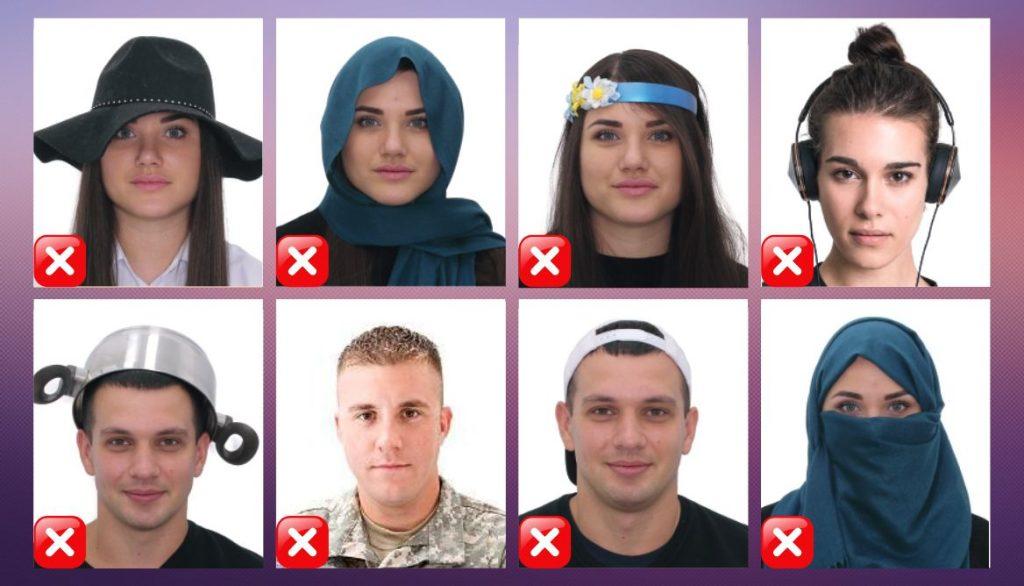 In a passport agency, there are clear rules of what not to wear for a passport photo. Passport applications are usually stalled when you submit a new photo that has you wearing any of the following items:
Glasses
In most countries, passport photos must be shot without glasses. If you need to wear glasses all the time for medical purposes, you will have to submit a signed statement from your doctor.
Hats or Head Covering
Avoid wearing anything that hides or obscures your face, such as hats, or head covering. If the head covering is traditional religious attire, you must submit a signed statement that verifies the head covering in your photo is part of your usual religious dress code.
Facial Jewelry or Headphone
Wearing facial jewelry or headphones when taking the photo may lead to your passport picture being discarded simply because they will make your face not clearly visible.
Uniforms and Camouflage Attire
You are not allowed to wear any camouflage attire or any uniform when getting your passport photo taken. Moreover, it is not permitted to wear uniforms that identify you as an officer in the armed forces or law enforcement.
Attire for U.S. Passport Photo: Other Things You Should Avoid
The U.S. passport photo is a crucial part of your application. It's the first evidence that the Department of State has seen that you are who you say you are and no one else, so it's essential to make a good impression.
Men are expected to keep their hair clean and trimmed, while women are free to wear their hair up, with or without a head covering. Clothes should also be neat and clean. Shirts should be tucked into pants, skirts, or slacks.
However, when taking a U.S. passport photo, there are various things you should avoid such as:
Hair Covering the Eyes and Big Hair Accessories
A common mistake is to have your hair conceal your eyes. To keep your hair out of your face while taking pictures, simply wear a hair tie. If you're wearing a headdress or wig, make sure it doesn't completely cover your face.
Strong Makeup
When applying makeup, keep in mind the following:
Makeup should be subtle and not look like you have a mask on.

Your makeup should complement your skin tone and accentuate your features.

Your makeup should look natural on camera, not over-the-top or distracting from the photo itself.
Gadgets
You shouldn't cover your ears, nose, or mouth with headphones, sunglasses, hats, or anything else. Furthermore, do not wear any headgear that can obstruct the photographer's view.
Other Recommendations on How to Wear for a Passport Photo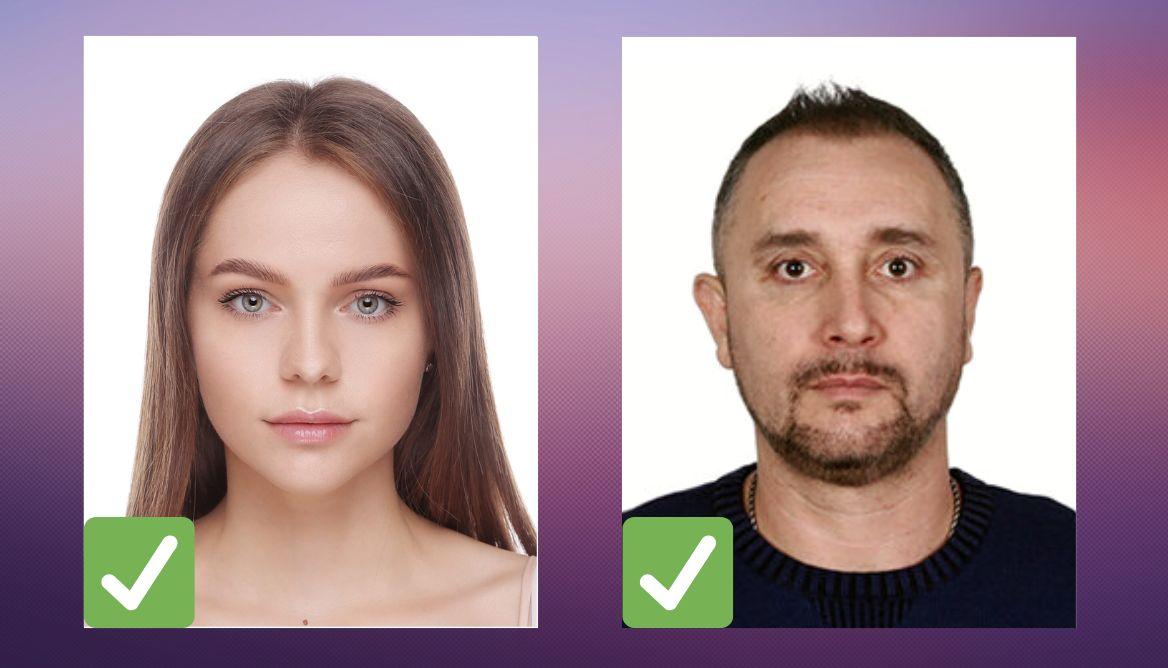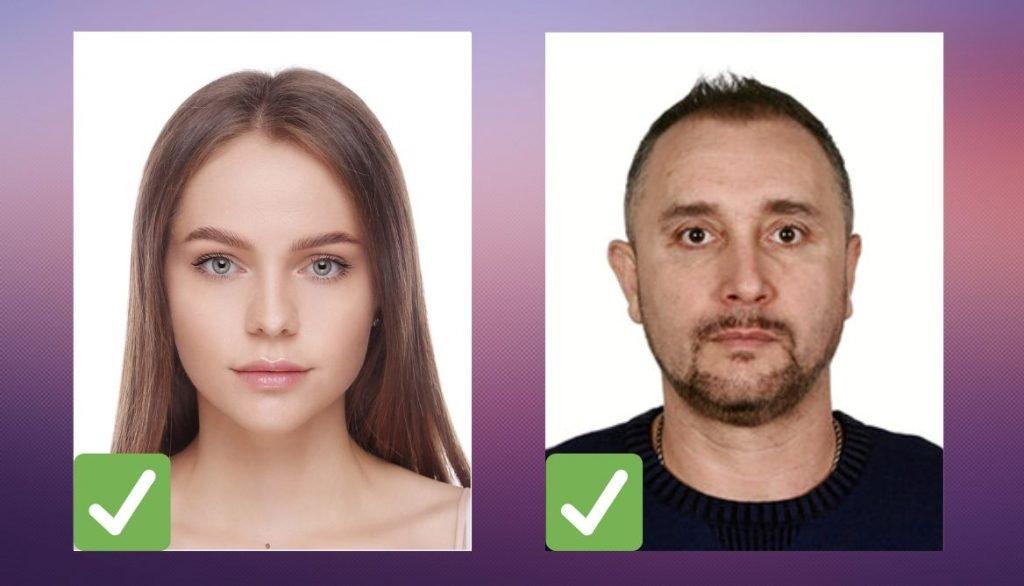 It is best to plan ahead of time if you are traveling abroad and may need to renew your passport. If you won't have time to go through the bureaucratic process of filling out paperwork and getting a new passport photo, consider these photo-dressing tips.
Choose Darker Colors
Darker colors are best to wear for a passport photo because they stick out more and look more professional. Darker apparel, such as dark shirts or pants, can keep you warm but they do make you look heavier in images.
Avoid Wild Prints
Wild prints or "print-like" designs might be adorable, but they end up looking like wallpaper. The photo you use for your passport should reflect the seriousness of the document. Additionally, the State Department requires that passport pictures should be shot off white background.
Accessorize With Timeless Jewelry
If you want to add a little flair to your passport photo, consider bringing along some accessories. However, you should try to avoid anything overly ostentatious or costumey. In addition, make sure that all of your accessories go well together; for instance, don't take a shot while wearing two totally different necklaces.
Skip the Athleisure
Athleisure fashion may not be passport photo-friendly because of factors like excessive shine or texture. You should avoid putting on such tight attire since they may reveal more skin than is appropriate.
Consider Your Neckline
If you want something more traditional and conservative, think about putting on a dress or jacket with long sleeves and a low neckline. This will create breathing room between your skin and the camera lens.
Wear a Collared Shirt, Not a Tank Top
The most important aspect of passport photos is to wear a shirt appropriate for the occasion. If you're unsure what shirt to wear, choose one with a color or pattern, and make sure it has a collar so that your chest hair doesn't show.
Go for Classic, Not Trendy
While fashion trends immediately impact your appearance, they are fleeting and can be overdone. You should opt for a simple outfit that complements your personality.
Passport Dress Code for Infants and Kids
Taking passport photos of infants and toddlers might be challenging, but the State Department has fewer rules for these age groups which include:
Avoid dressing your child in clothing with a pattern or color that could be mistaken for a nationality symbol in passport photos.

Avoid putting so much powder on your baby's face to ensure a clear image of the baby's face is

visible

on the passport picture.

Don't dress your baby in something that will make them stand out from the crowd, such as a cap or scarf.
Can You Strike a Pose When Taking a Passport Photo?
No clowning or sulking is permitted. You must stare at the camera directly and show your complete face. Furthermore, you are expected to have a neutral facial expression with both eyes open for the photo.
Can You Take a Passport Photo Without a Shirt?
No, your passport photo will not be approved if you don't wear a shirt. Choose a black or dark shirt that covers your chest since white or lighter shirts may blend with the white background and make you appear as though you have not put on any top.
Conclusion
It is important to wear the right clothing when taking a passport photo. You should avoid wearing busy patterns or white clothes, as they can make it difficult to see your face in the passport photo.
Have you ever been unable to take a photo for your passport because the clothing or cosmetics you were wearing was inappropriate? We would really appreciate it if you could share your experiences with us in the comments below.