Happy Wayfarer is reader-supported. When you buy through links on our site, we may earn an affiliate commission.
You might be wondering ''What is a roll-in shower?' if you coming across this term for the first time. A Roll-in shower is a bathroom facility every hotel should have to accommodate the needs of people with disabilities and elderly visitors.
Keep reading to know a comprehensive guide on roll-in showers such as the features, benefits, and legal requirements according to American and international standards, and more. So, let's get started!
What Is a Roll-in Shower?
A roll-in shower is a mobility-accessible room specifically designed for people with limited mobility to improve the quality of their lives by offering them luxury without overlooking their comfort and accessibility. They are also known as Roman showers, accessible shower rooms, and Barrier-free showers.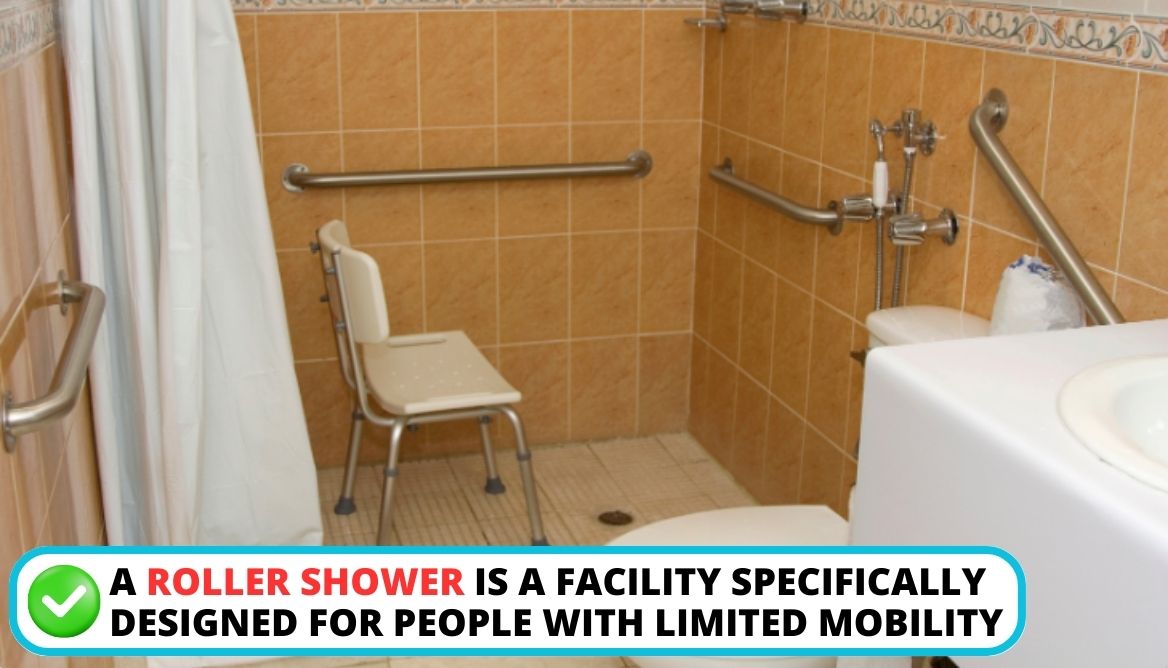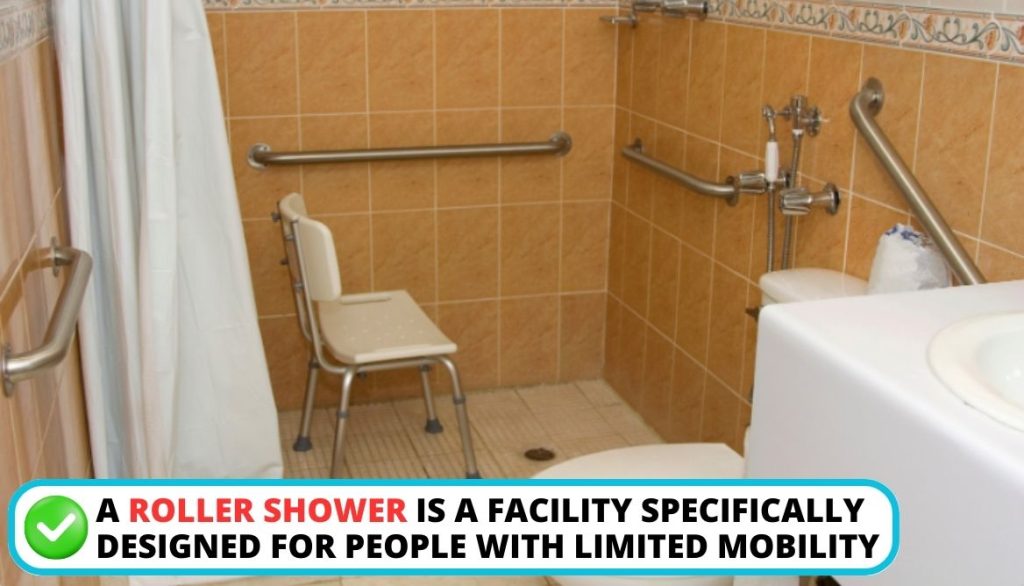 Design Elements of Roll-In Showers
There are some specific elements or let's say features that best describe a roll-in shower whenever you come across it in a Hotel room. Below are a few points you should know about Roll-in shower designs:
No Door or Barriers: The main characteristics of a roll-in shower are that there are no door thresholds or barricades at the entrance of the bathroom like the traditional shower. But there can be a shower curtain for privacy options and a trench drain to control water outflow from the shower area.
Ample space: Roll-in showers have specifically large shower areas with wide openings to accommodate wheelchair users and caregivers who might want to help.
Accessibility features: They are usually equipped with soap dishes, grab bars as a support system, a control area, and a handheld showerhead for easy access to water. The control section gives the user the opportunity to control the temperature and pressure of the shower.
Shower seats: A Roman shower in a hotel room or home is normally installed with a shower bench for the wheelchair users to sit or rest on ensuring they have a convenient and safe bath.
Leveled floor: The roll-in shower floor is usually a leveled one with the bathroom floor for easy entry and exit of the bathers. The floors are made to be non-slip for proper safety use.
Wide use: Roman showers are not only available in hotel accommodations but they are also equipped in homes, health centers, and offices for disabled and elderly people. The use of accessible shower rooms is not limited to the elderly, and people with limited movement but can also serve people who wish to use them.
Roll-in shower Stall: Temporary Roll-in showers in hotel rooms or homes are usually accompanied by a shower stall or shower bay.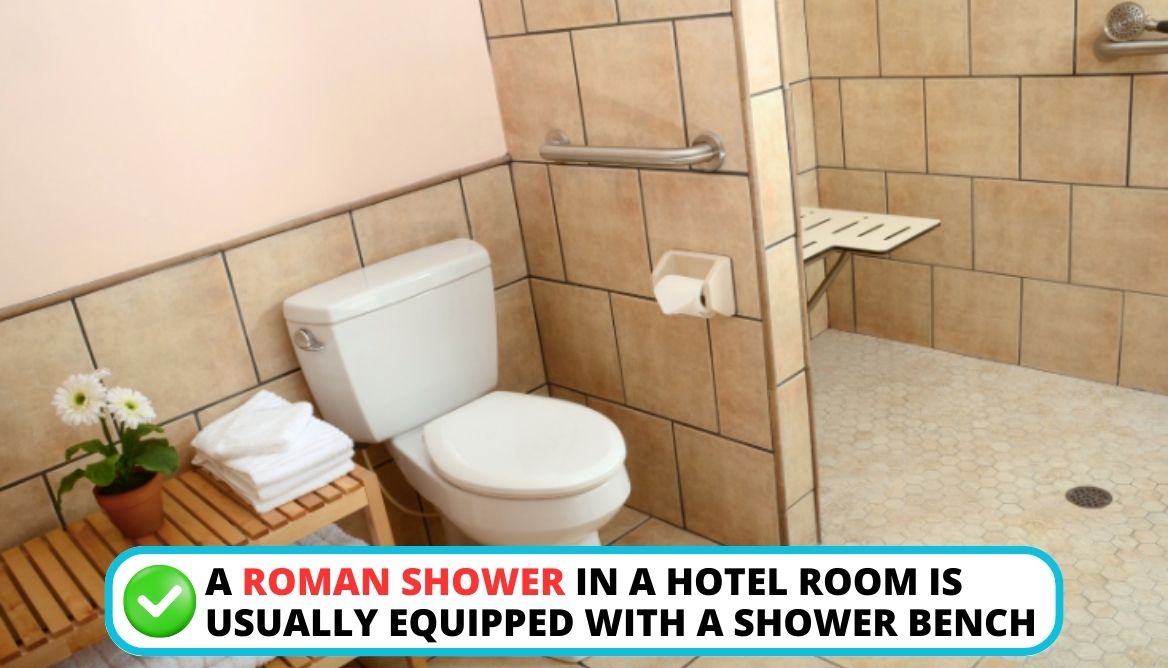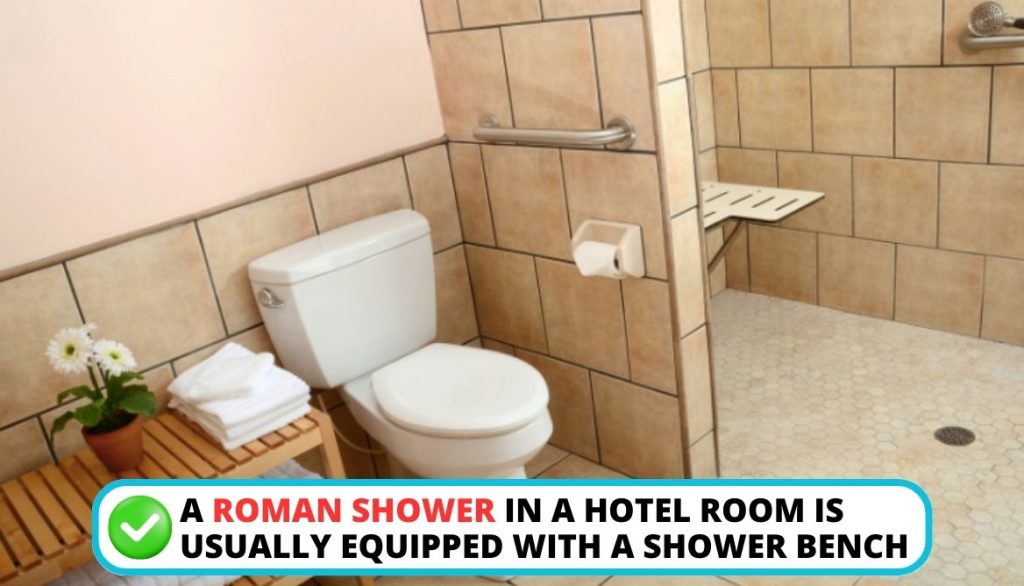 What Is The Difference Between A Transfer Shower And A Roll In Shower?
Before I proceed to look at the types of roll-in showers, let's quickly brief you about transfer showers because they are usually used interchangeably and I don't want you to get confused.
Transfer showers also known as walk-in shower has similar definitions and purposes to those of roll-in shower enclosures. They offer comfort and accessibility to people with limited movement or mobility issues. These shower enclosures are also equipped with:
Shower seats or free-standing shower stool;
Shower area;
Adjustable showerhead;
Grab bars to maintain balance;
Non-slip floors;
Partial Glass enclosure or shower curtains;
Low thresholds for water control.
The table below shows the main difference between transfer showers and roll-in showers.
| | |
| --- | --- |
| | |
| People with Limited movement: | |
| | No threshold or curbless entry |
| Less space i.e. smaller in size: | More spacious i.e. wide in size |
| | |
| Meant for people who can sit or step over on their own: | A wide range of users with disabilities |
| | |
| Traditional walk-in showers: | |
| | |
How Do You Use a Roll-in Shower?
Taking a shower might be a little difficult for people with limited movement if they do not have access to a walk-in shower. Having access to a roll-in shower in a hotel or at home is not the only criterion for a safe and comfortable bath, it is also necessary to know how to use these accessible rooms.
Below is a step-by-step guide to help you navigate your way in a Roll-in shower in a hotel room or your home.
1. Prepare and Organize the Bathroom
You should wear bathroom-appropriate clothes such as towels, bathrobes, etc.
Make sure the bathroom floor is dry and place a bathroom mat at the entrance to avoid slipping.
Remove all obstacles from the way to reduce obstruction and fall.
Place all soap, shampoo, and other bathing aids and supplies you need within reach.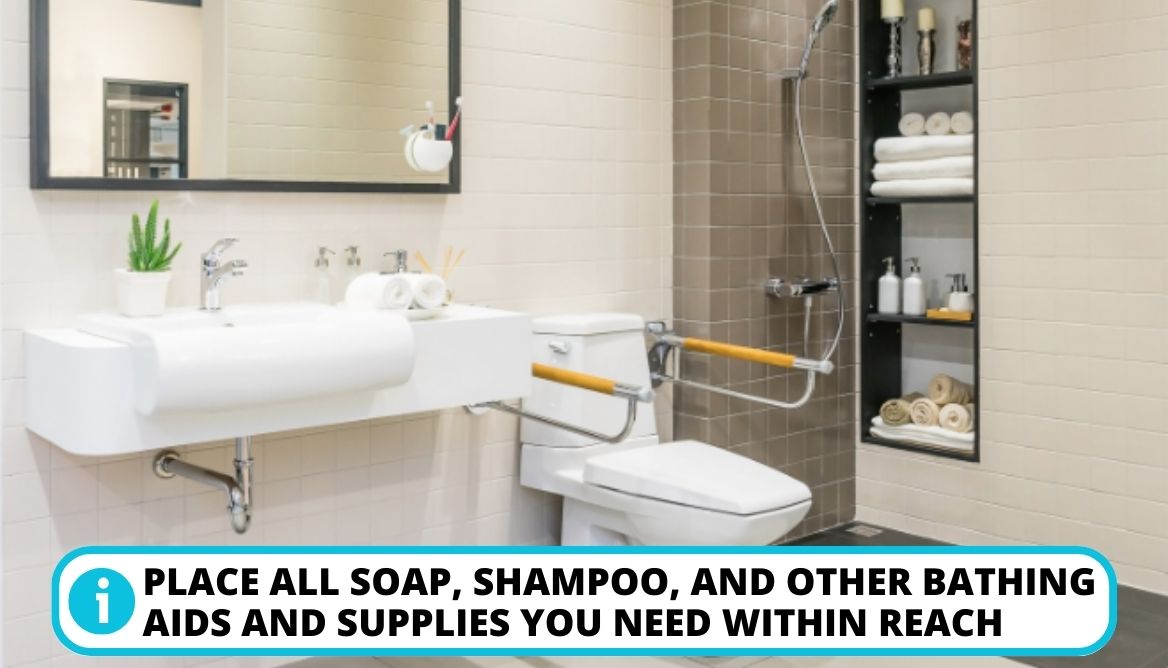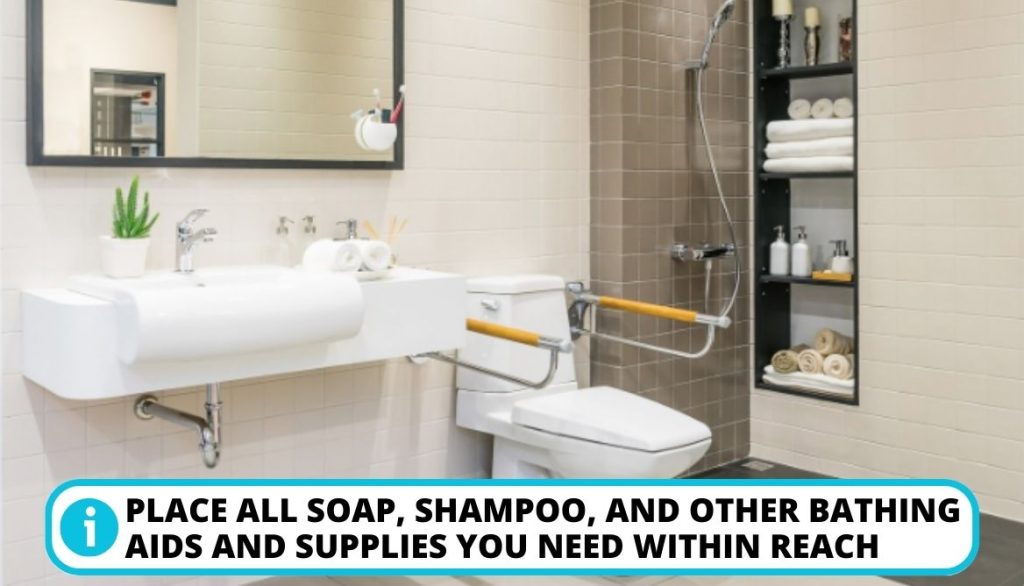 2. Entering the Shower Room
Gently transfer yourself or with the aid of a caregiver using a transfer belt to sit on the shower chair.
You can also make use of the grab bars for support while standing to move yourself to the shower seat.
3. Placing Your Mobility Aids
Place your wheelchair or movement aid in front of the shower curtains or at the entrance for easy access.
Make sure your wheelchair brake is put in place to prevent it from moving when you want to sit after a bath.
Place the aid in the way that the front is facing you inside the bathroom.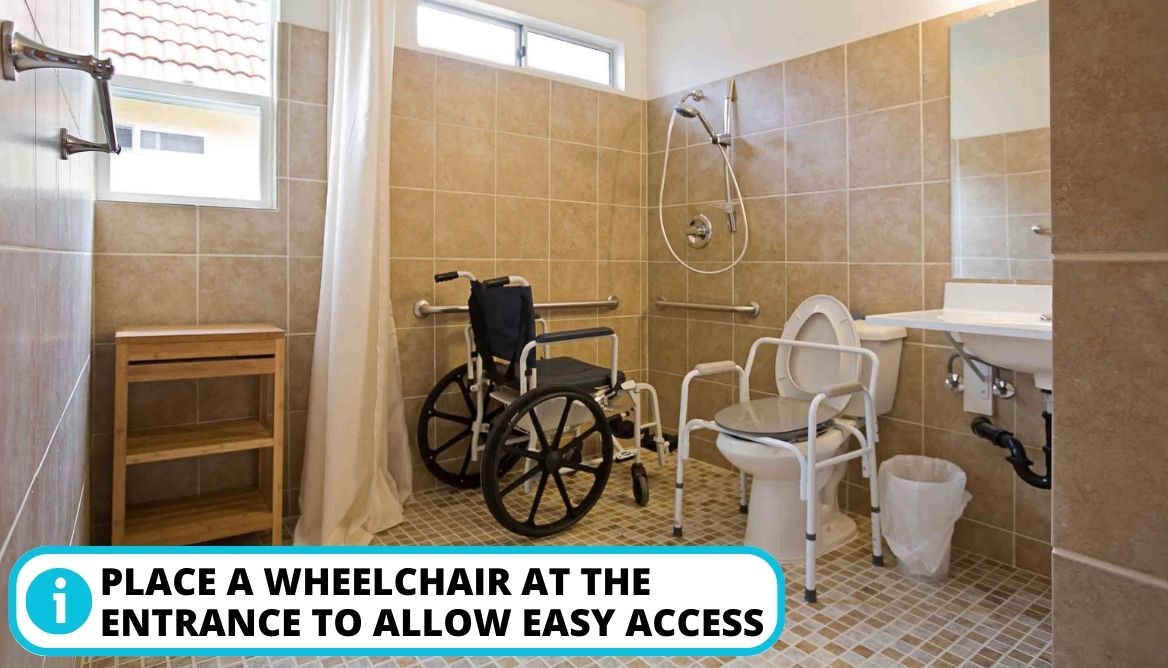 4. Prepare Your Water and Shower
The next thing to do is to adjust the water temperature to your preference.
Sit tightly and properly on the shower seat to avoid slipping while bathing especially when you use soapy ingredients.
Apply your soap, shampoo, scrub, or any necessary products on your body if needed.
Turn on the water by using the handheld showerhead and control it at your preferred volume or flow.
Rinse your body thoroughly with water to clear all soapy remains from your body.
Put off the tap and gently return the handheld shower head to its original place.
5. Cleaning Up and Moving Out of the Roll-in shower
Clean your body very well with a towel before standing up from the shower bench.
Discard or pack all bathing supplies to the required place.
Carefully transfer into the wheelchair.
Move your wheelchair a little backward and draw the shower curtain back to its position.
If you are someone who has limited mobility, then make use of the grab bars to support yourself out of the shower area, then use your mobility aid, and draw back the shower enclosure.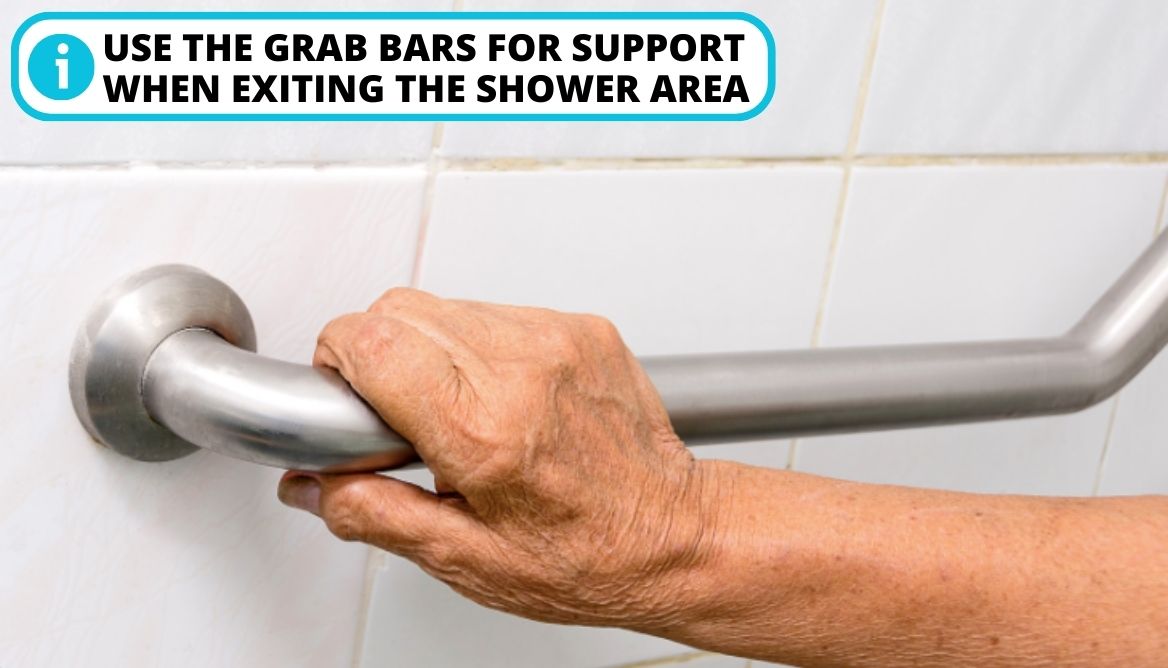 Benefits of Roll-In Showers
Roll-in showers offer a lot of importance to people with disabilities and the elderly. Below I'll going deeper into the numerous benefits of rolling in the shower even for people without disabilities.
1. Accessibility
Roll-in showers give people with mobility issues the advantage of having their shower or bathing without encountering difficulty while doing so. This accessibility is achieved through barrier-free or low-threshold entry and exit and other required installations such as shower heads, grab bars, etc.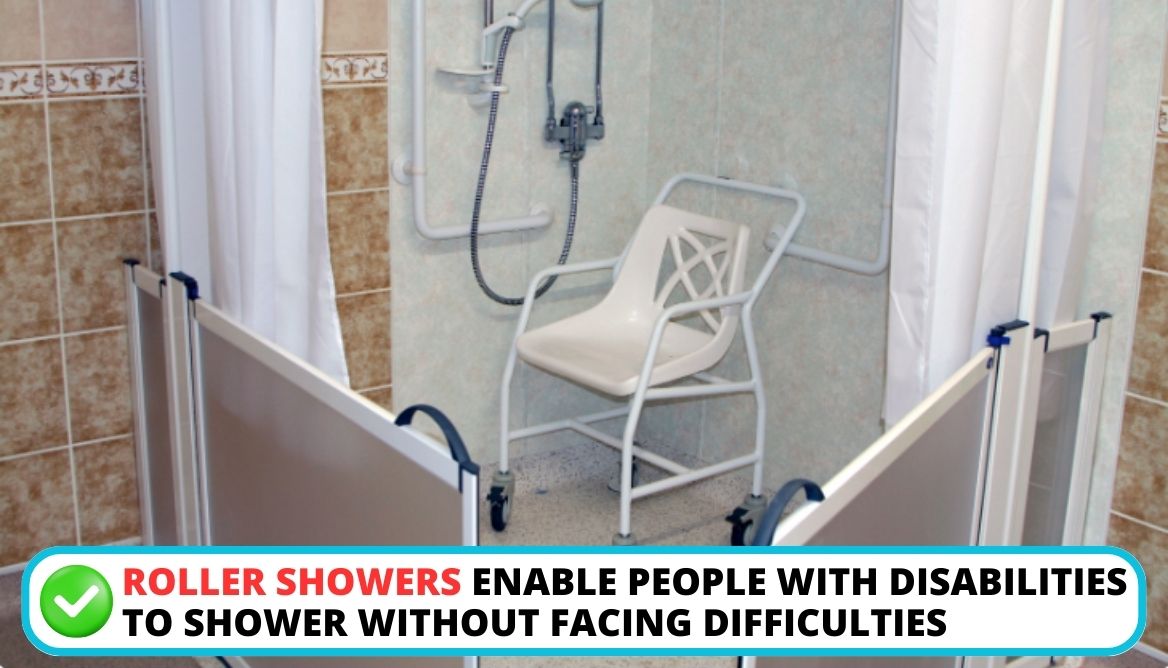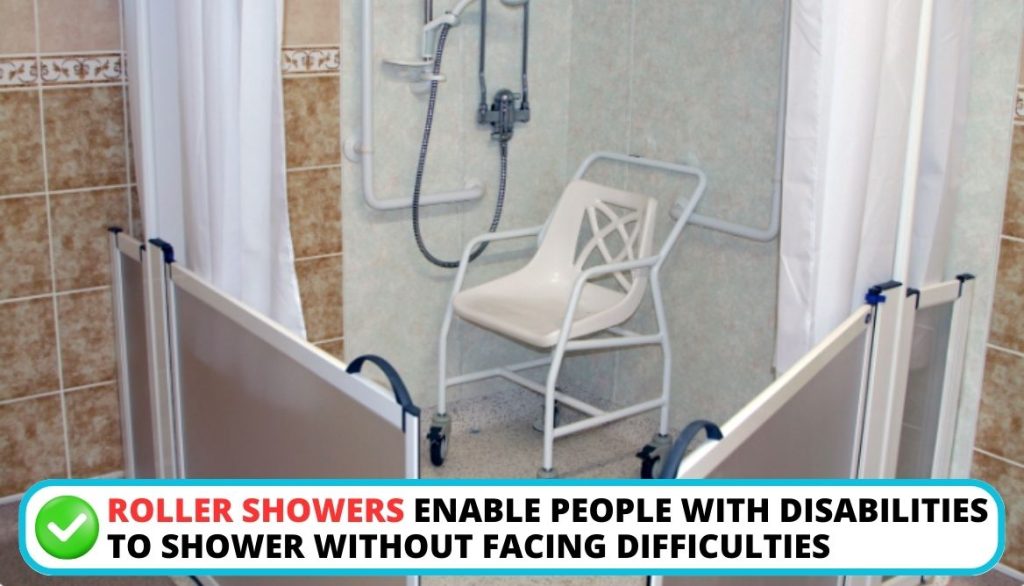 2. Safety
Roll-in showers give optimum safety and comfort to the user by offering them accessible rooms with safety measures and equipment within reach.
The Rollin shower in a hotel room or home is usually designed to have a flat floor area that prevents falling over and easy movements for people with walkers or wheelchairs.
The non-slippery ground to avoid slipping and accidents while bathing or entering the bathroom.
The installation of shower chairs helps the user to have a comfortable bath while sitting.
The shower controls or shower Faucets give a convenient and customized bathing experience. Users can control the water flow and temperature in cold or hot showers likewise the turning on and off of water.
The grab bars give support and stability to people who have difficulty standing. They are also useful for easy transitioning from the mobility aid to the shower area.
3. Independence
Roll-in showers offer self-reliability to disabled people without human assistance. They can easily take their bathe with confidence and complete privacy.
4. Simple Maintenance
Roll-in showers are easy to maintain because they have limited nooks and crannies. They are usually equipped with simple and required pieces of equipment, unlike the normal bathrooms with chic architectural furnishings such as sleek and modern shelves, bathtubs, etc.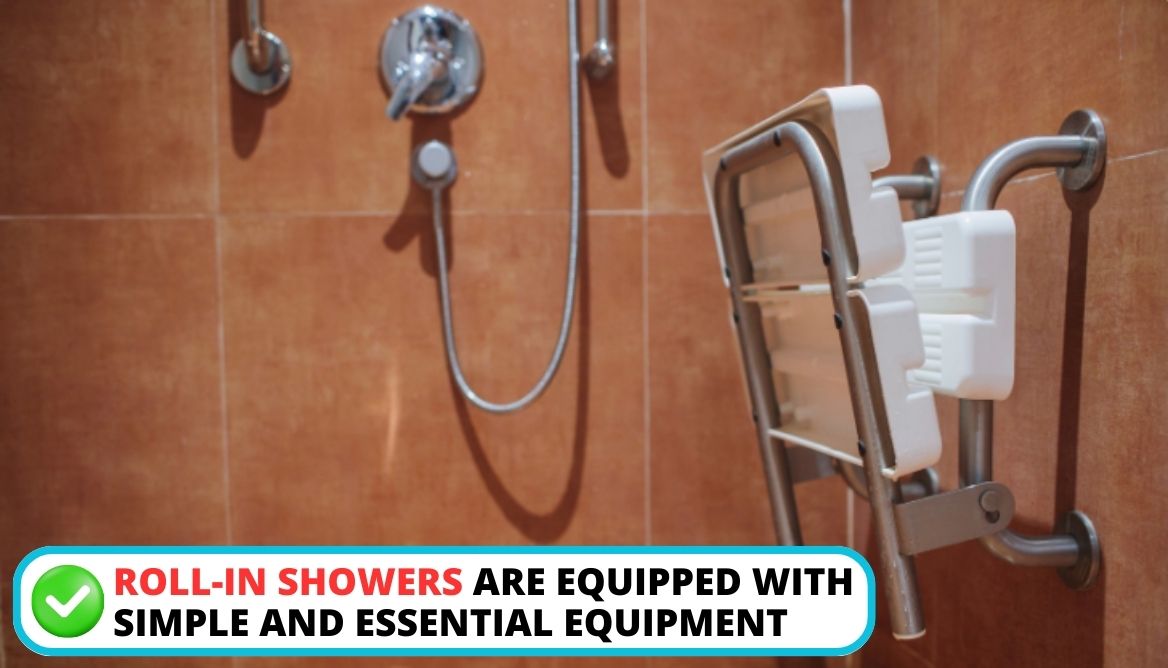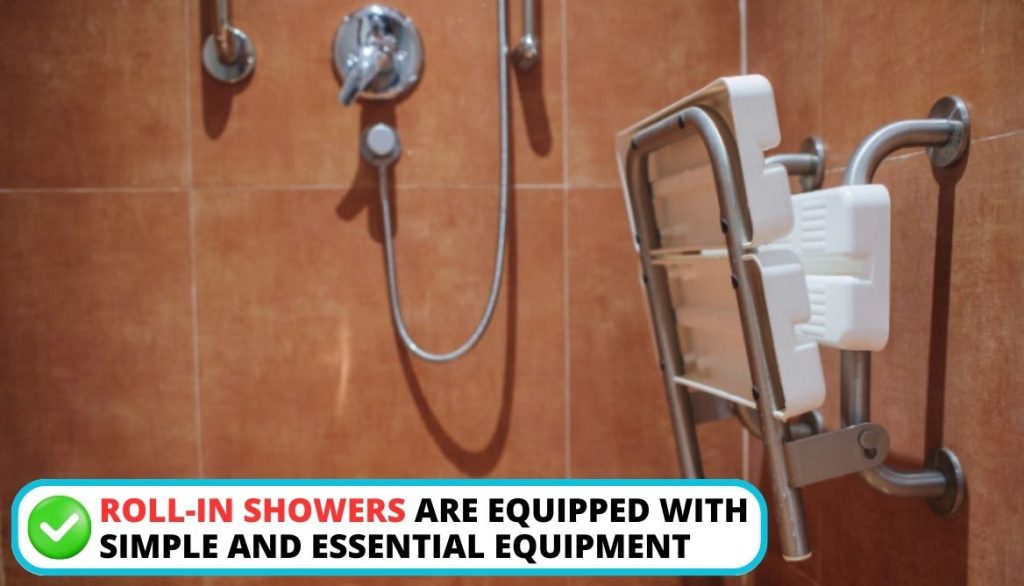 5. Versality
Although Roll showers have less bathroom equipment unlike the conventional ones, they are still versatile because they can be used by anybody and are not restricted to people with difficulty standing alone.
6. Aesthetic Purpose and Customization
Roll-in showers can be constructed in hotels or homes because of their beauty and luxury such as the shower enclosure or glass door, tiles, shower seats, shower control, showerhead, and other installations.
Moreover, a Roll-in shower can be made to taste, the owners can customize the design and styles of the shower area to meet their needs and satisfaction.
7. Compliance with Disabilities Act
Another purpose of Roll in Shower is to comply with the codes of conduct of providing independence, comfort, and convenience for people with disabilities specified by the government, world organizations, and other stakeholders.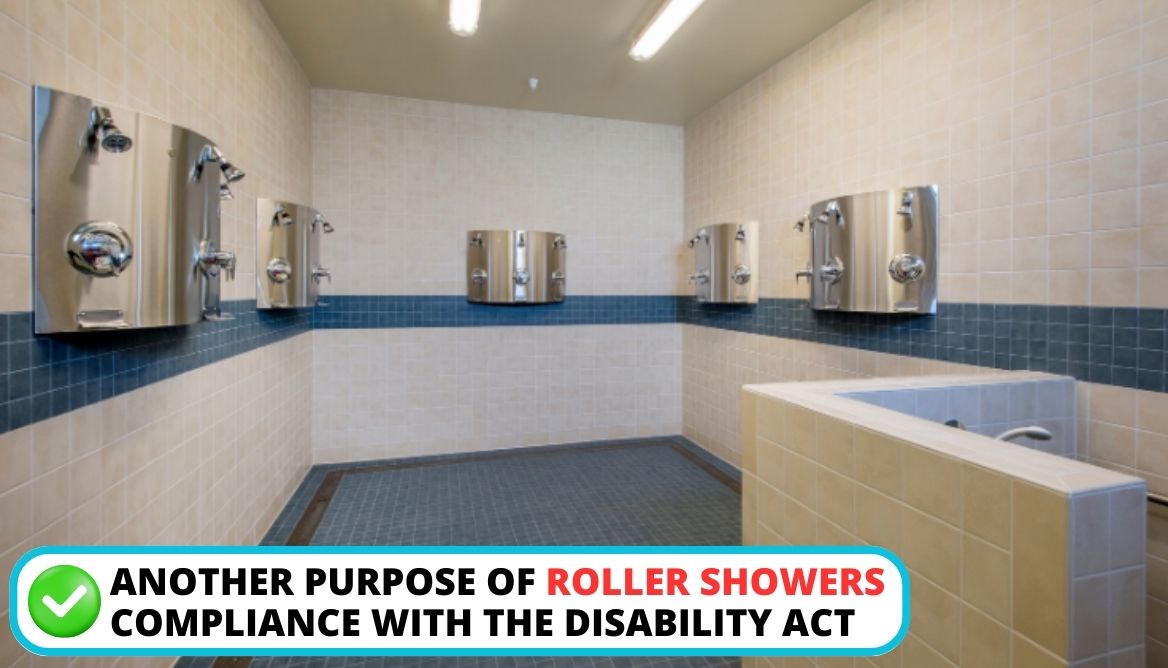 What Is A Roll-in Shower Hotel?
A Roll-in shower hotel is a hotel accommodation that provides an accessible shower room following the legal requirements for hotel guests with difficulty standing such as the elderly or people with mobility impairments.
A Roll-in shower in a hotel is large enough to accommodate guests using wheelchairs including their caregivers, and other pieces of equipment required to ease the task of disabled guests. The most common roll-in shower in hotel rooms usually has three closed walls and a wide opening covered with a curtain.
Legal Requirements for Roll-In Showers
In the United States, there is primarily federal legislation that sees to the affairs of disabled people. This Legislation is called the Americans with Disabilities Act and it makes sure people with impairment have equal access to public facilities such as:
Hospitals;
Restaurants;
Shopping malls;
Hotels, etc.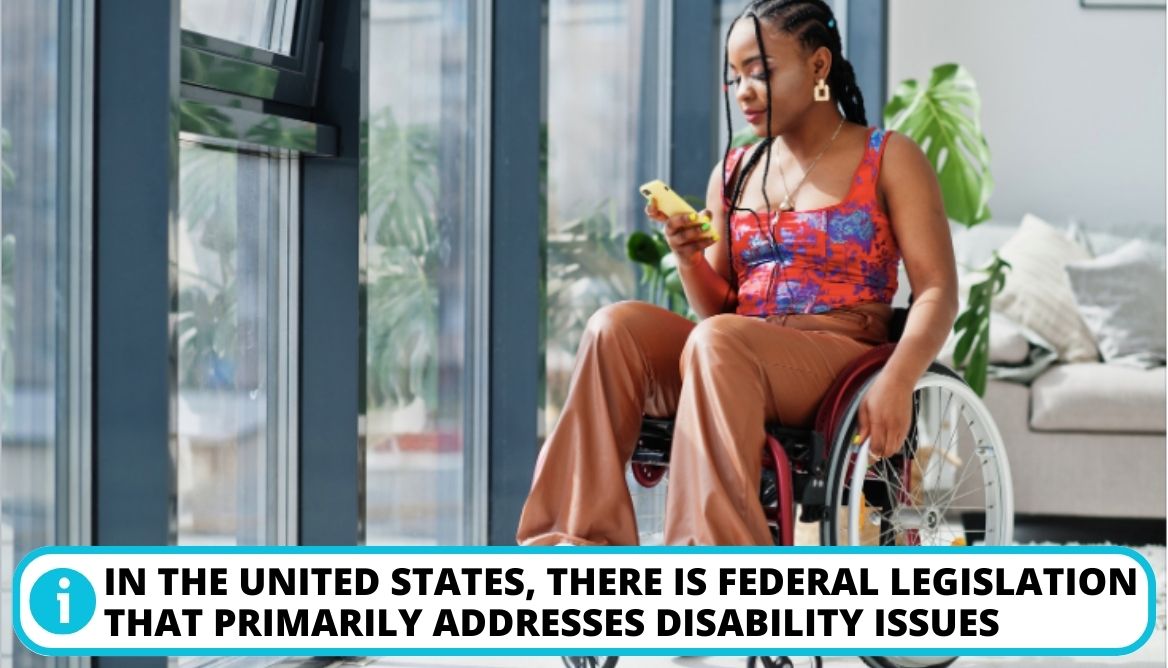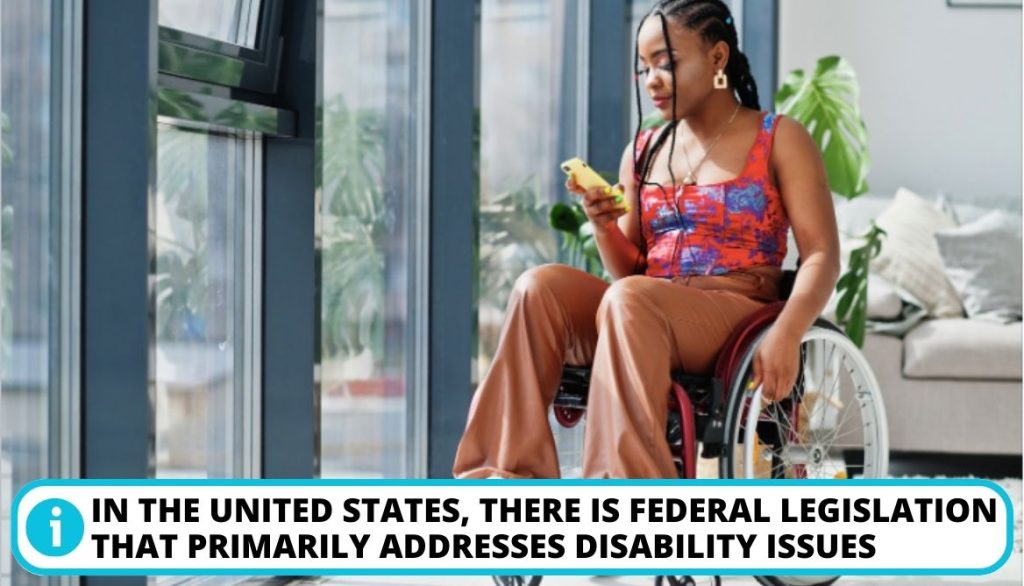 1. International Standards for Accessible Hotel Accommodations
Another regulation protecting the interest of the impaired is the International standards for accessible hotel accommodations. This policy ensures travelers with disabilities all around the world will have access to luxury as well as enhanced safety and comfort.
This legislation is recognized by:
The United Nations;
The World Health Organisation;
The International Organization for Standardization (ISO);
The Convention on the Rights of Persons with Disabilities (CRPD);
Other National and Local Standard organizations.
2. Americans with Disabilities Act (ADA) Requirements and International Standards
Many countries around the world have certified the international standards including the ADA Acts. They now use it as a basis for their accessibility regulations for disabled travelers. So let's go into detail about the standard requirements for a Roll-in shower in a Hotel.
The table below describes what a Roll-in shower in a hotel accommodation should contain the following key pieces of equipment and features according to International standards and ADA Acts;
| | |
| --- | --- |
| | International Standard Requirements |
| | No threshold, curb, roll-in doors, or glass door. A threshold of not more than half an inch is allowed |
| | The entrance should be at least 30 inches by 48 inches |
| | The inside dimensions should be at least 60 inches by 30 inches |
| | Replaced with shower seats |
| | The floor inside the shower area in the hotel room should have a slight slope not exceeding 1/4 inch per foot to ensure proper drainage |
| | The grab bar and adjacent walls should be 6 inches apart. grab bars should be installed around the wall to the entry with equal heights |
| | Adjustable or handheld showerheads should be installed at reachable heights for all users |
| | Shower controls and fittings should be within reach and have at least 1½″ above the grab bar so that they do not disturb the usage of the grab bars |
| | Non-slip flooring such as Polyester gel coat |
| | Trenches drain and thick shower curtains should be installed to avoid water splashing out from the shower area |
3. List of Roll-in Shower Hotels in the US Complying with the ADA Acts
The table shows a few Accessible Hotels for people with mobility problems in the United States including their website for easy booking.
| | | |
| --- | --- | --- |
| | | |
| Caesars Palace Lasvegas Hotel: | 3570 S Las Vegas Blvd, Las Vegas, NV 89109, USA | |
| Encore at Wynn Las Vegas: | 3131 Las Vegas Blvd S, Las Vegas, NV 89109, USA | |
| | 400 S, 400 SE 2nd Ave, Miami, FL 33131, USA | |
| Crowne Plaza Times Square Manhattan: | 1605 Broadway, New York, NY 10019, USA | |
| London West Hollywood at Beverly Hills: | 1020 N San Vicente Blvd, West Hollywood, CA 90069, USA | |
| | 124 E 28th St, New York, NY 10016, USA | |
| | 270 Biscayne Blvd Way, Miami, FL 33131, USA | |
| | 9500 Wilshire Blvd, Beverly Hills, CA 90212, USA | |
| Hollywood Roosevelt Hotel: | 7000 Hollywood Blvd, Los Angeles, CA 90028, USA | |
| Best Western International Drive: | 8222 Jamaican Court, International Dr, Orlando, FL 32819, USA | |
FAQ
What is the difference between a walk-in shower and a roll-in shower?
The main feature that differentiates a walk-in shower from a Roll-in shower is the threshold level. A roll-in shower has a very low or no threshold or curb at all or curb at the entrance while the walk-in shower has a curb which is usually a few inches above the surface.
What does a roll-in shower look like?
A roll-in shower usually looks like a bathroom with three closed walls and a spacious opening containing a shower seat, grab bars around the whole wall to the entrance, adjustable or handheld shower heads, etc.
What is a roll in a bathroom?
A roll-in bathroom is a shower or bath facility in hotels, homes, public places, and health centers designed with adequate space and reachable pieces of equipment to accommodate the needs of people with disabilities.
Does a roll-in shower require a seat?
According to the International standards and ADA acts, all Roll-in shower in hotels requires a fold-down or built-in shower seat to cater to all group of disabled people and the elderly.
Conclusion
Roll-in showers are bathrooms specifically designed for people with limited mobility such as the elderly and wheelchair users. The main purpose of this innovation is to provide accessibility coupled with ease, comfort, and safe showers for people with mobility issues.
Roll-in showers are usually constructed with low thresholds, no slip flooring, and installation of grab bars, seats, shower heads, etc. to help the users navigate their ways and fully utilize the facility. It is worth noting that roll-in showers are not only meant for the disabled but can also be used by anybody who wishes to.
Have you ever seen a roll-in shower before? Give your response in the comment section. Thanks for reading!