Happy Wayfarer is reader-supported. When you buy through links on our site, we may earn an affiliate commission.
Italy is an incredible country that comes with many attractions, like the Colosseum, Pinocchio Park, and exquisite beaches. But you will be especially impressed by the amusement and water parks in Italy.
So, if you're looking for are looking for new to enjoy your next holiday in this European nation, you are in the right place. We've got you covered with a list of exciting amusement parks and their top activities!
Don't waste time and let's dive into right now!
Theme Park in Italy: Which Variations Can Be Found?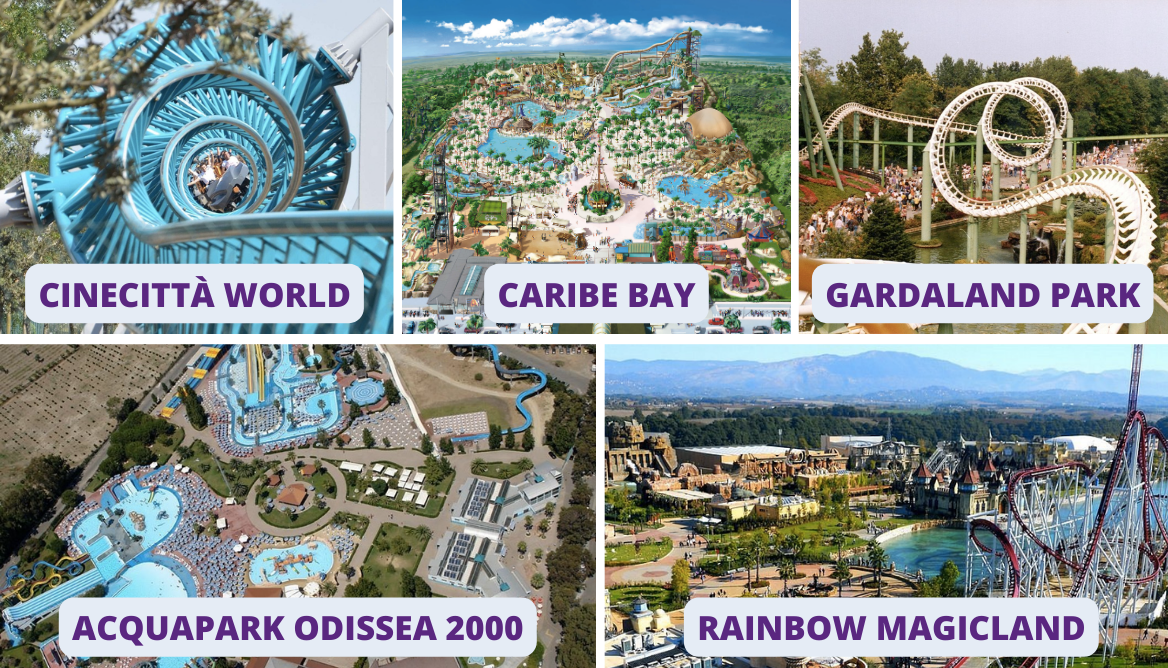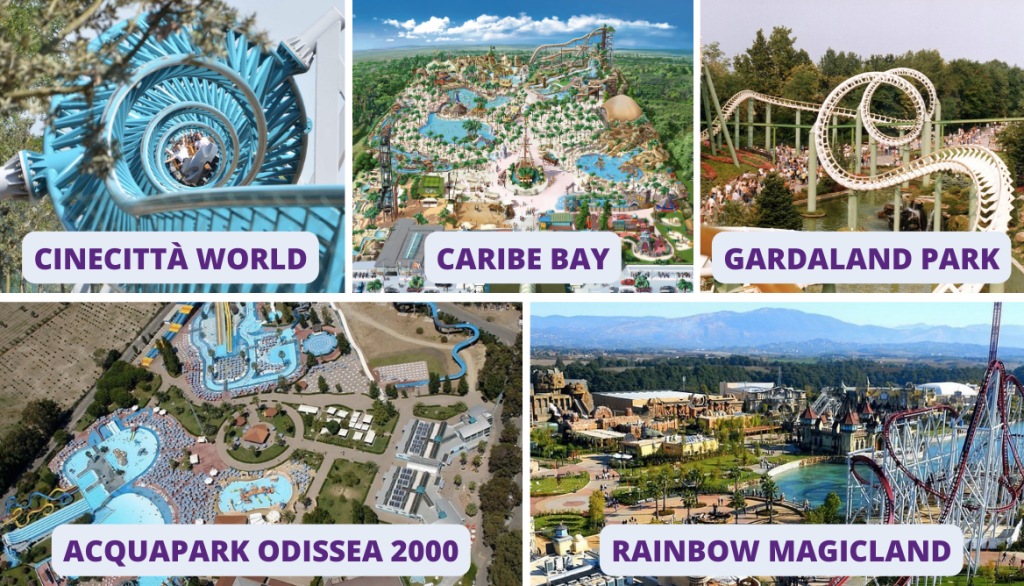 From Northern to Southern Italy, you'll have different theme parks. These locations with nice features are open to all, giving a great experience to local and international tourists. These destinations include:
Cinecittà World
Caribe Bay
Gardaland Park
AcquaPark Odissea 2000
Rainbow Magicland
Depending on what you are looking for, these locations offer an unforgettable impression.
Additional Water Park Experiences
Different indoor and outdoor themed areas come with many activities, catering for all, including smaller children. Here is what you'll enjoy apart from fun and games:
You can get educational content for your kids through the water aquariums and museums in different locations, like; The Genoa.
The sites are also spots to try Italian delicacies, especially for international tourists.
Therefore, each theme park has unique attributes, some with live entertainment. Continue reading through to find out these attraction locations and discover the specific experience package you'll get.
List of the Top 5 Amusement Parks in Italy
Here is a list of some of the destinations that qualify among the top amusement parks in Italy and what they can offer you.
1. Cinecittà World: A Combination of Film Culture and Water Park Fun
Cinecitta is one of the exquisite destinations acting as Italy's Hollywood park, which you experience when visiting Rome:
It stretches over 30 ha and boasts over 40 sites fit for all ages, thus deserving the first place mention in our exclusive list.
Anything is possible in the water park, as justified by the movie experience.
It is suitable if you want the perfect date destination.
The area is divided into subsections that offer the collective beauty of Cinecitta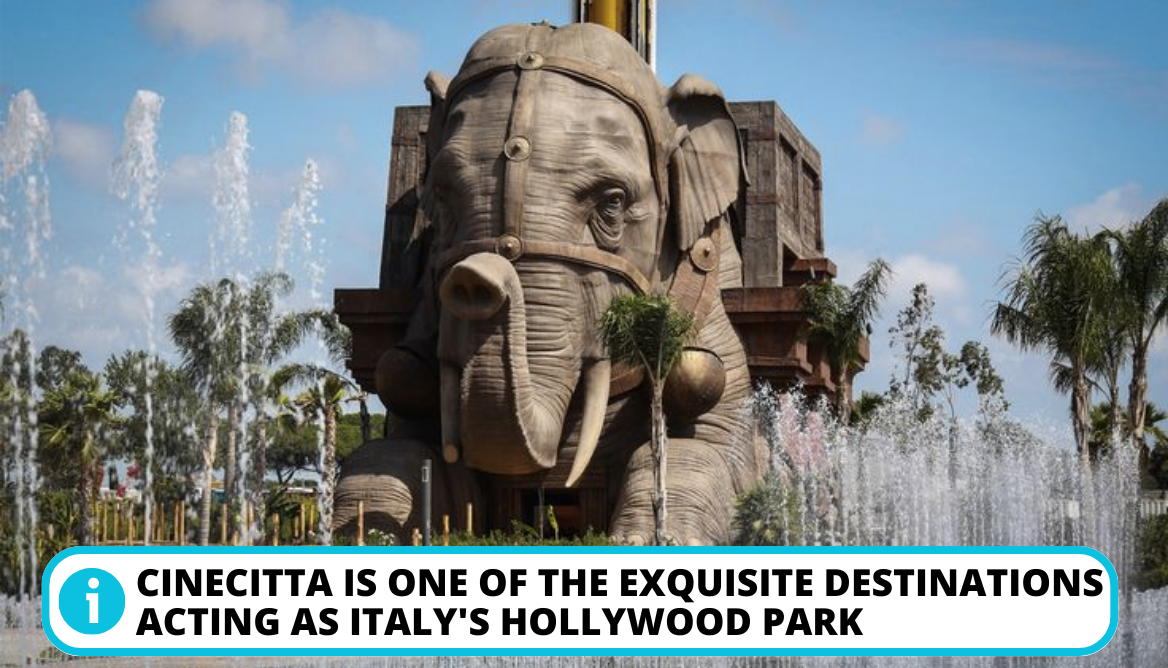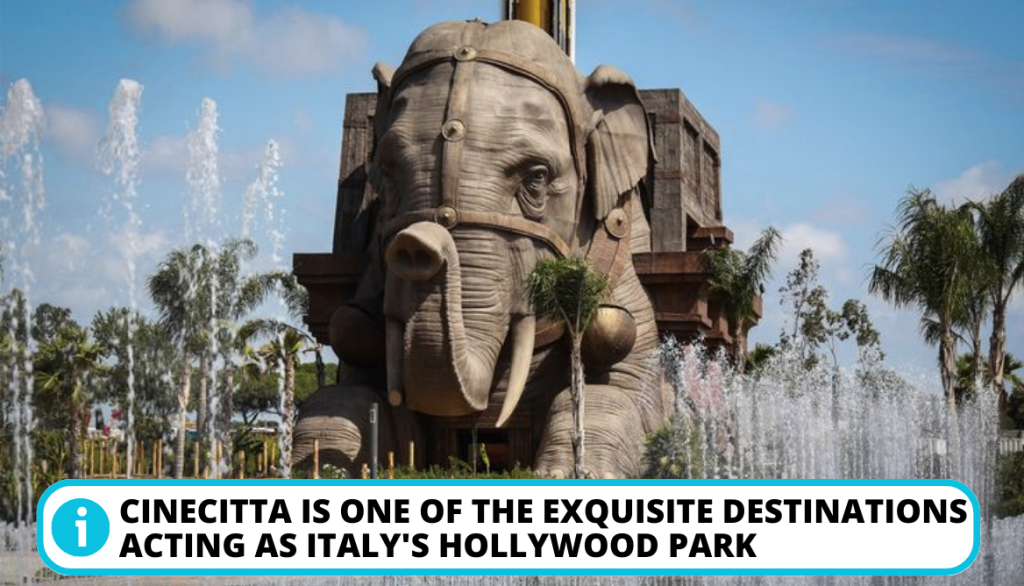 Here is an analysis of these many attractions:
Volarium: The Film Adventure section
The Volarium section holds the best and most unique theatre experience, boasting great technology to impress all film lovers. Here's what to expect in the location:
Offers excellent packages, impacted by the design of the themed area.
Cinema seat technology lifts you over ten meters to watch a film.
Exploration of various cultures and historical concepts, like the story and work of Leonardo Da Vinci and the Florence experience from centuries ago.
Interesting fact: This section has received awards for its theatrical nature as the Best Italian Attraction. This is according to the Parksmania Awards, considered the Oscars of the European nation.
Assassin's Creed: The Perfect Spot for Gamers
The amusement park has you sorted if you're an avid gamer. Play using the best tech including virtual reality.
The VR experience is unmissable if you're used to consoles.
You'll enjoy the legendary Assassins' game.
Aktium: Best for Water-based Activities
For those who love water parks and attractions, this place will certainly be to their liking. There are several factors about this location. They include:
It is named after the famous Aktium battle.
The park is your answer if you want to relax and enjoy different water bodies during the summer heat.
You can explore excellent rides, traveling up to 70 km/hr.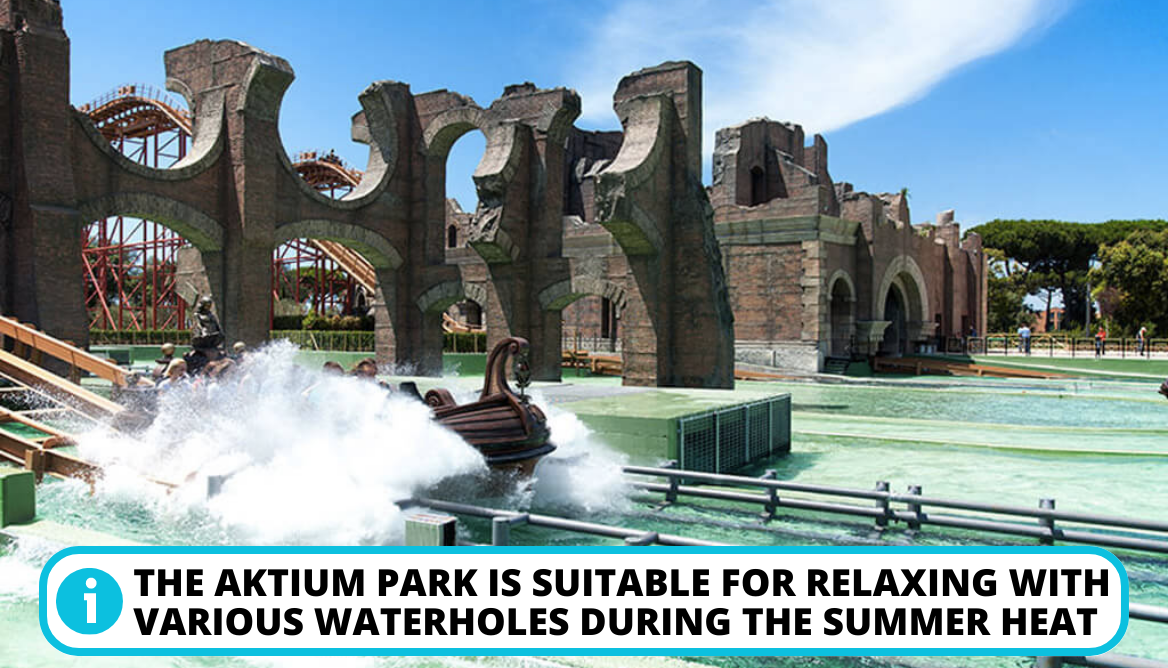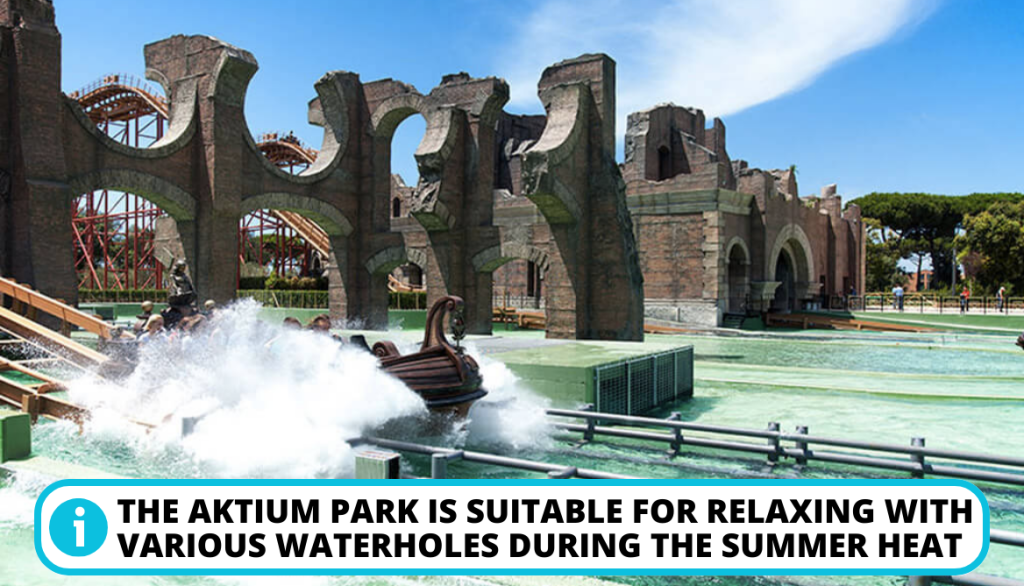 Kingdom of Ice
More cool stuff awaits in the Kingdom of Ice, where you enjoy the following activities:
Ice skating.
Snowy slides through the Blunders.
Snowball fights for smaller children.
Nightmare at the In-Cubo: Unique Film Showcase
Vacation for the adults includes trying the horror experience provided in the In-Cubo section of Cinecitta world. You'll get to do the following at Nightmare:
A 6D horror film show to test your guts with such movies.
Laser gun battles with materialized monsters.
The 'Long Live Italy' Film
To cap off your stay at Cinecitta water park, you can see the history of Italian productions, depicting the country's rich background and cinematic heritage. The film is usually showcased daily from 6 pm in the main theatre hall.
2. Caribe Bay: Best for Water-Related Themes
Situated in Venice, Caribe Bay is the perfect destination to enjoy the best water sceneries and their respective activities. Let's look at what this magnificent water park has to offer.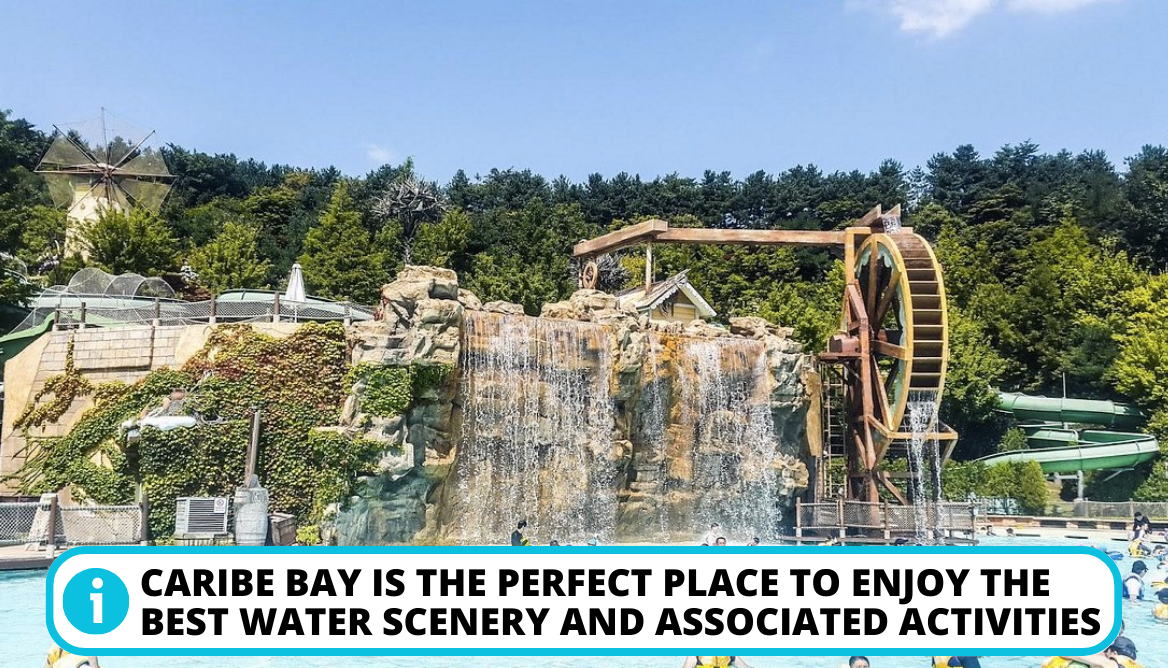 Jungle Jumping for Extreme Themes
You'll enjoy some of the best adrenaline escapades through the Jungle Jump around a beautiful waterfall.
You can try different acrobatic moves considering the ample air-time.
Conclude your stay with a dive in the deep, chilling, and clear waters, a meditative feature to release stress.
Barracudas Water Slides 
Another adrenaline experience is through the 17-meter water slide. It would be best to try this lying on your front for the best feeling. You can do competitive slides with a partner to see who reaches down first for extra fun.
Shark Bay for Relaxation Adventures
Let go of your worries as you go to the Mexican coast, paired with the magnificent Playa Sisal. You may not want to leave if you're an avid relaxer. Additionally, the area has the following features and factors:
Swaying palm trees,
King-size loungers,
White sand,
Crystal-clear sea to view aquatic creatures,
Beach bar to chill with and chat with friends or family.
Boopi River for Small Children's Enjoyment
Your kids can also have fun in Caribe Bay, as influenced by the scenic Boopi River:
It has different attractions like safe water slides that can come with multi-slide tools if you want to join in the fun.
The twists and turns can be exhilarating for your kids, giving them unforgettable fun.
The swimming pools with enough lifesavers and equipment available for safety.
Live Show Events
From circus events to concerts, Caribe attraction park offers various theme shows. Here are more exciting entertainment events you'll enjoy:
Live sea shows,
Pirate stories,
Skilled dance shows,
Acrobatics displays.
Talents you will see and meet are award-winning global performers, thus, providing the ultimate experience as one of the best water amusement parks in Italy.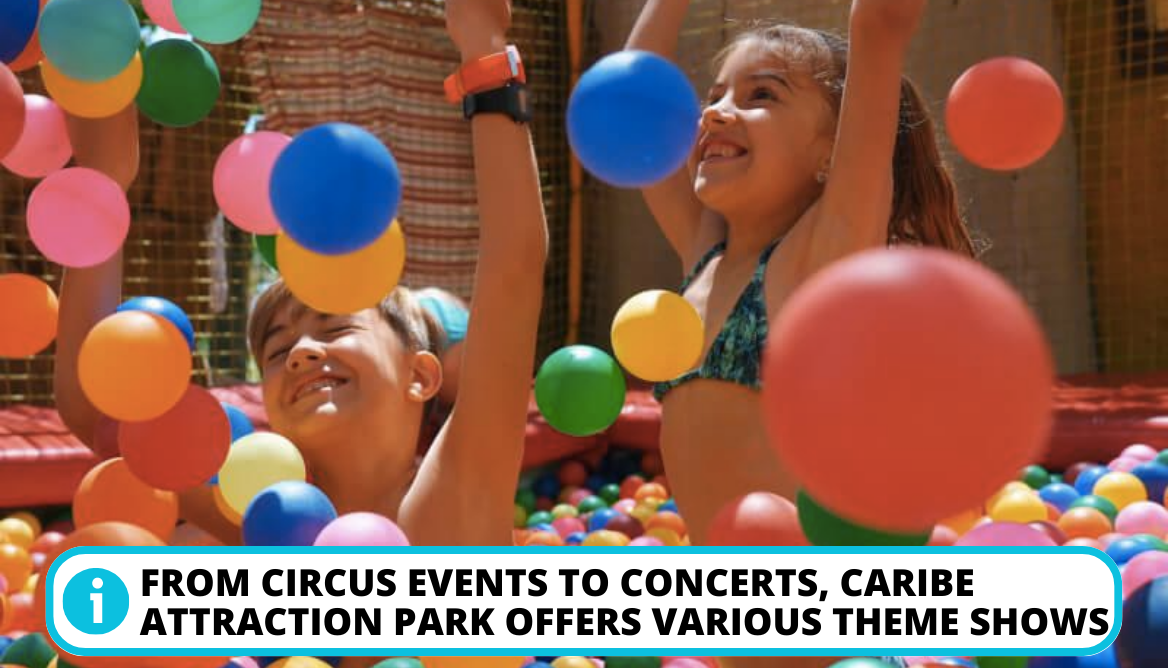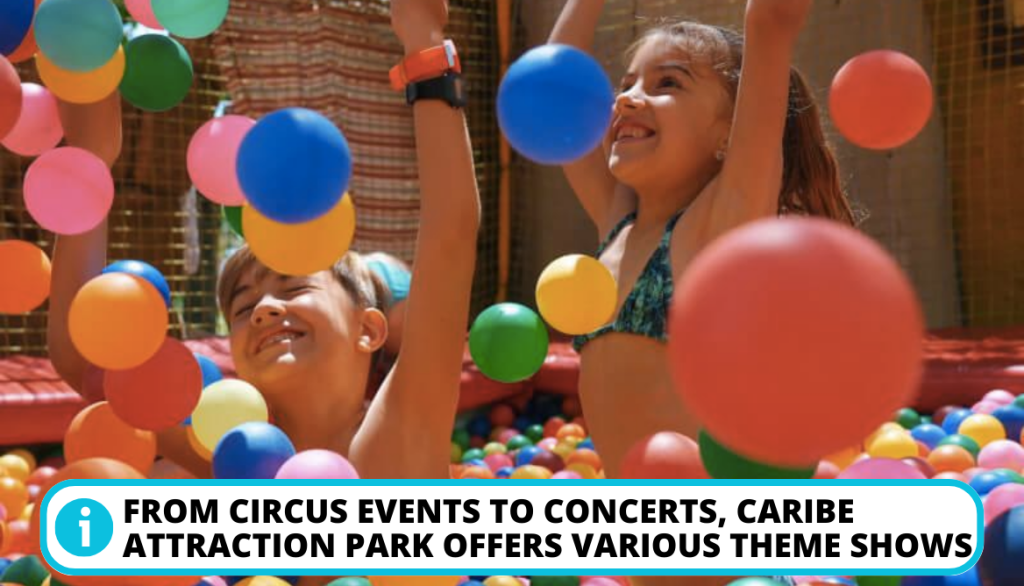 3. Gardaland Park: Unique Theme Park Categories
On your Italian holiday, you can go to the inimitable park Gardaland near Lake Garda. It is one of Europe's top ten amusement parks, divided into three sections, each handling different preferences and ages. Here's what to expect in the specific categories.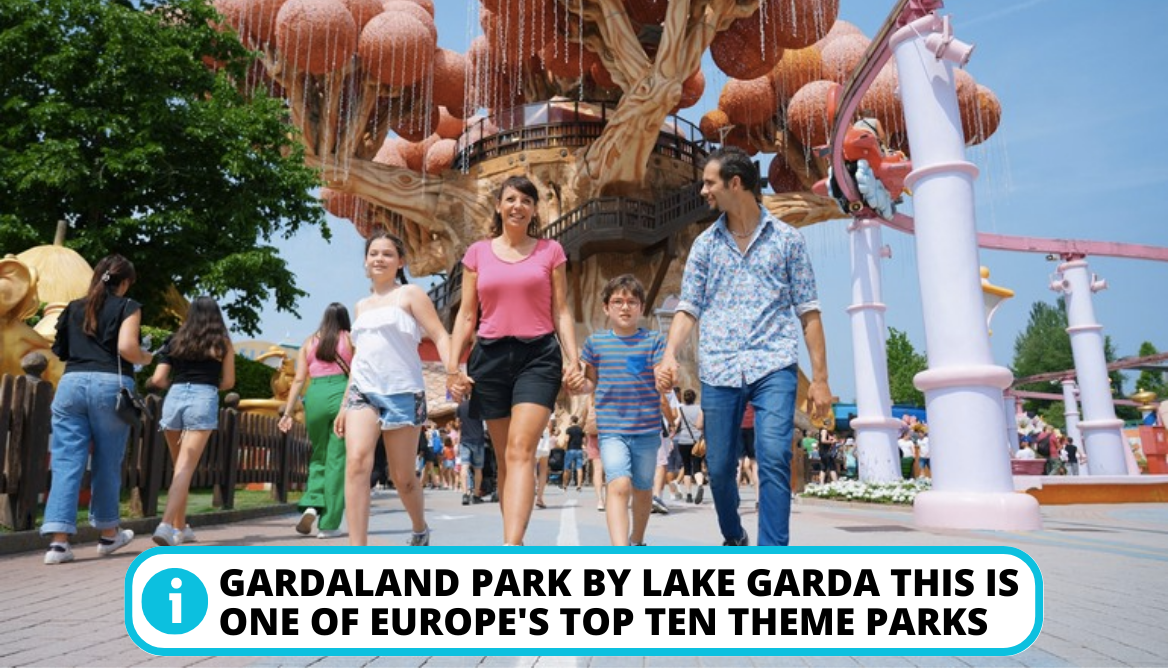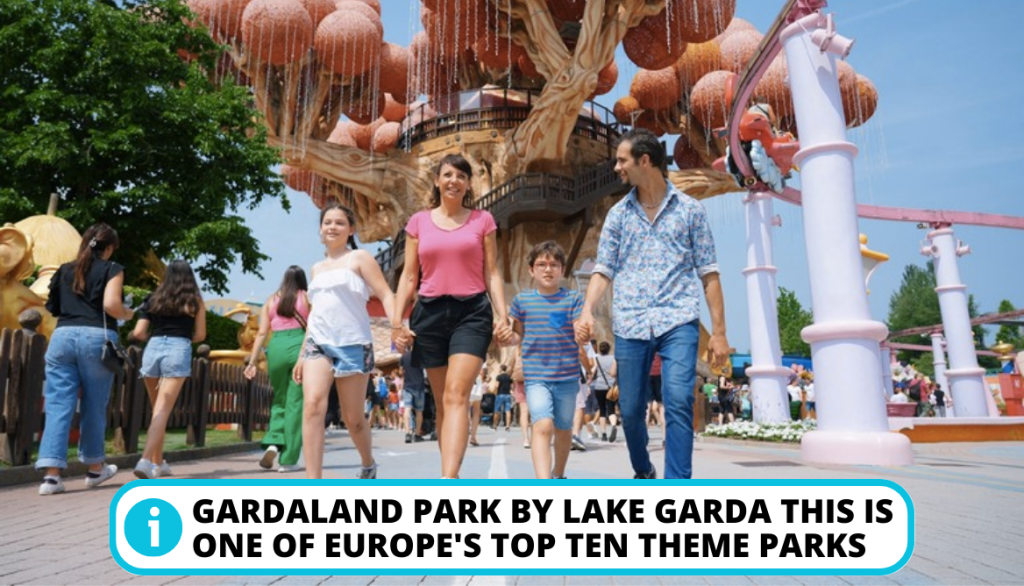 Roller coasters for the Adrenaline Junkies
A constant factor with the parks in Italy are adrenaline-rushing rides and water slides, and Gardaland Park offers some of the ideal roller coasters in the country. With 32 rides available in the location, these are some of the exhilarating experiences you'll get:
Jurassic predator on the Raptor.
You can also try the twist-and-turn supersonic hurtle using the Blue Tornado.
Fantasy Land for the Children
Gardaland also has a collection of famous kids' sections showcasing their famous animated/cartoon characters. The theme park includes simple rides that can take your little one across their favorite tv personalities.
They can also accommodate an adult if you want to join and take a memory back to the old cartoon times. The exploration sections include:
Kung Fu Panda expo.
Peppa Pig land.
Pirate adventure ride on the Baby Corsaro.
Smaller children are also not left out. They can play in the following areas:
Prezzamolo Magic Village.
Small Human Club.
Enjoy the Transgardaland Express train.
All-Age Adventures
You can drop off your younger ones at the previous section and explore some of the hybrid offerings by the theme park. Take a look at what you can do for additional enjoyment:
Take the rubber dinghy and float over the jungle rapids.
Try the Fuga de Atlantide by deep diving in a quest to find 'Atlantis.'
Long boat rides through the Colorado water rapids.
Enjoy the unique outlook and nature from the Gardaland Sea Life Aquarium. It has over 5,000 creatures like sea lions on display.
Watch a live show like the Que Viva Mexico, a melodious, toe-tapping, dancing masterpiece.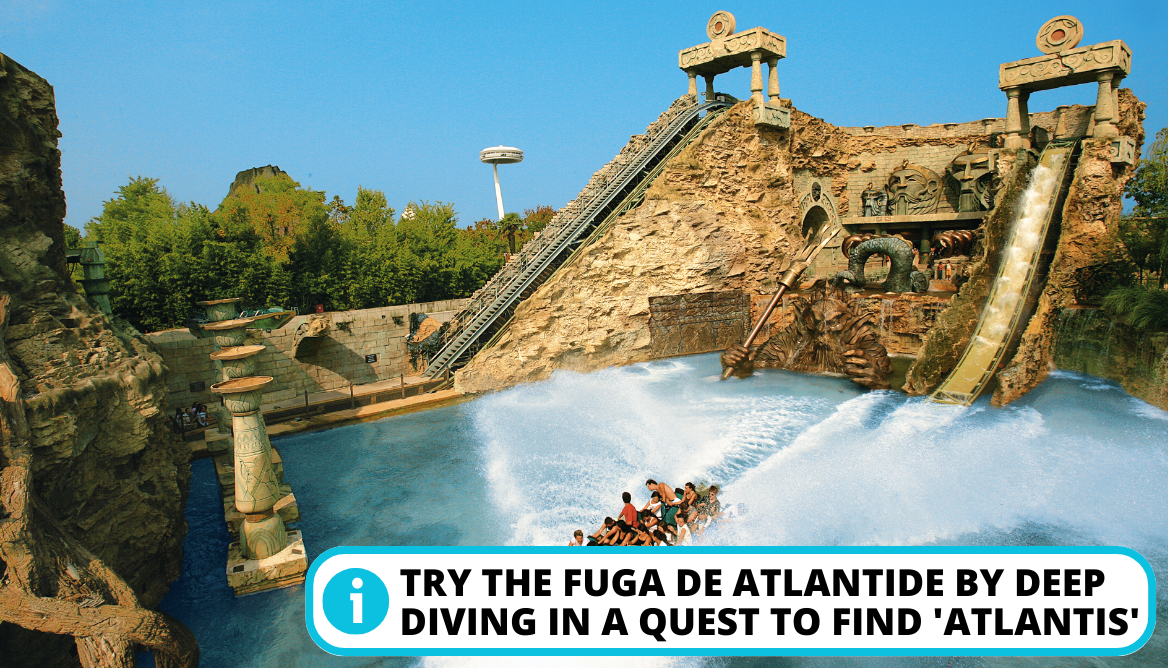 4. AcquaPark Odissea 2000: For the Summer Time
AcquaPark is perfect for water relaxing. Here you will find a large swimming pool, to cool off from the hot sun. Also, there are over 20 slides you can try and enjoy the nearby beach areas for the typical but fun sea experience.
That said, here's an in-depth review of what this amusement park offers.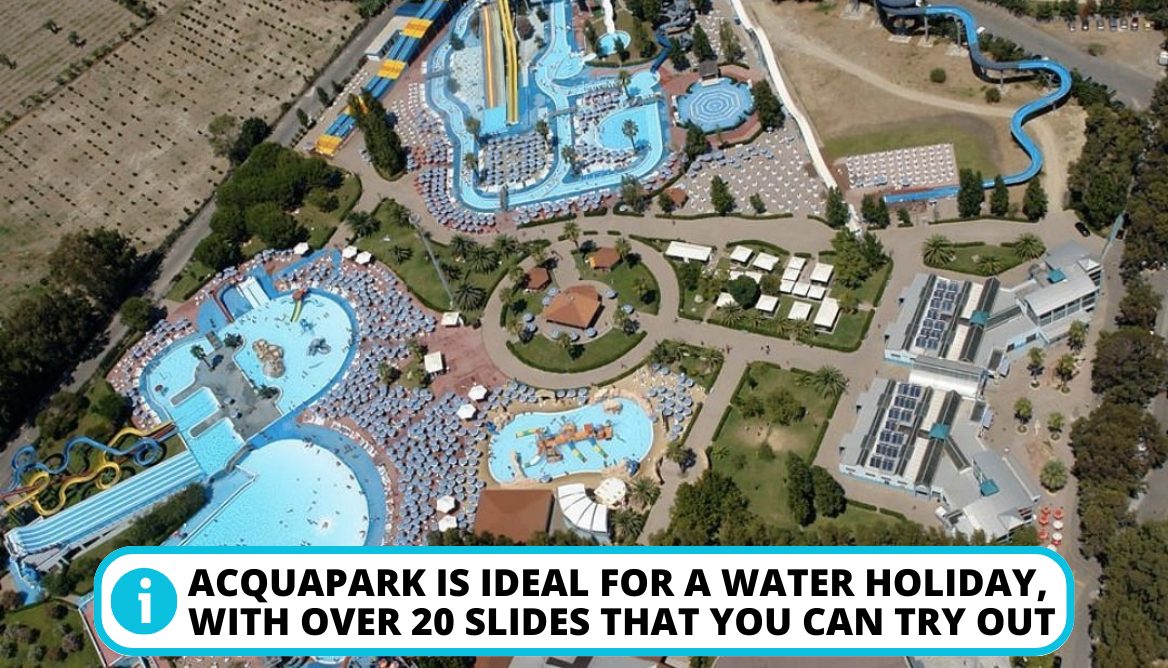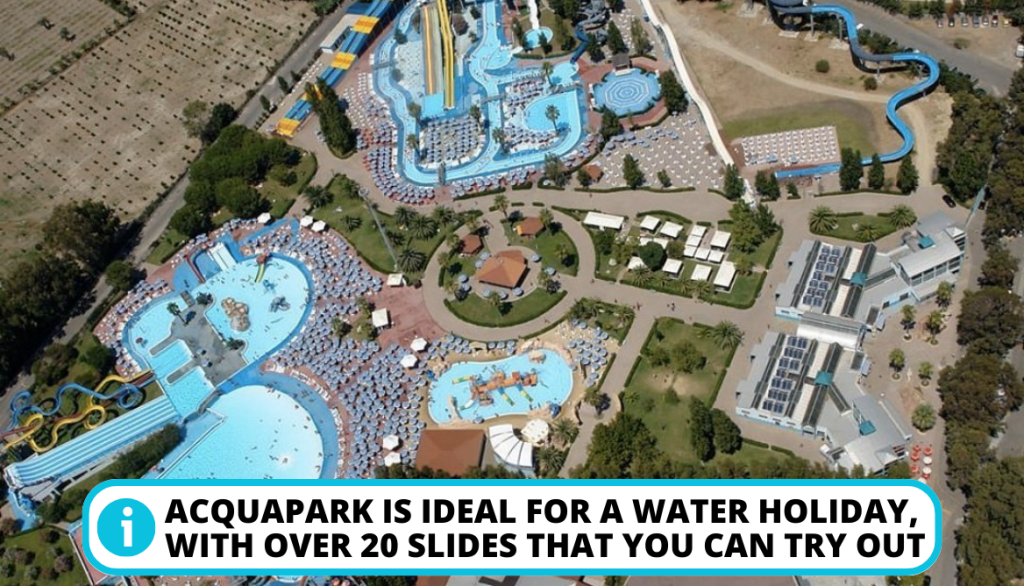 Explore your Extreme Side
Thrill seekers have various activities to try, and they include the following:
Skyron rocket drop for a plane dive type of feeling.
Go through the dark depths of unique rides like Black Polyfemo.
Dinghy jumps via the Titano Roller, lacking a top to increase the thrilling nature.
Go through the eight-lane Chimera toboggan ride.
Plunge from the top of Big Olimpo.
Try the corkscrew ride down the Omero Jump.
Enjoy some Floating Experiences
You can enjoy this if you want a subtle and family-friendly activity. You'll get to have a feel of the theme park provisions, including things such as:
Hopping on a Pentacolour slide.
Enjoying a lazy tube tour ride across the Argo River.
Take a trip through the 1350 m² Athena Gioc'Onda wave pool.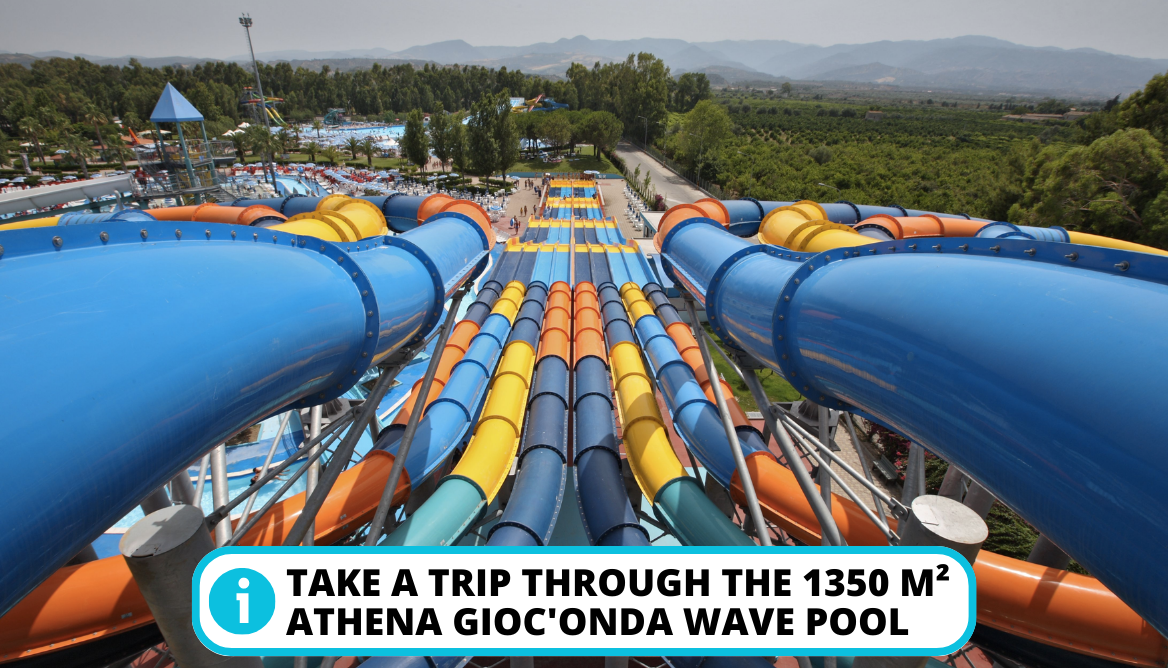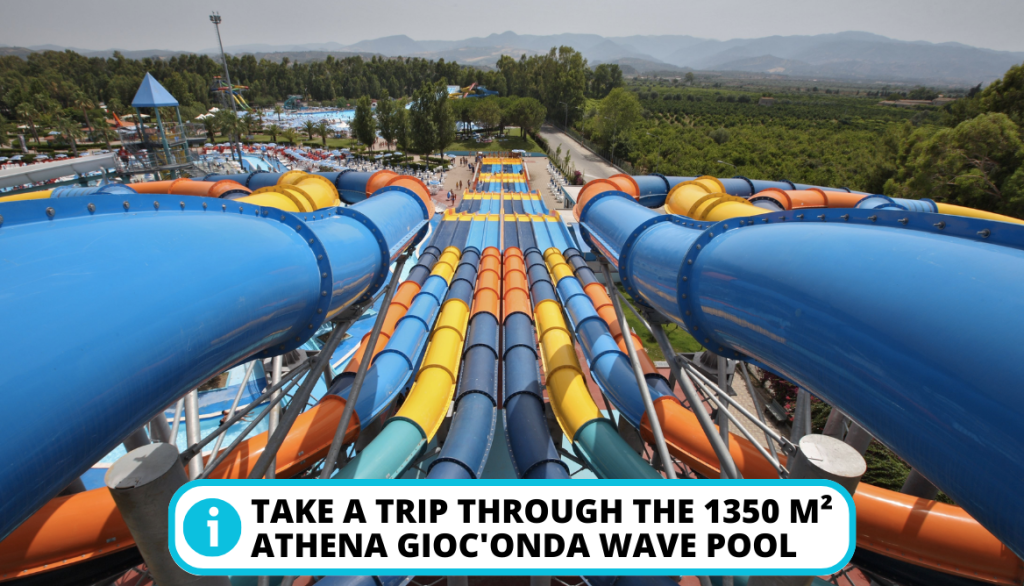 Let Your Kids Enjoy the best Amusement parks in Italy
Like other best theme parks, this area has a load of activities for smaller children, including simple water slides. They'll be able to do the following in the amusement park:
Ride on the back of a sea monster during a slide.
Race using the two-way slide of Castello de Hermes.
Enjoy the miniature Toboggans snake design waterslides.
The section boasts various designs which excite kids, like bridges, jets, and walkways.
5. Rainbow Magicland Amusement Park
Our last theme park Rainbow comes with a package for everyone. Located in Rome, it has 38 attractions and is amongst Italy's largest and best theme parks. Here's what you'll find in the scenic amusement park.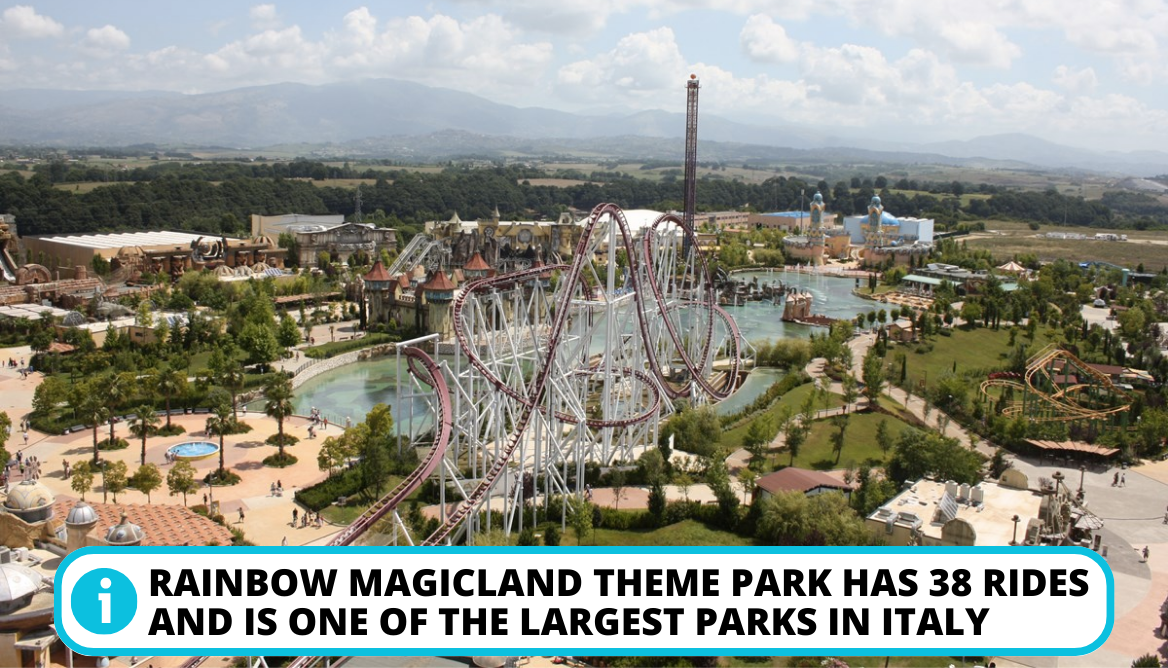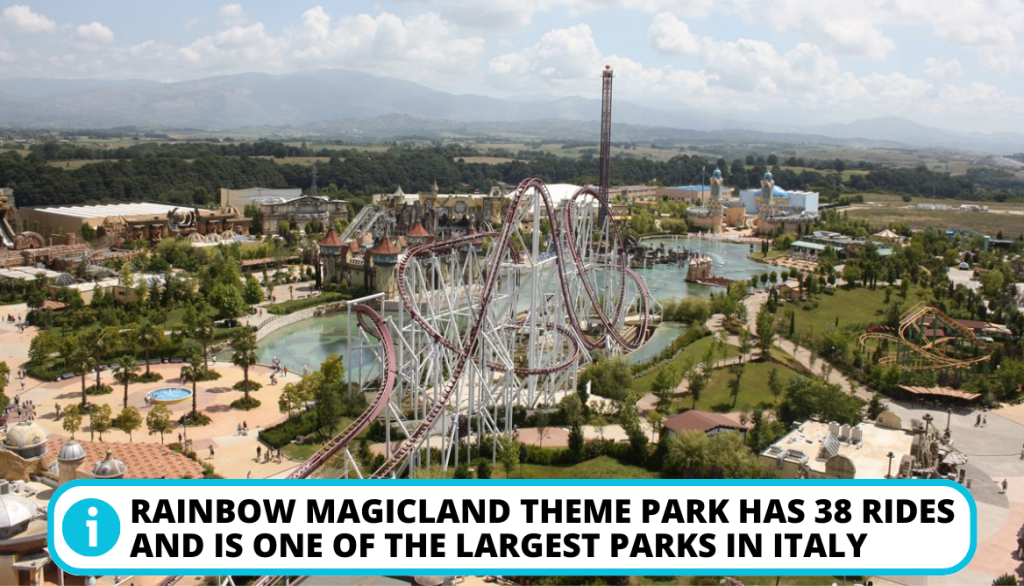 Participate in Sea Concept Games
You can live out your fantasy by trying pirate theme acts involving battling sea creatures.
Another activity is the 5D entertainment of the story of Atlantis through the use of 3D and laser equipment for optimum enjoyment.
Enjoy the Roller coaster Rides
You simply can't get enough of these amusement parks, as they are the main attractions for most people. The magical region boasts some of the best versions, having unique structures and features for the best adrenaline-rushing moments.
What are the Best Water Parks in Italy?
There are also water parks displaying an array of superb activities. They are usually vast areas to ensure they offer uncountable theme park events and hold thousands at once. It involves:
Colorful activities,
Sun loungers,
Bungee jumping,
Unique water slides.
That said, here are the quality amusement parks in Italy:
1. Aqualandia Water Park
Venice brings you another experience through the Aqualandia area. It is a special region qualifying as the only water park in Italy categorized in the top 25 amusement parks globally. Found in Lido di Jesolo, it is a 45 km drive from Venice, an enjoyable journey if you're coming with the company.
You can be assured of enough car park any time of the week, with the area situated in the 80,000 m2 Caribebay location. Among the things you'll get include:
Unique water slides and entertainment.
Slides for the youngest visitors
Deck seating with parasols for the older generations.
2. Zoomarine Area in Rome
Zoomarine is one of Italy's most beautiful amusement parks, boasting special sea animal performances. You can catch the following creatures in action on any day: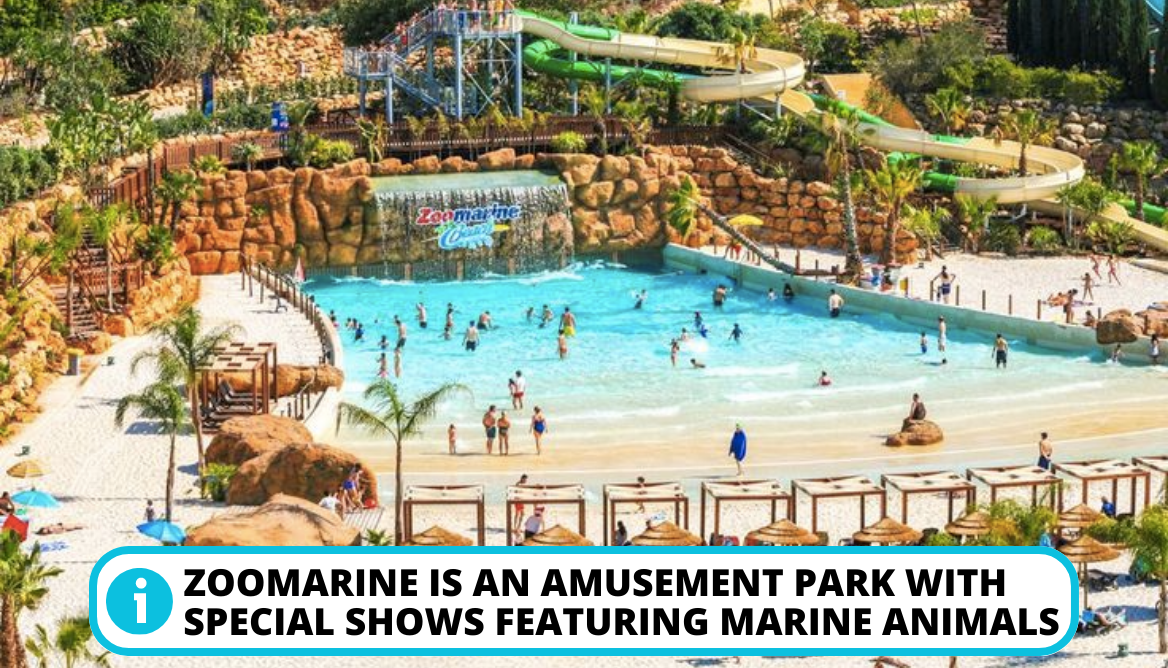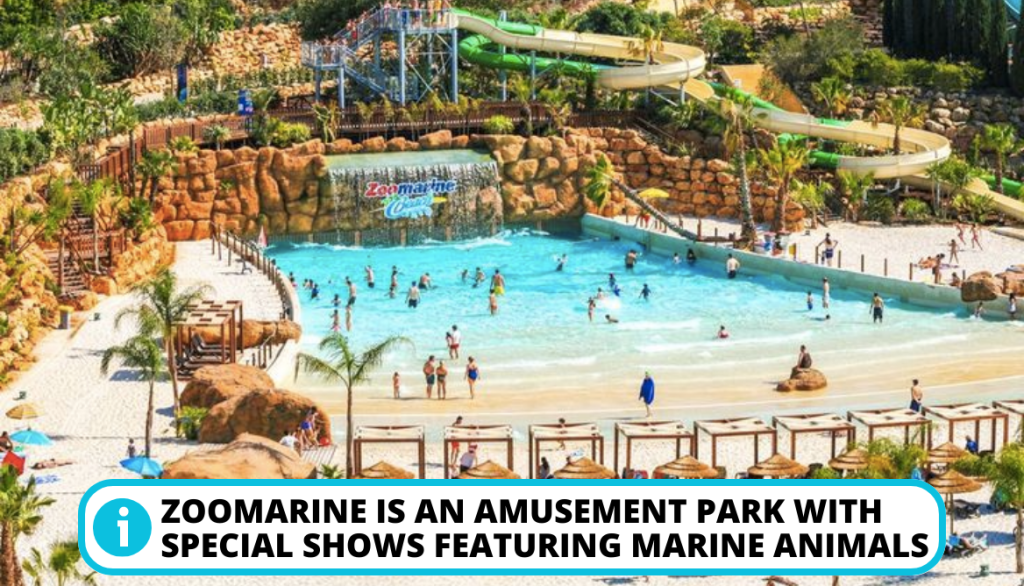 You'll also get a show from skillful divers, showcasing their deep sea expertise and playing with some of the animals. Here are more offerings from one of the magnificent amusement theme parks:
Extensive water slides,
Swimming pools,
Downhill tower,
Various water rides.
3. Legoland Italy
Legoland is the first amusement park in Europe and is relatively new. It is ideal for anyone with kids, boasting safe activities for children younger than 12.
The Legoland water park concept allows even adults to enjoy some unique attractions. The enjoyable feature includes:
The Jungle Oasis.
Miniland is constructed in a Lego design, whose bricks resemble the Colosseum's.
Exploring Lego River.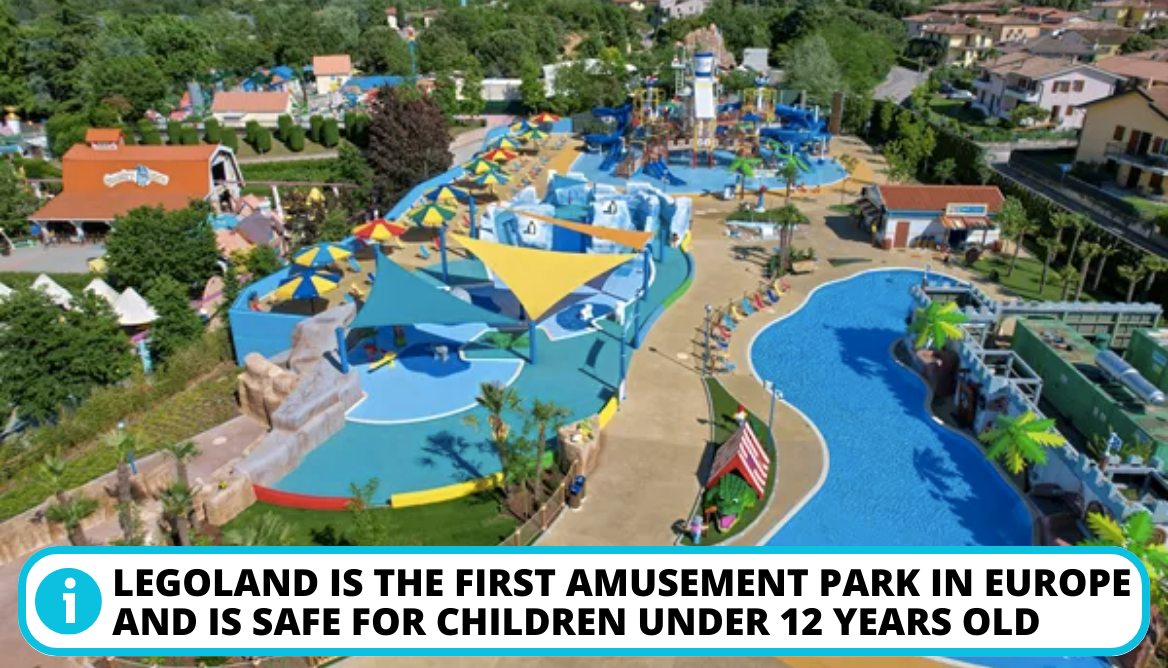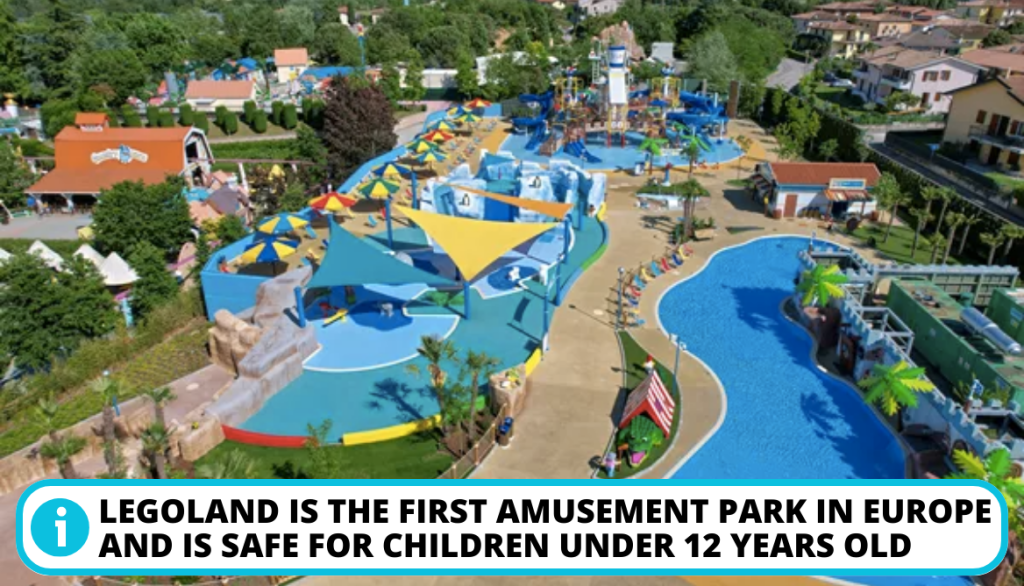 Our Verdict on the Best Place To Visit
We've gone through some of the best theme parks in Italy, and of course, we have an opinion if you want to know the top destination to try. Caribe Bay provides the best all-age-friendly features like:
Barracudas Water Slides.
Shark Bay area for ample relaxation.
Boopi River for small kids' enjoyment.
Live entertainment.
Cinecitta is also a good option through its diverse nature, but not all ages might enjoy a horror house and other scary films. However, you'll still have the time of your life, similar to the other theme parks.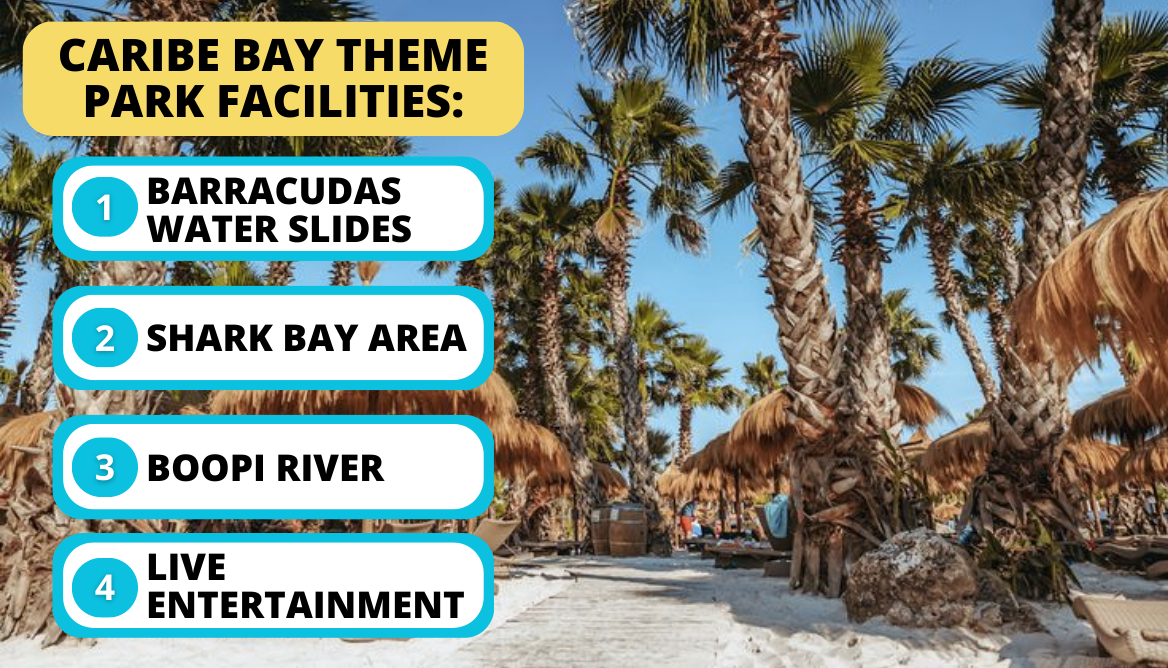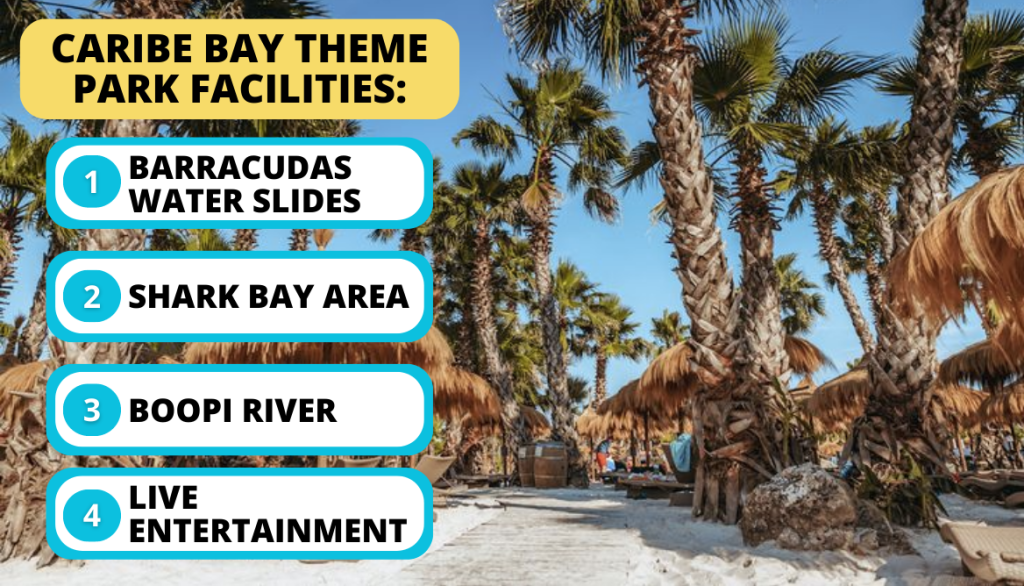 FAQ
What is the largest waterpark in Italy?
The largest water attraction region is Gardaland theme park, just next to Lake Garda.
What is the most famous water park?
The most famous water attraction scenery is Aqualandia, with large pools accommodating many visitors. 
Does Italy have a water park?
Italy has some of the best water parks in Europe, with some, like Aqualandia, ranking among the most exciting destinations globally.
Is there a Disneyland in Italy?
Disneyland is only depicted in the best water parks in Italy, such as Legoland, but you can access the U.S. special factor in the neighboring country, France.  
Where is Water City in Italy?
Water City in Italy is found in Venice, making the amusement parks around the region quite popular. 
Conclusion
That's all we have on Italy's theme parks. We covered all the greatest choices available. An area like Caribe Bay is suitable for people of all ages. If you want an extraordinary experience while on your holiday try Cinecitta Park.
But you also should don't forget about the safety protocols, which are handy when bringing kids to these destinations. Also, it is best to review the services offered to ensure they match your preferences.
So, which of the Italian destinations would you prefer and why? Comment below with your answer, and tell us more water parks we might have omitted.