Happy Wayfarer is reader-supported. When you buy through links on our site, we may earn an affiliate commission.
Are you looking for the best theme park in Germany that cater to visitors of all ages and provide fun and entertainment? You've come to the right place! German amusement parks are renowned for their high standards of excellence, meticulous attention to detail, and unique attractions, which add to their special appeal.
Today, we'll examine the top 7 theme parks you may visit, along with their entrance fees and the benefits of doing so. Let's go into the most enticing world of details you can ever fathom!
Summary of German Amusement and Theme Parks
There are quite a few amusement parks and theme parks in Germany, offering breathtaking scenery, panoramic views, exhilarating water rides, and enjoyable activities for all ages. Here, we'll clarify the difference between an amusement park and a theme park. Let's start exploration!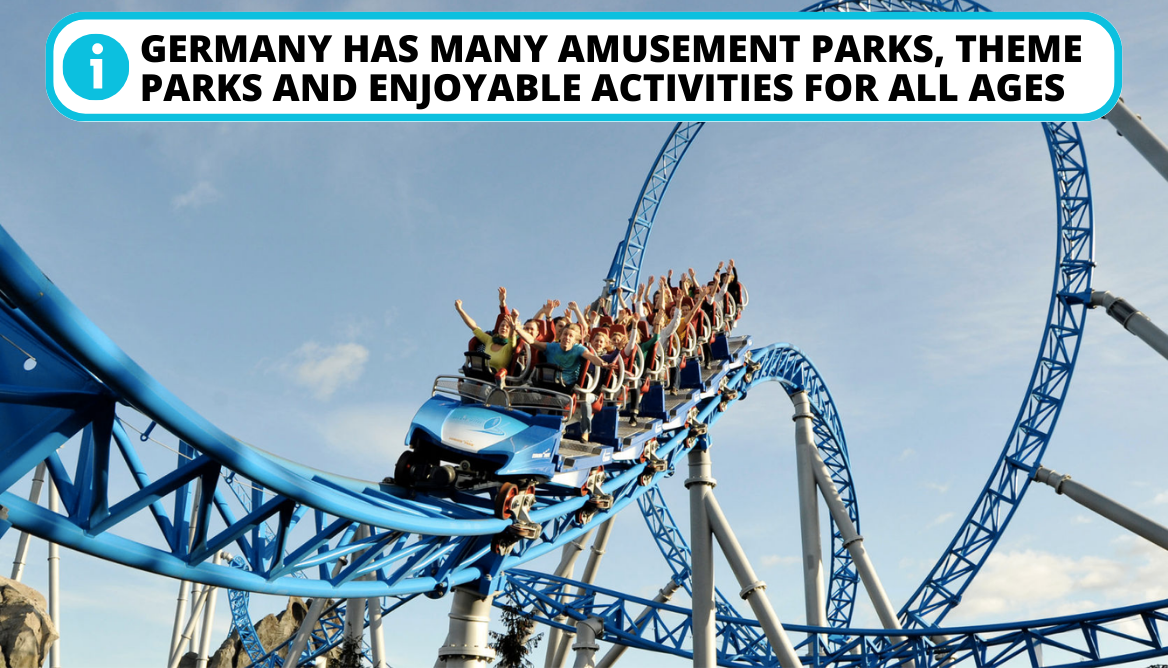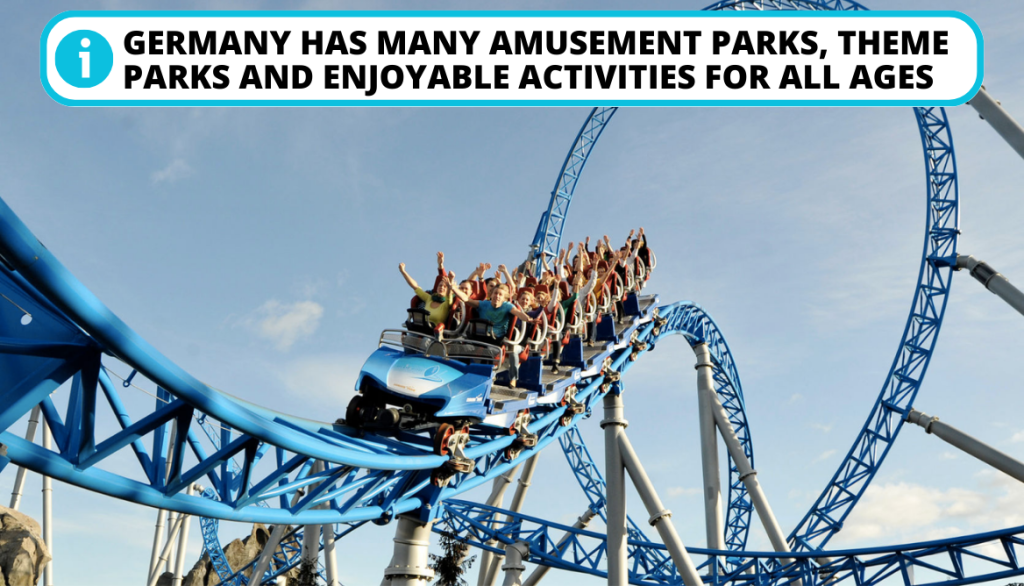 Amusement Parks in Germany
Amusement parks offer a wide variety of rides and attractions that are typically not related by a single theme or narrative and are made to appeal to a wide range of people. Amusement parks in Germany provide a range of thrilling experiences, including:
Roller coasters,
Water rides,
Carousels,
Games,
Shows,
Ferris wheels and bumper cars.
Theme Parks in Germany
Theme parks center their rides, attractions, and overall setting around a certain idea or story in an effort to produce a seamless and immersive experience. This could be inspired by a book, a time in history, a particular place, or any other imaginative concept.
Germany's theme parks, however, distinguish out for their:
Immersive storytelling,
Rides,
Live performances and shows,
Themed Hotels,
Seasonal Festivities.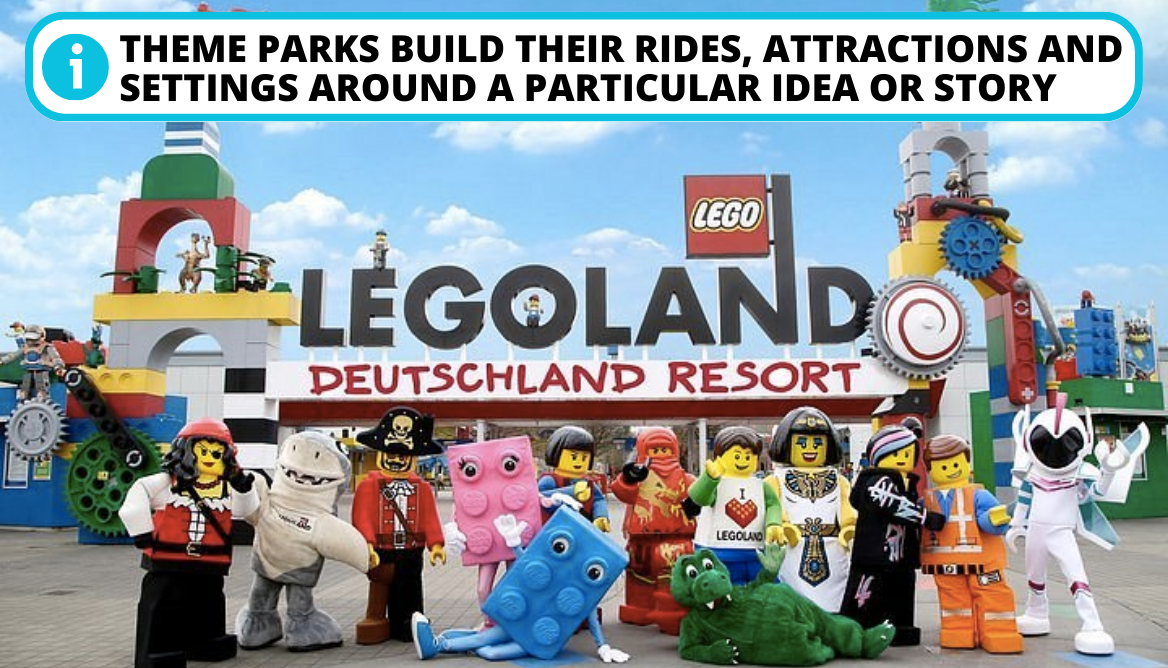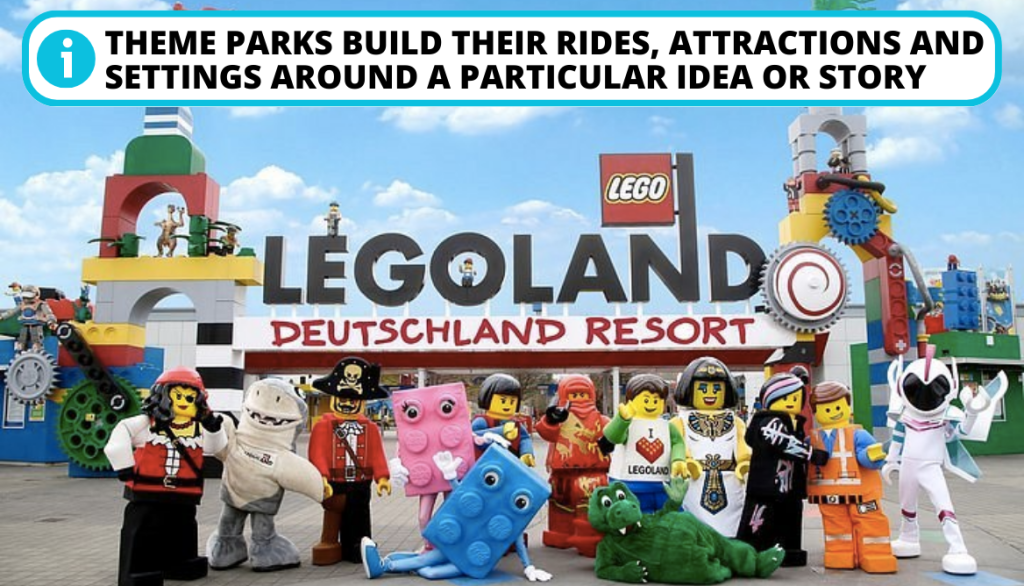 Why German Theme and Amusement Parks Offer the Best Experiences
For a number of reasons, visiting a theme park in Germany may be a memorable and delightful experience.
Theme parks like Phantasialand give guests the chance to take part in a narrative.
Amusement parks include a wide selection of attractions, such as water rides, shows, live performances, interactive displays, and themed food choices.
Everyone may find something to enjoy, as there are activities for all ages and interests.
Amusement parks in Germany provide families with a fun and secure setting in which to spend valuable time together.
There are well-known attractions in some theme parks in Germany. For instance, LEGOLAND Deutschland features amazing LEGO-themed sculptures, while Europa Park is home to the "Silver Star" roller coaster, one of Europe's highest and fastest coasters.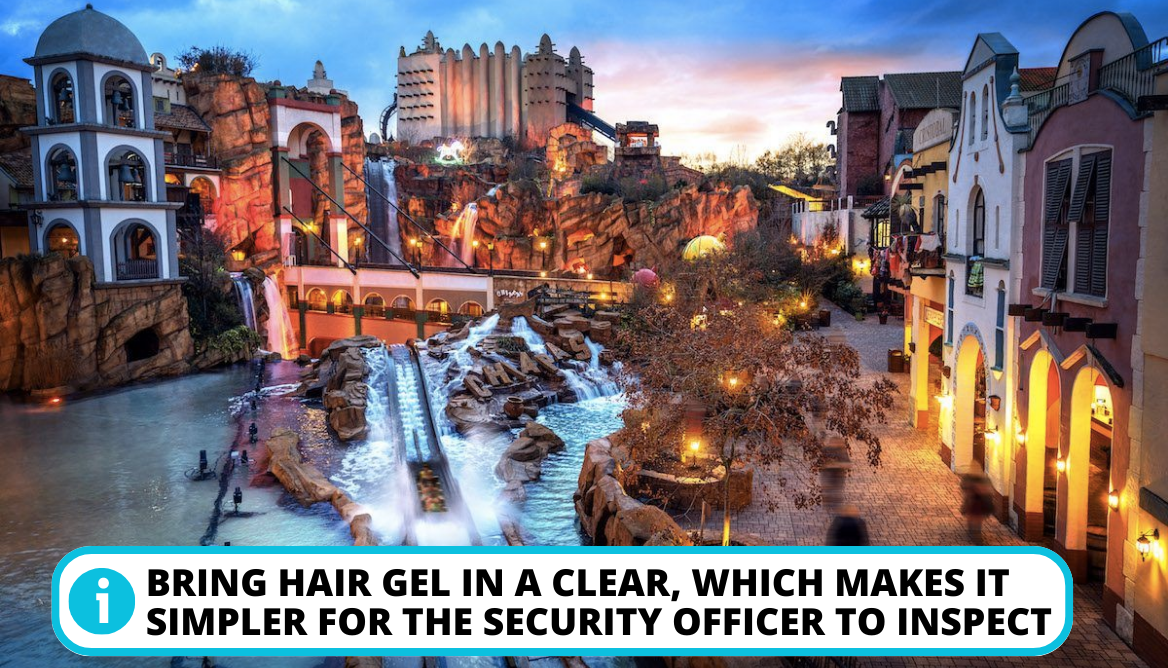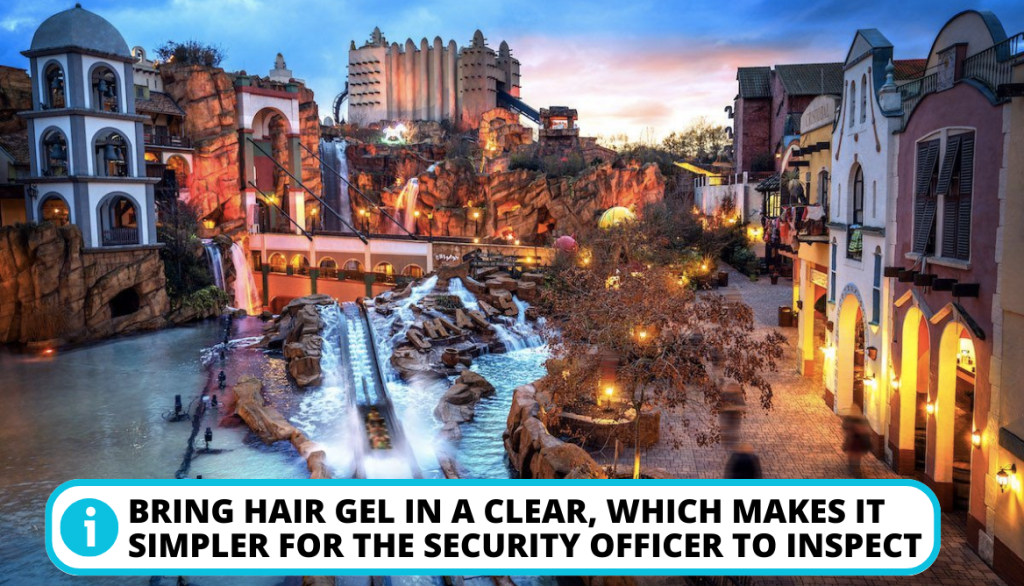 7 Best Theme Parks in Germany You Should Visit
In Germany, there are a few excellent theme parks. Each park has distinct characteristics and a different entrance fee. Seven of them will be described, allowing you to pick one based on your interests and the ages of your traveling companions.
1. The Europa Park in Rust, Germany
Europa Park is the biggest amusement park in Germany and it is situated in the city of Rust, Germany. Europa Park is divided into different themed areas, each representing a European country or region.
You can explore places like England, Germany, France, Italy, Greece, and more. Each region has buildings, cuisine, and tourist attractions that are representative of the local way of life.
The park offers a wide variety of entertainment such as musicals, acrobatic performances, ice shows, stunt shows, and street entertainment.
It features exhilarating roller coasters with themed zones that reflect various European nations and a range of kid-friendly rides.
Europa Park is the second largest amusement park after Disneyland Paris in Europe.
Seasonal celebrations and events are also held in the park.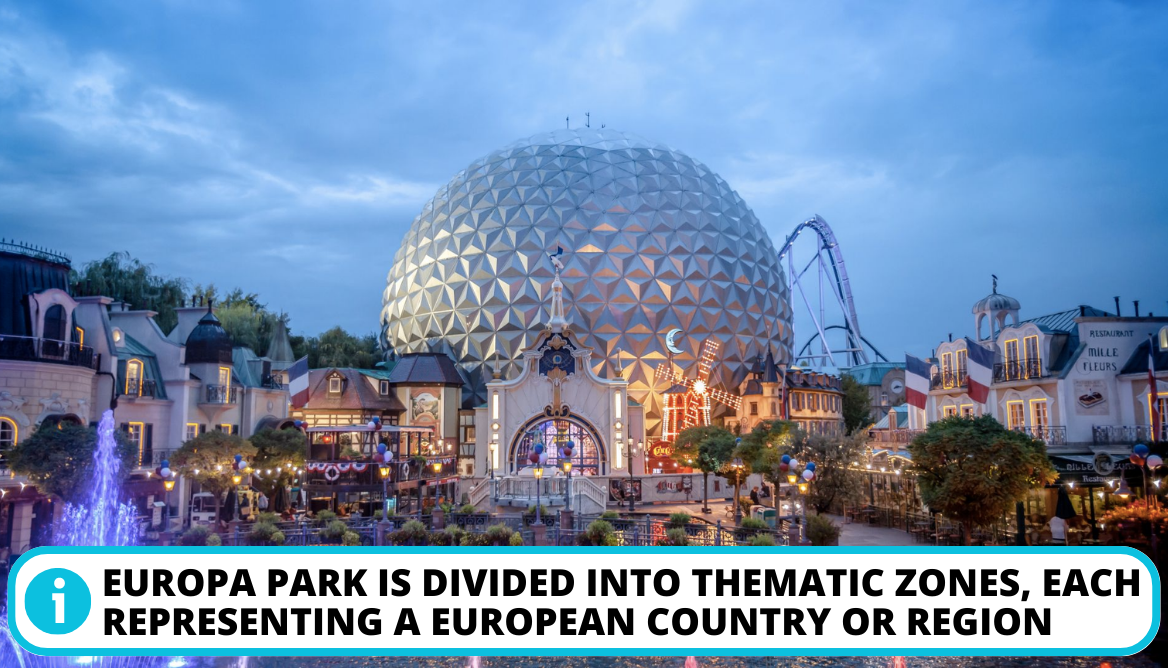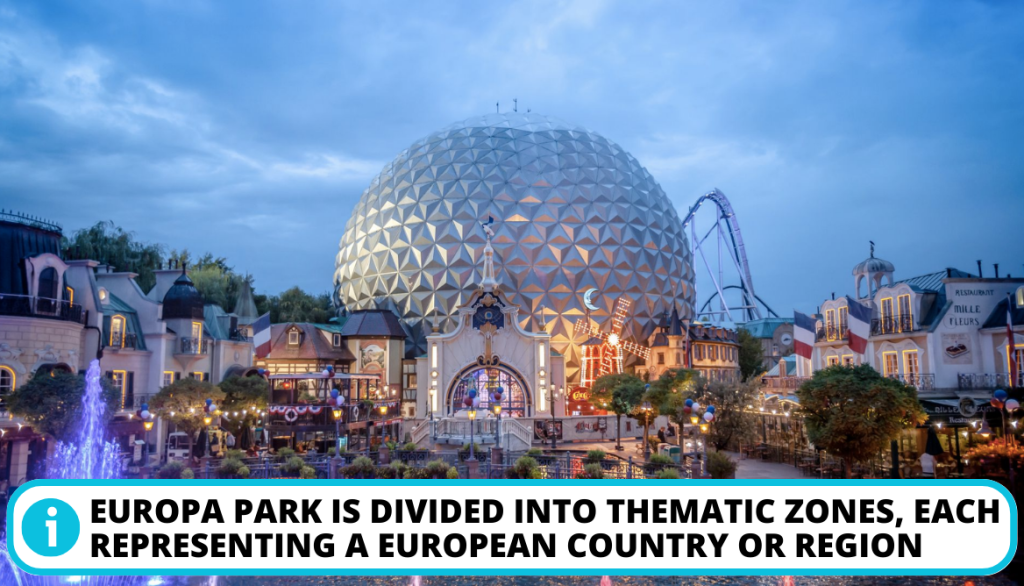 The cost of entering Europa Amusement Park
The cost of entrance varies for a day or 2-day tour depending on age, from toddler to seniors. Here, we'll outline the price of entry based on an online reservation with an overnight stay.
However, since space is limited, it is preferable to purchase tickets online in advance because there is a €10 extra for any on-site purchases.
For A-day ticket
| | |
| --- | --- |
| | |
| Children from 4 to 11 years old: | |
| Adults from 12 years old: | |
| | |
For 2-day ticket
| | |
| --- | --- |
| Children between the ages of 4 and 11: | |
| Adults above the age of 12: | |
| Senior citizens will pay: | |
2. The Legoland Deutschland located in Günzburg
The Legoland in Deutschland Resort is designed for families with kids between the ages of two and twelve. It is also part of the best amusement parks in Germany.
The Holiday Park is one of the biggest, most well-known, and most visited parks in Germany, and it is situated close to the Bavarian city of Günzburg.
You can gaze at the little replicas of German towns including Berlin, Hamburg, and Munich at LEGOLAND Deutschland.
There is Pirate Island, which offers boat rides and a playground with pirate themes, where you may embark on a boat trip through a jungle decorated with LEGOs.
There is a hotel within the LEGOLAND Deutschland Resort where you can spend the night in rooms decorated with LEGOs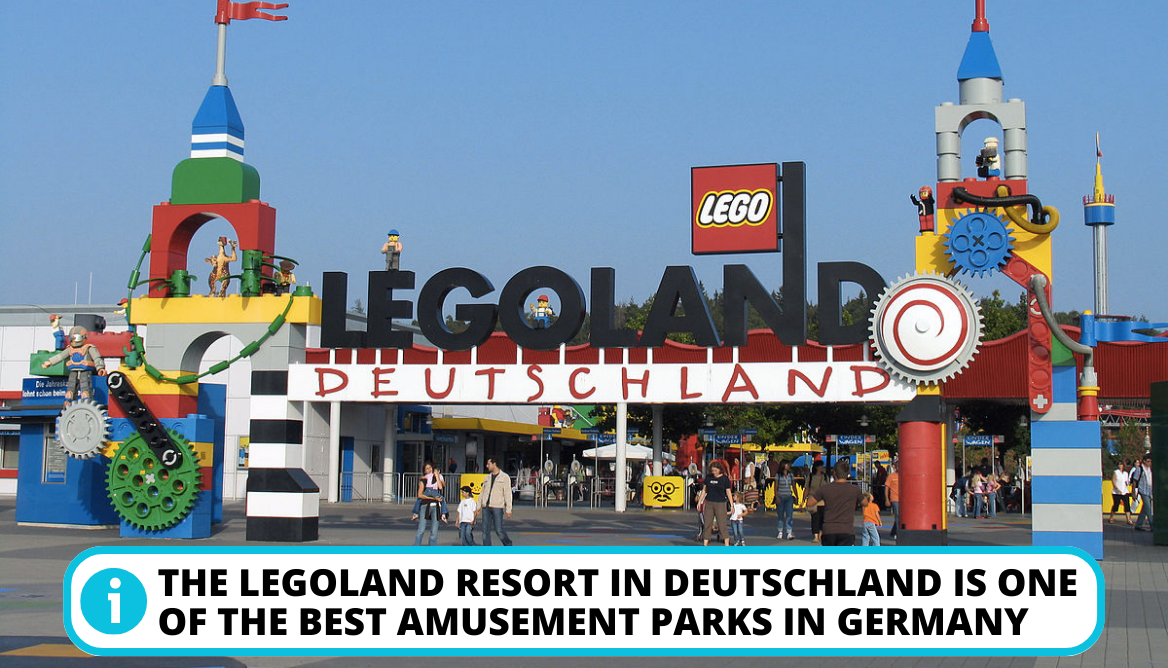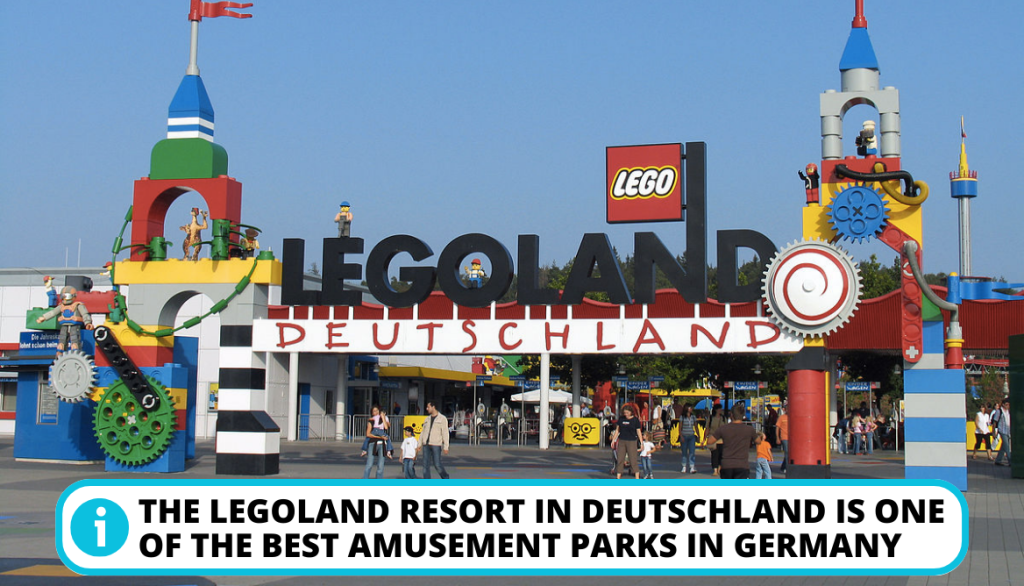 Entrance fee for Lego amusement park
Ticket rates might vary depending on location, the time of year, and the age of visitors. Each Legoland site has its unique pricing system. Children under the age of three are admitted free of charge.
| | |
| --- | --- |
| Regular entrance fees for adults: | |
| | |
| A 2-day accommodation ticket per person including breakfast: | |
| A yearly pass per person: | |
3. Heide Park, Soltau
In Germany's Soltau, there is a popular park called Heide Park. It is one of the best amusement parks in the nation and it is broken up into a number of themed zones, each with its own ambiance.
There is Wild Wild West, which transports you to the time of cowboys and saloons, and Transsilvanien, where you may enjoy eerie rides with a vampire theme.
Children can enjoy Peppa Pig Land and Drachenzähmen – Die Insel, themed after the well-known animated film "How to Train Your Dragon.
Some of the most famous roller coasters in this Holiday park are called "Colossos," a wooden roller coaster that is the world's tallest drop tower.
Another is called "Krake," a diving coaster with a distinctive underwater motif.
This world's tallest drop tower is also the faster coaster in the park.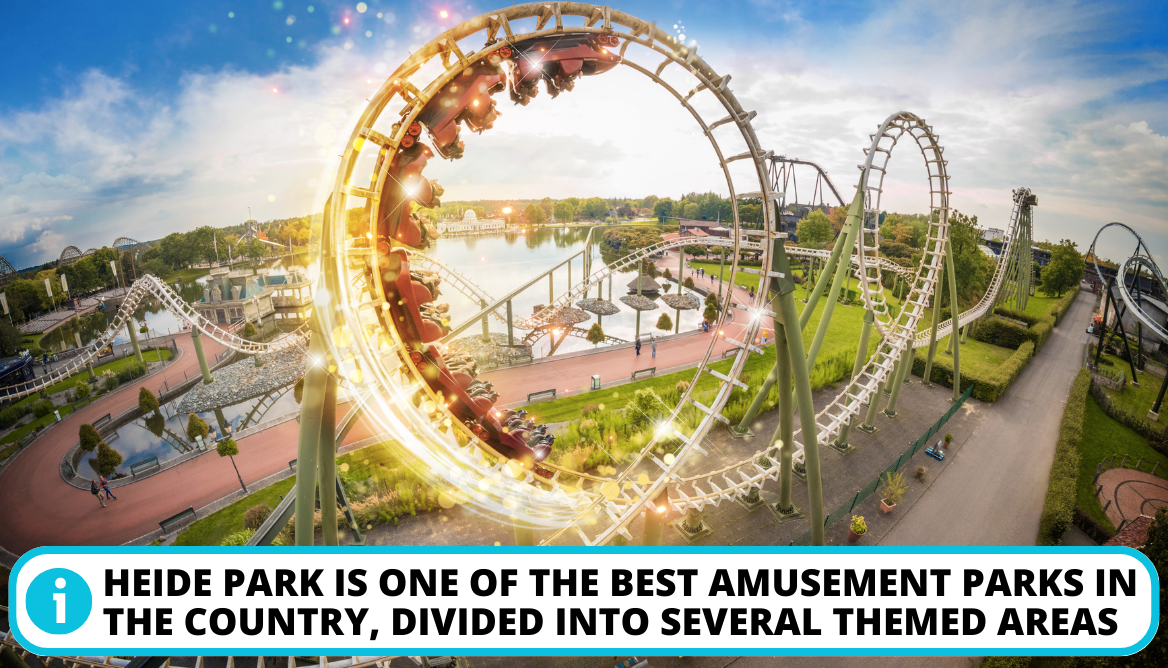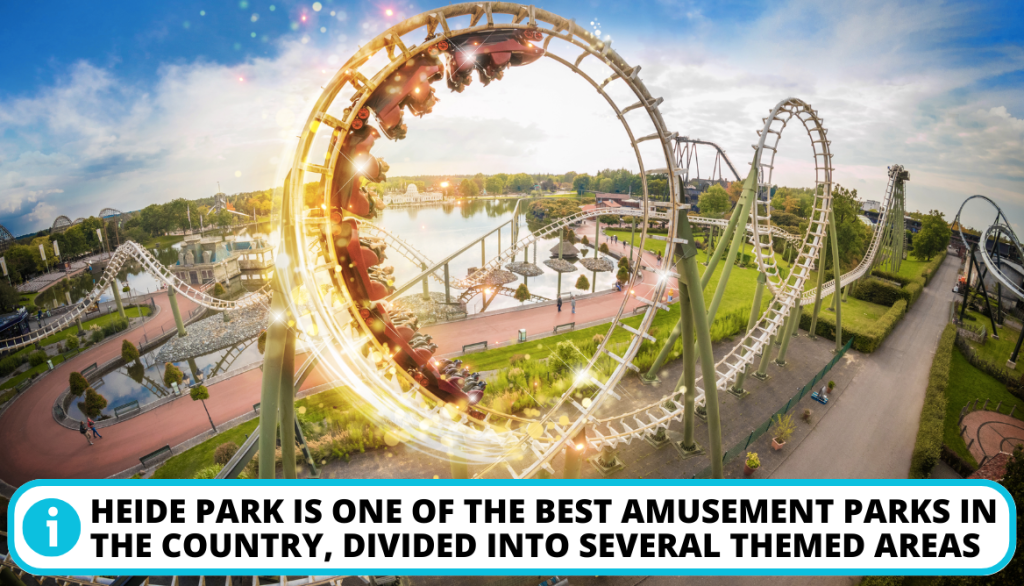 COST OF ADMISSION INTO HEIDE PARK
Admission tickets in Heide Park are based on seasons, events, group, duration of stay, selected visitation day, and age. Bookings are usually made online including the parking ticket.
| | |
| --- | --- |
| | |
| A child in a group of 10 from age 3-17: | |
| A Student in a group of 10: | |
| A youth in a group of 10: | |
| A year Merlin adventure pass per person: | |
*An Adult Accompanying a group of minors receives a free ticket.
Yearly passes and parking permits of €7 are only available in the German store. Merlin adventure pass includes entrance into Heide Park and Lego amusement park. There are also other packages like bronze, silver pass, extras, etc., starting from €79 to €129 per person.
4. Phantasialand located in Brühl in the North Rhine-Westphalia
Another well-known park in Germany, Phantasialand, is situated in Brühl, close to Cologne drawing more than 2 million people annually due to its sporadic winter hours.
Phantasialand Park offers a unique fusion of thrilling rides, fascinating live acts, and magical attractions called fantasy.
You can enjoy rides like Colorado Adventure, a mine train roller coaster, and Chiapas Kids, a water play area for children.
African, Mexican, Chinese, and Berlin-themed sections of the park each offer a unique ambiance and family-friendly activities.
Phantasialand features several notable roller coasters like Black Mamba, Taron, Raik, etc.
It is also one of the best amusement parks in Germany because of its distinctive architecture of different cultures.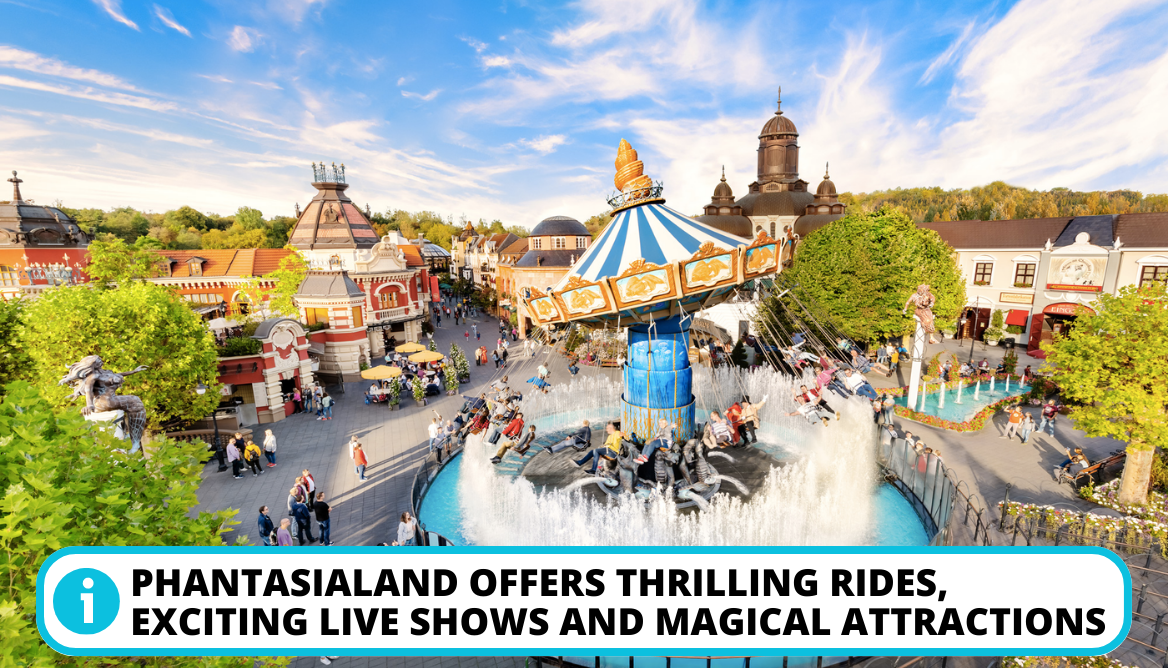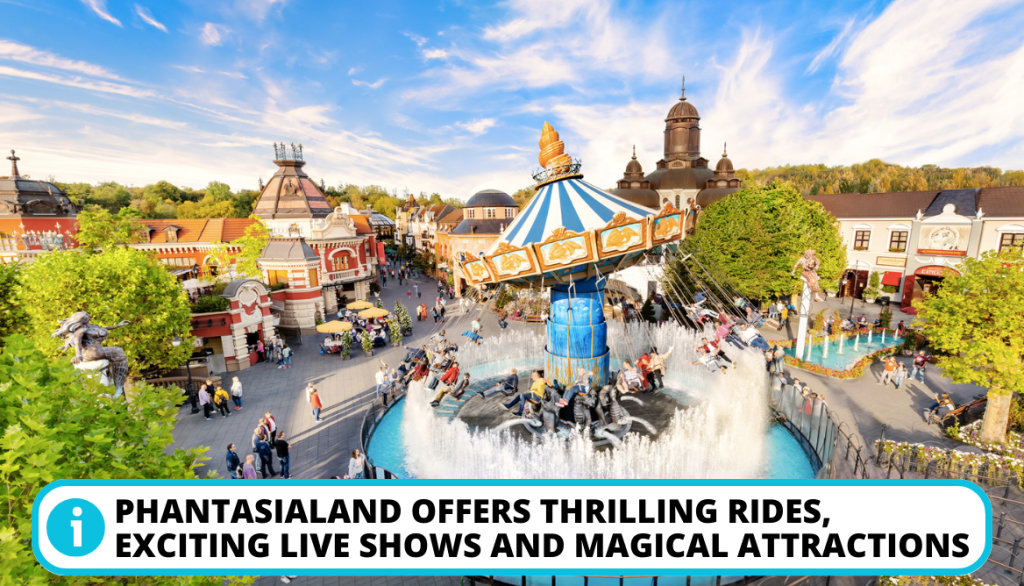 Cost of Entry in Phantasialand
Phantasialand's entrance charge is considerably less than that of Europa Park. Despite the fact that children under the age of two are admitted free.
Those with disabilities are also given free access to Phantasialand Park and discounts are given to their accompanier. Proof of Age is needed for children and old visitors likewise Disability Identification for visitors with impairments.
| | |
| --- | --- |
| | |
| Pregnant women or on maternity leave: | |
There are no on-site ticket sales, thus all reservations are made in advance online. Tickets booked on the day of the visit attract a surcharge compared to regular tickets.
5. Movie Park, Bottrop
The Movie Holiday Park in Germany is located in Bottrop-Kirchhellen, Germany. The park is a film and attraction Park themed after major Hollywood films of all the amusement parks in Germany.
There are a variety of entertainment options available, including musicals, and stunt performances.
Live activities are given all day long with interactive acts starring well-known movie and television personalities.
This film and attraction park provides a range of dining options, from quick snacks to full feasts.
Additionally, there are shops where tourists can buy memorabilia and goods with movie themes.
It's crucial to keep in mind that certain attractions, performances, and offerings are subject to change, so it's always a good idea to check the Movie Park Germany official website for the most recent information before making travel arrangements.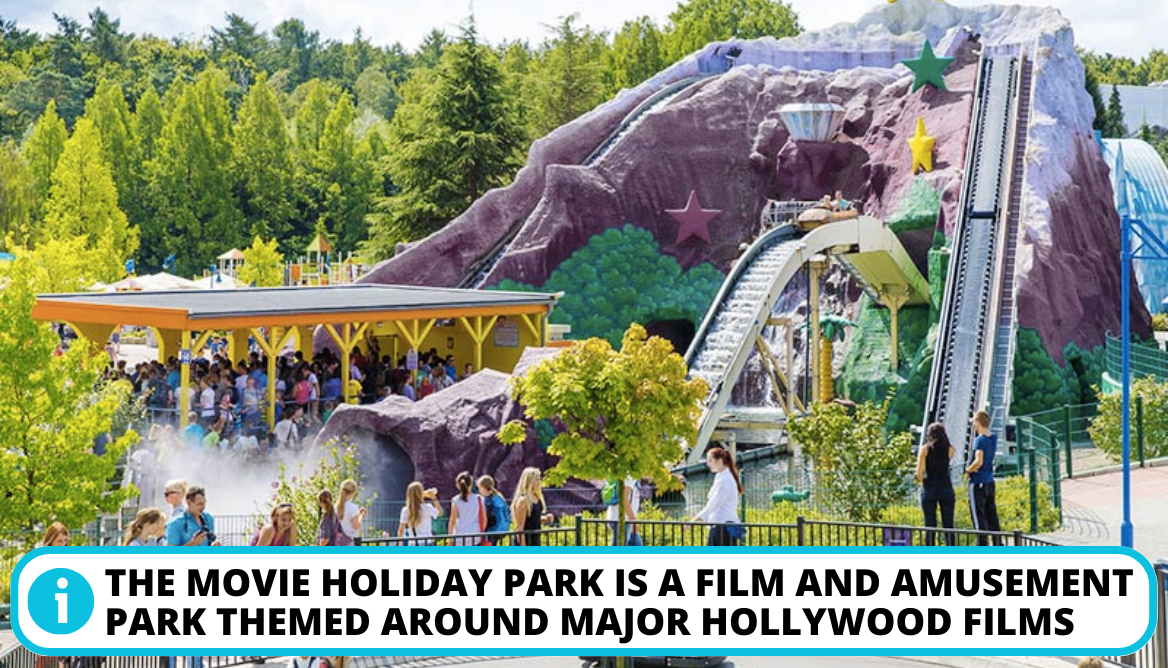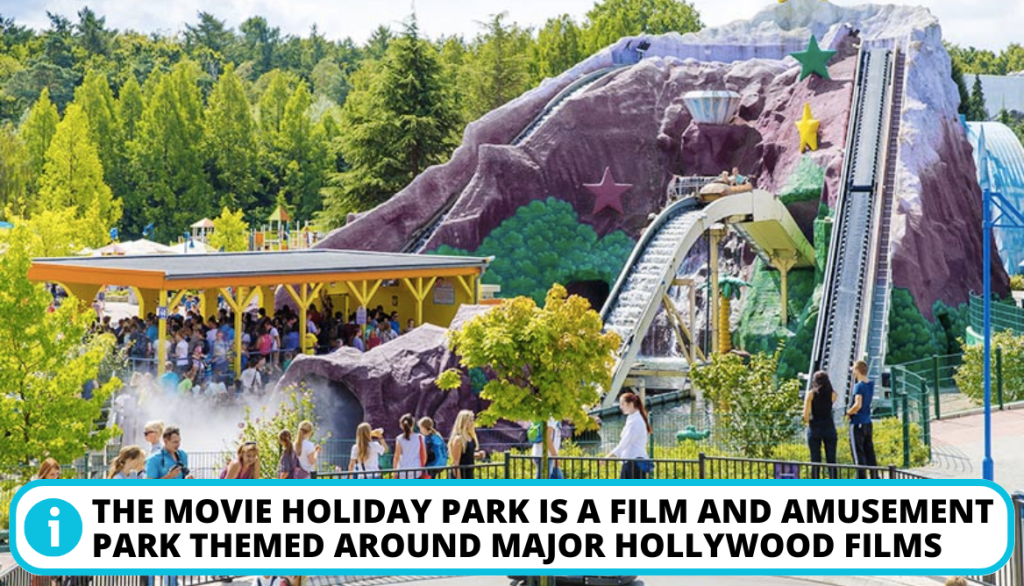 The price of access to the German movie park
Movie park cost of entry varies according to age, dated and undated visits, ticket type, and length of the day. There is online and on-site ticket purchase.
Visitors having a German disability identification card with a Degree of Disability (GdB) of 100 are admitted free; those with a lesser degree must pay a reduced rate. There is no discount given for accompanying individuals.
| | |
| --- | --- |
| A day pass with a set date of travel: | |
| Each person for a full-day admittance ticket to the Movie park: | |
| A 2-day admission with lodging and breakfast per person: | |
| A day with lodging and breakfast per person: | |
6. Allgäu Skyline Park in Bad Wörishofen, Germany
The Skyline Attraction Park in Bad Wörishofen is located in the lovely Allgäu region between Munich and Lake Constance. It is a fascinating spot with an amazing Alpine backdrop and natural attractions like tall trees, little biotopes, large lawns, etc.
The Allgäu Skyline Park is known for its stunning landscapes including rides suitable for families.
Some of the popular roller coasters you will see in the park include the Sky Wheel, a large Ferris wheel with spinning gondolas, and the Sky Dragster, a unique motorcycle-style roller coaster.
You can enjoy scenic views, lush greenery, and a peaceful atmosphere while experiencing the thrill of the water rides.
Skyline Park hosts a number of live and acrobatic performances, stunt shows, musical acts, and events all year long.
There are several themed regions, including Adventure Land, Fairy Tale Forest, Western Town, etc.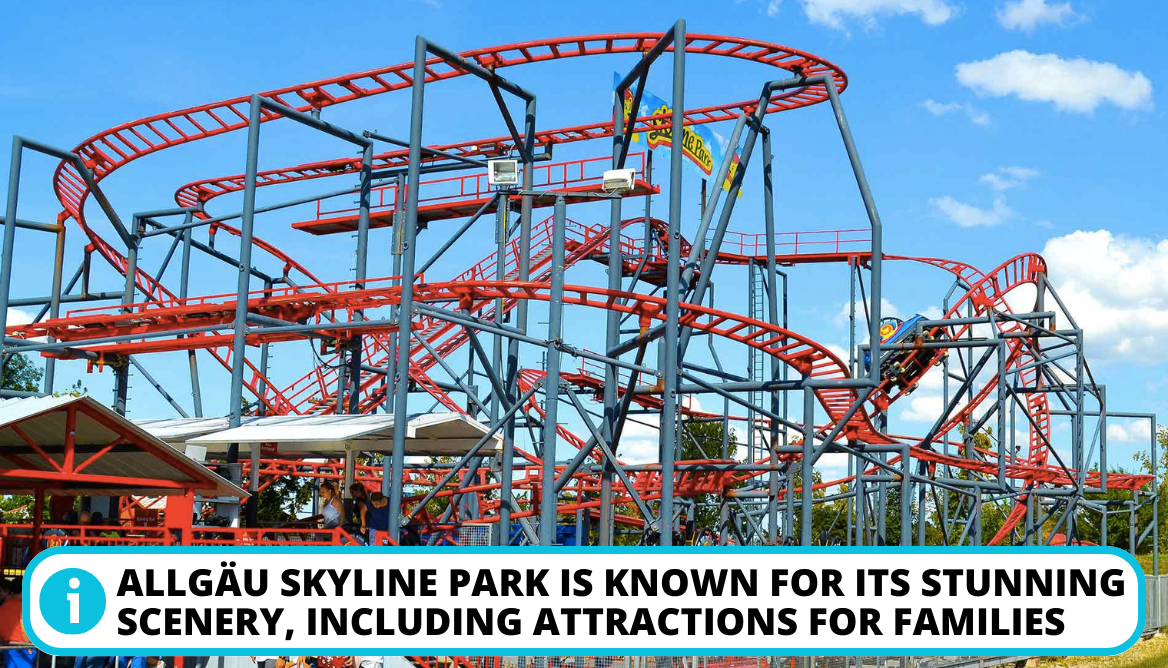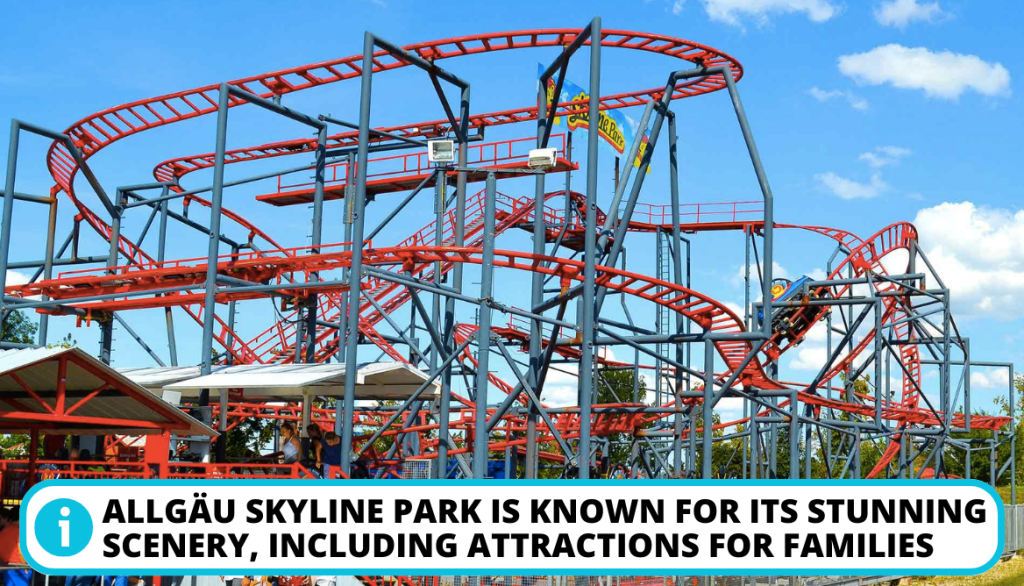 Entrance fee of Allgäu Skyline Park in Bad Wörishofen, Germany
The Allgäu Skyline Park's entrance cost is determined by a person's height, age, and health.
| | |
| --- | --- |
| Visitors who are at least 150 cm tall: | |
| Visitors who are shorter than 110 cm to 149 cm: | |
| | |
| Pregnant women and those with impairments: | |
| Family round-trip ticket: | |
| Children's 2-day tickets per person: | |
| Adult's 2-day tickets per person: | |
There is no return for any tickets purchased; however, you can change the date of your visit by paying a nominal surcharge of €2.50.
7. The Hansa Park in Sierksdorf
Hansa Park is a popular and one of the best amusement parks in Germany. It is located in the Schleswig-Holstein state along the Baltic Sea coast. One of the biggest amusement parks in Northern Germany.
The Park is renowned for its marine-themed attractions and attractive seaside environment.
The Hanseatic League has attractions including the Hanse in Europa boat ride and the Hanse Flyer roller coaster.
Hansa Park includes replicas of historic buildings, such as a medieval village and a lighthouse.
It features well-maintained gardens, water features, and a lake.
Adventure Land, Old-Time Funfair, and Viking Land are a few of the noteworthy locations.
The park frequently holds unique occasions and seasonal festivals all year long.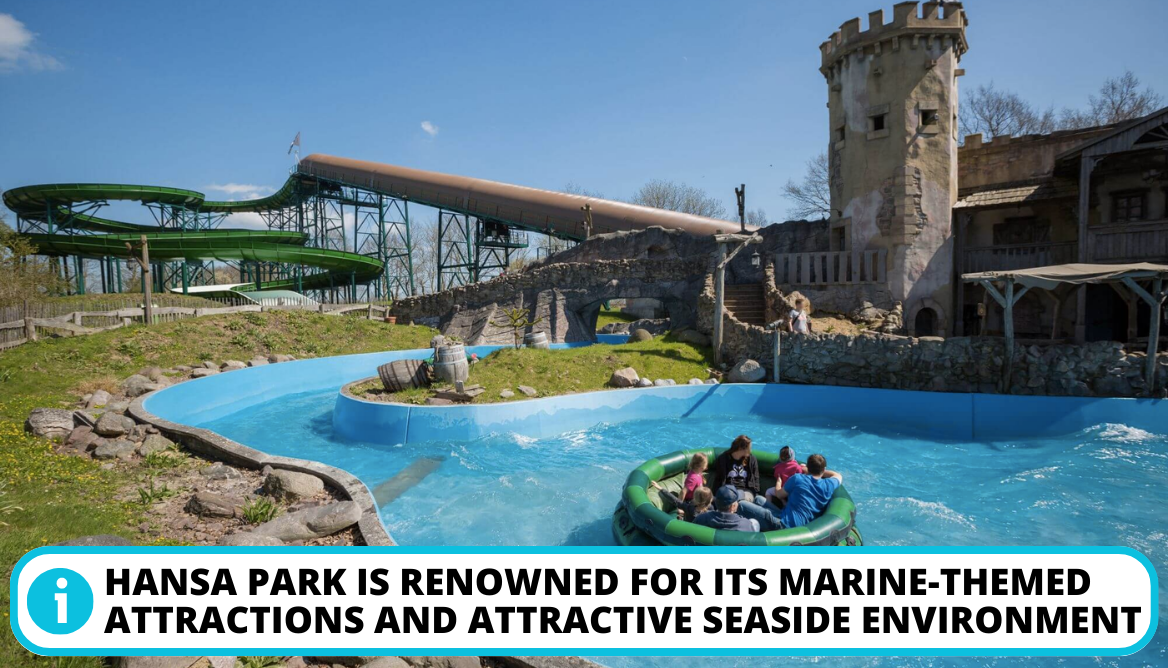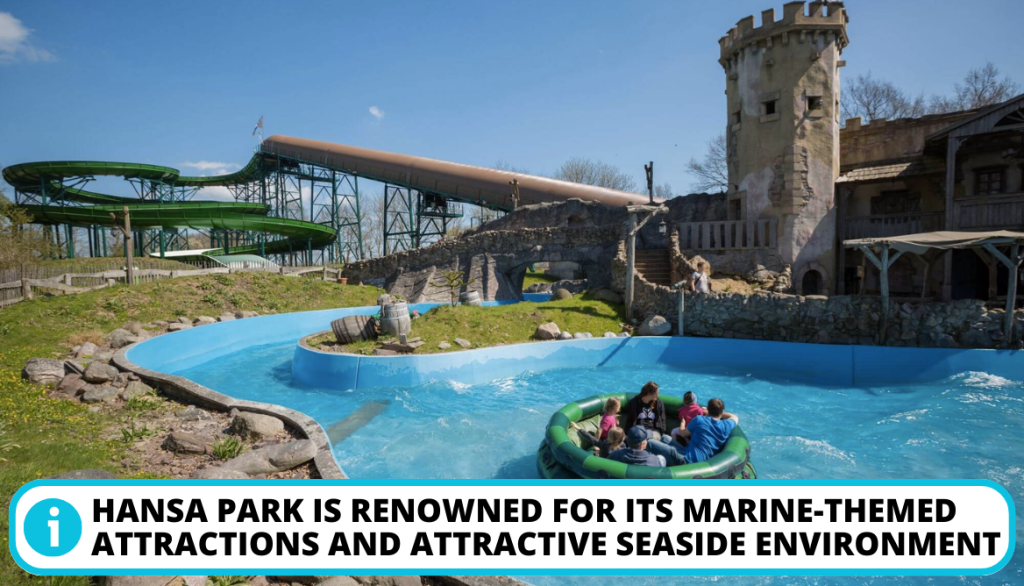 Price of Admission to Hansa Park
Prices for Hansa Park tickets fluctuate, however, these are the current rates per person. Both in-park and online tickets are available. Holiday lodging costs do not include Park admission tickets.
| | |
| --- | --- |
| | |
| | |
| Kids with proof of age and date of birth celebrating birthdays up to and including 12: | |
| | |
| | |
| Tourists who are 70 or older: | |
Group tickets can be ordered in advance. The birthday discount is only valid on the day of the birthday of the customer. A thank you card discount is applicable for a second-time visit.
5 Benefits of Visiting Theme Parks in Germany
It is healthy to visit amusement parks because they not only provide fun and excitement but also improve your general health.
1. Physical Exercise
Theme parks frequently offer a wide variety of thrilling rides, walks, and stair climbing that present entertaining ways to exercise.
2. Stress Reduction
Having fun and enjoying yourself at the park can lower stress levels and improve mental health.
3. Interaction with Others
Your emotional health and social ties can benefit from spending time with loved ones.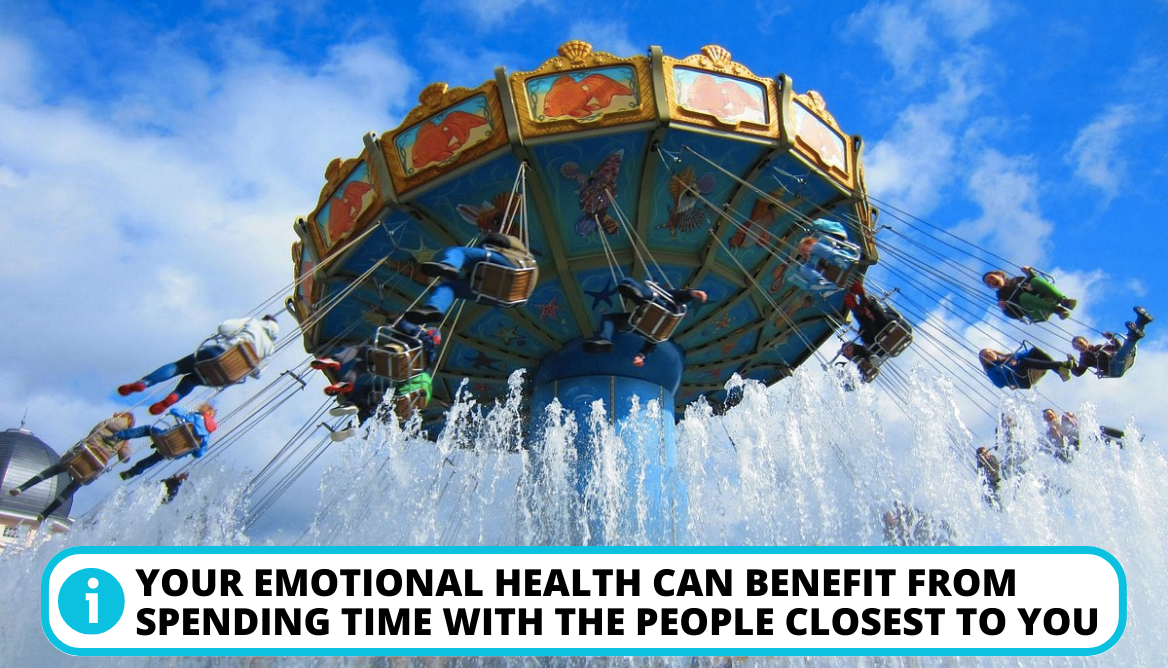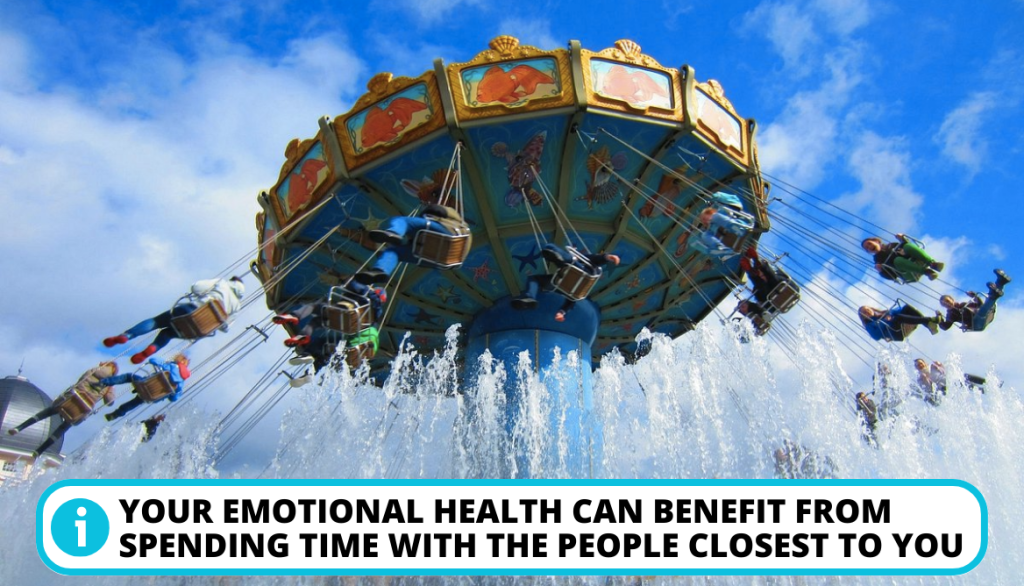 4. Brain Stimulation
Your intellect and your curiosity can be fostered by exploring themed regions and learning about various cultures, periods of history, or scientific ideas.
5. Outdoor Adventure
There are several health advantages to being outside, especially in beautiful settings like an amusement park.
6. Exposure Therapy
Theme park help to conquer fears and become desensitized to the resulting anxiety by intentionally exposing oneself to exhilarating rides in a secure and controlled environment.
Our Verdict
Europa Park is one of the top parks in Germany, which we heartily endorse while the next reasons:
The largest amusement park in Germany.
The thrilling roller coasters and rides at Europa Park are appropriate for riders of all ages and excitement levels.
Additionally, Europa Park is recognized for its revolutionary rides, family-friendly attractions, and premium theming of several national cultures in a setting.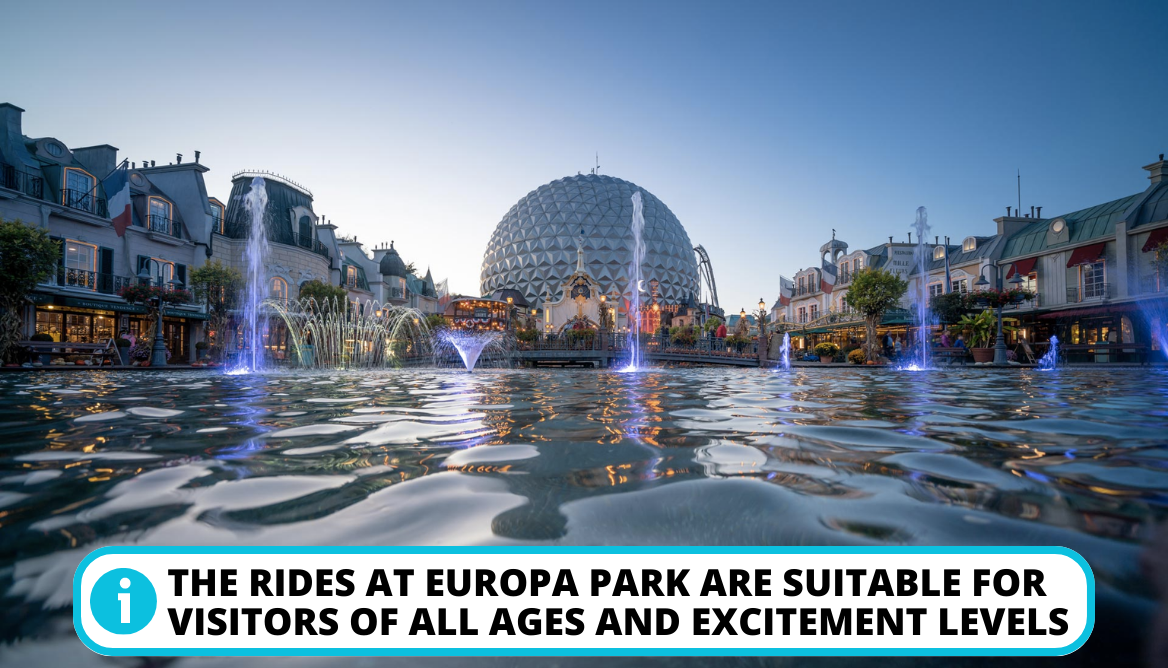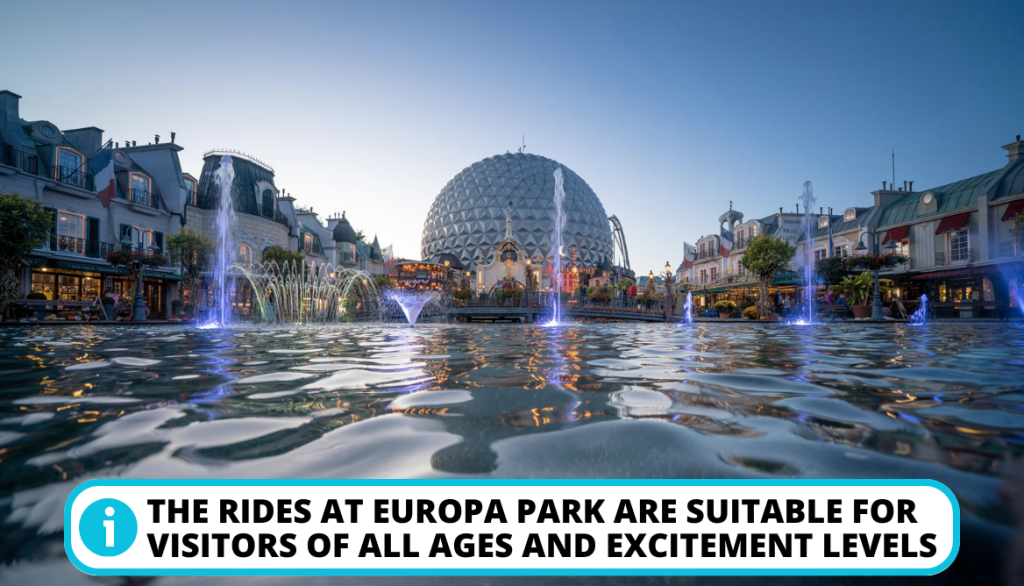 FAQ
Does Germany have an Amusement park?
Yes, there are several Amusement parks in Germany that features a wide variety of rides, attractions, shows, etc.
What is the most famous park in Germany?
The most famous Amusement park in Germany is Europa Park because it has won multiple Golden Ticket Awards for being the best amusement park in the world.
What is Berlin's most famous park?
The Tiergarten in Berlin is the most famous park in all of Germany. In the heart of the city, close to well-known sites like the Reichstag and the Brandenburg Gate.
Conclusion
Germany is home to the best amusement parks in the world, each with distinctive and delightful features. Whether you're seeking fun rides, immersive theming, or family-friendly experiences, these parks offer a wide range of options to cater to different interests and preferences.
A visit to one of Germany's theme parks is sure to provide unforgettable moments of joy and excitement for visitors of all ages.
Which theme park will you visit the following time you take your family on a fun trip? Leave your answer in the comment section. Thanks for Reading.