Happy Wayfarer is reader-supported. When you buy through links on our site, we may earn an affiliate commission.
Do you have any special requests for hotels before booking your accommodation? Additional amenities like dietary needs and similar requirements are usually catered to by hotel staff with a happy attitude. They are cooperative in fulfilling the special requests of their clients. Some of them are part of the plan you have selected, but others are complementary.
Continue reading to learn about the types of requests you can make, general advice, and a few tips. So, without investing any more time let's get started!
Special Requests For Guests: Overview
A special request is an additional requirement by the guest that is communicated to the hotel in advance. It is not in the booking plan of the room but an additional service that can be complementary or charged in some cases.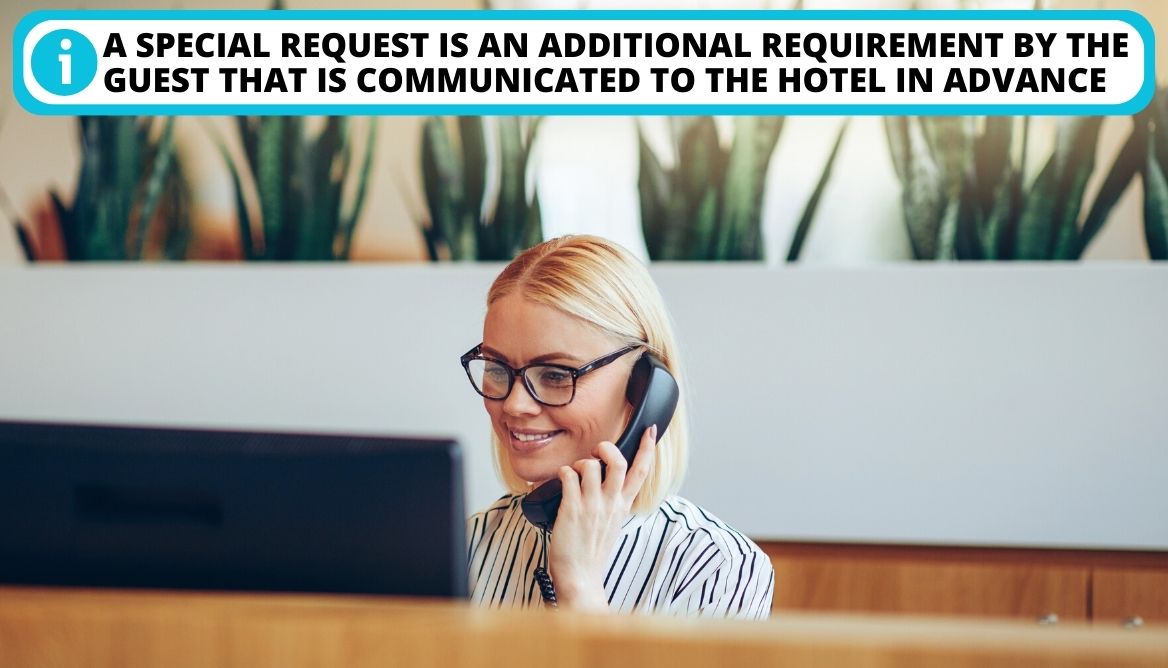 For better understanding, we have outlined some of the special requests below that guests or visitors can make before checking in or during their stay!
Celebrities or government officials can ask for an assigned quota service for their room.
Visitors can request connecting rooms to stay in touch with their friends and family during the stay.
Famous personalities, higher officials of the government, and celebrities can request for a confidential check-in.
Visitors can request a room with a front view from the balcony with beautiful scenery.
A group of friends, celebrities, and dignitaries can request drinks and beverages.
Most guests also give requests for a fully stocked bar.
Guest Requests are a Part Of the Staff's Preparation
Before guests check in, several preparations are made to accommodate their special requests. It is a smart approach that is utilized by the hotel staff to make preparations ahead of time to ensure that everything is perfect.
Now let's head toward the next section to learn about important considerations before writing requests.
General Advice For Writing Special Request For Hotel
When writing a request to a hotel, there are several things to remember to ensure that your needs are communicated effectively. Here are some effective tips one should follow!
Explain Accurately: Mention your requirements or expectations concisely and clearly. Letting them know details such as type of hotel room, number of guests with you, duration of stay, date of arrival, and any special needs.
Mention Contact Information: Be sure to write down contact details and address while compiling a special request. Hotel staff can easily get in touch this way.
Follow Up with the Desk Staff: If the hotel does not get in touch, call them and take feedback regarding your request.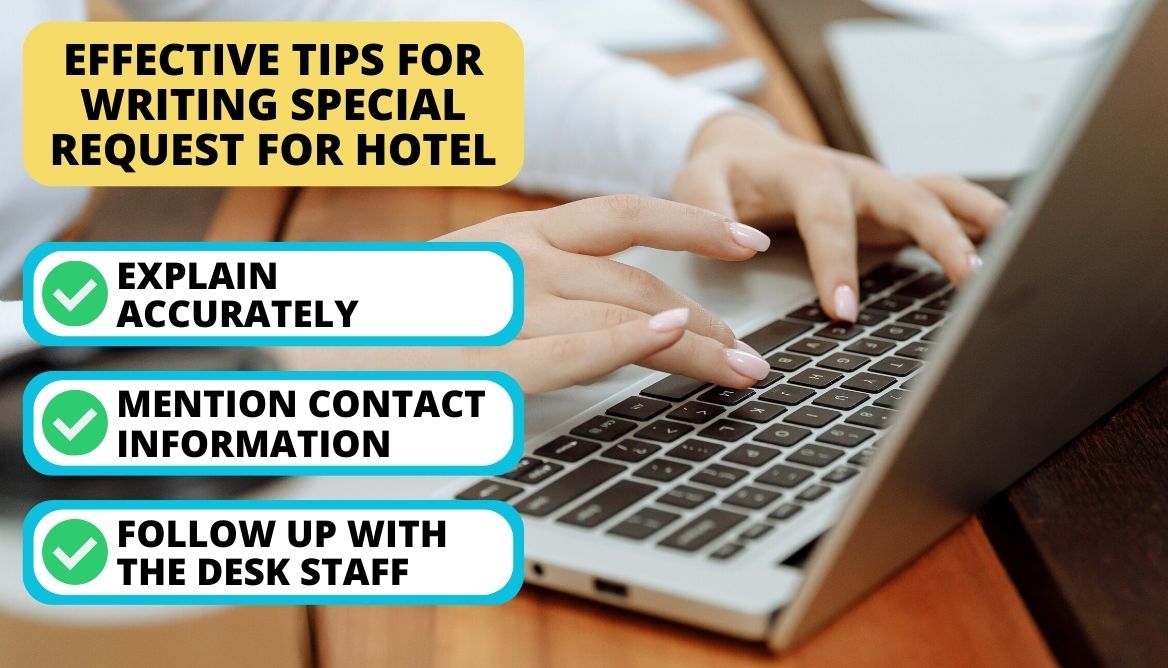 Different Special Requests to Benefit From at a Hotel
Once you have booked a room and checked in, then you can avail extra amenities. Some perks may be mentioned on the brochure of the hotel or plan. But you can ask the front desk agent to inquire about the additional services offered for free. Here are some of the requests!
1. Request the Perfect Hotel Room
The hotel's appearance and policies may differ, but management is usually happy to fulfill the demands. Especially if you have a specific preference for a room or want something special added to your room, such as an in-room feature.
Here are some common requests made by guests!
Near or Far From the Elevator
Sometimes you may have specially-abled people, and they may prefer a room near the elevator for easy access. Also, at times you may have guests who love a quiet place, so they may desire a room far from elevators to avoid noise.
Top or Lower Floor Rooms
Superstitious visitors suffering from a height phobia will specially request a room on a lower floor. Some guests are annoyed by the traffic and unwanted noises on the street, so they will always prefer a room on a higher floor.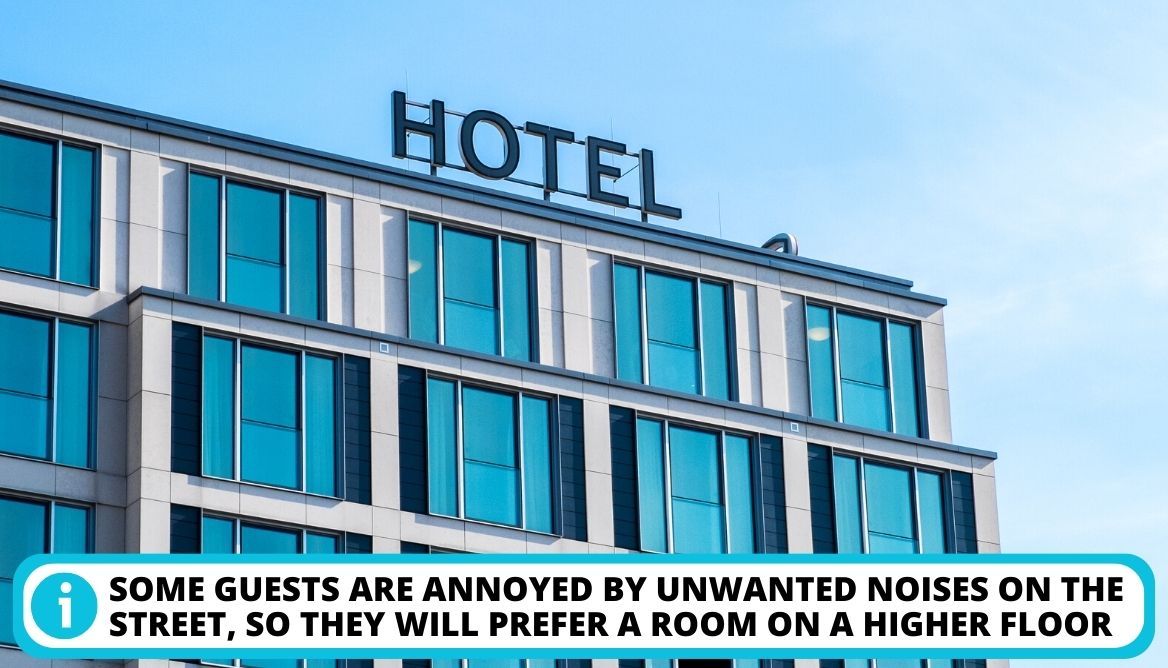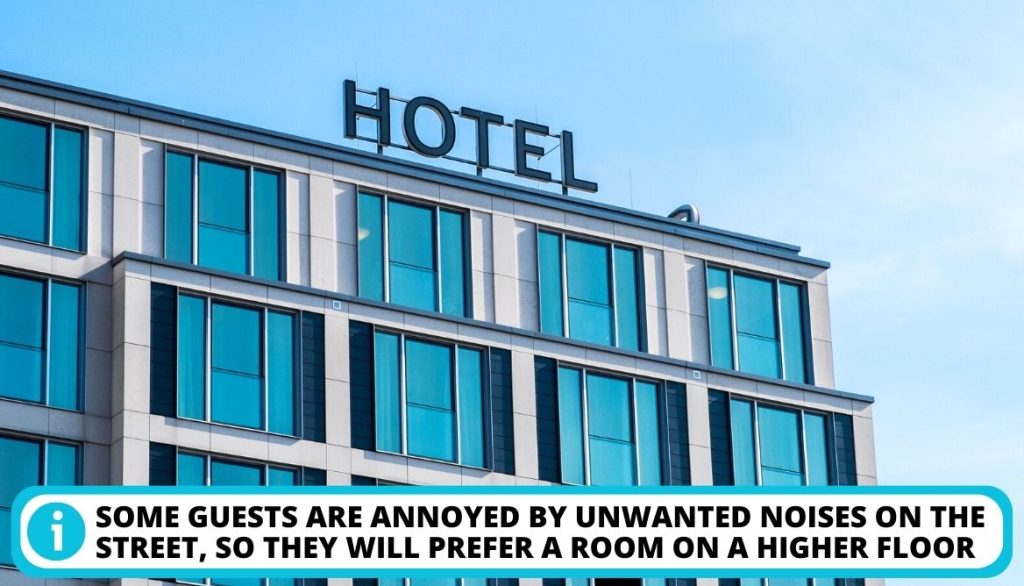 an Alcohol-free and Non-Smoking room
Some guests do not want alcohol in their rooms. So, they usually request the staff to remove it from their mini-fridge. Health-conscious individuals normally request a room without the presence of a smoking odor.
Beautiful View
Traveling to a location with breathtaking scenery requires the need for a room with a nice view. So that famous landmarks and natural beauty can be viewed from the balcony such as
The task of booking such a room may be high in many hotels, but asking the management nicely can get you a free upgrade (if available) which is worth the effort!
The Spacious Corner Room
In a hotel, the corner rooms are considered the most spacious rooms, which is true in most cases. The good news is that commonly it can cost you the same price as a regular room!
A little politeness can get you the corner room if it is available. Being humble is always rewarding when talking to the front desk hotel representative.
2. Request a Map From the Front Desk for Easy Navigation
Sometimes tourists do not have access to data plans when visiting another country. Also, getting a local SIM can be a little complex or difficult task. Without access to GPS, it is very difficult to travel within the city, and you can get lost.
The best way in such a scenario is to get paper maps. Asking the management for a map can help you acquire one! The staff at most hotels are very welcoming to travelers, and they also help point out landmarks, sightseeing places, excellent restaurants, and entertainment locations.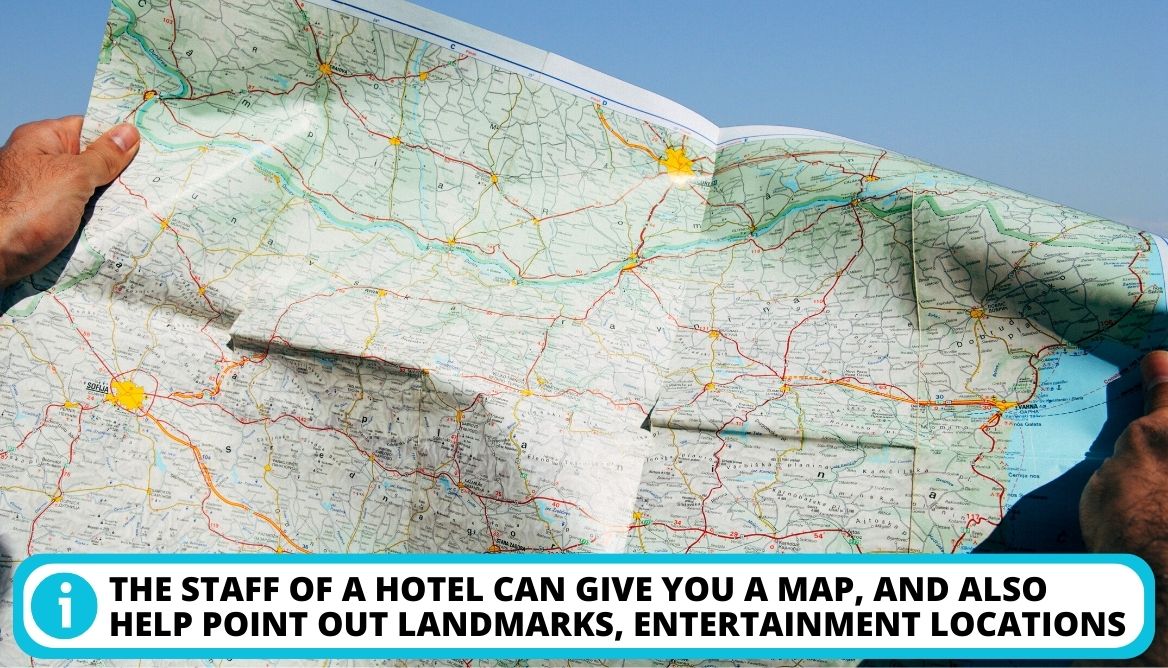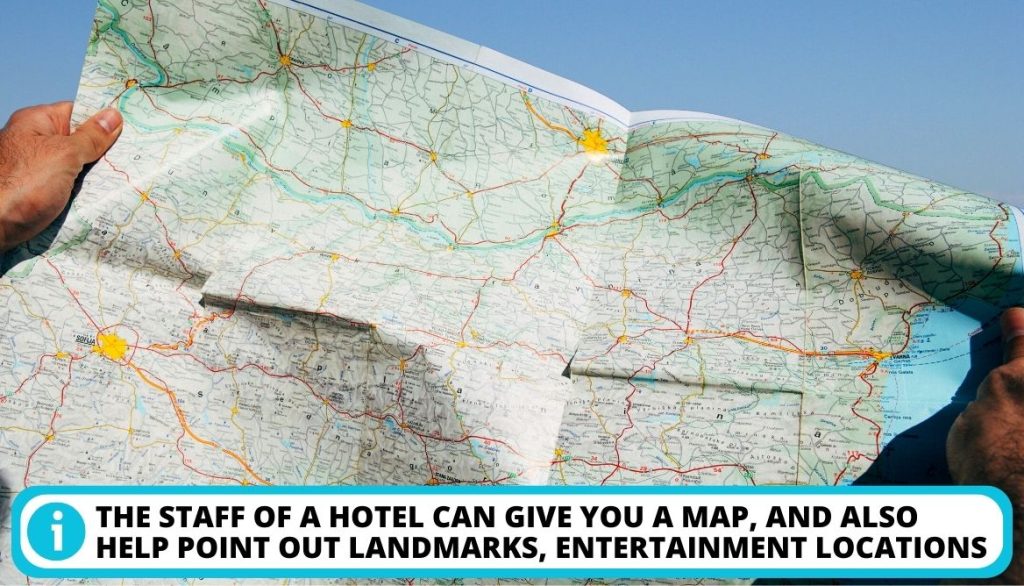 3. Lower Room Charges by Requesting a Discount
During the rush season, a high price is understandable, but booking a room by directly communicating with the hotel proves to be a huge advantage. If you are booking multiple rooms during the off-season, negotiate the charges or get a discount.
Pro tip: After checking in the hotel, be sure to ask the front desk for an upgrade for free which is better than paying a lower amount for most people as you get more value for money service.
4. Request a Phone Charger/Adapter at the Hotel
Quickly packing the luggage can make you forget the charger or adapters at home. This is a very common mishap that happens with travelers! Hotels assist by providing chargers or adapters to facilitate you.
5. Borrow An Umbrella
Sometimes guests forget to carry an umbrella. Rain can occur anytime, and going out in such a situation is nearly impossible. Requesting the hotel to borrow the umbrella can solve the problem.
Many hotels keep extra umbrellas for use during such weather. By asking the hotel directly, the staff can quickly solve the problem. After returning from your visit, you can return your borrowed item and, if needed, special request it again.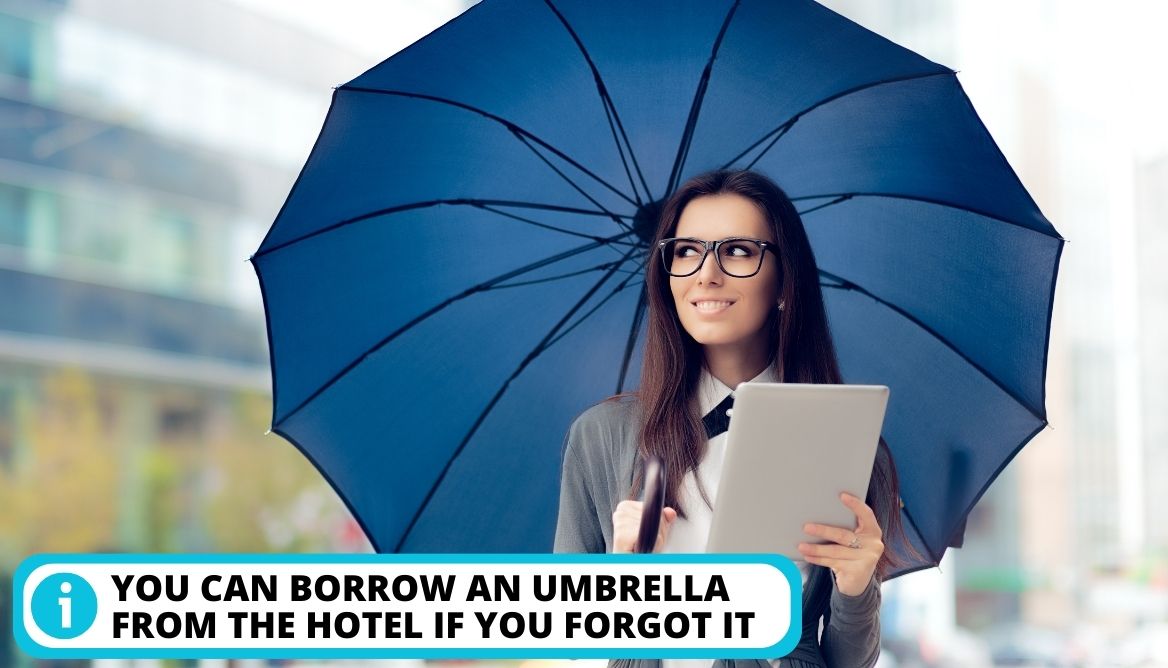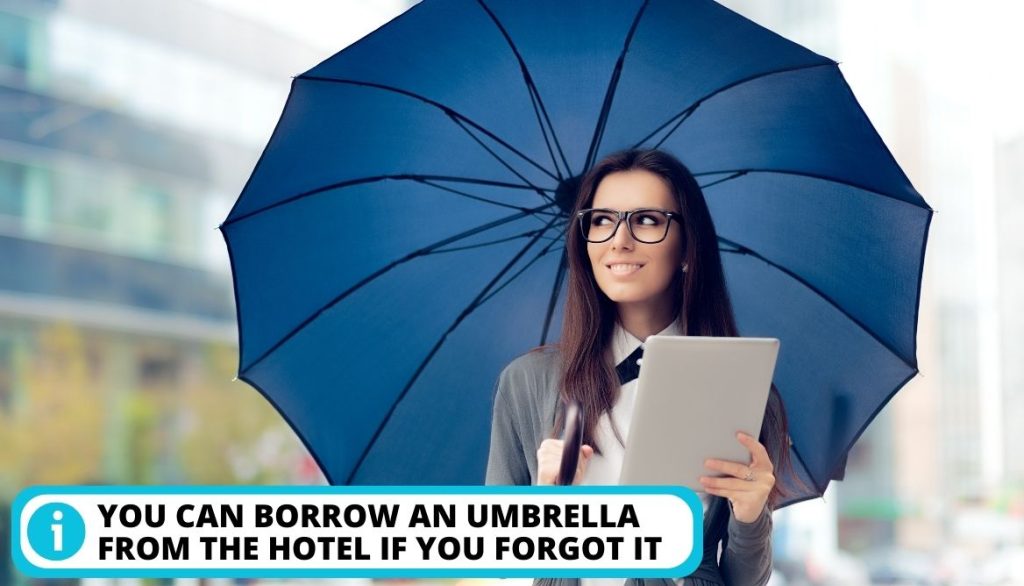 6. Netflix or Other Entertainment Sources Requested by Guests
Once you settle into your room, ask the hotel for Netflix access or other on-demand entertainment to enjoy your stay. If these services are charged, do ask for a relaxation in the fees.
Sometimes the hotel may not have Netflix. Do not be disappointed! Log in to your Netflix account and cast it on the TV in your room if it is a smart TV. Or, you can find other means to connect your phone to the TV.
7. Borrow a Bicycle and Travel Easily
Not all travelers bring their car or any other type of vehicle along while touring. Especially when visiting locations solo, the preference is to take along as few things as possible.
You can request the hotel management to lend you a bicycle for short-distance sightseeing. They usually have them parked so that guests can avail via special requests. Once you have completed your quick visit to the city, you can return it to the hotel.
8. Request for a Nightlight
Some people are afraid to nap in the dark, but keeping the light on can also hinder a good night's sleep.
Request a nightlight from the staff so that you can read a novel or book while your travel buddy sleeps comfortably.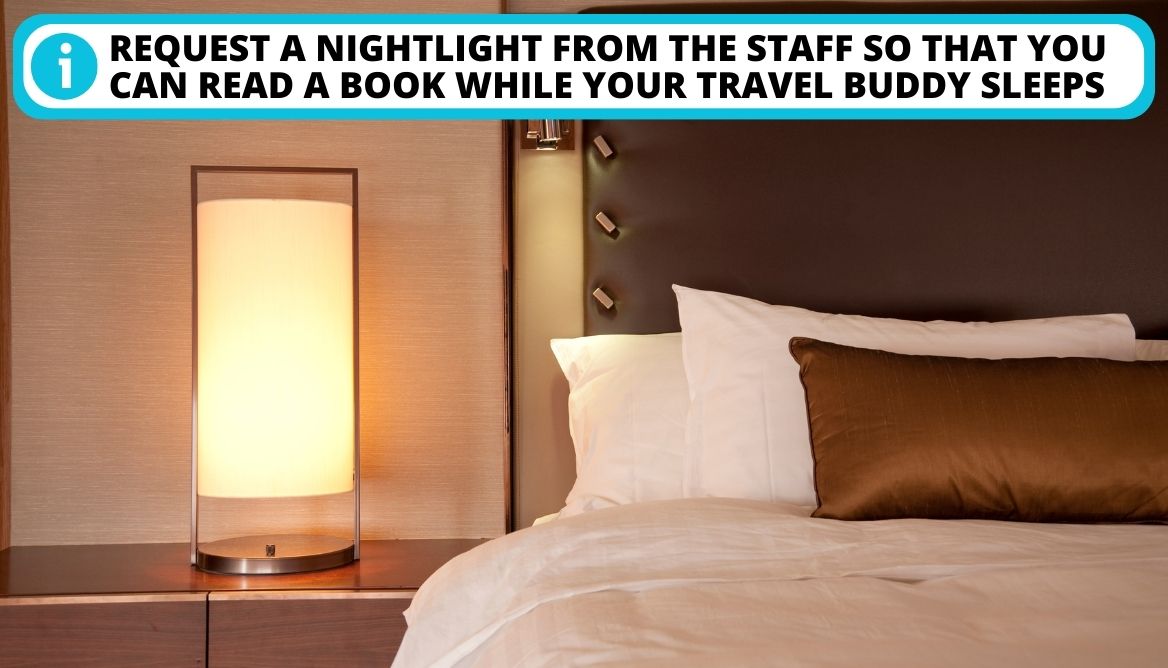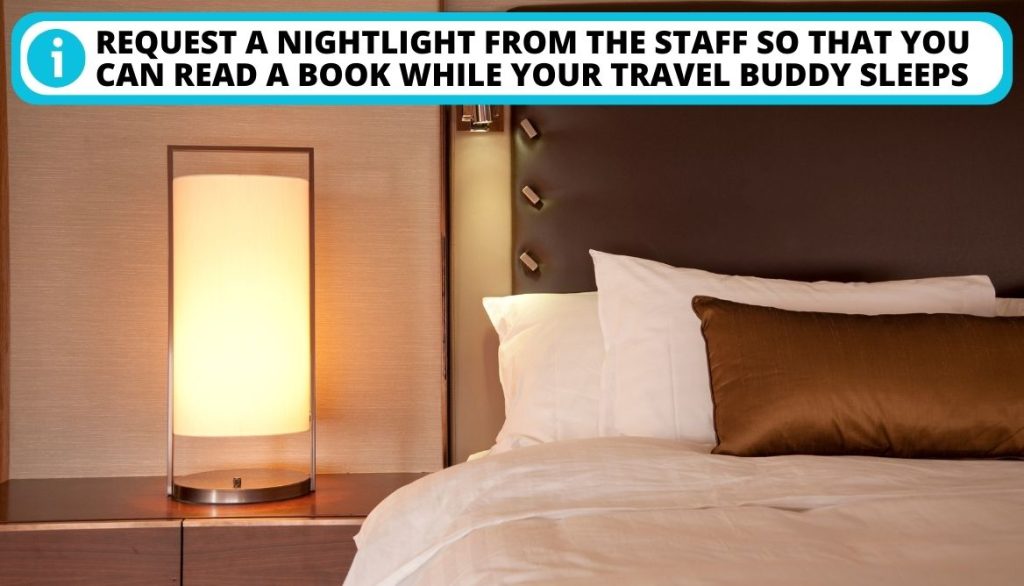 9. Request Nicely and Get Extra Room Amenities
Your hotel room contains the basic necessities and is stocked with eatables, depending on the hotel you are staying in. But you can ask for additional services aside from these standard facilities. Mentioned below are some of the hotel amenities you can request!
Toiletries and Bathroom Supplies:
The bathroom in your hotel room already has basic toiletries, but additional requests for shaving cream, toothbrushes, bath gels, and refills of the basic stuff can be made.
Some supplies like lotion, hand soap, or shampoo may have an appealing smell, and you may love it. You can ask the from desk for more.
Pillow and Sheet Replacements:
Housekeeping takes care of replacing the used linen with clean ones. Although, you can tidy sheets as per your need anytime. If you need more blankets or linen, the front desk can arrange it on your request.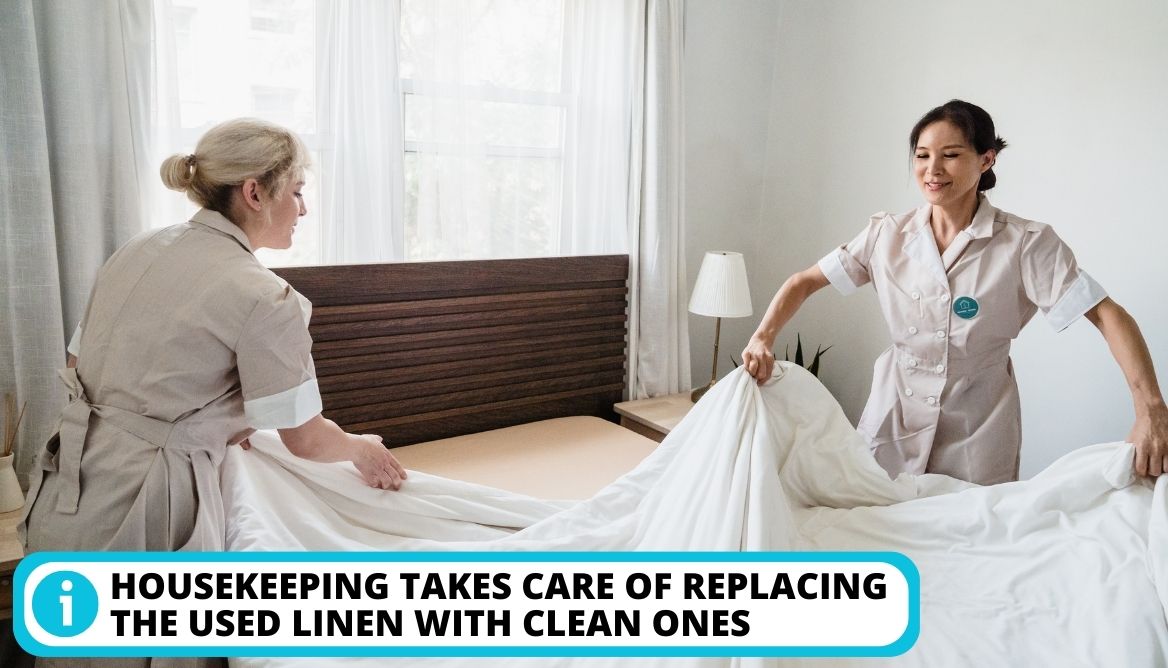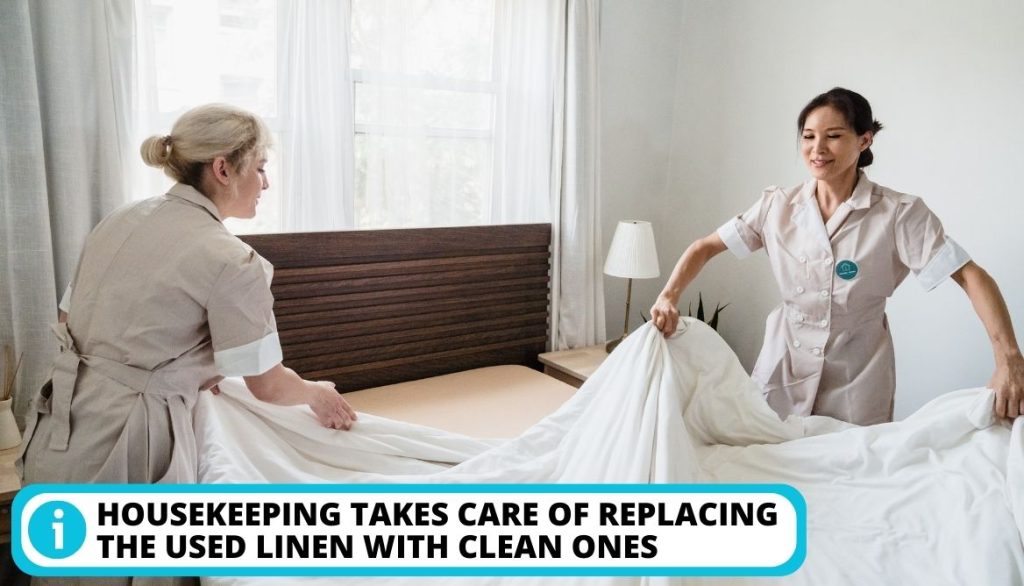 Additional or Replacing Of The Pillow:
People have different preferences when selecting pillow(s) to sleep. Firm, soft, and even more than one of both types are the requirement of people.
You can request the hotel to send you an extra or present a pillow menu so that you can select what you need. For a comfortable sleep experience, you can tell them you want to handpick the ones you like.
Storage for Dirty Clothes (Laundry Bag):
If you are a large group traveling together but forget a laundry bag, this can be a problem. You do not want a pile of smelly clothing to accumulate in your room.
Ask the hotel's housekeeping to provide one, but first check the cupboard to see if the staff has left it there.
Complimentary Slippers:
You get free robes and similar wearables from the hotel, but they also provide free slippers. If you cannot find slippers in the waiting room, call the front desk to request a pair.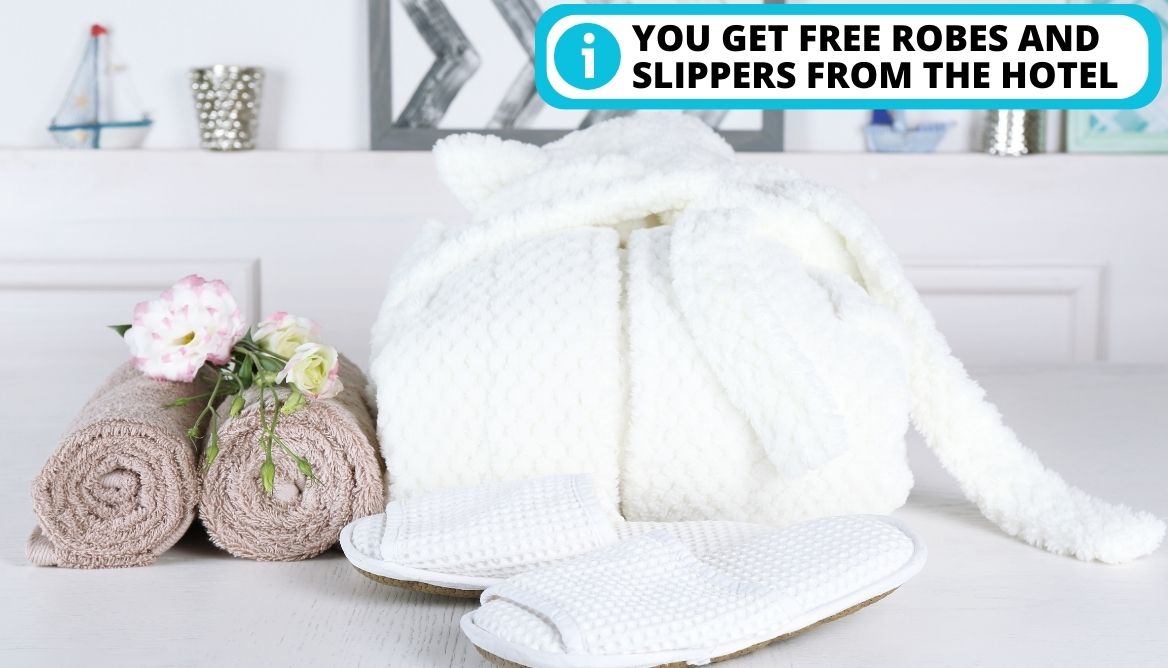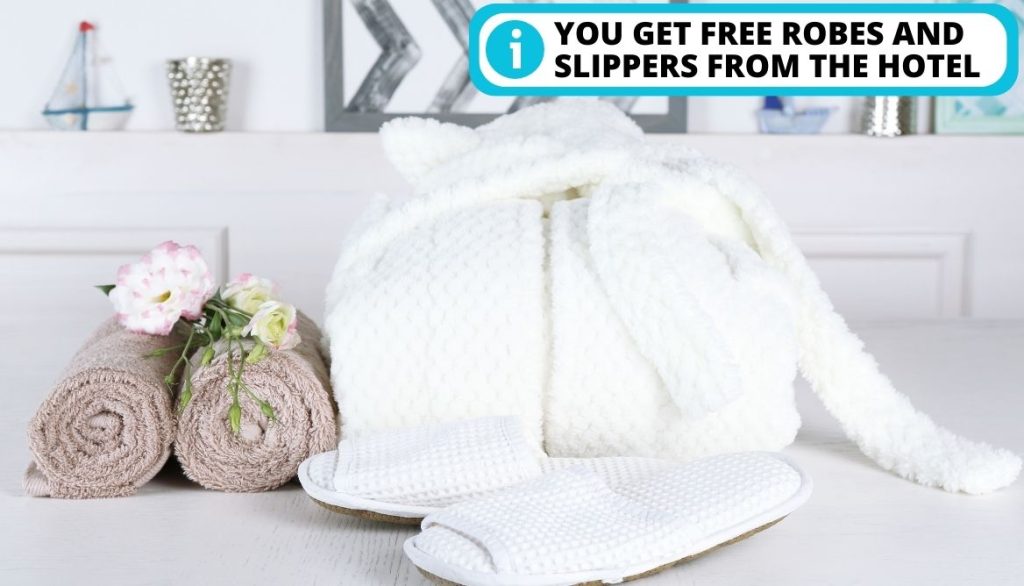 10. Request a Turndown Service For Excellent Bedmaking
You often leave your room in a hotel at night and return to find it neatly organized. This is done by the turndown service at most hotels.
11. Complimentary Additional Breakfasts: No Need for a Request!
Hotels make their services more appealing by offering guests complimentary breakfasts and snacks. During high season, families come to spend their time in hotels. Providing them with this special treatment can boost the reputation of the hotel and establish good relations with the visitors for the future.
Pro tip: You can always confirm complimentary breakfast on call from your room to the front desk.
12. Request Additional Arrangement for Your Special Occasions
Informing the hotel ahead of time can enrich your hotel experience. Especially if you are celebrating a special occasion.
The hotel can provide the following:
A free room upgrade
Prepare treats ahead of time, like chocolate-covered strawberries for guests
Decorations
The staff can wish the guests their special day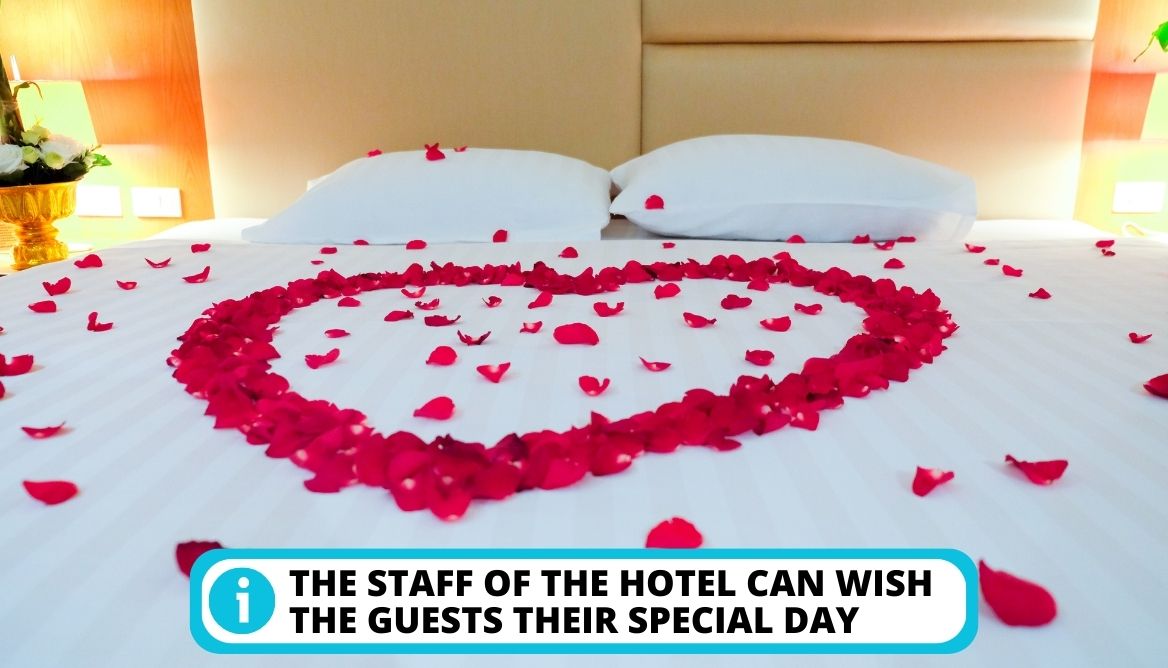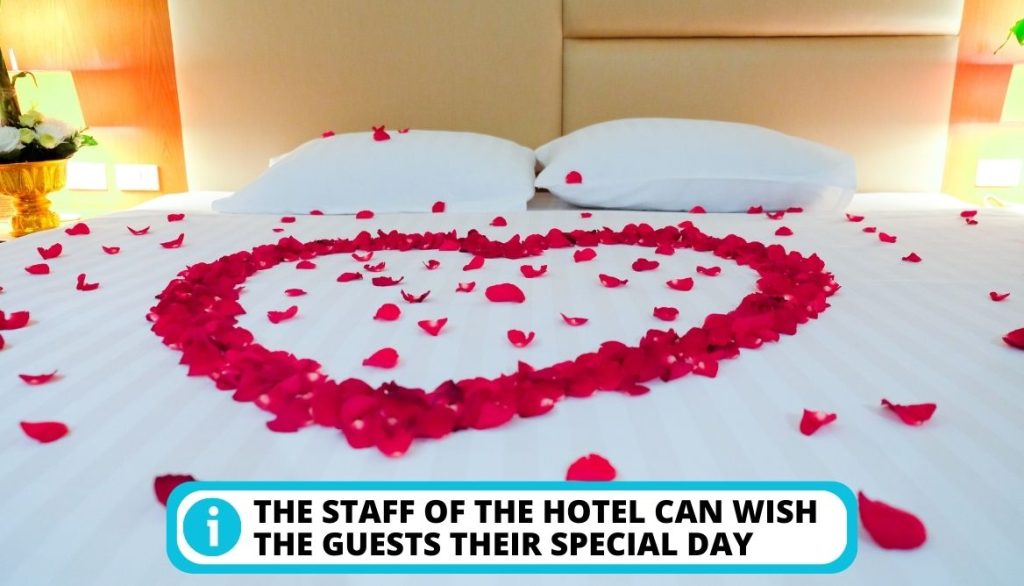 If it is a wedding, then showering with rose petals or cutting a cake while music is played in the background on a birthday is some services hotels enjoy providing their visitors.
Without even demanding special requests, the hotel personnel usually leave a congratulatory note on the meals they serve to their special guests.
Reasons to Request Management to Relocate Your Room
Most hotels have guests that require relocating their rooms due to various reasons. It can be due to preference or disturbances. Some common reasons are as follows:
A noisy neighbor next door
The need for a room with a view if the destination is famous for its landmarks
Street noise just outside the hotel window due to construction or a festival
The need for more space if there are more than expected people
If the visitor is afraid of heights on higher floors.
For insights, check out this helpful video. Now let's dive down into the guide below!
Request an Unquiet Room Location
Changing your room may be the result of various external factors, such as:
A busy road right outside your hotel window
Heavy work on a construction site nearby
Noisy neighbors in adjoining rooms
Guests celebrating a special occasion
Busy hallway right outside your hotel room.
Recommended:
Here's what can be done:
Contact the front desk and request them to change your accommodation.
Asking politely always is the best strategy.
Try to explain the reason for your complaint about changing the location.
Ask for an upgrade which automatically results in a change of location.
If no room is available, then be patient for the moment.
Coordinating with the hotel manager can solve the problem and get you the best room.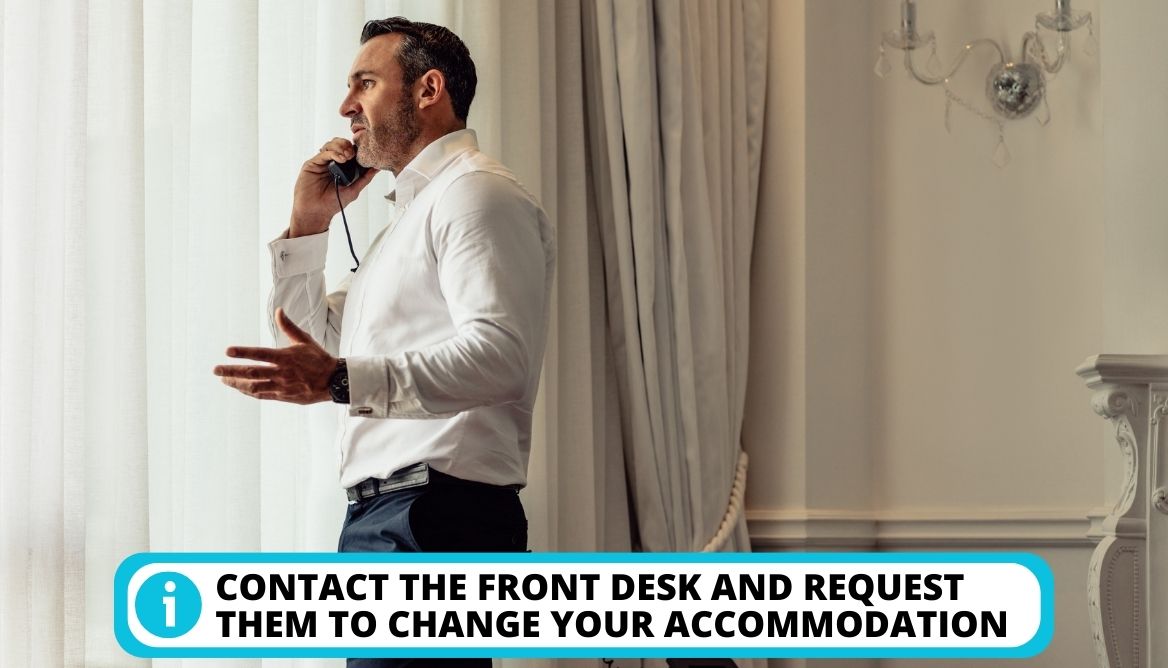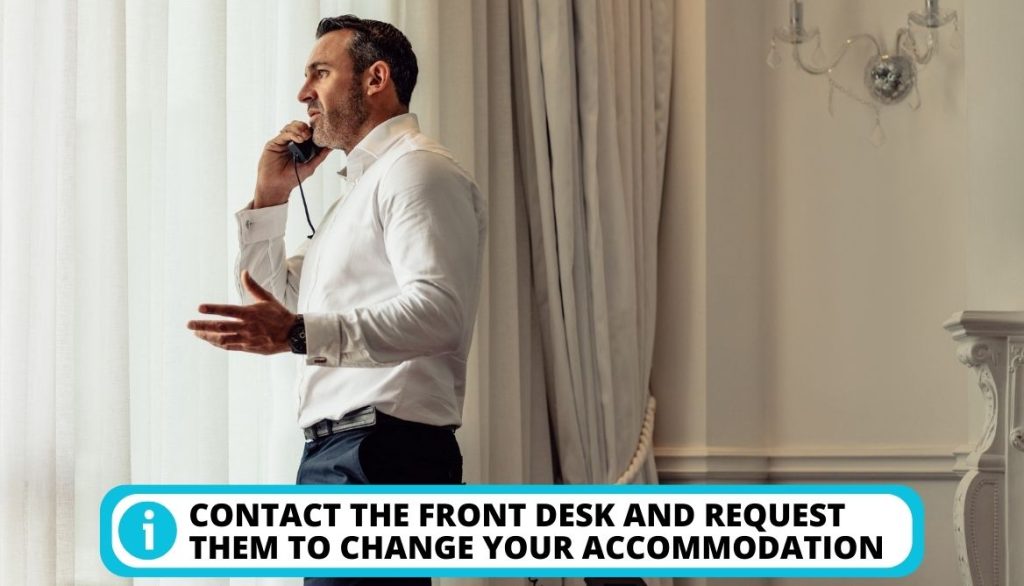 Not Recommended:
The following things should be avoided:
Knocking the wall between the neighbor and you.
Interfering in matters without informing the hotel officials.
Guest Can Request Free Room Services and Extra Hotel Amenities
Special requests provided to guests depend on the facilities available in the hotel. Many hotels may not have the items listed below. Requesting baby supplies for your toddler in advance is a good idea.
Items like mini-fridge or private vehicles are easily borrowed if available. Check the lists to see what's free and can be borrowed!
Free Items
Basic toiletries
Other toiletries
Hair accessories
Sanitary products
Cleaning aids
Health aids
Beauty tools
Earplugs
Bottled water
Pens / Notepads
Laundry bags
Slippers
Plastic bag
Travel guides
Maps
WiFi
Complimentary tea, coffee, wine
Snacks
Goodies
Breakfasts
Kiddie meals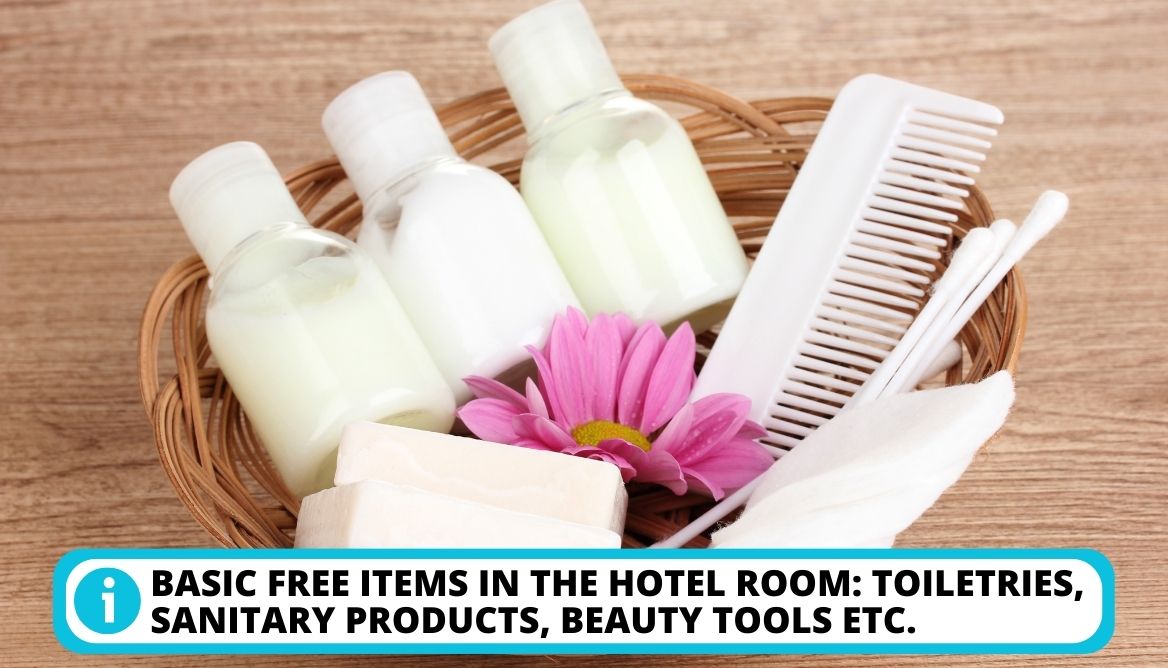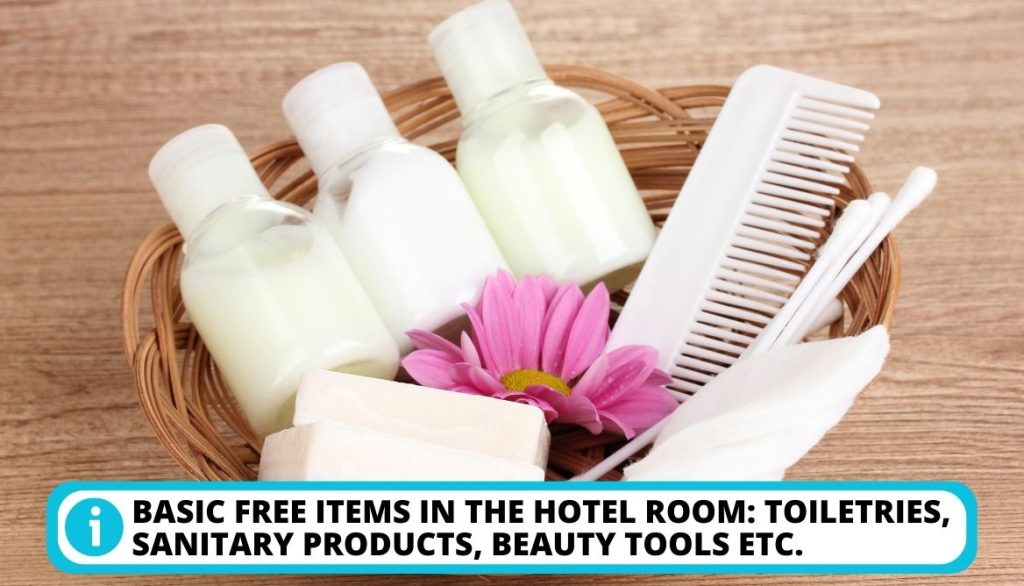 To Borrowed Items
Hair-styling tools
Flat iron
Sewing kits
Workout clothes
Exercise kits
Umbrellas
Bathrobe
Extra towels
Set of clean linens (request this as soon as you check in)
Hypoallergenic pillows and bedding
Body pillows
Extra blankets
Shoeshine kit
Phone chargers
Adapters
Extension cords
Coffee maker
Microwave
Mini refrigerators
Fans
Rollaway beds
Cribs
Board games
Books
Movies Guitars / DJ mixer
Wheelchairs
Strollers
Bicycles
Private vehicles
Kayaks
Recommended:
Following are some recommendations to get your requests granted!
Contacting the hotel concierge at the front desk on call is the best approach.
You can even email the items you need and put in a request before checking in.
Not Recommended:
Avoid these practices if you do not want to create problems while requesting!
Avoid calling the front desk during rush hour, especially between 9:00 AM and 1:00 PM.
If you hear multiple customers on the other end of the line.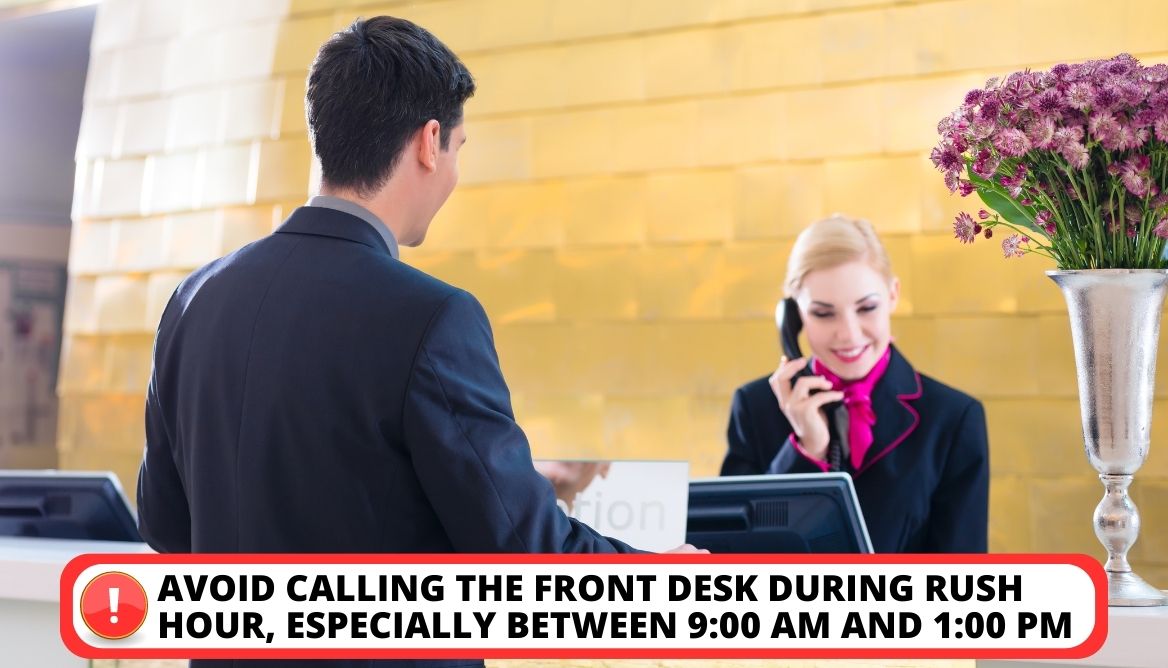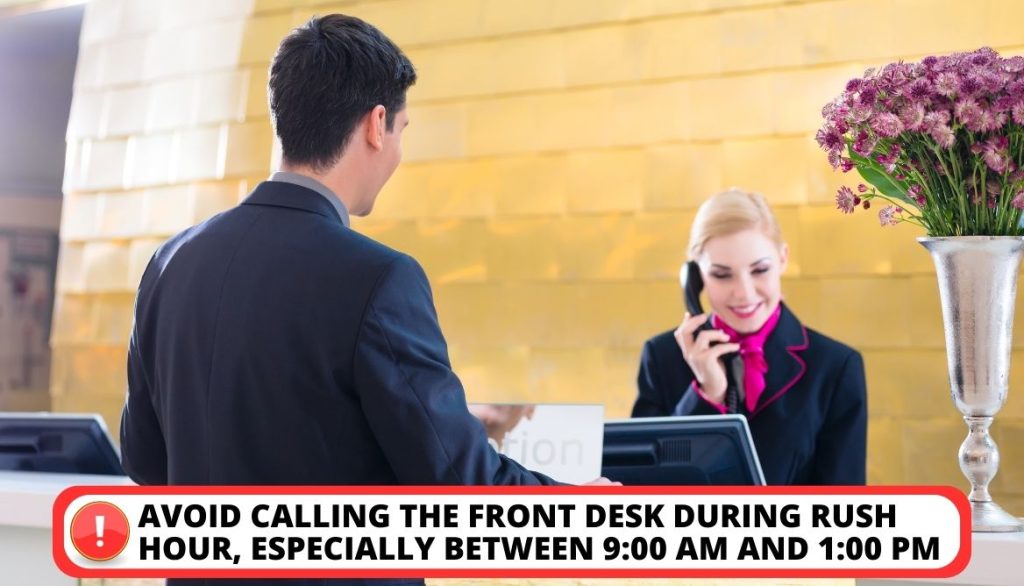 Additional Advice To Avail Advanced Special Requests
Special requests help guests redeem services from the hotel that are not mentioned or available. Here are some tips on how to get these requests!
Tip 1: Pre-reservation request
It is good to inform the hotel staff of your request before making a reservation. This will help ensure that your request is considered and that the hotel can make the necessary arrangements. You can contact the hotel directly via call.
Here are some tips for making a pre-reservation request:
Be specific about your request. The more information you provide, the better the hotel staff will be able to help you.
Provide your contact information so that the hotel can reach you if they need to.
Be flexible with your request. The hotel may be unable to accommodate all requests, so it is important to be flexible.
Pro tip: Hotel staff appreciate and give priority to guests who are in direct contact with them for booking.
Tip 2: Be specific
When you arrive at the hotel, be sure to let the staff know about your request. This will help ensure your request is processed as quickly as possible.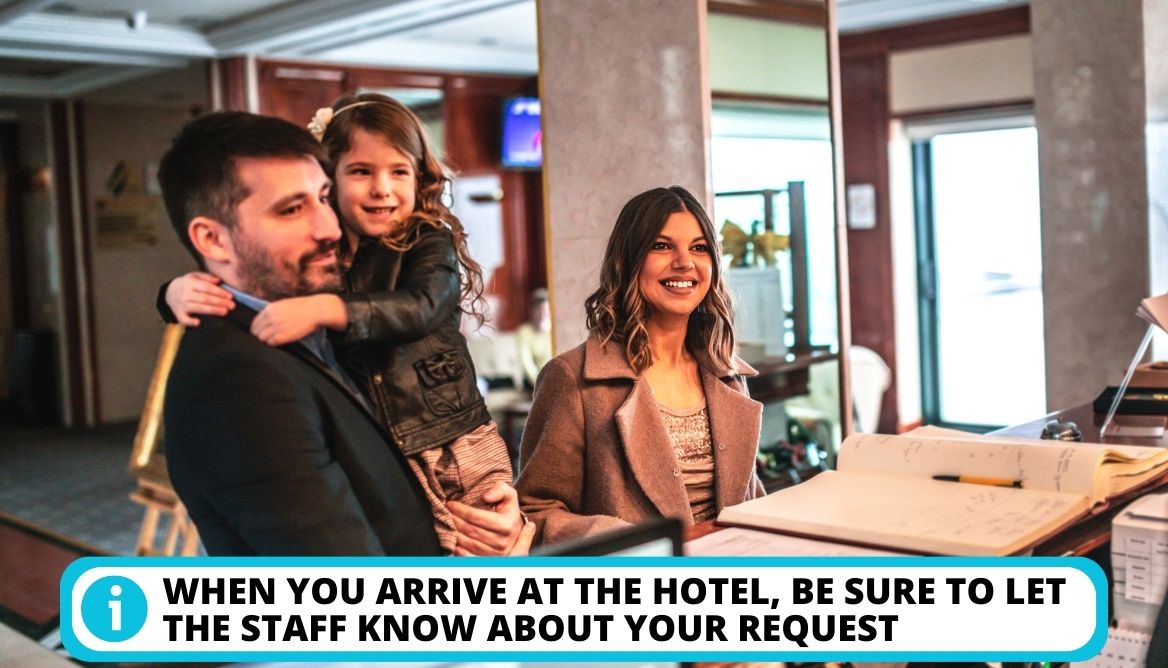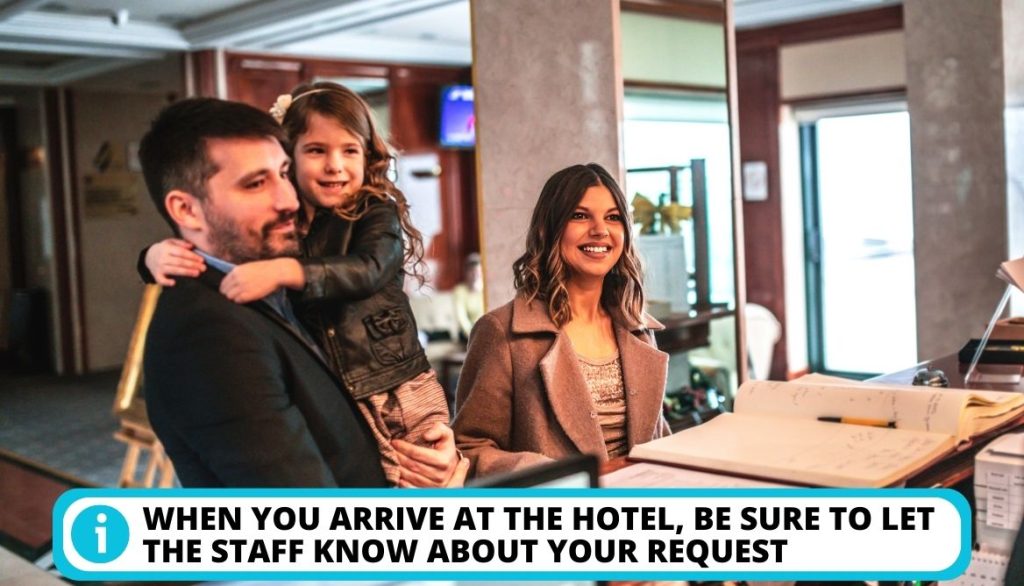 Here are some tips for being specific about your request:
State your request clearly and concisely.
Provide any relevant information, such as the type of room you would like or the amenities you need.
Be polite and respectful when making your request.
Tip 3: Follow up
Following up with the hotel staff after making your request is a good idea. This will help ensure that your request was received and the hotel is working to fulfill it.
Here are some tips for following up with the hotel staff:
Email the hotel a few days before your arrival to confirm your request.
Call the hotel on the day of your arrival to check on the status of your request.
Be patient and understanding. It may take some time for the hotel to fulfill your request.
By following these tips, you can increase your chances of having your hotel request fulfilled.
FAQ
How do I write a special request for a hotel?
To write a special request, you can send a letter or an email. Or, you can ask the management directly by calling them.
What are the two types of requests in a hotel?
The two types of hotel requests are Direct requests from guests (as solo travelers, the guests can directly coordinate with the staff to reserve their accommodation) and requests from travel agents (agents can contact the hotel for accommodation check-in).
What is a request for a proposal to a hotel?
A request for a proposal to a hotel is a type of requirement list that an event planner gives. The request for proposal or RFP clearly outlines each and every detail, such as space needed, duration of the event, hotel rooms needed, and quantity of attendees.
What do guests want from a hotel?
Guests are always searching for comfortable rooms without disturbance or noise around it. They appreciate faster internet, in-room devices such as TV, thermostat, etc, and other similar facilities in a hotel room.
Conclusion
By voicing your special request when booking your room, you can further add more advantages to your stay experience. Especially particular requirements such as a non-smoking room or a free room upgrade are easy to avail by asking politely.
Following the tips above can help you greatly and even get you an amazing deal to increase your comfort and satisfaction. Which special request did you communicate to the hotel? Let us know in the comments section!