Happy Wayfarer is reader-supported. When you buy through links on our site, we may earn an affiliate commission.
Which is the better place to visit, Secrets Cap Cana vs Secrets Royal Beach? Both are famous vacation destinations located in Punta Cana in the Dominican Republic. You cannot go wrong with either of them.
Keep reading and I will highlight the eight-factor comparison to help you easily decide where to visit. From accommodations and activities to SPA and the fitness are. Let's get started with the overview!
Secrets Cap Cana vs Secrets Royal Beach: Overview
The all-inclusive Secrets Resorts by Hyatt are designed exclusively for adults. They take pride in providing luxurious lodgings, delicious culinary meals, exciting activities, and entertaining shows where guests can unwind and enjoy themselves.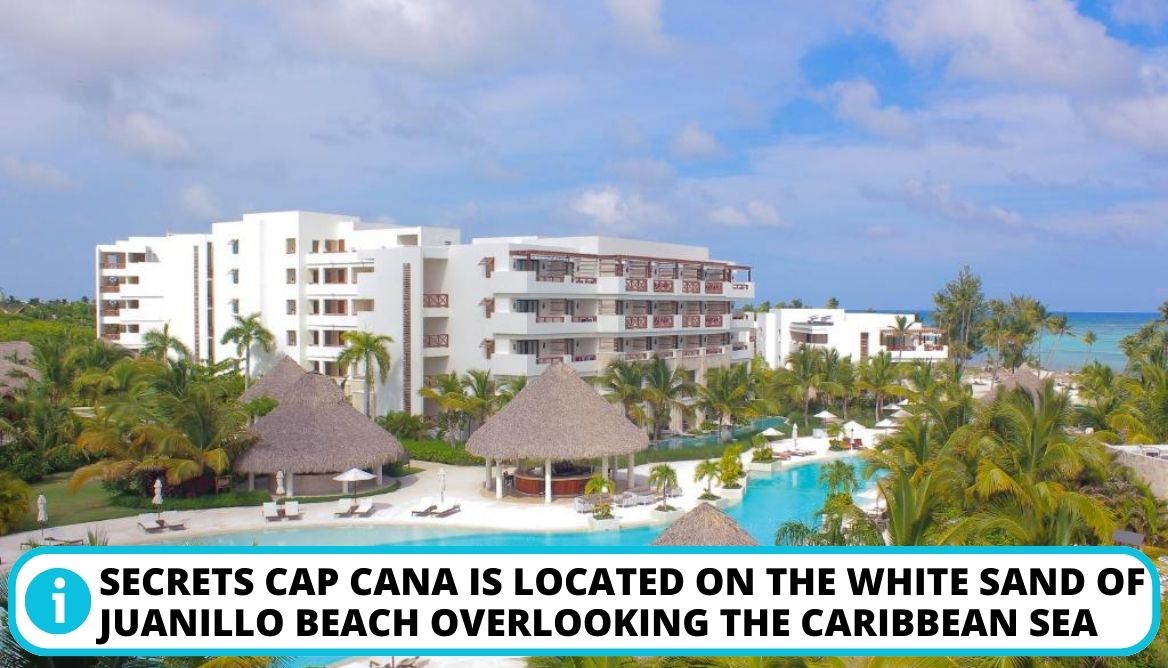 Destination weddings, honeymoons, and romantic getaways are all part of their special couple-oriented vacation packages. Here is an overview:
Secrets Cap Cana is located on the white sand of Juanillo Beach, within the guarded community of Cap Cana, with a view of the turquoise waters of the Caribbean.
On Bavaro Beach, Secrets Royal Beach Punta Cana is situated on over 700 yards of a soft sand beach of Punta Cana village fringed by palm trees and an adventure park. The breathtaking bath-temperature water flows alongside the magnificent turquoise Caribbean Sea.
Secrets Royal Beach Punta Cana is larger as it contains 464 guest rooms and suites, while Secrets Cap Cana has 457 rooms.
Cap Cana is quiet, while Royal Beach Punta Cana is busy and loud.
From a geographical standpoint, Secrets Royal Beach is situated further from Punta Cana International Airport yet nearer to restaurants and shops, which are accessible and within walking distance.
This is only the basic information. There is more to know about the two secret resorts. Below is a comparison chart to help you distinguish:
| | | |
| --- | --- | --- |
| | | Secrets Royal Beach Punta Cana |
| | | |
| | On the white sand of Juanillo Beach, 18 mins from Punta Cana International Airport | On the soft sand of Bavaro Beach, 25 mins from Punta Cana International Airport |
| | Smaller than Punta Cana. Has 457 rooms | Larger. Has 464 guest rooms and suites |
| | Riding a bicycle, water sports | |
| | | |
| | Two large swimming pools; a heated infinity pool and a beach-entry pool | Two large freeform pools and a smaller pool |
Secrets Cap Cana vs Secrets Royal Beach Punta Cana: Eight In-Depth Analyses
For you to easily decide on the best place to visit, I've highlighted eight key distinctions between Secrets Cap Cana and Secrets Royal Beach. Let us start with suites and rooms!
1. Accommodation
Both places offer unique and classy suites and rooms you would love. Let us look at each separately!
Secrets Cap Cana's Accommodation
As stated earlier, there are 457 rooms in Cap Cana. It will cost you around $290 a night in a standard junior suite. Each room has a flat-screen air-conditioning, a TV, a balcony, and a minibar. Some rooms have a wraparound balcony, marble bathrooms, and a jacuzzi spa.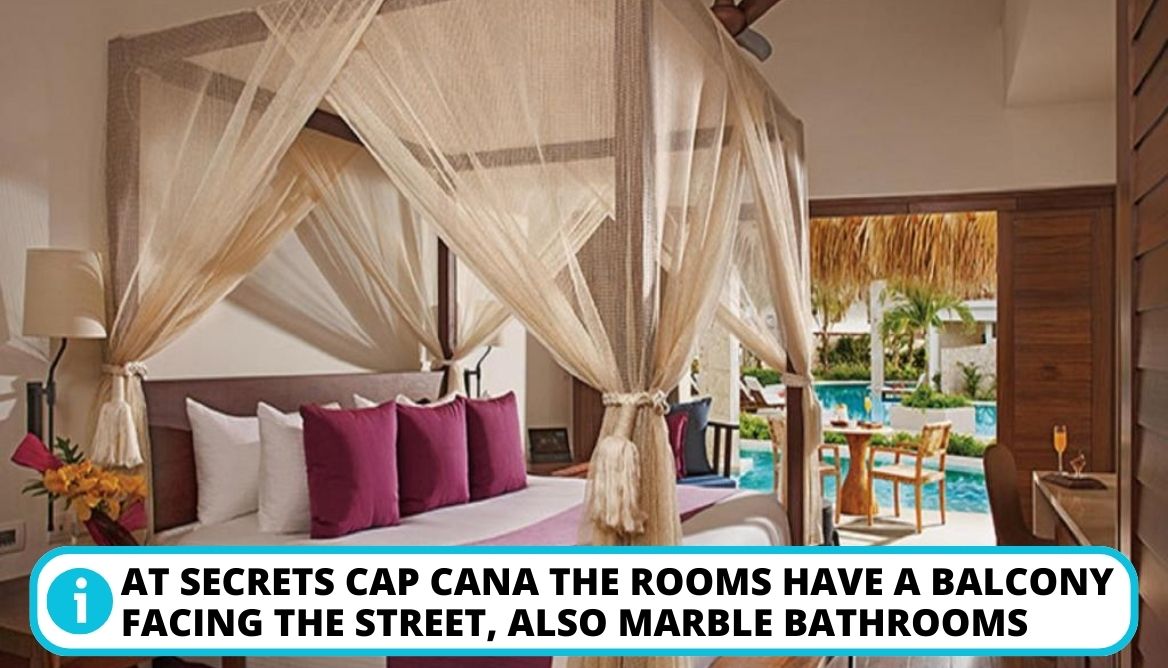 The different rooms in Cap Cana include:
Junior Suite Swim-out Garden View;
Junior Suite Garden View;
Junior Suite Ocean View;
Preferred Club Junior Suite Swim-out Ocean Views;
Preferred Club Junior Suite Ocean View;
Preferred Club Master Suite Swim-out Ocean View;
Preferred Club Master Suite Ocean View;
Preferred Club Presidential Suite Ocean Front.
It's worth noting that the Preferred club rooms are more expensive than the junior suites. This is because they are lavish and have more pleasing extras like:
Premium minibars;
Swim-up entrances;
More likable bath products;
Flat-screen TVs;
Admission to a deluxe swimming pool, lounge, and lunchrooms.
Secrets Royal Beach Punta Cana
There are a total of 464 rooms in Punta Cana. It will cost around $230 to $320 a night in a junior suite. However, guests have the option of upgrading to one-bedroom suites. The rooms in Royal Beach are: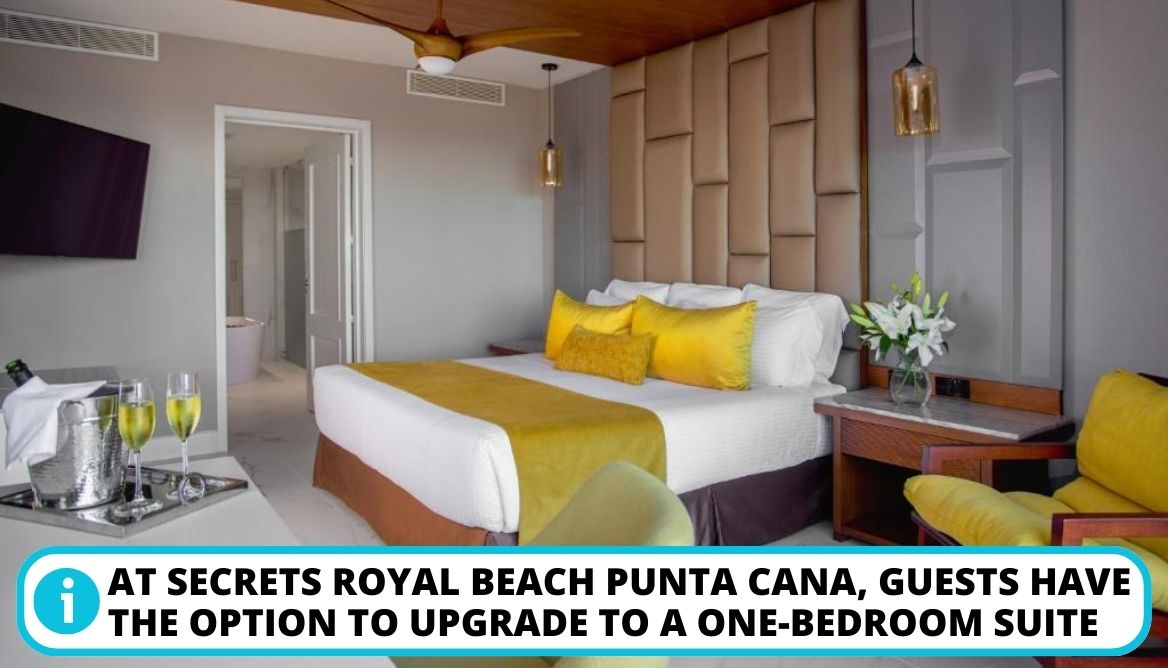 Junior Suite Pool View;
Junior Suite Tropical View;
Preferred Club Junior Suite Swim-out;
Junior Suite Garden Terrace;
Preferred Club Bungalow Suite Pool View;
Preferred Club Junior Suite Ocean View;
Preferred Club Master Suite Swim-out;
Preferred Club Honeymoon Suite Pool View.
A private beach club located in a designated area of the beach, hors d'oeuvres, and daily breakfast provided in your suite are additional benefits for Preferred Club guests.
Winner: Cap Cana is the winner. This is because elegant bungalows decked out in Caribbean style and offering direct private beach accessibility can be found in their Preferred Club area. Also, their Presidential Suites are enormous and complete with a dining room, two oceanfront terraces with beach views, two spacious rain showers, and an exclusive plunge pool.
2. Swimming Pools
Both Cap Cana and Punta Cana have quite amazing pool facilities. Let us see what Cap Cana has to offer.
Secrets Cap Cana's Pools
At Secrets Cap Cana, you may choose between two infinity pools: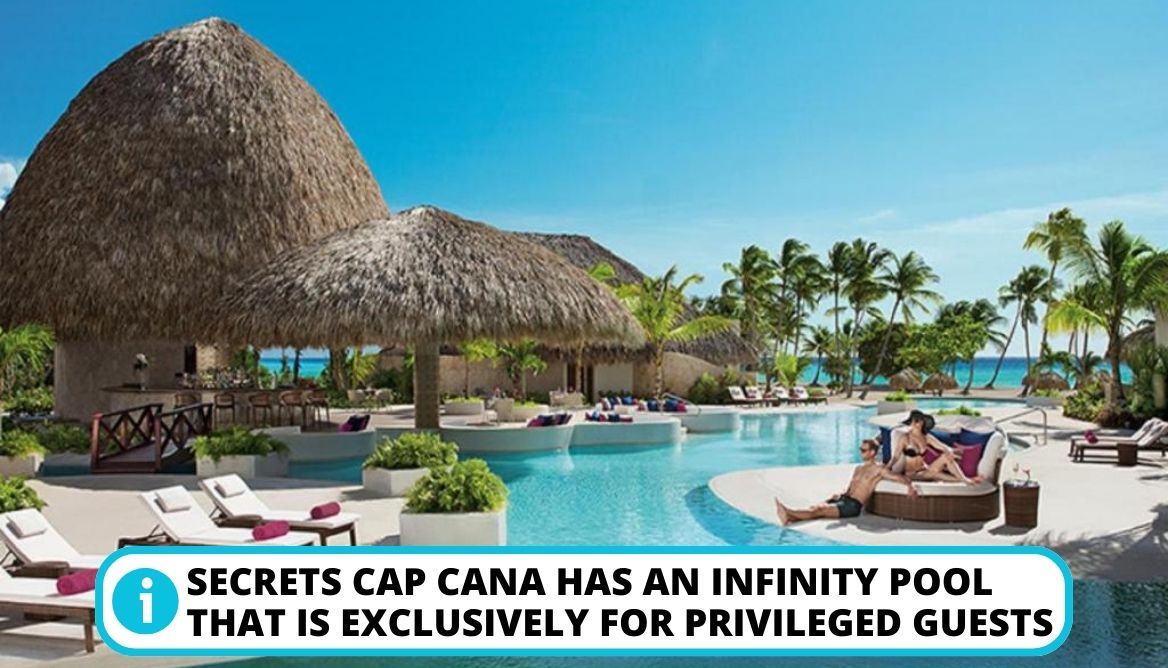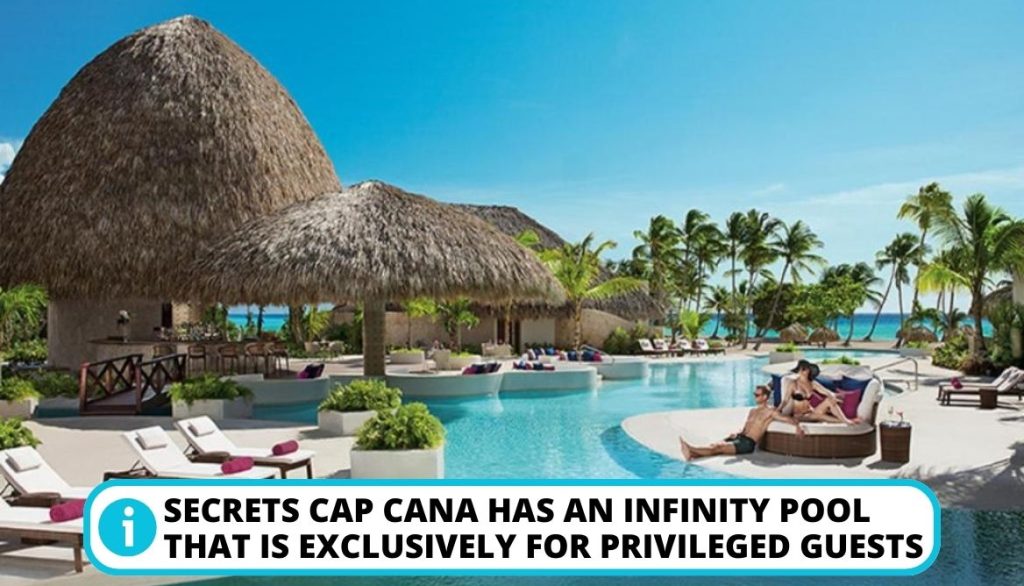 One of which is exclusive to Preferred guests;
The other is available to everyone.
Note: In addition to the three poolside bars, the pool deck features two hot tubs.
Secrets Royal Beach Punta Cana
At Secrets Royal Beach Punta Cana, you can relax in one of three pools or four hot tubs.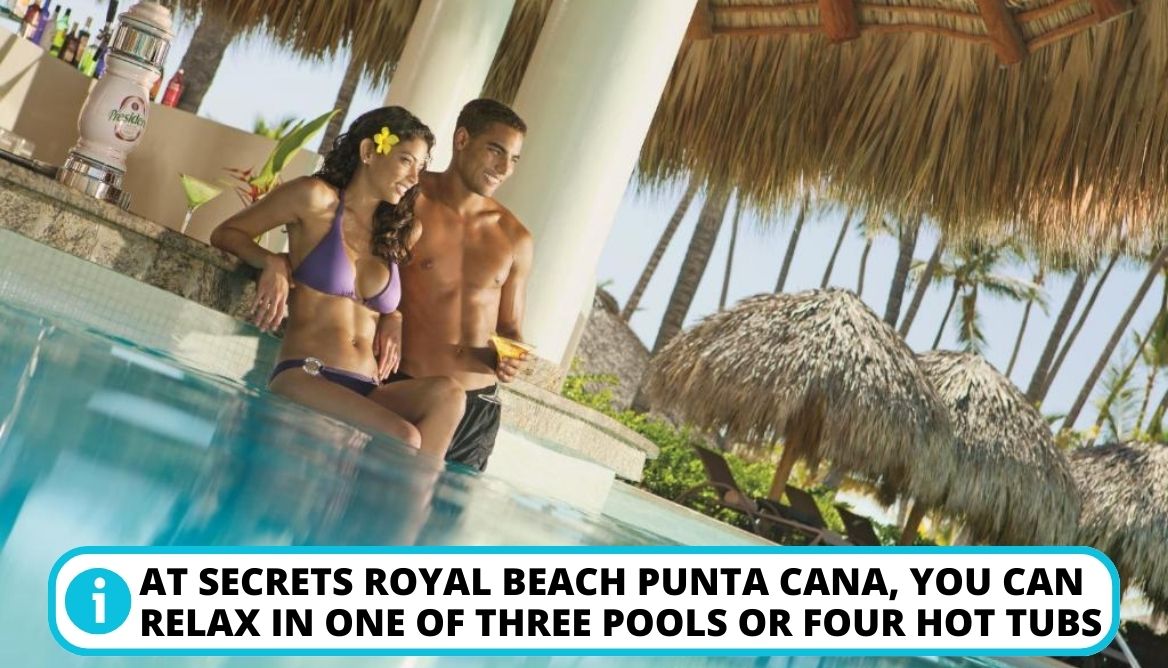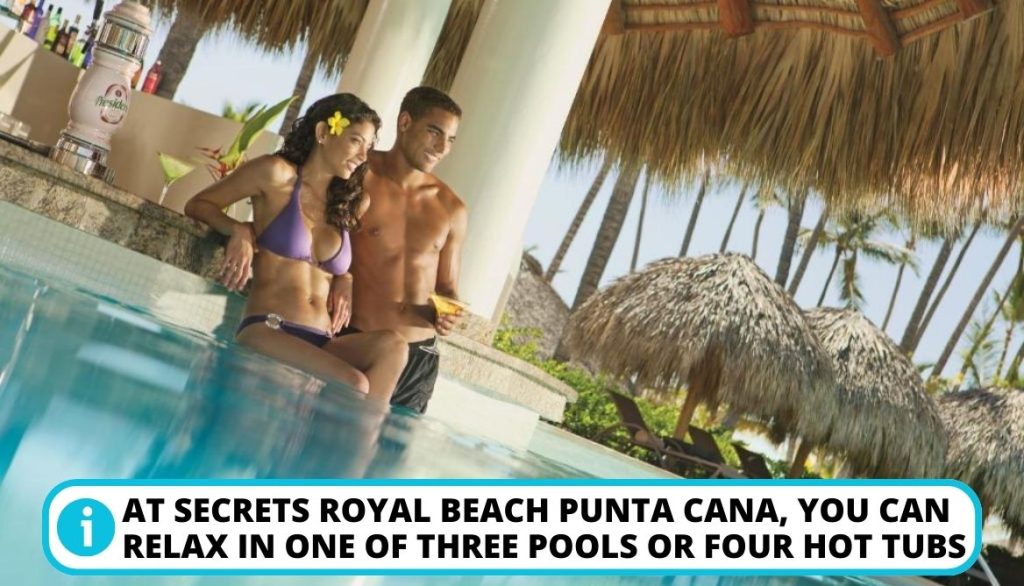 The main pool winds freely through the gardens and wooden benches are positioned around the pool deck to help you make your way from one end to the other;
There is a second pool where most of the daytime events occur, and it can get crowded and difficult to obtain lounge chairs there if you don't get there first thing.
Note: The Preferred Club section features a private, tranquil infinity pool where guests can relax in privacy.
Winner: Secrets Royal Beach because it has more pools and hot tubs than those of Secrets Cap Cana.
3. Fun Things to Do
Punta Cana and Secrets Cap Cana offer several activities to ensure that tourists have a good time during their stay.
Secrets Punta Cana
So, what activities can you participate in while in Punta Cana?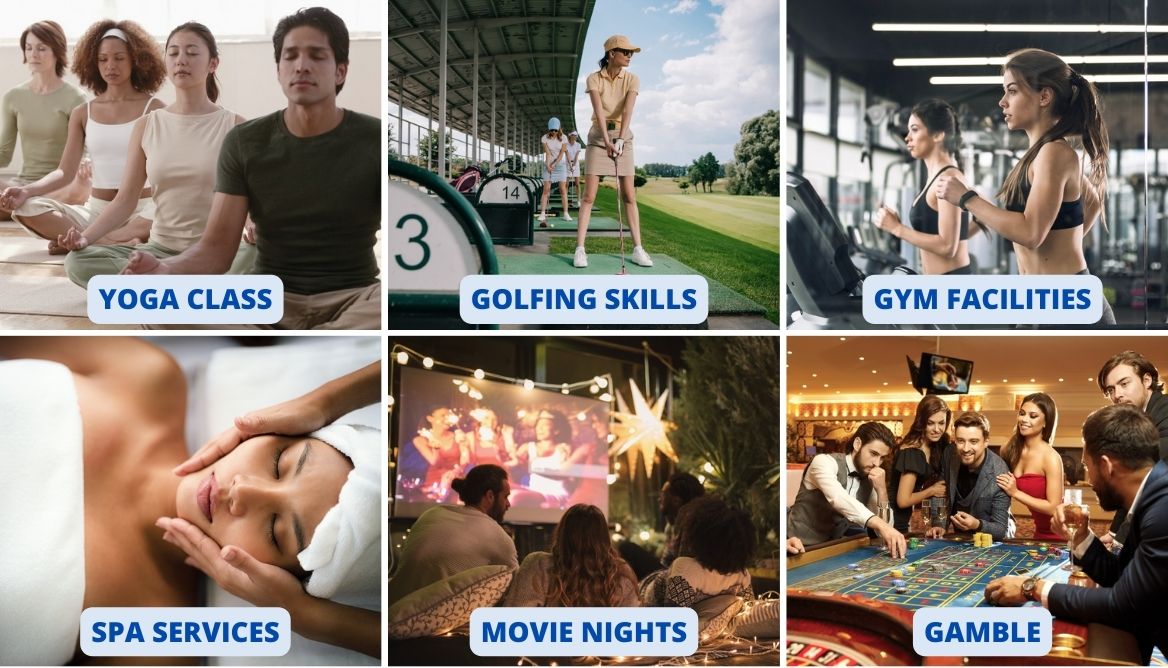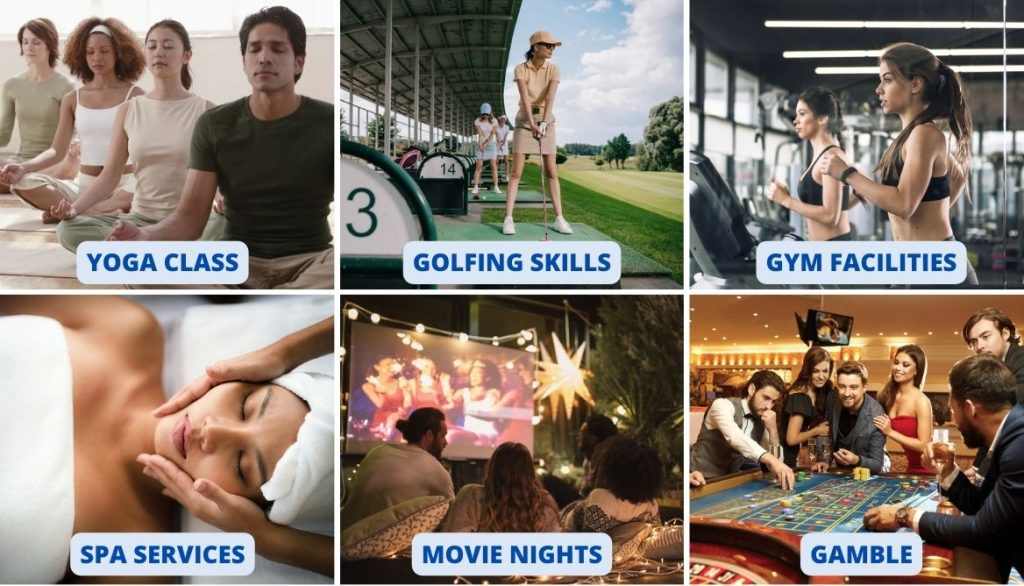 Relax: Participate in an instructor-led yoga class on the beach.
Perfect your golfing skills: You can do so at the famous golf course, Cocotal Golf & Country Club.
Gym facilities: Keep fit by exercising at the gym or gathering a team for a game of beach volleyball.
Spa services: Visit the spa for body treatment, a massage, or a facial.
Movie nights: Enjoy watching movies on the beach from the big-screen projector.
Gamble: Are you feeling lucky? A casino across the road is at this all-inclusive resort, Now Larimar, Secrets' family-friendly sister resort.
Secrets Cap Cana's Fun Activities
There is also a variety of activities that you can do while visiting this beautiful destination, such as: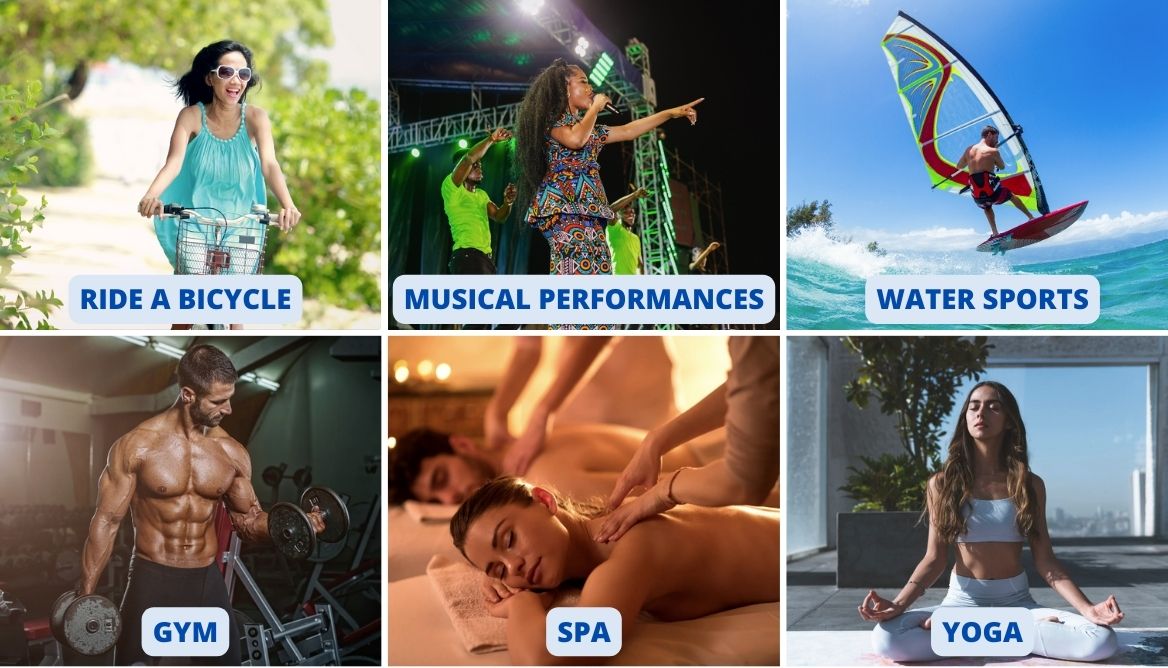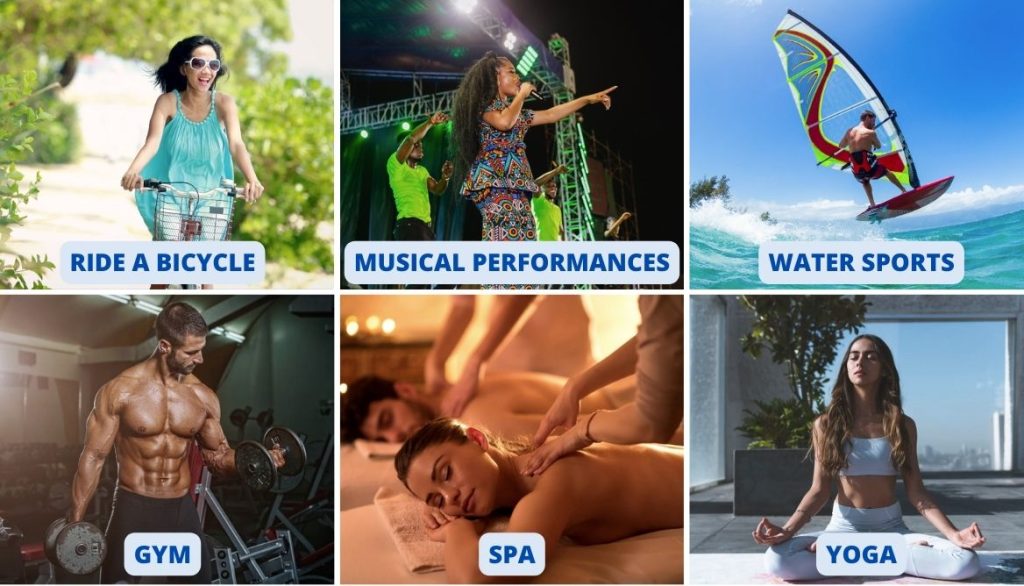 Ride a bicycle: Do you know how to cycle? Enjoy the complimentary guided bike excursions to the nearby marina from the resort's grounds.
Exciting nightly entertainment: It consists of theme parties, musical performances, and live theatre performances.
Participate in water sports: Includes deep-sea fishing and Scuba diving tours.
Keep Fit: Take advantage of the various workout equipment such as Elliptical machines, treadmills, and Free weights.
Spa and yoga: Give your body a break and relax at the spa as you enjoy the spa services.
The two resorts offer the perfect wedding packages where you can enjoy couples' spa treatments, breakfast in bed, candle-lit dinners on the beach, and more adult-only romantic-themed settings.
Winner: Secrets Royal Beach, as it has plenty to offer. It even has a casino for betting enthusiasts.
4. Relaxing at the Spa
Secrets Royal Beach and Secrets Cap Cana have spas you and your loved one can visit anytime. The Secret's spas are by Pevonia and are designed to bring relaxation and serenity to the users.
Secrets Punta Cana
Enjoy an unforgettable spa experience at Punta Cana with: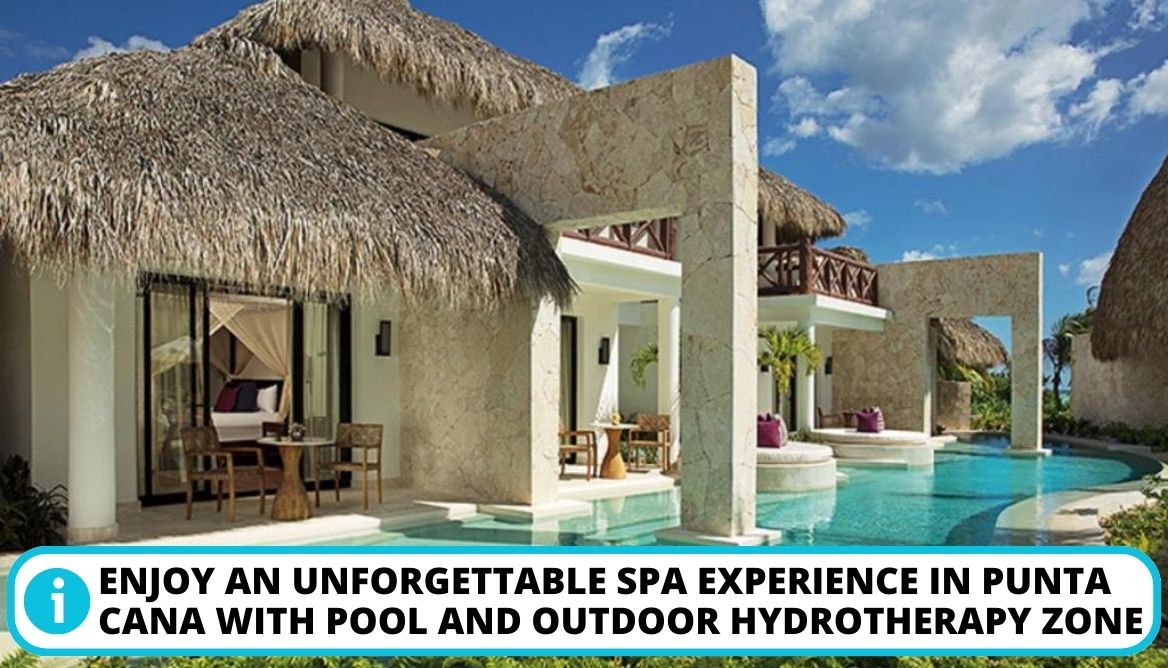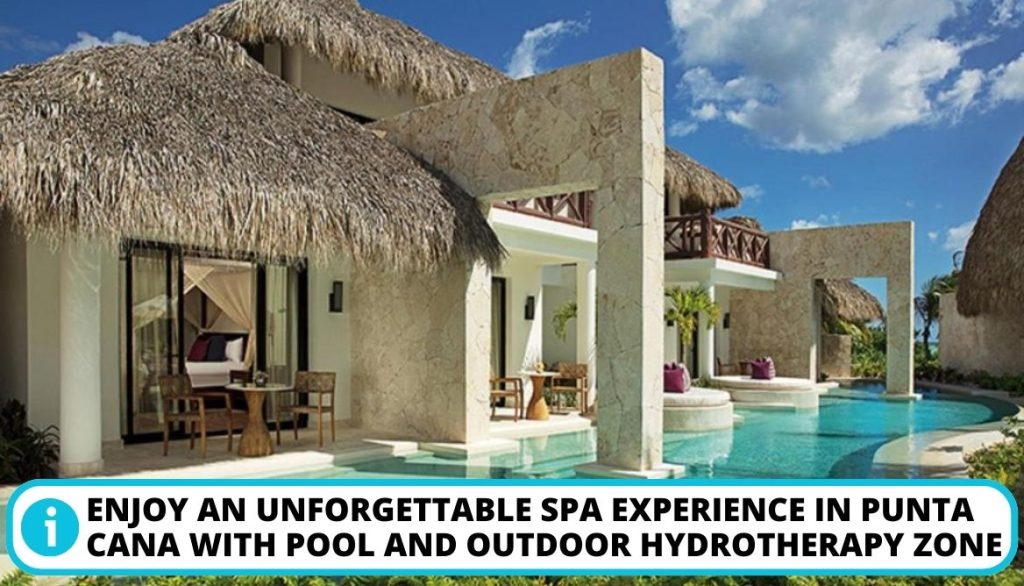 Hydration station providing drinks and vitamins;
More than 17,000 square feet of absolute luxury;
A salon offering a full range of beauty services, from haircuts to pedicures and manicures;
Hydrotherapy facilities with refreshing showers, a steam room, and a sauna;
Room for yoga;
Swan-necked waterfall pool and hydrotherapy area outdoors;
Natural remedies from the widely acclaimed Pevonia brand.
You and your partner will be treated to that when you visit a spa in Punta Cana. Let us see what is different in the spa in Secrets Cap Cana.
Secrets Cap Cana's Spa
The Spa by Pevonia in Cap Cana is a place of rejuvenation where guests can indulge in various beauty and health services, including but not limited to facials, hydrotherapy, and massages. Here you can find: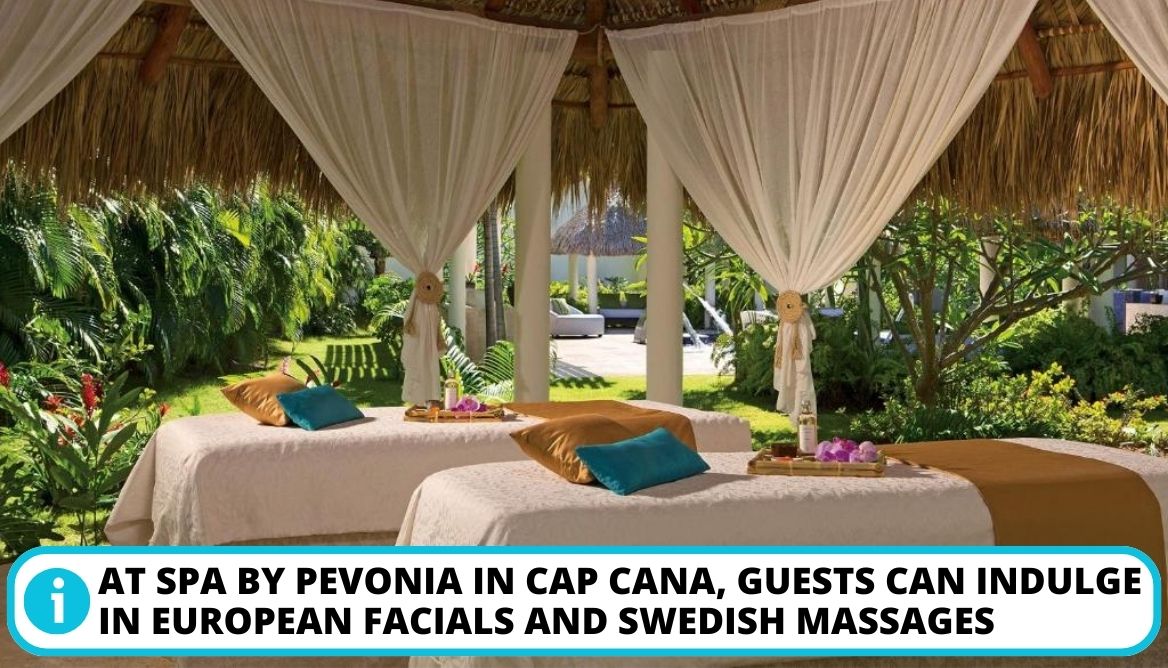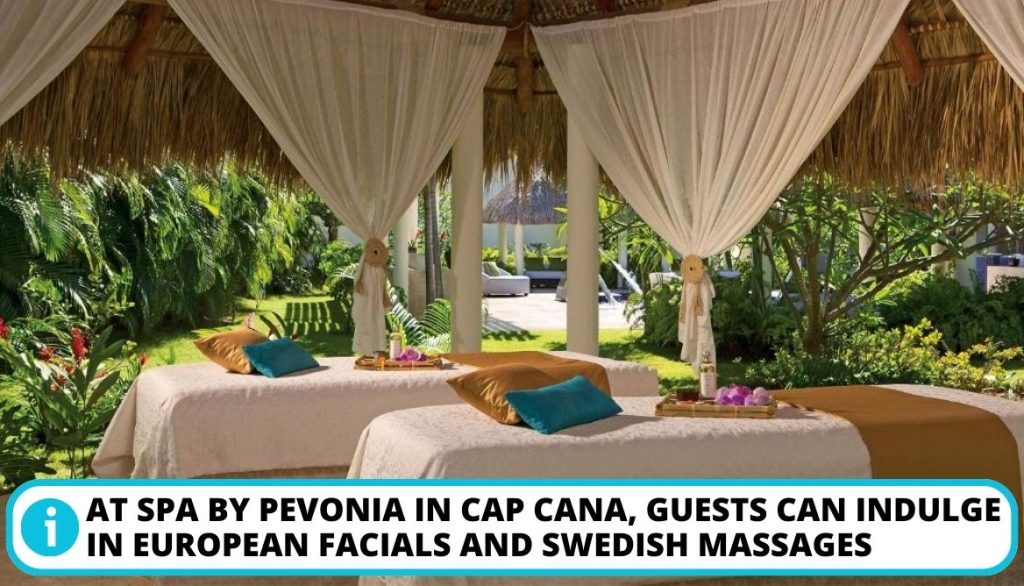 Private massage space ideal for couples or individuals. European facials and Swedish massage;
Sections featuring plunge pools and dynamic pools for hydrotherapy;
Services for hairstyle and haircuts;
Combination sauna/steam room and whirlpool;
Pure and effective natural remedies from the industry leader, Pevonia.
Winner: Punta Cana. The spa has more offerings, such as a hydration station and yoga room.
5. Pet Accommodation
You may ask yourself, 'Is it safe to bring my pet along?' Well, here is what you should know: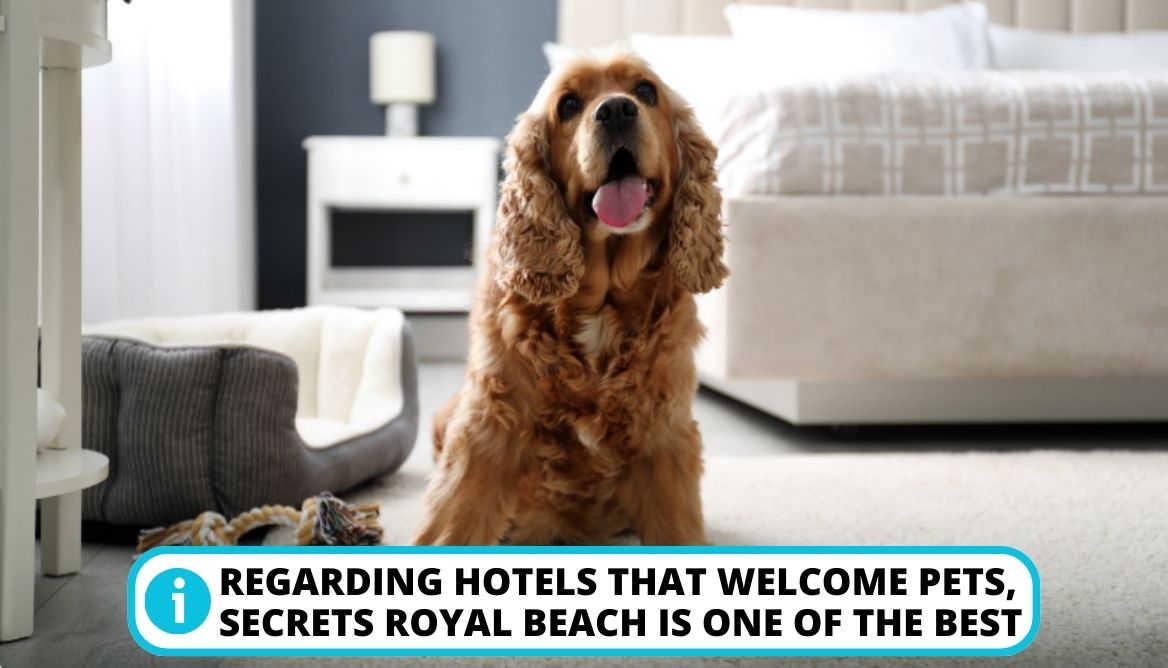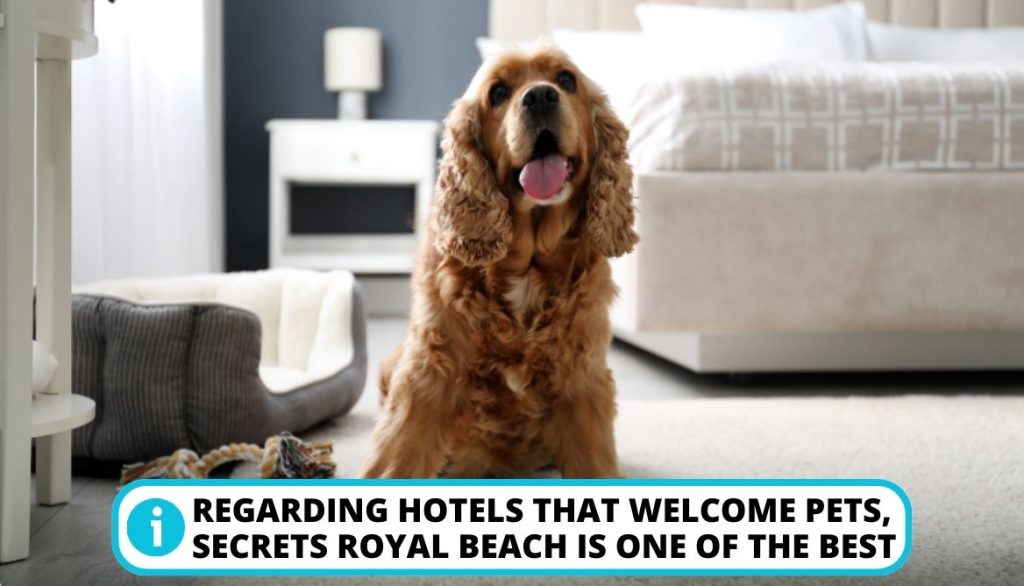 Regarding hotels that welcome pets, Secrets Royal Beach is one of the best. The resort's rooms are dog-friendly for puppies weighing less than 22 pounds.
If you bring your dog along, remember that they must always be on their dog carrier or leash when outside your suite and can't be left alone in your suite for more than two hours.
However, pets are not permitted at Secrets Cap Cana. Unfortunately, this means you'll have to leave your animal pals at home.
Winner: Punta Cana is the winner; you can travel with your pet.
6. Fitness Area
Both Secrets resorts offer extensive grounds for guests to explore. The two resorts feature fully equipped fitness centers. Each has a dedicated exercise area.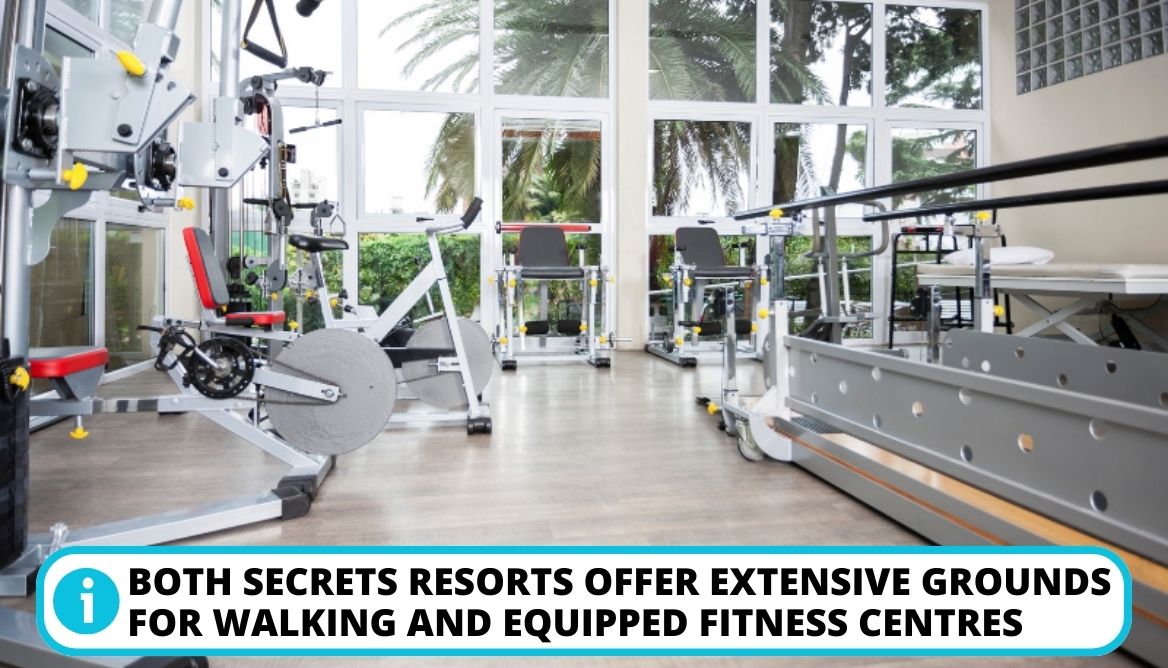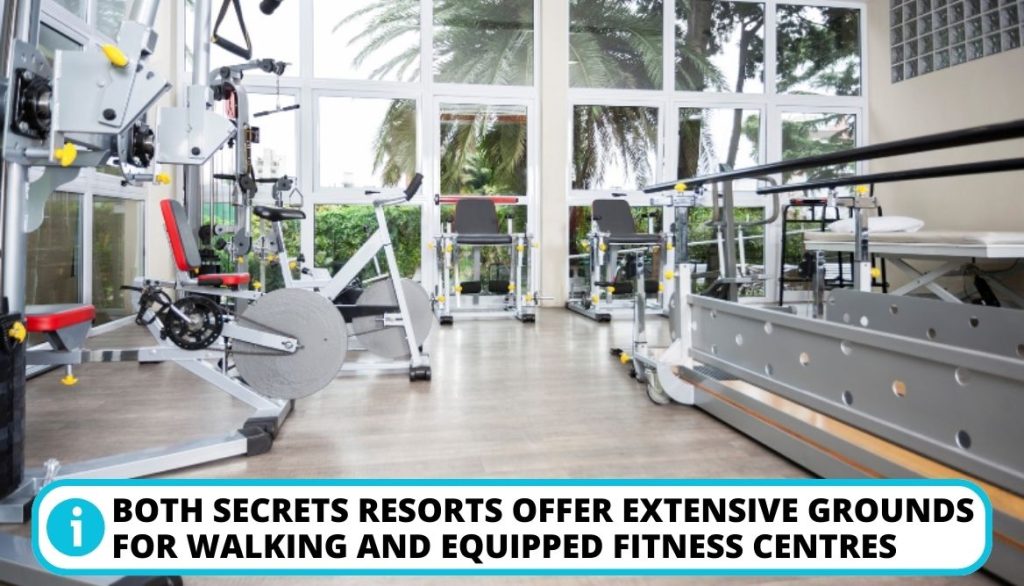 Equipment you can find in Punta Cana are:
Free weights;
Treadmills;
Elliptical machines;
Exercise bicycles;
Tennis clinics;
Water aerobics.
Equipment you can find in Secrets Cap Cana's gym include:
Free weights;
Treadmills;
Workout accessories;
Elliptical machines.
The fitness center may have set hours. Checking with the front desk upon arrival is therefore recommended.
Winner: Punta Cana is the winner because of additional gym equipment like tennis clinics and water aerobics.
7. Liquor Shop
Both resorts differ when it comes to bars. Here is how they vary:
Secrets Royal Beach
If you want to sleep in and relax at the resort, you'll find the early hours at Secrets Royal Beach ideal. It's a very different scenario on the public beach, though. Why?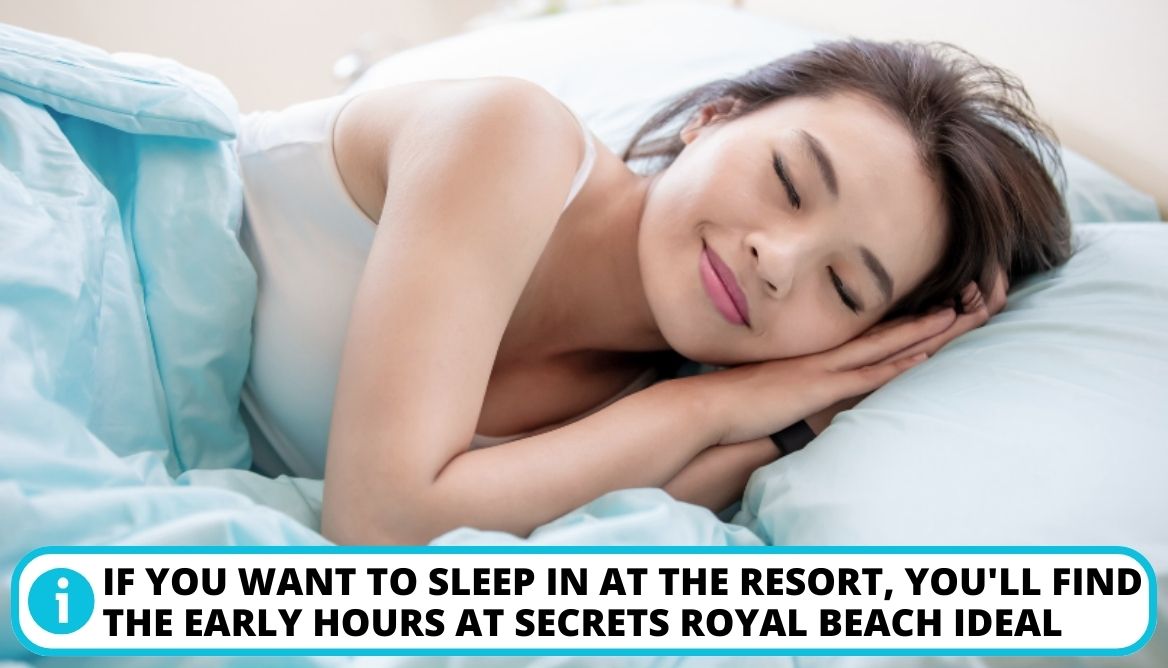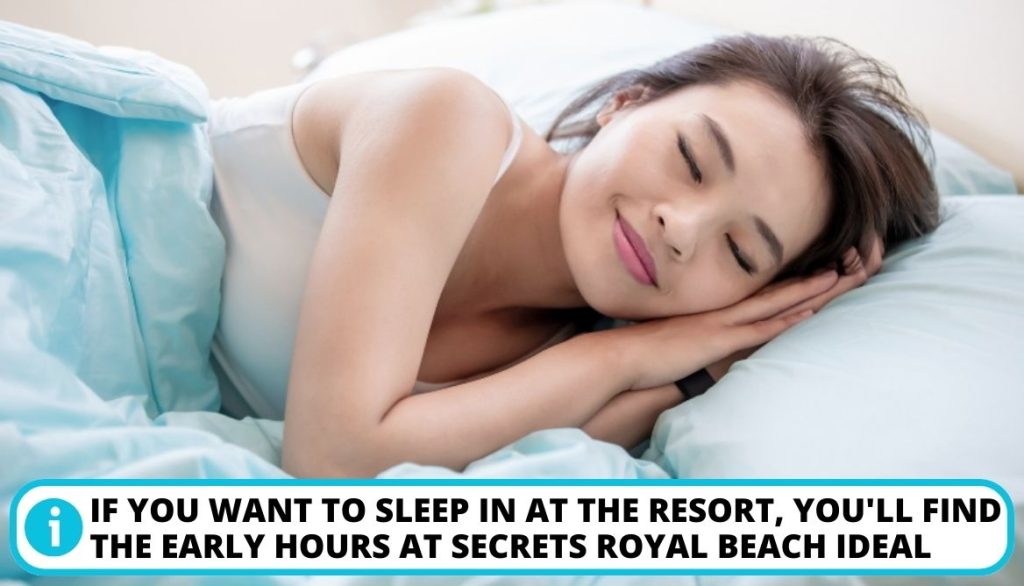 There could be some loud music at the bar.
As the night progresses, drinking games and blasting music become the norm.
Cap Cana's Situation
While at Secrets Cap Cana, however, you won't have to worry about encountering anything like this. It's natural to question if the beach at this place is private. Yes, it is private, making it quieter and less frequented by other guests.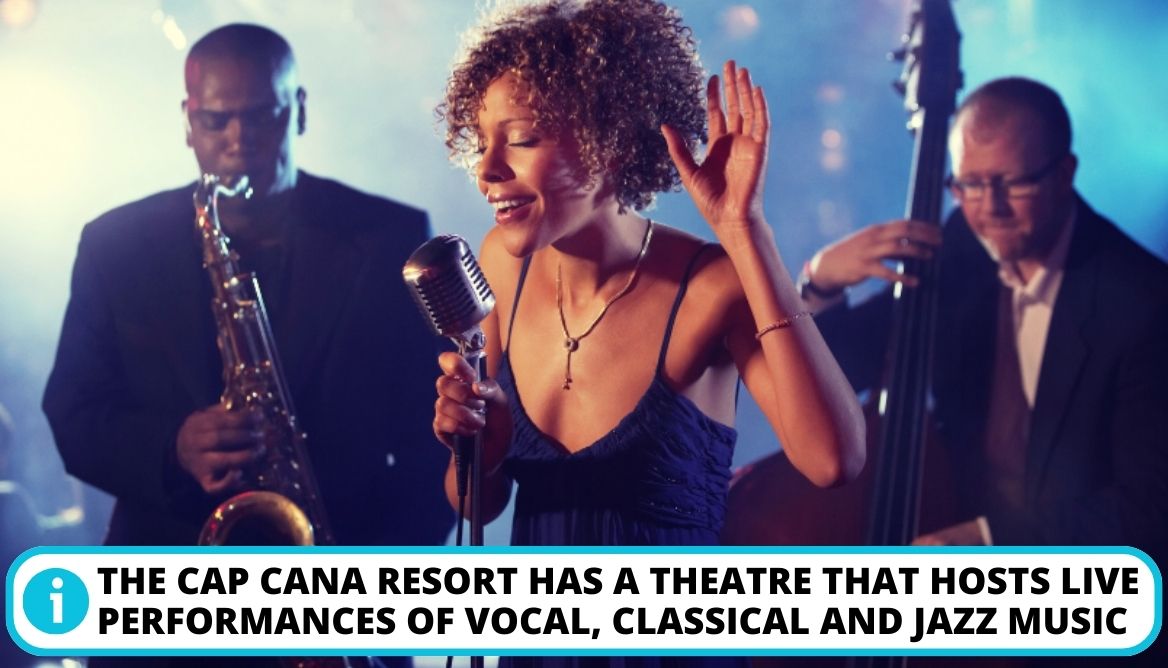 So, feel free to roam anywhere you choose because:
Its land is dotted with eight individual bars;
As a result, obtaining a beverage, such as a beer or cocktail, will not be difficult;
Cap Cana's all-inclusive rates include a wide selection of alcoholic drinks, from beer and wine to the finest liquor;
The resort features a theatre where visitors may enjoy live performances of vocal music, classical, and jazz every night;
A full-service nightclub is available at the resort for those seeking a livelier evening.
Winner: Cap Cana's the winner here with its eight bars.
8. Available Dining Options
Each resort has unique dining options that will interest you. Let us see Cap Cana's options.
Cap Cana's Dining Options
You can choose where to dine in the nine restaurants that are in this resort.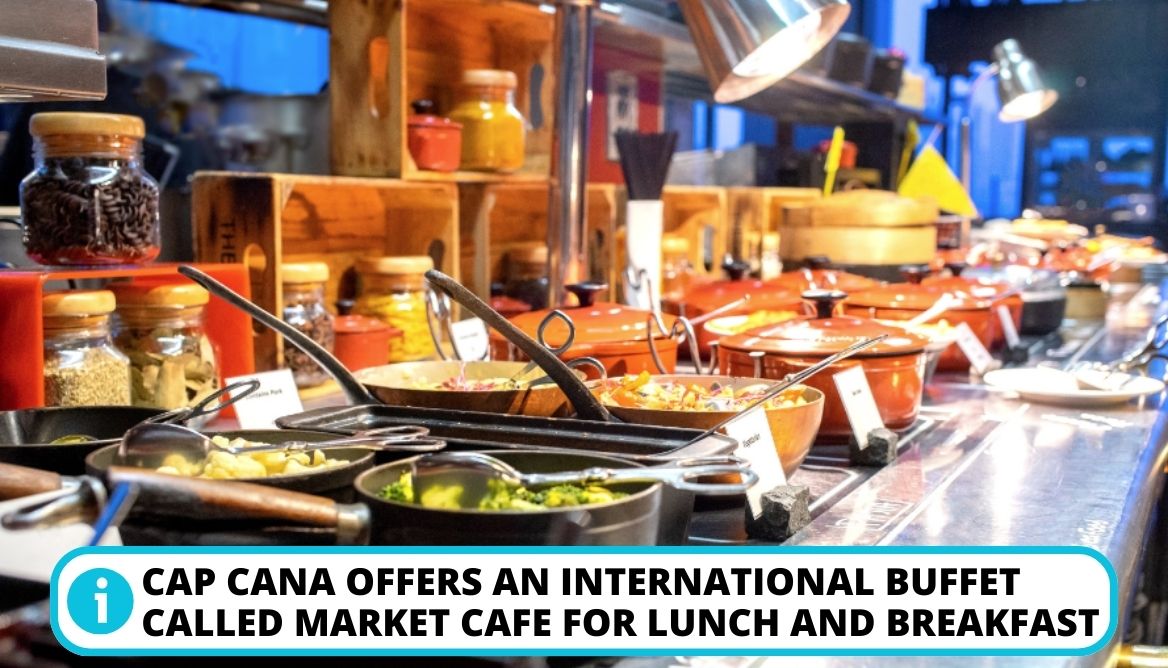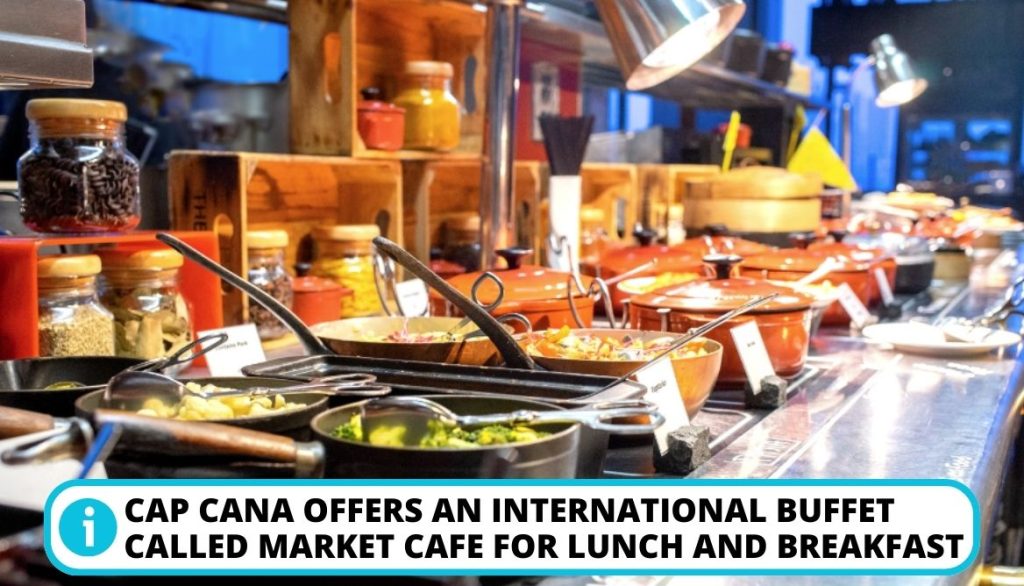 The international buffet is dubbed the Market Cafe and is available for lunch and breakfast only. So, how different is Secrets Royal?
Secrets Royal Dining Options
There is a wide range of options, with bars and restaurants varying by locality. For instance: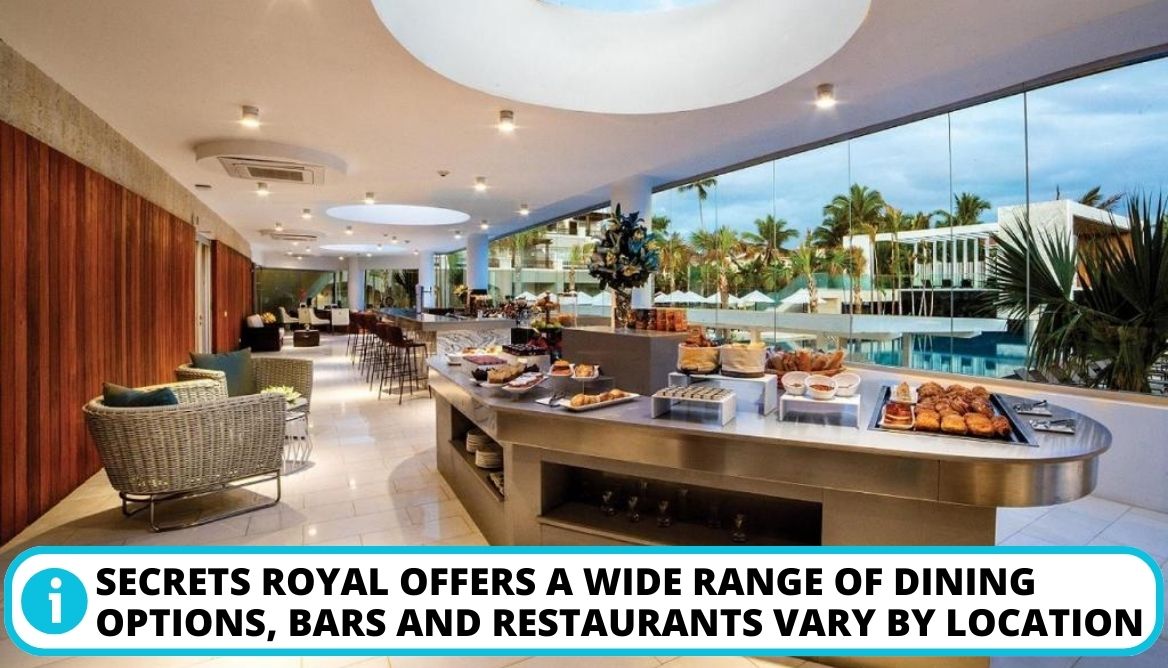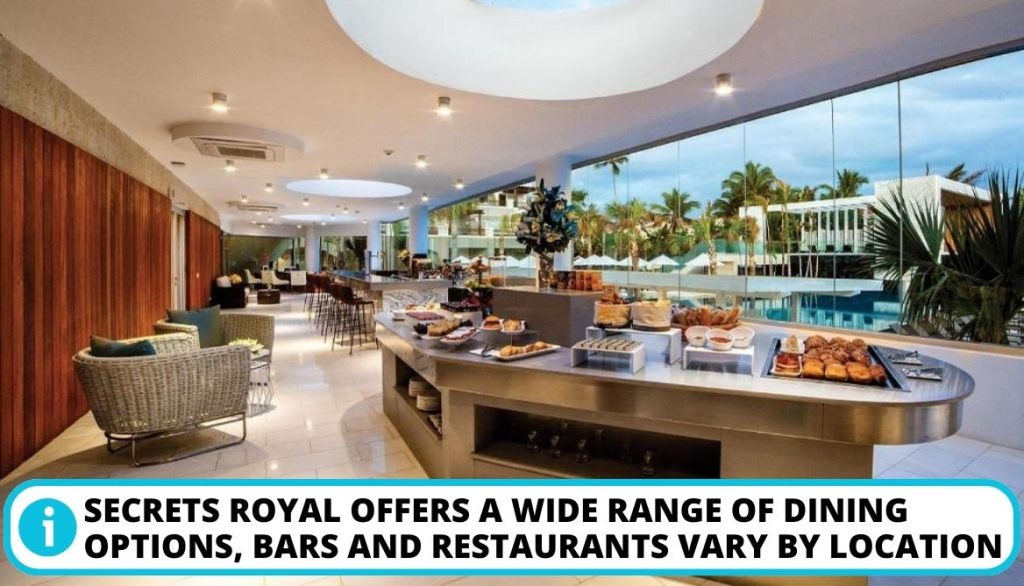 Coco Cafe: Coffee and snacks.
At Barefoot Grill on the beach: sandwiches, grilled favorites, pasta, salads, cold drinks and appetizers.
Bordeaux: For French cuisine.
El Patio: If you are craving Mexican cuisine.
Olio: For the Mediterranean food.
La Riviera International Buffet or Bluewater Grill: For international western meals.
There are several bars like:
Freshco, the pool, and the swim-up bar.
Eclipse Nightclub. Perfect if you want to dance the night away.
Winner: Tie. Both resorts offer local and international meals.
Reviews From Tourists and Real Experience
Before making your final decision, it is crucial that you consider reviews from tourists who have previously visited the place or a local who lives in that area. This will give you first-hand information about how the situation is. Consider the following review from Hiraco 83.
Review
Resort and product-wise, not so much of a difference. Secrets Cap Cana is slightly more upscale than Royal Beach.
The beach is amazing at both resorts but whiter at Cap Cana. Royal Beach is better for swimming in the ocean and long beach walks.
Royal Beach is also better for seeing more of the local life.
Final Verdict! Which is the Better Option?
Every guest will find something to love at either Secrets Cap Cana or Secrets Royal Beach.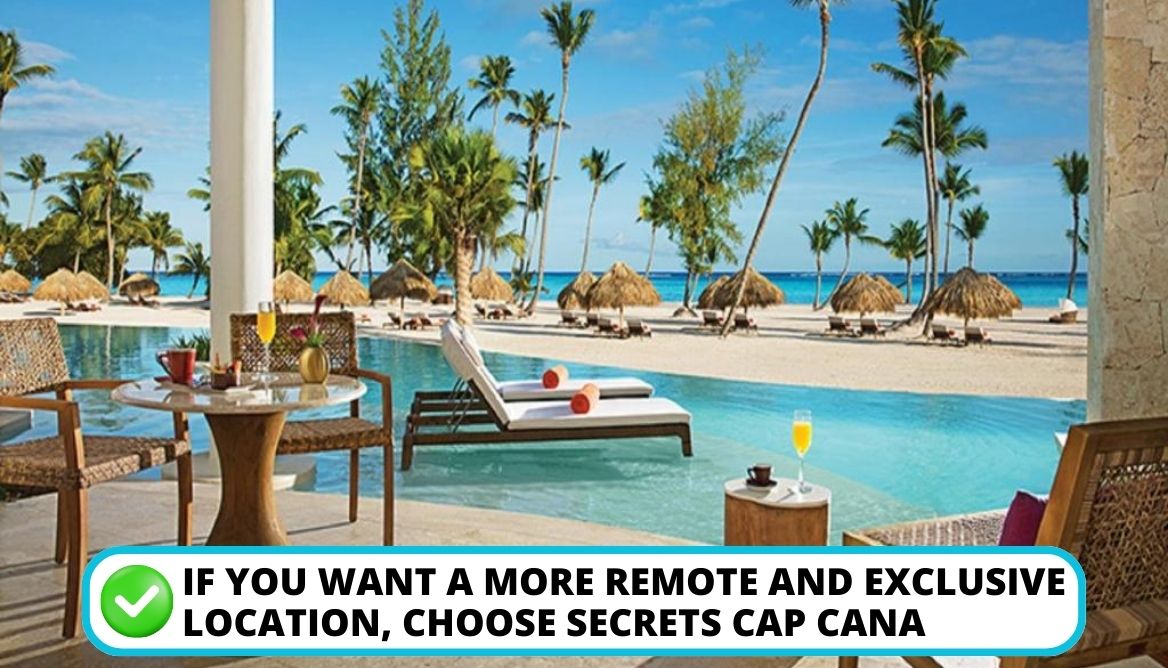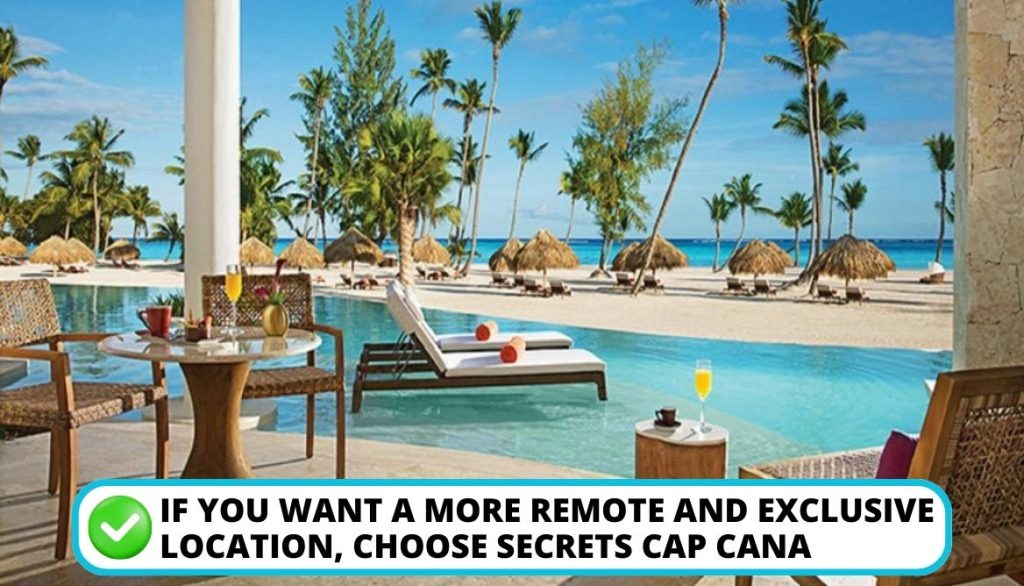 Choose Secrets Cap Cana if:
If you want a more remote and exclusive destination;
You want a stunning private beach and posh furnishings;
You are searching for a more tranquil vacation destination.
However, choose Secrets Royal if:
You are into dynamic destinations;
You are looking for a wider variety of restaurants and nightlife venues.
The resort has recently undergone a multimillion-dollar remodeling, which is another evidence of its dedication to offering first-rate service to its guests.
FAQ
What Is the Difference Between Cap Cana and Punta Cana?
The difference is that Punta Cana is a tourist town in the eastern part of the Dominican Republic, Cap Cana is a more exclusive getaway within Punta Cana itself, with thirty thousand acres of pristine coastline and winding roads through oceanside valleys.
Which Secrets Resort Is Better in the Dominican Republic?
Secrets Cap Cana is the best Secret resort in the Dominican Republic. Most people love it because of the excellent service, warm staff, delicious food and quality amenities.
Does Secrets Cap Cana Have a Private Beach?
Yes, this adults-only resort has a private beach.
Which Secrets Resort Is More Romantic?
Secrets Cap Cana is more romantic. You can combine various activities, such as snorkeling at night and relaxing at the beautiful beach.
Which Secrets Resort Has Better Nightlife?
Secrets Punta Cana has better nightlife with the best discos on the island.
Conclusion
There you have it! Those were the 8 key distinctions that I came up with to help you distinguish the two destinations and eventually decide on the best place to visit.
The best resort for you will be the one that suits your needs and preferences the most. Secrets Cap Cana could be the best private and hidden getaway choice. Secrets Royal Beach may be better if you want a more active ambiance featuring additional dining and entertainment options.
With that, where will you visit between the two? Talk to us and let us know. Also, kindly share this article with your friends so that they, too, get to know the differences between these two Secrets resorts.