Happy Wayfarer is reader-supported. When you buy through links on our site, we may earn an affiliate commission.
Are you planning an adventurous road trip from Florida to California? Then, you are at the right blog post. As I have experienced traveling from Florida to California, I would share my insights with you to make sure your trip is amazing.
Continue reading and know more about the traveling time, the best restaurants to eat, 9 popular attractions, and top-rated hotels to stay in along the way. So stay with me till the end to learn everything about a successful road trip!
Road Trip From Florida To California: Time and Distance
Choosing the right road for the long journey from Florida to California is a difficult decision to make. As per my experience, going from Miami to San Diego takes more time compared to starting in Jacksonville and heading to Los Angeles. If you are thinking about distance, the shortest and best route from Florida to California is using I-40 West.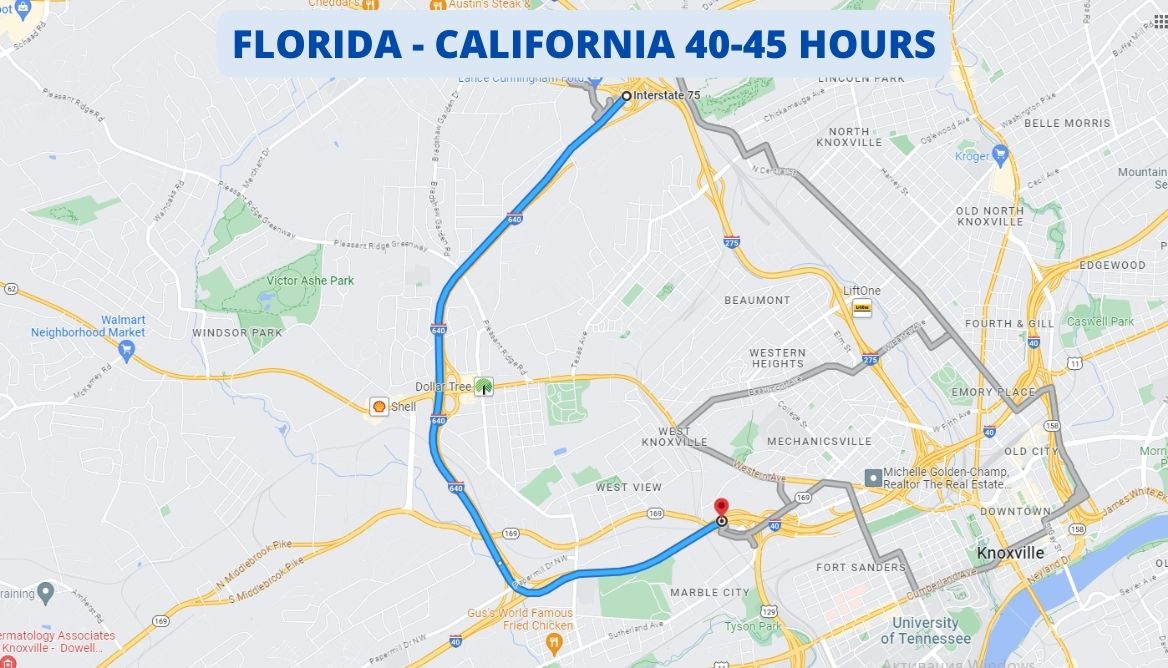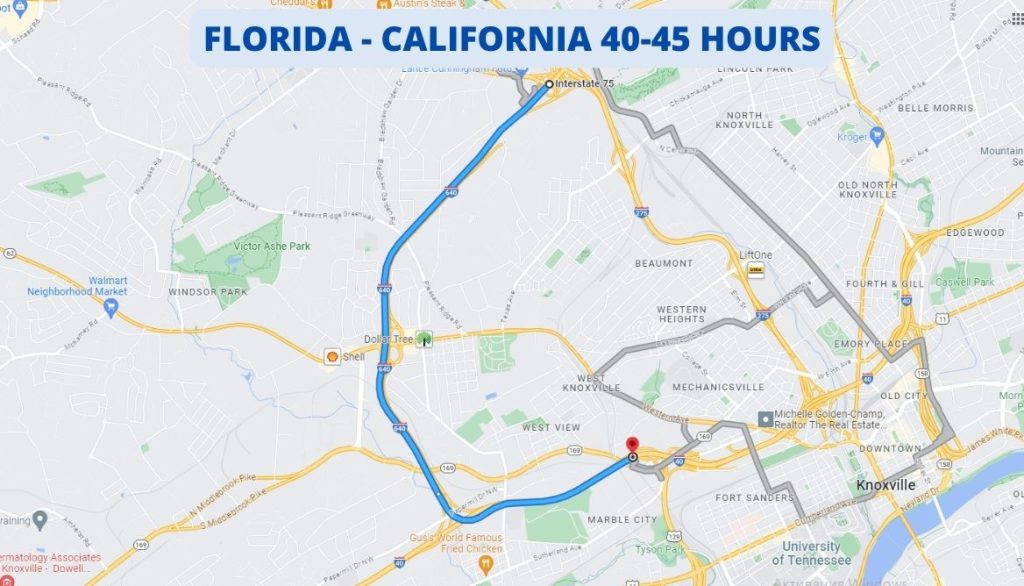 But, there's a second option too which is a longer route but offers a scenic journey. You can consider taking I-75 North and then connecting to I-40 West. Moreover, when you are getting ready for a road trip, it is important to think about how much time you will spend at each stop. On average, you can expect the entire trip to take about 40-45 hours.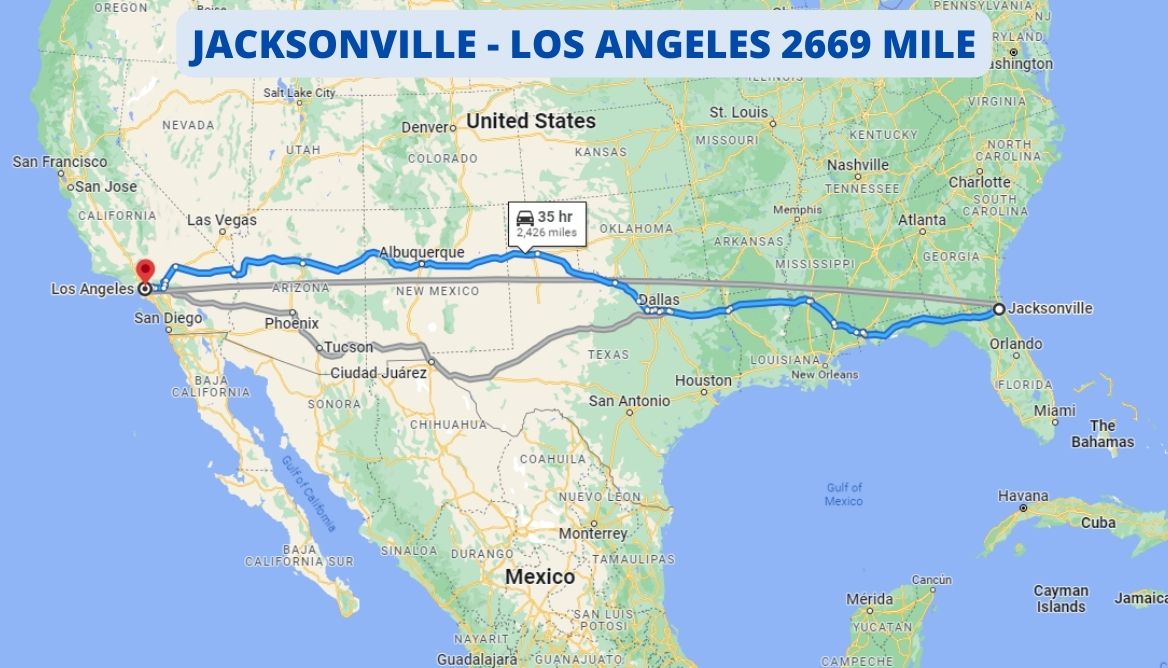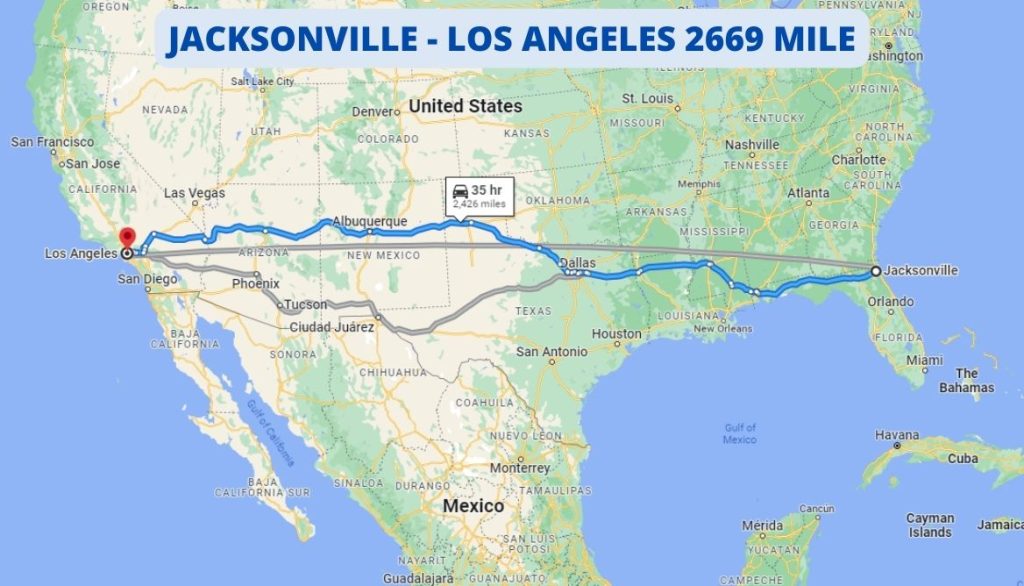 Listed below is a simple breakdown of your journey:
When it comes to the total distance, if you're going from Jacksonville to Los Angeles using the I-10 road, you'll cover approximately 2,669 miles.
In regular traffic, the entire journey will take around 40-42 hours.
If you're planning to go from Miami to San Diego, it's a longer trip of 3,072 miles. The total drive time will be about 45-46 hours.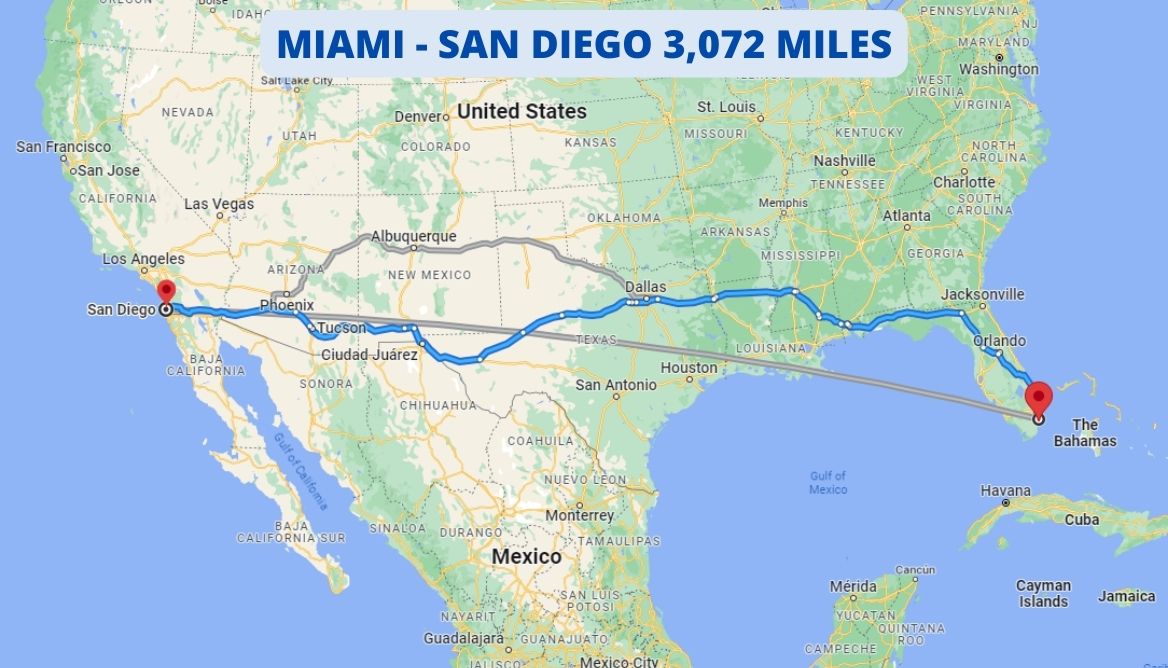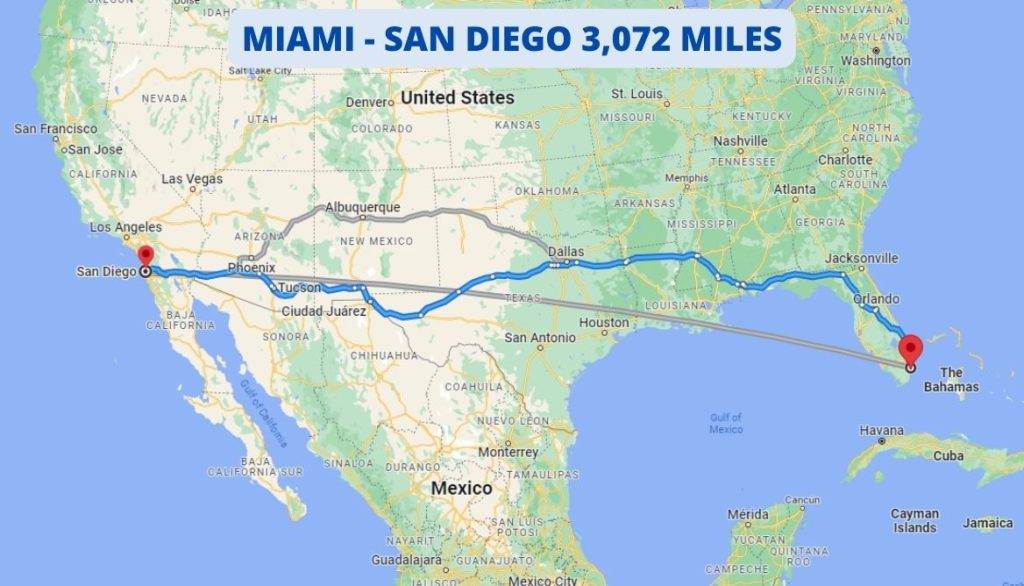 Tip:
You can now estimate the driving cost from Florida to California by considering the current local fuel prices and your car's expected fuel efficiency. To calculate it, check
here
.
Important Considerations When Preparing for Your Road Trip
Before hitting the road, there are several important steps you should take to ensure a smooth journey. Here's how to get ready for your road trip:
1. Prepare Your Car
It is always a good idea to have your car checked before a long tour. Many auto shops offer a thorough 21-point inspection, which includes checking things like: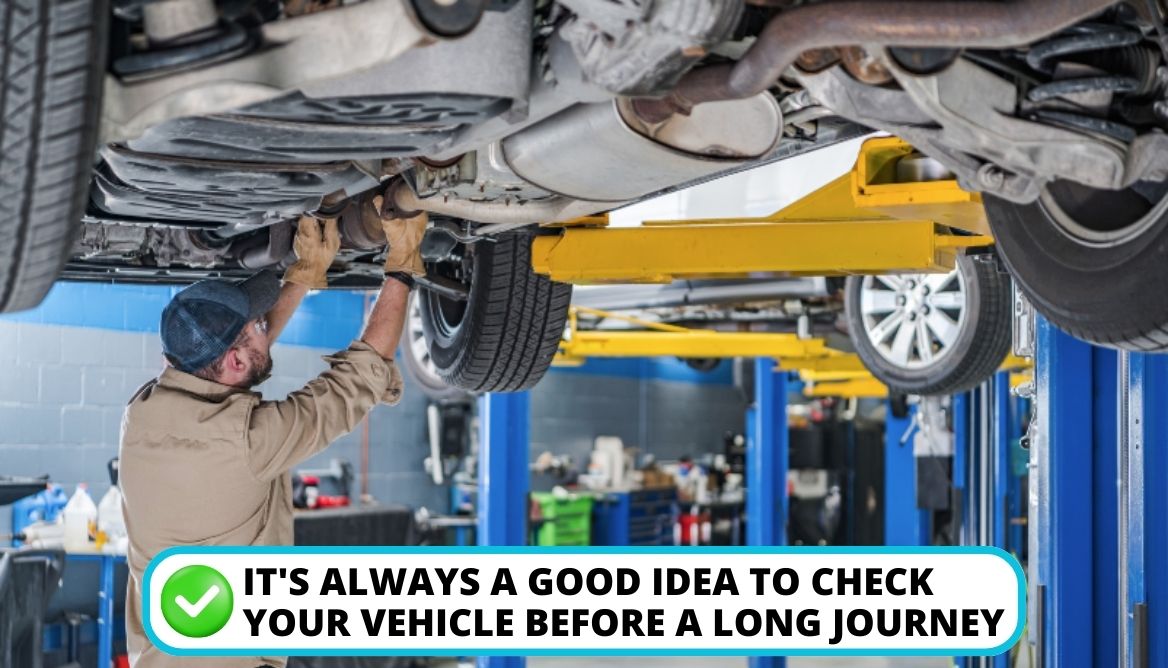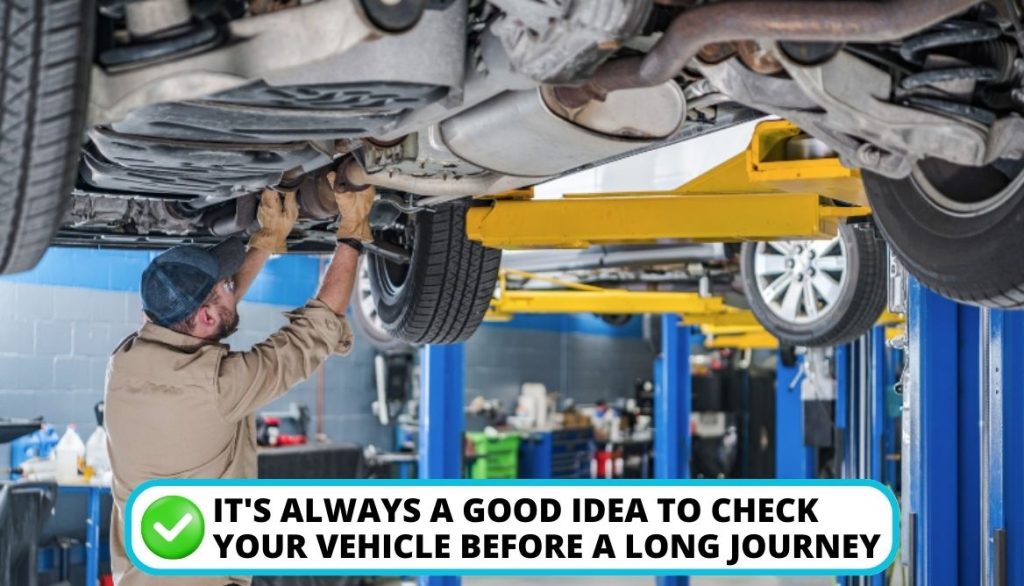 Tires;
Engine Oil;
Filter;
Radiator;
Fluids.
This helps ensure your car is in good shape for the journey. It's best to do this about a week before your trip in case any special repairs are needed, giving the mechanic enough time to get the necessary parts.
2. Download Offline Maps
In some parts of the country, you might find yourself in remote areas with no phone signal for navigation. To prepare for this, consider downloading offline maps on apps like Google Maps for those regions. As a backup, you can also print out your southern route.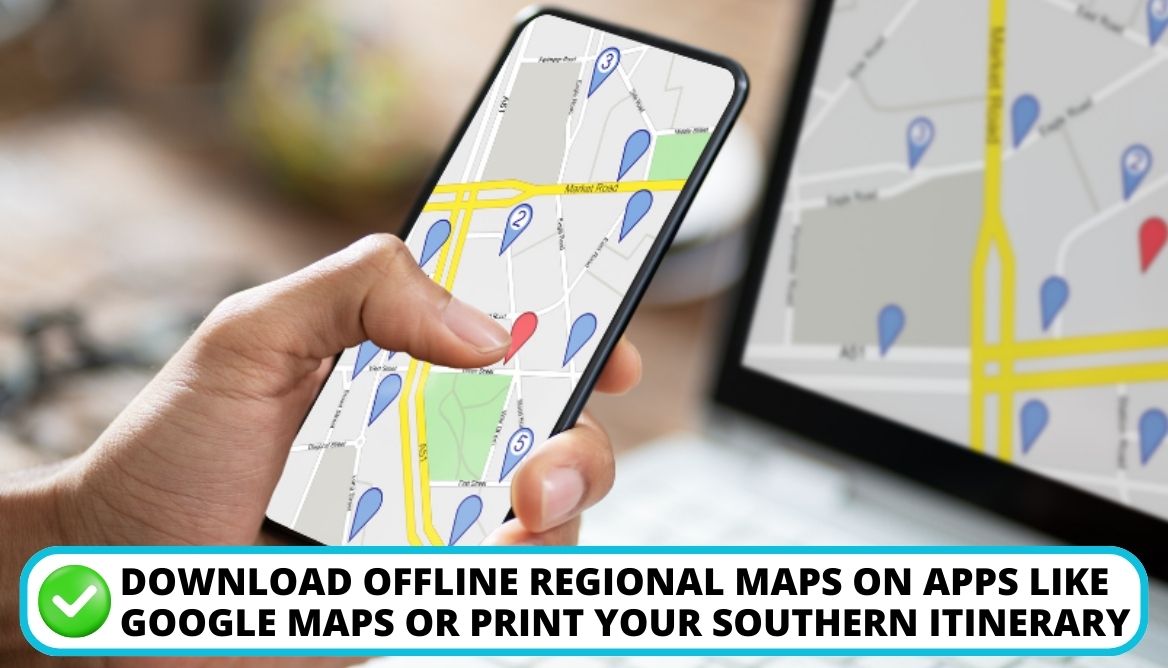 3. Pack Food
While on the road, fast food is often the quickest option, but having some homemade food can be a nice change and a good backup. For the first day, prepare some easy-to-carry snacks, such as some rice balls.
Also, bring along a bag filled with protein bars, breakfast bars, trail mix, and more. This can help you save money because snacks at gas stations tend to be pricier than those from a grocery store.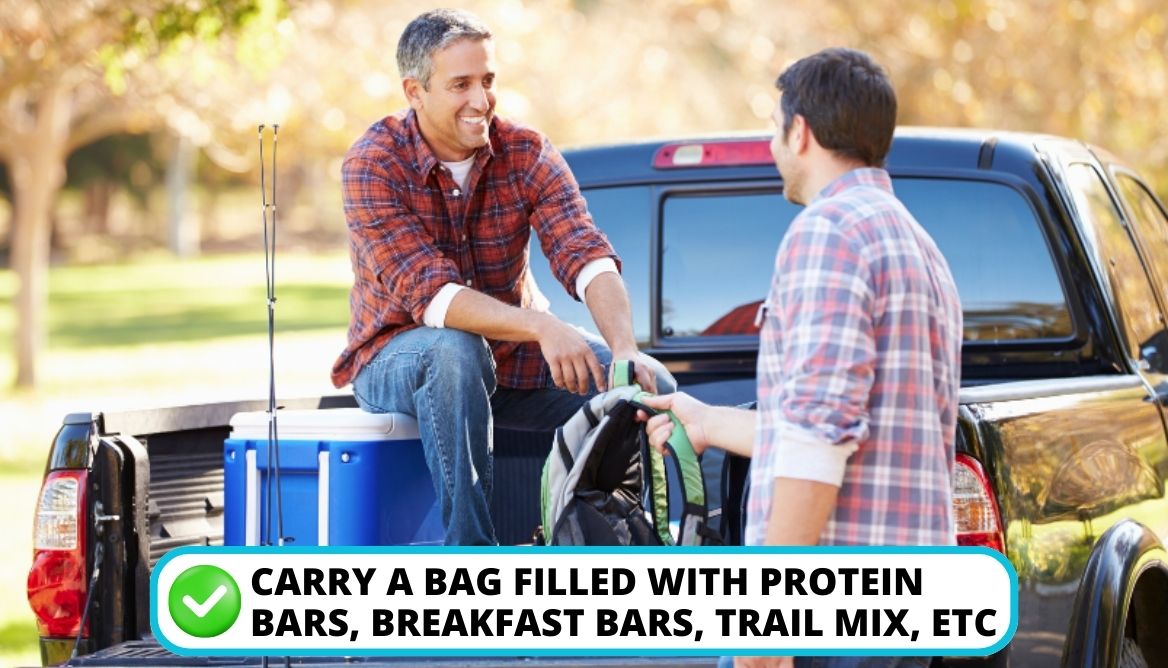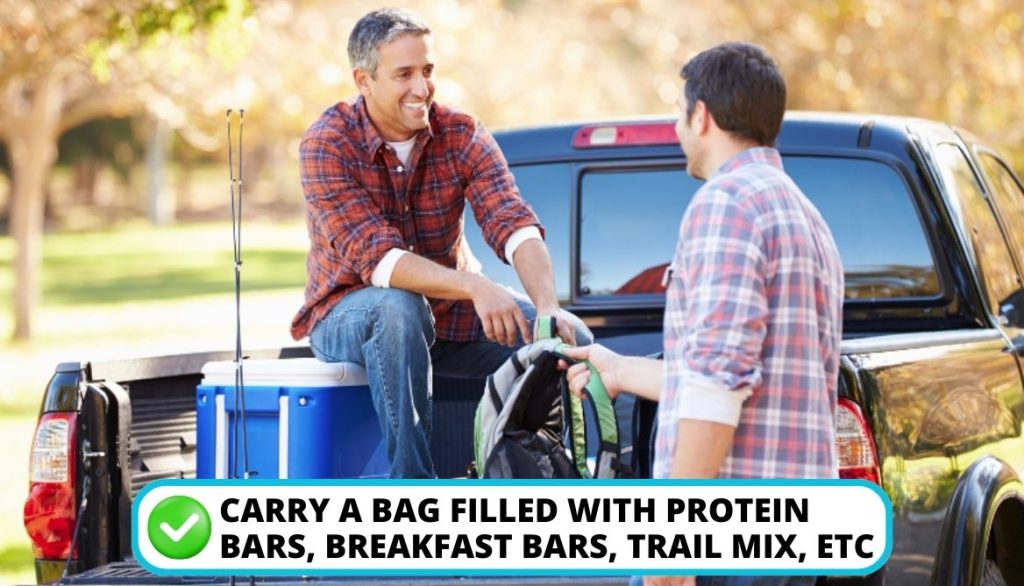 4. Become a AAA Member
If you're not already a member of AAA, consider joining it. AAA can be a lifesaver in various situations, including flat tires and dead batteries. Having it can provide peace of mind for unexpected roadside issues during your trip.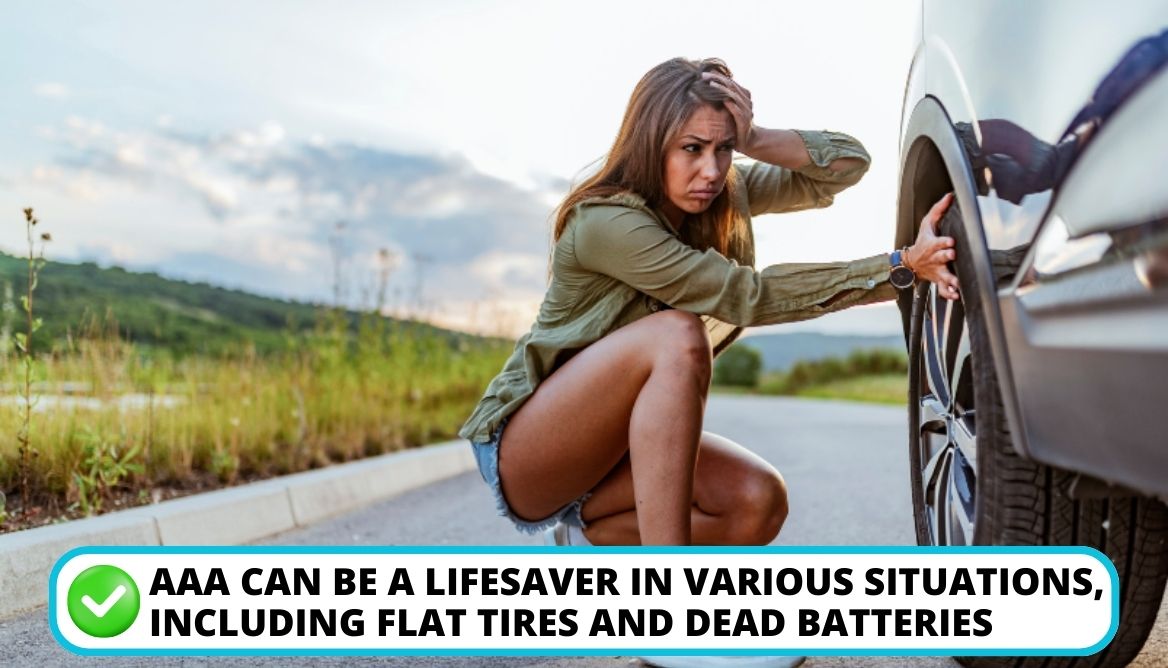 Having Your Own Car vs Renting: Deciding How to Travel
Choosing between your own car vs renting is a tough call. I will help you explore the pros and cons of both options to help you make an informed choice.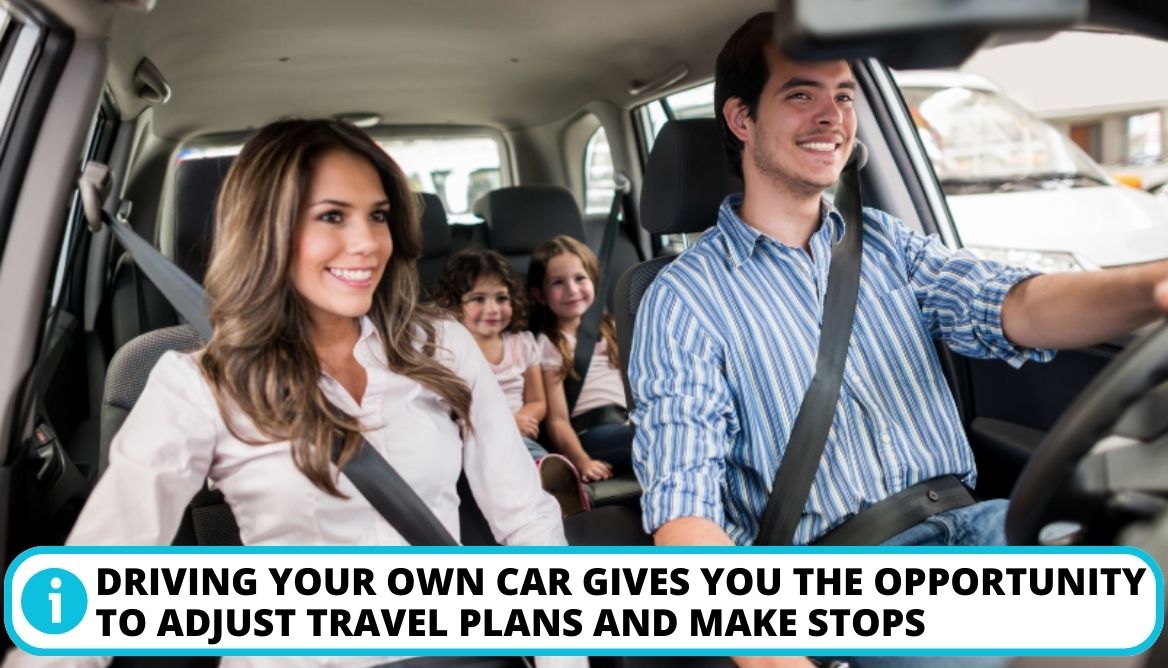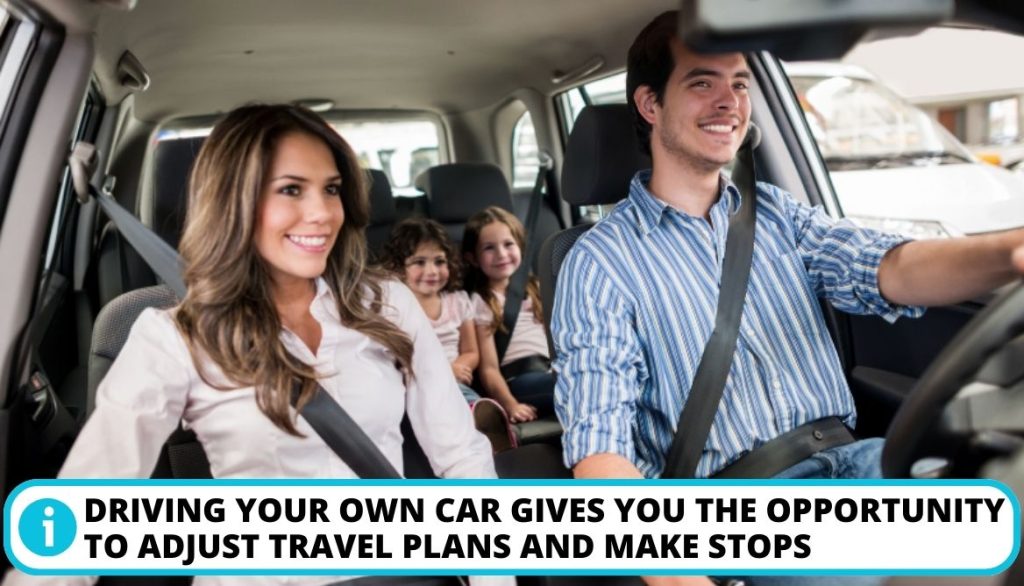 Driving Your Own Car - Positives
First, let's learn the advantages of driving your own car:
Pocket Friendly: Driving your own vehicle can be a cost-effective choice, especially for longer journeys. You avoid rental fees and only incur fuel and maintenance costs.
Driving Freedom: Driving your own car provides the freedom to adjust your travel plans spontaneously, making unplanned stops and itinerary changes easy.
Driving Your Own Car - Downside
However, there is one biggest downsides to consider when opting for a road trip in your own vehicle:
Bearing Maintenance Charges: Long-distance driving can take a toll on your vehicle, leading to wear and tear. You may need to cover repair and maintenance expenses during your journey.
Renting a Car - Positives
In contrast, renting a car offers its own set of perks and conveniences. Let's learn about them:
Convenience: Renting a car spares your personal vehicle from the wear and tear of a long trip. You can return the rental car when you're done with your journey.
Reliability: Reputable rental companies provide well-maintained, reliable vehicles with up-to-date safety features, reducing the risk of breakdowns.
Latest Vehicle: Renting a car often means traveling in a newer and more comfortable vehicle that is potentially equipped with advanced amenities and technologies.
Driving Your Own Car - Downside
With a handful of perks, there are also drawbacks associated with renting a vehicle that should be taken into account.
Cost: Renting a car can be pricier than using your own vehicle, particularly for extended trips, due to rental fees, insurance, and fuel costs.
Limited Personalization: Rental cars may not offer the same level of personalization as your own vehicle. You might need to adjust to a different driving experience.
Rules and Restrictions: Renting comes with rules and restrictions, including age requirements, mileage limits, and restricted areas. These limitations may affect your travel plans and flexibility.
Tip: As per my suggestion, I would recommend you to drive your own vehicle. This however helps you cut the travel budget short and make your cross-country road trip more enjoyable.
Best Places To Eat During Your Trip
A long trip without a delicious meal is not completed. And, that's why I have listed some reputable options where you can enjoy your favorite food. Let's learn more about them:
| | | | | |
| --- | --- | --- | --- | --- |
| | | | | |
| The Melting Pot, Orlando: | | | | |
| | | | | |
| | | | | |
| | | | | |
| | | | | |
| Chamberlain's Steak & Fish House: | | | | |
| | | | | |
| Pappadeaux Seafood Kitchen, Albuquerque: | | | | |
| Delhi Palace Cuisine of India, Arizona: | | | | |
9 Top Attractions Along the Route from Florida to California Road Trip
Now, it's time for me to show you the bigger picture of an epic road trip from Florida to California. Below I have outlined some fantastic destinations that you will encounter along the way.
1. New Orleans
New Orleans, your first pitstop, is bursting with culture. Imagine the sweet tunes of jazz and blues, the taste of mouthwatering Creole cuisine, and the dazzling Mardi Gras festivities. Dive into the city's history as you explore the French Quarter, Jackson Square, and the St. Louis Cathedral.
As the sun sets, New Orleans comes to life with its vibrant nightlife, offering bars, clubs, and live music venues. Need a breather? Relax in City Park or the New Orleans Botanical National Park.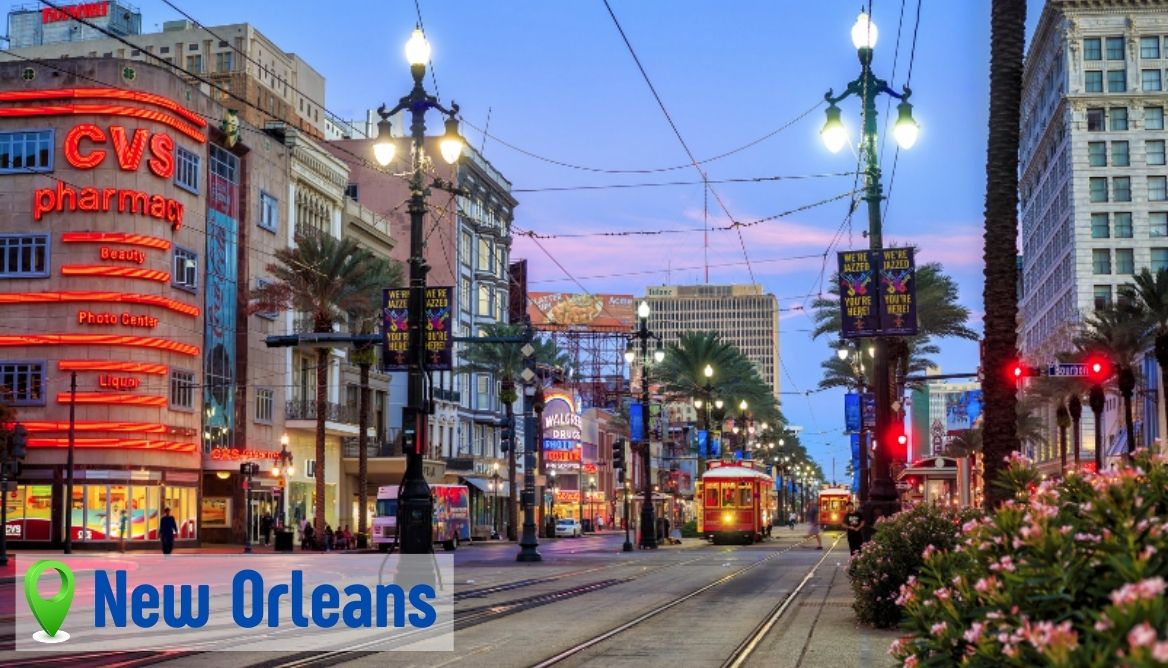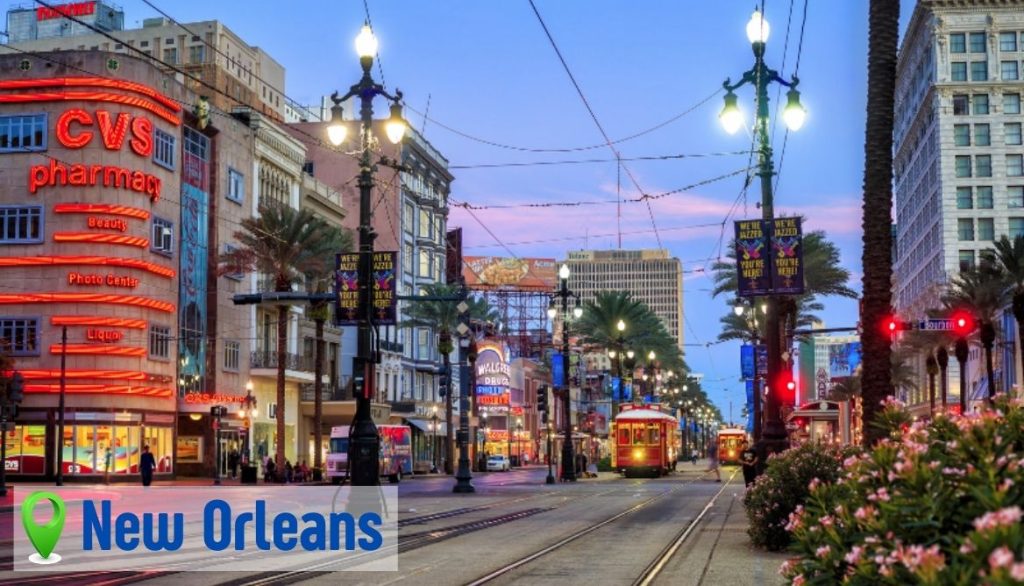 2. Houston
Houston, the next destination, oozes cosmopolitan charm. Explore the arts, culture, and delectable food scene. You can visit the Space Center Houston, the Museum of Fine Arts Houston, and the Houston Zoo for a dose of culture and learning.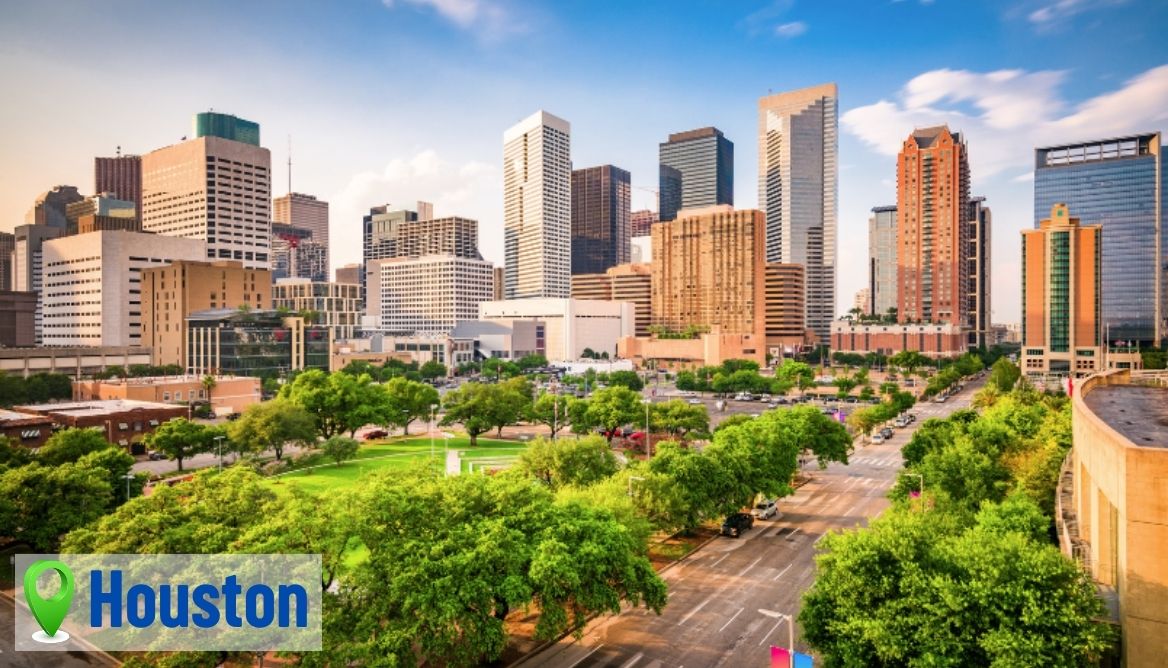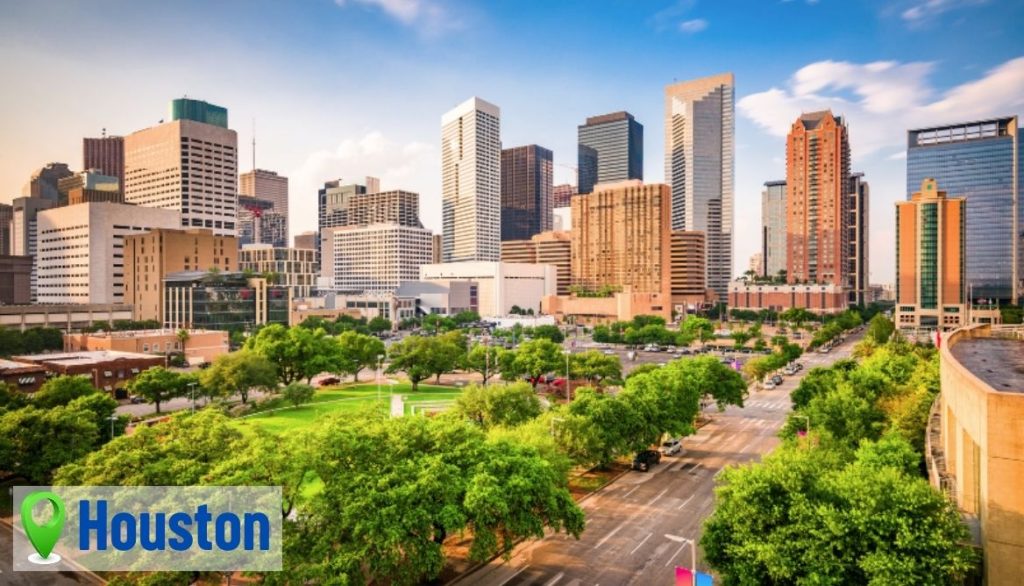 3. San Antonio
San Antonio is steeped in history and Spanish colonial heritage. Explore the legendary Alamo and stroll along the scenic River Walk, lined with shops, restaurants, and bars.
And, here's my favorite part, If you are traveling with family, don't miss Six Flags Fiesta Texas and Sea World San Antonio, two exciting theme parks. This attraction somehow resembles to Grand Canyon National Park quite often.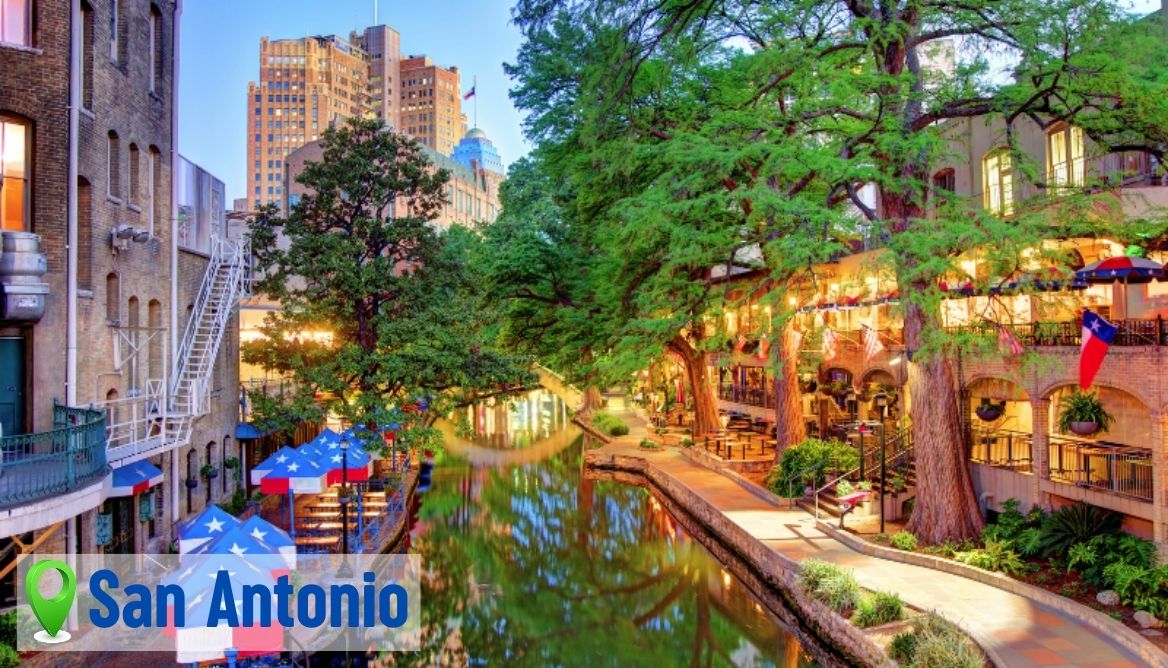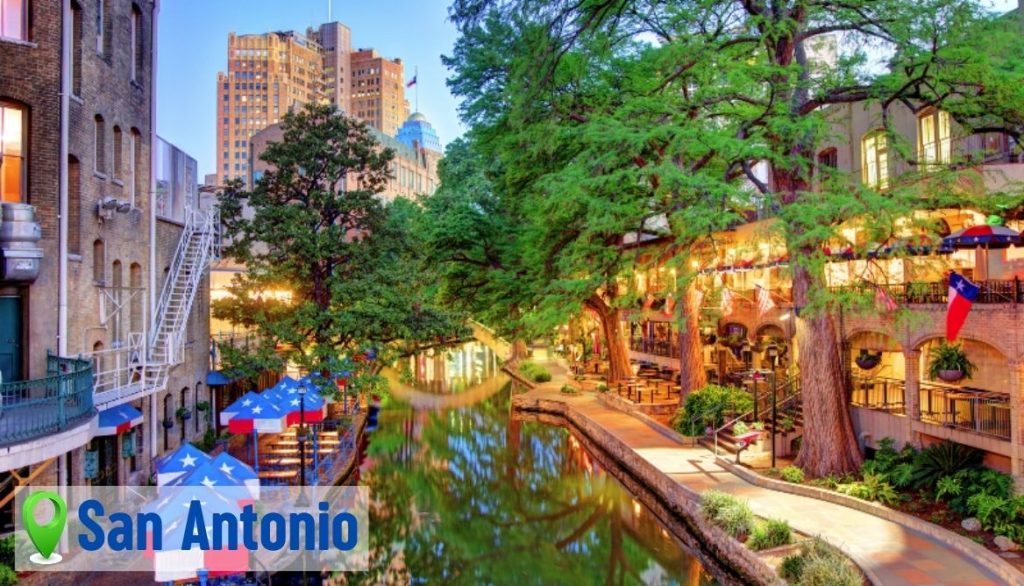 4. El Paso
The next one is El Paso. You can rest in there and savor its Tex-Mex cuisine. Enchiladas, tacos, and tamales await foodies. Plus, you are surrounded by stunning desert landscapes.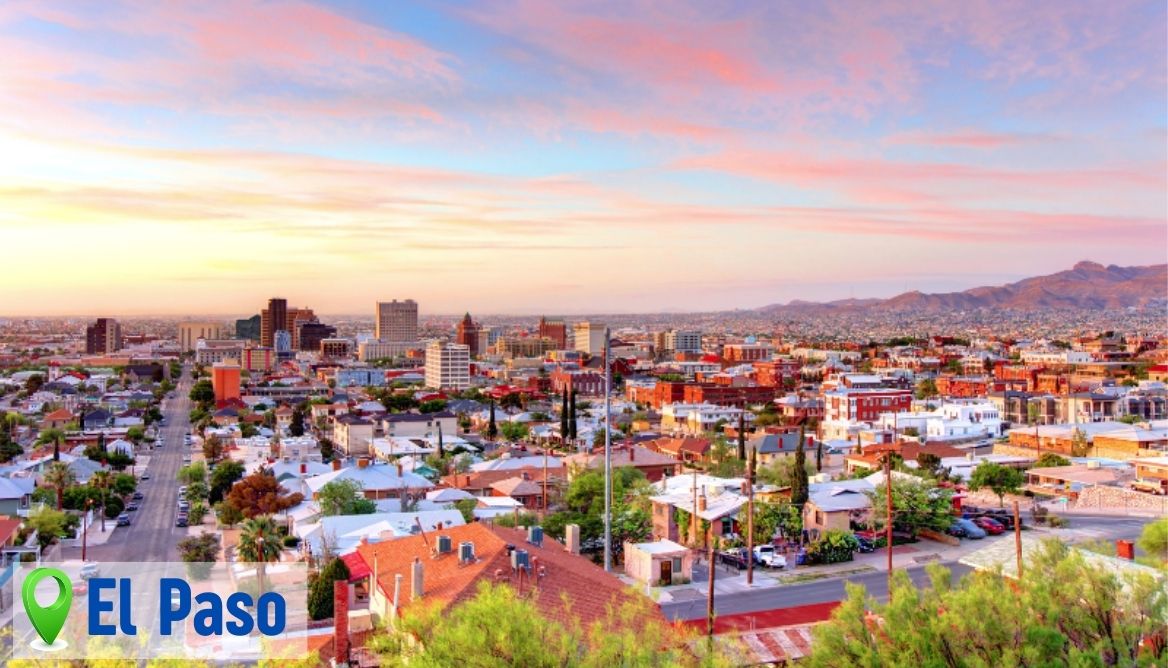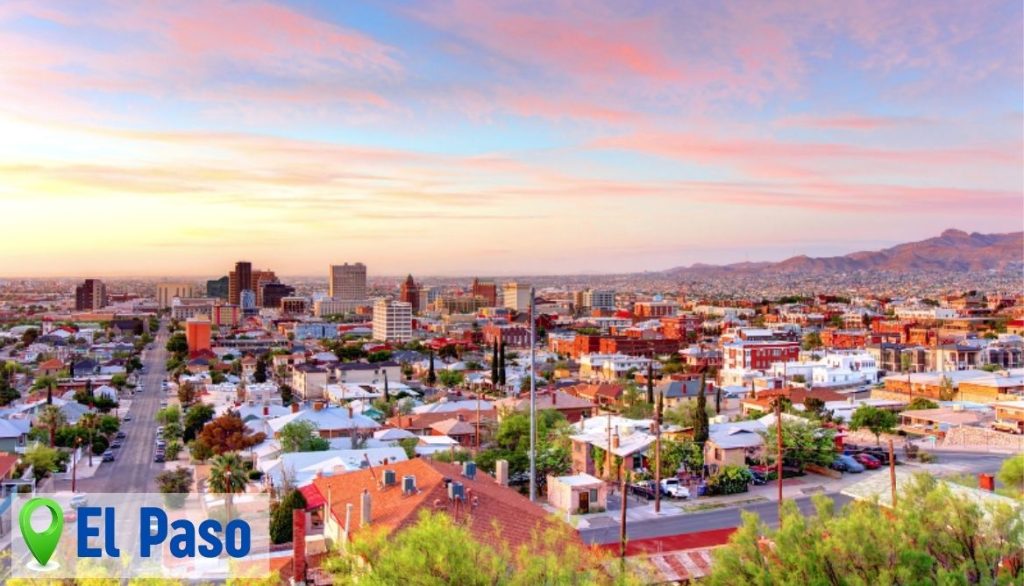 5. Franklin Mountains State Park
Franklin Mountains State Park is a natural wonderland. Admire the desert landscapes, spot over 100 bird species, and hike the trails in the Tom Mays Unit for picturesque city and mountain views. All in all, I would suggest you don't miss out on the national park. And, if you are lucky, you can spot the beautiful mule deer.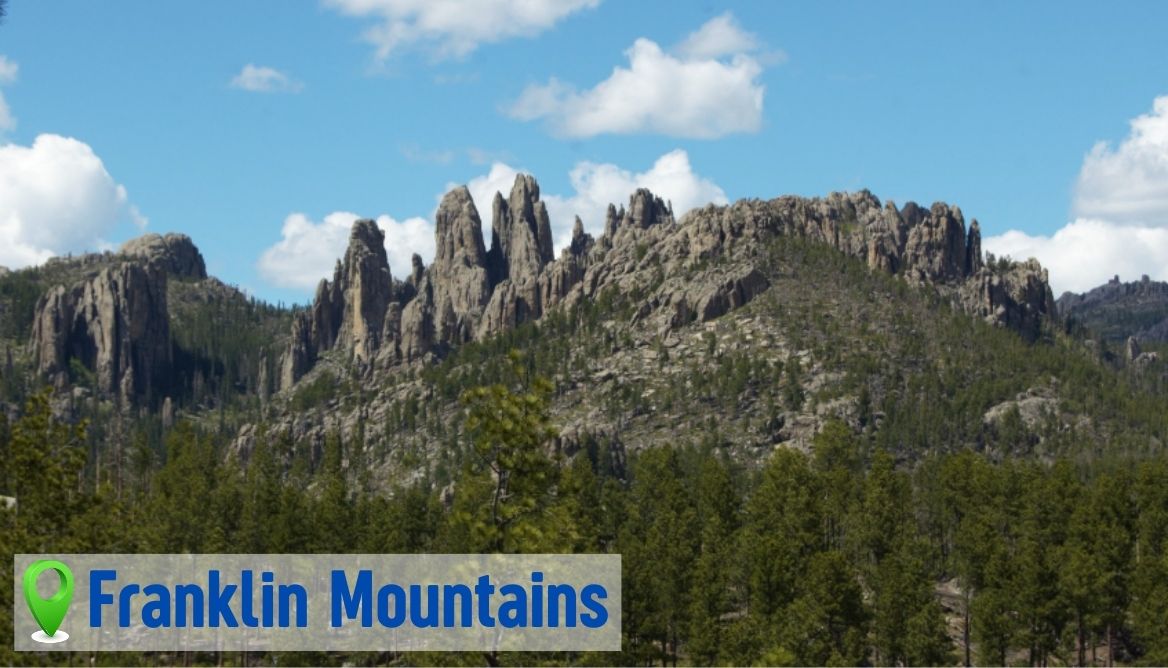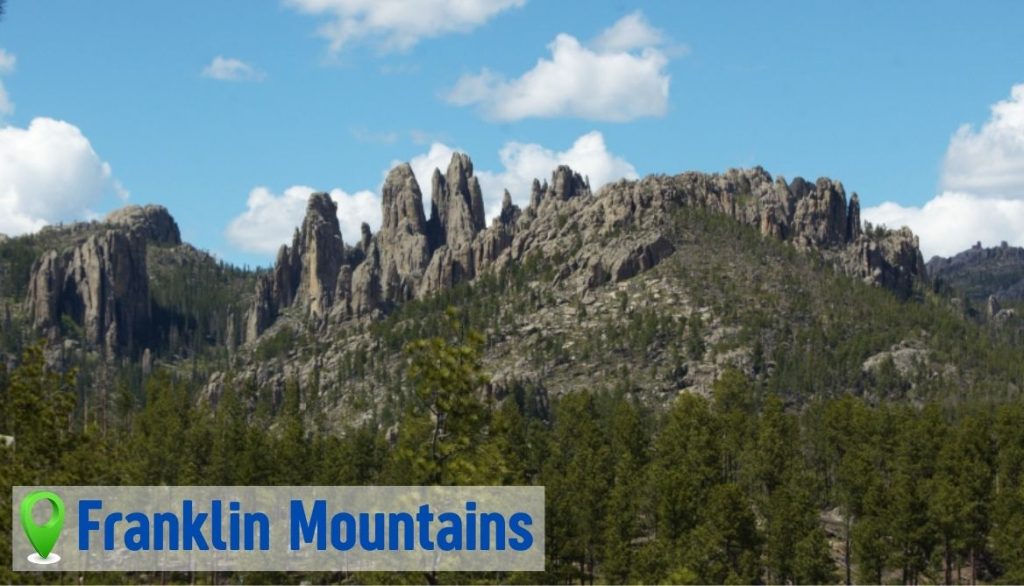 6. Organ Mountains-Desert Peaks National Monument
The next stop will be Organ Mountains. You can check out the Desert Peaks National Monument, where you can enjoy breathtaking desert vistas and spot pronghorn antelope, desert bighorn sheep, and various bird species. This attraction seems much like the Petrified Forest National Park.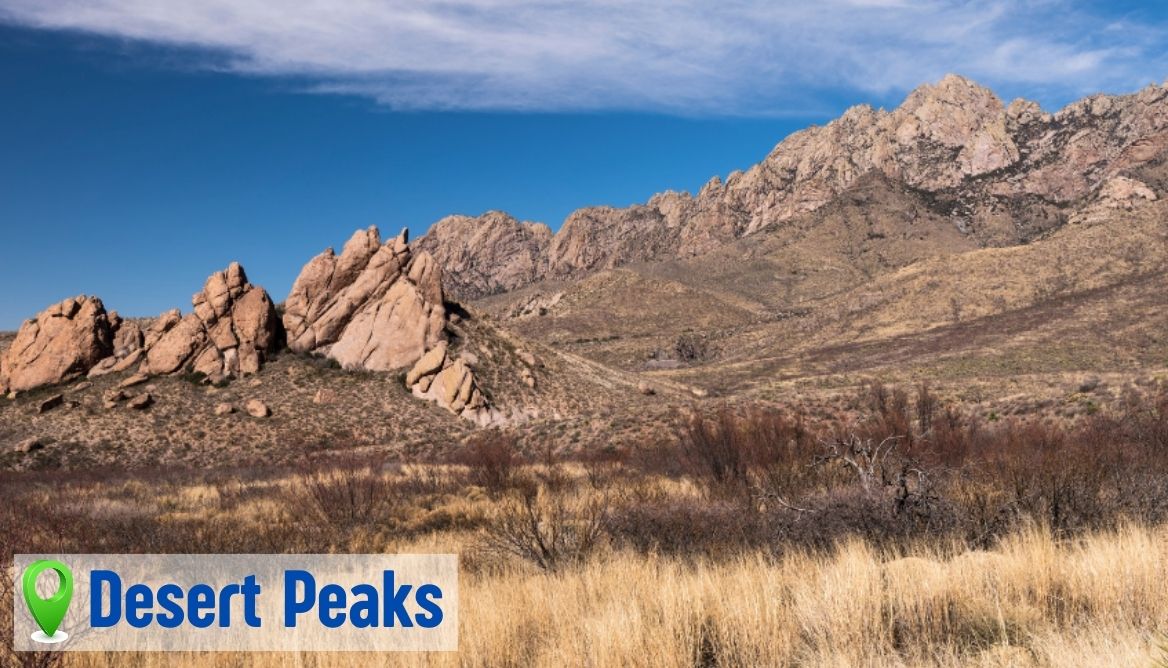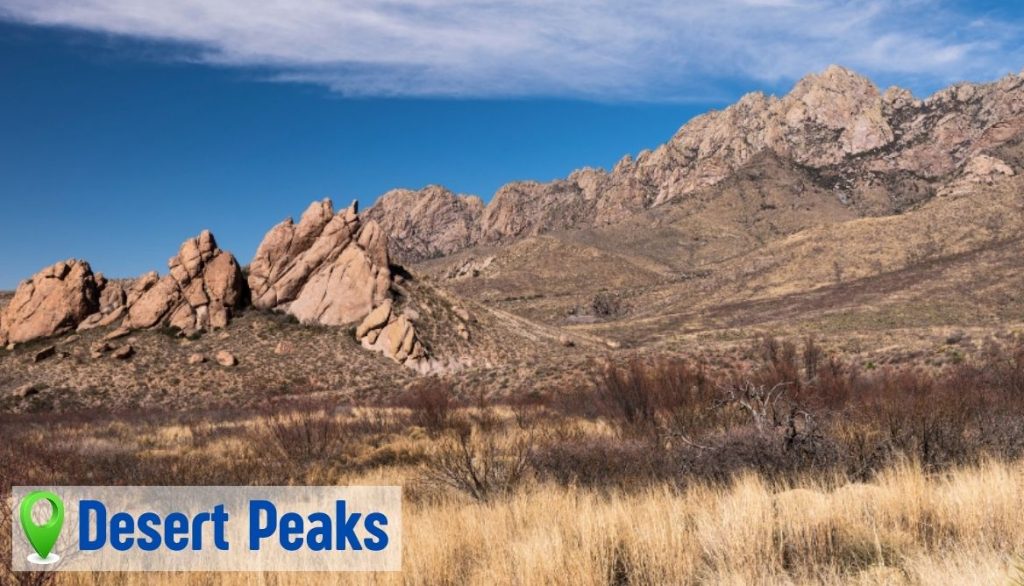 7. Saguaro National Parks
Marvel at the striking desert scenery and towering saguaro cacti in Saguaro National Park. Take a scenic drive or hike the trails for a closer look. Don't forget to visit the Cactus National Park garden inside Saguaro National Park.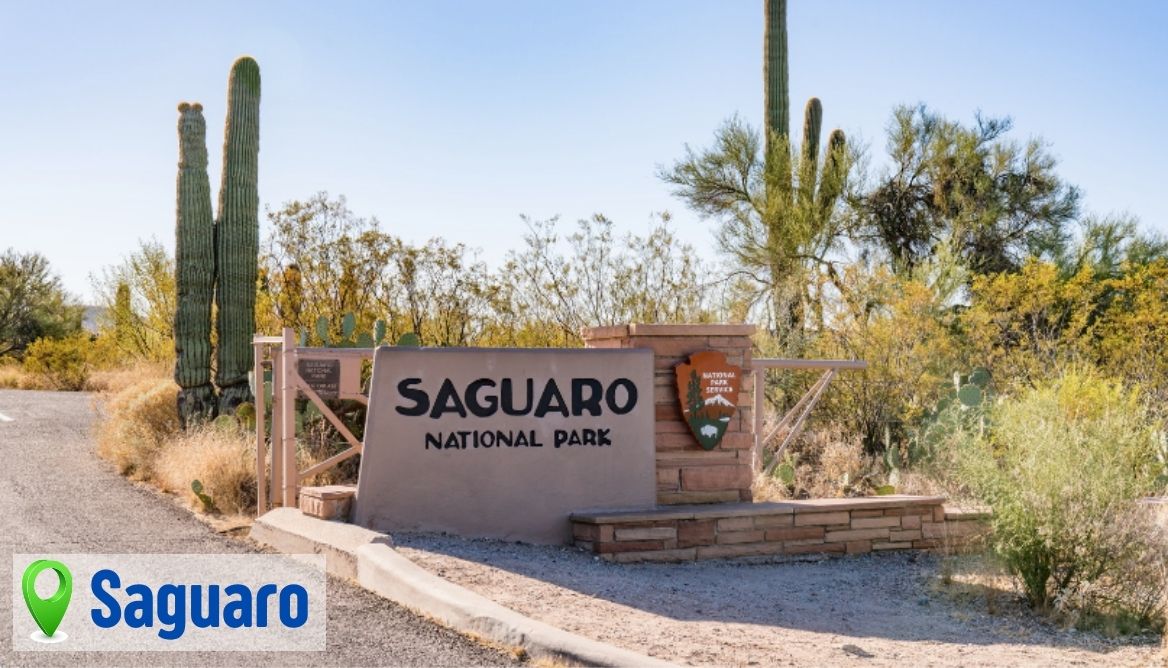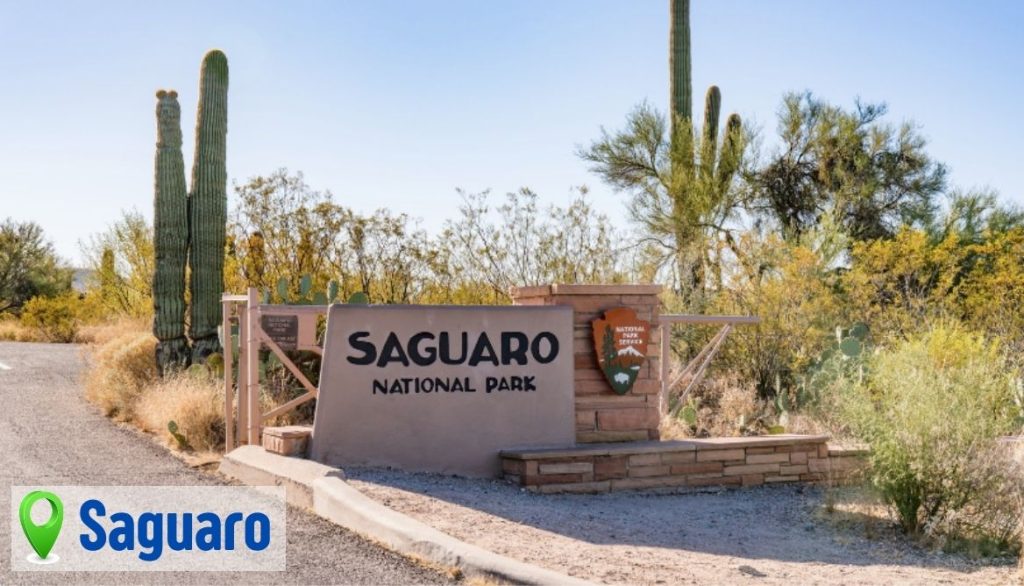 8. Phoenix
Phoenix beckons with its sunshine, cultural attractions, and diverse food scene. The Heard Museum and Phoenix Art Museum offer cultural experiences, while the city's food scene is a fusion of New Mexico and American flavors. Golf enthusiasts will find paradise here with over 200 golf courses.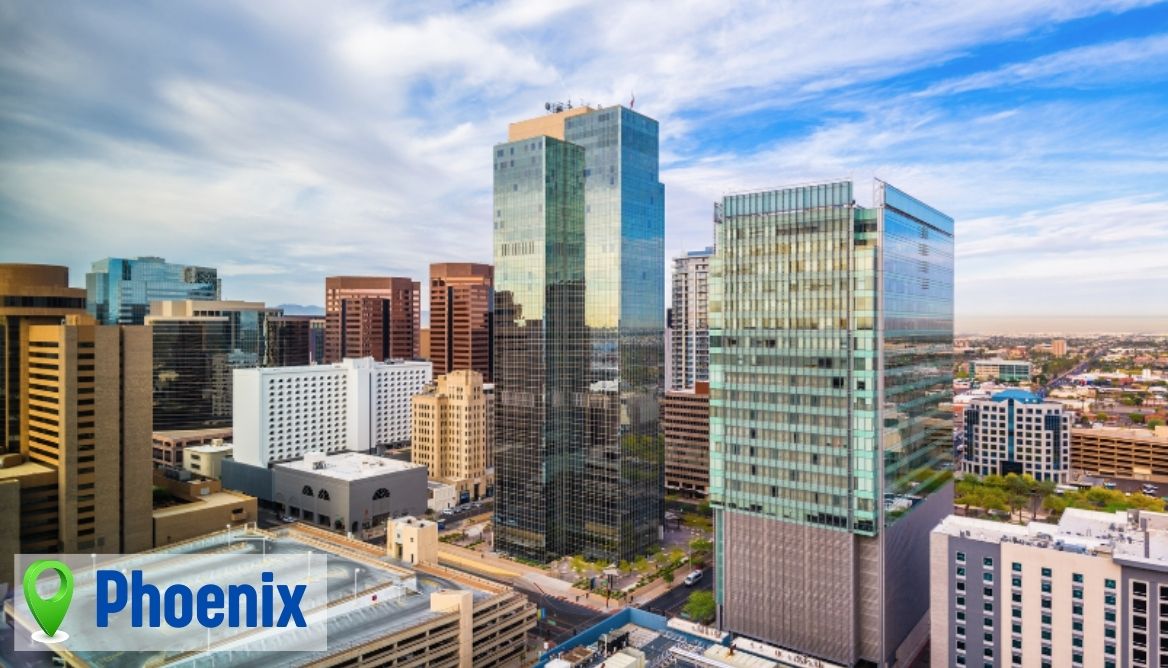 9. Joshua Tree National Park
Joshua Tree National Park, your final destination, offers a landscape like no other. Towering Joshua trees and colossal rock formations await your exploration. At night, the national parks transform into a stargazer's paradise. Thus, this enhances park features and rock climbers will find countless routes to conquer Joshua Tree National Park or Petrified Forest if willing.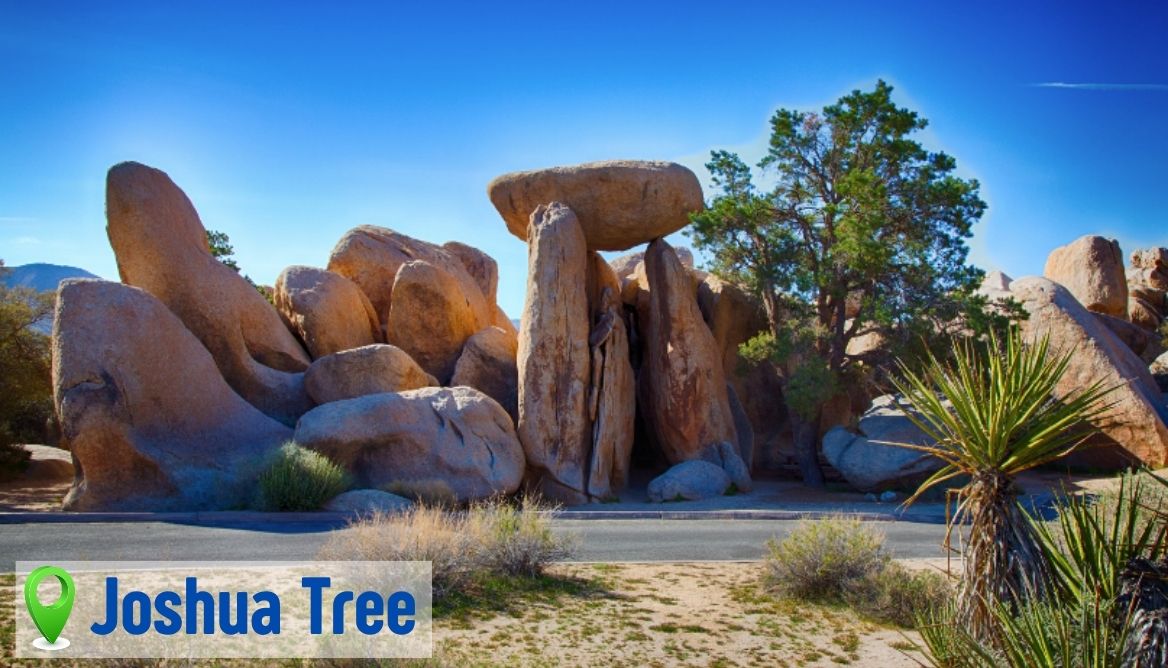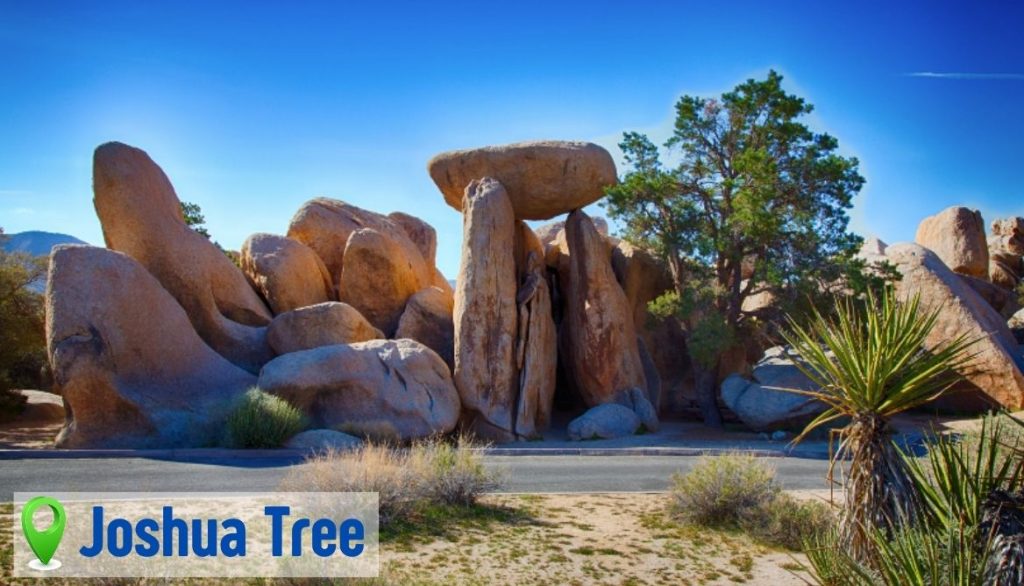 Top Hotels for Your Cross-Country Road Trip
If you are embarking on a road trip from Florida to California, planning your stops and accommodations is essential for a comfortable and enjoyable journey. Here, I will highlight some of the top hotels you can consider staying at along this amazing route.
1. Courtyard by Marriott Orlando Downtown
Starting your journey from Florida, the Courtyard by Marriott Orlando Downtown presents itself as a convenient first stop. This hotel is known for its cleanliness, welcoming atmosphere, and friendly staff. The rooms offer ample space and comfort, ensuring a relaxing night's rest. Moreover, the Bistro serves excellent food, making your dining experience a delight.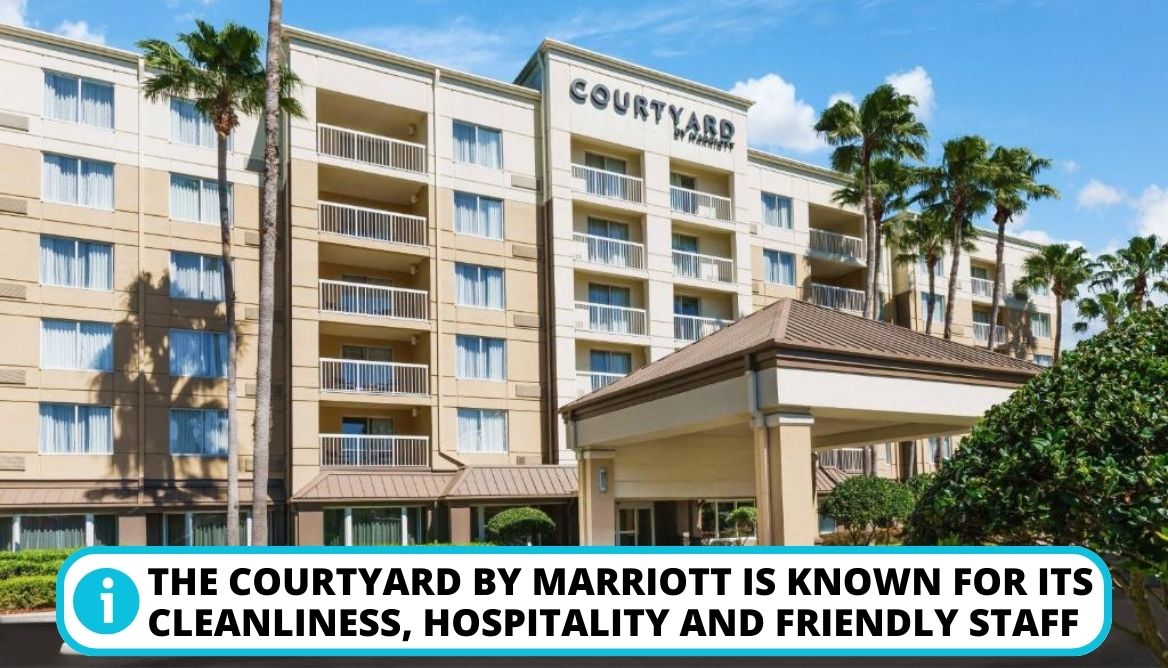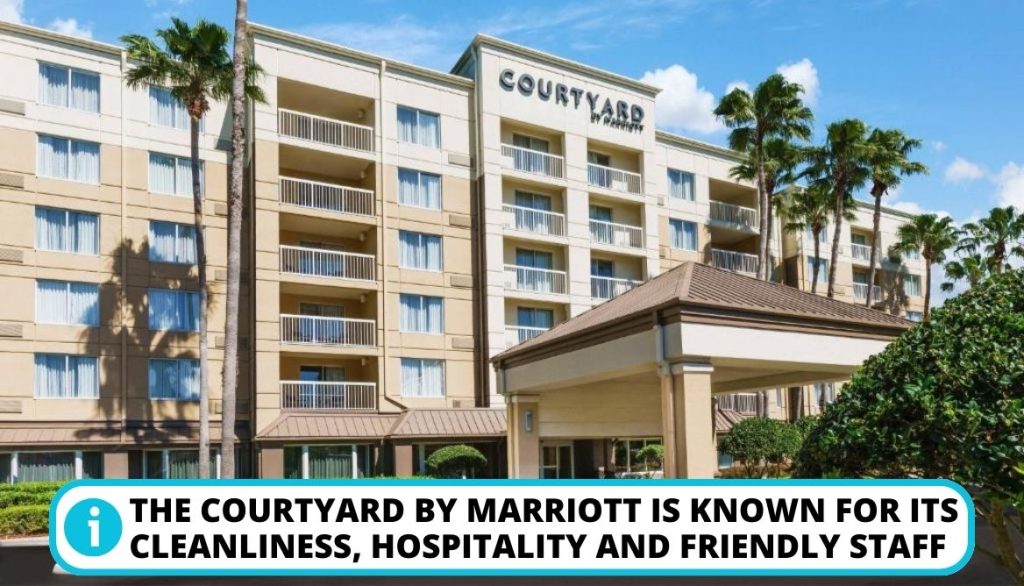 Learn about the timespan and location:
Location: Orlando, Florida
Distance from Florida: Approximately 1 hour and 31 minutes' drive.
2. Hampton Inn & Suites Mobile-Dtwn Hist Dist
If you seek a change of scenery, consider the Hampton Inn & Suites Mobile-Dtwn Hist Dist in Mobile, Alabama. It's a bit of a drive from Florida, but this historic hotel is well worth the visit. It is meticulously maintained, and you'll find that every room appears newly renovated, offering spotless accommodations. The hotel's proximity to attractions like the Soul Kitchen makes it an excellent choice.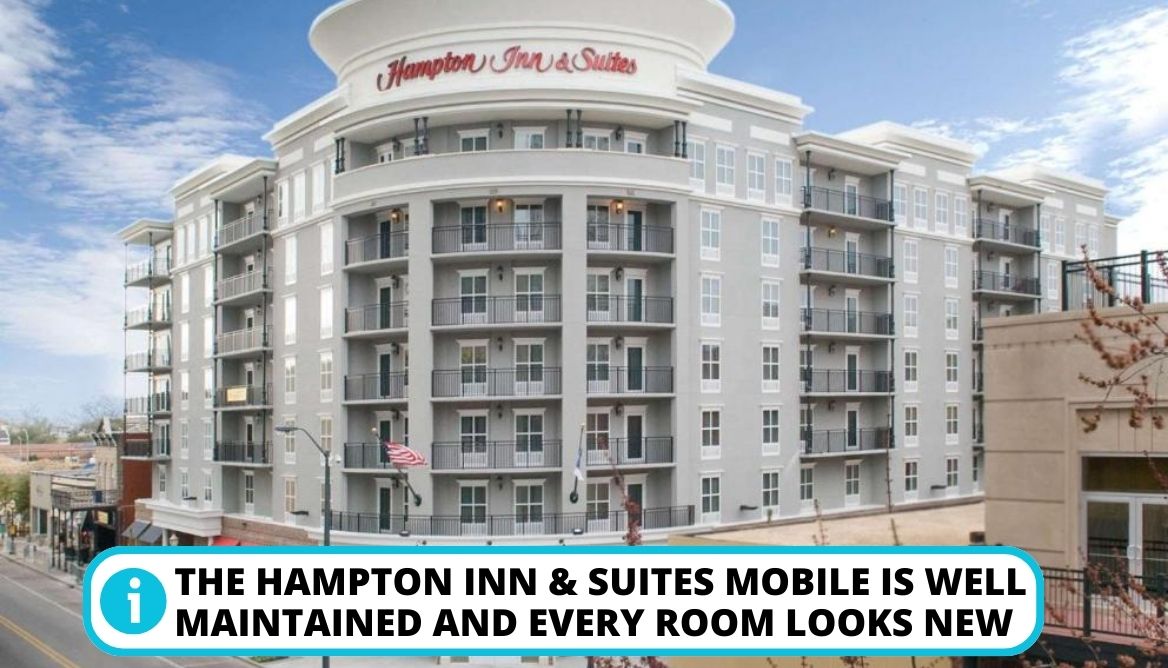 Here's an overview of distance and location:
Location: Mobile, Alabama
Distance from Florida: Approximately 556 miles (8 hours and 10 minutes drive).
3. NYLO Dallas Plano Hotel, Tapestry Collection by Hilton
As you continue your journey west, you will arrive at the NYLO Dallas Plano Hotel, part of the Tapestry Collection by Hilton. Situated in Plano, Texas, it's a bit further of a drive from Florida, but the experience is unique. This boutique hotel is located in the heart of Legacy's business district and offers loft-style guest rooms with custom NYLO beds, Keurig coffee makers, and soothing rainfall showers.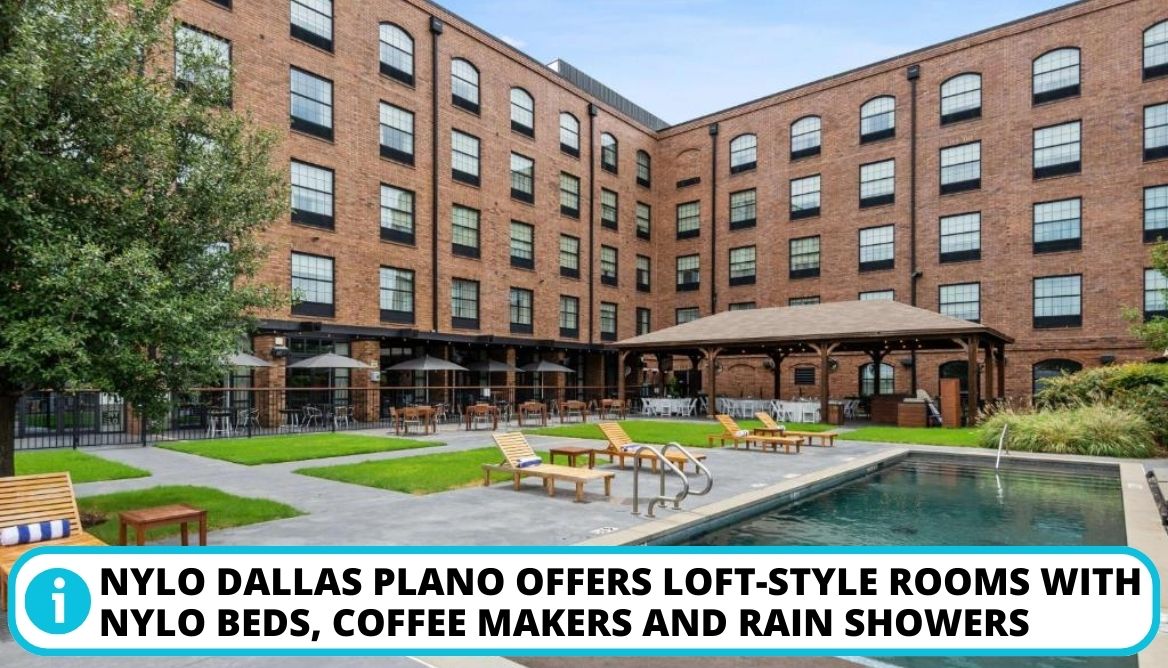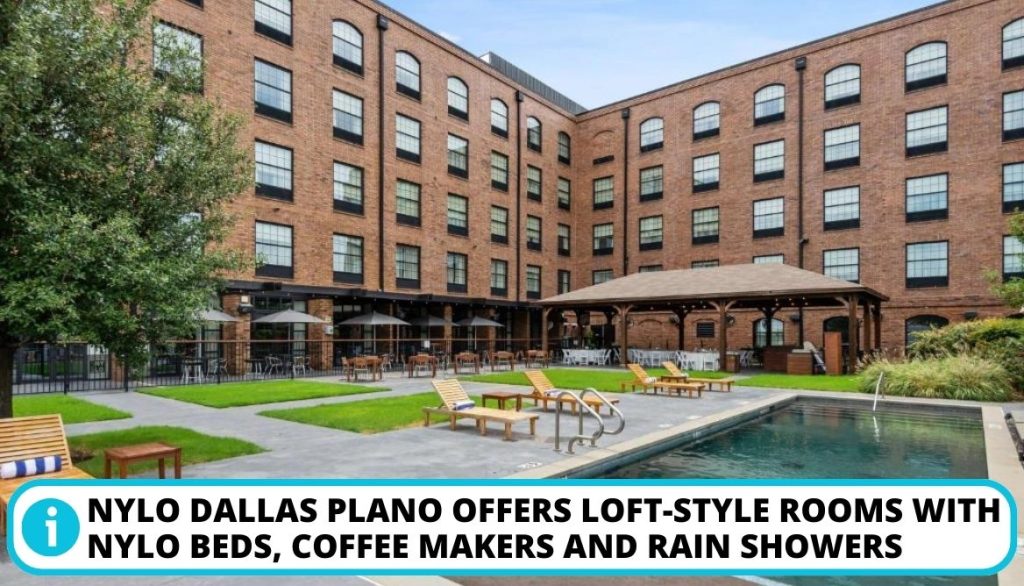 The following list describes the location and distance:
Location: Plano, Texas
Distance from Florida: Approximately 17 hours and 25 minutes' drive.
4. Little America Hotel, Arizona
As you approach the end of your journey, the Little America Hotel in Flagstaff, Arizona, is a splendid option. It's a great choice for travelers interested in visiting famous landmarks and exploring its historic downtown.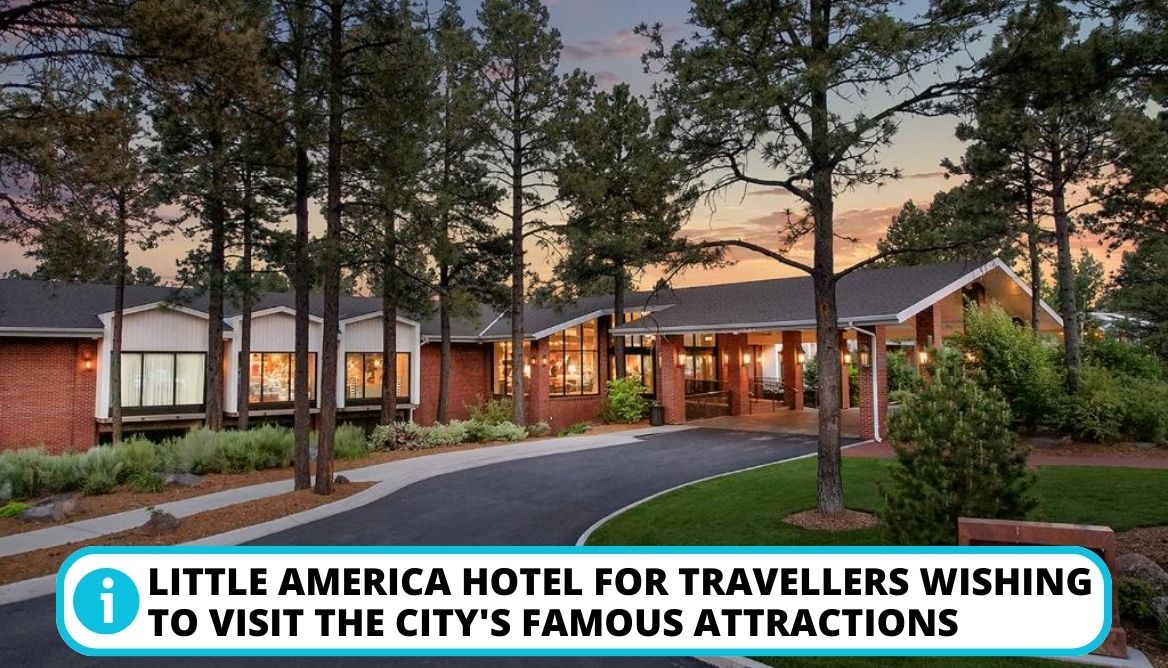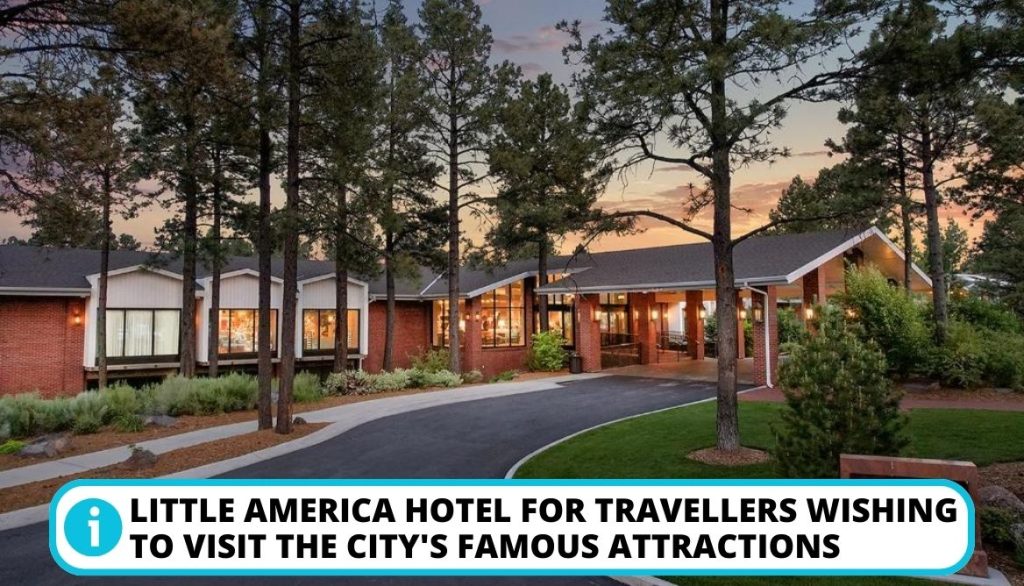 Here's the overview of the location and distance of the last pick on my list:
Location: Flagstaff, Arizona
Distance from Florida: Approximately 2,113 miles (about 1 day and 7 hours of non-stop driving).
Necessary Driving Tips for Your Road Trip Adventure
As you prepare for your road trip adventure, consider these additional driving tips to ensure a safe and enjoyable journey: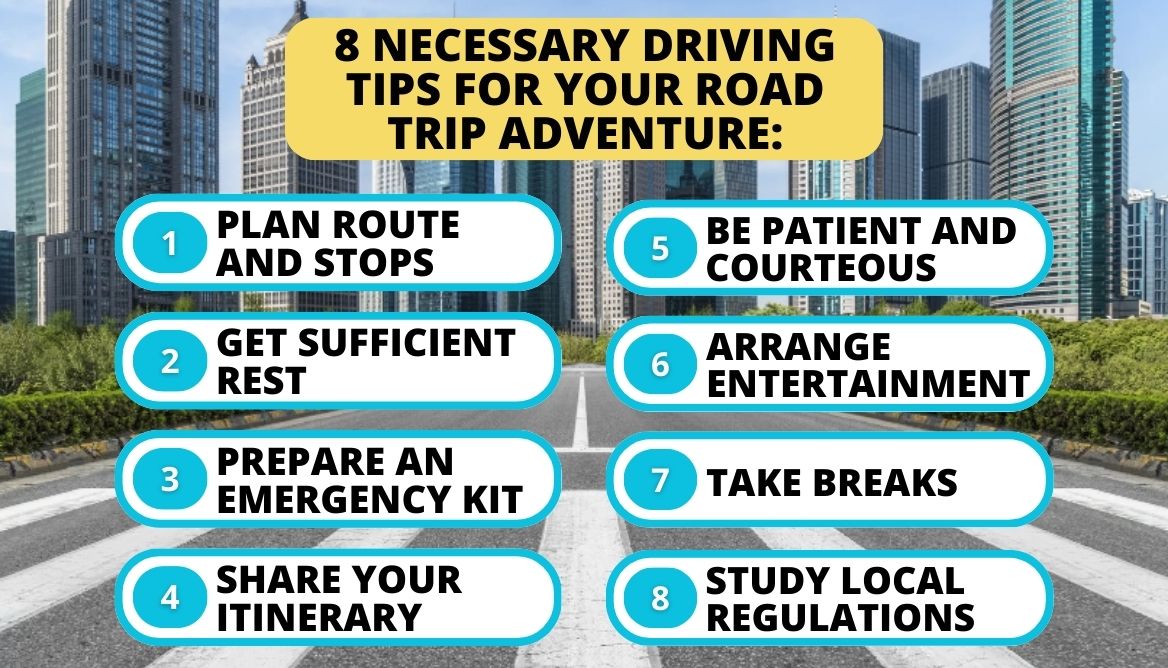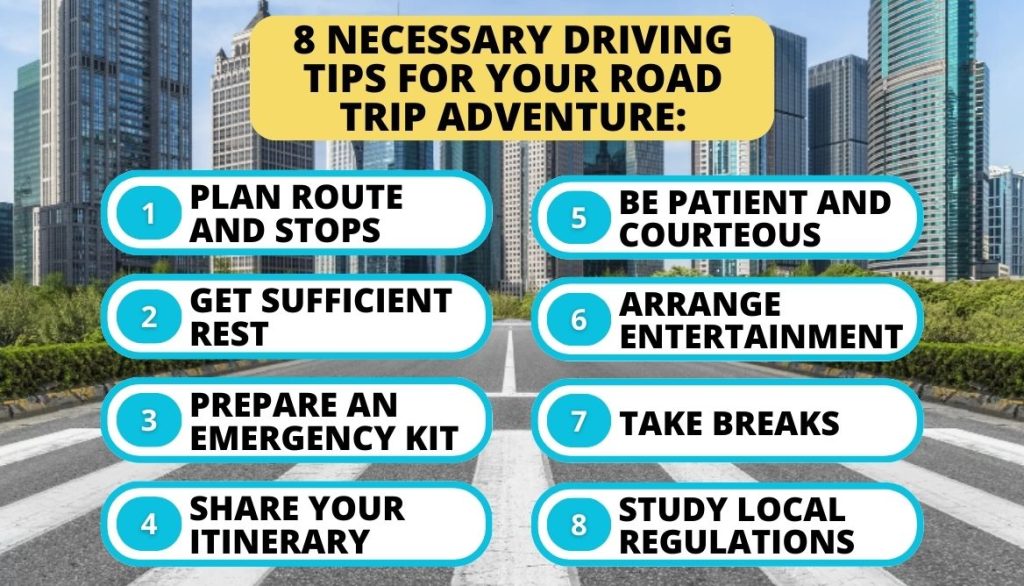 Plan Your Route and Stops: Plot your route in advance, including rest stops, food breaks, restroom breaks, and fueling stations. Use GPS or maps to navigate, and keep a paper map as a backup in case of signal loss.
Get Sufficient Rest: Ensure you are well-rested before starting your journey. Fatigue is a significant cause of accidents, so make sure you're alert.
Prepare an Emergency Kit: Pack an emergency kit with essentials like first-aid supplies, a flashlight, blankets, and non-perishable food and water. Also, don't forget a basic toolkit and jumper cables.
Share Your Itinerary: Inform a friend or family member about your travel plans, including your route, destinations, and estimated arrival times. Stay connected with someone so they can check on your progress.
Be Patient and Courteous: Road trips can be lengthy, so stay patient with other drivers and allow plenty of time for traffic. Use turn signals, follow road etiquette, and yield when necessary.
Arrange Entertainment: Bring entertainment options like music, podcasts, or audiobooks to keep yourself and your passengers engaged during the drive.
Take Breaks: Schedule regular breaks to stretch your legs and prevent fatigue. You can also consider resting in hotels that I shared like Hampton and NYLO etc.
Stay Informed About Local Regulations: Different states and regions may have varying driving rules and regulations. Stay informed and adapt your driving accordingly. I would recommend you don't forget your driver's license and insurance to avoid inconvenience.
FAQ
How many days does it take to drive from Florida to California?
The duration of a road trip from Florida to California varies depending on your chosen route and the number of stops you plan to make. On average, it takes about 3 to 5 days to complete the journey, allowing time for sightseeing and rest along the way.
What is the best road trip route from Florida to California?
The best road trip route from Florida to California often involves major highways such as I-10 or I-40. These routes offer a balance of scenic beauty and efficient travel, with opportunities to explore interesting attractions and cities during the journey such as New Mexico.
Can tourists drive in Florida?
Yes, tourists can drive in Florida. As long as you possess a valid driver's license, you are permitted to explore the beautiful destinations within the state. Ensure that you comply with local traffic laws and regulations to ensure a safe and enjoyable driving experience.
What should I pack for a road trip from Florida to California?
You should pack essentials including clothing suitable for varying weather conditions, toiletries, a first-aid kit, snacks, and chargers for electronic devices. Don't forget important documents like identification, your driver's license, and proof of insurance for the vehicle.
Conclusion
The final say is that a road trip from Florida to California can be very adventurous if you plan it wisely. When looking for some popular attractions to visit along the way, I would suggest New Orleans, Franklin Mountains State Park, and Phoneix.
Also, when looking for the best hotel to stay in, try the NYLO Dallas Plano Hotel. It falls almost in between both locations, making it an ideal place to stay. Make sure to carry important documents like a driver's license and registration if you are driving your own car. Pack necessary items like a first aid kit, snacks, and toiletries.
When are you going on your next road trip? Share your plans with me in the comment section.