Happy Wayfarer is reader-supported. When you buy through links on our site, we may earn an affiliate commission.
LA to San Francisco 101 or 5, which one is the better route? If you are finding a way to save time as well as cut your transportation costs, you will be concerned about taking the shortest routes possible so you can get to your destination quickly.
Commuting from Los Angeles to San Francisco International Airport has always been a busy one, but most travelers do question the faster routes between 101 and 5. So, let's compare the driving duration and route aesthetics of these two roads, as well as the vehicle types needed. So, let's ride in!
How Long Will It Take To Drive From LA To San Francisco?
The distance between LA and San Francisco is approximately 382 to 400 miles, which is 615 to 644 kilometers. The duration it will take you to drive can vary depending on a few factors, such as: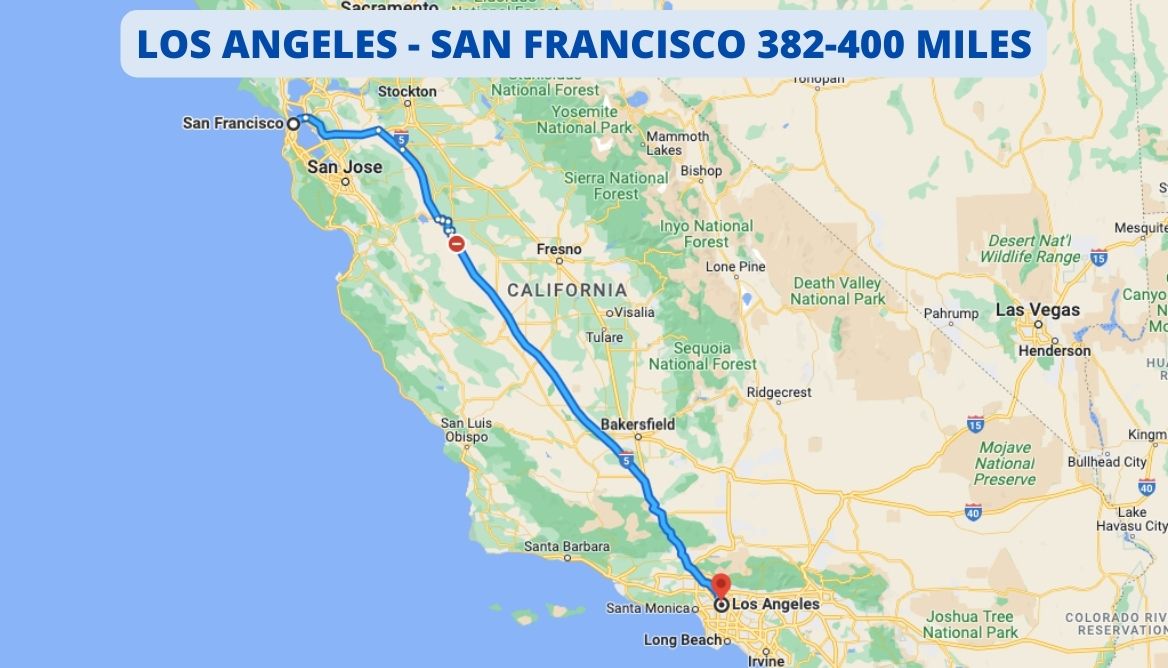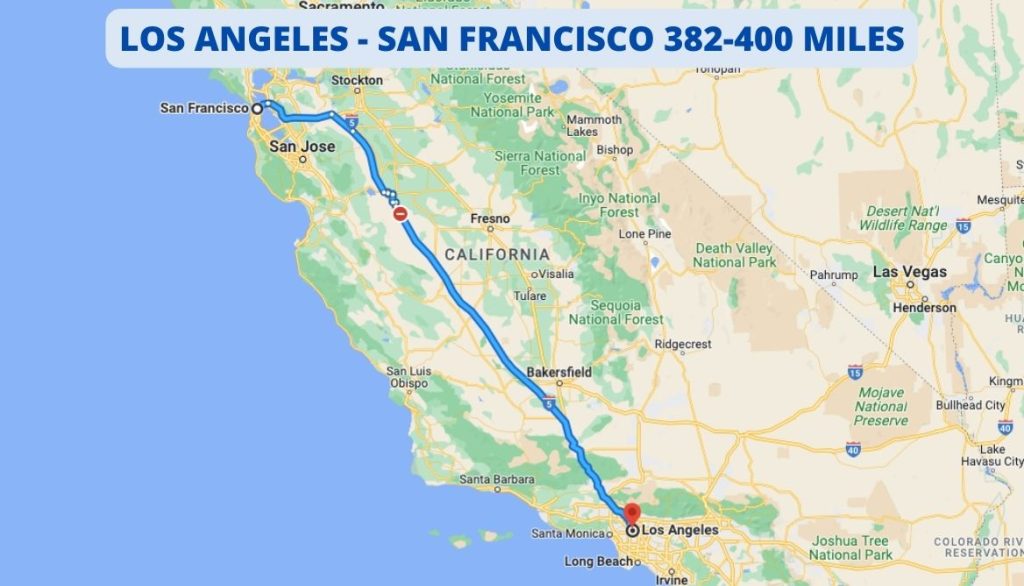 The weather conditions;
The Traffic condition;
The routes you are taking.
So if we are to calculate the average driving time from Los Angeles to San Fran in Califonia, then it should typically take you 6 to 7 hours to drive without traffic jams or weather conditions irrespective of the route you took.
The List of Areas with Traffic Congestion
It may take you longer than 7 hours if there are unfavorable weather conditions or you encounter heavy traffic congestion along the urban area of Los Angeles or the San Fransisco Bay area, especially during the morning and evening rush hour or even throughout the day during the peak seasons or weekends.
The list below shows the analysis of locations where you may encounter heavy traffic including the most likely core areas where they occur.
| | |
| --- | --- |
| | |
| | Figueroa Street, Wilshire Boulevard, 7th Street, 110 Freeway and 6th Street |
| | Westwood, Santa Monica, and Century City |
| | Sherman Oaks, Studio City, and Burbank, Ventura Freeway (US-101), and the San Diego Freeway (I-405) |
| | Hollywood Walk of Fame and Universal Studios |
| | Port of Long Beach and the 405 Freeway |
| | |
| | Anaheim (Disneyland Resort) and Irvine |
| Los Angeles International Airport (LAX): | Century Boulevard and Sepulveda Boulevard |
Weather Disturbances Periods
Now that we have enumerated the locations where you may experience much traffic. Let's discuss another factor that can make your journey longer from LA to San Fran, which is Weather conditions.
Below are the periods where there can be weather disturbance, So get prepared!
| | |
| --- | --- |
| | |
| | |
| | |
| | All year round but mostly June to September |
| | |
| | |
| | |
Note: There are no months in the year without weather occurrences but as a tourist, you can target periods with a low risk of weather conditions like during late spring, summer, or early fall.
The Routes Connecting LA and San Francisco
The last factor on the list to consider is the route you are taking. This also determines the amount of time you spend on the road driving to your destination. So let's compare the routes that connect the two locations.
There are different routes that connect LA and San Francisco, each has its distance, driving time as well and scenic views. However, the two major roads that commuters usually utilize are the Highway 101 and Interstate 5 routes.
A Quick Comparison of Highway 101 vs Interstate 5 Based on Their Physical Features
The table below shows a brief description of the Highway 101 andInterstate 5 routes.
The Highway 101 Route
Highway 101 is also known as US 101, it is a long coastal route that runs along the western coast of California.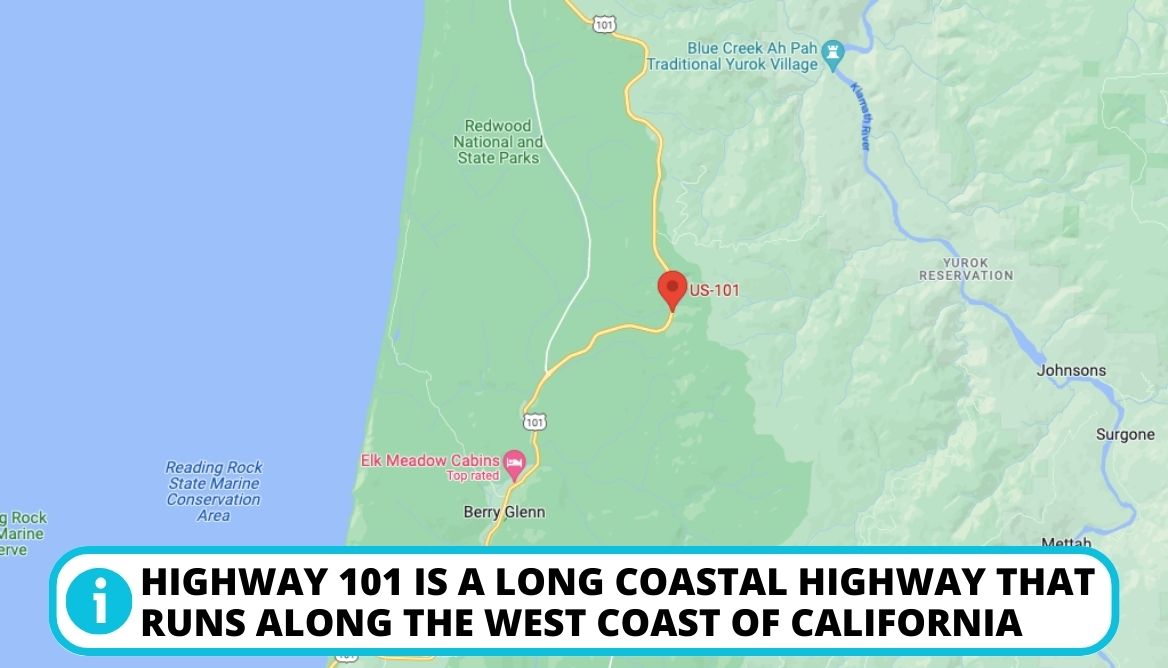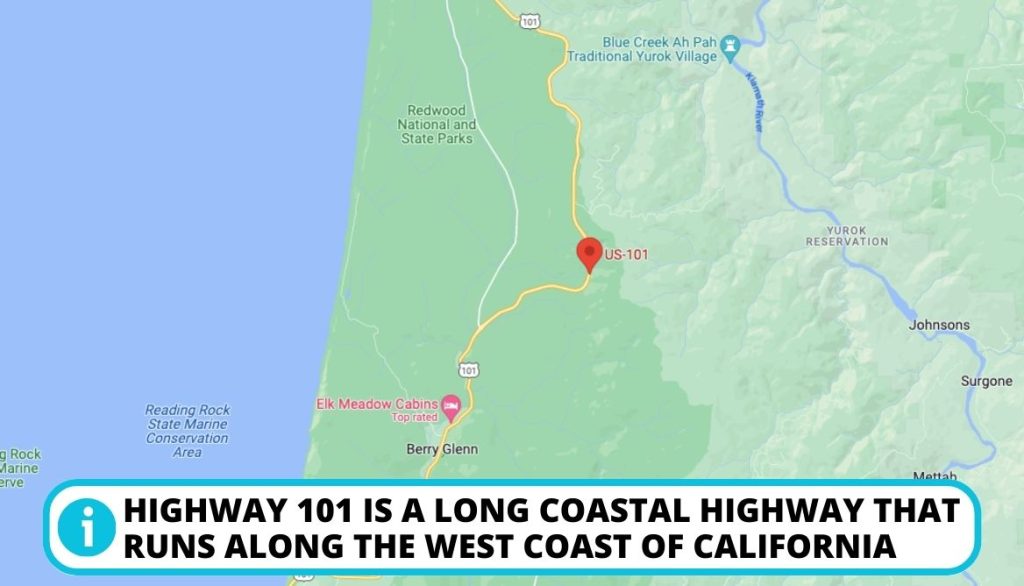 Cities along this Route: It passes through major cities and towns like Santa Barbara, San Luis Obispo, Paso Robles, San Miguel, San Juan Bautista, and San Jose International Airport before reaching San Francisco from LA.
Distance and driving duration: The distance of the Highway 101 road trip from Los Angeles to San Francisco is approximately 440 miles or 695 kilometers and you have to drive about 8 to 10 hours.
Topography: Highway 101 is recognized by its rugged cliffs, sandy beaches, and iconic coastal landscape. you will drive through sharp descents and ascents on the highway along the coastline.There is also a mountainous terrain as you drive along the Los Padres National Forest and the coastal ranges. Although not all the roads are rugged, Areas like San Jose towards Los Angeles have flat surfaces and freeways.
Views: US 101 might be a long journey option but it has this fascinating scenic beauty of the Pacific Ocean and surrounding coastal landscape such as the Pismo Beach, and Santa Ynez Valley, cliffs, that makes your driving interesting.
The Interstate 5 Route
This is also called the I-5 or the 5 route, it is the fastest inland road from Los Angeles to San Francisco road and it cust across the Central Valley of California.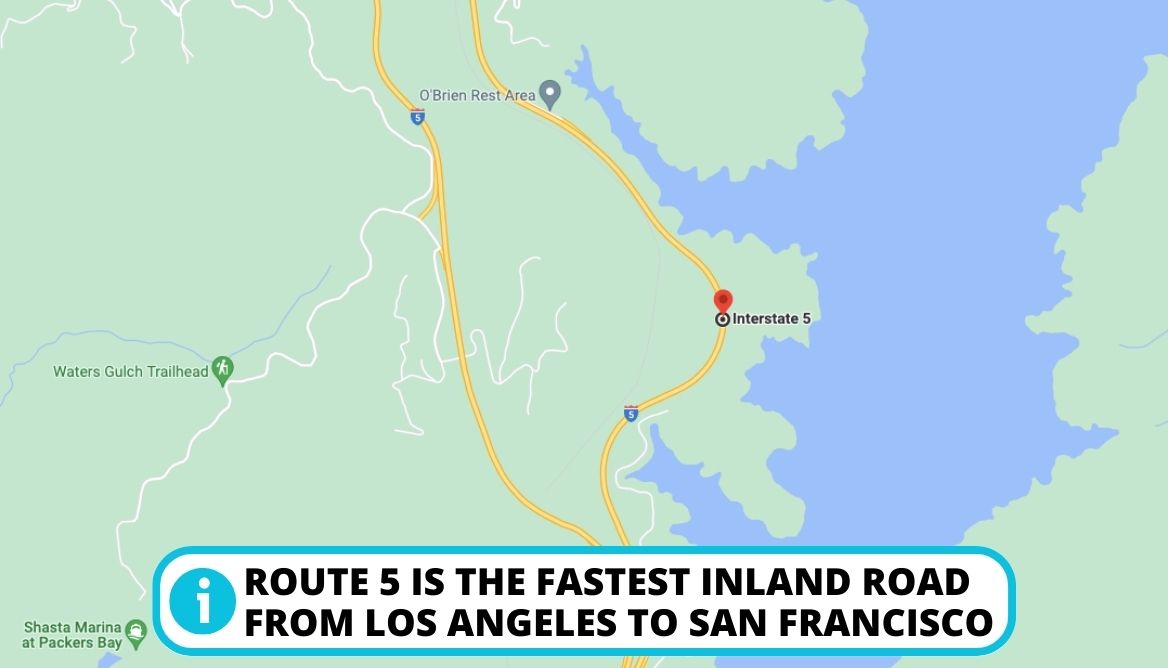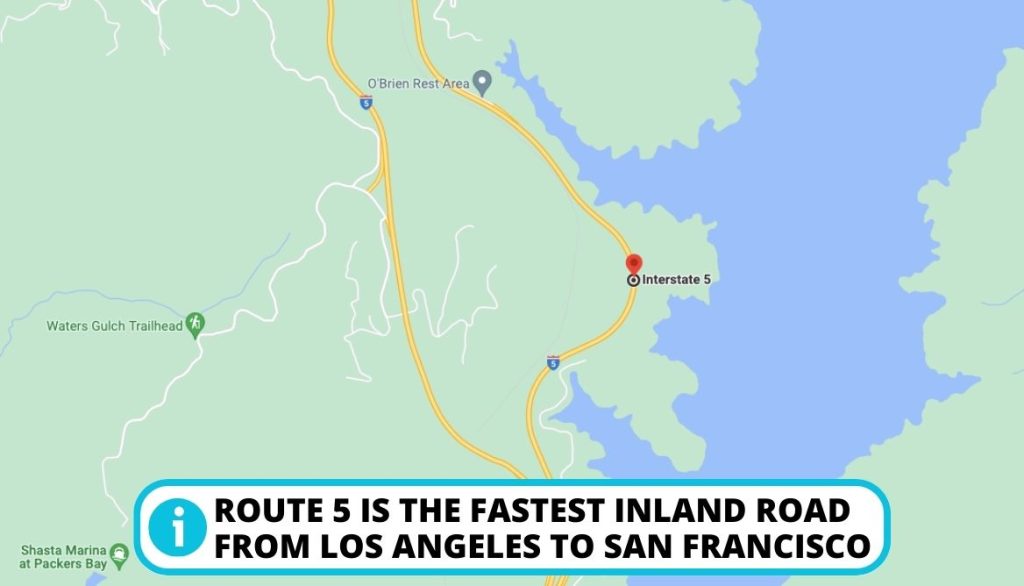 Cities along this Route: This route passes through cities like Bakersfield, Fresno, and Stockton before entering the San Fran Bay Area.
Distance and driving duration: The stretch between LA and San Fran taking the Interstate route is approximately 382 miles which is 615 kilometers.
Topography: The driving time under normal traffic congestion can take up to 6 to 7 hours. Interstate 5 is the most used road by commercial drivers because it has a smooth topography and the most efficient drive from LA to San Francisco.
Views: Interstate 5 does not have scenic or coastal views like Highway 101, you can still enjoy the sightseeing and fresh breeze coming from the Agricultural landscape which spreads from west to east like it is never-ending.
How to Drive LA To San Francisco 101 or 5?
We have discussed the commonly used road options you can drive through above, but here are step-by-step driving directions for the two routes:
Driving Through I-5 Route
As we have said above, this route is more direct and typically faster even under normal traffic conditions. To take this route, follow the points below;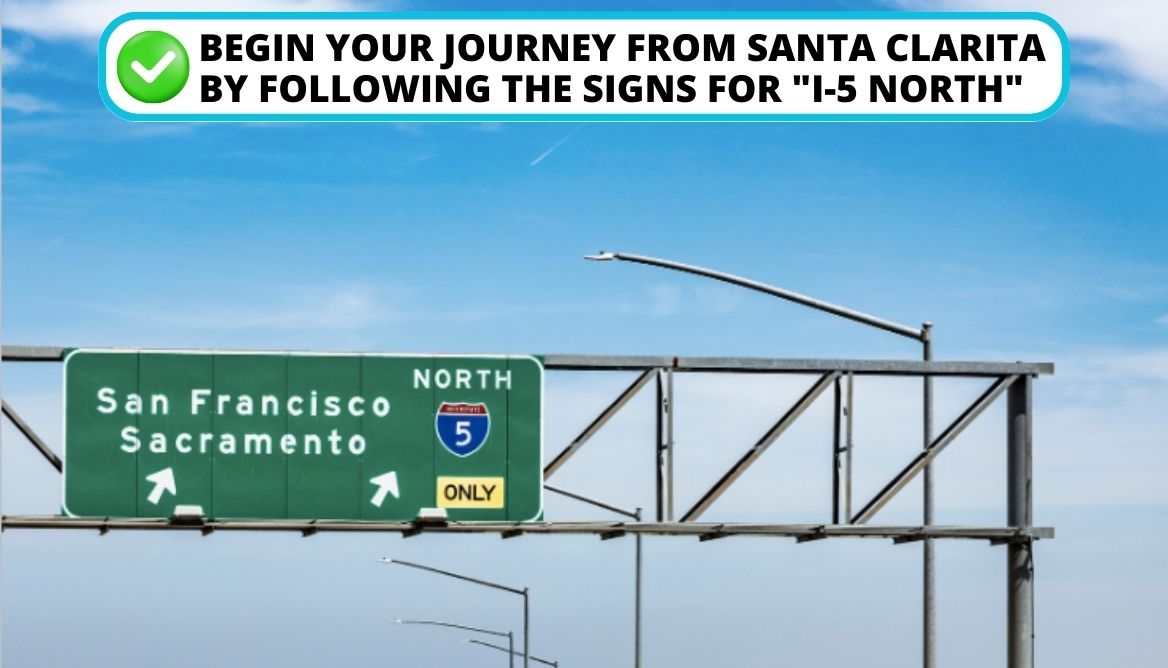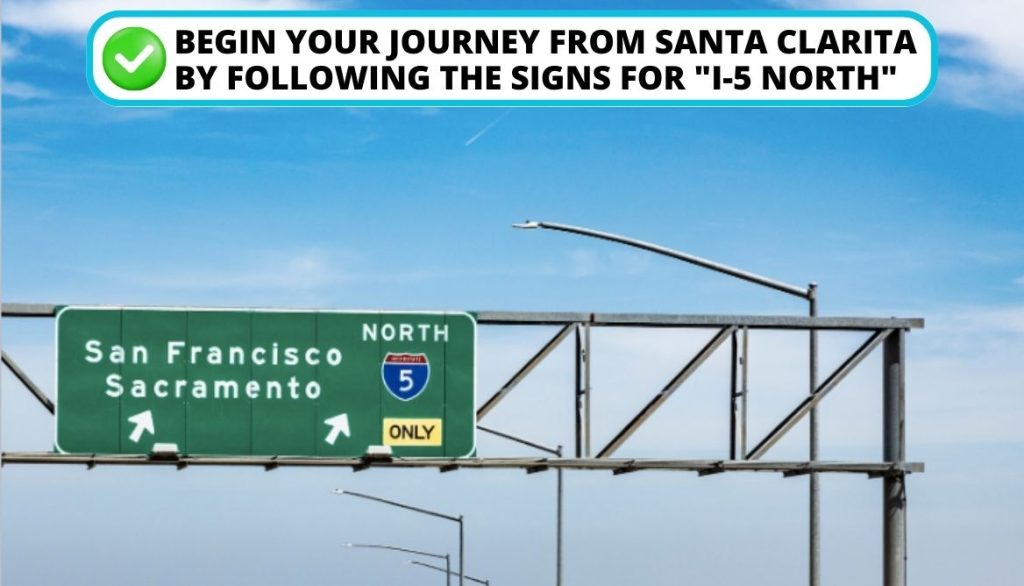 Begin your journey from Santa Clarita,Los Angeles following the signs for "San Francisco" or "I-5 North.
Continue on the I-5 route through the Central Valley of California, passing through cities like Bakersfield, and Stockton.
Follow the signs for "San Francisco" or "I-580 West" when you reach the junction with Interstate 580 (I-580)
Soon you will be driving approaching the Bay Area by moving onto I-580 West, which will take you into the city of San Francisco.
You can then follow the road signs for your specific or final destination in San Francisco, such as downtown, the Golden Gate Bridge, or the airport.
Important! Always follow the road signs to avoid missing your way and adhere strictly to the speed limit signs, especially in the construction zone and urban areas.
Driving Through 101 Highway
The US 101 is longer than Interstate 5 but if you are someone who likes sightseeing while on a journey, you can consider driving through this scenic route using the following instructions;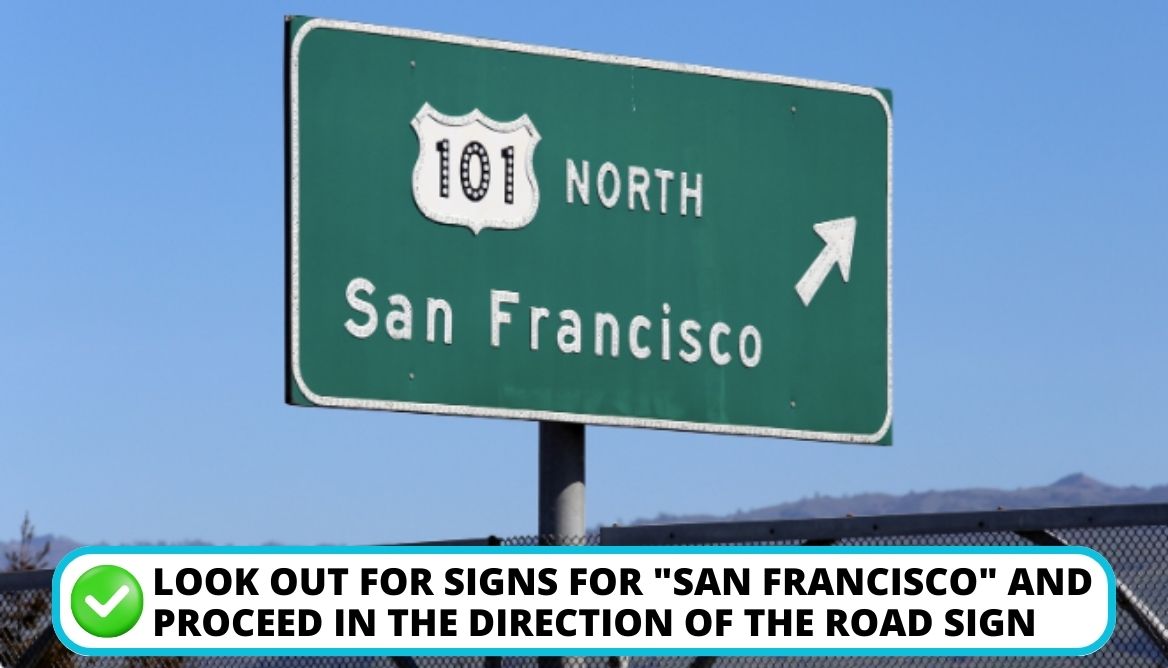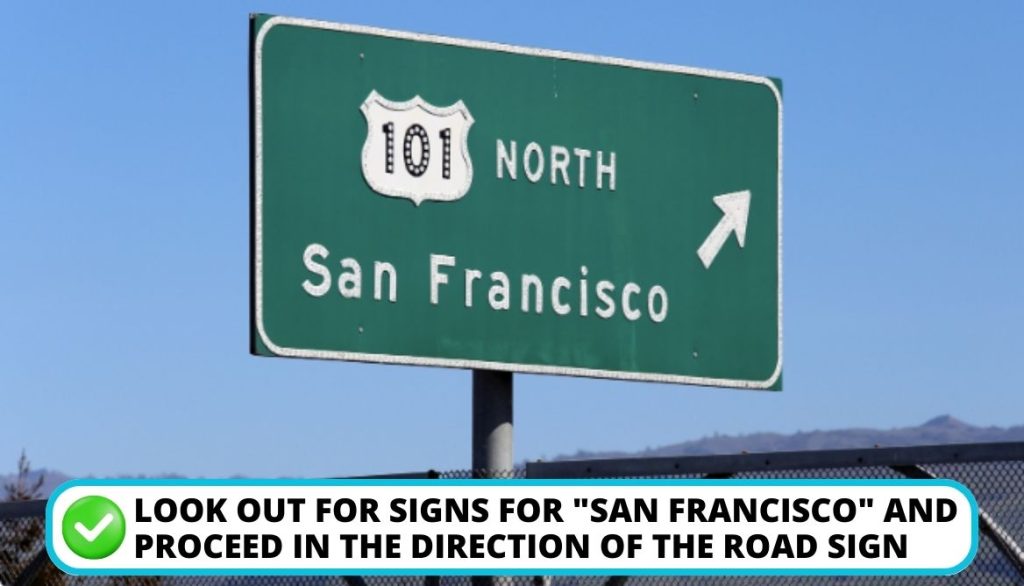 Before you start your vehicle, look for signs indicating "San Francisco" or "US-101 North and start your journey towards the direction of the road sign.
Follow the north US-101 as you pass through cities and towns along the California coast. You'll pass through places like Santa Barbara, San Luis Obispo, and Paso Robles.
You can stop over at viewpoints, beaches, and towns along the way to enjoy the scenic beauty of the Pacific coast.
Drive on US-101 until you reach the San Francisco Bay Area.
Once you get to the Bay surrounding, cross the Golden Gate Bridge into the city.
You can then navigate through the city streets to reach your final destination using navigation apps like Google Maps or road signs.
Note: Always keep in mind that you might encounter traffic on either road trip, So remember to check the real-time traffic updates, weather, and road conditions to schedule and plan your trip efficiently.
Route 101 vs Route 5: 3 Additional Things to Consider
Route 101 and Route 5 offer different journey experiences for travelers. Though we have compared Interstate 5 and US 101 above, that is based on the physical aspects of the road.
Below we are going to compare based on the Material aspects such as vehicles, facilities, etc. This can help you decide which one suits your preferences.
1. Vehicle Type
There are different vehicles suitable for each route considering the road structure and terrain.
As for Route 101
This scenic highway generally offers a mix of terrain such as well-maintained roads and some stretches which might have narrower lanes or roadwork. There is a wide range of vehicles suitable for the Road 101 structure which includes: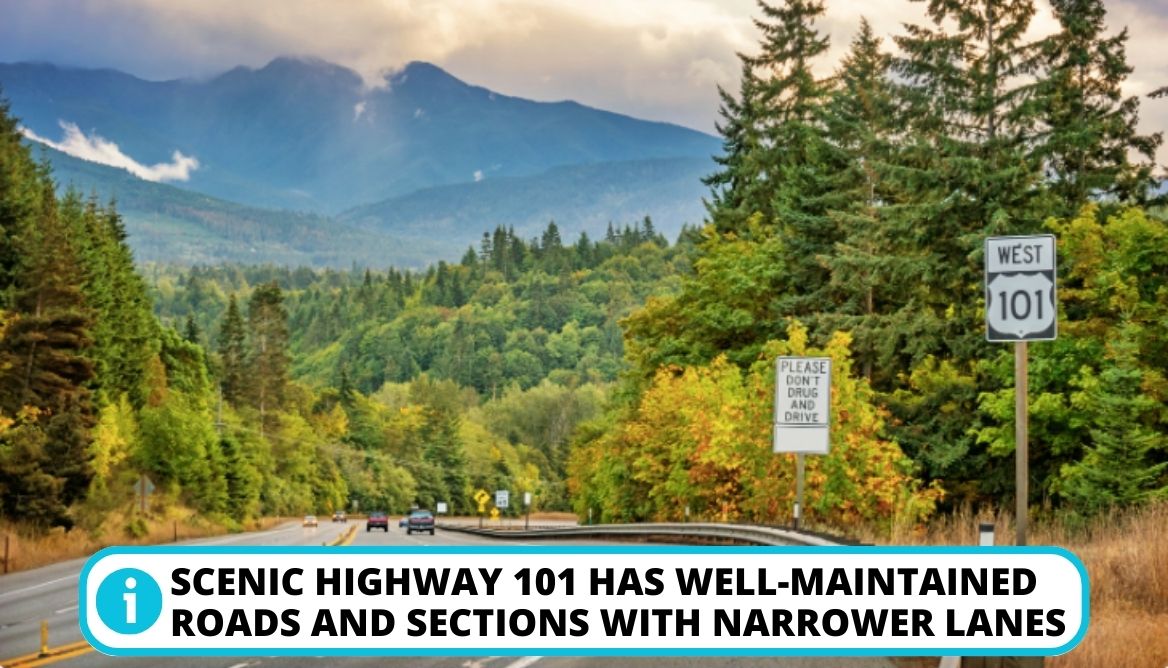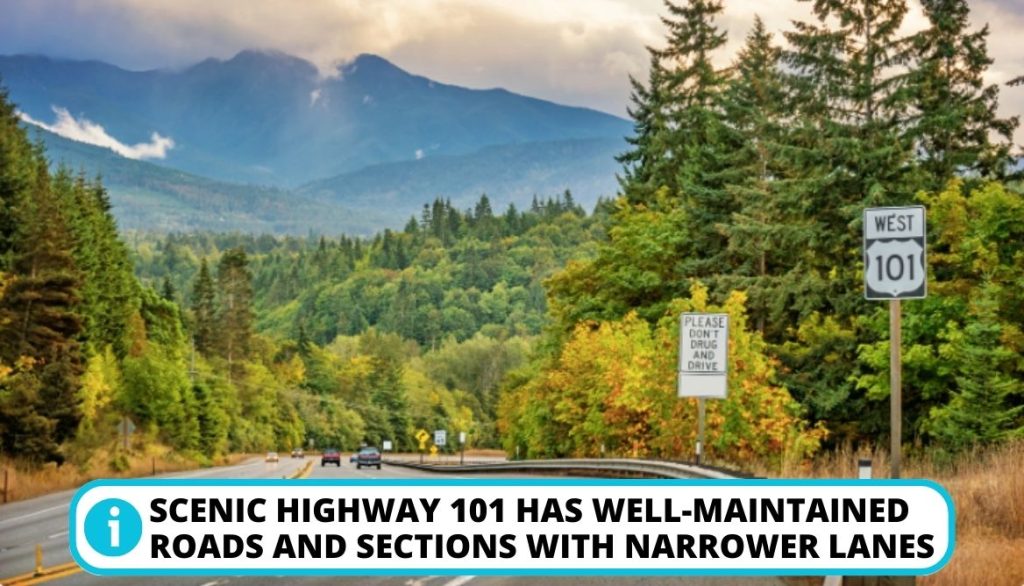 Sedans and compact cars;
SUVs and crossovers;
RVs and campers;
Motorcycles;
Larger vehicles.
Route 5
I-5 is a major interstate highway known for its smooth road conditions and well-marked lanes that pass through urban and rural areas, ensuring a comfortable drive. This road is designed to accommodate the high volume of traffic and various vehicles which include;
All Types of Passenger Vehicles such as Sedans, SUVs, Crossovers, and Minivans;
Trucks and Commercial Vehicles;
Motorcycles;
RVs and Campers.
2. Landmarks and Monuments
When passing through each route, you are likely to see fascinating landmarks and monuments that keep your journey delightful. Below are different attractions you will find on both routes.
Route 101
Along this road, you can stop over to visit stunning beaches, and monuments, like:
Pismo Beach,
Moonstone Beach,
Golden Gate Bridge,
Avila beach along San Luis Obispo,
Spanish missions ground in San Juan Bautista
Big Sur Coastline,
Santa Barbara Museum of Natural History in Santa Barbara,
Monterey Bay Aquarium,
Salinas River in San Miguel,
Santa Monica Pier in Southern California,
Malibu Creek State Park and Beach,
Visit Hearst Castle, etc.
Route 5
Interstate offers less Scenery but is more urban than 101, you are likely going to see more urban activities such as dining options, museums, and agricultural landscapes along this route. They include;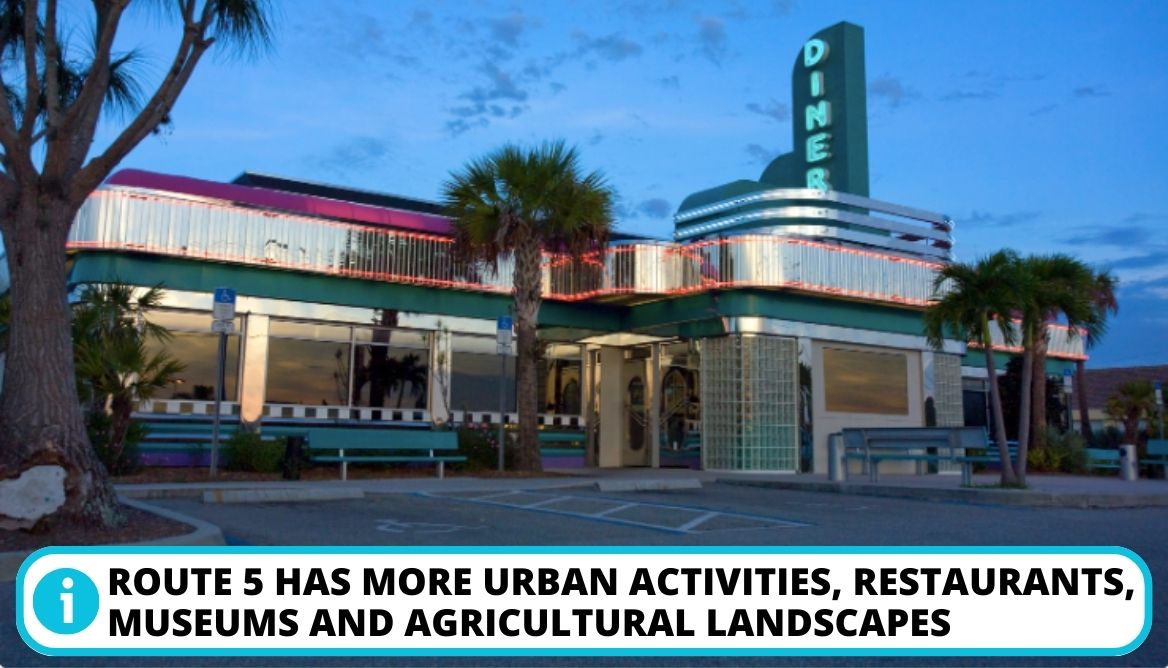 Agricultural Fields with fields of crops such as almonds, pistachios, and fruits;
Fresno Art Museum or the Discovery Center;
Harris Ranch;
Merced County Courthouse Museum;
McHenry Mansion, Modesto;
California State Railroad Museum;
University of California, Davis;
Vacaville Premium Outlets for shopping;
Jelly Belly Factory, Fairfield, etc.
3. Amenities
You can find the following road amenities:
Route 101
You are likely to find few fuel stations, especially in remote stations, so get your tank filled up when you are around the populated areas to avoid breakdown.
There are also clear road signs along US 101 such as cross traffic, Attractions, and exit signs that can help you throughout your journey on the Pacific Coast Highway.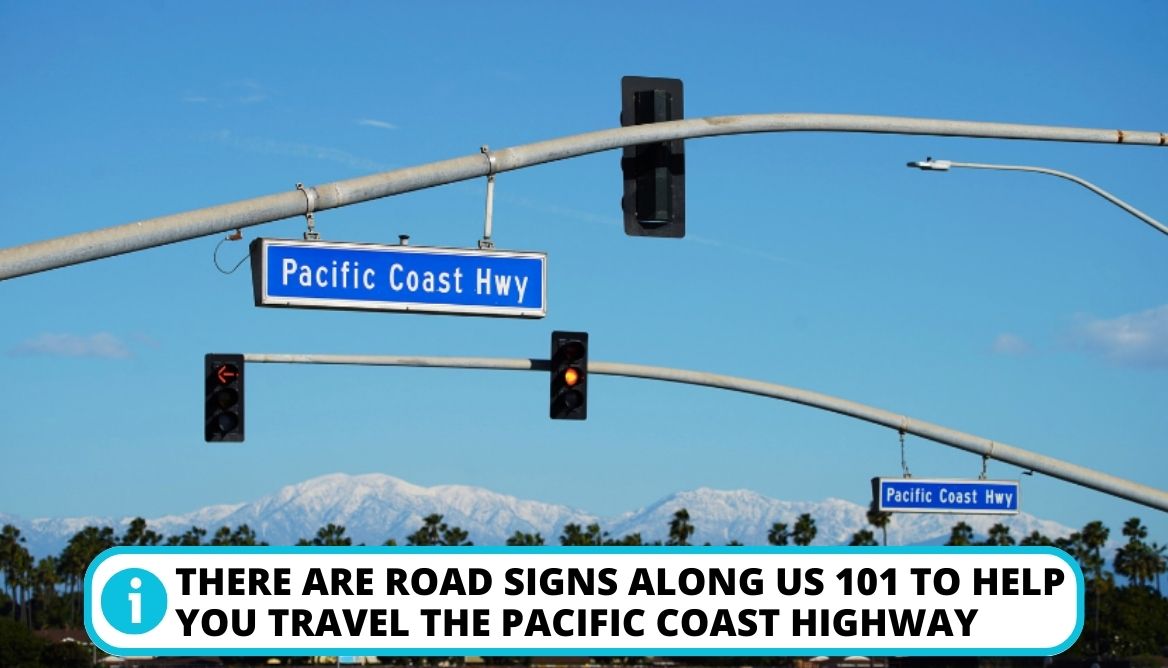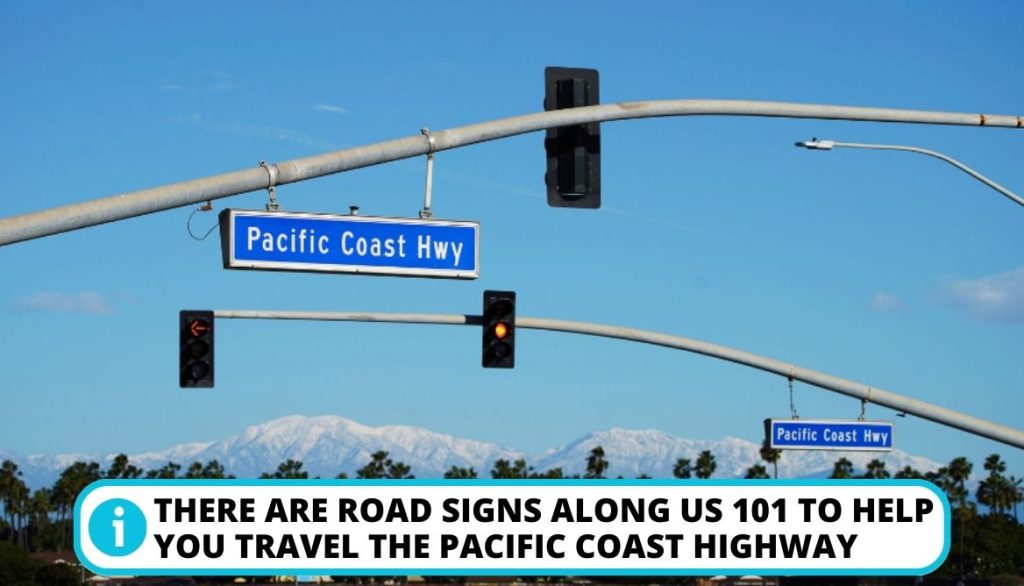 Route 5
Interstate 5 has more frequent and easily accessible gas stations which offers you convenience for refueling anytime. Also, I-5 is well-signed and maintained, with clear directional signage.
Which Route is Better for Social Media?
As a travel vlogger or influencer, you might consider the following tips for better routes to share on your social media handles;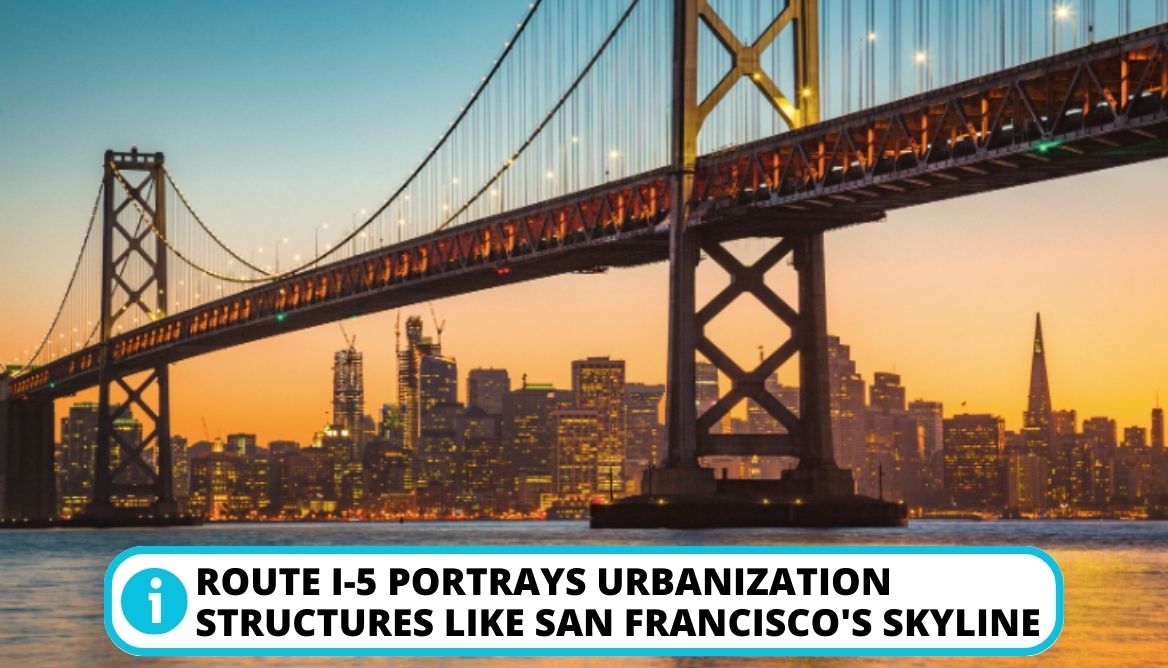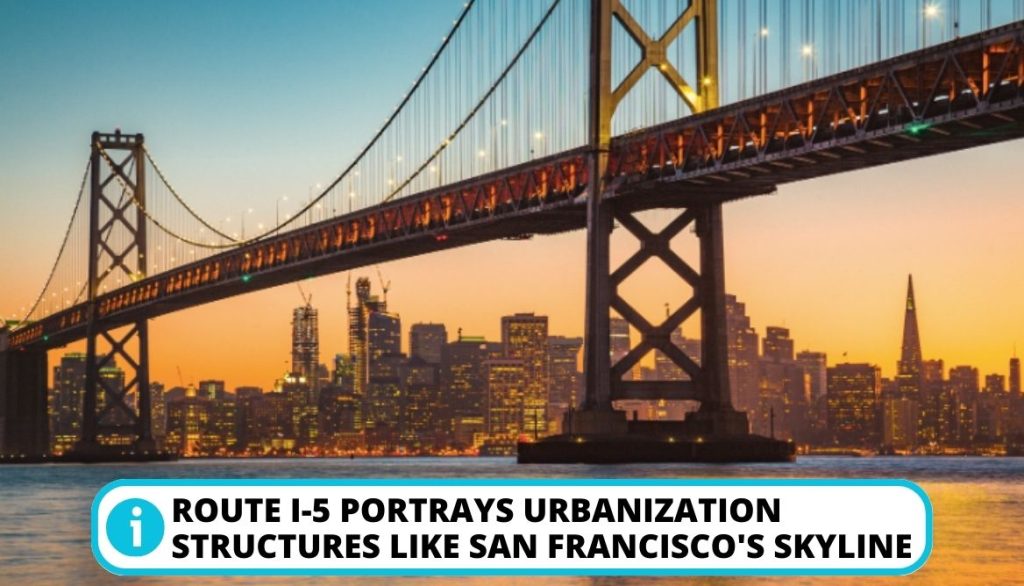 If you want to share travel videos of the best routes with stunning natural landscapes and coastal beauty on your timeline.
Then, consider Route 101 provides opportunities for breathtaking photos of places like Big Sur's dramatic cliffs, Santa Barbara museums, Santa Monica Beach, and the iconic Bixby Creek Bridge.
if you are sharing anything related to urban scenes, cityscapes, and cultural attractions about Los Angeles routes on your social media.
Then, I-5 portrays urbanization structures like San Francisco's skyline, Los Angeles' Hollywood Boulevard, and Seattle's vibrant neighborhoods.
But considering what most travel enthusiasts love, The US 101 is the best because everybody loves to see fascinating landscapes while they travel.
Route 101 vs Route 5: Which One To Pick?
You might have been wondering which of the routes should you take while driving from LA to San Fran. Don't worry, let's guide you!
Route 101: You can choose route 101 if you want a leisurely drive along the California coast and you like to explore places like Monterey Bay Aquarium, Hearst Castle, and the charming town of Santa Barbara.
Route 5: But if you are considering fuel efficiency and time, then you can opt for Insterstate 1-5. This route offers a faster, more direct route with access to major cities, including San Francisco's Golden Gate Park, Los Angeles' Getty Center, and Seattle's Pike Place Market.
15 Tips for Planning a Road Trip from Los Angeles to San Francisco
Going on a road trip from Los Angeles to San Francisco via US 101 and Interstate 5 is a wonderful adventure, offering scenic routes, attractions, and diverse landscapes. Here are some recommendations to help you make the most of your journey: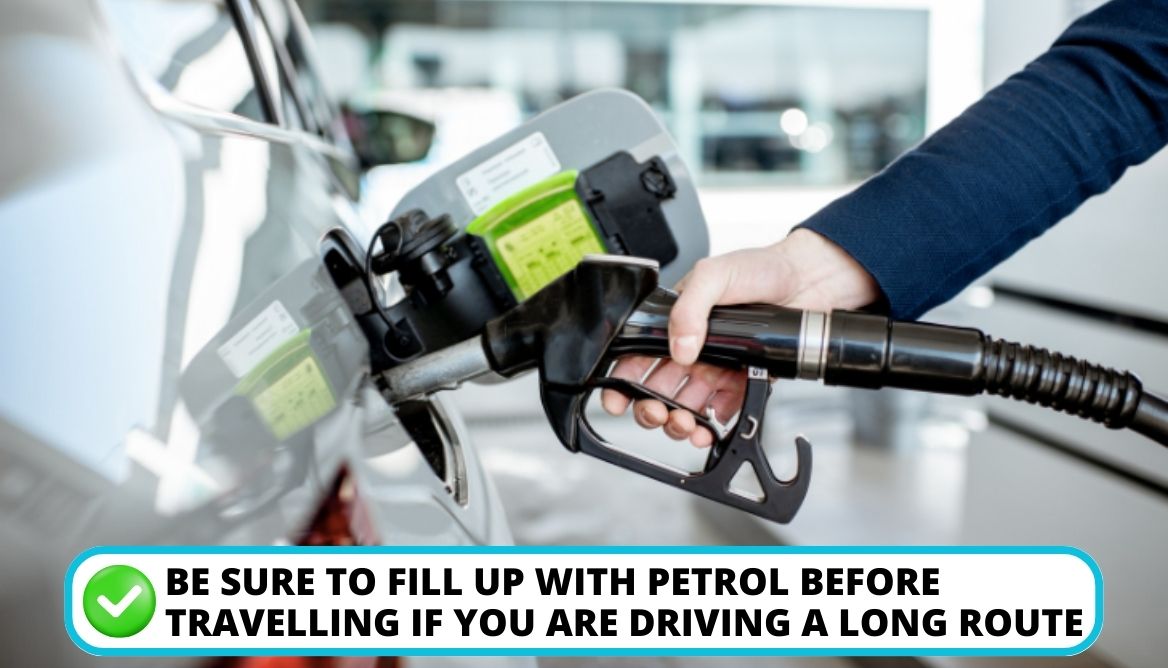 Plan your Travel: First of all, Plan Your travel by choosing your preferred route, and scheduling your time along with your available resources such as fuel and the vehicle you are using.
Travel Season: Also, take note of weather conditions by checking recent forecasts and traffic conditions before getting on any of the routes. Although the best time to travel these routes is in the summer.
Vehicle Condition: Make sure your vehicle is in good condition for a long drive especially if you are driving through US 101. Also, check the oil, tires, brakes, and all fluids.
Road Safety: ensure you always wear your seatbelt and avoid using your phone while driving. don't forget to take breaks every couple of hours to rest and stretch remember fatigue can cause an accident.
Travel Documents: If you are driving yourself, please don't forget your driver's license, registration, insurance, and any necessary permits or passes. If you are not a resident, then keep your identification, passport (if necessary), and any other travel documents required with you.
Pack all essential items: Put things like a first aid kit, flashlight, basic tools, spare tire, and jumper cables in your vehicle in case of uncertainty. Also pack your personal belongings such as extra clothes for different weather conditions, medications, and personal hygiene items.
Pack enough Edibles: Make sure you pack enough food, drinks, and snacks along with you because you might not easily come across vendors along the highway, and also avoid frequent stops on the Interstate lane.
Accommodation: As a tourist, you will need accommodation if you plan to stay overnight to enjoy more sightseeing. So make reservations ahead because there might be scarcity, especially during peak season.
Charge your gadgets: Make sure all your mobile devices are fully charged and use GPS to help you navigate your way. You can also download maps for offline use in case you lose signal in remote areas, especially on Route 101.
Enjoy your travel: Utilize your opportunity if you are passing through 101 by visiting interesting places along the route. You can do research ahead of your journey about the most important ones to avoid wasting your time.
Fuel up your vehicle: Ensure you fill up your gas tank before hitting the road especially when you are driving through the longer route. Always keep an eye on your fuel levels, whenever you are in the urban area to fill up. You might not see a fuel station close by in more remote areas.
Obey traffic law: Take note of and follow local traffic laws, Road signs, speed limits, and any unique driving customs in different areas.
Keep emergency contacts andy: Share your travel itinerary and contact information with a trusted friend or family member in case of emergencies. Also, write out some important contacts on paper and keep them where anyone can see them in case of accidents.
Entertainment: Make sure you take along with you entertainment clips such as audiobooks or podcasts, and activities to keep you occupied during the drive.
Be Flexible: Road trips are sometimes open to detours and unexpected discoveries. So, prepare your mind for the unforeseen.
FAQ
Does 101 go through San Francisco?
Yes, Route 101, commonly referred to as Highway 101 or US 101, goes through San Francisco. This is a major north-south route on the highway that runs through the city and international airport and continues along the California coast.
Is it 5 or 101 from San Francisco to Los Angeles?
You can use both Interstate 5 (I-5) and U.S. Route 101 (Highway 101) for a drive from San Fran to Los Angeles. Route 101 offers you a scenic coastal route but it is quite long, while I-5 is a more direct inland option but lacks coastal views.
Is there a lot of traffic on Highway 101 or 5?
Traffic conditions can vary on both routes depending on the time and day of the week, and some specific locations along both Highway 101 and Interstate 5. It is most likely there is heavy traffic on Interstate 5 because it cuts across major cities and metropolitan areas.
What time of year is best to drive from LA to San Francisco?
The best time of the year to travel on either 101 or 5 is during the summer season which is around June to September because there are fewer weather disturbances. You can also travel during late spring which is May and June or early fall which is between September and October.
Conclusion
Driving from LA to Sans Franssico can be a daunting task if you do not know which route to take. There are several routes leading to these locations but the most plied routes are Highway 101 and Interstate 5. You need to consider the distance, traffic, and driving time before you decide which one to take.
Highway 101 is a long route but it offers coastal views and it passes through a few urban areas a larger part is remote areas While 1-5 cuts across various metropolitan cities but offers less scenic views. If you are considering time and resource efficiency then Route 5 is the best, but if you decide to take a tour as a traveler, we would advise you to drive through 101.
Have you ever driven from Los Angeles to San Fransisco before? Let us know the route you took in the comment section. Thanks for your response!