Happy Wayfarer is reader-supported. When you buy through links on our site, we may earn an affiliate commission.
If you have a long journey ahead of you and are torn between taking the I-95 or I-75 to Florida, then worry no further. To help you choose this article I will outline the differences between the two roads, their features, traffic, attractions, and so on. Without further ado, let's get straight into it!
Definition of an Interstate Highway
An interstate highway is a major road connecting massive cities designed for fast, long-distance travel.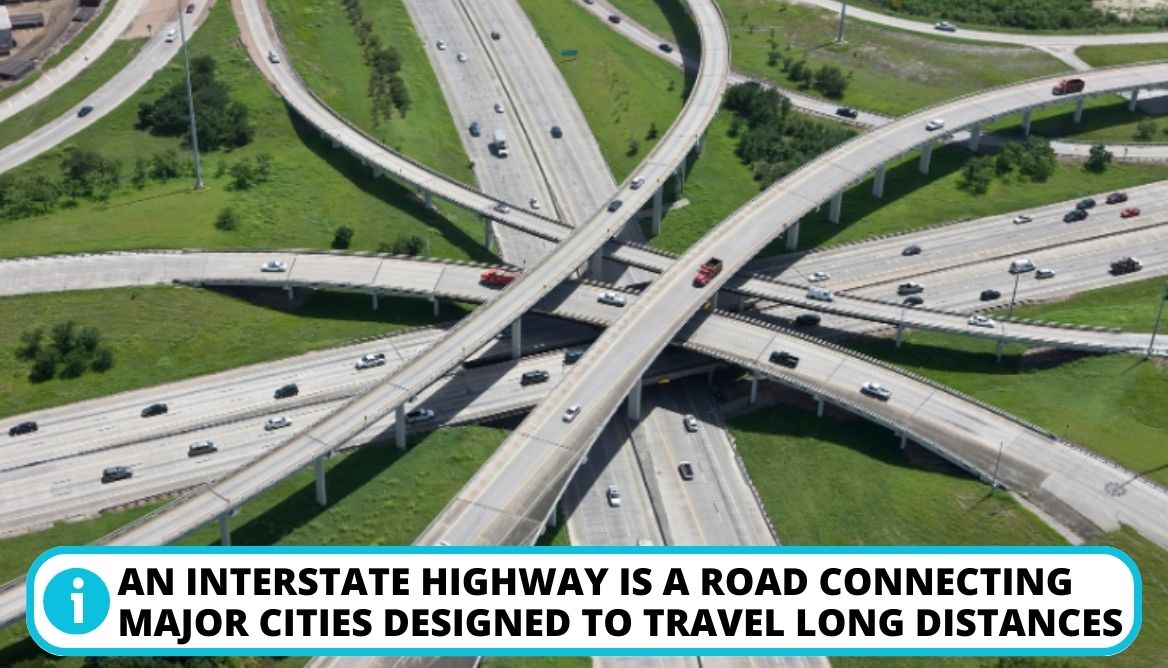 These roads bear unique numbers to help users identify them.
The numbering system may be a little baffling until you understand it.
Roads running from the north to south bear an odd number, while those traveling from the east to the west have even numbers.
Finding the most significant roads ending in a five or zero is common.
Additionally, these roads handle significant traffic volumes.
I-95 or I-75 to Florida: A Quick Comparison
The I-95 and I-75 can take you to your destination. However, they bear certain distinctive qualities. Let's review these contrasting characteristics.
| | | |
| --- | --- | --- |
| | | |
| | | |
| | Undergoes regular construction | Experiences less construction |
| | | Faster than the counterpart |
| | More interesting and enjoyable | |
| | | |
| | | |
I-95 vs I-75 to Florida Road Attractions
When it comes to road sceneries, both routes are well-versed. There are numerous breathtaking attractions that you will encounter during your trip to Florida. Let's highlight some of these sites for both roads.
I-95
When driving on the I-95, you will notice several appealing features. Here are a few scenic sites to be on the lookout for: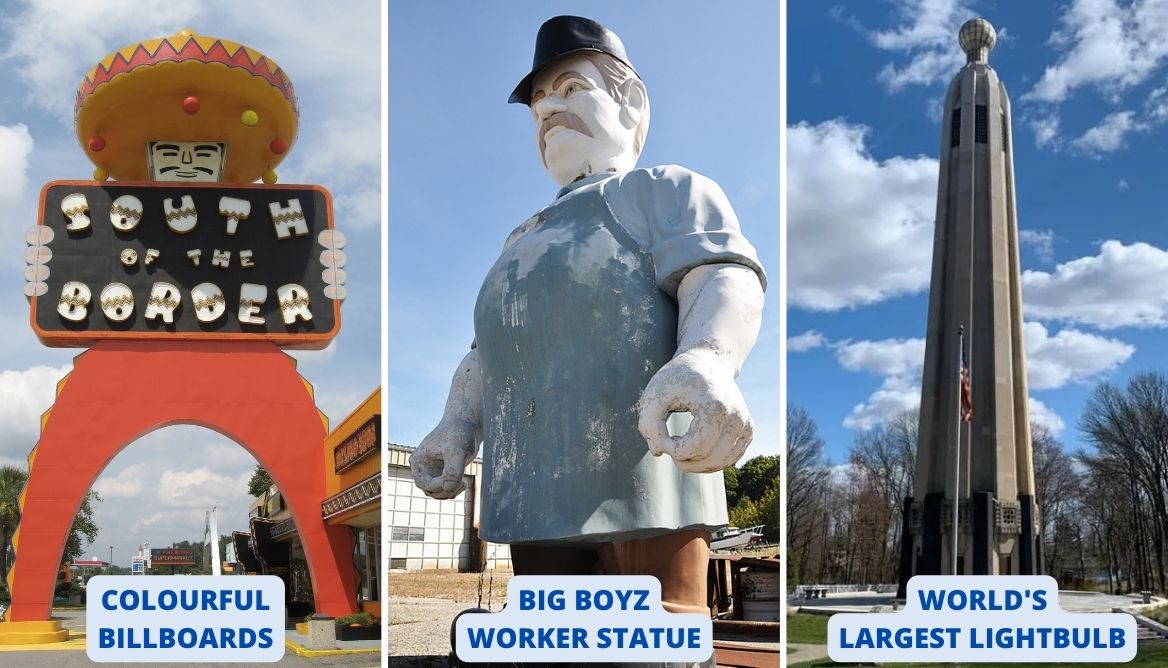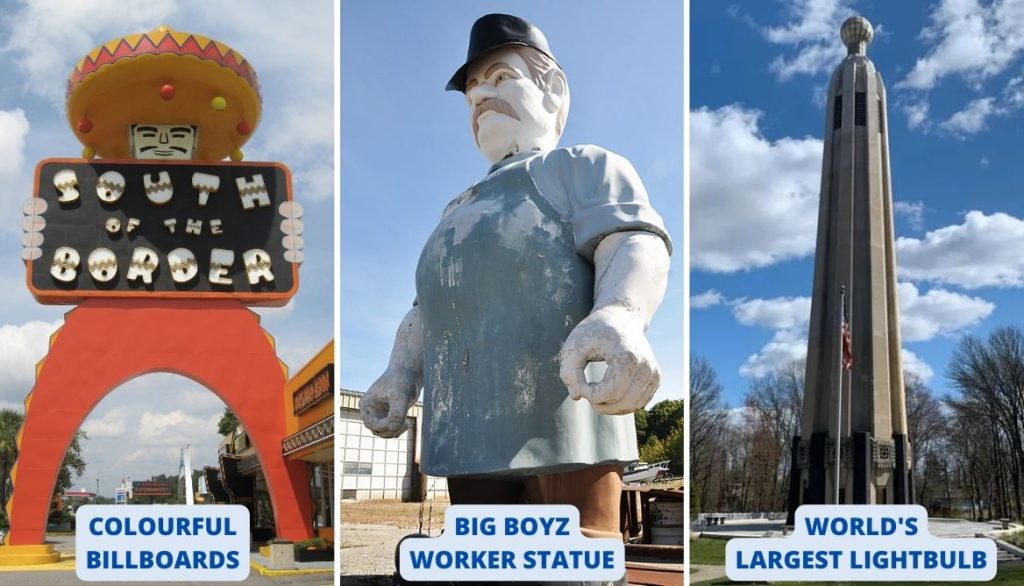 South of the Border (Dillon, South Carolina): This location features colorful billboards and multiple kitschy shops. It makes for decent rest stops and a picture background.
Big Boyz Worker statue: If you have an eye for aesthetics, don't miss this statue outside the Big Boyz Cycles.
World's Largest Lightbulb: One of the most remarkable features you run into is a 14-foot-tall light bulb. If you drive through this route at night, you'll get a front-row seat to see it lit up.
I-75
The route on the Interstate 75 highway also features sites your eyes can feast upon. However, accessing some of these locations may require a small detour.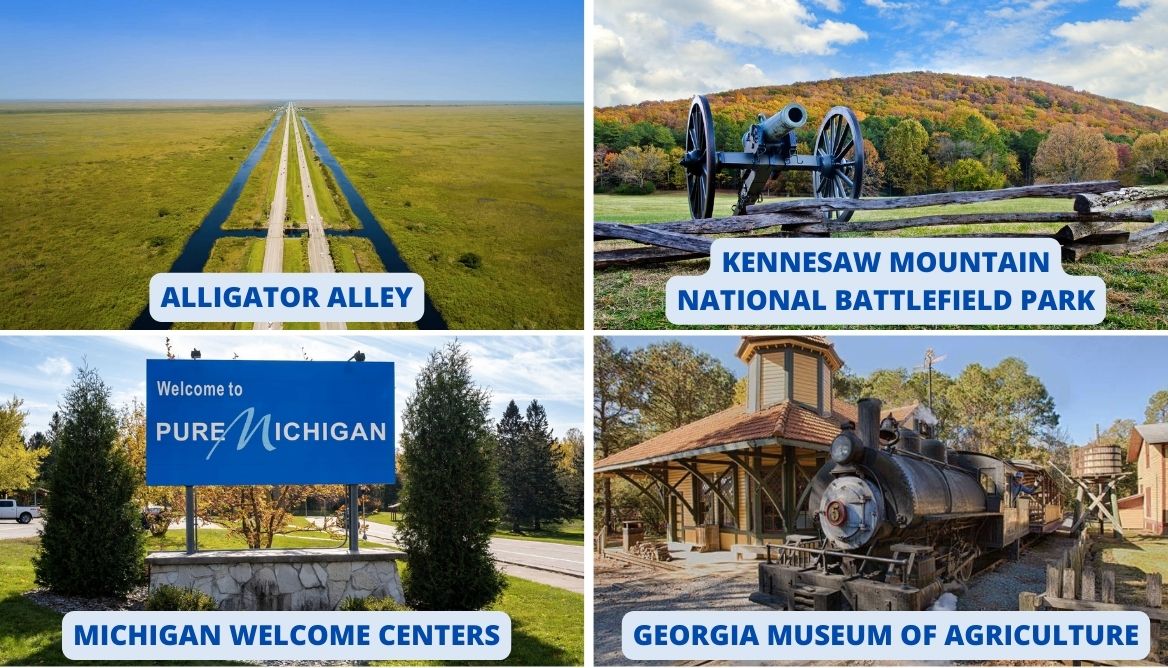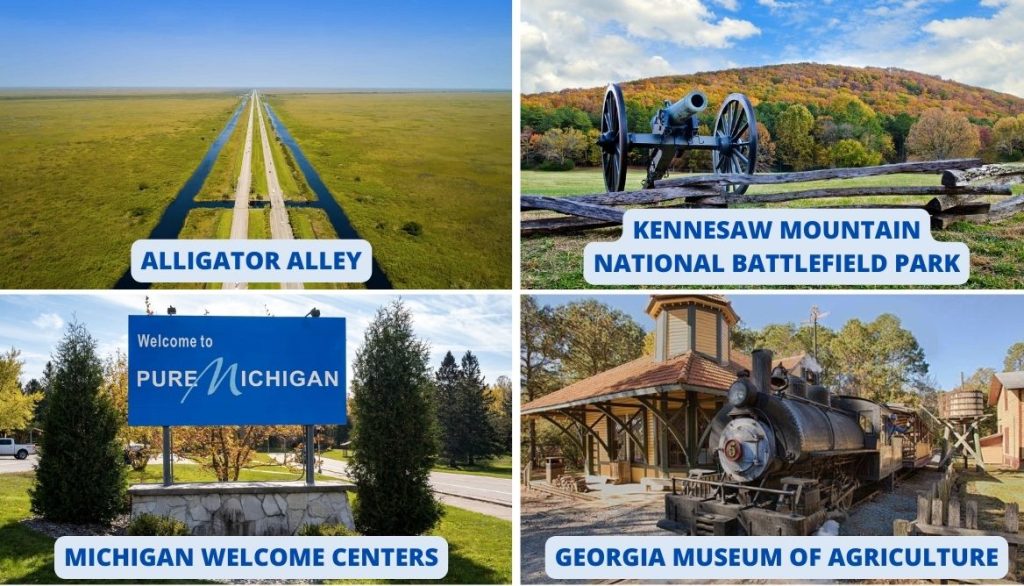 Alligator Alley (Florida Everglades): If you cruise through the Everglades, observe alligators in the canals near the highway.
Kennesaw Mountain National Battlefield Park (Kennesaw, Georgia): If you are familiar with history, you are in luck. The Kennesaw Mountain provides a historic site that witnessed the great civil war.
Michigan Welcome Centers: Speaking of that detour, roll into Michigan and observe several scenic sites from Michigan Island to the Michigan State Park.
Tifton, Georgia: Tifton is popular for its splendid agrotourism attractions, including theGeorgia Museum of Agriculture and Historic Village.
I-95 or I-75 to Florida: Comparison Between the Two Roads
These roads go through different parts and offer unique journeying experiences. Here's a detailed outline of paths followed by each interstate.
The Interstate 95 Path Through West Palm Beach East Coast Florida
The I-95 route connects many states. It will take you straight to the biggest city in the state, Miami.
The road passes through downtown Miami, intersecting with other major roads like I 395. It proceeds northwards, passing cities like North Miami, Hollywood, and Fort Lauderdale.
This route then proceeds into Palm Beach County, traversing through cities like Lake Worth and Delray Beach. The route lets you access South Florida.
It then goes through Martin and St. Lucie Counties, providing a route to coastal communities like Stuart and Port St. Lucie.
The route also covers the Indian River and Brevard Counties, offering access to cities such as Vero Beach, Melbourne, and Palm Bay.
Through that ordered listing, you would think this road is perfectly capable of the journey. However, read on to get insights into the route followed by the I-75 before deciding.
The Interstate 75 Path: West Coast Florida
While this major road also links several big cities like its counterpart, it is located on the western side.
The I-75 enters the southern terminus in Miami from Georgia. It intersects with other local highways and provides access to the Miami metropolitan area.
This road can take you to Tampa. You can use the bypass route if you don't wish to interact with the traffic you will likely encounter.
To get to Miami, you'll travel the south of Tampa until you see Fort Myers. There, you'll take a left towards Miami.
Keep cruising through the I-75 until you hit Fort Lauderdale. Here, you'll observe the I 95 and I 75 intersecting. From Fort Lauderdale, Miami is a stone's throw away.
I-95 or I-75 to Florida: Which One Is the Fastest Route?
From Miami to Jacksonville, the I-95 stretches up to 344 miles. However, on the I 75, it is a 378-mile drive to Miami from Lake City. Furthermore, it's a smooth ride south to Miami on the I-95 from Jacksonville. Using the I-75 route will force you to pass through Orlando.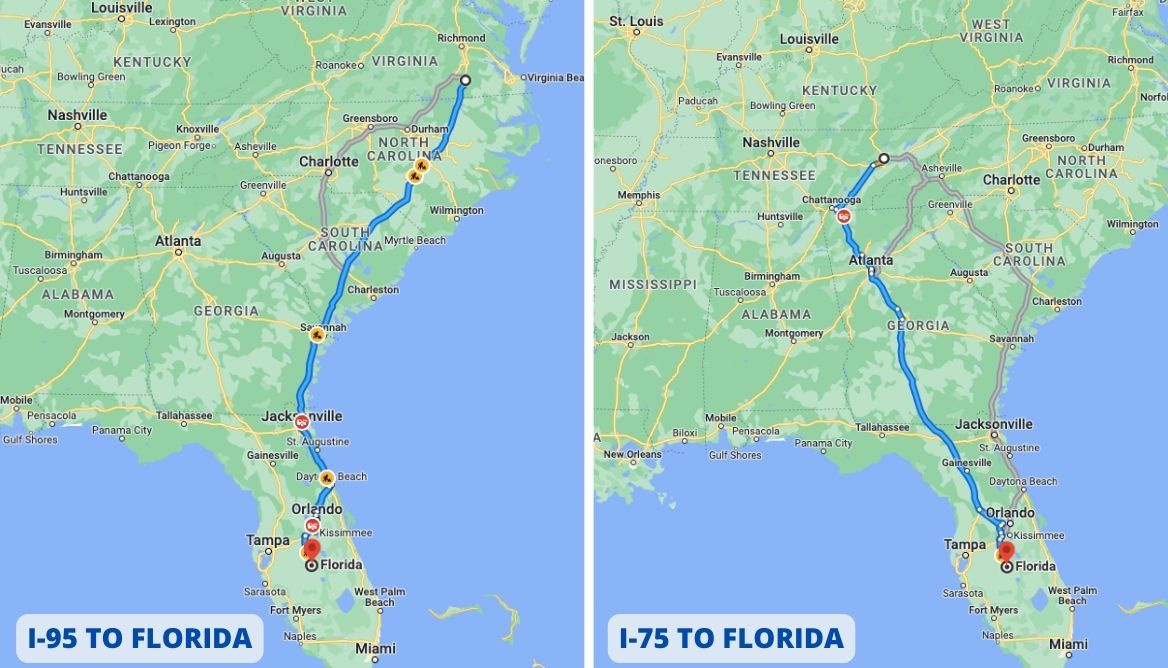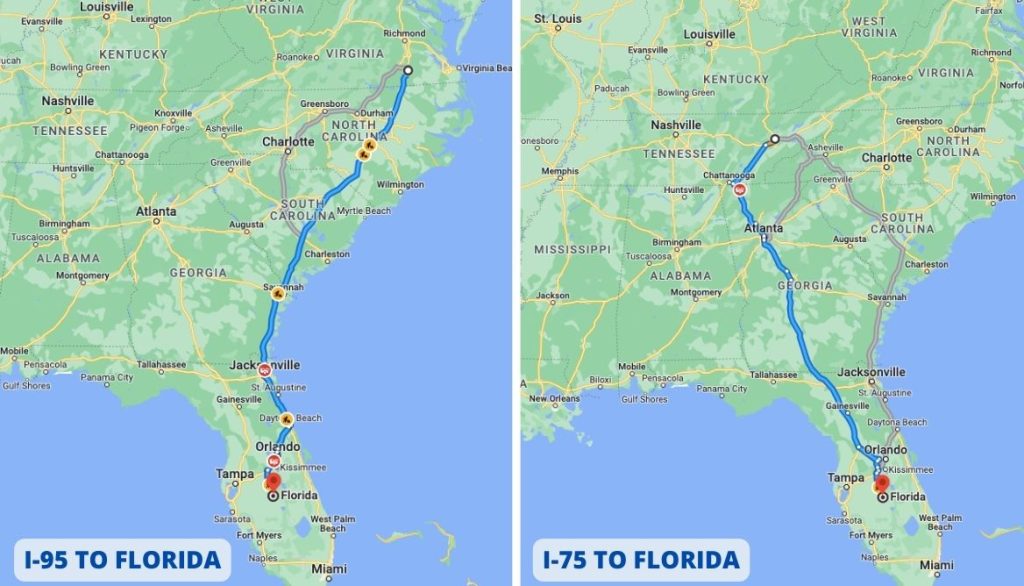 So, if you are pressed for time, the fastest and best route to ply is the I-95. Additionally, we have to factor in traffic. Traveling through the I-95 doesn't demand you pass through significant cities. Hence, you can elude the traffic.
A Shorter Substitute
Despite these efficient roads, there is a shorter route with minimal traffic you can ply to get to your destination quicker through Buffalo and Naples, FL. This road traverses the Mountains of West Virginia and then proceeds East to the I-95. This straight route is a quick path to Florida.
I-95 or I-75 to Florida: Which is the More Fun Route?
If you want to have an enjoyable time while driving, the I-75 is a better route to follow. It links more vibrant major cities and runs beside the sea. Its location gives you a better view of the water attractions, too.
I-95 or I-75 to Florida Which is the Better Option to Go With?
Considering all the factors we have outlined, these two roads offer multiple benefits to travelers. However, we recommend the I-95 as the best route overall. This is because: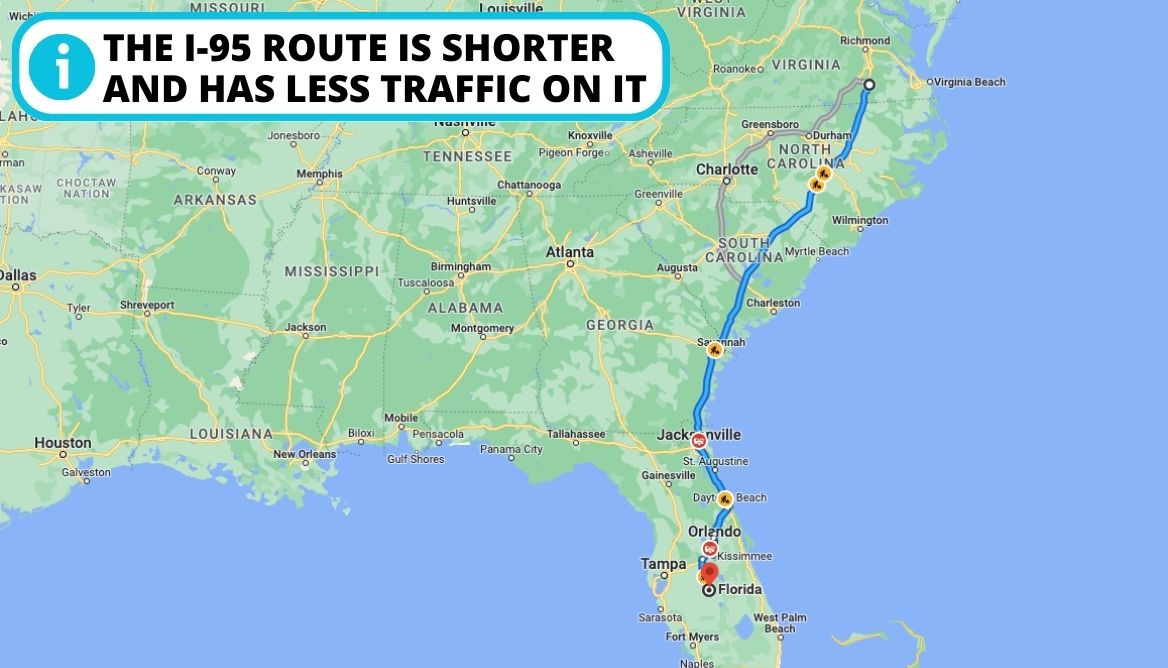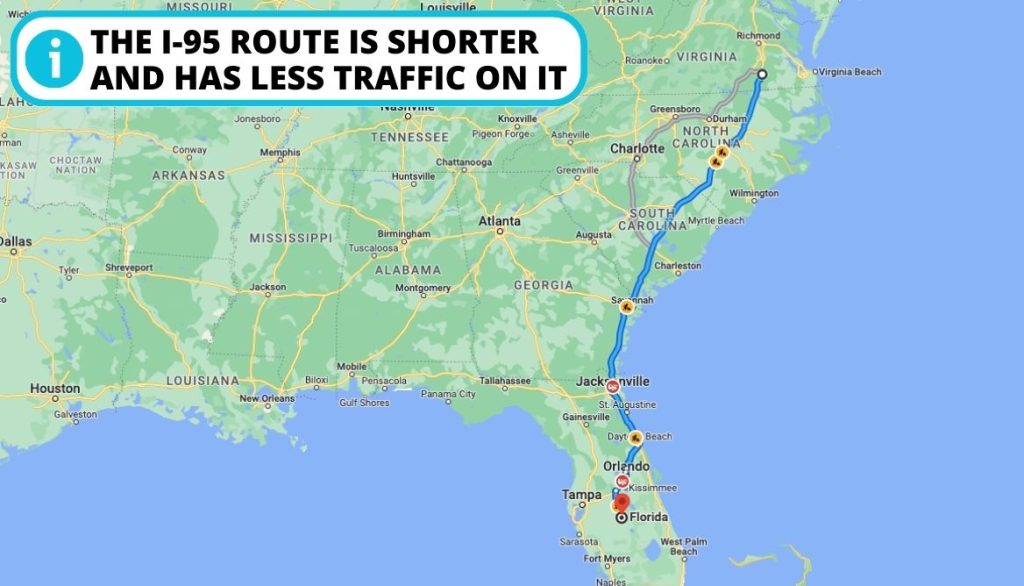 It is shorter than the I-75;
Experiences less traffic;
The route is riddled with beautiful scenery.
FAQ
Does I-95 Go Through New York City?
No, the I-95 route doesn't go through New York City's heart but bypasses it to the east. However, both of them are connected by intersecting highways.
What Cities Are on I-75 in Florida?
The I-75 passes through many major cities in Florida. They include Lake City, Gainsville, Ocala, Fort Myers, Miami-Dade County, Tampa Bay, and Naples.
Are There Any Tesla SuperChargers Along the Route?
Yes, there are Tesla superchargers along the I-95 route. You can now travel for long distances without worrying about power.
Is I-75 the Same As the Florida Turnpike?
No, the I-75 route isn't the same as the Florida Turnpike. While both are major highways, they are separate and bear varying features.
How Many Lanes Is I-75 in Florida?
I-75 in Florida has eight lanes as it circles Miami Lakes towards the western parts of South Florida.
Conclusion
That's all we rounded up on the I-95 or I-75 to Florida routes. These roads will cater to your trip and ensure you arrive in Florida. They bear distinguishing features that often spark the debate on the best route.
The I-95 route is shorter, making it suitable for when you are in a rush. Additionally, you'll avoid traffic. The I-75, on the other hand, is the perfect route to ply if you want to observe nature's beauty. It cruises along the sea and has multiple sites like the Alligator Alley and Tifton in Georgia. However, the best overall route we recommend is the I-95 due to its versatility.
Let us know in the comment section below if you have any extras on the I-75 and I-95.