Happy Wayfarer is reader-supported. When you buy through links on our site, we may earn an affiliate commission.
Have you ever been issued a passport or national identity card for travel by any other country? You must be wondering what it exactly means!
To make it easier, a valid passport or NIC can serve great benefits such as identification, legal entry, smooth travel, and access to services when it comes to traveling abroad.
This article has all the necessary information from the processing time frame, and the difference between passport & ID card, to expedite the process. Let's get started!
Processing Time for Passport or NIC
The commencement of processing time for all passport services is based on the day your application is received by a passport agency or center.
Please note that passport delivery times may differ by country and may take longer than the advertised timeframe due to postal processing requirements.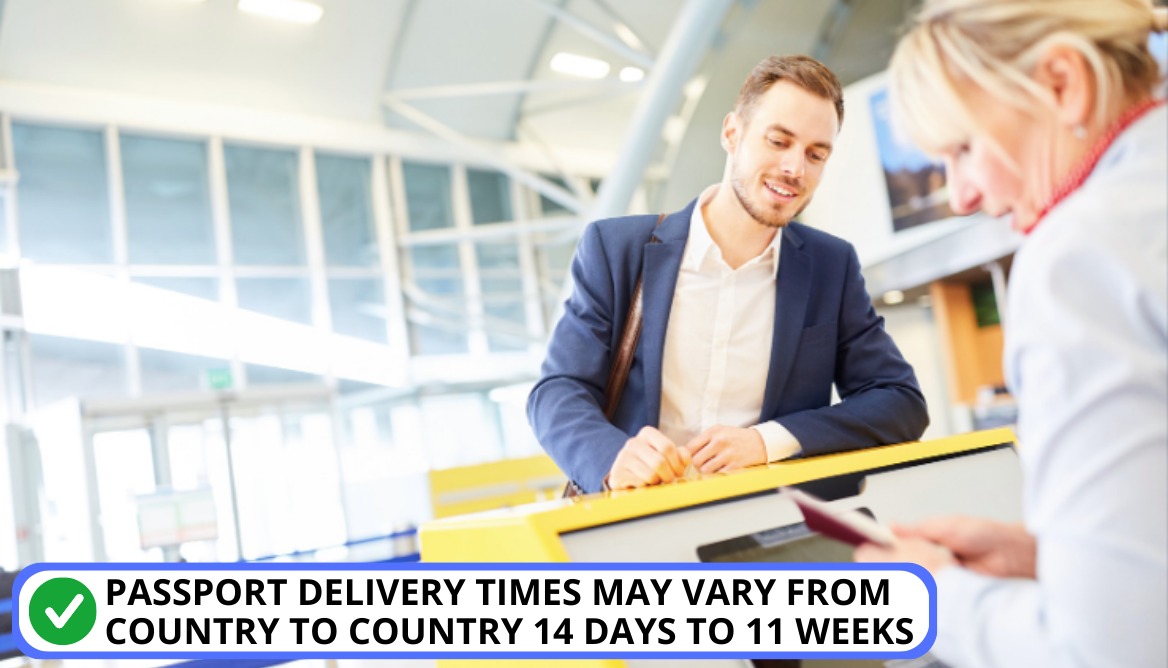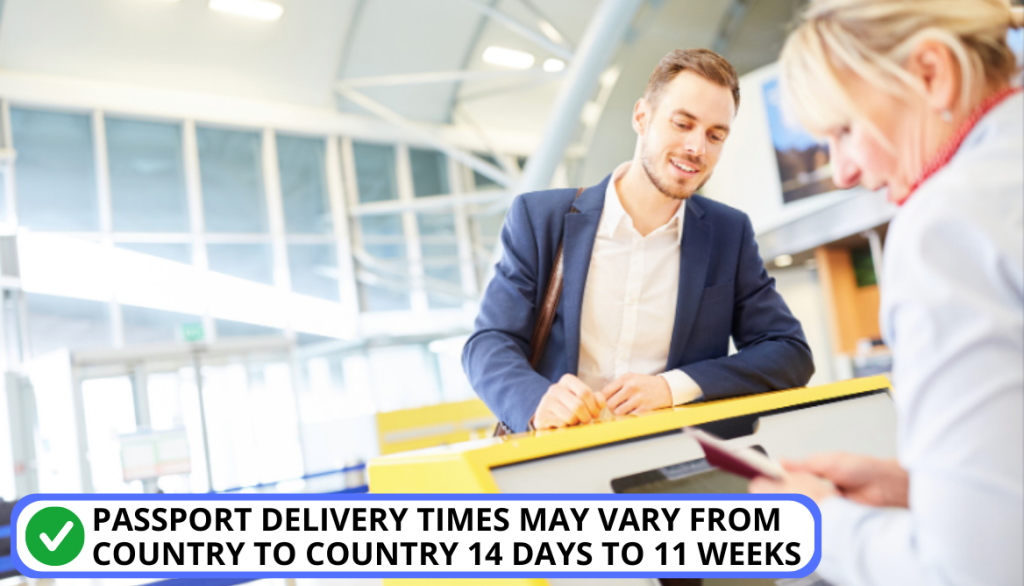 Below is the standard processing timeframe:
| | |
| --- | --- |
| | |
| | |
| | |
| | Requires International Travel within 14 Days of Calendar |
Foreign Country Embassy or Consulate in the US for Passport or ID Card Renewal
Foreign nationals who wish to renew their previous passport or NIC at the respective embassy or consulate in the United States should follow these steps: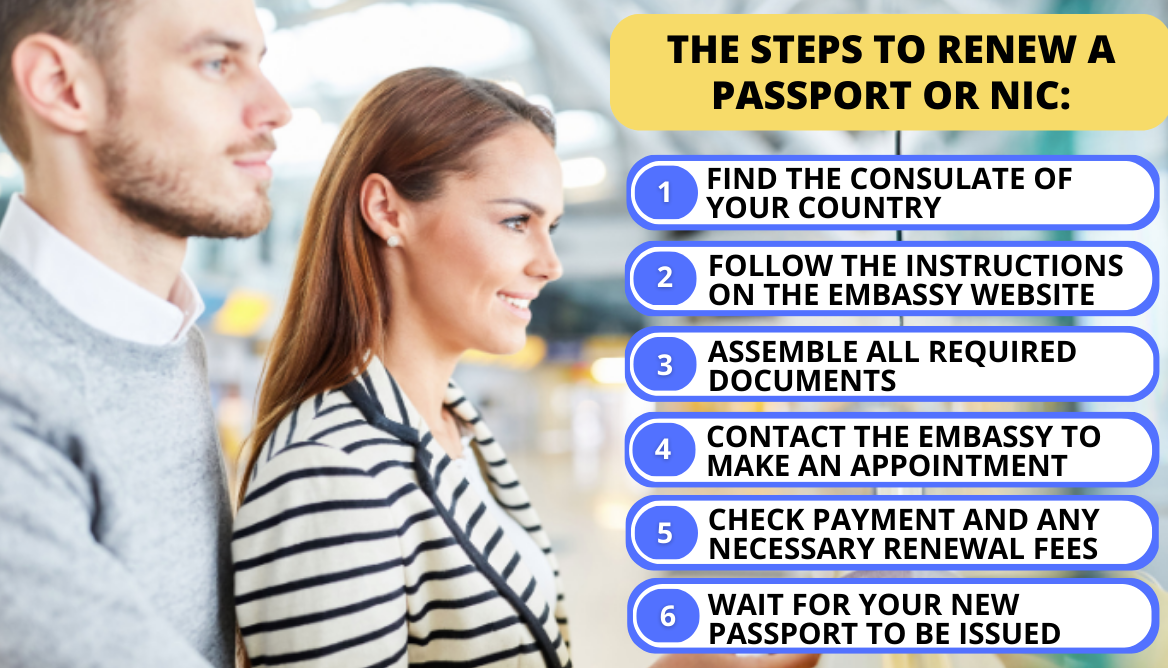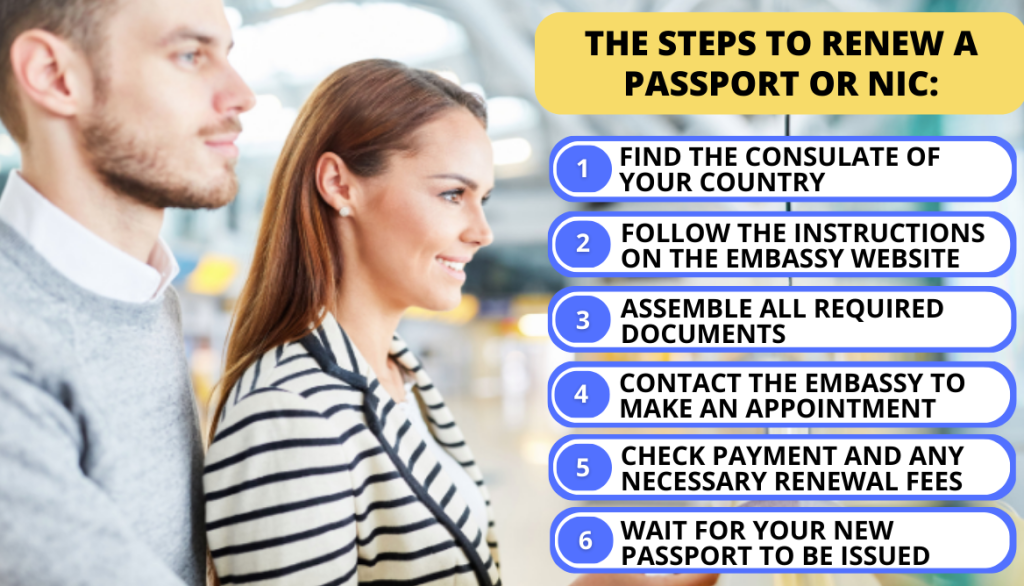 Locating Embassy: Locate the consulate or embassy of the home country in the US. This information can typically be found on the embassy's website or by contacting the embassy directly.
Follow Instruction: Check the embassy or consulate's website for instructions on how to renew their passport or NIC. Many embassies and consulates require an appointment in advance and certain documentation, such as proof of U.S. residency and a current passport or NIC.
Document Collection: Collect all necessary documentation, including the current passport or NIC and any other paperwork such as previous employer job title documents, and birth abroad certificate.
Appointment: Contact the embassy or consulate to schedule an appointment. It's best to call or check the website for appointment information.
Check Fees: Attend the appointment at the embassy or consulate, bringing along the current passport or NIC and any applicable fees for renewal.
Wait for Issuance: Wait for the new passport or NIC to be issued. It's important to check with the embassy or consulate regarding the processing time for the document.
Note: If clarification is needed on how to renew the document, it's best to contact the embassy or consulate of their home country in the United States.
Passport and an ID Card – Differences
If you are a U.S. citizen living abroad and trying to decide whether to apply for a passport or an ID card, it is important to understand the differences between the two.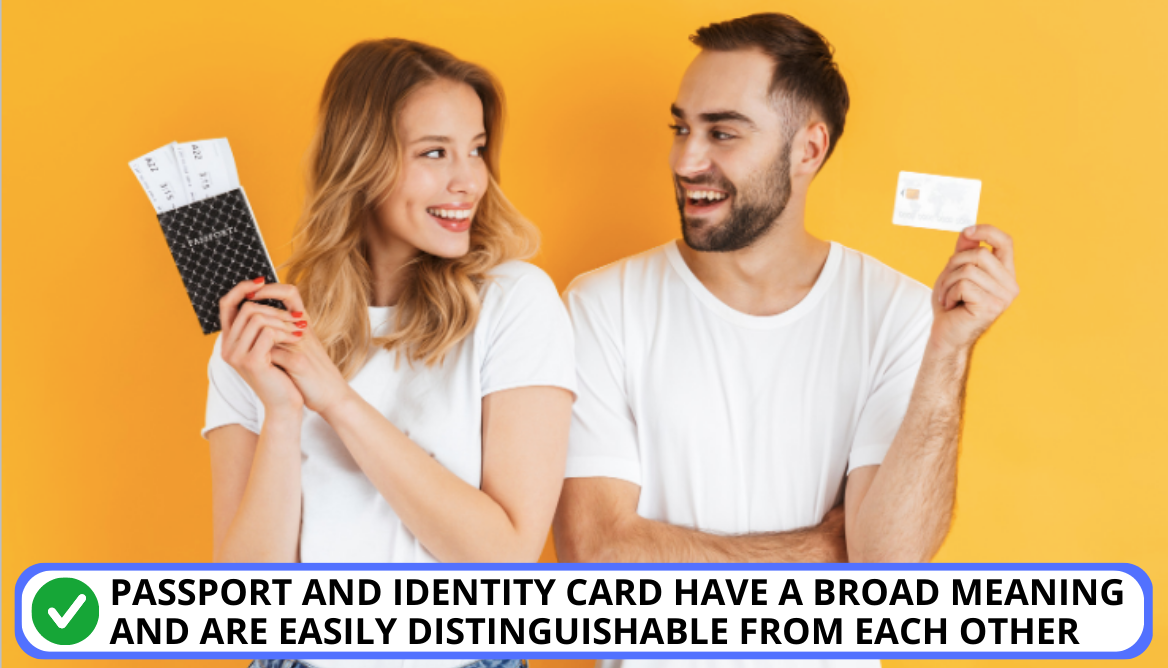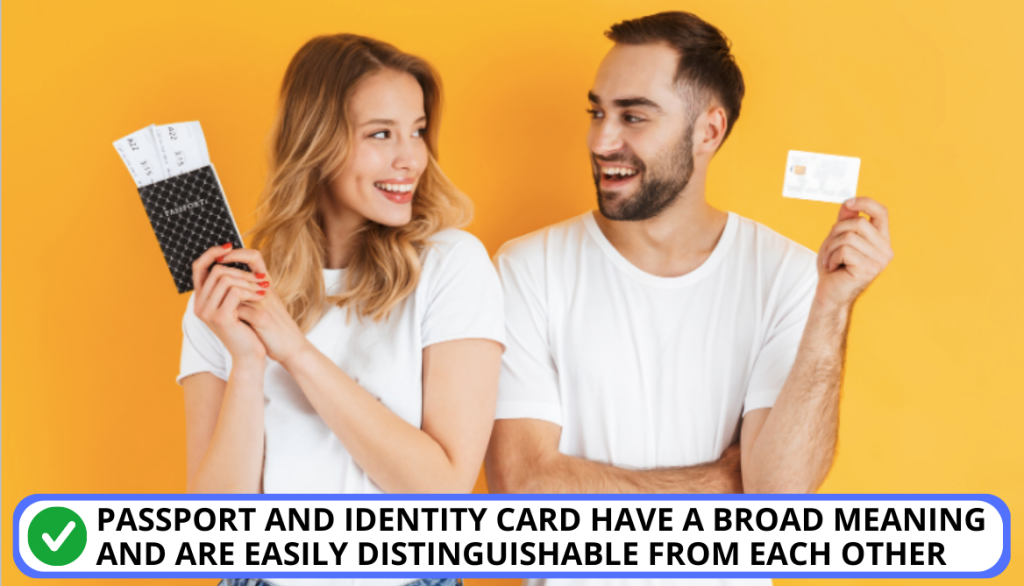 Continue reading for details:
1. Description
Both, a passport and an ID card have extensive meaning. It is easy to differentiate between them if you read the contents carefully mentioned below.
Passport
Passports come in two different lengths, a 32-page booklet known as the ordinary passport and a 66-page booklet referred to as the longer passport or business passport. Each page of the passport has a designated area for a visa or stamp.
ID Card
An ID card, which is small and approximately the size of a credit card, serves as a means of identification and can be easily stored in a wallet or handbag.
Since august 2, 2021, ID cards for individuals aged 12 and above from various nationalities started including fingerprint copies and a QR code for a citizen service number.
2. Cost
The cost of a passport and an ID card vary from country to country. Please refer to the table below which shows the cost of passports and ID cards in some countries.
Passport
Obtaining a passport generally costs more than getting an ordinary ID. The cost of a passport application in the United States may differ between states.
If submitting a US passport application outside of the United States, payment may need to be made in the local currency instead of dollars.
ID Card
ID cards are generally less expensive than passports. The cost of applying for a US ID card may vary depending on the municipality in the United States.
If you submit your US ID application from outside of the United States, you may need to pay in the local currency instead of in dollars.
3. Logging in Using ID.me:
Various government agencies, healthcare providers, and financial institutions use a digital identity platform called ID.me for secure online authentication and verification to prevent fraud and ensure the identity of individuals and organizations.
Passport
You can use iD.me and a passport to log in to certain websites or services that accept these forms of identification.
ID Card
If your ID was issued on or after January 4, 2021, you can log in to official resources, such as government-run websites, using ID.me. However, if you apply for an ID without a citizen service number or passport number, you will receive a temporary ID card that can only be used for login purposes.
4. Collecting in Person
There are certain ways of collecting a passport or an ID card. Collecting in person before the expiration date is the most preferable way.
Passport
If the mail system of your nation can be reliable, your passport can be mailed to you. That's the norm, actually. If not, then you must personally get your passport from the embassy, consulate-general, or external service provider to where you first applied.
ID Card
For safety reasons, you must personally acquire an ID card from the embassy, consulate-general, or external service provider to which you filed an application. If your area's mail delivery service is secure and has no restrictions, you can have your ID card sent to you through the mail.
5. Children Under 18
In many countries, there are age restrictions. Below are the standard legal age frames for each.
Passport
Anyone above the age of 18 can apply for a passport without their parents/family members' consent.
ID Card
After the age of 12, children can apply for an ID card without their citizen parents' consent.
6. Countries to Use ID cards and Passports In
There are certain conditions to using an ID card or a passport in various countries.
Passport
A passport is required for entry into any other country. You should find out how long your passport must be valid and if a visa is necessary when you plan on traveling internationally.
ID Card
See the list of countries that recognize the USA ID on the USA.gov website. Also, be sure to find out how long your identification card needs to be valid and if a visa is necessary before leaving the country.
Passport or NIC from the US After Applying – Receiving Effectively
There are several ways to obtain and track a passport or NIC in the United States.
For a passport:
To inquire about the status of your passport application, you have two options: you can either call the National Passport Information Center at 1-877-487-2778 or visit the Department of State's website.
After your passport is prepared, you have the option to either have it delivered to you by mail or to collect it in person at a Passport Acceptance Facility (PBF).
If one opts for mail delivery, it typically takes 10 business days to arrive.
For a NIC:
You can monitor the progress of your NIC application by checking the website of the agency where you submitted your paperwork.
If you applied at a government office, you may choose to have your NIC mailed to you or pick it up in person once it is available.
Keep in mind that processing times for passports and NICs can vary depending on the number of applications and other factors. Applying early can help ensure that you receive your document number when you need it.
Passport or NIC Applying Cost
The fees for applying for a passport or a National Identification Card (NIC) differ from country to country.
In the United States, the application fees vary from $95 to $1,125, depending on the priority of your application. An adult passport book now incurs a total fee of $145, consisting:
$110 application fee
$35 execution fee.
If time is critical, there is an option to pay extra to expedite your passport application.
To obtain the most current information on passport or NIC application fees, it is advisable to visit the official website of your country's government or passport agency.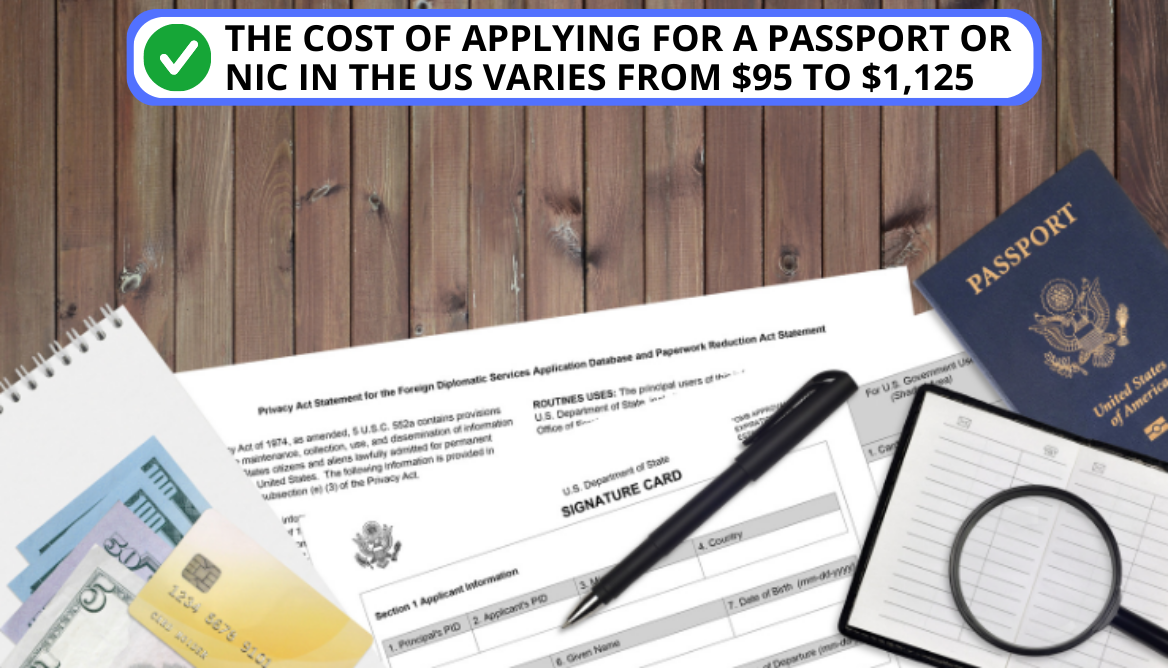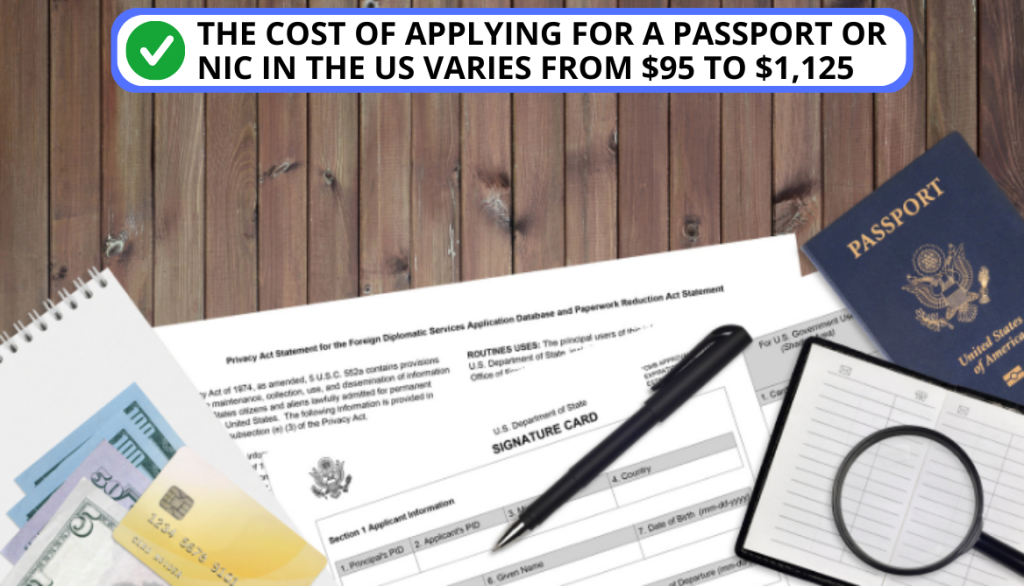 Expediting the Processing of a Passport or NIC Application
If you require speedy processing of your passport or NIC, several options are available to you. The alternatives include:
Expedited processing service: You may choose the expedited processing service, which is offered by most countries for passports. By paying an additional fee, you can significantly reduce the processing time.
Schedule an appointment: If you need your passport quickly and don't want to wait for the expedited service, you can schedule an appointment with a regional passport agency. Although some services can expedite passport applications within 24 hours, they may require proof of emergency travel with emergency contact information.
Courier services: Expedited courier service is also available in various countries to deliver your passport or national identification card more quickly. This service can be beneficial if you need the paperwork quickly but are unable to collect it in person.
It is always advisable to apply for your passport or NIC as soon as possible, regardless of the application method you choose, to avoid any unforeseen delays.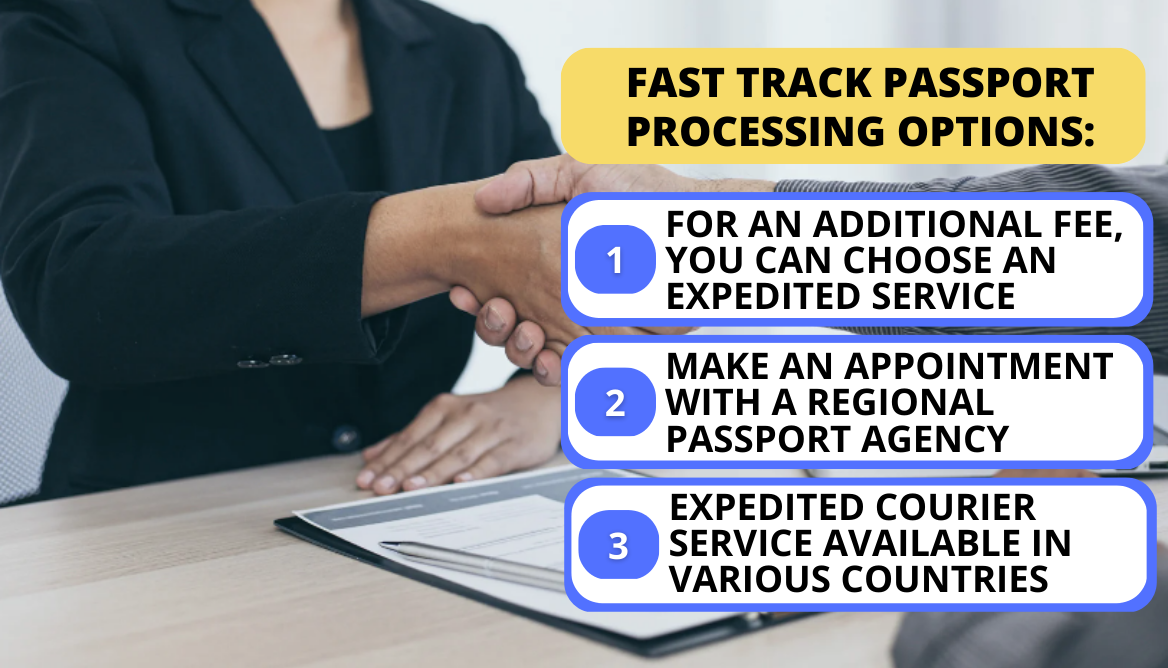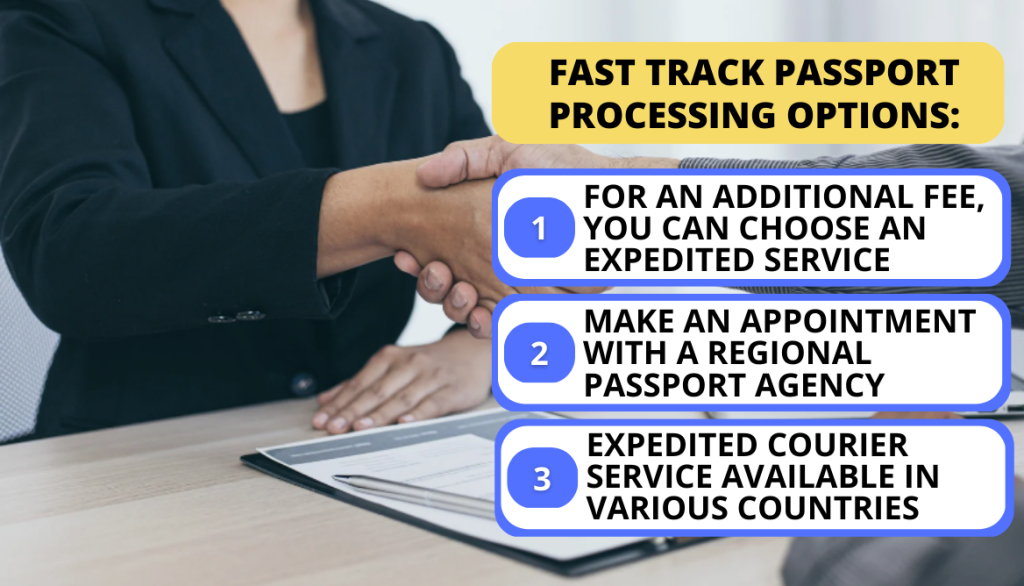 Requirements or Restrictions for Obtaining a Passport or NIC for Travel to Certain Countries
When applying for a passport or NIC to visit certain countries, there may be specific requirements or limitations based on your country of citizenship or origin. Here are some common prerequisites and restrictions to keep in mind:
Validation: Your passport or NIC must be valid for at least six months after your intended departure from the country you're visiting, although some countries may require a longer validity period.
Visa Requirements: Some countries require a visa for entry, which can involve submitting a detailed itinerary, providing evidence of funds, passing a criminal background check, and meeting other criteria.
Vaccination Proof: Proof of vaccination against certain diseases may be required for entry to some countries, such as yellow fever or COVID-19.
Criminal Record: A clean criminal record may be required for obtaining a visa or entering some countries.
Political Stability: Travel to certain countries may be restricted or prohibited due to political unrest, natural disasters, or security concerns.
It's important to research the specific requirements and restrictions for the country you plan to visit and to check the foreign affairs or travel department's website in your birth country for more information on required documentation.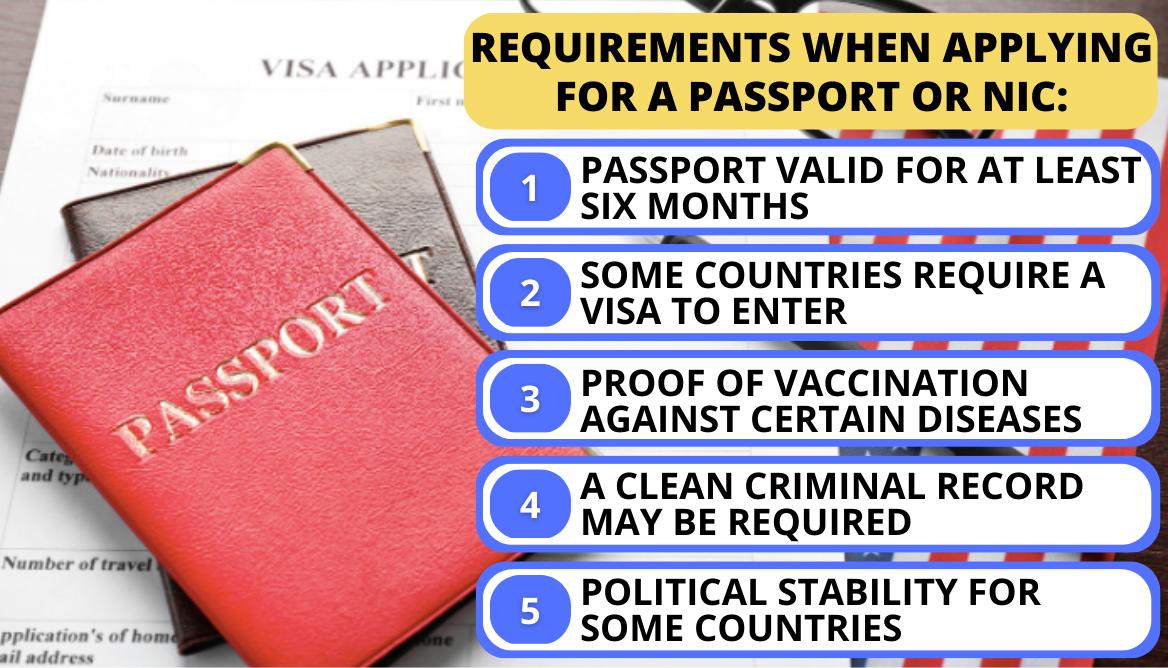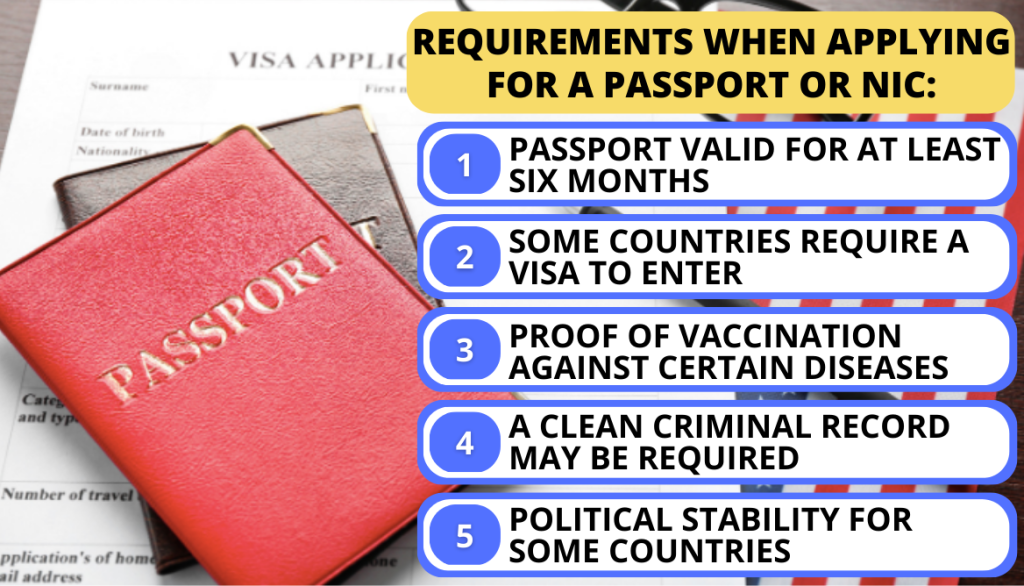 Is Visa in Addition Necessary to a Passport or NIC to Travel to Certain Countries
The requirement for a visa in addition to a passport or NIC varies depending on the country and your nationality.
Typically, a passport is the main requirement for entry to a country
Some countries also require a visa to be obtained before entry,
Visa involves providing personal information such as travel plans, the purpose of the visit, and identification details.
To determine whether a visa is necessary for entry to a particular country, it is advisable to consult:
The country's government website
Contact their embassy for a consular report.
Additionally, travel agencies or visa services may offer assistance with the visa application process.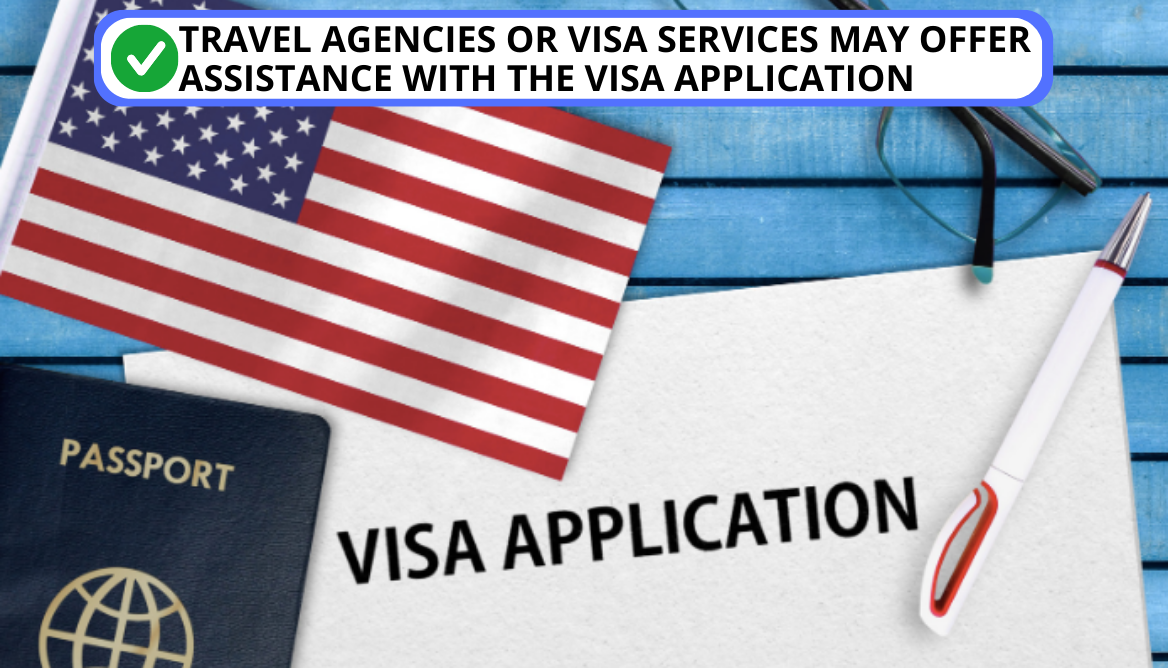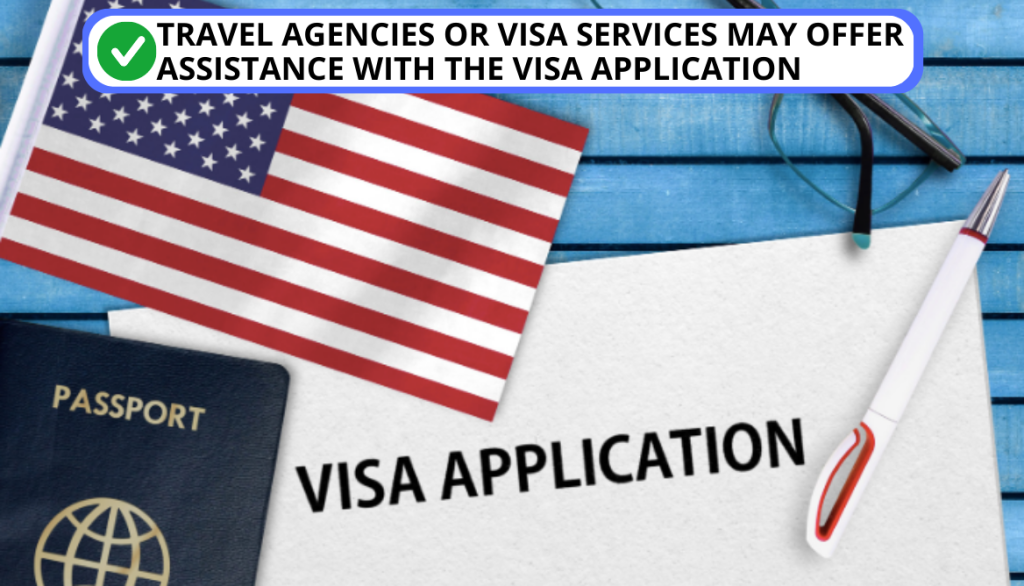 Have You Ever Been Issued a Passport or National Identity Card for Travel by Any Other Country – FAQ
What is the difference between a passport and an ID card?
The difference between a passport and an ID card is that a passport is required for only certain circumstances. For instance, if you are traveling on an international level. However, the ID card can be used anywhere in the country as proof of identification.
What does have you been issued mean?
"Have been issued" implies that the act of issuing has been finished at the present moment.
How do I know if my NIC is ready?
To know if your issued ID card is ready or not, you can contact the issuing agency or department in your state to inquire about your application status.
What is proof of identity for a passport?
To establish your identity for a passport application, you have several acceptable options. You may use an undamaged, valid, or recently expired U.S. passport book or passport card. Alternatively, a current and unexpired state-issued driver's license or an enhanced driver's license with a photo can be used. Another option is to provide a birth certificate or citizenship documentation.
Can I use my student ID for my passport?
No, using a student ID as a substitute for a passport is not allowed. This is because a passport is a formal document issued by the government that is necessary for international travel, while a student ID is an identification card issued by an educational institution to verify the student's identity and status.
Conclusion
You must have gotten familiar with the difference between a passport and an ID card. However, in some countries, a passport is the main source of identification; in others, it is an ID card. Having a passport issued opens the way to travel to many countries.
Have you traveled to any other country recently and faced any issues due to your ID or passport? Enlighten us with your experience in the comments section below!