Happy Wayfarer is reader-supported. When you buy through links on our site, we may earn an affiliate commission.
Summer is fast approaching so families are making vacation plans. People heading to Michigan for the first time are considering what to choose in comparison to Grand Haven vs South Haven. Both cities have numerous, top-notch activities so which should be your destination? We'll help you decide.
We will weigh what these towns offer, the facilities, accommodation, tourist sites, food, entertainment, and more. Read below as we dive into the parameters and give our verdict!
A Brief Summary: Grand Haven and South Haven
Popular summer vacation spots Grand Haven of Ottawa County and South Haven of Van Buren county are situated on the shoreline of Lake Michigan. These villages on the western coasts are the ideal vacation spot.
They provide a wide range of outdoor activities, iconic attractions, and mouthwatering cuisine. View this video to know what to look forward to when in Grand Haven and read the list below.
Beautiful Beaches
Old lighthouse
Bustling downtown
Coast Guard and other Festivals
Strolling on a Boardwalk
Swimming
Sunbathing
Water sports
A similar gorgeous town, South Haven, is about 52 miles south of Grand Haven. It has unique cultural and outdoor activities for tourists. Watch this video to know more about vacationing in this village and read the list of popular entertainment sites:
Hiking the Kal-Haven Trail State Park
Enjoy the area around the harbor village
Attend South Haven Art Fair
Visiting Galleries and Studios to explore the work of regional artists.
Both have a wide selection of boutique stores, eateries, and cafés, making them great places to buy and eat. Among the various establishments in the region, visitors may experience fresh fish, artisan beer, and locally produced veggies.
However, we will consider the following in order to know which town would be suitable for you. Let's see.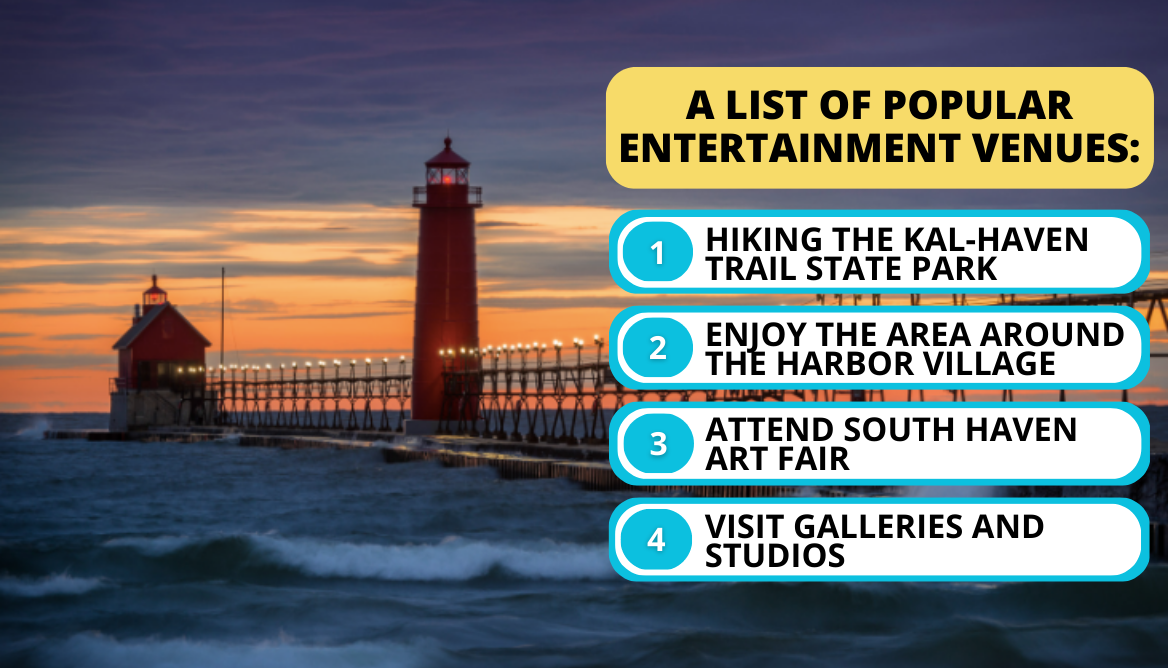 Location
It is crucial to consider the towns' locations while making travel plans to Grand Haven or South Haven. Think about:
The location of both towns in relation to where you're visiting from.
Which has an easier route from your home?
What transportation is going to take you there?
Which option is cheaper to reach?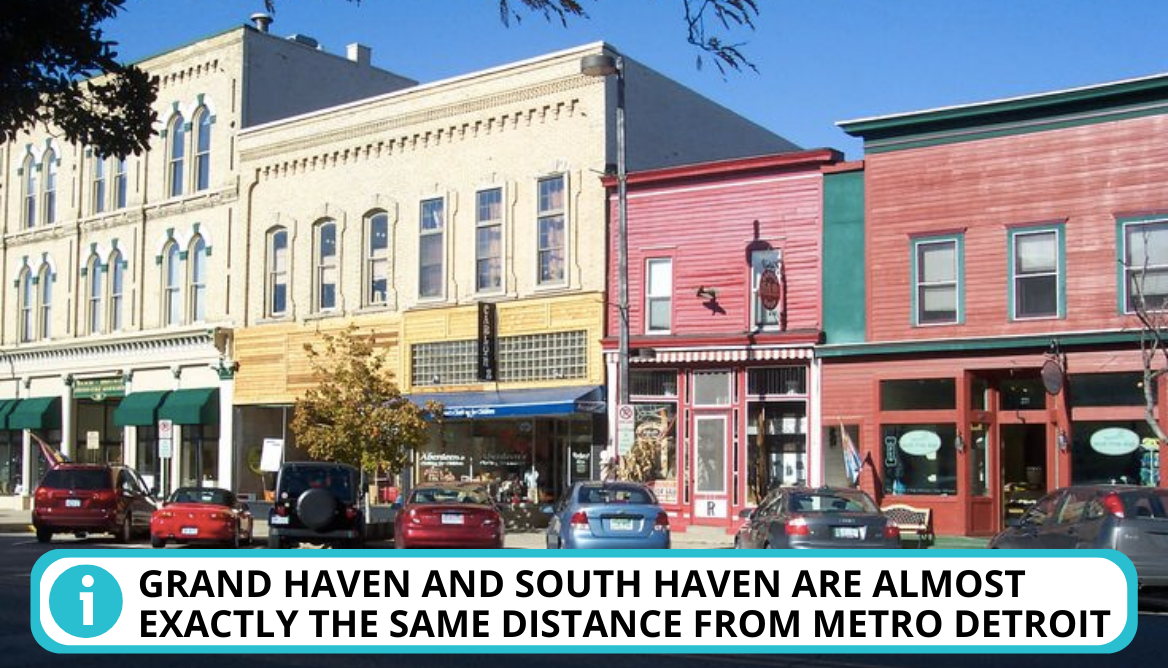 With that in mind read the facts about both cities below:
Distance between Grand Haven and South Haven: Despite sharing a lakeside site and similar destination names, the two towns are around 50 to 52 miles apart.
Location of Grand Haven: It is located approximately 34 miles west of Grand Rapids and 20 miles north of Holland.
Location of South Haven: It is situated less than 40 miles west of Kalamazoo and around 30 miles south of Holland.
Both are almost equally far from the Metro Detroit area if you compare their locations. South Haven, nevertheless, is a lot more convenient choice if you're visiting from Chicago.
Size and Population
When choosing between Grand Haven and South Haven for your next trip, it is important to know the differences in size and population between the two towns. Evaluate your preference for a smaller or larger environment when settling on which one to visit.
Grand Haven and South Haven are both small towns in comparison to most other cities. However, do read the comparison below to decide which one suits you best.
Size Comparision
In terms of size, Grand Haven is a larger city than South Haven. It has a total area of 7.36 square miles, while South Haven has a total area of 3.50 square miles.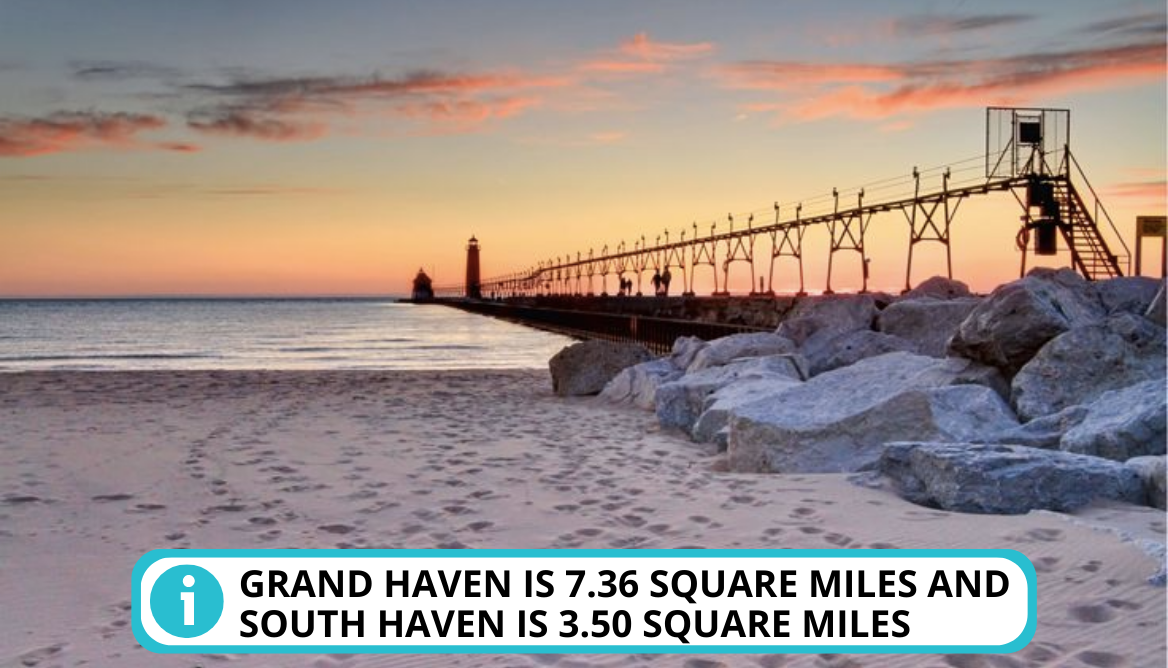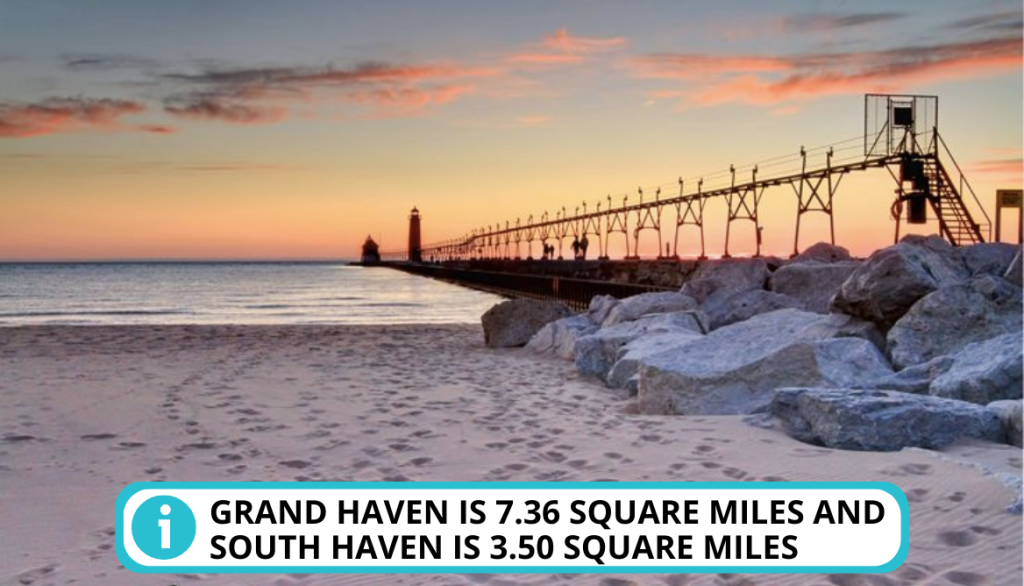 Population Comparision
Grand Haven has a larger population than South Haven. According to the 2021 census, Grand Haven had a population of 10,991, while South Haven totaled a population of 4,038.
Attractions, Seasides, and Outdoor Activities
Beaches, bicycling, golfing, and boating are among the recreational activities available in Grand Haven and South Haven. No matter if you're searching for an adventure-filled day or a relaxing at the beach, you can find it here easily. Let's check out the details.
Beaches and Lake Michigan
Both these cities have access to the beach on Lake Michigan for fun in the sun. It's important to mention that Grand Haven is a Coast Guard station, so there's usually a little more happening there.
South Haven's two beaches North and South Beach and Grand Haven State Park Beach feature:
Playgrounds,
Iconic lighthouse,
Popular Outdoor Activity is Camping along the lake (even though Grand Haven State Park Beach is larger).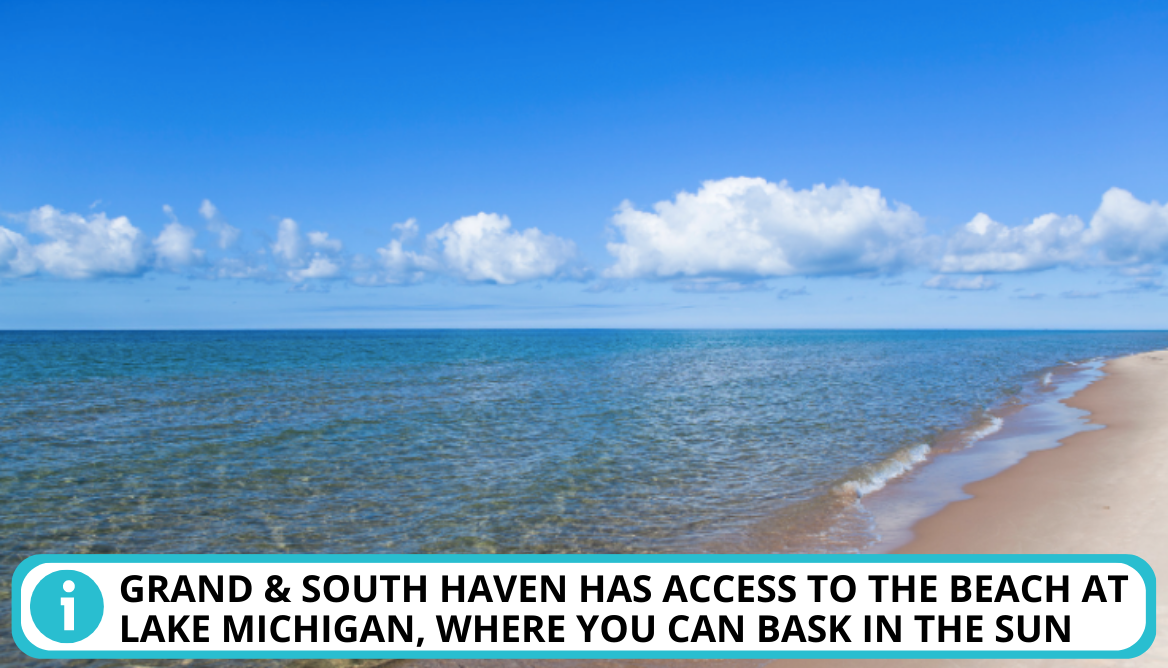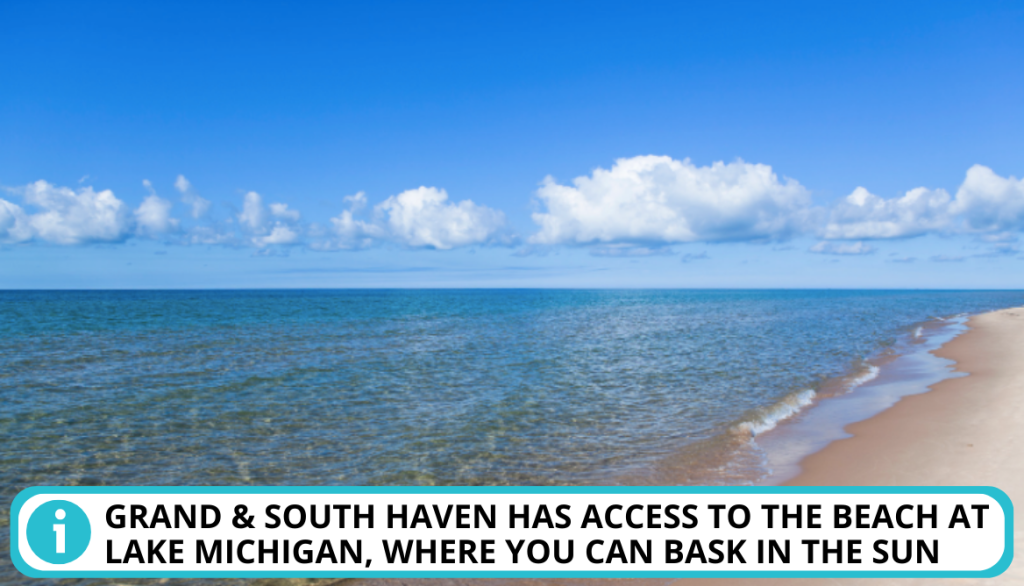 Biking
The cycling enthusiasts are in for a treat. Here is why!
South Haven: is well-known for the Kal-Haven State Park, a 34-mile cycling route that connects South Haven with Kalamazoo.
Grand Haven: on the other hand, has more than 100 miles of bike trails that have different levels of difficulty.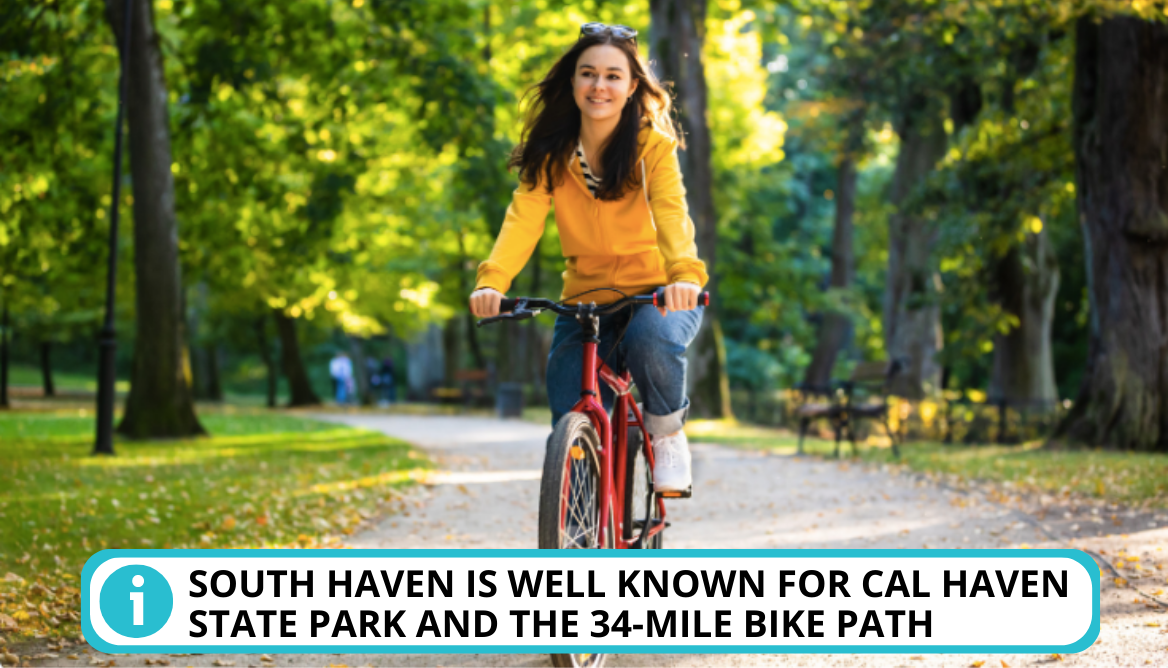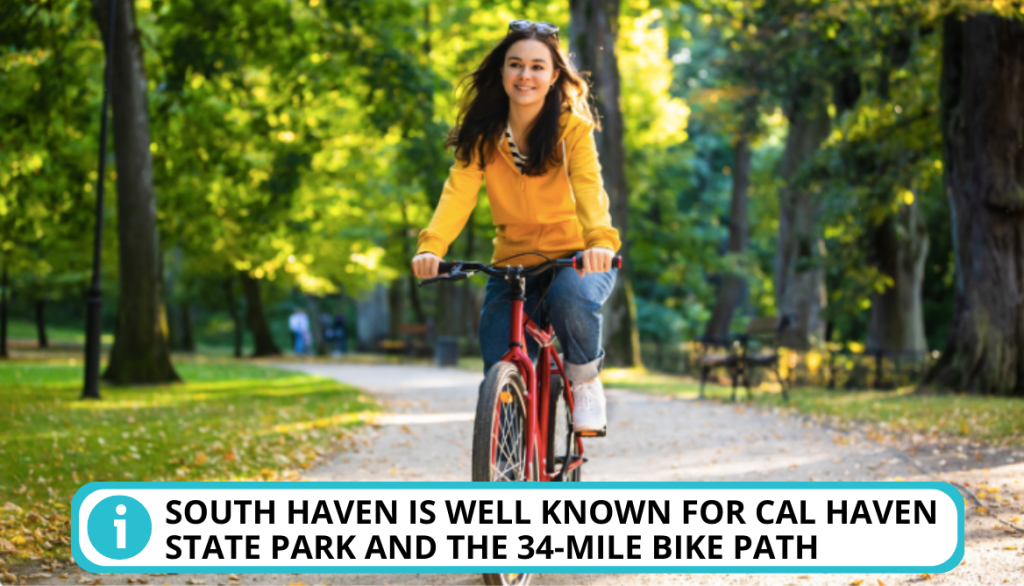 Golfing
If you wish to indulge in some afternoon golf, we know just the spots. Prominent golf courses available in Grand Haven are:
The Grand Haven Golf Club
Evergreen Golf Course
Popular places to golf in South Haven are:
Beeches Golf Club
HawksHead Golf Course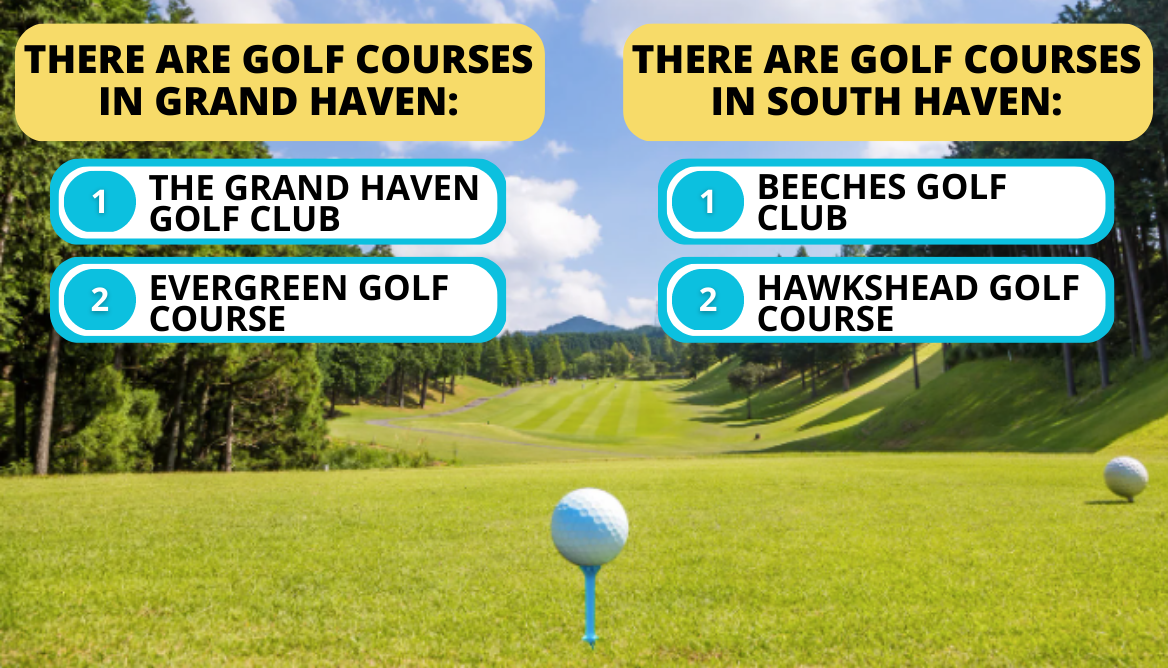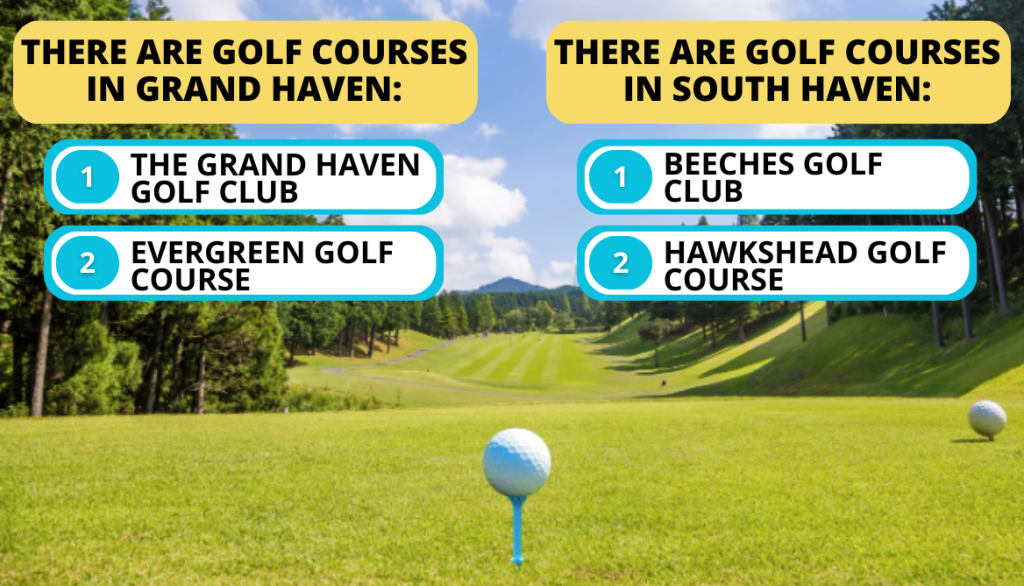 Grand Haven VS South Haven: Side-by-Side Comparison of two Lake Michigan Small Towns
We want you to get a gist of what these waterfront towns offer. What is the difference between the two and which one fits more with your type so check out the table below.
| | | |
| --- | --- | --- |
| | | |
| | 22.2 miles (29 min) by US-31 N | 29.8 miles (31 min) by I-196 S |
| | | |
| | | |
| | | Antiquing and Art Galleries |
| | | |
You must have an idea now but let's also learn about the locals and what gentry or stratum you will be able to mingle with. Here is the comparison.
Seasonal Fun Activities
Grand Haven and South Haven are two cities that embody the culture of Lake Michigan. They share a similar atmosphere. As they are not far apart, it is possible to experience both at the same time.
These destinations are go-to spots throughout the year, with each season offering unique experiences.
We recommend visiting during the summer and spring months. They are considered the optimal times to vacation.
Below, we have outlined some of the reasons why these seasons are particularly enjoyable with a dash of small-town charm.
Summer in South Haven and Grand Haven, Michigan
During the spring season, the Lake Michigan region's villages are transformed by spectacular blooms, thunderstorms, and boating. The area boasts two notable events: the Tulip Festival and Fragrant Festivals, both of which are worth experiencing.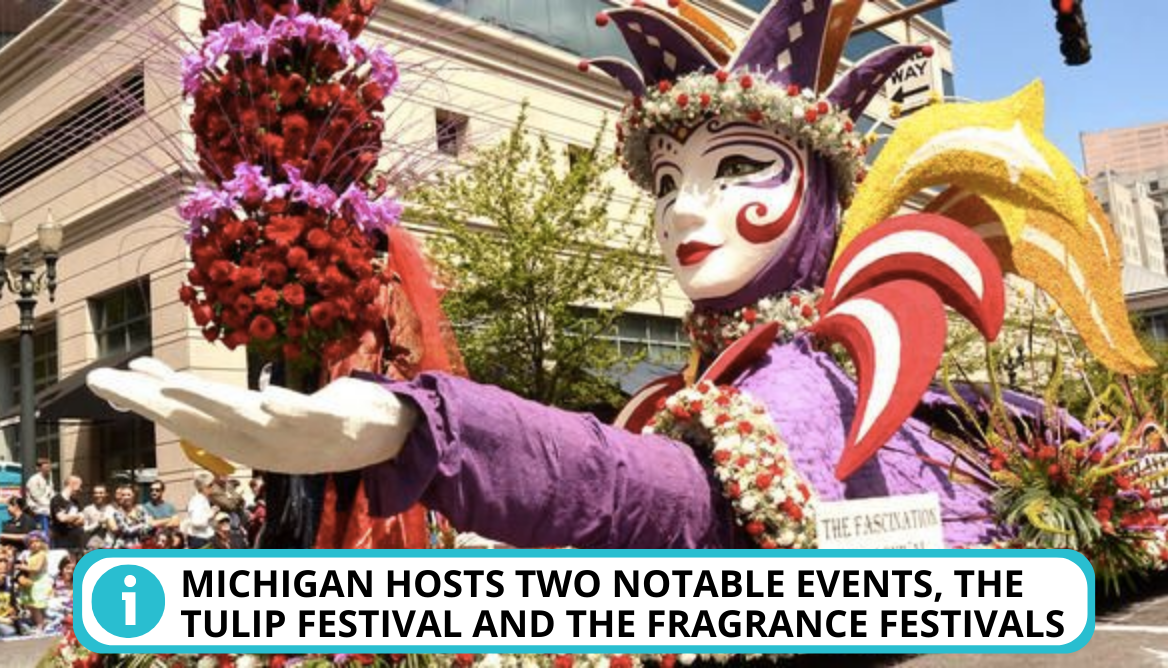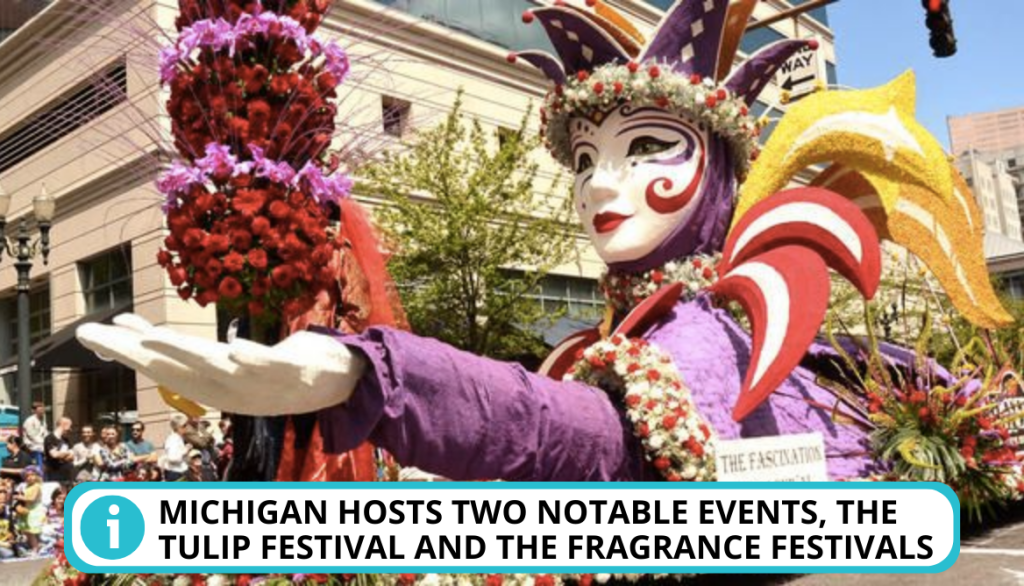 Just this year, the event calendar for South Haven is:
| | |
| --- | --- |
| | |
| | |
| | Annual South Haven Art Fair |
| | Light Up the Lake Fireworks |
| | The National Blueberry Festival |
To list a few events out of many happening in Grand Haven:
| | |
| --- | --- |
| | Margarita Mix Off @ The Kirby House |
| | Inner Tube Water Polo Tournament |
| | |
| | |
| | |
With their ideal location and seasonal offerings, both Grand Haven and South Haven are perfect destinations to enjoy during the spring and summer.
Visitors can enjoy the festivities, small-town feel, and lake Michigan beaches. Look forward to the numerous events scheduled in the upcoming months.
Winter in Grand Haven and South Haven, Michigan
South Haven and Grand Haven both offer plenty of things to do during the winter months. Whether you prefer indoor activities or outdoor adventures, you're sure to find something fun. Scroll down to view the list below to know.
Grand Haven, Michigan
Winter does not slow down Grand Haven, Michigan. In fact, the cold and snowy season brings its own festivities and events. The most notable one is the Winterfest. The activities include:
Freeze 4 All–Snow Volleyball
Cardboard Sled Race
Bonfire Bash
Ski and Snowboard Competition
Kids' Day
Glowbowl
Family Dog Pull
Sleepwalker Run
Euchre Tournament
Cardboard Sled Build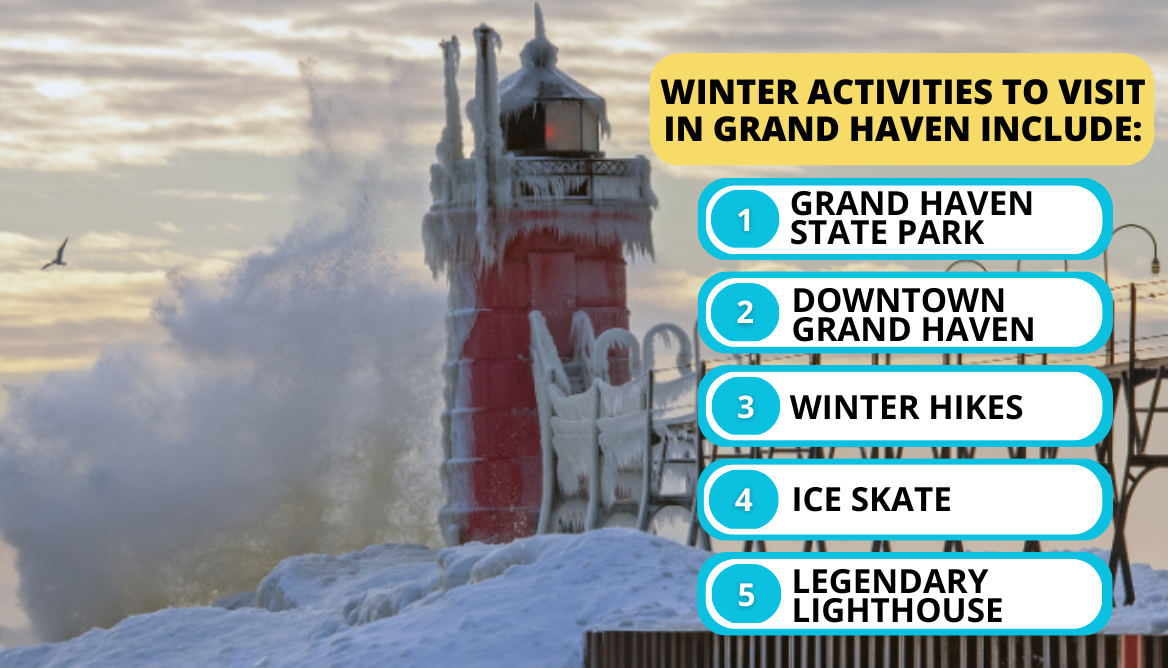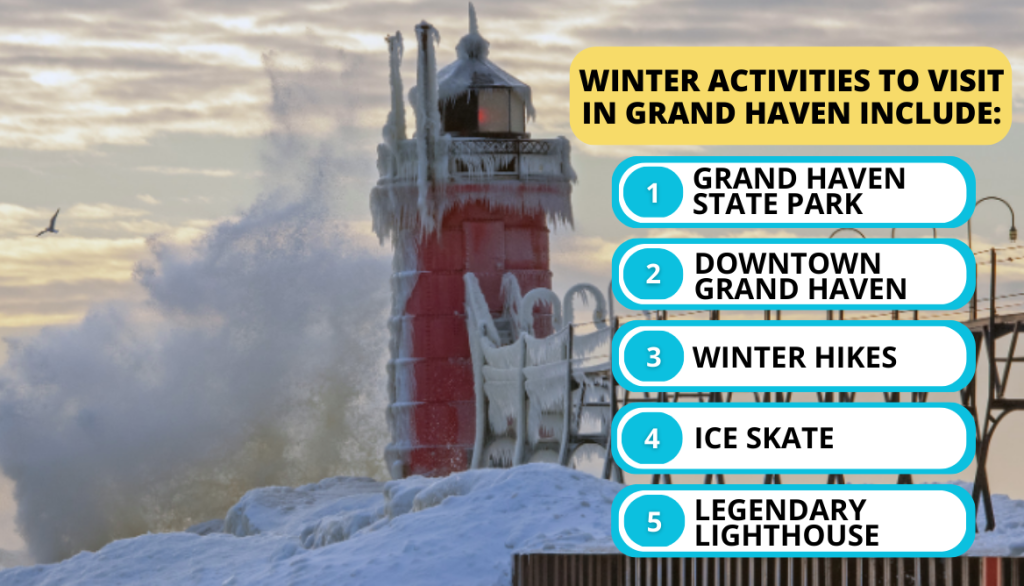 Other than that you can:
Visit the Grand Haven State Park: It has stunning views of Lake Michigan. Enjoy snowshoeing or cross-country skiing to make the best out of your time.
Spend your evenings in Downtown Grand Haven: It is especially lively during the holiday season with many restaurants and boutique shops to keep you engaged.
Winter Hikes: If you are a fan of winter hikes go to North Ottawa Dunes and Rosy Mound Natural Area which are nearby grand haven.
Ice Skate: If you wish to be athletic while you are at Grand Haven, go ice skating at Lynne Sherwood Waterfront Stadium.
Visit the iconic lighthouse: You will be able to see breathtaking views of frozen lake Michigan.
Downtown South Haven, Michigan
South Haven is known for its summer activities and public beaches in summer, but there are many activities to do in winter as well. Here are some ideas:
Events: Look out for winter festivals in South Haven during the season. The Ice Breaker Festival in February is a popular one. It features ice sculptures, chili cook-offs, and more.
Ice Skate: The South Haven Ice Rink is a fantastic spot to enjoy ice skating. You can find several viable options for renting skates. The rink is open from November to March.
Snow Sports: The Van Buren State Park has built courts where you may engage in winter activities including skiing, snowboarding, and snowshoeing.
Spa: If you're searching for a more sedate pastime, think about scheduling a spa day at one of the nearby resorts. A soothing massage or facial to take away the winter gloom.
Visit Downtown South Haven: There are several boutique shops. Enjoy the ambiance and find unique gifts for your loved ones.
Wine tasting: If you wish to make it a sophisticated affair, the local vineyards in South Haven provide tours and tastings. You can enjoy some delectable wine in the midst of stunning winter surroundings.
Christmas Tree Shopping: Visit Blue Star Tree Farm or Tall Timbers Tree Farm to find the best species of trees to hang ornaments and to place gifts under them.
Head to Kal-Haven Trail: Go on for a biking, or horseback ride, or take a leisurely stroll. View picturesque little towns, rural landscapes, lovely woodland areas, and historical sites on the way.
Visit Michigan Maritime Museum: Take the kids to see the popular tourist attractions. Go boating and see various exhibits.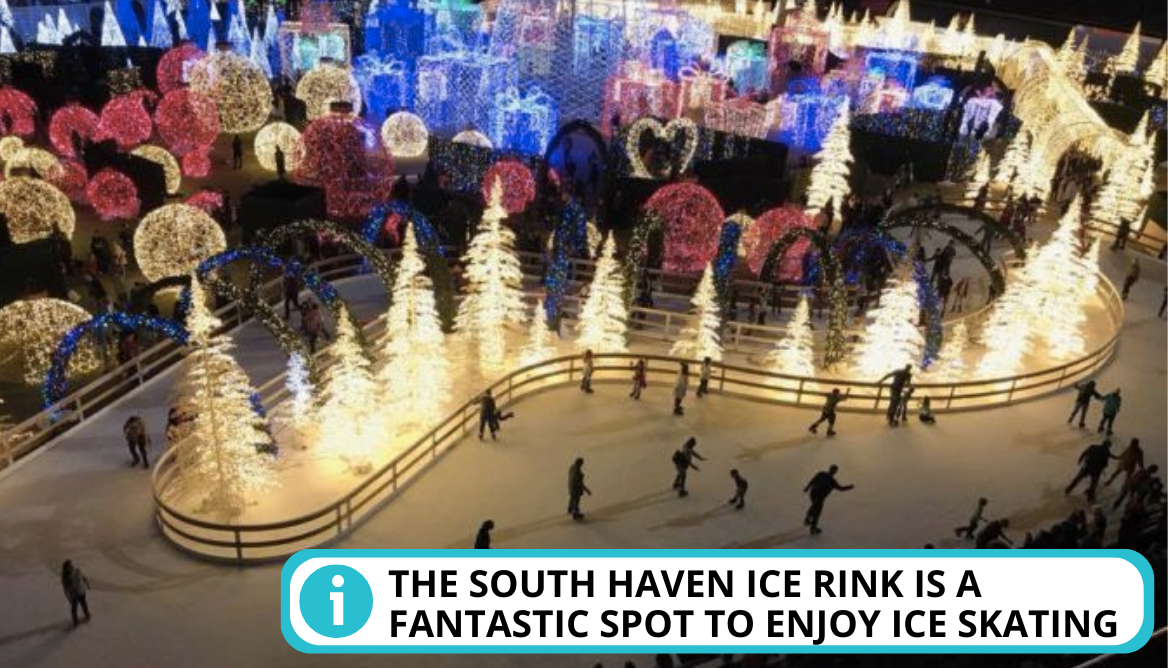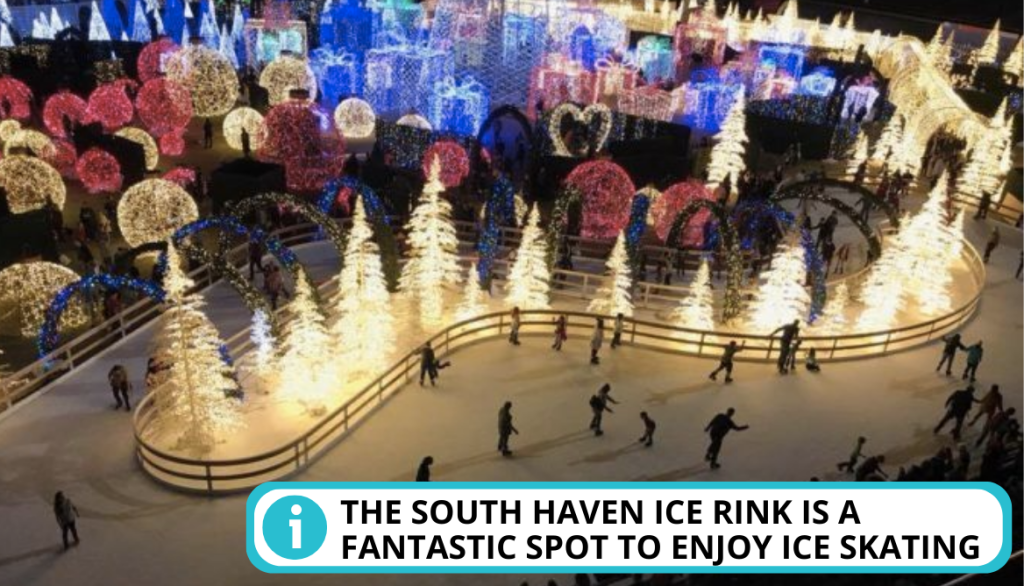 Facilities of Transportation: How to Reach South Haven or Grand Haven
There are various transportations available for both towns. Use the information below to determine which is nearest and most convenient to you.
1. How to Reach Grand Haven, MI
Grand Haven is located on the eastern side of Lake Michigan near the estuary of the Grand River, thus the city's name. Situated between Holland to the south and Muskegon to the north, it is one of numerous Michigan beach towns. Learn how to get there.
Use a Car
It is possible to go to Grand haven by car. The primary roadways to take are US-31 or I-96. From Chicago, Detroit, and Grand Rapids, it takes about 2.5 hours, 3 hours, and 1.5 hours, respectively, to get there.
The distances are 172.5 miles from Chicago, 189.5 miles from the Metro Detroit area, and 33.8 miles from Grand Rapids.
Bus and Trains
You can take a bus or train from cities in Michigan, Illinois, and Indiana. It is possible that you will need to hire a cab after reaching the nearest point as there are none that drop right at Grand haven. Use the bus services websites to plan the trip for the best route and ticket prices.
By Air
The nearest airport to Grand Haven is Muskegon (MKG) Airport. It is 7.1 miles away. You can land here and take a cab to grand haven.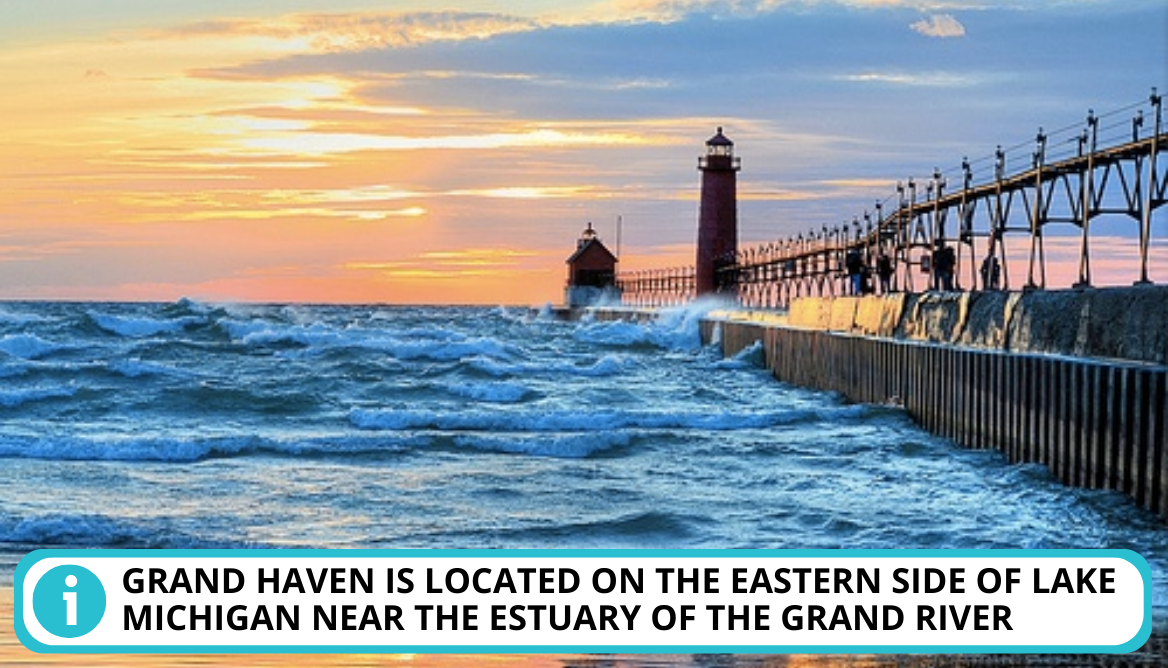 2. How to Reach South Haven, MI
The best way to get to South Haven depends on your current location and transportation preferences. Here are a few options:
Use a Car
You can drive to South Haven by taking the highways I-196 or US-31. It's approximately 2.5 hours from Chicago, 3 hours from Detroit, and 4 hours from Indianapolis.
Take a Bus OR Go via a Train
From the populous cities of Illinois, and Indiana, you may take a bus to Kalamazoo or Grand Rapids. You can change to a local bus that will take you to South Haven.
Bus travel to South Haven from Chicago is one of the easiest and most common means to travel, typically the cheapest, and usually pleasant.
The distance is 123 miles. The duration of the bus trip is around 4 hours.
The ticket price starts at $20 USD.
Go via a Train
Train routes are available through Amtrak to surrounding cities including Kalamazoo and Bangor. You may board a local bus or cab to South Haven.
Reach by Air
The Kalamazoo/Battle Creek International Airport (AZO) is the closest major airport nearby. It is 50 miles from South Haven. You may take a cab or hire a car to travel there. The journey on road will take approximately an hour.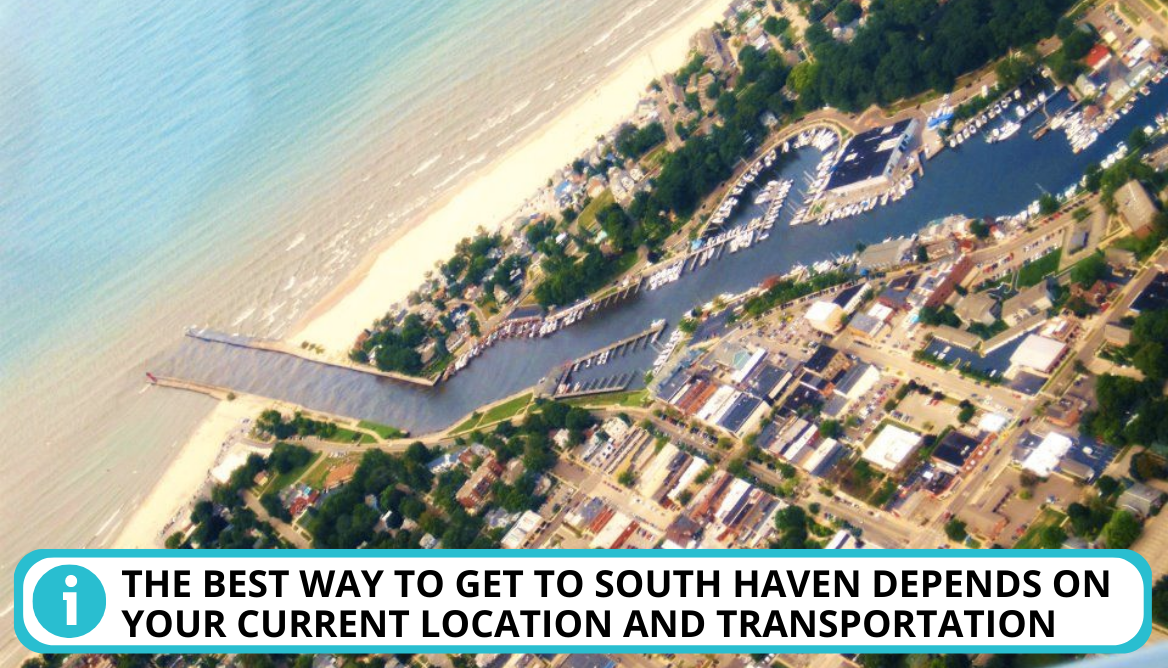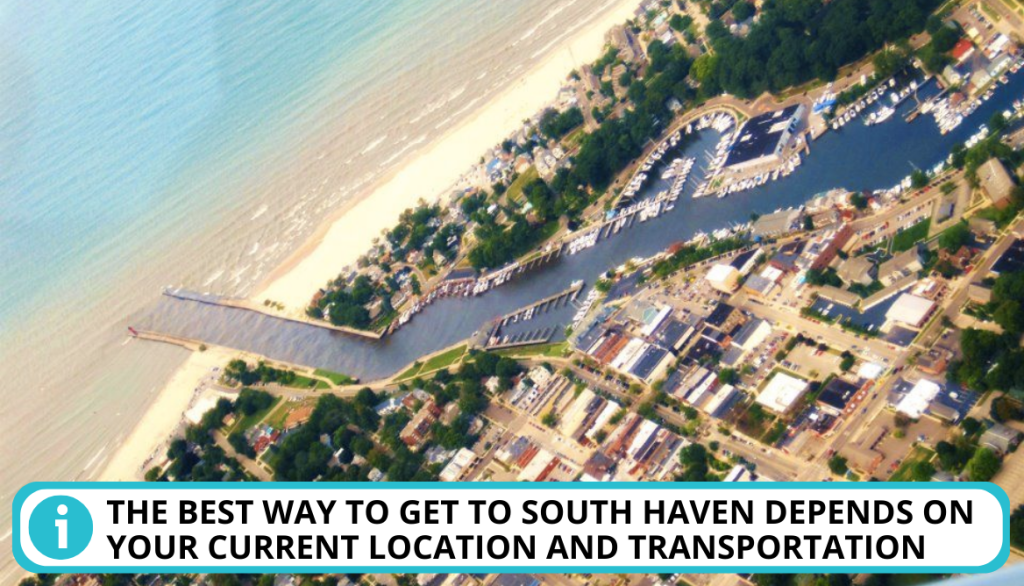 Coziest Stay: Grand Haven vs South Haven
A great place to stay can make or break your vacation. Waking up with good sleep and being pampered like royalty while feasting on exotic foods on the property is a vacation itself. We want the best and more for you so make sure to read about the places below.
1. South Haven, Mi
South Haven is a highly sought-after tourist destination, and as such, accommodations in the area tend to be relatively costly.
Generally, renting a week's worth of lodging is the most common choice for South haven visitors. Although bed and breakfast inns and hotels are also available here. Let's have a look at the prominent ones.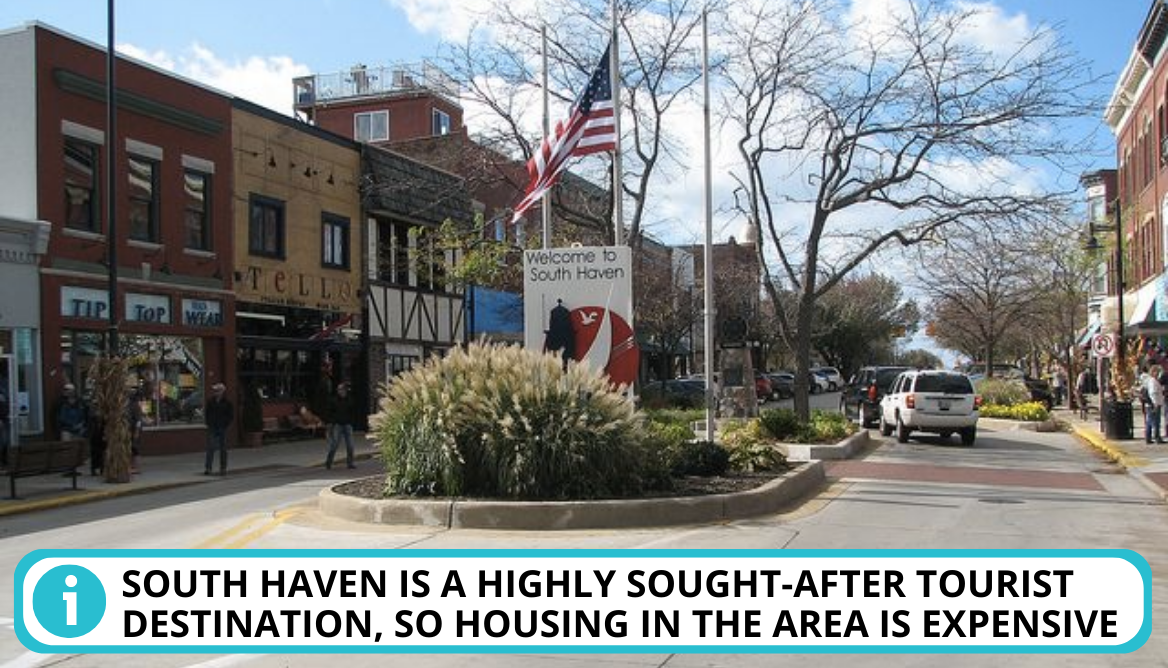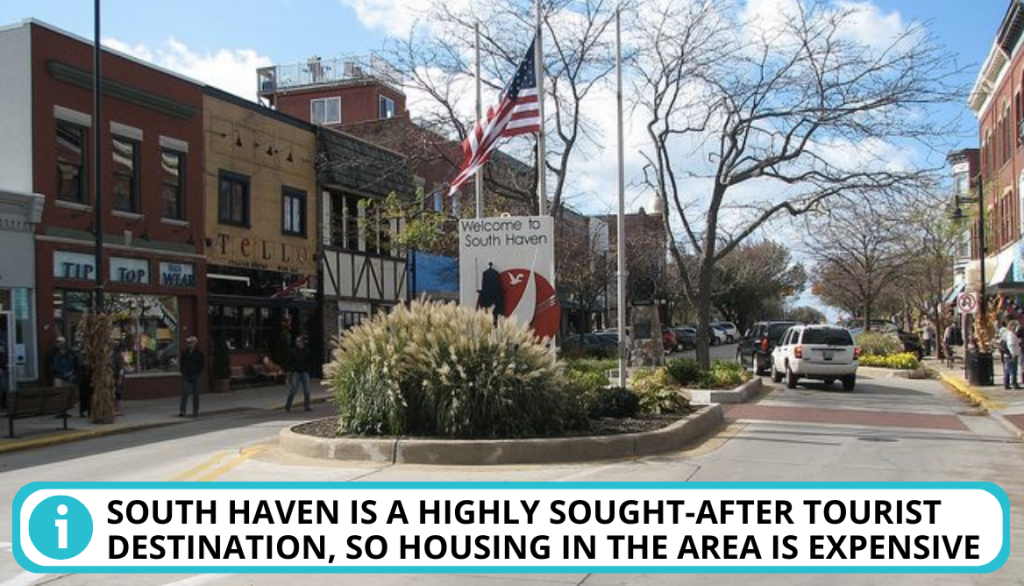 South Haven "Old Harbor Inn"
The Old Harbor Inn in South Haven, Michigan is a prime location for tourists seeking the best dining, shopping, and sandy beaches. The property sits on the Black River and offers scenic views of Lake Michigan. Guests can:
Start their day with a peaceful morning walk on the expansive boardwalk system
Shop at local merchants
Enjoy the sunset on the pier.
Explore the area's attractions as the Inn is conveniently located in downtown South Haven.
South Haven "Martha's Vineyard"
It is a lovely, roomy four-bedroom home with space for up to 12 guests. The property has an open layout, a kitchen featuring every appliance you need, a sizable patio, and a hot tub. South Haven visitors can:
Swim, sunbathe, take dune rides, and relax on the sandy beaches.
You can explore the local wineries, shops, and art galleries.
Take advantage of parks and nature preserves located nearby such as the Van Buren County State Park and the Kal-Haven Trail.
It is located just a short walk from South Haven's downtown. After filling up on delicious breakfast you can head to the harbor village and town for shopping and try local cuisines.
2. Grand Haven, Mi
Grand Haven, Michigan is a popular vacation destination that offers a wide range of accommodation options to suit all tastes and budgets. The two names that stand out are Best Western Beacon Inn and Rodeway Inn. Let's read about them.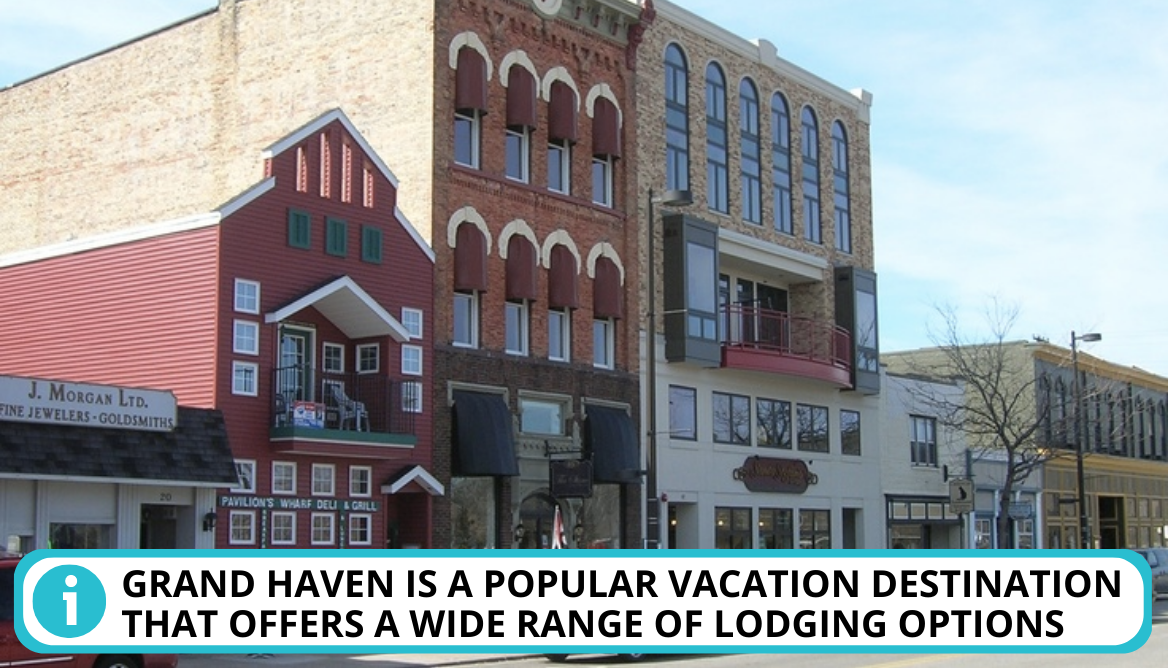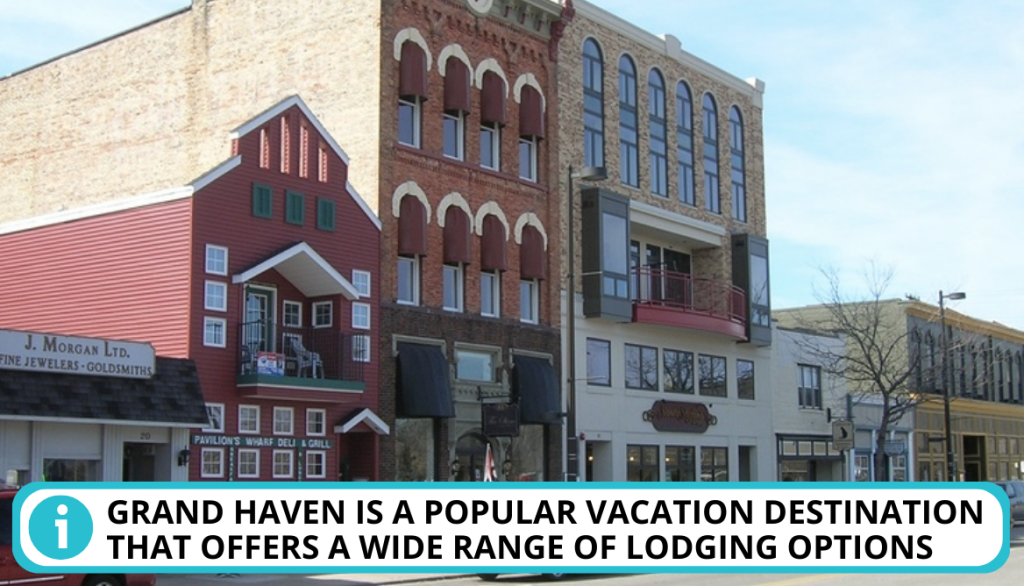 Best Western Beacon Inn
Best Western Beacon has been rated number 1 on TripAdvisor for over 10 years. The reason is that it is situated in a prime location. It is nearest to the top 3 attractions of the town which are Grand Haven State Park, the lighthouse, and the downtown area. The hotel offers:
Rooms with 40-inch HD TVs, Free wireless internet, refrigerator, microwave, and iron.
Complimentary breakfast.
A heated pool
A fitness center
Business king suites with extra space for conducting work.
Rodeway Inn
Rodeway Inn Grand Haven is a budget-friendly hotel located in Grand Haven, Michigan. It has almost all the amenities available. It includes:
Rooms with free Wi-Fi, cable TV, air conditioning, refrigerator, and a microwave.
Complimentary continental breakfast
It is a pet-friendly hotel so bring your furry friend along.
Other than staying on property you can spend time at lake Michigan beaches or go shopping. Head to Pere Marquette or eat at restaurants such as Morning Star Cafe, J.W.'s Food & Spirits, Stanz Cafe, or Cumin Fresh Indian Kitchen.
Explore Grand Haven and South Haven: Food Scene and Recreational Activities
We have covered most bases as of now. But if you are looking for some specific details about the entertainment Grand Haven and South Haven can bring you then read along.
Restaurants and Bars
Let's look at where you can get scrumptious food in Grand Haven town. Here is the list.
1. Grand Haven, Michigan
Morning Star Café: Serves breakfast and lunch and is known for its gourmet omelets.
Bil-Mar Restaurant: Provides steaks, seafood, and pasta dishes in a lovely old structure.
The Toasted Pickle: A well-known restaurant serving artisan beers, sandwiches, and burgers.
Butch's Beach Burritos: Serves mouthwatering burritos, tacos, and margaritas.
Kirby House: A rooftop bar with a huge variety of drinks and grills and a laid-back pizza shop.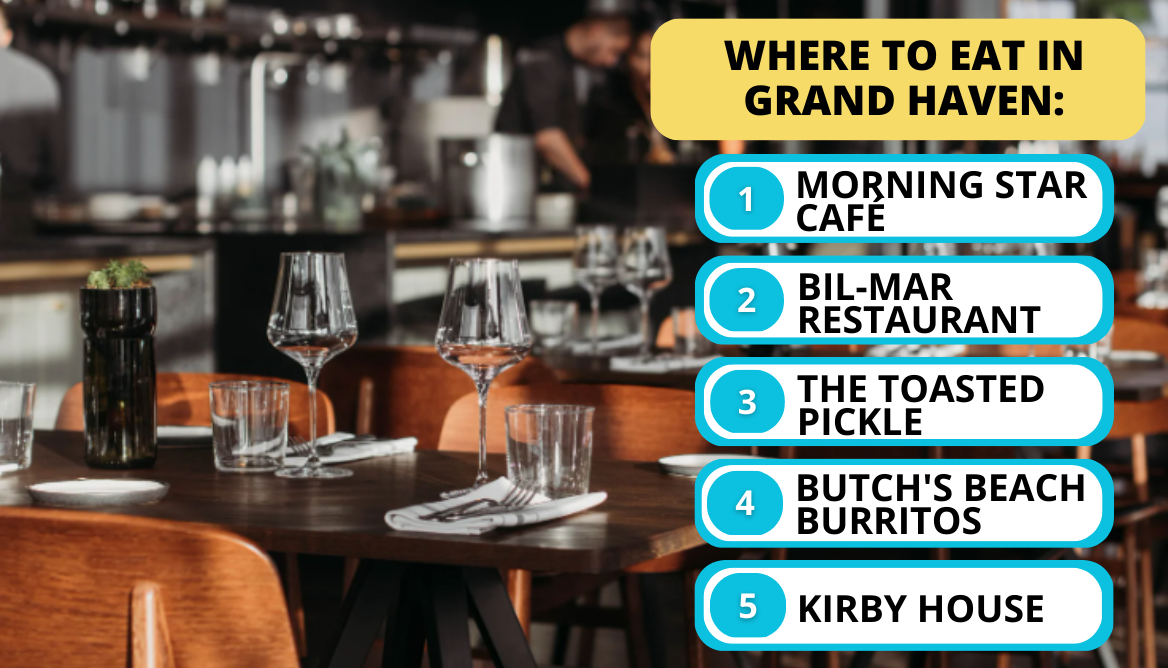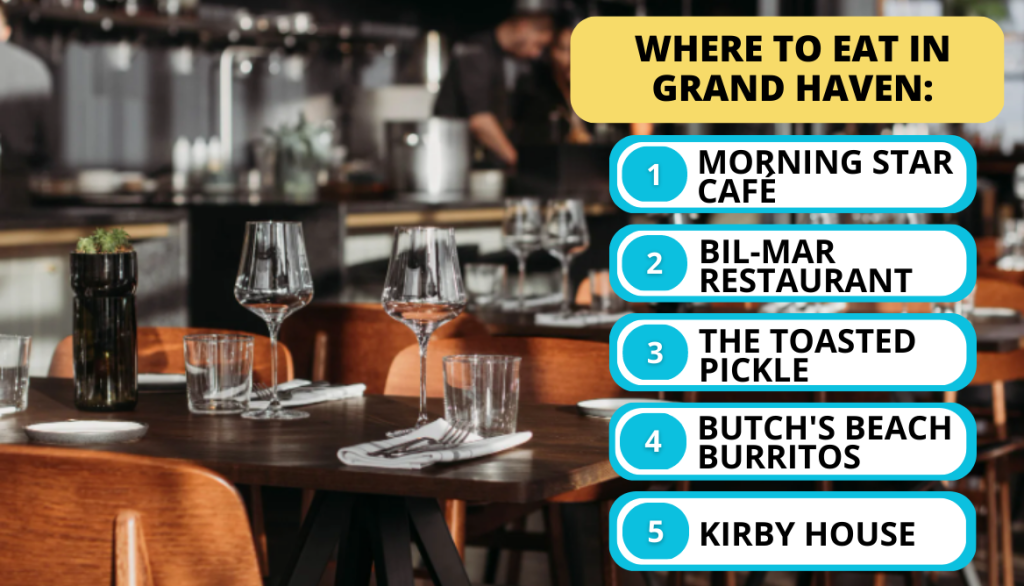 2. South Haven, Michigan
Now let's look at what South Haven has on its plates. Here are popular restaurants.
Joe's Bar & Grill: A laidback restaurant that serves American cuisine in the heart of South Haven. They feature a full bar with artisan brews, mixed drinks, and wine.
Idler Riverboat & Dockside: Is situated on the black river. Enjoy tacos, lobster bisque, and crab cakes on the south pier with pleasing live music.
The Golden Brown Bakery: There are many different baked items available here. Buy pastries, cakes, and their handcrafted doughnuts and cinnamon buns.
Su Casa Restaurante: An authentic Mexican restaurant. Dishes include tacos, enchiladas, and fajitas. Choose from a selection of margaritas and other cocktails with your food.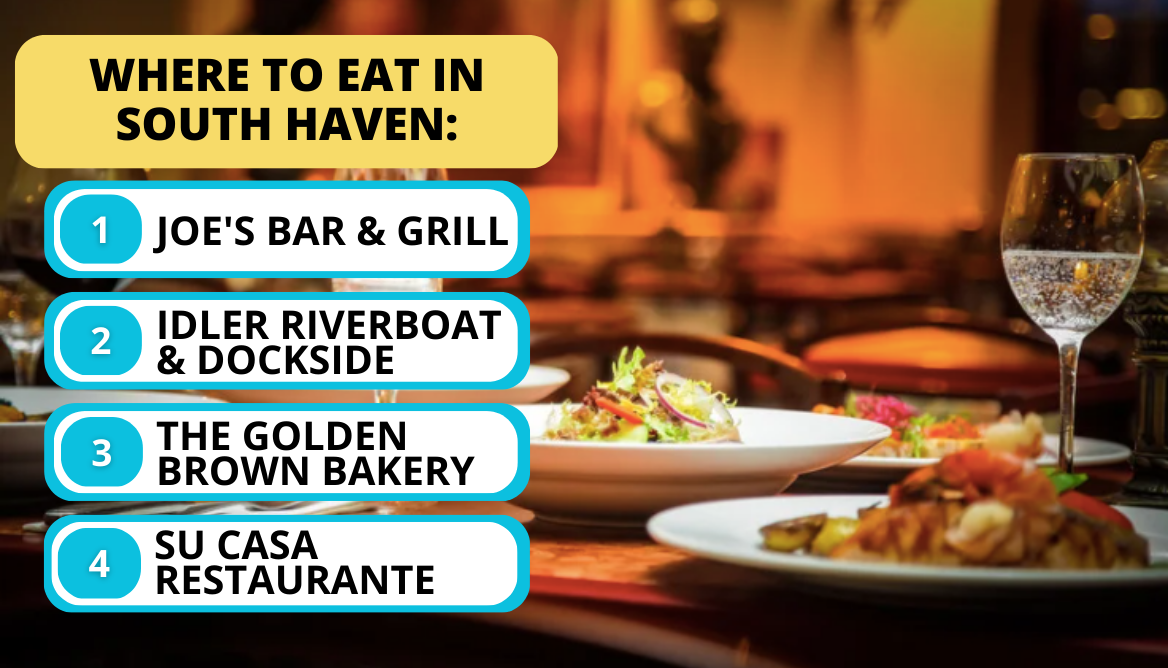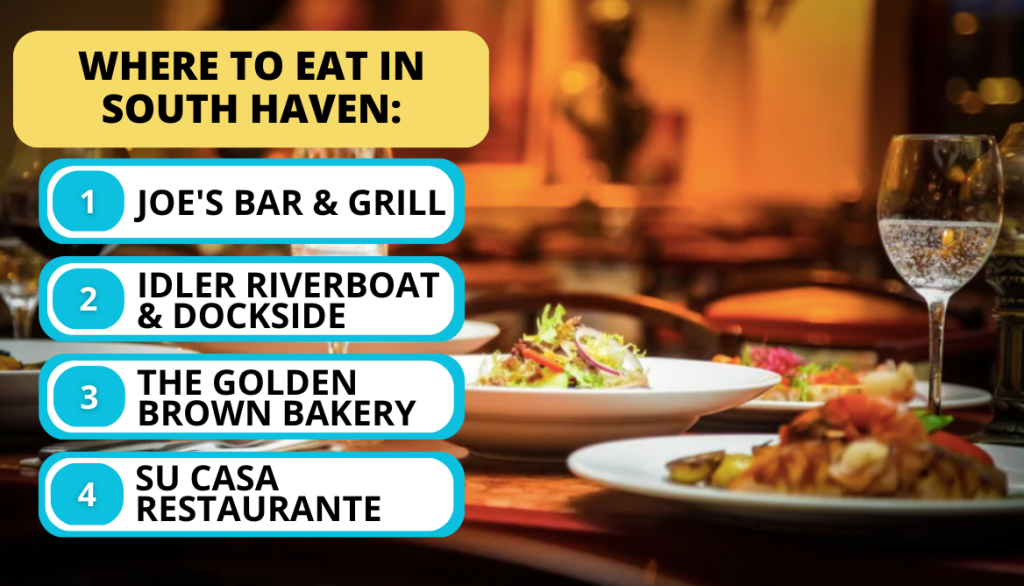 Entertainment and Festivals
It won't be a vacation if you went home without enjoying yourself to the fullest. Do not miss out on the following because lake Michigan towns are known for fun.
Sightseeing
Go swimming on the North and South public beaches. Golf at Beeches Golf Club or bike a 34-mile bicycle route connecting at State Parkride in South Haven. Enjoy popular outdoor activity boating around lake Michigan beaches and pier in Grand Haven.
View our "Attractions, Seasides, and Outdoor Activities" and "Seasonal Fun Activities" section for more info.
Festivals
Attend the following major annual festivals when visiting Lake Michigan towns Grand haven and South Haven:
Blueberry Festival
Harbor Fest
Annual South Haven Art Fair
Coast Guard Lake Kite Festival
Ice Breaker Festival
Grand Haven Art Festival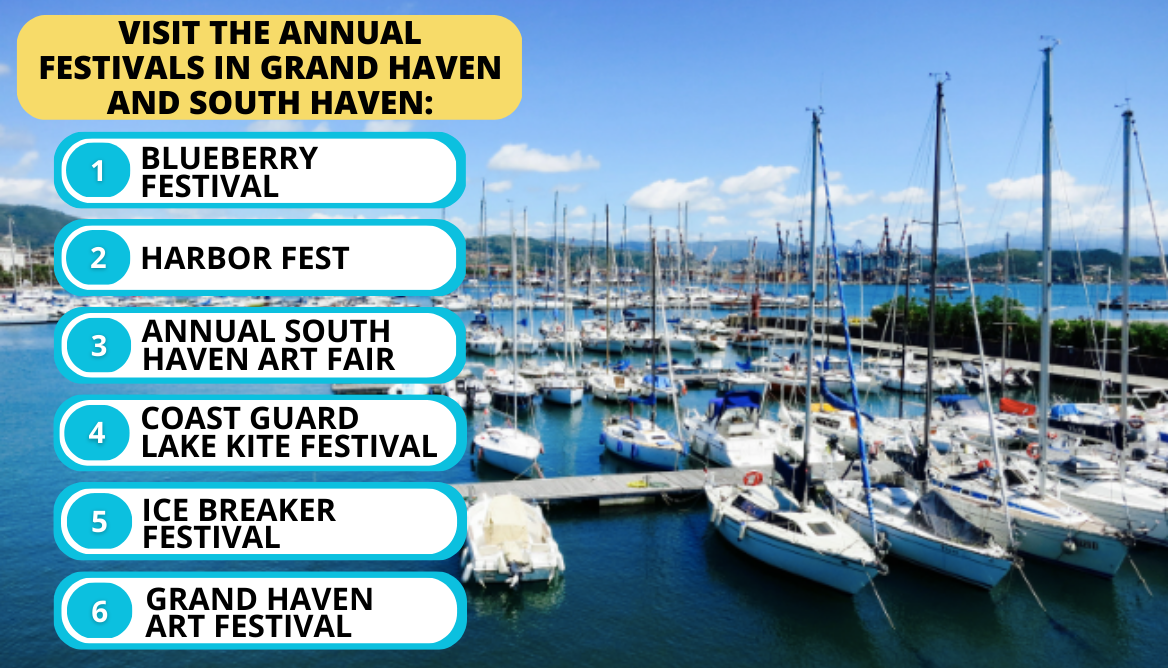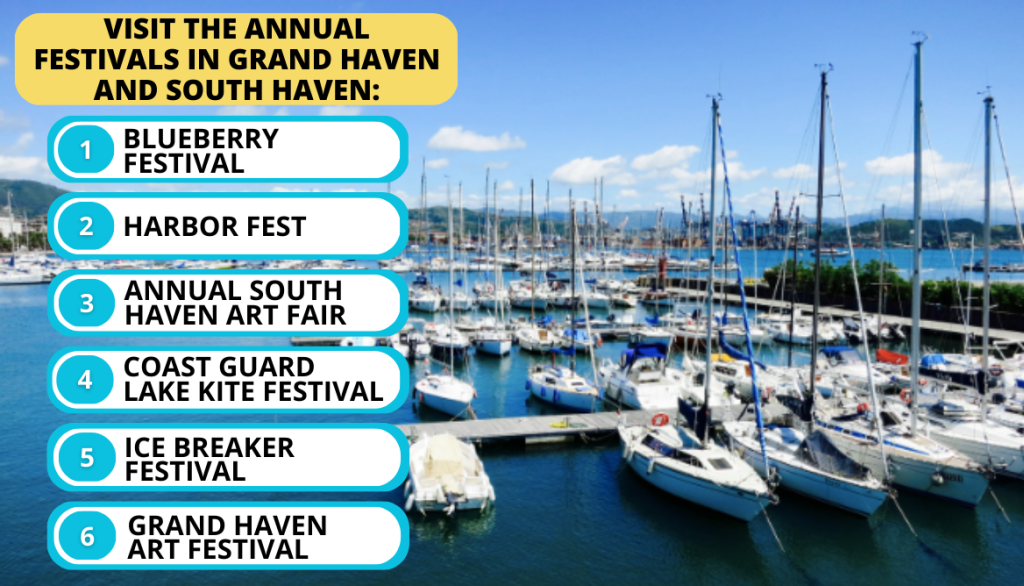 Nightlife
Grand Haven is known to have a richer nightlife than South Haven. Although both towns have nightclubs and taste buds tantalizing eateries. Read the details in the "Restaurants and Bars" section.
Our Verdict
While both cities are vacationers' dreams we love a laid-back small town. Our preference for a home away from home vibe is the reason we would choose South Haven as our ultimate destination spot. The reasons are:
We want to walk the Kal-Haven Trail
Check out the impressive work of local artists at South Haven Center for the Arts.
Go wine tasting at 12 Corners Vineyards
Dine at the iconic Idler Riverboat & Dockside by the south pier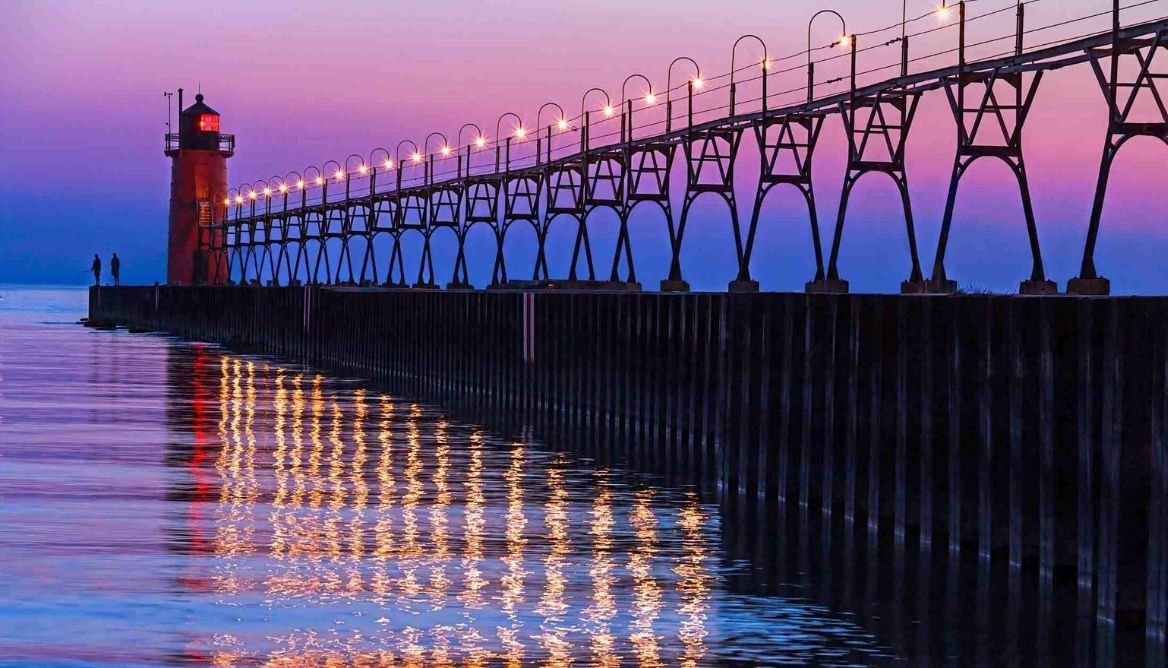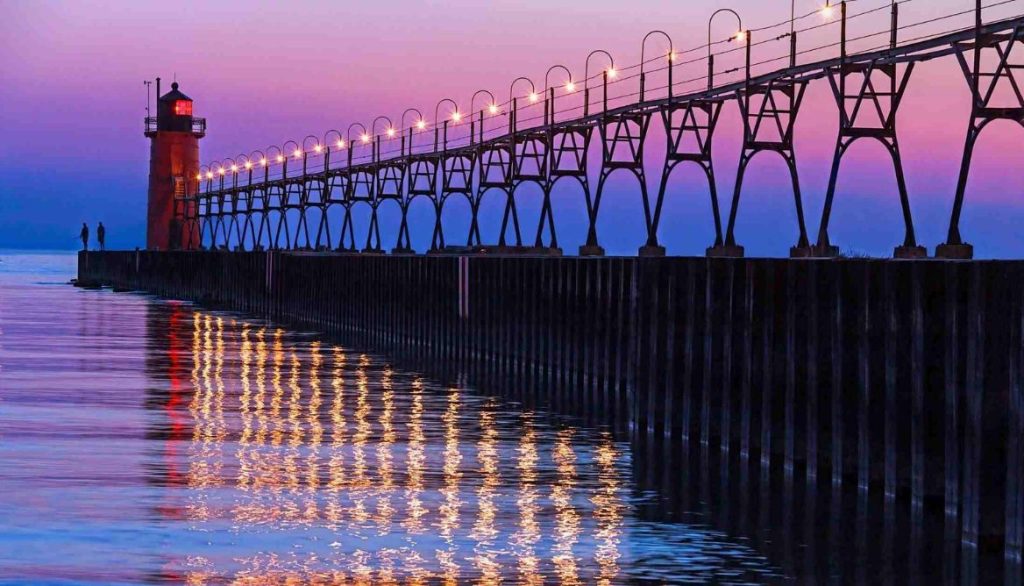 FAQ
Is South Haven worth a visit?
South haven is definitely worth a visit. You can enjoy the dunes and beaches, visit Michigan Maritime Museum, hike and bike at Kal-Haven Trail, admire local artists' work at Annual Art Fair, or attend HarborFest.
How far apart are South Haven and Grand Haven?
South haven and Grand haven are 52 miles (83.69 kilometers) if you use US-31 and BL I-196 E highways. It will take 56 minutes of continuous car rides to travel.
Is South Haven a good place to live?
South Haven is a good place to live because of its tight-knit small community, top-tier amenities, and reasonable property pricing.
Is Grand Haven a city or a town?
Grand Haven is a city within the U.S. state of Michigan and the county seat of Ottawa County.
Conclusion
Michigan is vacationing paradise. Head up to the lighthouse, go bicycling on a 100-mile trail, or golfing at the Evergreen course in Grand Haven. You can also go swimming on its beach and chew on Kirby House's saucy steaks.
Or, rent a bread and breakfast in South Haven. Immerse yourself in the sweet small-town charm, indulge in juicy Mexican cuisine at Su Casa Restaurante, and enjoy sunsets at the pier.
Whether to holiday in South Haven situated in Van Buren county or Ottawa county's Grand Haven, ultimately the choice relay's on your preference. Choose the former for the cozy, bed and breakfast or the latter to do touristy things. Or visit Both! As they as only 52 miles away.
Were we able to make the decision easy for you? Where are you headed then?