Happy Wayfarer is reader-supported. When you buy through links on our site, we may earn an affiliate commission.
Glass Pebble Beach Florida is home to some of the most stunning beach treasures around the globe. Examples of sea glass beaches in Florida include Venice Beach, Jensen Beach, Jupiter Island beaches, Navarre Beach, and Turtle Beach.
So, What is Glass Pebble Beach, and where did it originate from? If you need to know more, continue reading, I will take you through its origin, things to do, and why it is a must-destination to visit.
The History And Origin: Glass Pebble Beach, Florida
The unique characteristic of Glass Pebble Beach is the diminutive and vibrant stones along the coast. Let's find out how they came to be:
The Pebbles are the leftovers of the nearby glass-making industry that operated in the area in the 1940s.
In order to clear the land and minimize waste management in the vicinity, the factory entered into an agreement with the municipal authorities to dispose of the glass bottles into the sea.
Over time, the salty water and waves eroded the glass bottles, transforming them into smooth, jewel-like pebbles.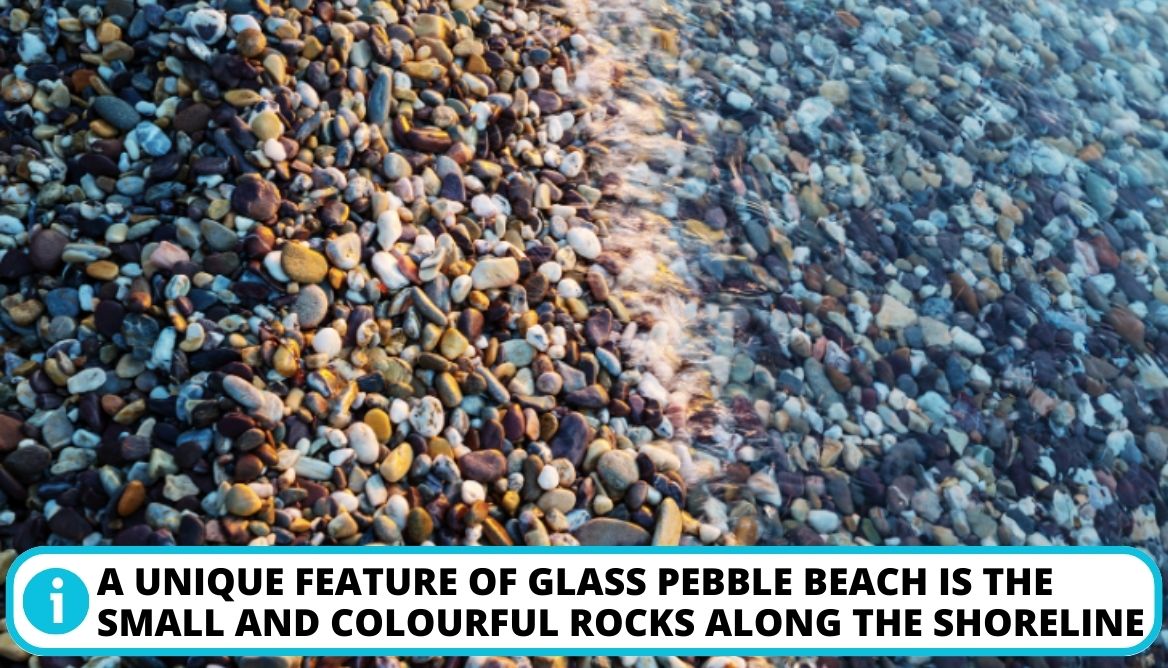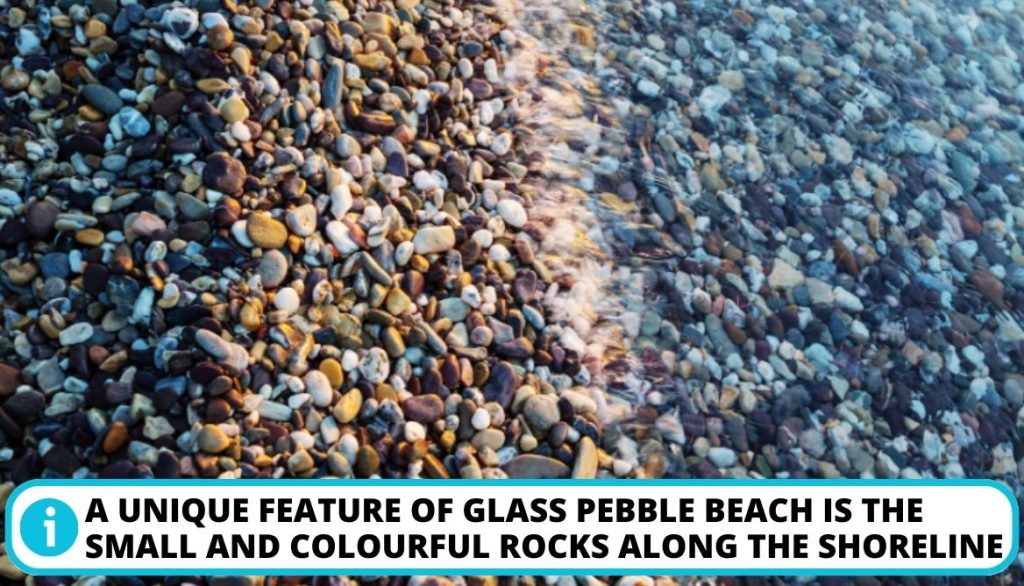 Note: Currently, you can find sea glass along the shores of most Florida beaches.
The Location Of Glass Pebble Beach
Glass Pebble Beach is situated in Manasota Key, which serves as a barrier island in the Southwestern part of Florida. It is approximately 1.6 miles long. The beach offers an ideal destination for people seeking a quiet spot getaway.
There are numerous public access points to this point, one of which is the Manasota beach, which offers an extensive and Complimentary parking area.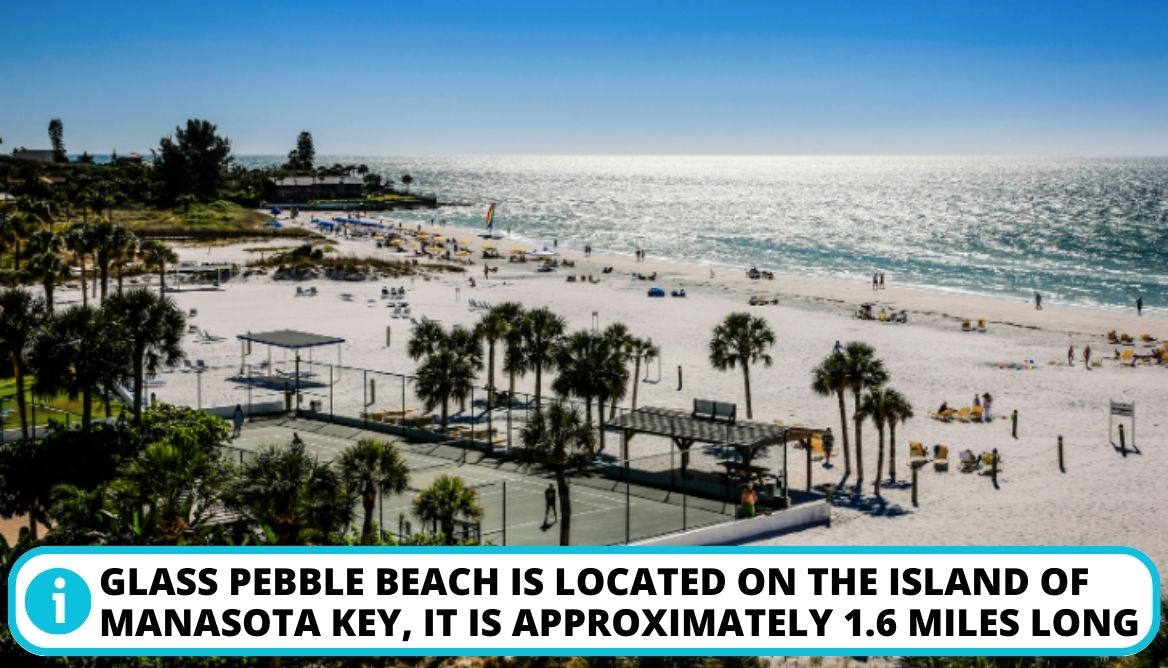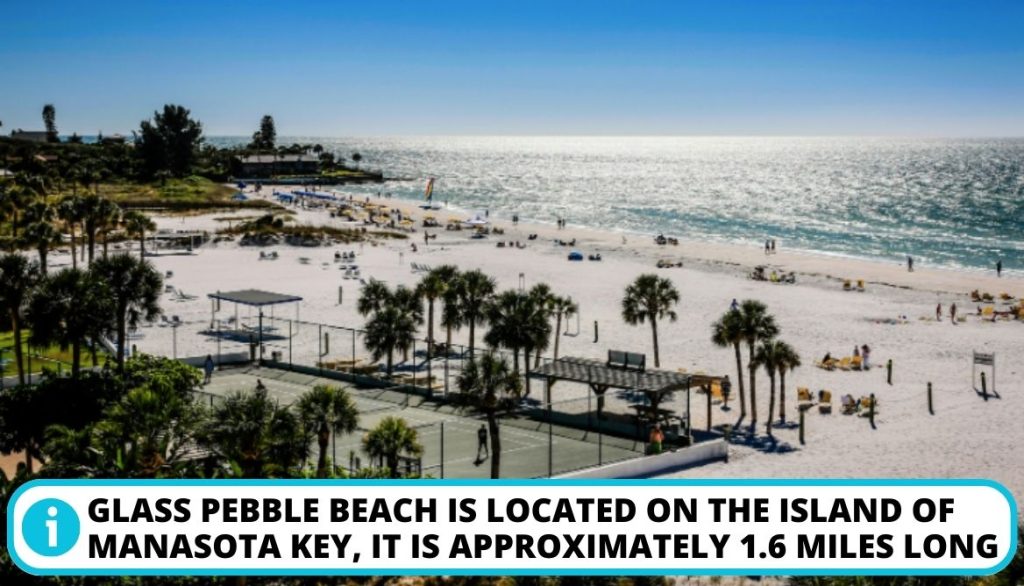 What Makes Glass Pebble Beach an Essential Place to Visit?
There are numerous reasons why Glass Pebble Beach is a must-visit destination. Let us explore some of these reasons:
Glass Pebble Beach is a delightful spot for sea glass collectors: Finding sea glass is the highlight of your visit, and there's no need to worry about being questioned while collecting. You can keep these treasures as memories of your adventure.
Excellent amenities: Glass Pebble Beach features top-notch amenities such as picnic tables, grills, and a concession stand, where visitors can relish their dishes and favorite drinks while enjoying the breathtaking vista of the beach.
Incredible place for shell hunting: The beach consists of different types of shells, making it a perfect place for shell hunting.
A perfect haven to lose track of time: The beach exudes a serene and tranquil aura, creating the ideal setting for a serene escape from the chaos and hustle of city life.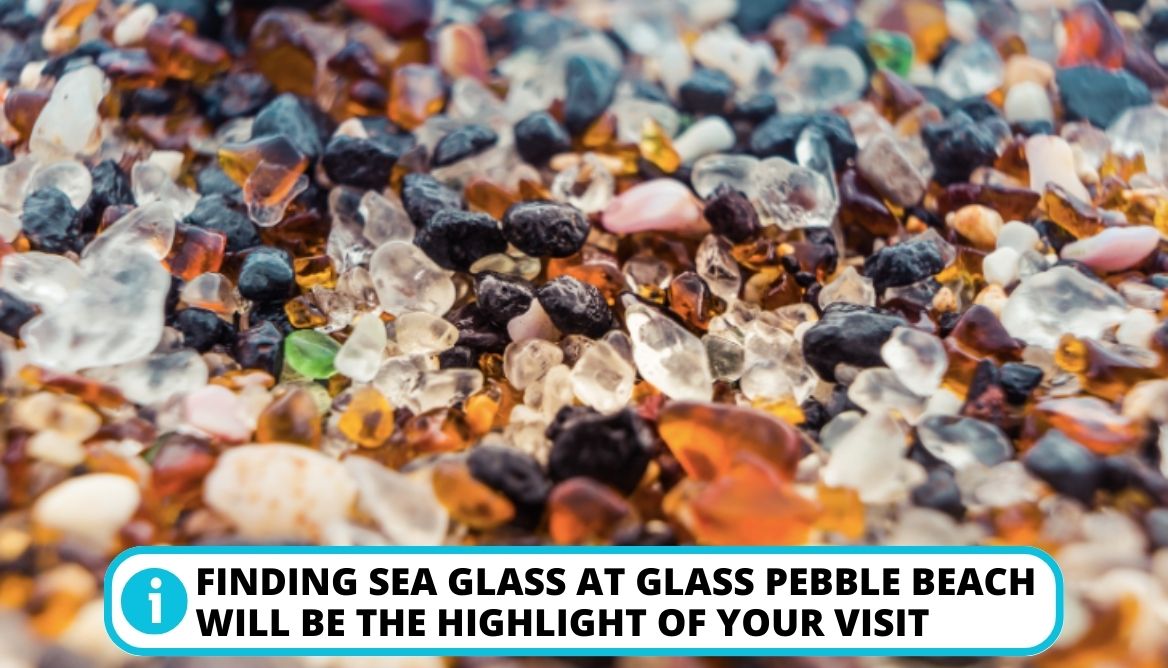 Activities to Enjoy at Glass Pebble Beach
Glass Pebble Beach offers plenty of things to do that you need to know. Let us examine them in detail:
1. Swimming, Snorkeling, And Kayaking In The Clear Waters
The clear, exciting waters of the Gulf Coast play an essential role for people visiting Glass Peddle Beach. Its warm temperature and calm waters create a perfect and safe atmosphere for visitors to swim.
It's also a fitting spot for snorkeling, though you should exercise caution due to the protruding jagged rocks along the shoreline. For those seeking more than just swimming and snorkeling, Glass Pebble Beach offers fantastic opportunities for kayaking and surfing.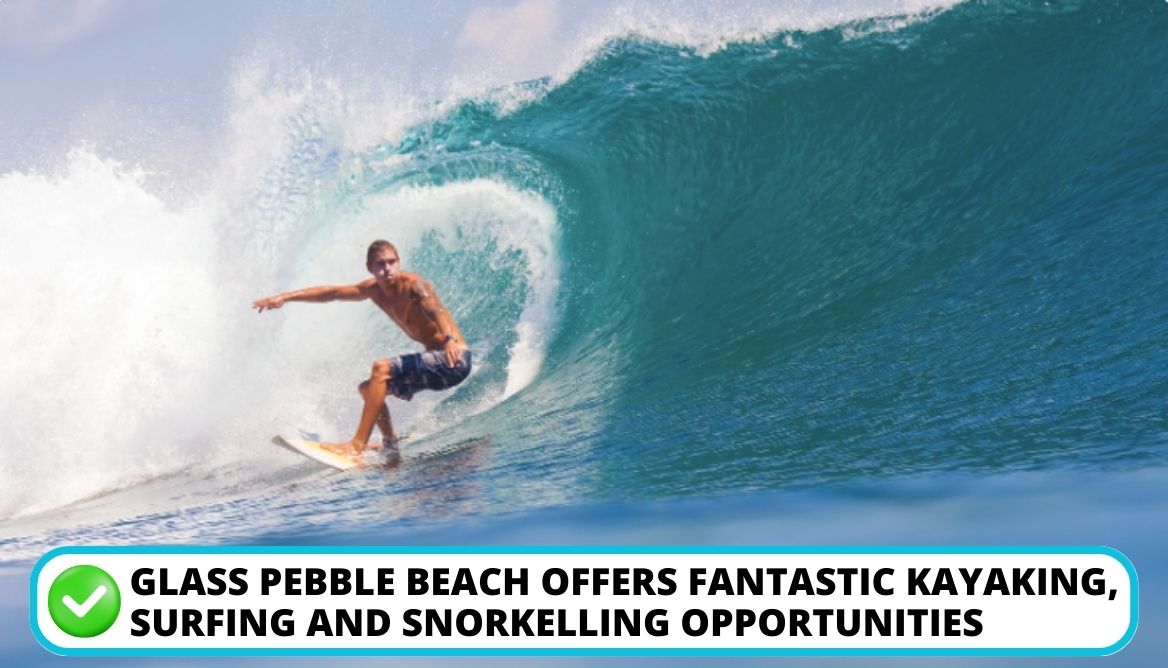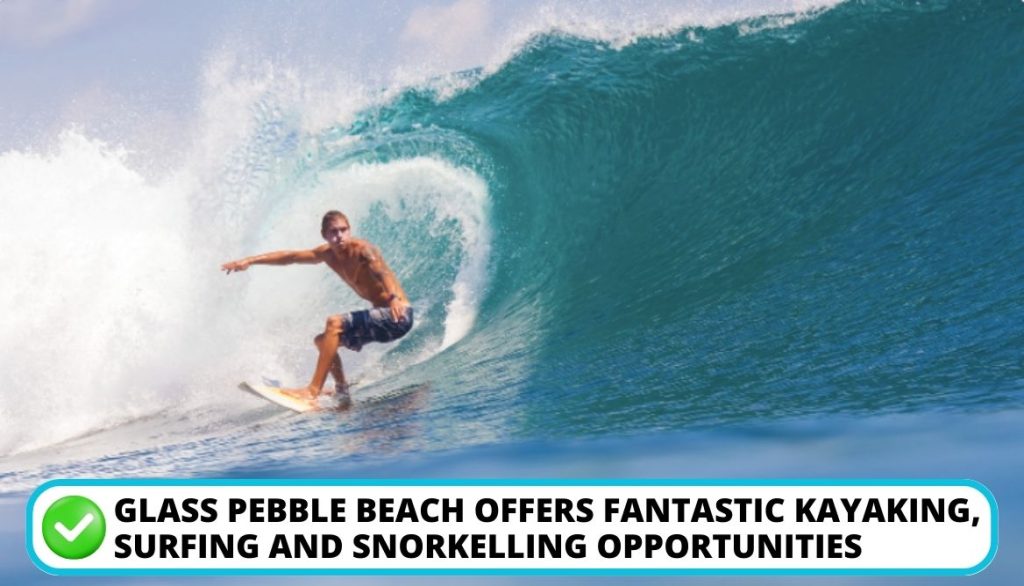 2. Sunbathing And Relaxing On The Beach
Glass Peddle Beach is there for you if you want to break the monotony of your busy day. Check out why it is best for sunbathing and laid-back:
The beach is expansive, so you will not experience congestion even during busy days.
Its glistening white sand makes it a superb spot to break and relax.
The fantastic sound of the waves gives a serene ambiance, ideal for unwinding.
3. Discovering the Adjacent Natural Trails and Wildlife Sanctuaries
Beyond the shoreline, Glass Pebble Beach offers an opportunity to experience Florida's natural beauty. Venturing into the adjacent nature paths and wildlife sanctuaries provides the chance to encounter the indigenous plants and animals at close range, including uncommon avian and wildlife varieties like dolphins and sea turtles.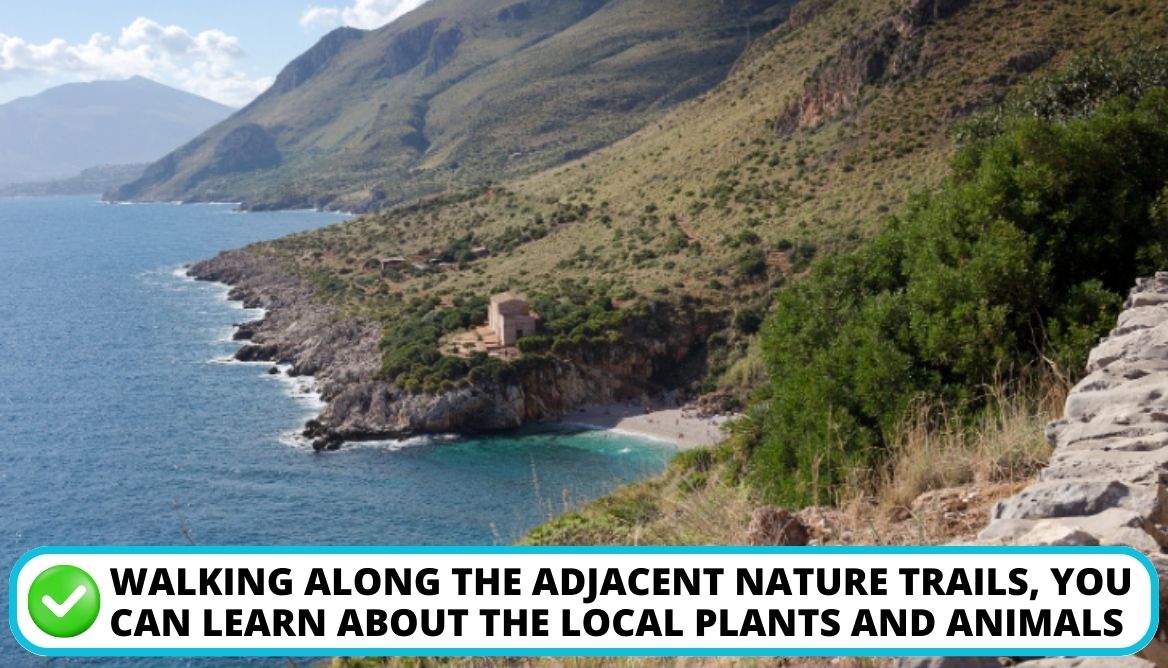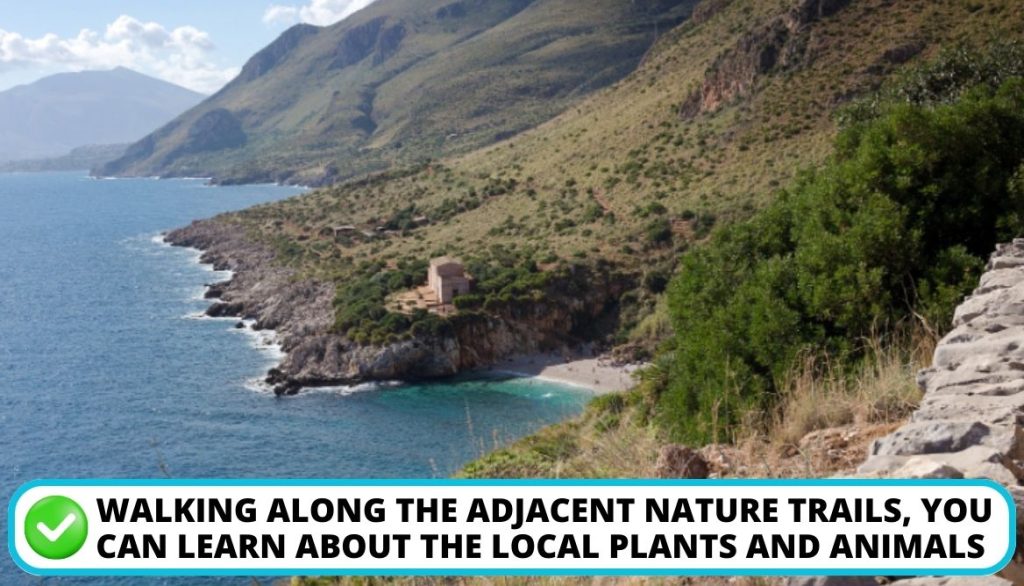 The Optimal Period for Exploring Glass Pebble Beach
Nothing is as good as getting to the sea-glass beaches at the right time. The best time to visit Glass Pebble Beach or any sea-glass beach is during the spring and fall months. Here are the average temperatures during these times:
Late Fall (November) daytime temperatures range from 70-80°F while at night temperatures lie between 50-65°F.
Early Spring (March) daytime temperatures range from 70-80°F whereas at Night temperatures drop to 50-65°F.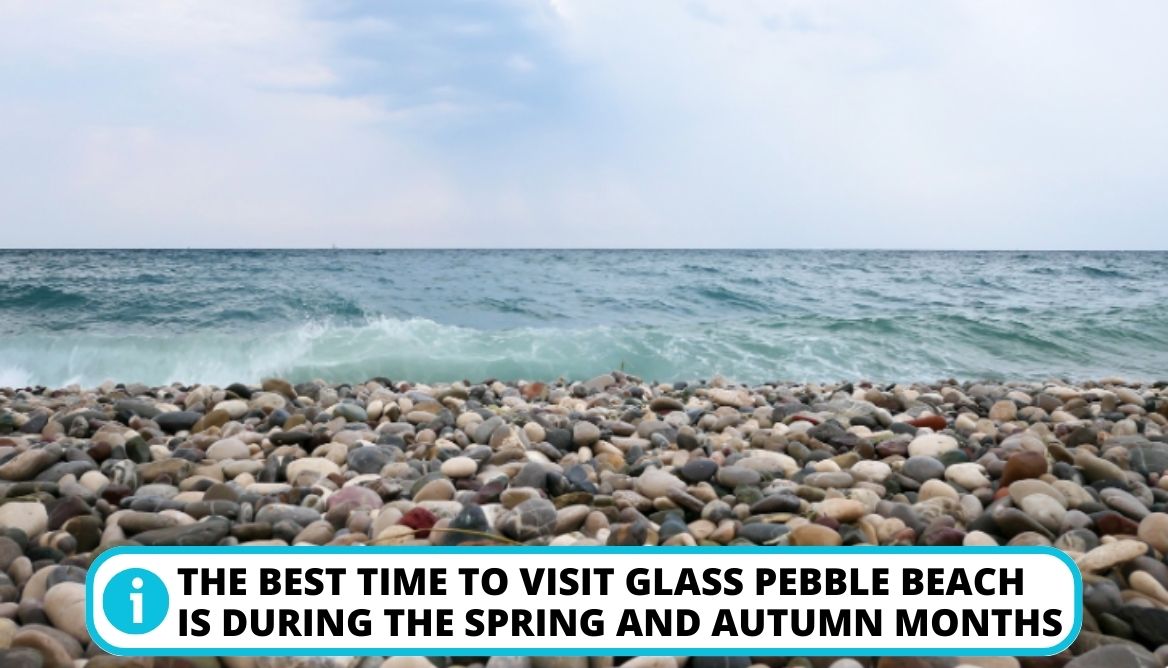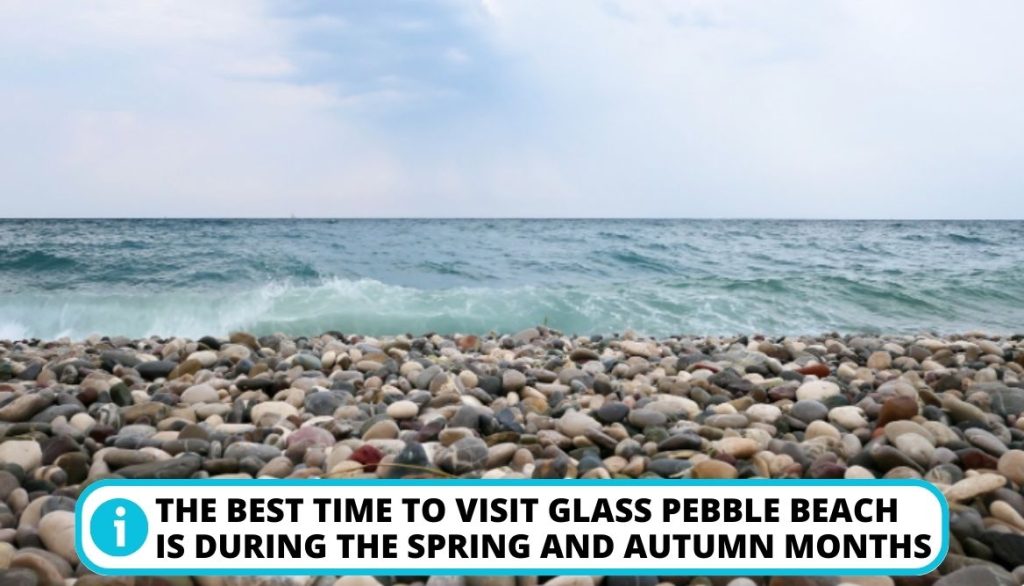 Note: Crowds in Glass Pebble Beach vary depending on the specific destination of your trip.
Are Sea Glass And Beach Glass Identical?
Many individuals use sea glass and beach glass interchangeably when referring to glass items discovered on the shoreline. However, it's important to note that while sea glass is typically located in the ocean and possesses a frosted appearance, beach glass originates from freshwater sources and it is transparent.
In the case of Florida, there is no freshwater; therefore, you can use sea glass and beach glass to mean the same thing. Let us look at some of the places to find sea glass in Florida and tips that will make it easy to find sea glass:
Finding Sea Glass in Florida
Florida is a hub of stunning clear waters and white sandy beaches. Additionally, it offers the best sea glass beach destinations. Let us explore some of these locations that offer quality sea glass in Florida: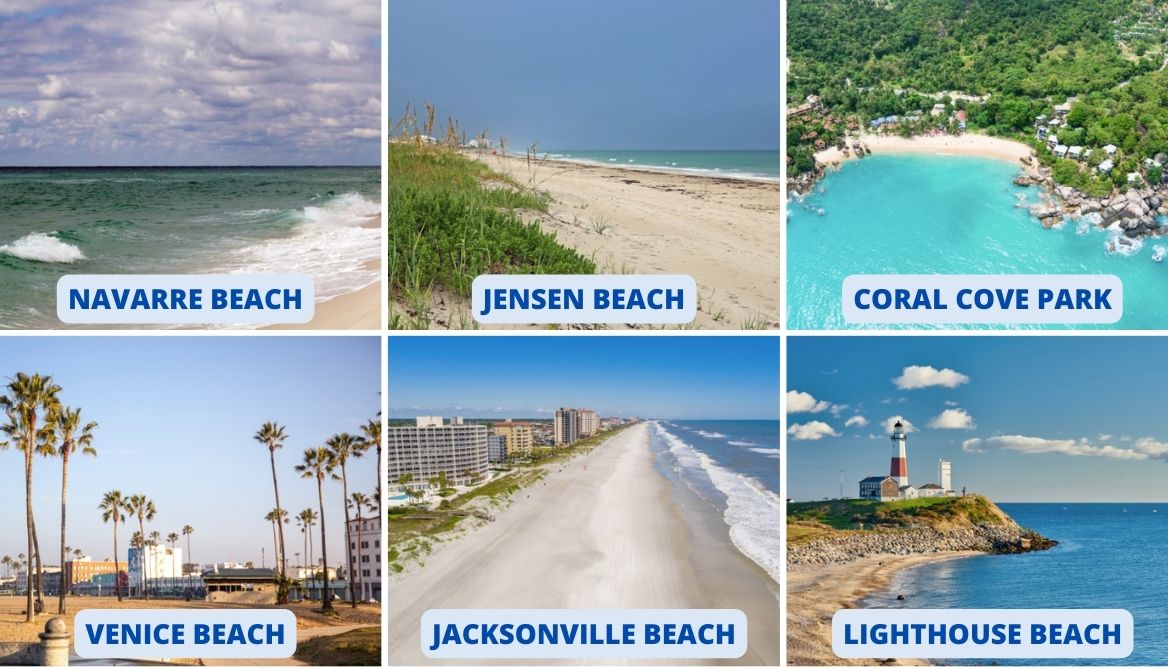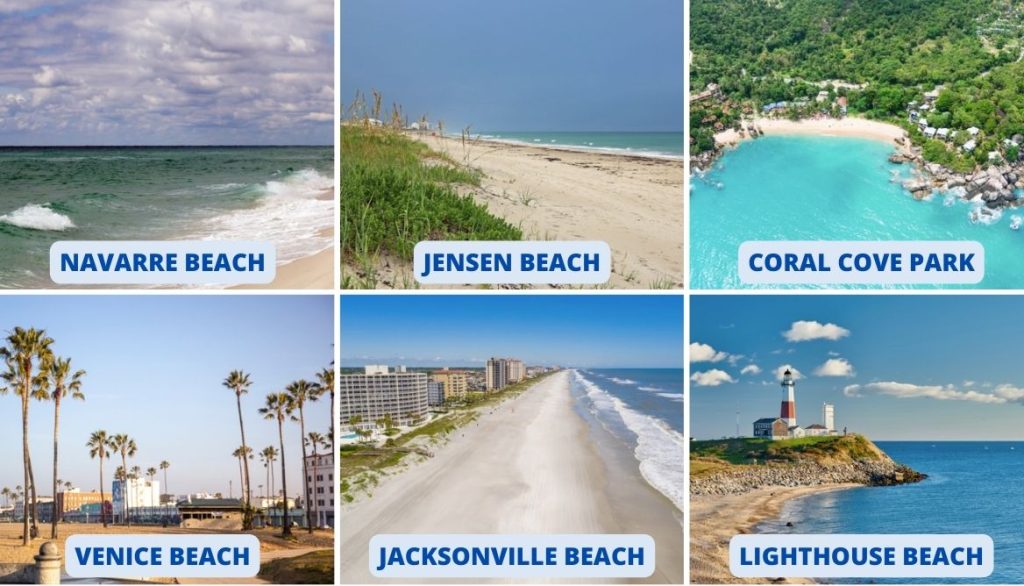 Tips That Will Make it Easy to Find Sea Glass
Discover some of the factors that will make it easy to find sea glass:
Explore at low tide: Search for regions spread with seashells during low tide. Sea glass hunting during low tide works better because the sea sand is disturbed, and the tide recedes further.
Search during the sunny day: It is easy to find sea glass during sunny weather because they glint.
Use a spade: Using a spade to scrap the top layer of sand exposes more sea glass.
Search after storm or hurricane: Large storms or hurricanes cause the sea glass to come to the surface.
Is Sea Glass Really Glass?
The correct answer to this question is yes. Sea glass is just an artificial glass that finds its way to the ocean. The ocean is a tumbler that smoothens and polishes the glass into vibrant ocean treasures with distinct and colorful pebbles. Some of these sea glass in Florida include;
Brown sea glass;
Green sea glass;
White sea glass.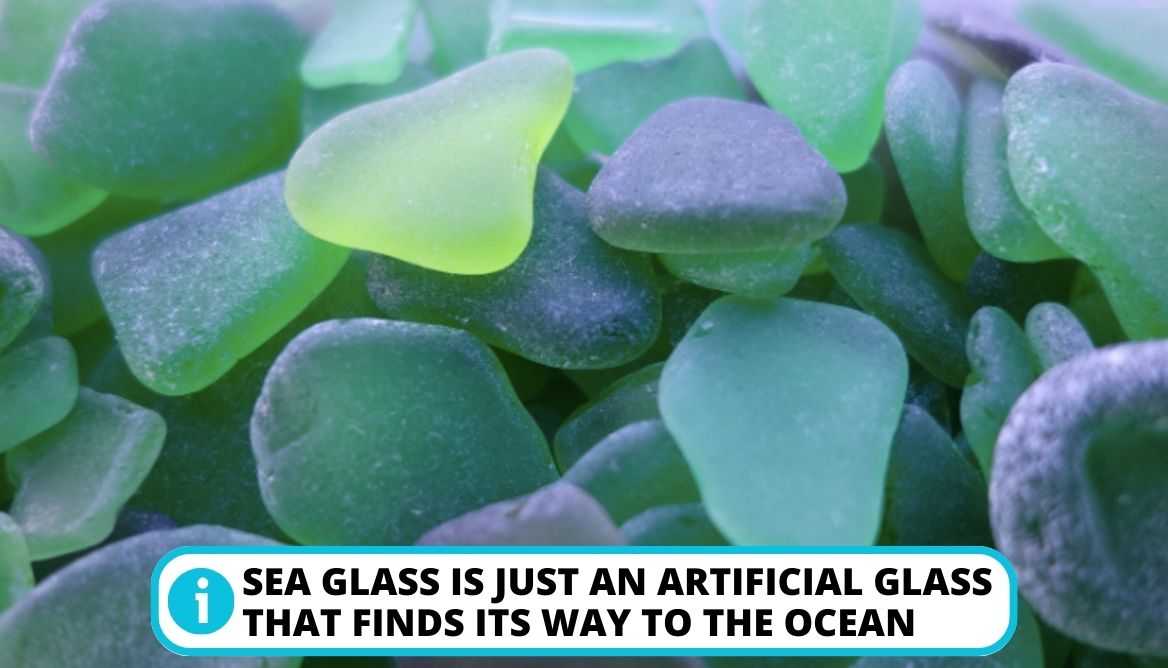 Is it Permissible to Colecte Sea Glass on Public Beaches in Florida?
Sea glass stands out as the best and free-of-charge item you will collect on some Florida beaches. Collecting sea glass on Florida beaches is legal and free unless indicated on the platforms or the beach.
Concepts for Displaying Pebbles and Sea Glass
Finding sea glass can be a hobby for people who know how to use them. There are numerous ways to use your sea glass and pebble. Let us look at some of them: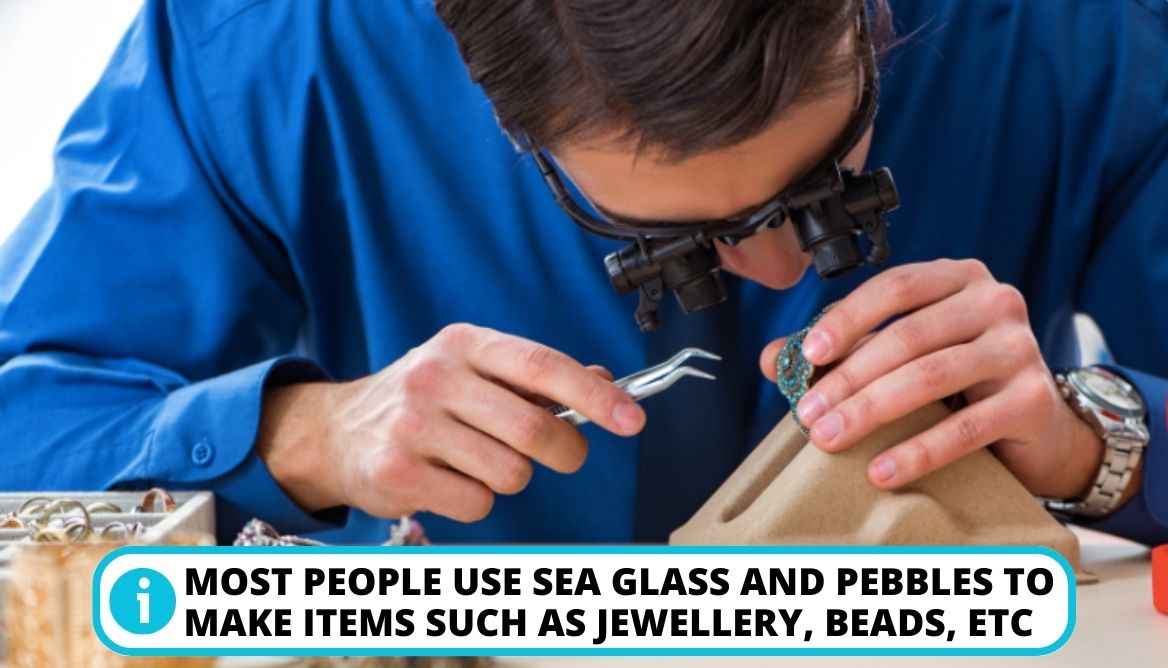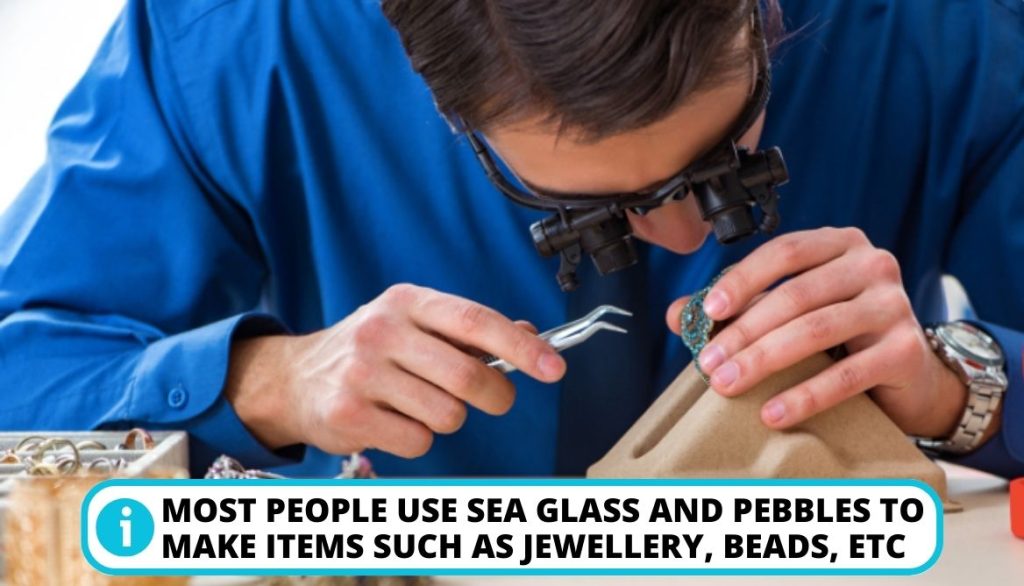 Craft Projects: Most people use sea glass and pebbles to craft products such as jewelry, stepping stones, drilled necklaces, mason jars, and others.
Garden and Plant Décor: Once you find sea glass, gather a few of these and employ them to adorn a flower container; they provide an exceptional and vivid embellishment for your garden.
Mobile Decoration: If you have a kid, you can decorate his/her mobile toy with sea glass.
Mosaic Art: Furthermore, sea glass can be utilized as mosaic fragments in stone walkways or tabletops. This permits you to integrate diverse hues and other discoveries from the beach, such as seashells, into your mosaic craftsmanship, infusing a distinctive and creative flair into your area.
Wall art: You can use sea glass with shells or driftwood to make wall art. Wall decor with sea glass encompasses a shadow box or mosaic transparent glass backing.
Christmas Ornaments and Decor: If you once visited sea glass beaches and collected some of the items, you can save money for buying Christmas ornaments by designing your own. A few of the uncomplicated embellishment adornments encompass partially filling a see-through glass spherical decoration.
Lighted Sea Glass Decor: Among all the ideas of displaying sea glass, a sea glass candle is the easiest one that even children can design. Sea glass nightlights create a unique atmosphere in a softly illuminated space.
FAQ
How Did The Beach Get Its Glass Pebbles?
The beach gets its glass pebble or sea glass from household items, especially glass, after being disposed of into the sea. These glass shards undergo physical and chemical weathering to form natural frosted glass.
What Other Attractions Are Near Glass Pebble Beach Florida?
Apart from glass pebbles on this beach, there are other attractions that visitors can explore. Some attractions near Glass Pebble Beach Florida include Lone Cypress, Bird Rock Vista Point, Pebble Beach Golf Links, Spanish Bay, Seal Rock Creek Beach, and Point Joe.
Is Glass Pebble Beach Florida, Safe For Swimming?
Yes, Glass Pebble Beach Florida creates a good ambiance for swimming. However, visitors are recommended to check the condition of the water on the beach before immersing themselves in the water.
Is Glass Beach artificial?
No, Glass Beach is not artificial. It was formed due to natural processes that erode glass dumped in the ocean. Only the sea glass is artificial because they were formed due to human activities.
Can you take rocks from Glass Pebble Beach?
Collecting rocks from Glass Pebble Beach as mementos is generally acceptable unless they have been positioned there intentionally to block erosion or minimize damage from storm waves.
Which Beaches are Good for Sea Glass Hunting?
Most beaches in America are suitable for sea glass hunting. Some of the best sea glass beaches for hunting include Kauai Sea Glass Beach In Eleele, Glass Beach In Fort Bragg, and Del Monte Beach.
Which is the best way to Find Sea Glass?
The best way you can use in finding sea glass is by exploring the beach during low tide, immediately after large storms, at sunrise and sunset, and during sunny days.
Conclusion
For all of the best sea glass beaches in the U.S., Glass Pebble Beach Florida is ranked as number one for sea glass hunting. These treasures are formed through the continual impact of ocean waves on abandoned glass, resulting in their gradual smoothing and shaping.
Experienced collectors are allowed to pick sea glass and they are aware of the need to look near shipping lanes and regions with significant human activity. Take home some of them and try to design ornaments such as wall art, jewelry, flower jugs, and mosaic art. You can also keep them as a memory of your Florida adventure.
Have you ever been to Glass Pebble Beach Florida, or any other sea glass in Florida beach? How was the experience, and what did you take home? Let's hear from you in the comment section.