Happy Wayfarer is reader-supported. When you buy through links on our site, we may earn an affiliate commission.
Does Walmart deliver to hotels? It is often exciting when you travel and stay in hotels, but it often comes with unique challenges. So, in case, you are looking to enjoy vacations and need to know whether Walmart delivers to hotels, I am here to help you in this case.
Read on as I will discuss the process, benefits, and considerations of using Walmart's delivery services. Let's explore this informative guide.
Does Walmart Deliver To Hotels: Answered
To answer it in simple words, yes, Walmart delivers items to your hotel room. This makes your stay more convenient and enjoyable. Even if they do deliver, there is a procedure to follow. Now, to guide you about it, here are the instructions on how this works: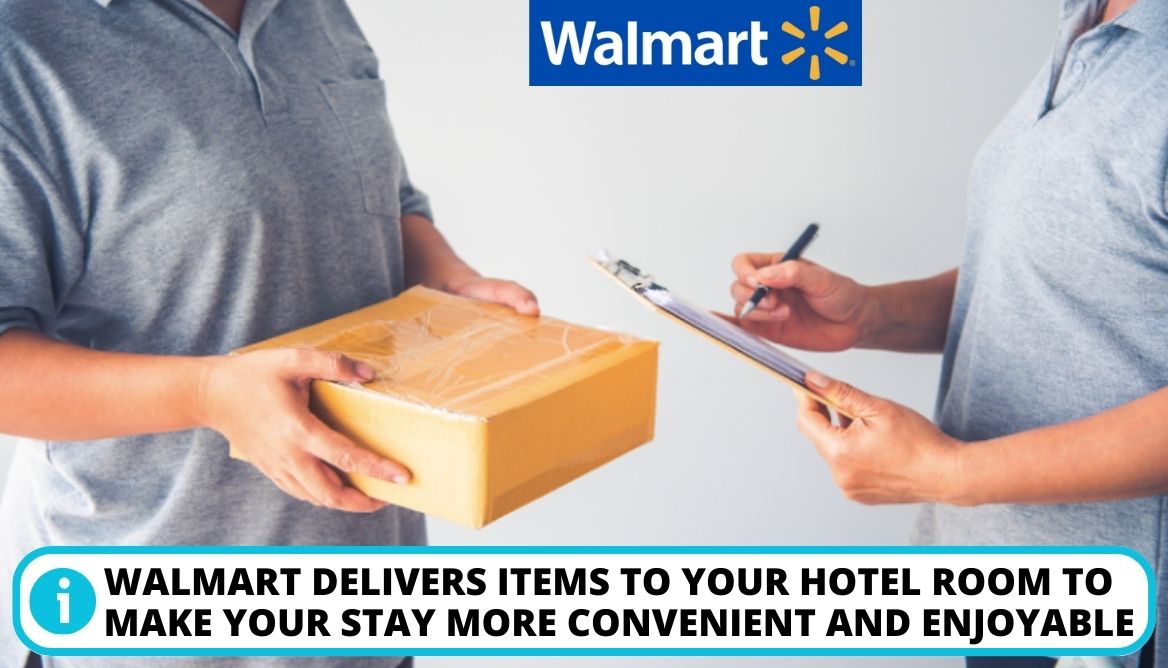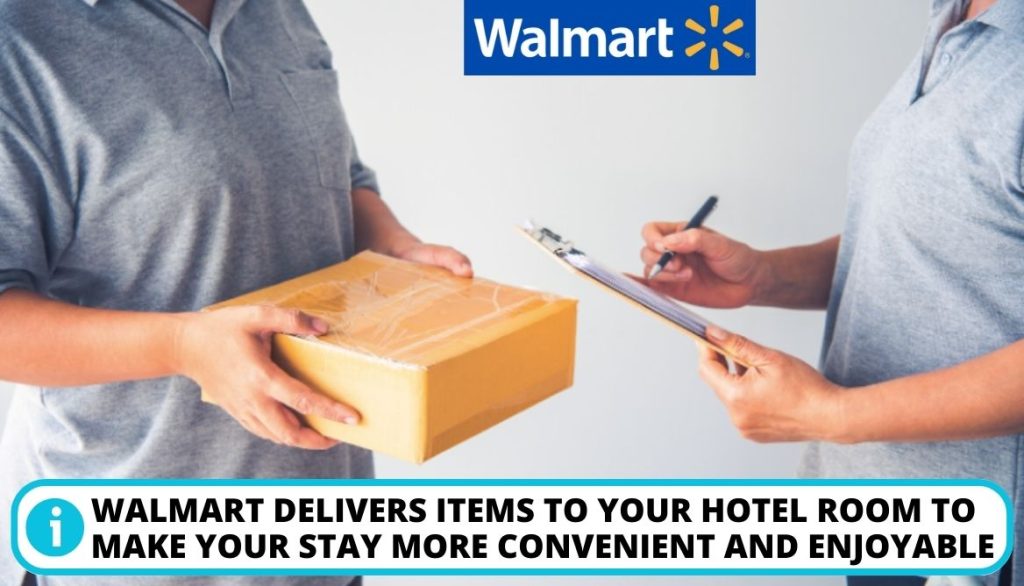 1. Provide Delivery Information
Giving the delivery details to hotel staff is the first step to make sure that you get your delivery safely. You need to give them important information like:
Name of the person delivering the item;
Delivery person's phone number;
Your room number.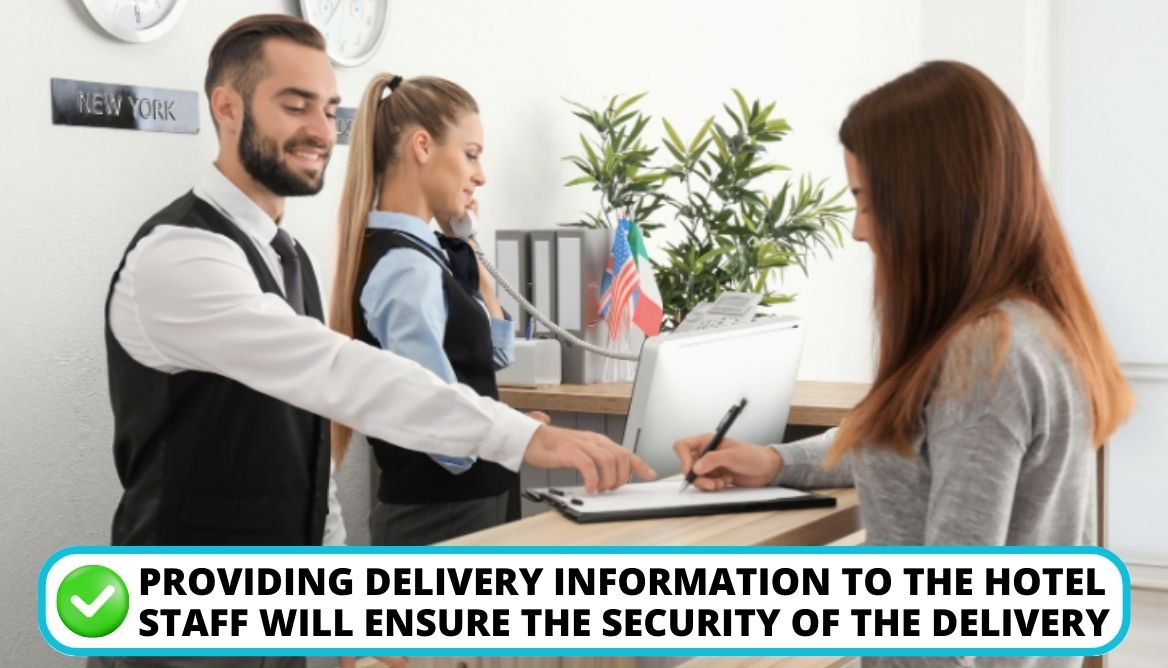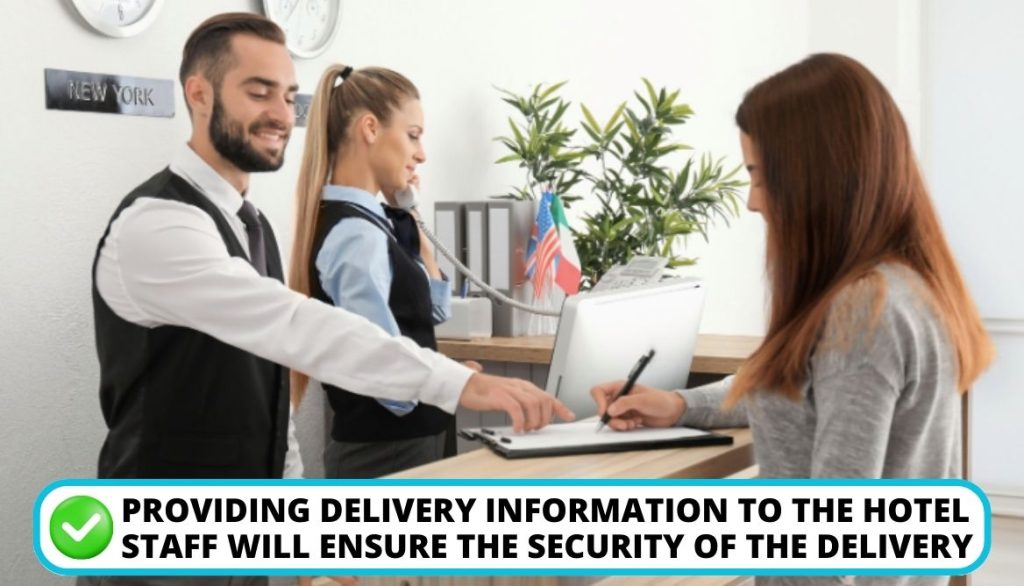 2. Hotel Package Holding
Right after you convey the required information to the staff, they will readily assist you in receiving the package. As per the rules, the hotel staff will hold the package securely for you at the front desk once they receive it.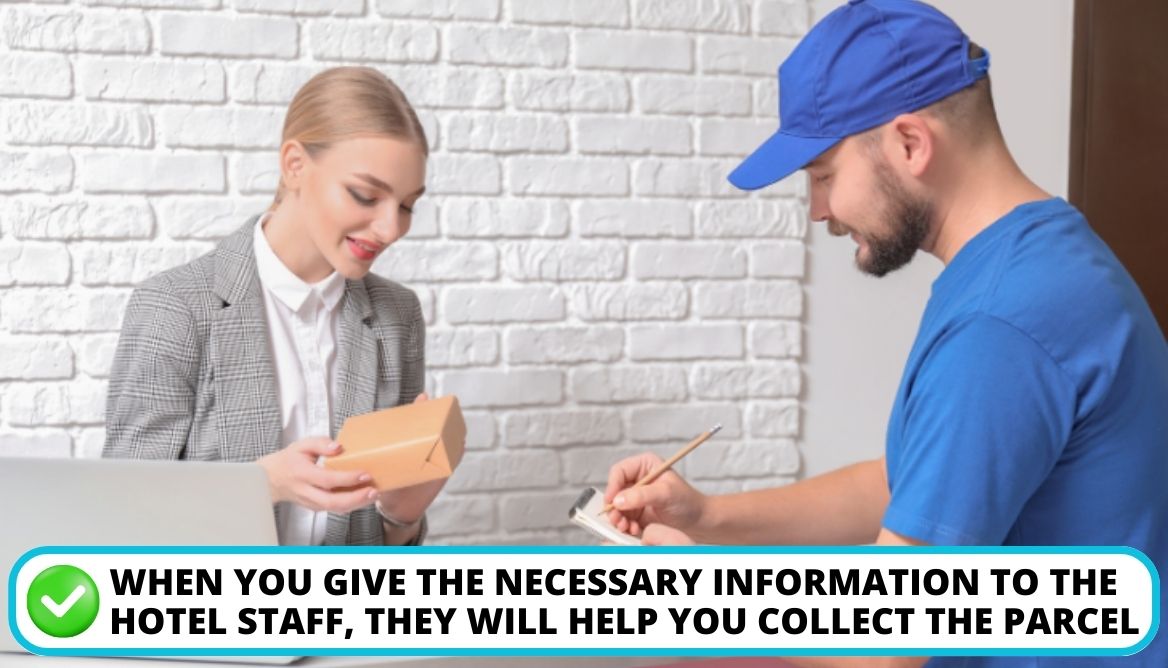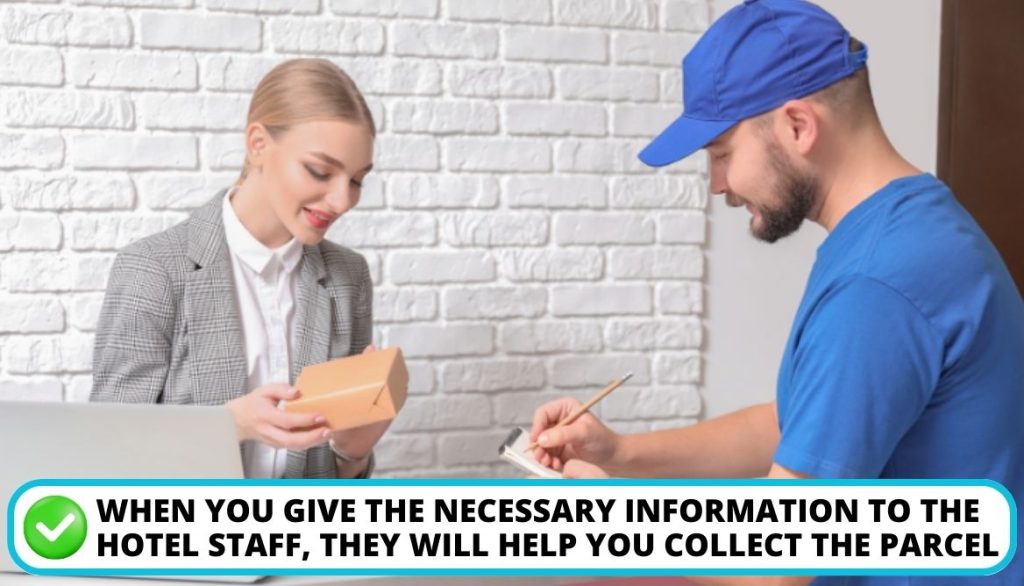 3. Sign for the Walmart Delivery Package
Moving on, you will need to sign for the package to receive Walmart delivery in the hotel room. This is a standard procedure to confirm that you have received your items in good condition.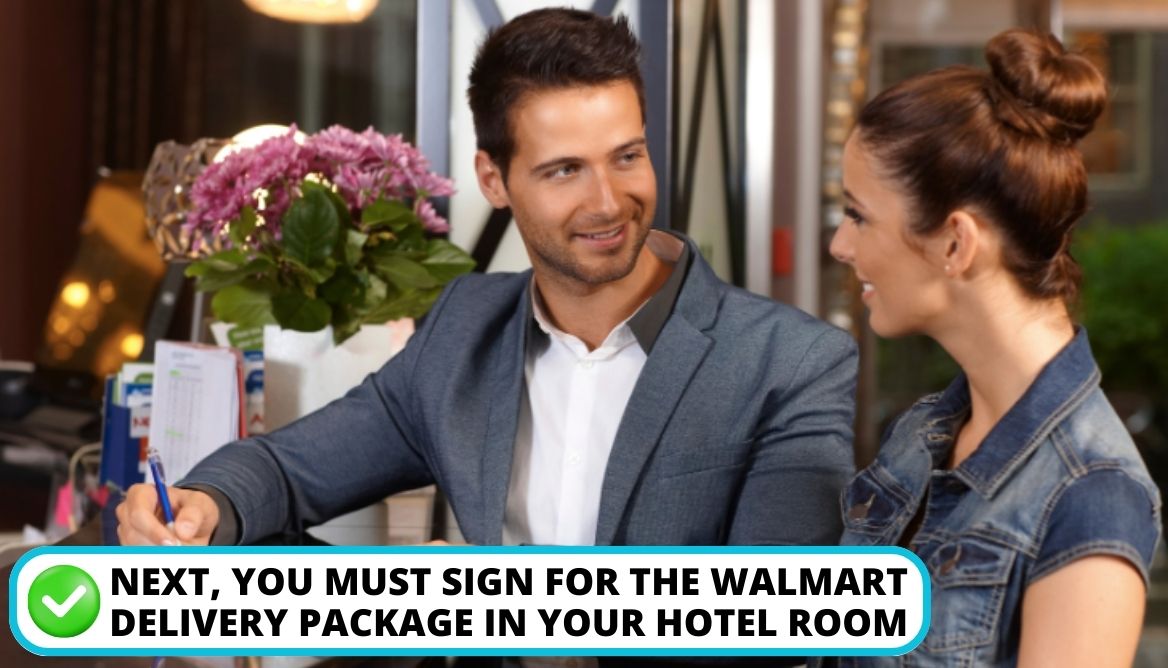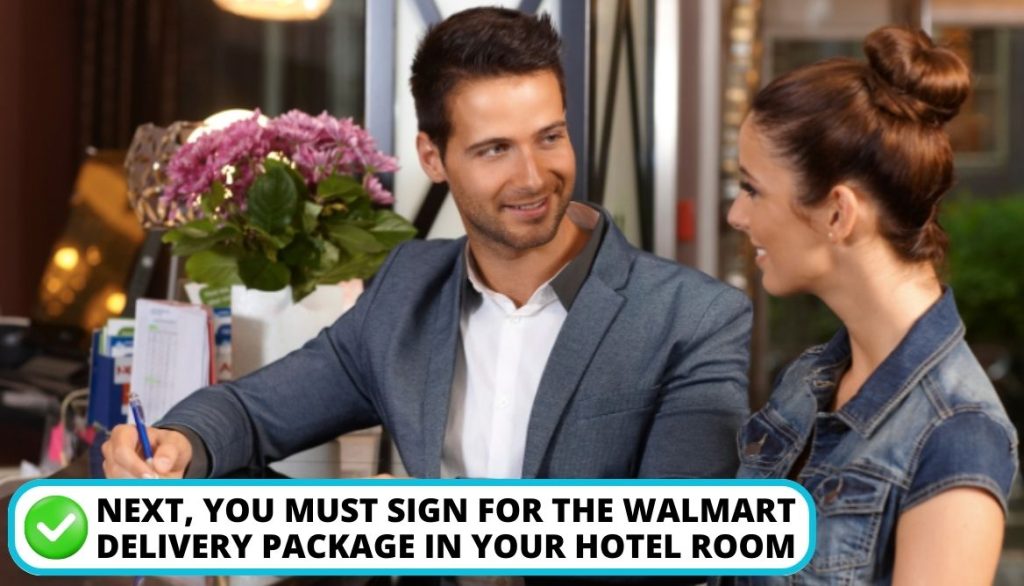 4. Be Aware of Hotel Restrictions
It is necessary to be aware that different hotels may have varying policies and restrictions regarding deliveries to guest rooms.
Some hotels may have limitations on specific deliveries.
Many hotels don't allow food deliveries due to their in-house dining and additional revenue-generating concerns.
Therefore, I suggest you contact the hotel front desk in advance to learn about the restrictions they have in place.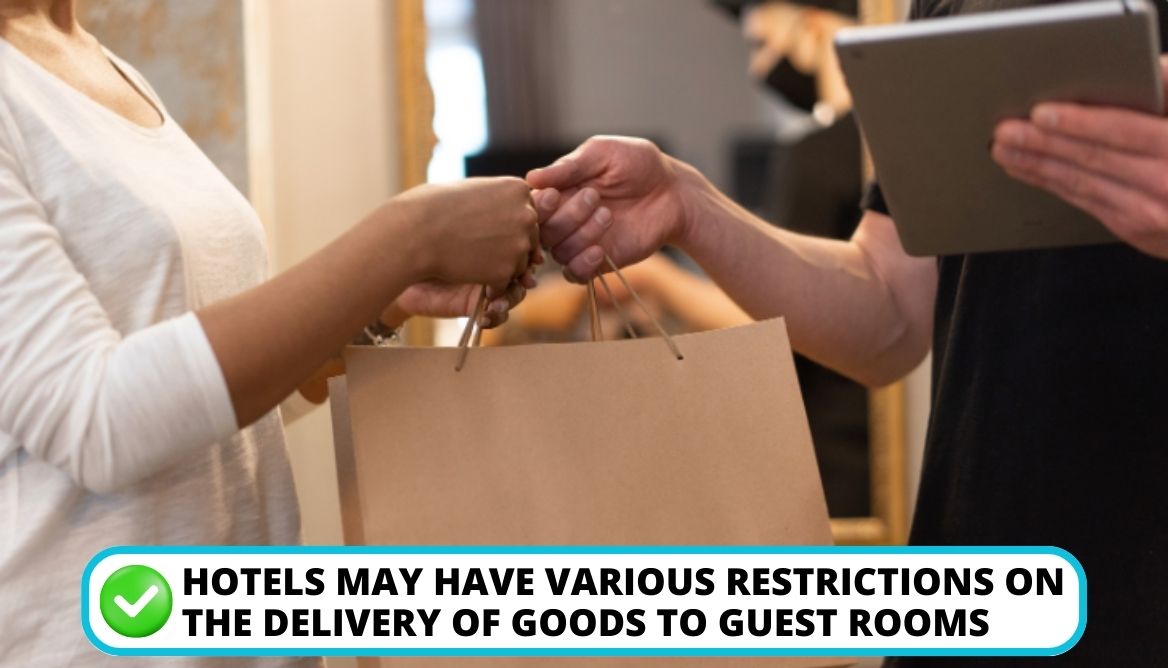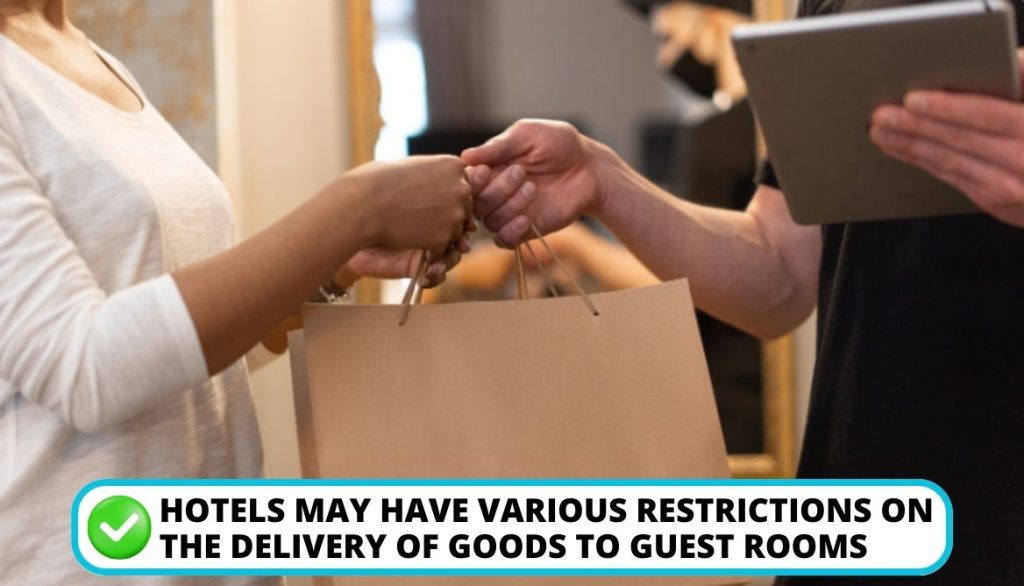 5. Understand Delivery Fees
Hotels may charge a delivery fee for receiving and holding your package. This fee is typically a nominal amount, often just a few dollars. To save money, it's recommended to ask the hotel about any delivery fees before you proceed with your order.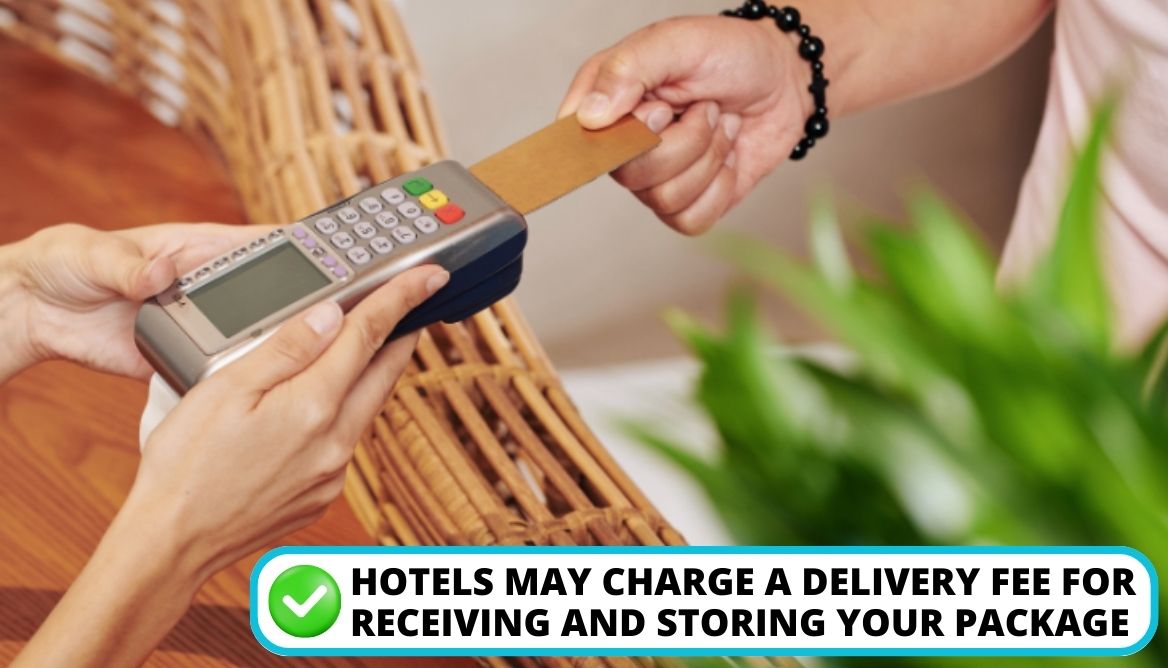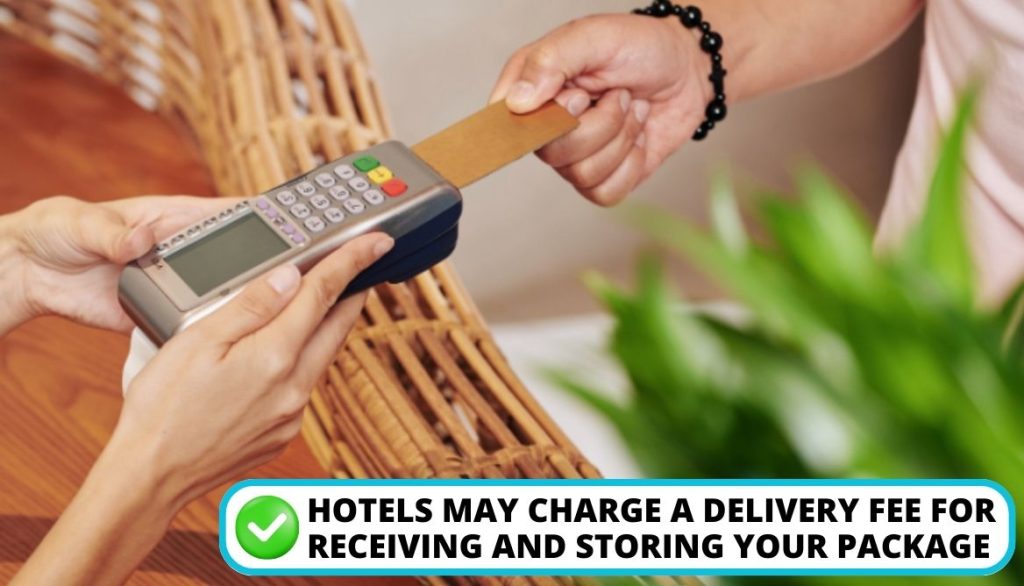 Bonus Tip: Tipping your Walmart grocery delivery rider is considered a good gesture. While the exact tip amount can vary based on your satisfaction and the service provided. However, a general rule is to offer a minimum of 10% of the total bill as a tip.
Important Considerations About Walmart Delivery When You Stay in the Hotel
Walmart offers good-quality items and fresh groceries online. If you ever have a problem with what you ordered, Walmart will take care of it by replacing it or funding it.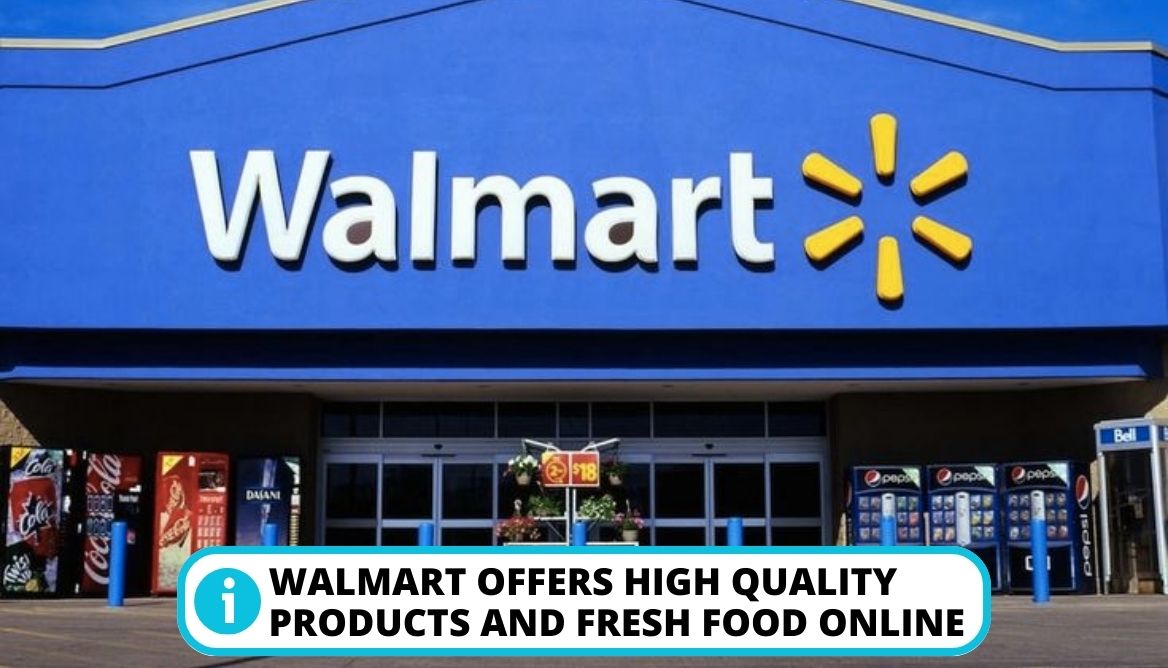 This is why it is so popular with residents and travelers alike. So, let's discover what things you must do when ordering something from Walmart at your hotel for the very first time:
Sign Up on Walmart's Website: Start by creating an account on Walmart's website for security.
Share Your Hotel Details: In the delivery address section, provide your hotel information so they know where to deliver.
Select the Required Items: Explore Walmart's website and choose the items you need. There you can buy groceries and other items you need for your stay at the hotel.
Choose delivery options: Standard and express delivery to the hotel. You can decide which one works best for you.
Transfer the Payment: Type in your credit or debit card payment details to complete your order by tapping the designated button.
Wait for Delivery: Walmart's delivery service will promptly bring your items to your hotel, saving you time and hassle.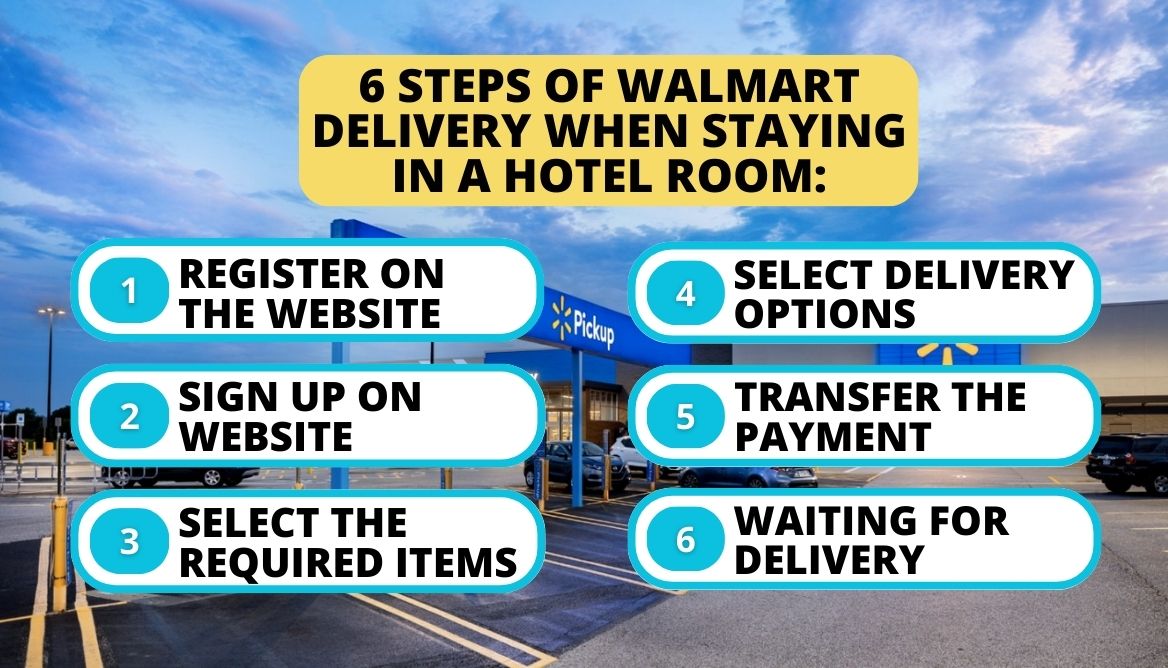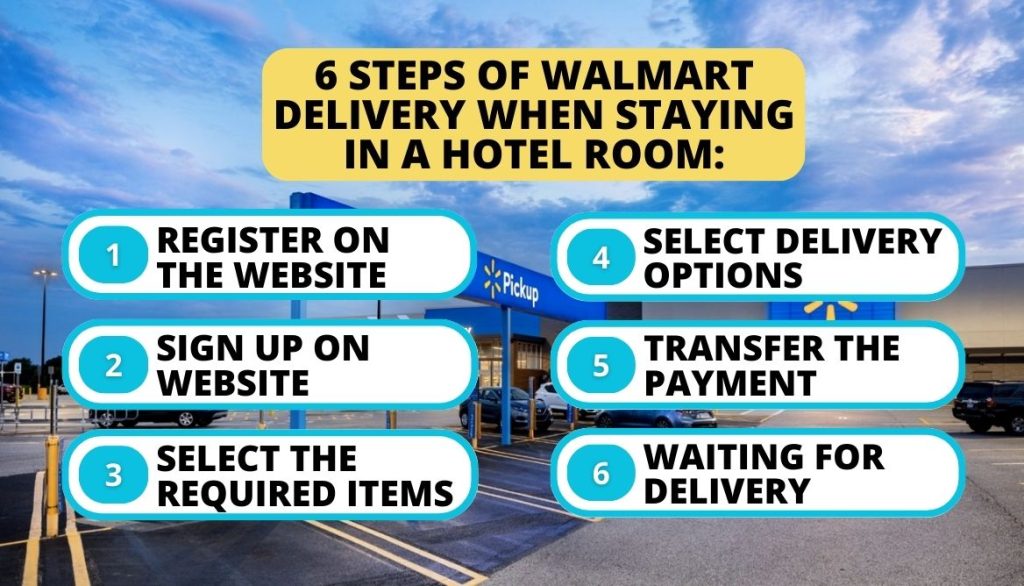 Note: But remember, for any items or groceries delivered there might be a minimum order amount, usually $35, to get free delivery. Moreover, you can use the Walmart app to search the nearest Walmart store where you can shop or pick up your items.
Getting Walmart Grocery Delivered Directly
When you stay at a hotel for a while, such as Disney Resort Hotel, they offer grocery delivery services where they can bring groceries to your room. Another option is to order groceries online and from big hypermarket stores like Walmart, as they will bring them to your hotel room. Or you can even get someone to do the grocery shopping for you, such as through Uber Eats.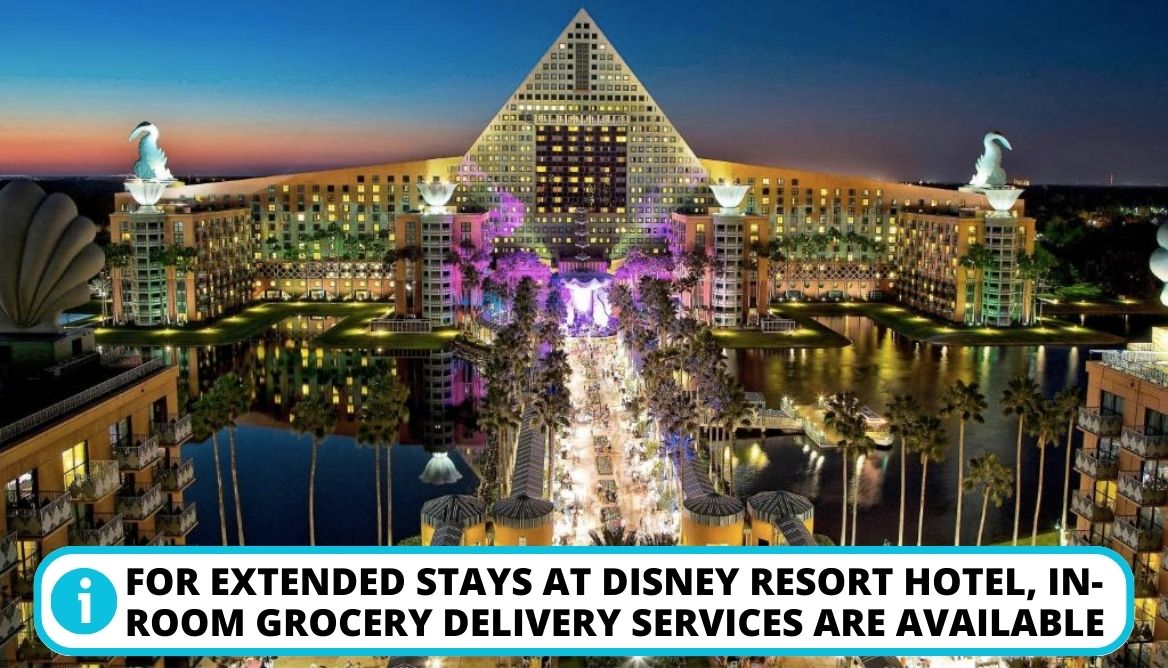 Order Online Delivery Delivery to Hotel Room: Is It Okay?
Generally, it is okay to order food in your hotel room. However, keep in mind that different hotels have distinct rules about getting food deliveries. Sometimes, food delivery drivers can't bring your order right to your hotel room.
Many hotels have rules that say they should bring it to a different place, like the lobby. It might be because they want to keep things organized and safe:
The delivery services like GrubHub, Postmates, and DoorDash can bring food right to the customer's hotel room.
If you use Uber Eats, they might drop the food off at the hotel's front desk, depending on the hotel's rules.
So, before you order, it's suggested to check with the hotel if they allow food delivered to rooms. A few hotels might let you bring takeout or delivery food inside with permission.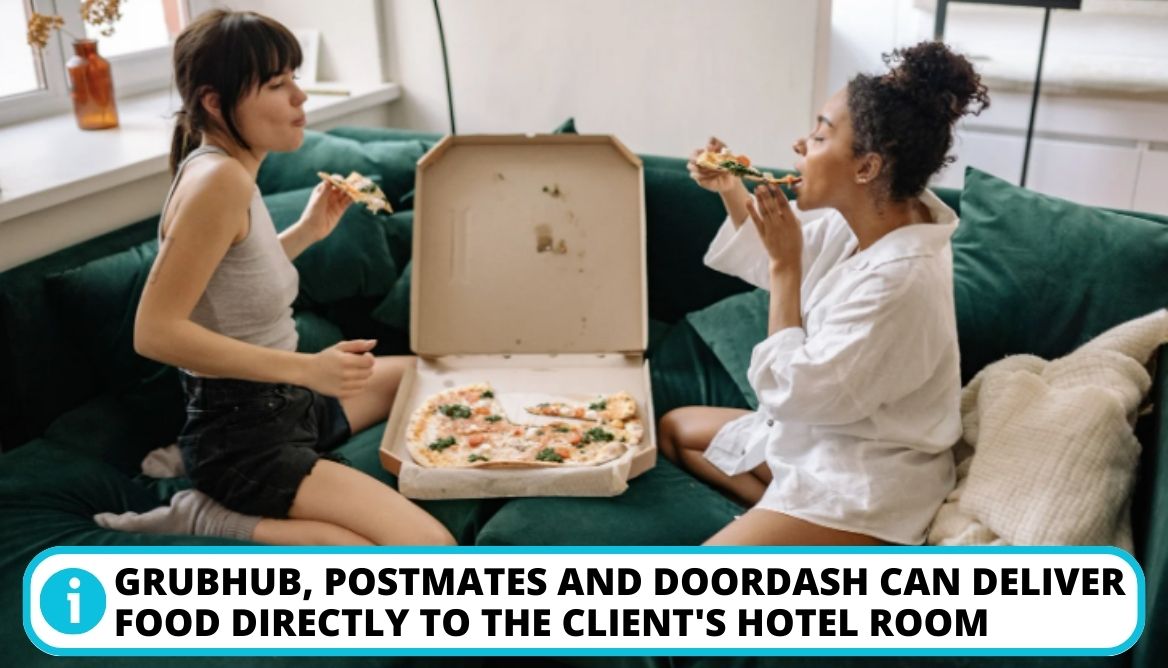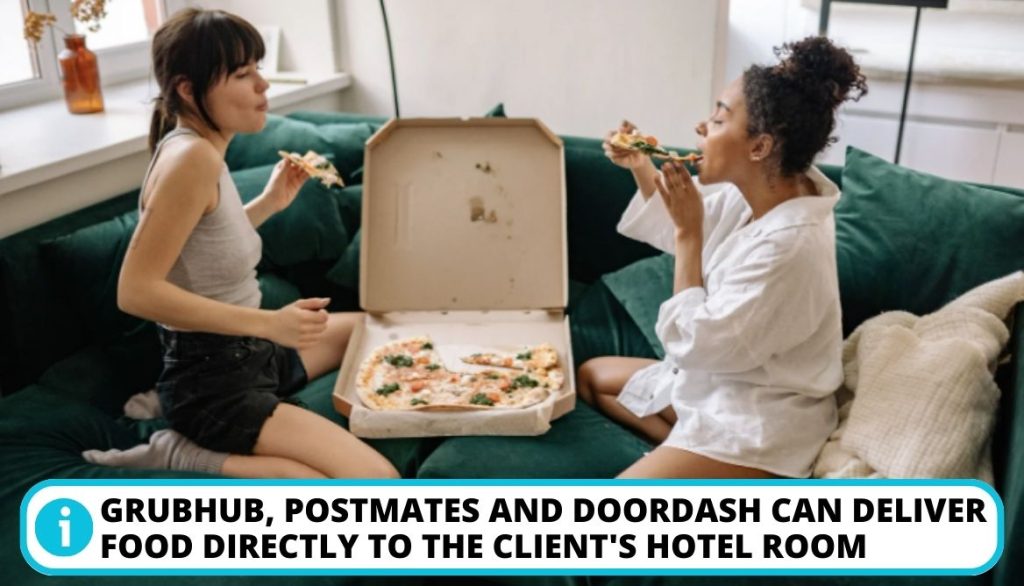 FAQ
How does Walmart deliver packages?
Walmart primarily delivers packages through its different delivery trucks. It offers delivery services such as Walmart+ for unlimited same-day grocery delivery and third-party carriers for other goods.
How much is Walmart free delivery?
Free delivery in Walmart starts from $35. By signing up with Walmart+, you get free delivery on all your orders. There is no minimum amount limit on any of your orders.
How long is Walmart's shipping?
The shipping time totally depends on the method you have selected, but it usually takes around 1-5 days to deliver. Groceries can be delivered day to day with the Walmart+ program.
Will Walmart Plus deliver to me on vacation?
Walmart Plus delivers your package to the doorstep of any vacation rental you are staying in the world. The free same-day delivery has a $35 minimum order limit restriction that applies.
Conclusion
The final say is that yes, the Walmart delivery service works for hotels. Create your account using their official website and order what you are looking for. You can make payment via credit or debit card.
If you want a quick delivery service, you can opt for the Express delivery option. Also, if visiting the hotel for the first time, check out their policies about ordering food, as some hotels don't welcome third-party delivery.
Lastly, have you ever used Walmart's delivery services during your stay at a hotel and how was your experience? Share your experience with me in the comment section below!