Happy Wayfarer is reader-supported. When you buy through links on our site, we may earn an affiliate commission.
Does American Airlines board back to front? If you are traveling via American Airlines for the first time, you may wonder about this. Read on to learn the preferred boarding system, the time of boarding, and also get insights into the planes owned by American Airlines. Let's get started!
Does American Airlines Board Back to Front? Here's The Answer
Yes, passengers are boarded from back to front and are separated into boarding groups. This ensures all passengers can get onto the plane quickly and safely, without creating any delays in the aisle.
The Airline may, however, alter or exclude certain aspects of this procedure.
Priority boarding is given to travelers who qualify or who have special requirements, such as if they are disabled.
The American Airlines boarding process may also be lengthened during high-volume seasons such as seasonal holidays and summer vacations.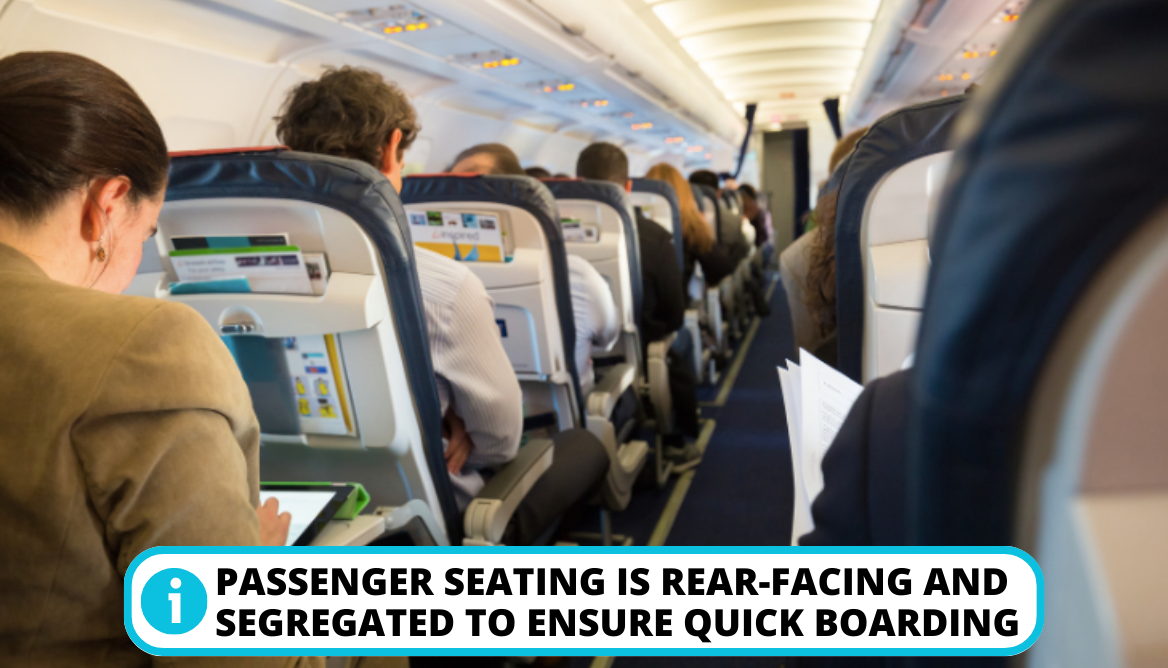 Methods Employed For Boarding Explained!
Passengers with first class, elite status, or business class tickets, as well as armed forces members, are given boarding priority. The remaining passengers are each divided into a different boarding group.
Passengers seated in the back of the plane are summoned first;
Followed by those in the middle;
Lastly, passengers in the front.
For an extra cost, American Airlines customers can buy priority boarding.
Now, let's discuss how many boarding groups there are and how this works.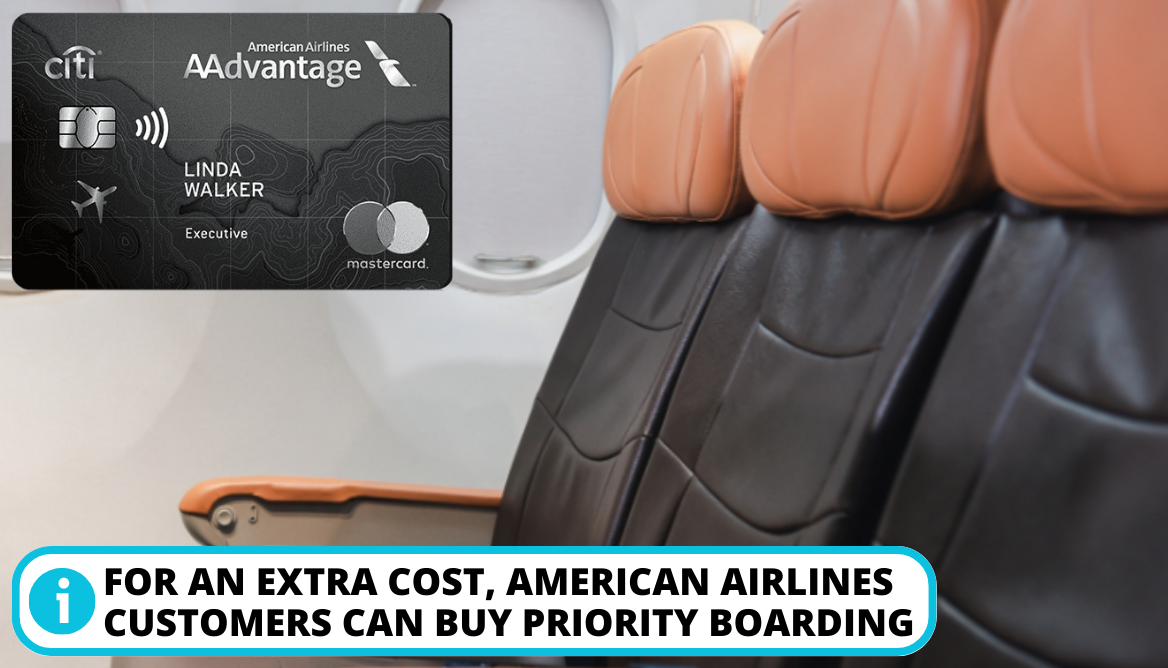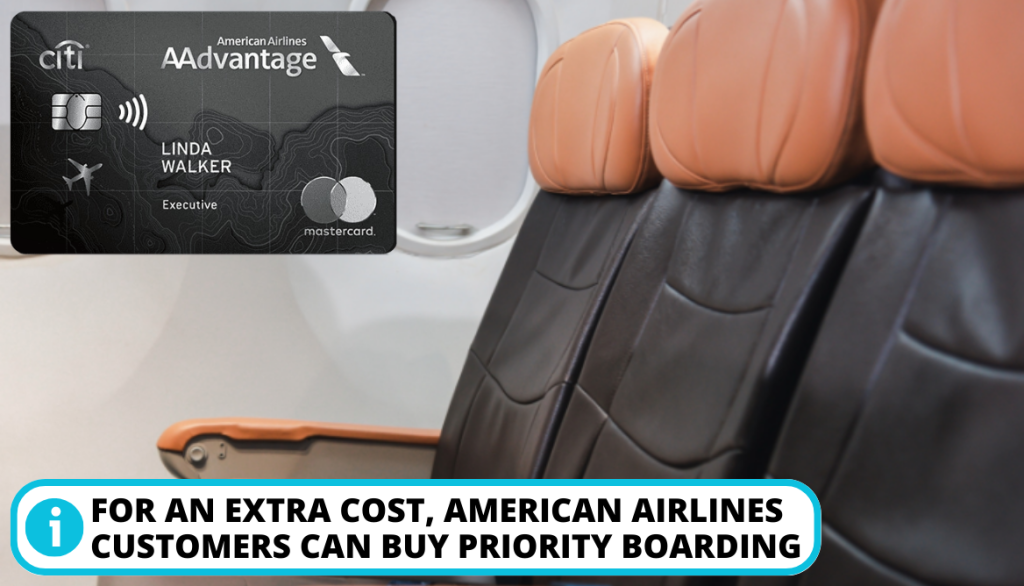 1. Pre-Boarding
American Airlines permits certain customers to pre-board prior to the start of regular boarding. As mentioned above, priority should be given to passengers with special needs, including those traveling with infants or active duty military members.
By enabling them to pre-board, these customers may avoid the huge lineups at check-in and get straight to their seats.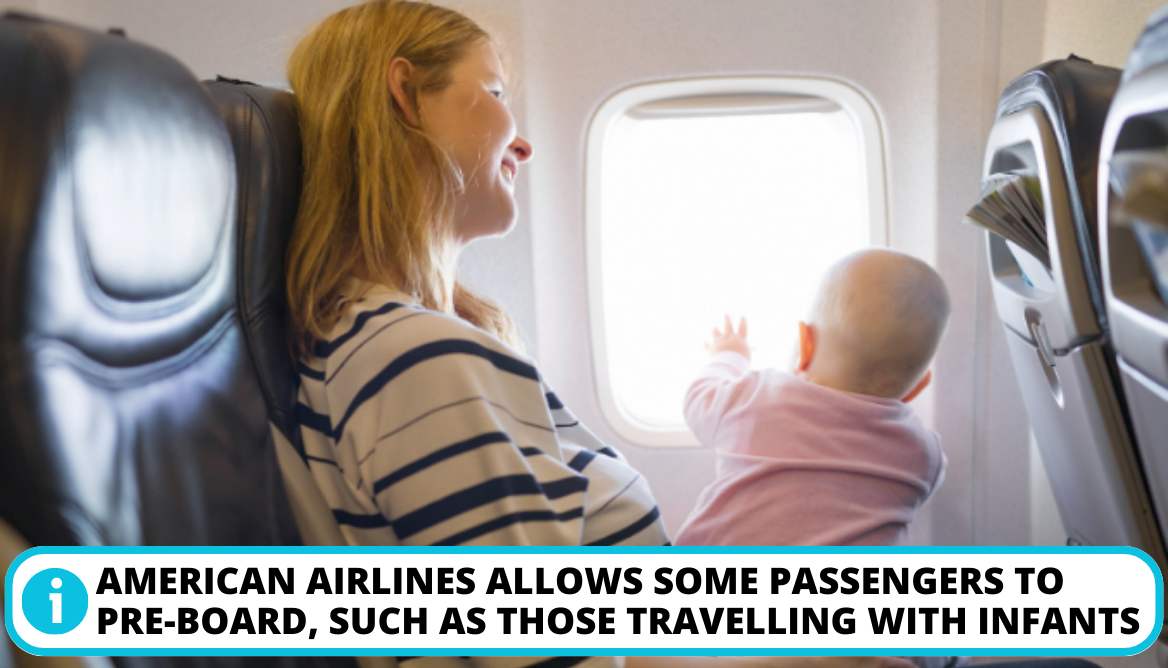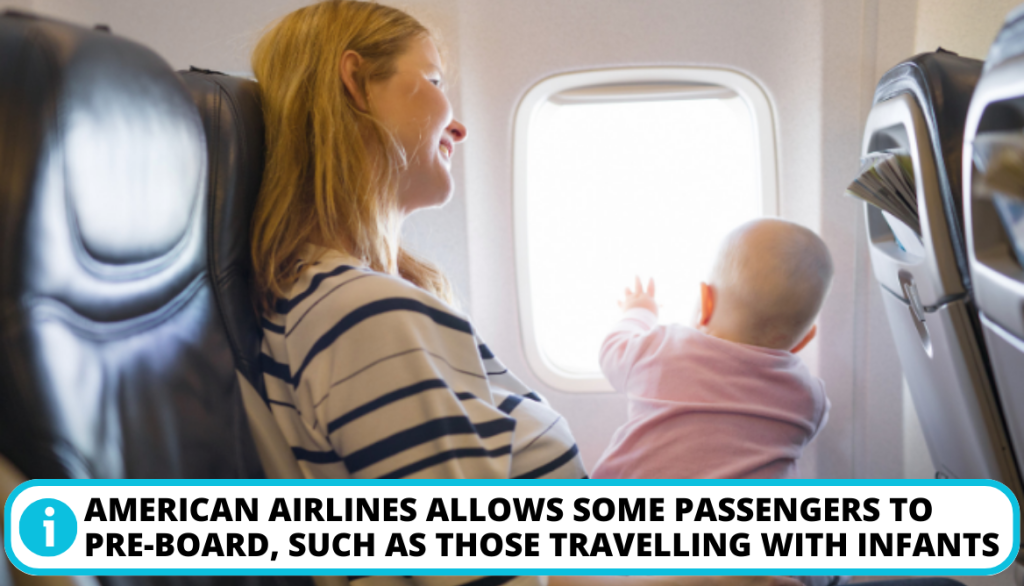 2. Boarding group 1
The first to board is Boarding Group 1:
Premium guests, including First or Business Class passengers and elite AAdvantage members, are part of this group.
The airline provides these customers with top-notch services like priority boarding, bag check, and check-in.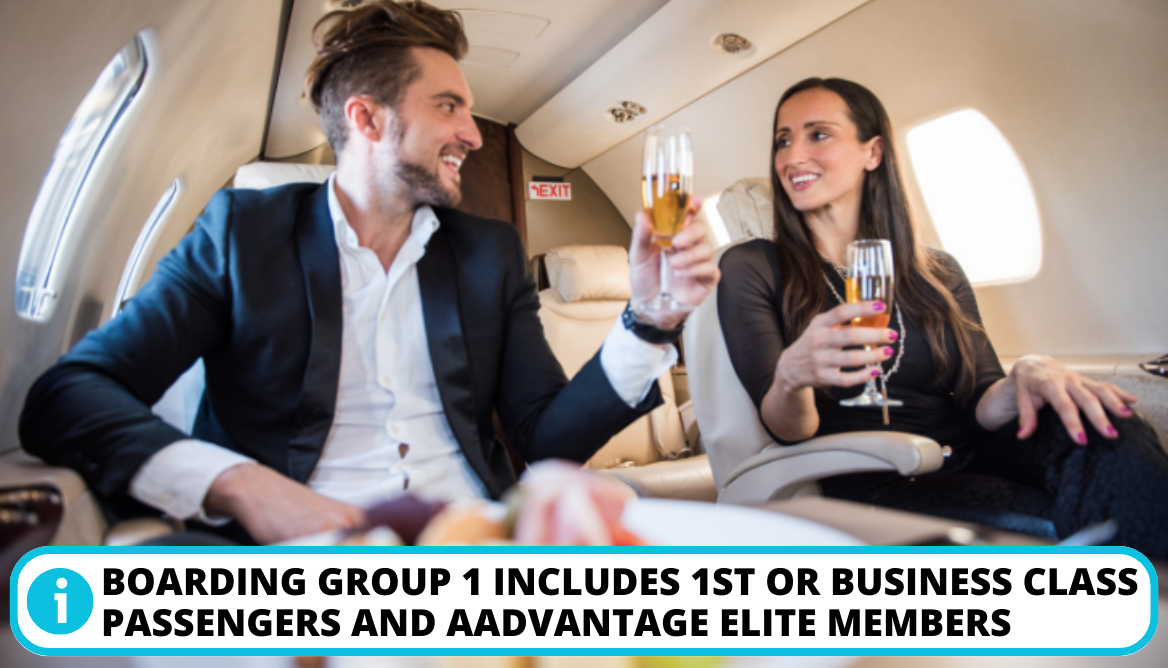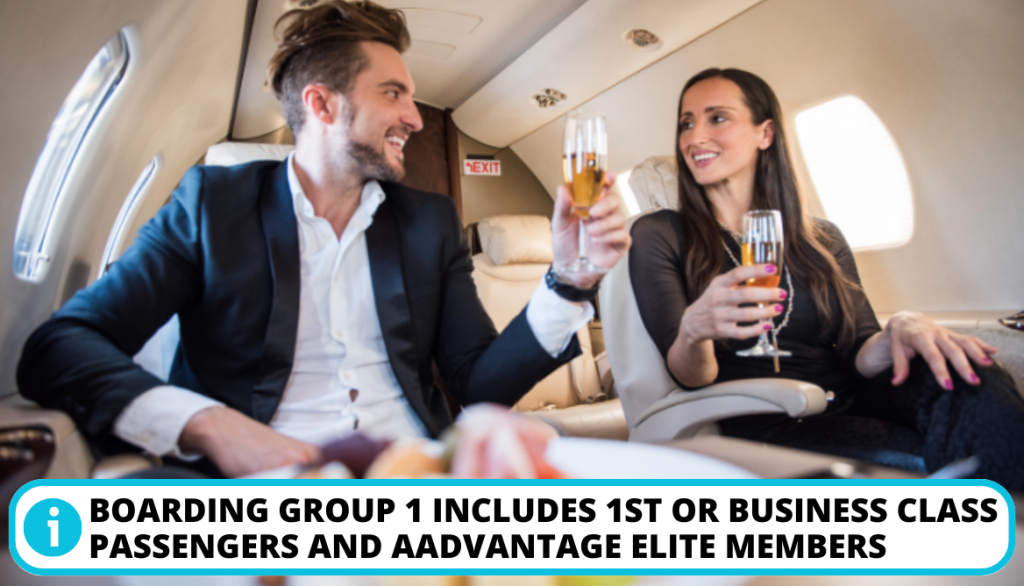 3. Boarding group 2
The next one in line is Group 2. Here's what you need to know about them:
Customers in this group have purchased economy tickets and received a priority boarding pass, but they do not have elite membership to the AAdvantage program.
They may also be eligible corporate travelers.
Priority check-in and boarding are offered but it is not applicable to luggage.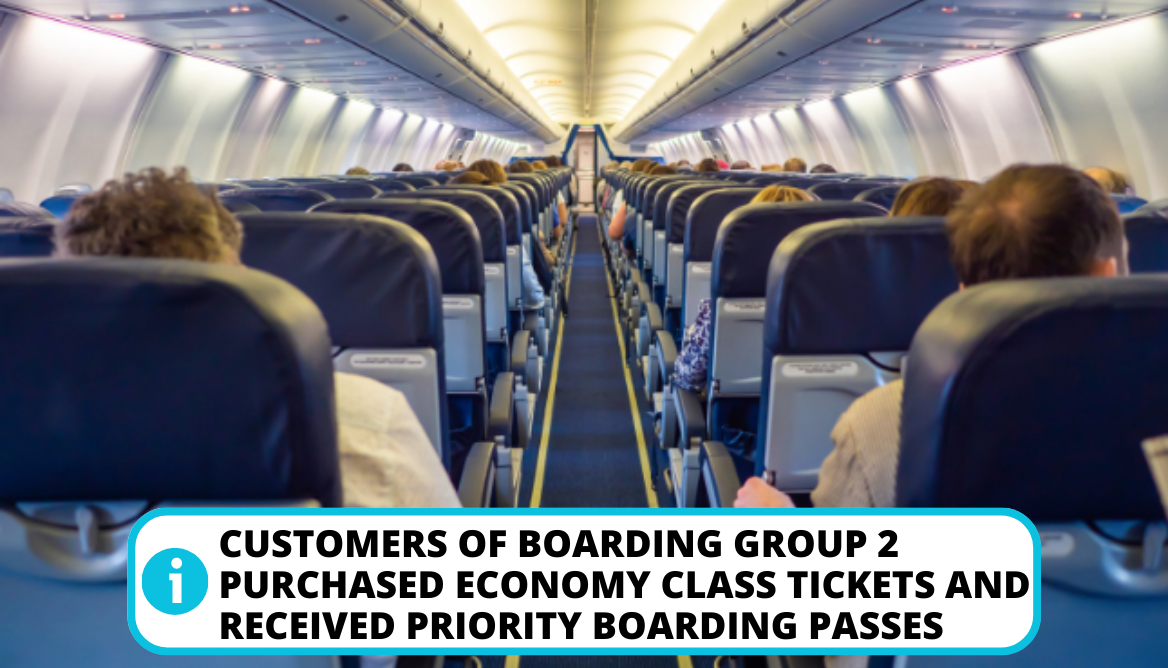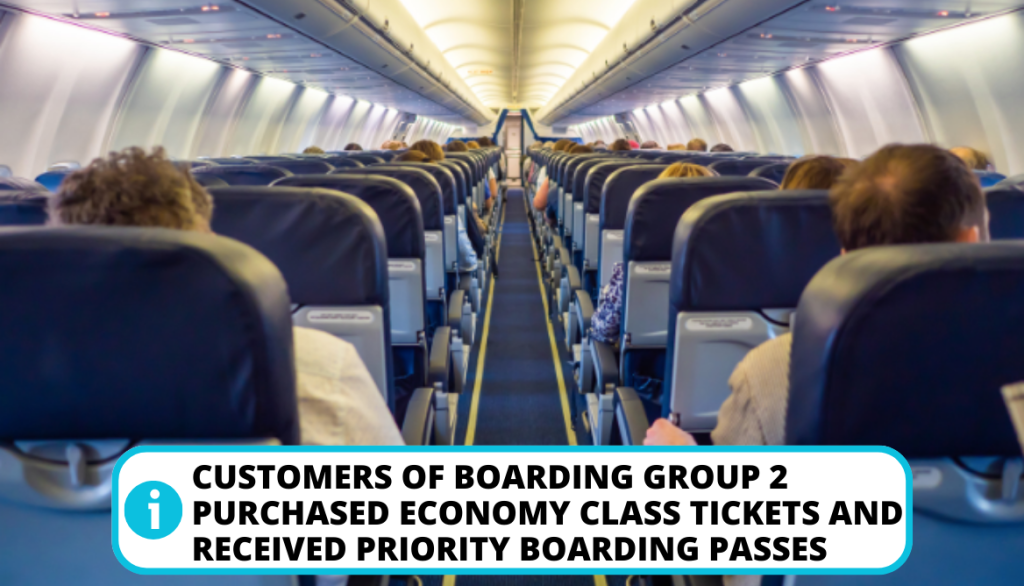 4. Boarding groups 3-5
Guests in American Airlines boarding groups 3, 4, and 5 may now board:
Those with an economy fare are not eligible for upgrades or other perks.
This section of passengers boards the plane in reverse, from the rear to the front.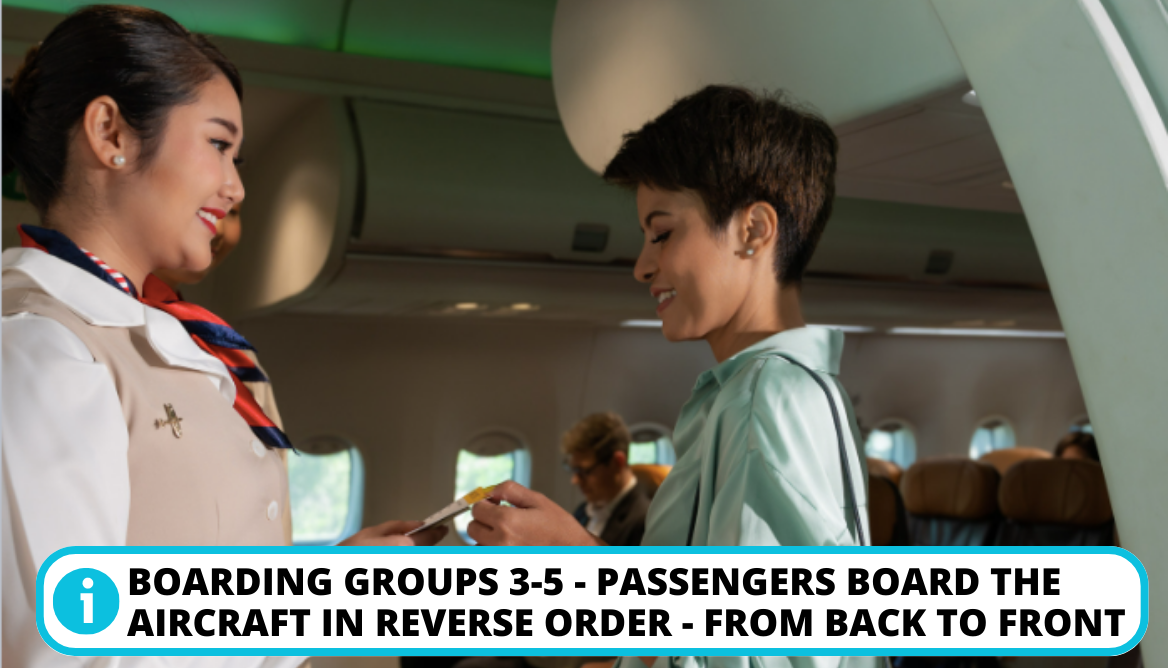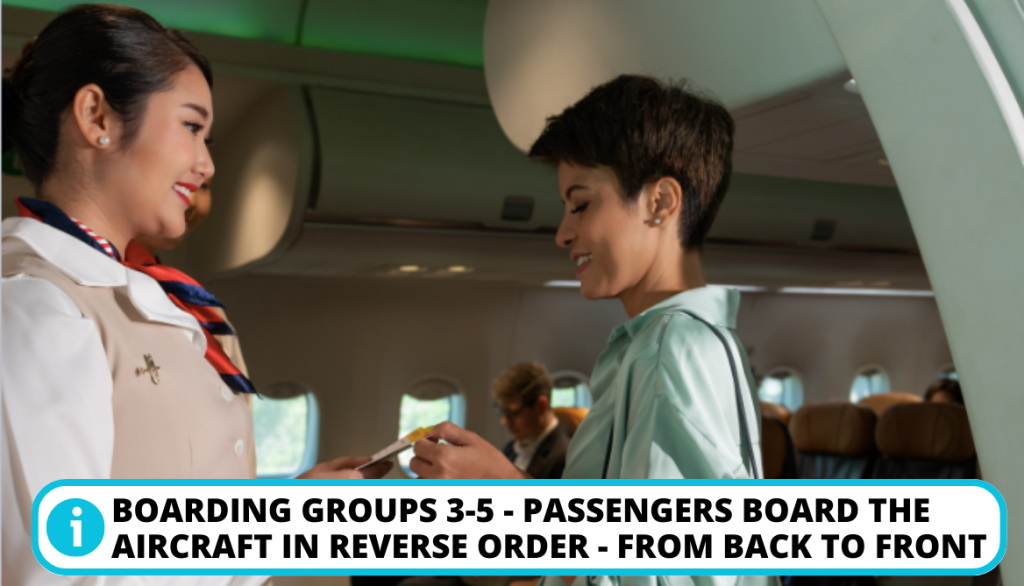 5. General Boarding
Regular boarding can commence once all passengers who purchased priority boarding and pre-boarding guests are seated:
The gate displays the seat numbers for all other economic guests, and they queue up accordingly.
When everyone is on board, the flight may depart.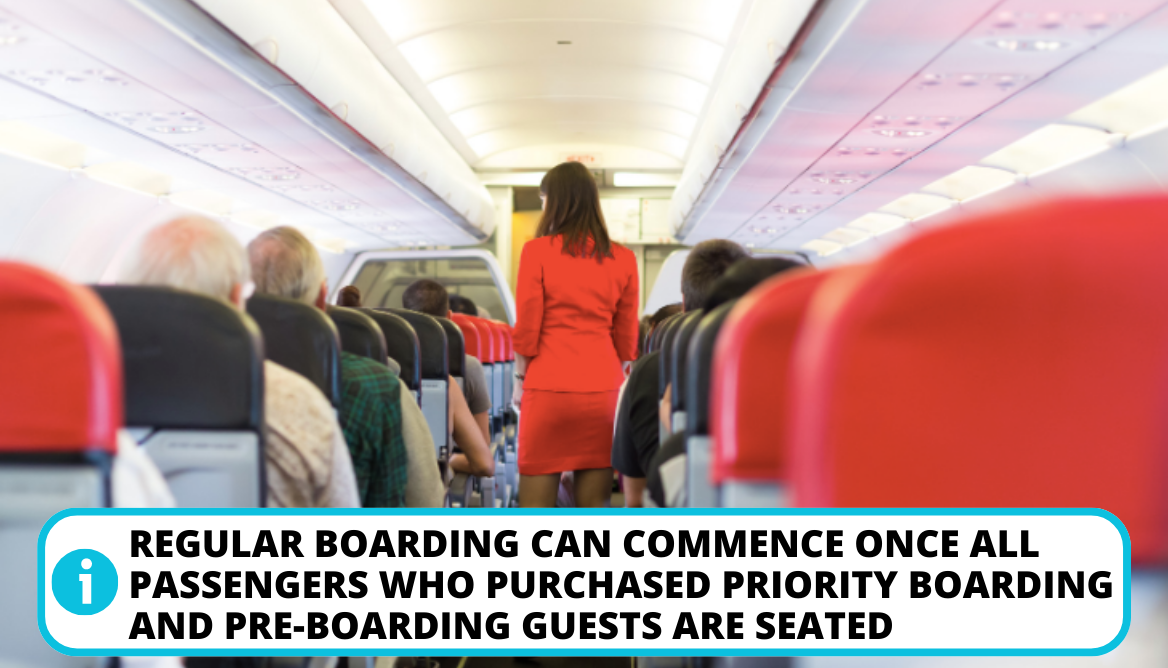 For online help regarding boarding on American Airlines, check out this helpful video.
Reason Why Might Back-to-Front Boarding Doesn't Work
American Airlines may not use back-to-front boarding due to the following reasons:
Concerns about inefficiency,
Congestion,
Limited overhead bin space,
The disruption caused by premium boarding groups.
The airlines might adopt alternative methods better suited to their specific needs and passenger demographics.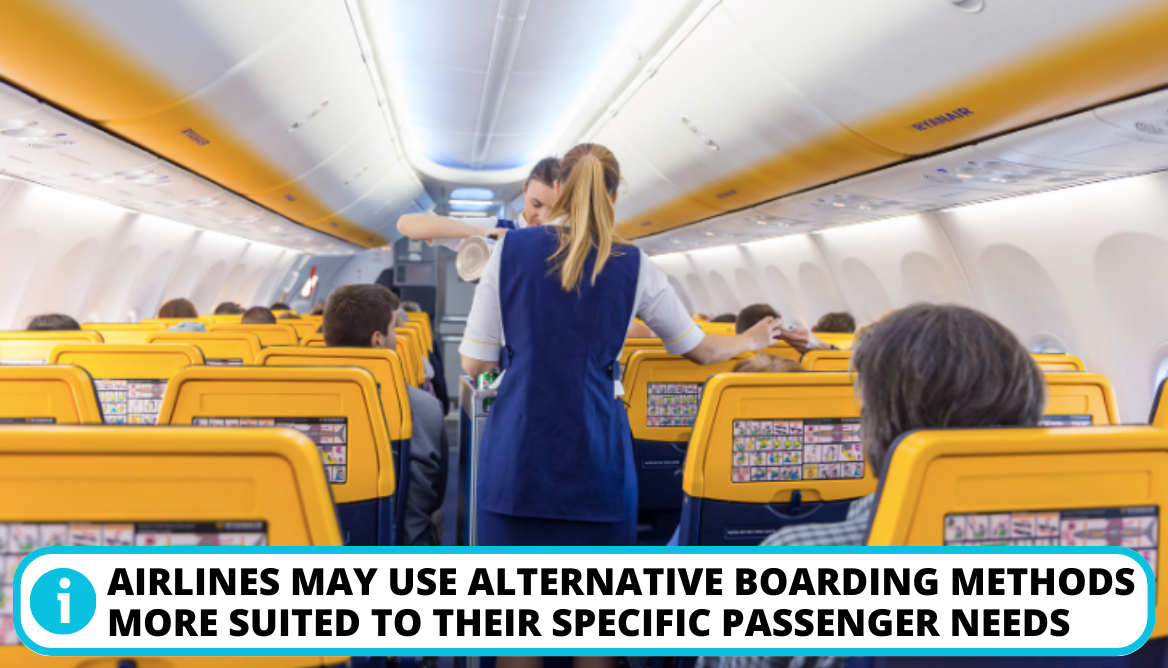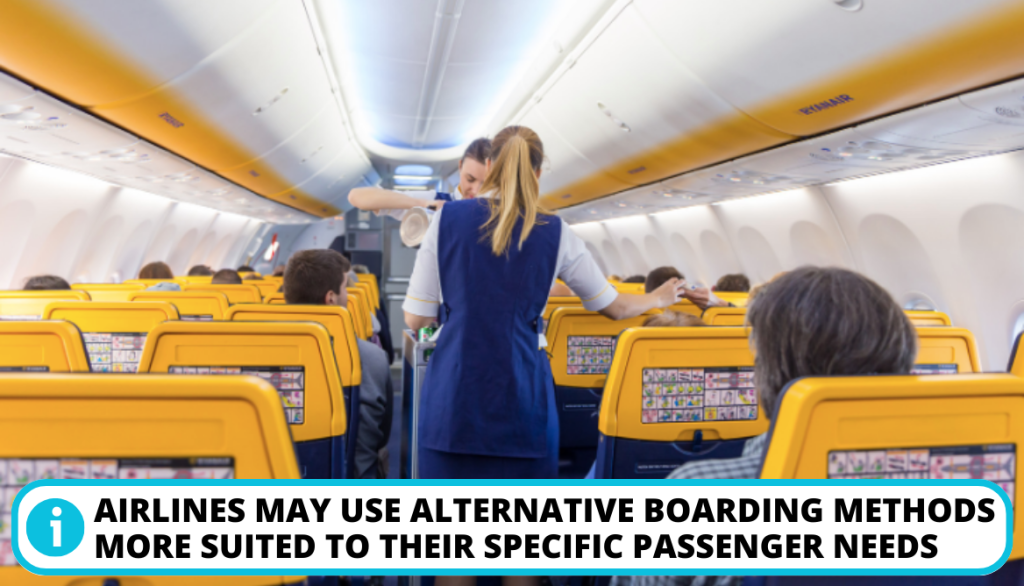 An Insight Into The Time of Boarding On AA!
If you're traveling with American Airlines, the boarding time for your plane will vary according to the type of jet you're on. Boarding will begin earlier if the plane is larger and the destination is further.
Typically, boarding commences approximately 30-50 minutes before the scheduled departure time of the flight. Listed below are some approximations: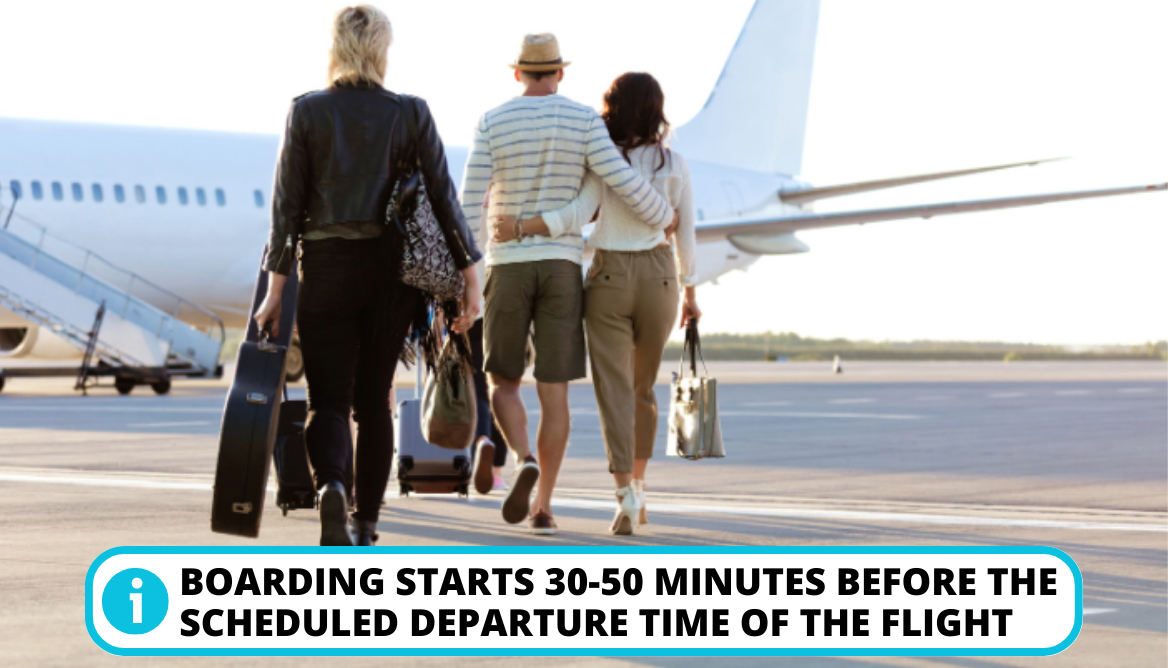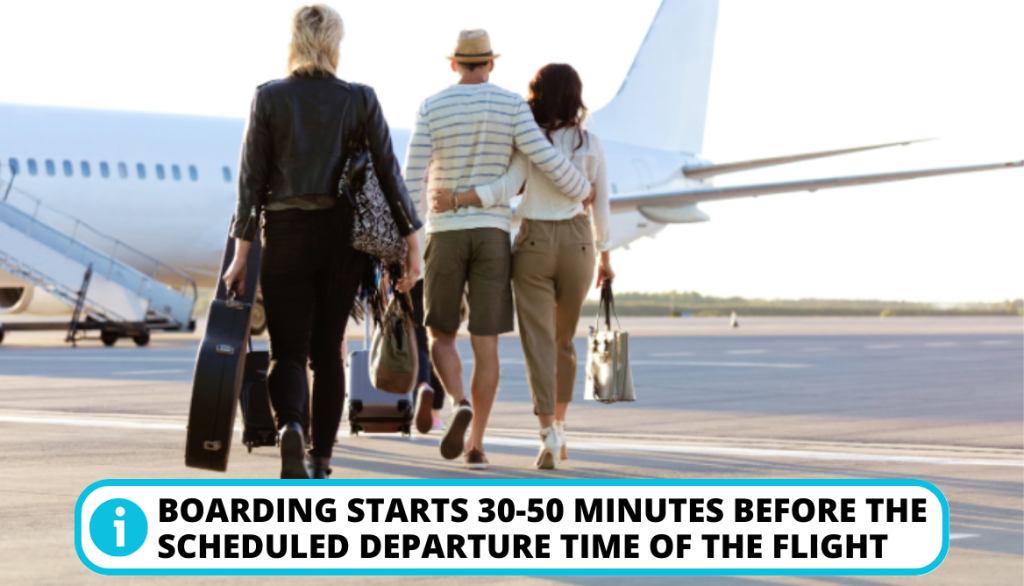 50 minutes Before Departing
Boarding will start around 50 minutes before departing when flying to/from the US and:
Europe
Middle East
Asia
South American destinations*
*Asuncion, Paraguay; Brasilia, Brazil; Belo Horizonte, Brazil; Curitiba, Brazil; Buenos Aires, Argentina; Rio de Janeiro, Brazil; Sao Paulo, Brazil; Lima, Peru; Montevideo, Uruguay; Porto Alegre, Brazil; Recife, Brazil; Salvador, Brazil; Santiago, Chile; Sao Paulo Viracop, Brazil.
The reason such a long time is required is that international flights will usually be flown using large aircraft, such as the Boeing 777.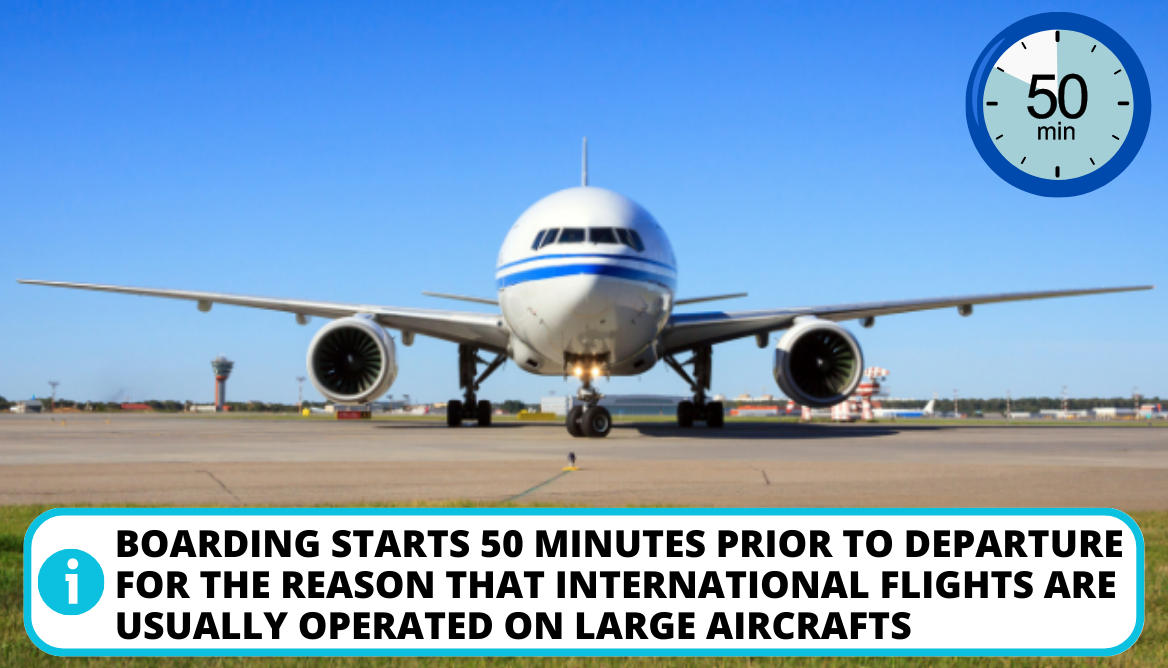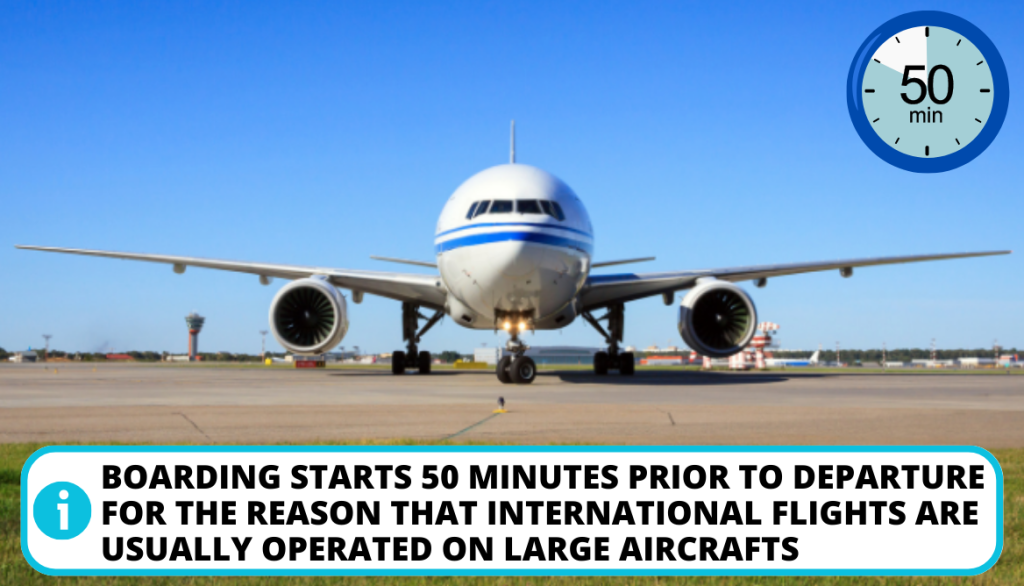 45 minutes Before Departing
Boarding will start around 45 minutes before departing on American Airlines flights flying to/from the US and:
Caribbean
Central America
Hawaii
Mexico
South American destinations*
*La Paz, Bolivia; Santa Cruz, Bolivia; Maracaibo, Venezuela; Caracas, Venezuela; Bogota, Colombia; Cali, Colombia; Medellin, Colombia; Guayaquil, Ecuador; Quito, Ecuador.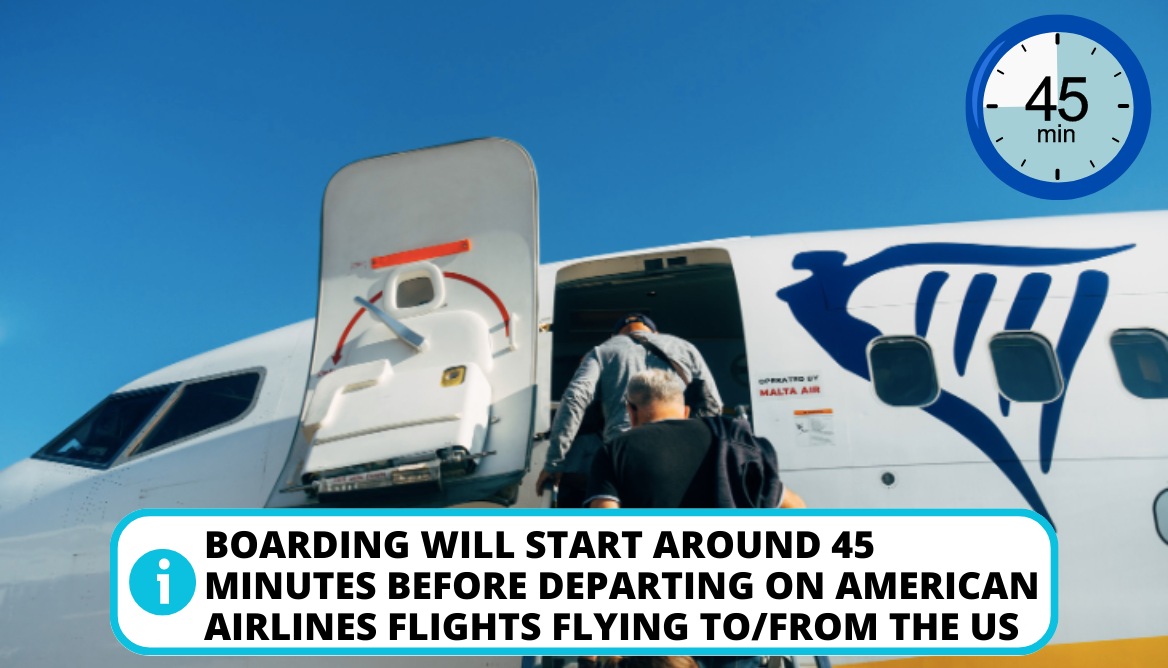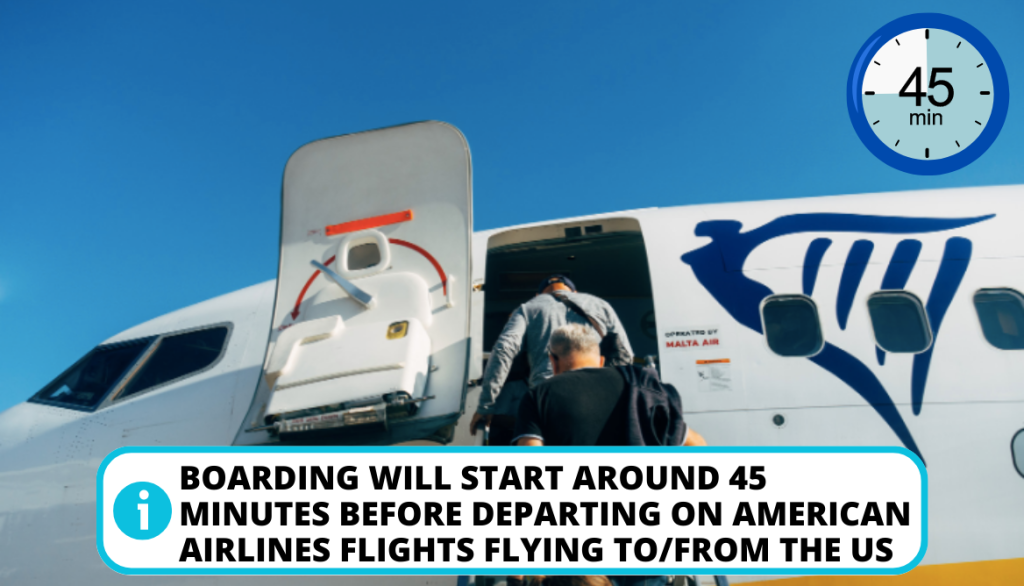 35 minutes Before Departing
Domestic flights have a 35-minute boarding process on aircraft like A321, A321S, A330, B757, B767, B787, B777. The destinations these flights go to are:
The 48 US states
Alaska
Canada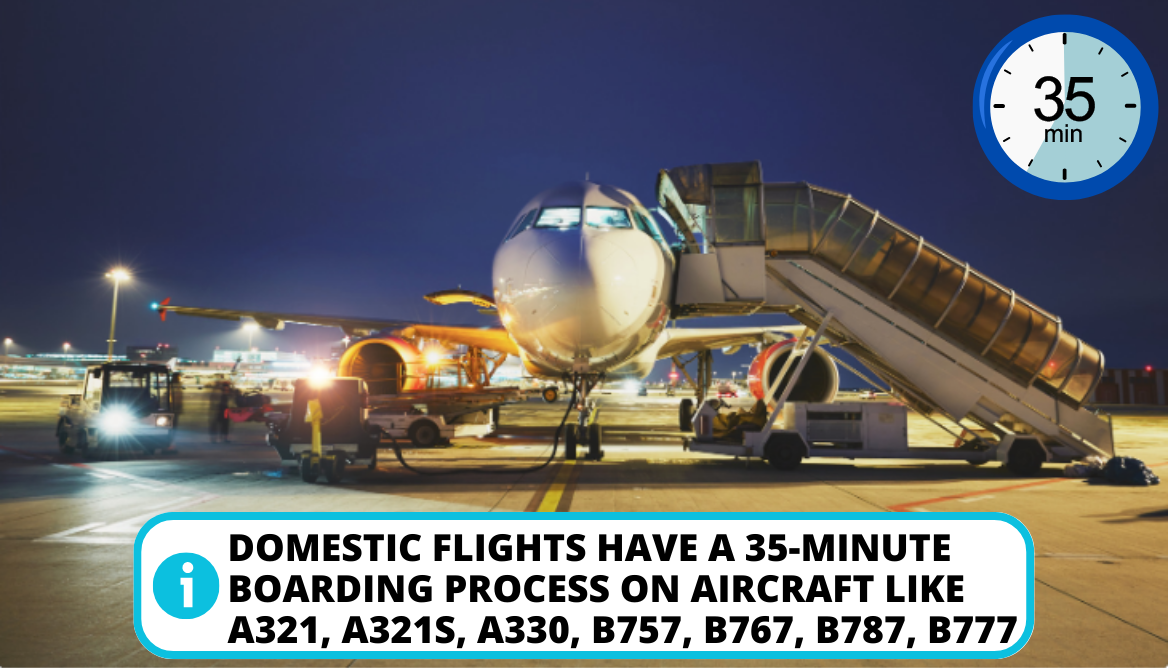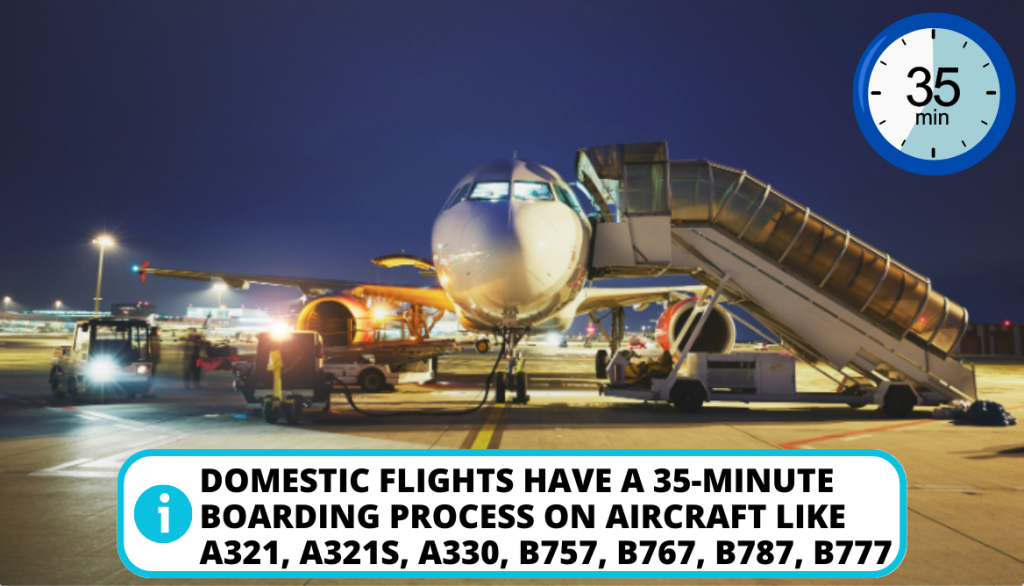 30 minutes Before Departing
Domestic flights have a 30-minute boarding process on aircraft like A319, A320, A321T, E190, S80, B737. These flights have the same destinations as flights with a 35-minute boarding procedure.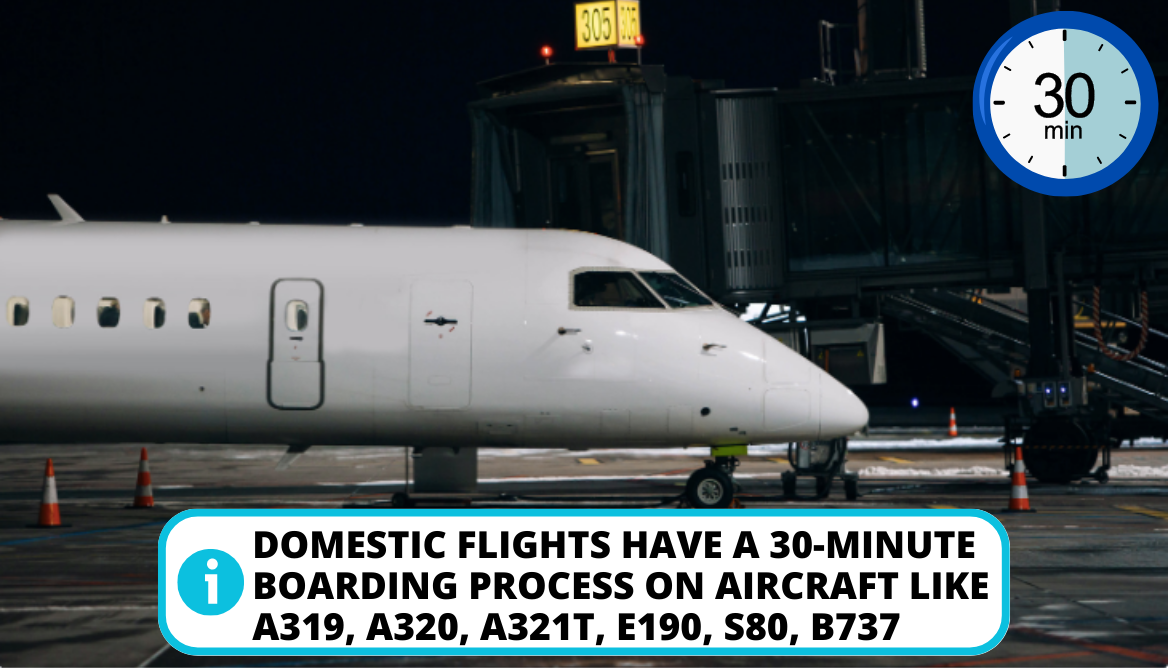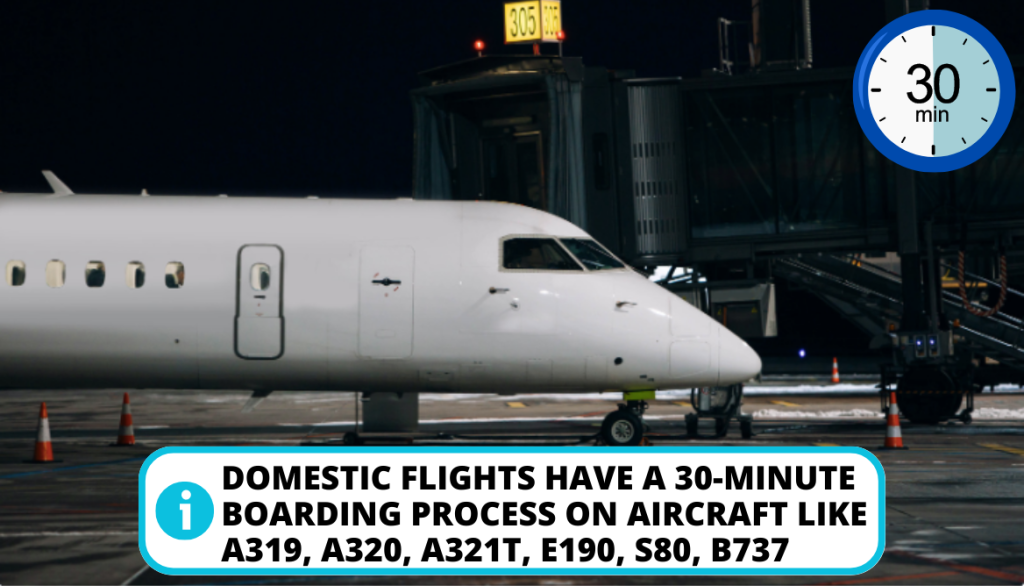 Arrival Times at the Terminal
For domestic flights leaving the United States, Puerto Rico, or the Virgin Islands, please check in at the gate no later than 15 minutes before departure. Arrive at the airport at least 30 minutes before your flight's departure time if you're flying from:
Canada
Mexico
Europe
Asia
Central/South America
The Caribbean, the Bahamas, or Bermuda to the United States, Puerto Rico, or the Virgin Islands.
Keep in mind that flight attendants will hold the door open for you if you are arriving from a delayed connecting flight, so do not worry about that.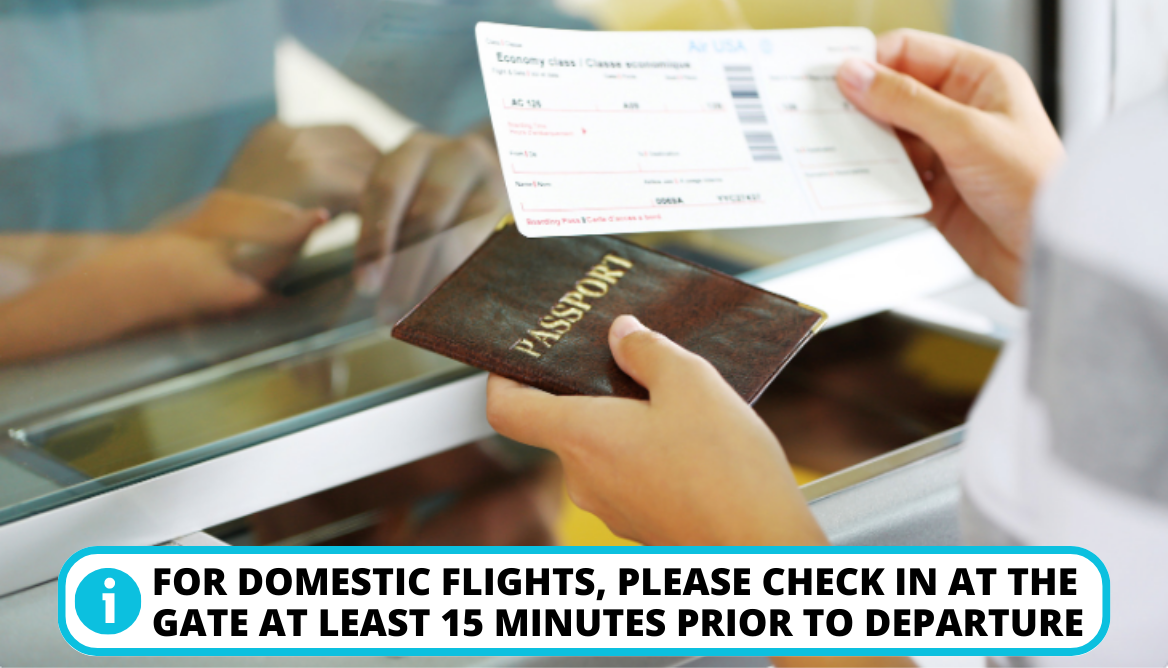 Aircraft Owned By American Airlines
American Airlines has the biggest commercial fleet in the world as of January 2023, with 933 Boeing and Airbus planes in service and another 161 on order or in the works.
All of American Airlines' jumbo jets are made by Boeing.
More than 80 percent of the American Airlines fleet consists of narrow-body planes such as the Airbus A320 and Boeing 737-800.
It operates more A320 series aircraft than any other airline, including the A319 and A321.
It also has more 737-800s than any other airline and is the fourth-largest 737 operator overall.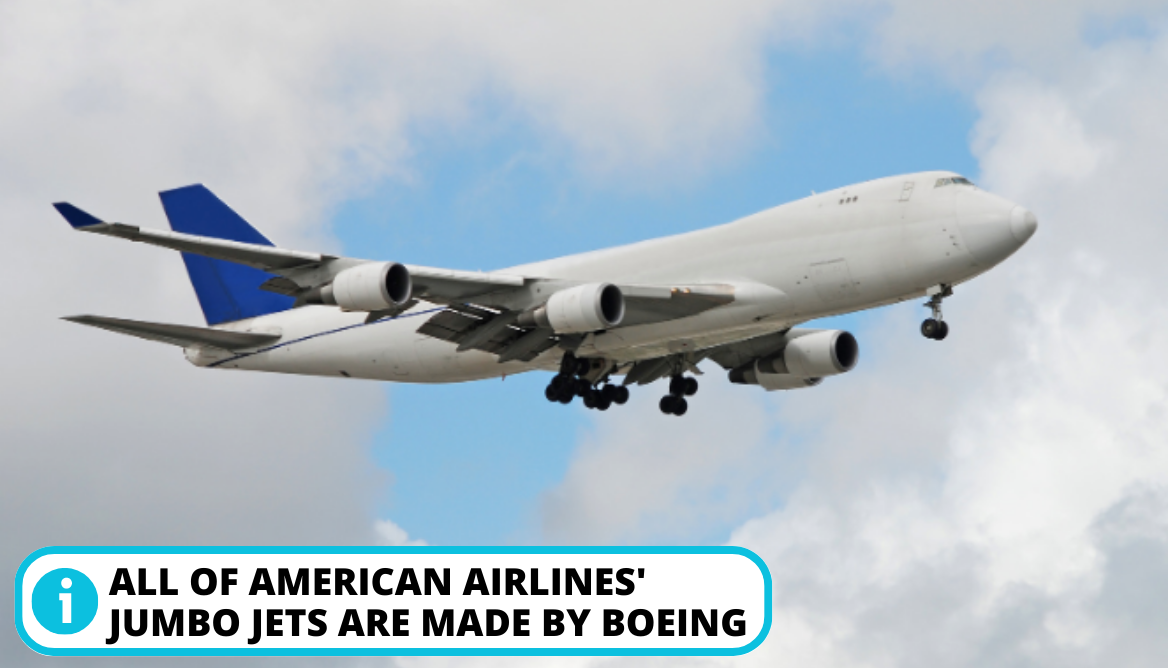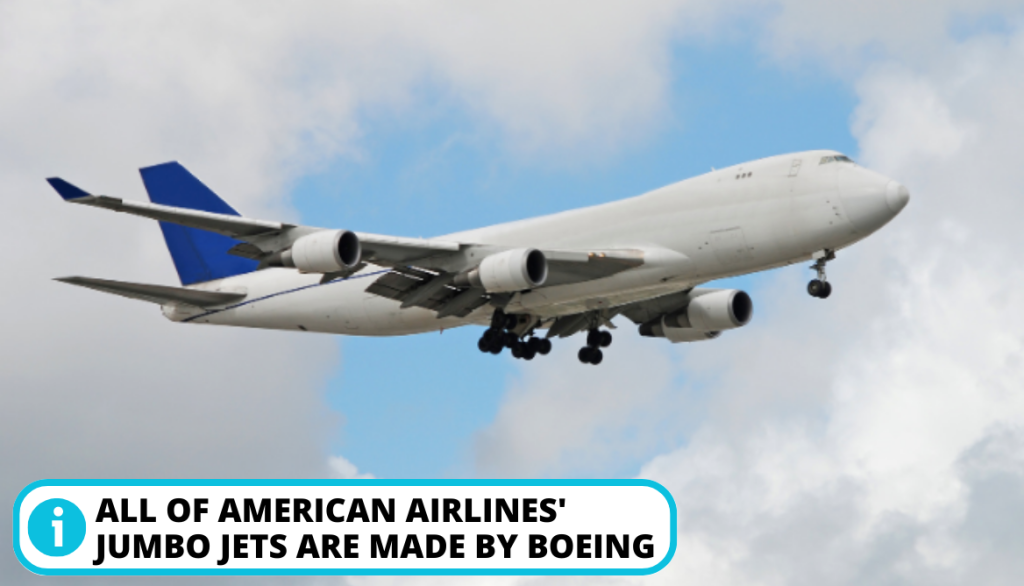 What Makes American Airlines Stand Out
Here's a rundown of important highlights that make AA unique:
They have an extensive route network, covering numerous domestic and international destinations.
The AAdvantage loyalty program offers attractive rewards and benefits for frequent travelers.
The airline invests in modern and fuel-efficient aircraft for passenger comfort and environmental sustainability.
Customer service prioritizes a positive travel experience and quick response to passenger needs.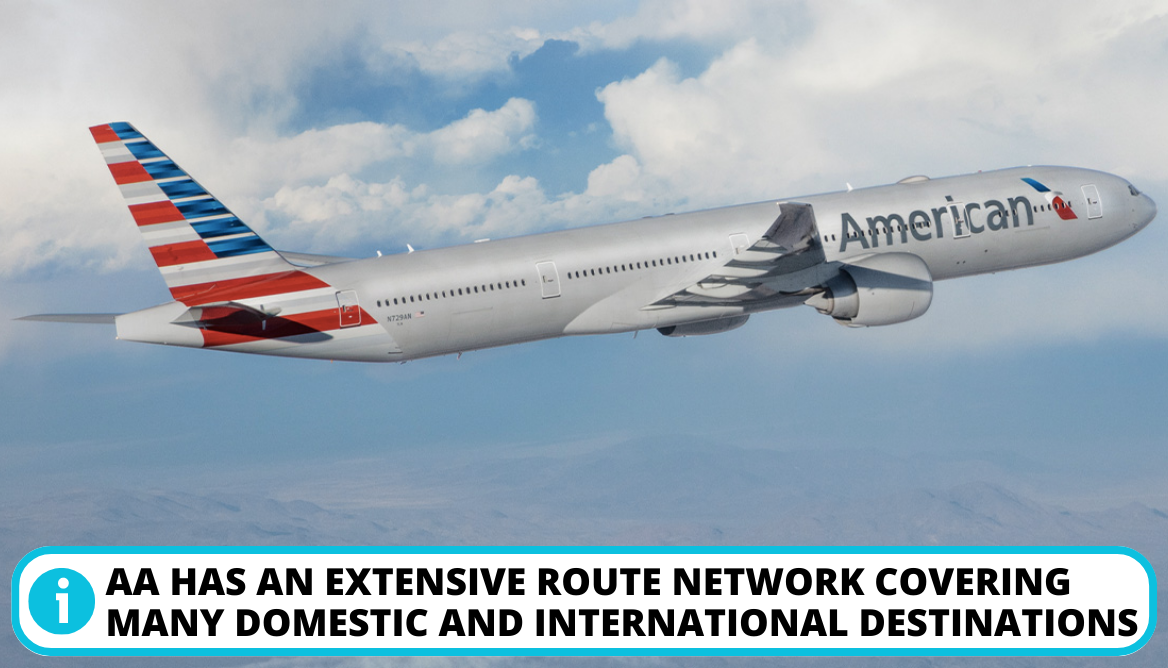 4 Safety Tips for Passengers When Flying
Following these guidelines can help ensure your safety and the safety of those around you on your next flight. Don't forget to listen to the pilots and flight attendants! You can trust them to look out for your safety:
Listen carefully to the safety briefing given by the flight attendant and review the safety briefing card before takeoff.
Put the safety of yourself and your loved ones first by always using a seat belt.
If your child weighs less than 40 pounds, they need to be in a child safety seat or device.
Please adhere to your airline's carry-on policy to avoid any potential accidents.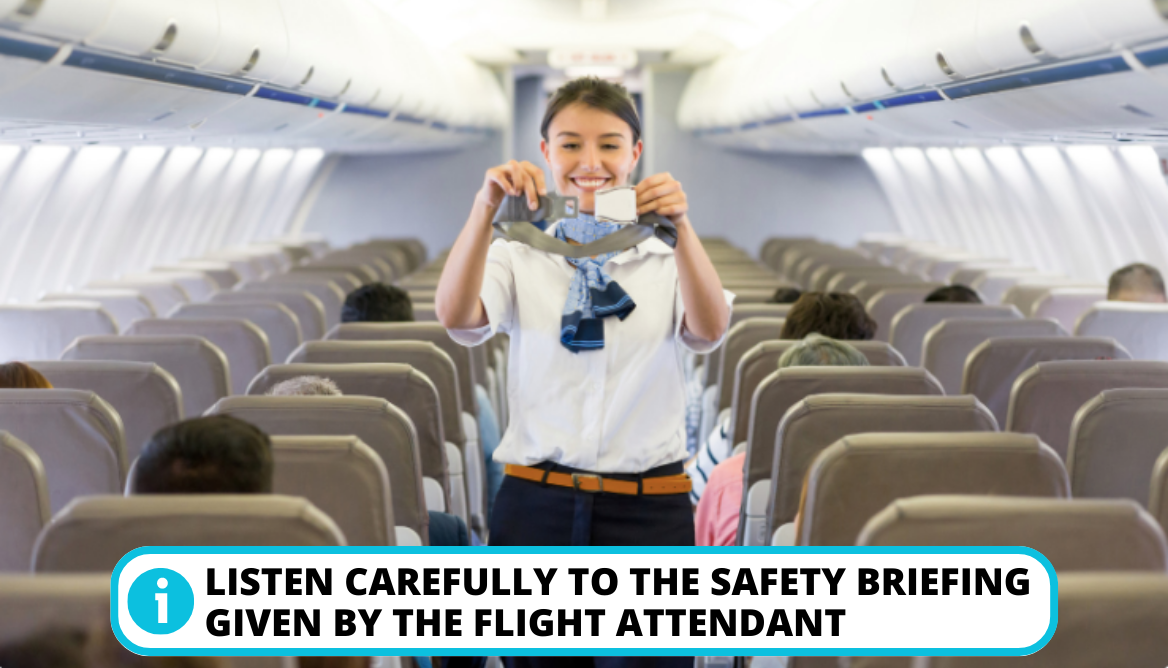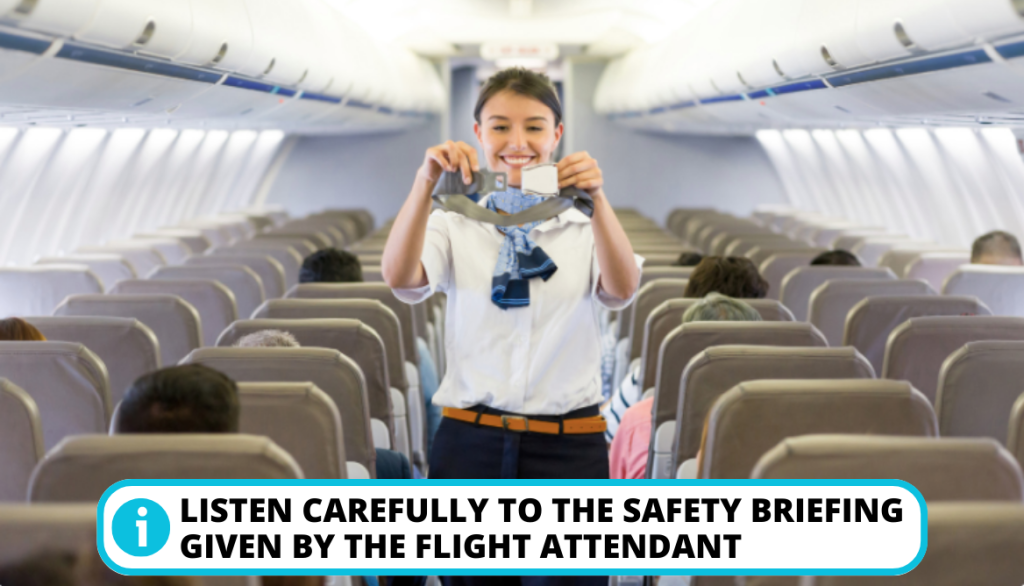 For more helpful tips regarding traveling with AA, check out this helpful video.
FAQ
How does American Airlines determine boarding orders?
American Airlines determine boarding order by creating multiple boarding groups. The groups board the plane according to the special benefits they receive from the airline.
Who gets to board first on American Airlines?
People who get to board first are those with disabilities, families with small children, and active-duty armed forces members are in the first boarding group.
Do planes board from the back first?
Yes, some planes do board from the back first. Airlines use multiple boarding procedures. Some board from window to aisle while some board back-to-front.
Why do airlines not board back to front?
Airlines do not board from back to front because it often results in significant aisle interference or to avoid limited overhead space.
Is it safe to fly in the front or back of plane?
It is safest to fly in the back of the plane, as it has a 32% fatality rate, compared to 38% in the front and 39% in the middle according to the study.
Conclusion
American Airlines does utilize a back-to-front boarding system, where passengers are separated into boarding groups for efficient and orderly boarding. Certain passengers, such as those with special needs and premium ticket holders, receive priority during the boarding process.
Boarding times vary between 30-50 minutes based on the aircraft type and destination, with larger international flights typically commencing boarding earlier than domestic flights.
What's your take on this boarding pattern? Share your insights in the comments below.