Happy Wayfarer is reader-supported. When you buy through links on our site, we may earn an affiliate commission.
What is the difference between the Courtyard vs Residence inn? Many tourists face this problem when searching for a place to stay during their vacations. Luckily, we are going to provide you with all the information to help make you make a more informed decision.
We will discuss both options, their differences, and which room types are suitable for guests with different requirements. Let's dive in!
A Brief Look at Residence Inns vs Courtyard Hotels
The Marriott brand is the world's largest hotel chain and consists of world-famous hotels such as the super-expensive Ritz Carlton and the Gaylord hotels. Marriott owns the Courtyard hotels and the Residence Inn as well.
Courtyard hotel has the largest number of Marriott locations all over the world. Thus, it can range in quality from one location to another.
Courtyard rooms are better for people who will be staying for a short period.
Residence Inn hotels are designed for travelers who are looking for an extended stay in one place.
Residence Inn properties are designed as comfy homes, with complete kitchens and other amenities that make it feel like home.
To make it easily digestible for you, please refer to this table for all the factors that make the Residence Inn and Courtyard unique.
Provides a higher standard

of living

Has a cozy feel like your

apartment

Standard, Executive, Suites

Restaurant, Free wi-fi, and

swimming pool

Free wi-fi, Breakfast on the

house, Fully stocked kitchen

Less suitable for families

More suitable for families

Over 1000 locations, mostly

in the city

Over 800 global locations,

mostly located on the

outskirts of cities
Special Offers
Marriott properties have some offers on their Residence Inn's and Courtyard rooms. Be sure to confirm these offers before you make the booking to avail these rooms at the best possible price.
Residence Inn
Marriott offers many deals on their Residence Inn hotels such as:
Marriott Longer Stay Deal: If you book a Residence Inn for more than 5 consecutive days you will get a discount on the normal prices.
Marriott Weekend Offer: You get a discount on weekend expeditions all over the USA and Canada.
Bonus points: You can get even bigger savings by becoming a member of Marriott Bonvoy, which is the Marriotts rewards program. Additionally, members of the AAA can get a further 15% off their Residence Inn.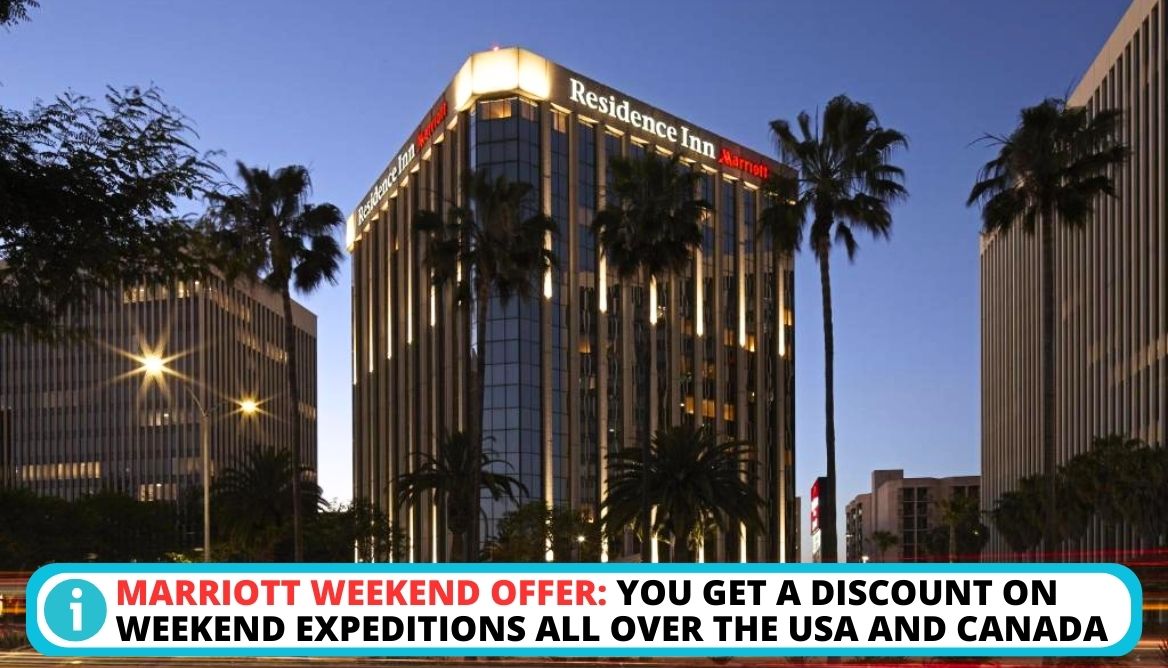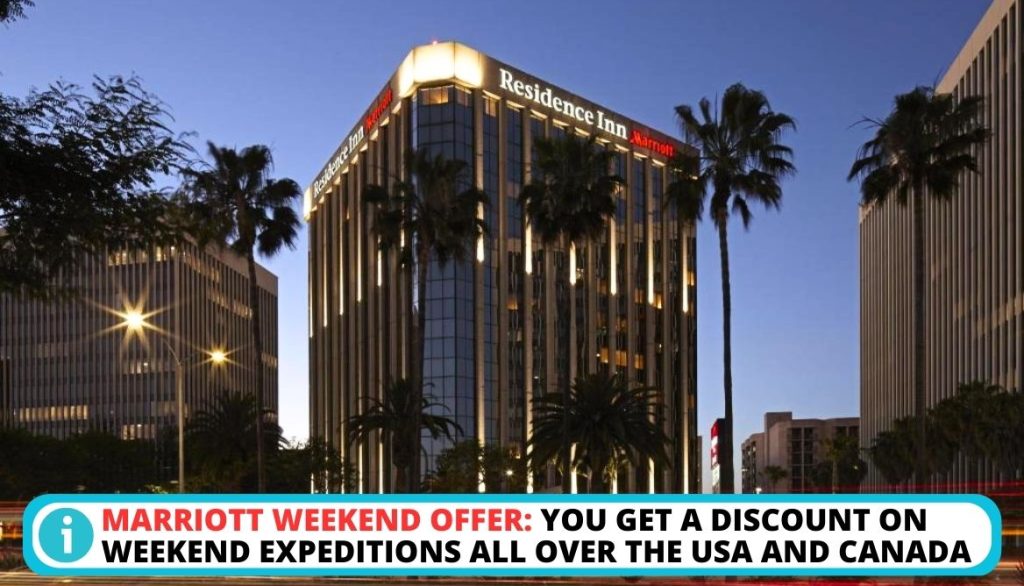 Marriott Courtyard
Similar to the Residence Inn, the Courtyard hotels offer:
Mariott Long Stay Deal: It is the same for both hotels.
AAA discount: AAA members get an additional discount as well as an extra two thousand reward points on every day they stay for Marriott Bonvoy members.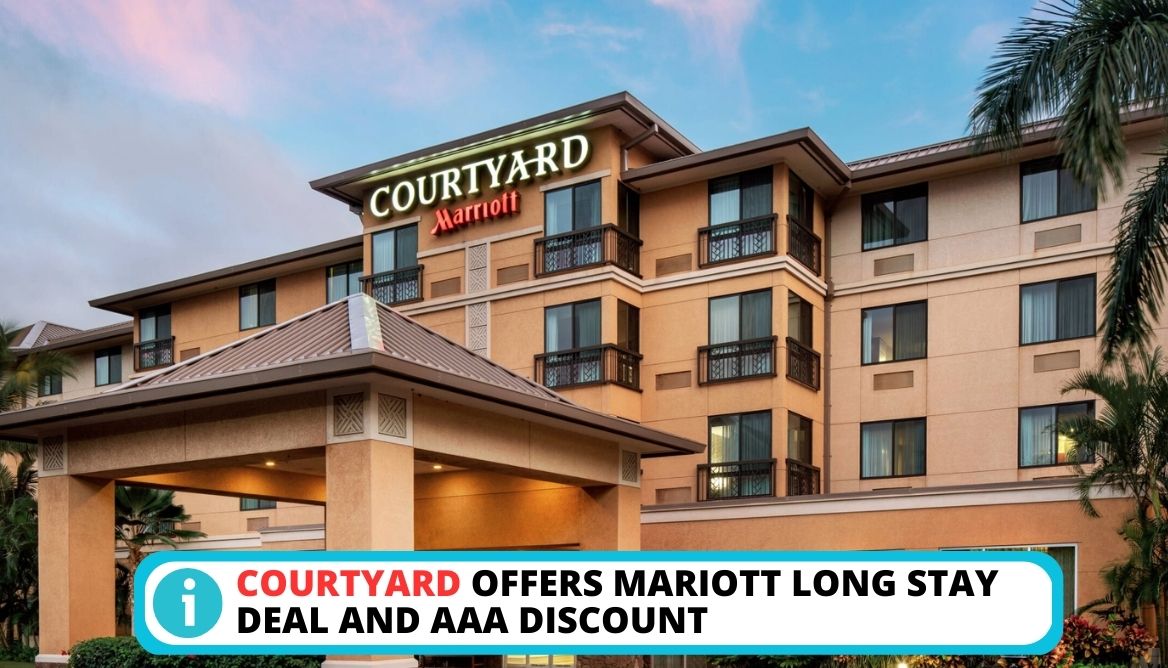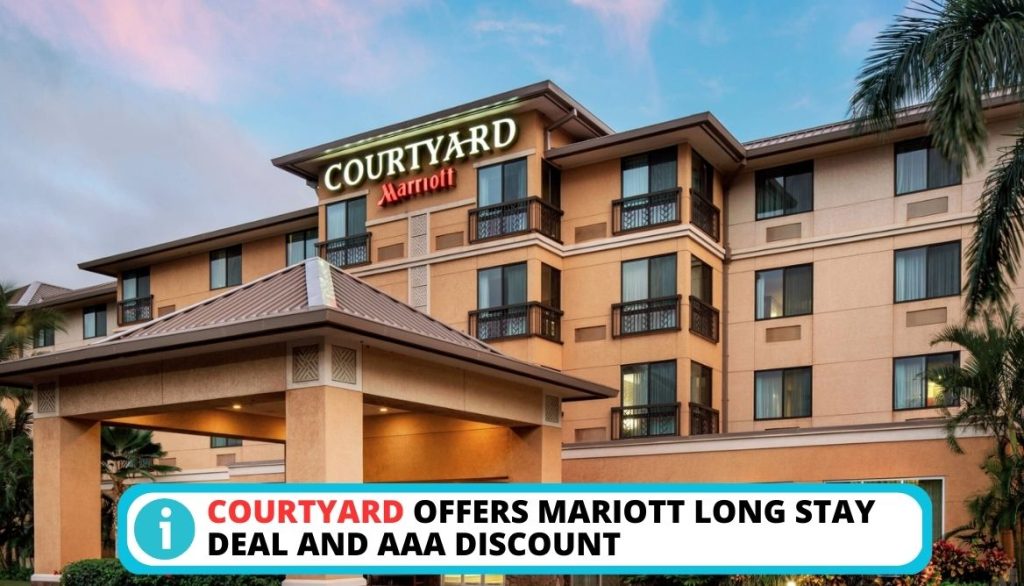 What Type of Guests Enjoy The Marriott Hotel Chains
Both brands have different living experiences as they are equipped for different purposes. That is why certain types of guests prefer living in the Residence Inn while others prefer the Courtyard brand. Let's have a look.
Why Guests Prefer Residence Inn
The Residence Inn is a great choice for individuals who are planning to stay in one location for a longer time. It could either be a person coming over to a new state or a businessman in town for an extended task.
The Residence Inn is also perfect for:
Larger families
Tourists looking for a quieter place to stay
Tourists want a home feel to their hotel rooms
Guests are also provided with lots of perks, such as free Wi-Fi and complimentary breakfast.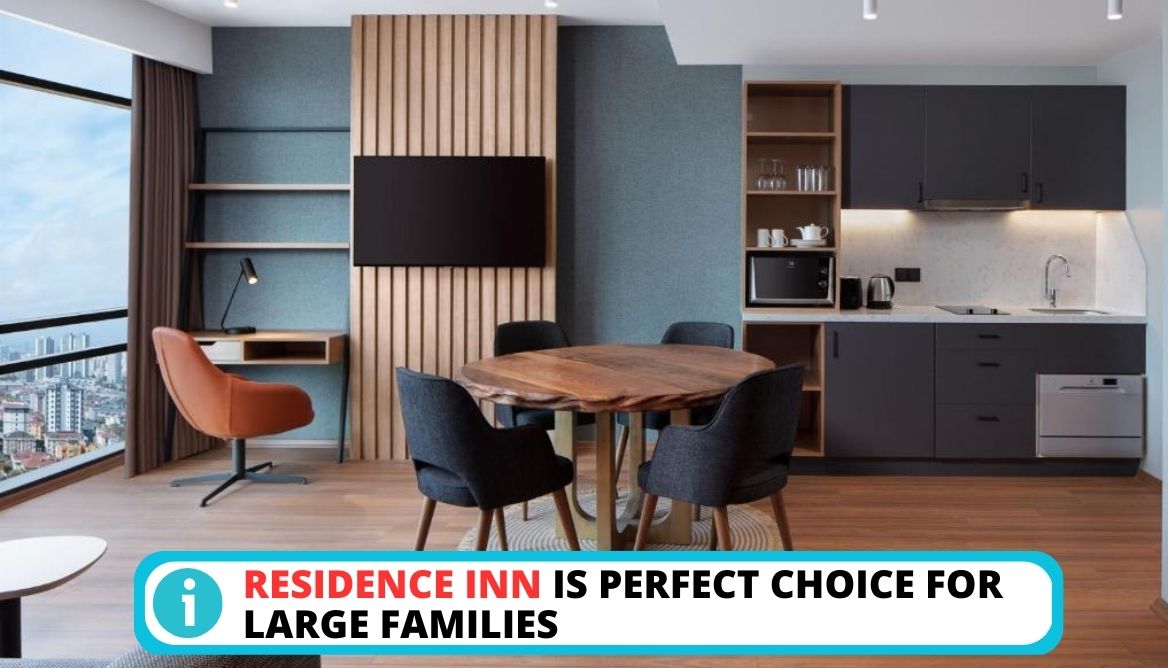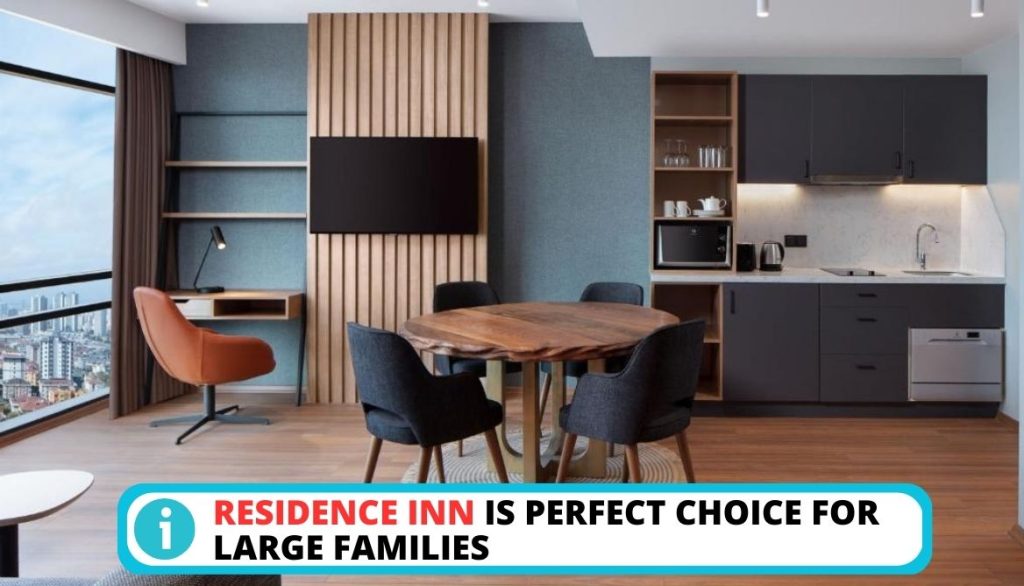 Why Guests Prefer Courtyard Hotel
Courtyard hotels are meant for people who:
Are always on the move and do not plan to stay in one place for a longer duration.
It is also perfect for businessmen and couples on a honeymoon, as they are provided with a standard hotel room with all their comforts being taken care of, such as in-house restaurants.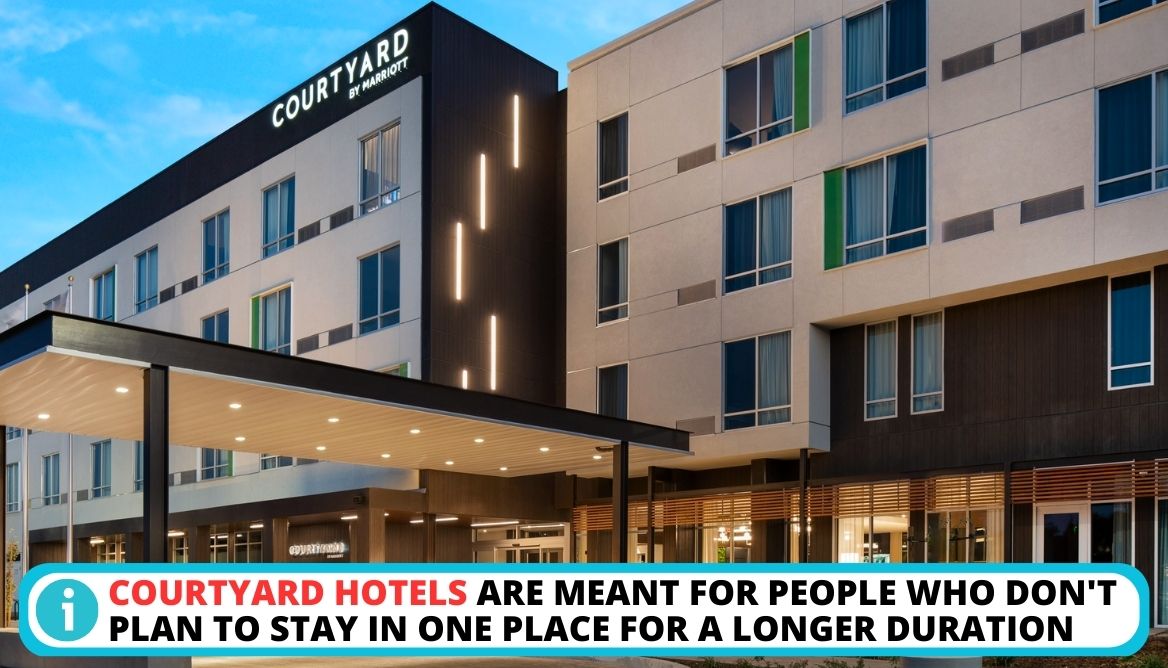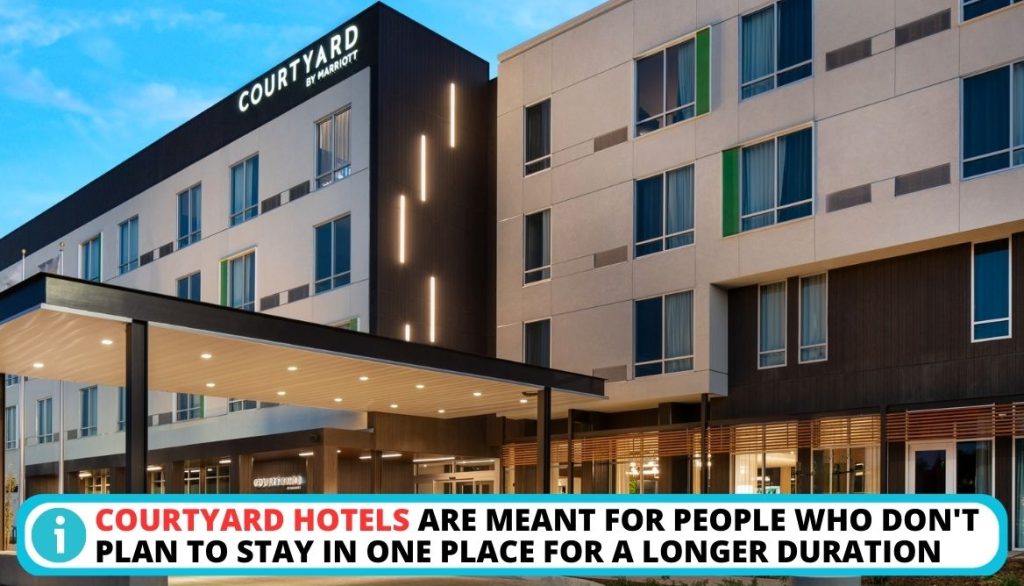 5 Differences to Help you Make the Right Decision
Both these brands offer something different to guests. They have their own distinct style and services. Let's take a look at how these 2 differ.
1. Rooms
The accommodations at the Courtyard and the Resident Inn are entirely different from one another. Although both chains provide a wide variety of room sizes and configurations, there are certain consistent variations between the hotels of each chain.
Residence Inn
Most Residence Inn properties are 20 percent to 50 percent larger than that of a Courtyard room. The larger floor area is dedicated to the amenities that make it ideal for extended stays, such as kitchen facilities and multiple rooms.
There is an additional dining table with a full refrigerator, stove, microwave, and dishwasher in the kitchen.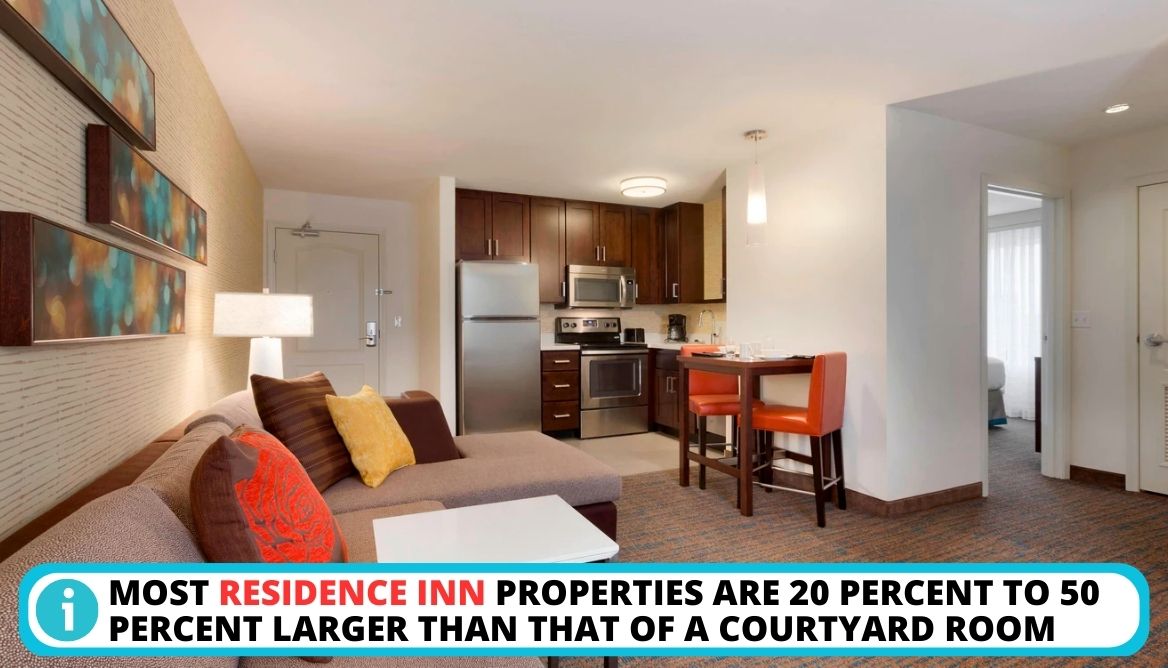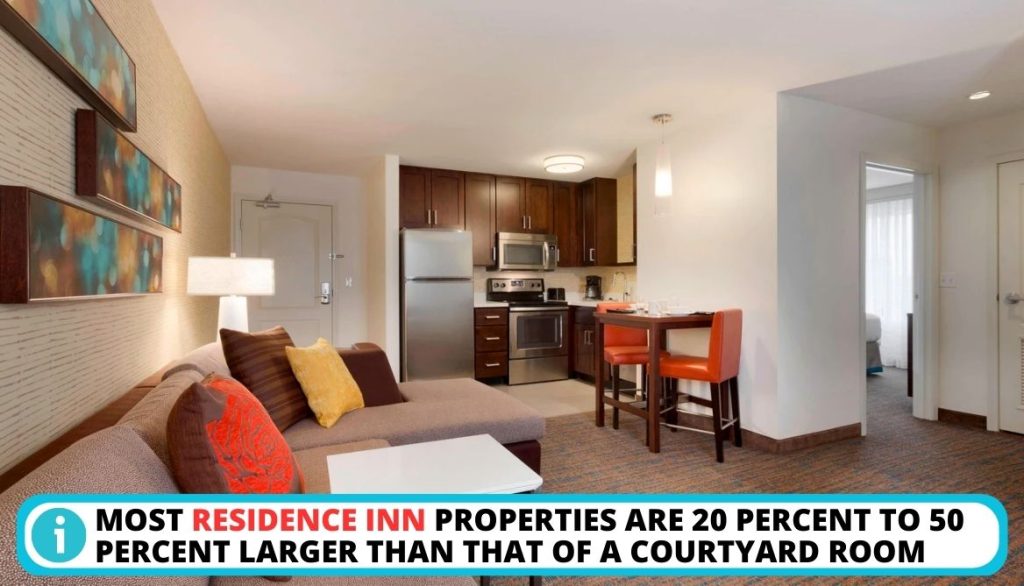 Courtyard
A typical room at Courtyard is pleasant, tidy, and well-equipped. It has:
Standard hotel furnishings such as a sofa, chair, and work desk.
A mini-fridge and a coffee maker are the only cooking facilities in a standard Courtyard room.
As opposed to Residence Inns, whose rooms are uniform throughout all sites, Courtyards offer a wider range of accommodations. In rich neighborhoods, a Courtyard hotel will provide more lavish room alternatives than an equivalent Residence Inn.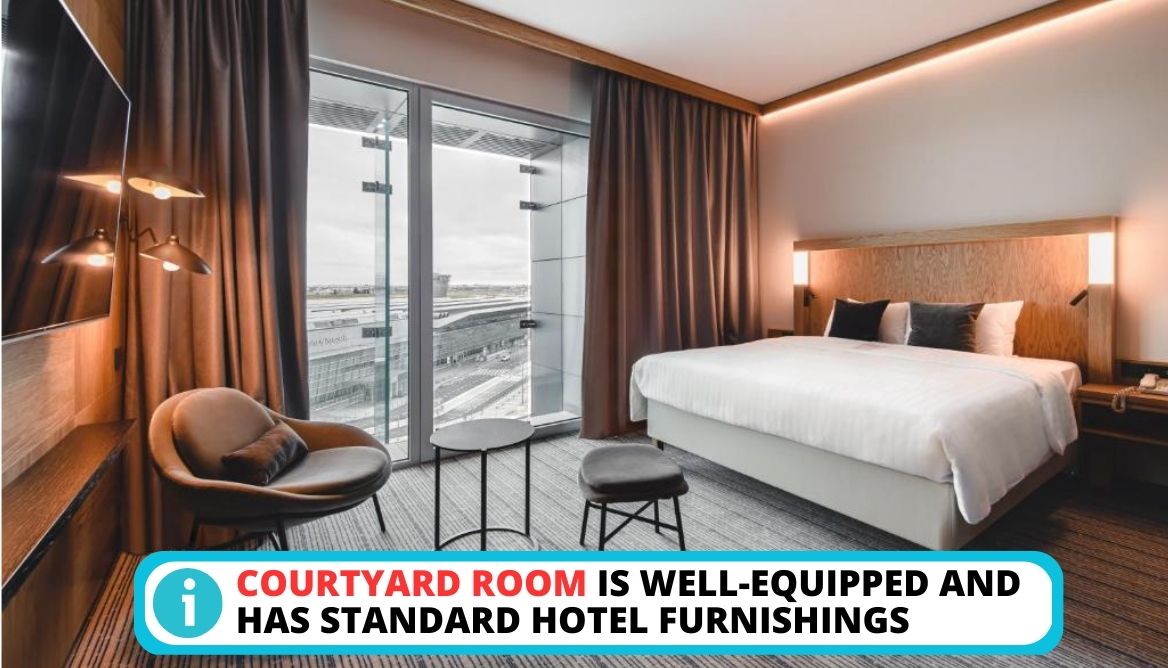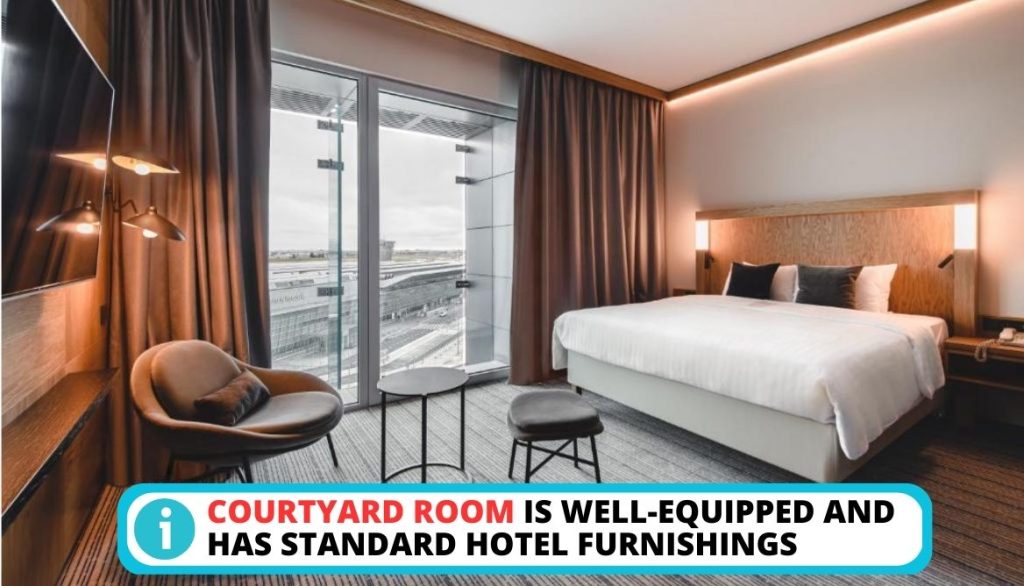 Winner: Courtyard is the best choice if you want a nice hotel experience.
2. Services
Comparing a Residence Inn to a Courtyard reveals significant variations in the facilities provided.
Residence Inn
The hotel's services, similar to the rest of the hotel, are tailored to the requirements of long-term guests. The guests are provided with:
Complimentary Breakfast
Swimming pools
On-site laundromat
Free Wi-Fi
Doorstep grocery
Guests are also provided with a kitchen so they can cook their own meals.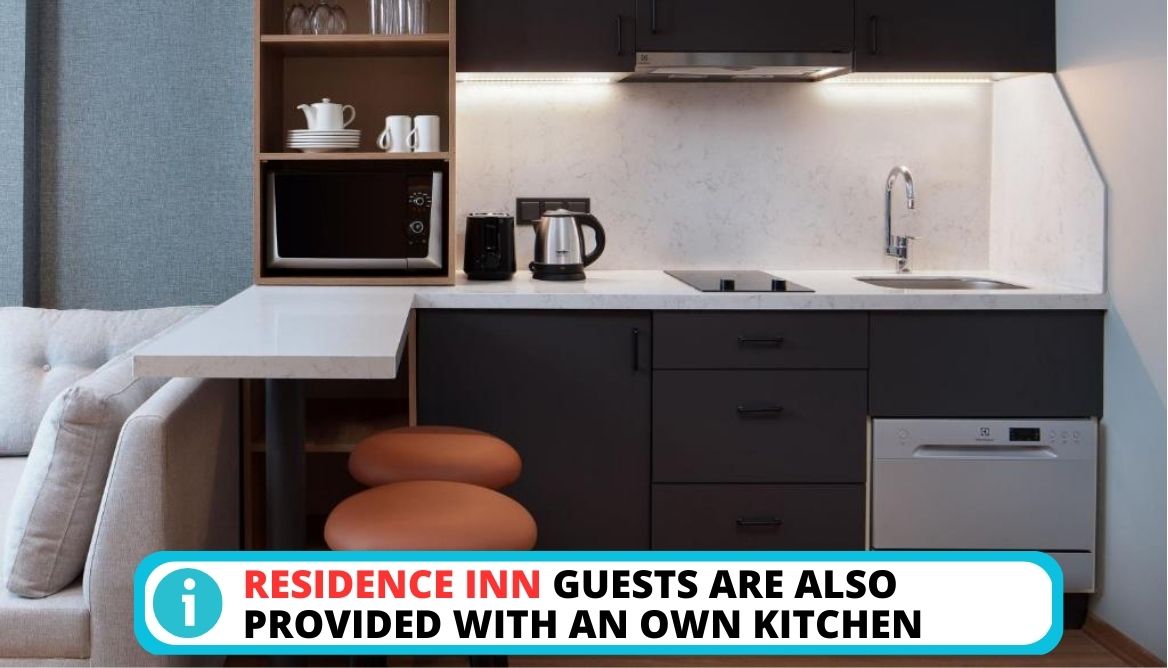 Courtyard
Courtyard promises to provide guests with a typical hotel experience. Courtyard guest rooms offer services such as
A pool
Tuck shop
An in-house restaurant called Bistro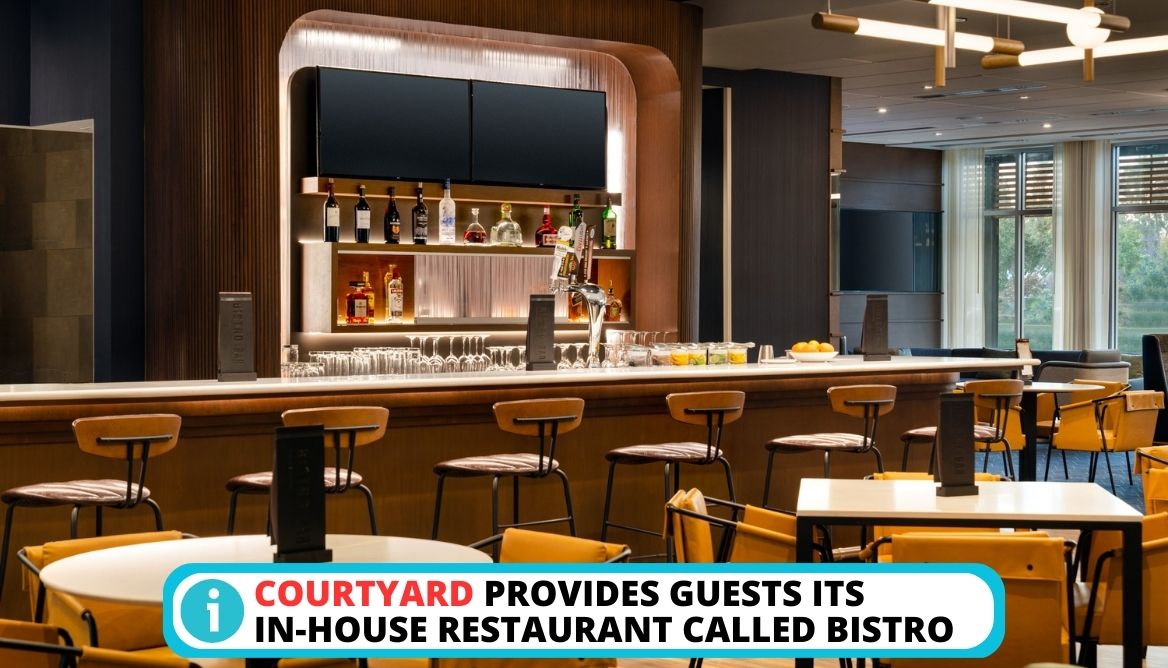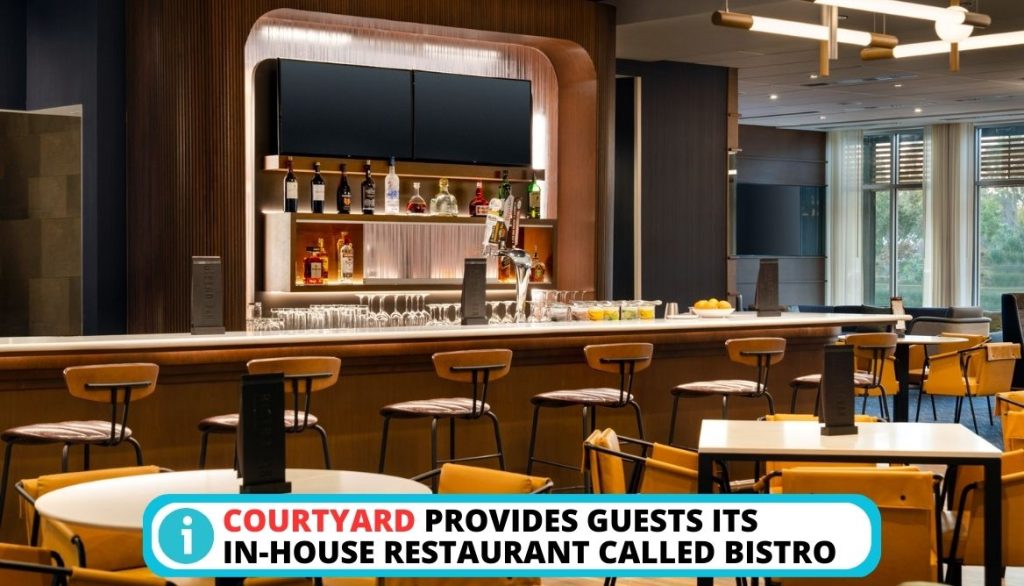 Here guests can enjoy either a free hot breakfast or a nice dinner with their partner.
Winner: Residence Inn is the better option because it offers a wide range of services that the Courtyard does not.
3. Style
These hotels provide drastically varying levels of luxury and service. You'll get more of a hotel vibe in a Courtyard, while a Residence Inn will be more like home.
Residence Inn
The Residence Inn by Marriott brand has lagged behind in recent years despite Marriott's extensive brand revitalization efforts. Simple, cozy, and sufficient best describe a typical Residence Inn. It's nice, tidy, and functional.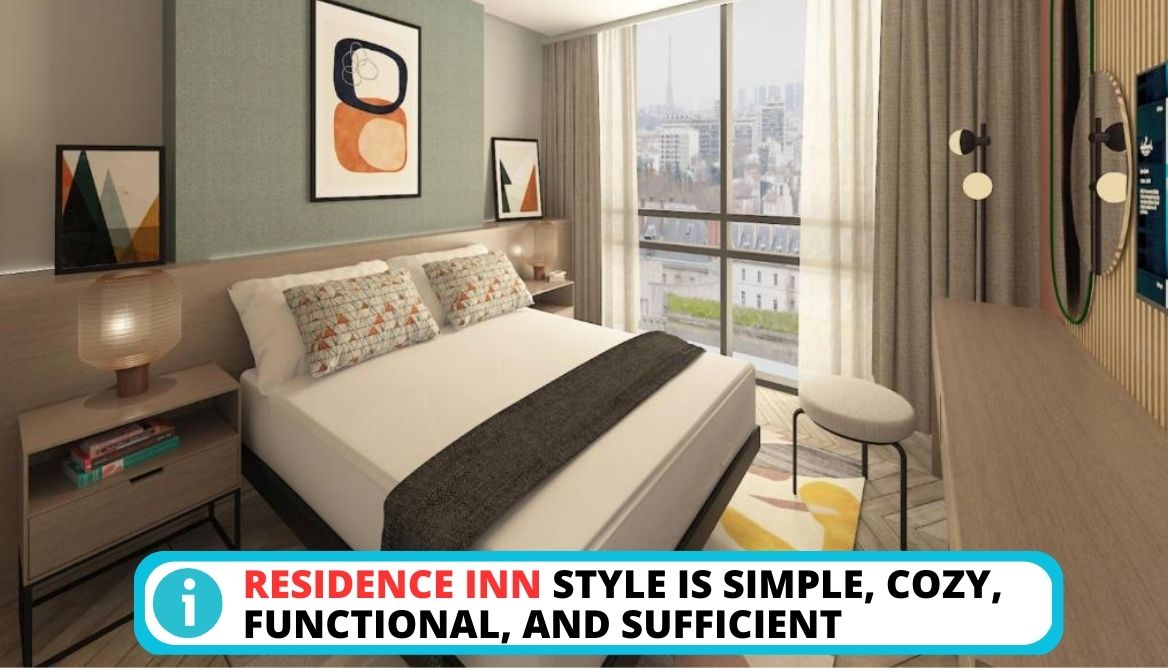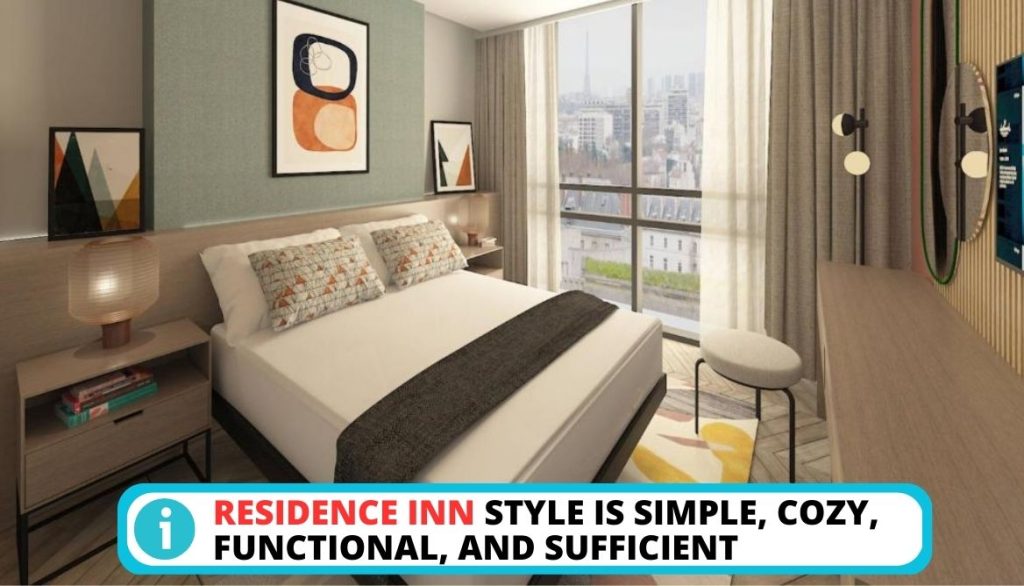 Courtyard
From the foyer to the guestroom, Courtyard provides a more refined atmosphere than Residence Inns. Standard Courtyard locations, especially those in metropolitan centers where they might be placed in renovated buildings, have a more sophisticated and up-to-date vibe.
Courtyard rooms are generally a step up compared to Residence Inns.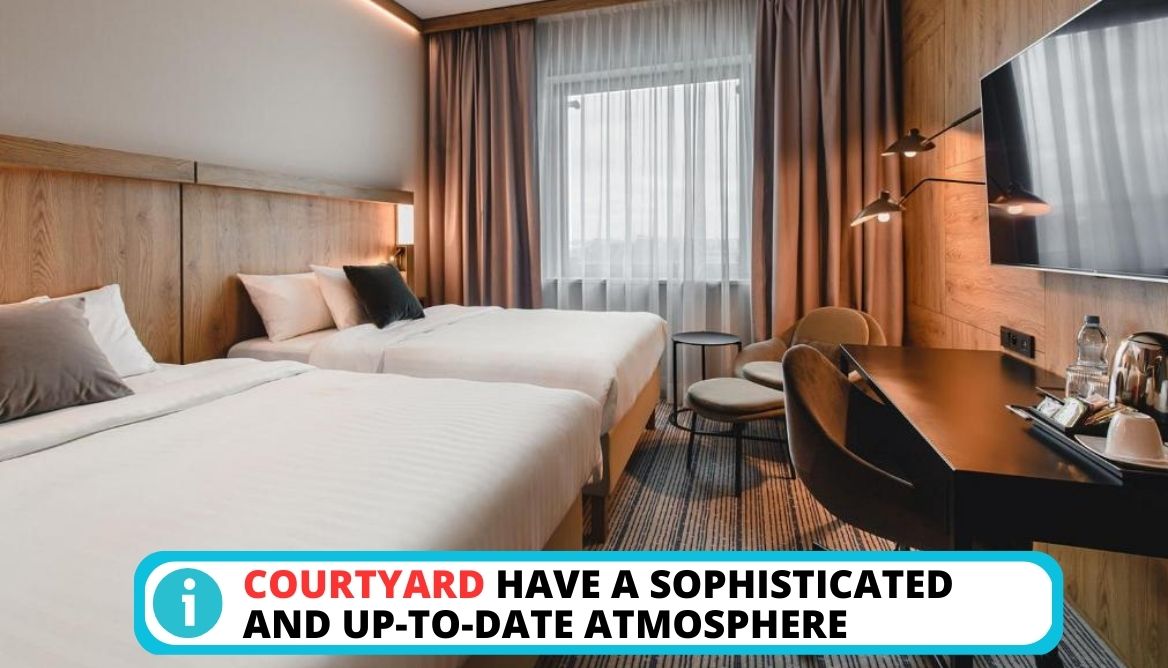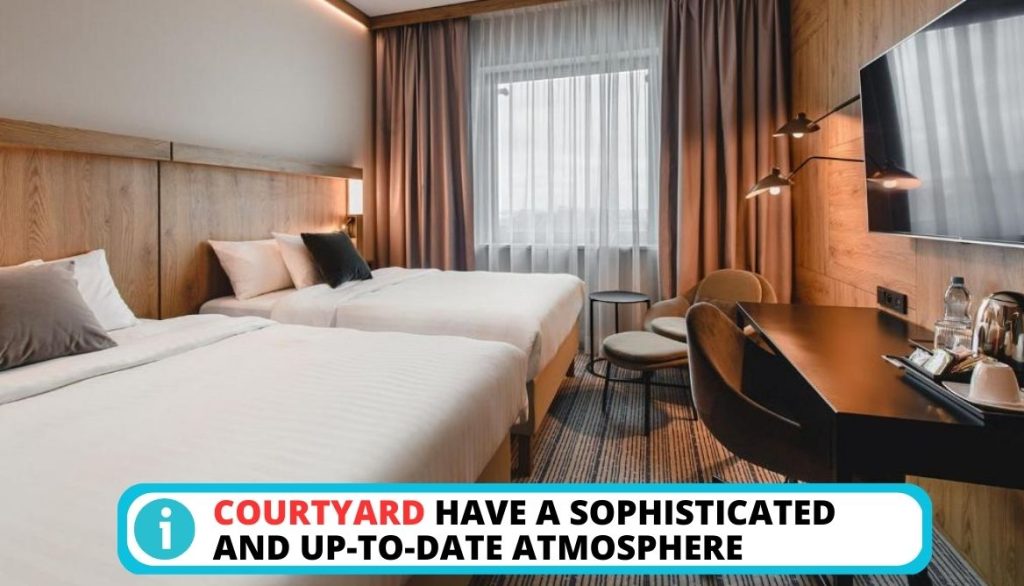 Winner: Courtyard rooms are much more stylish than Residence Inn rooms and provide a good quality hotel experience.
4. Number of Locations
There are more Residence Inns on the outskirts and more Courtyards in the city. Both hotels have locations in the USA and around the world. So, both are good options if you need a hotel for an overseas trip.
Residence Inn
Residence Inn has over 900 locations across the globe, including in Africa and South America. However, most of the locations are in the USA and Canada.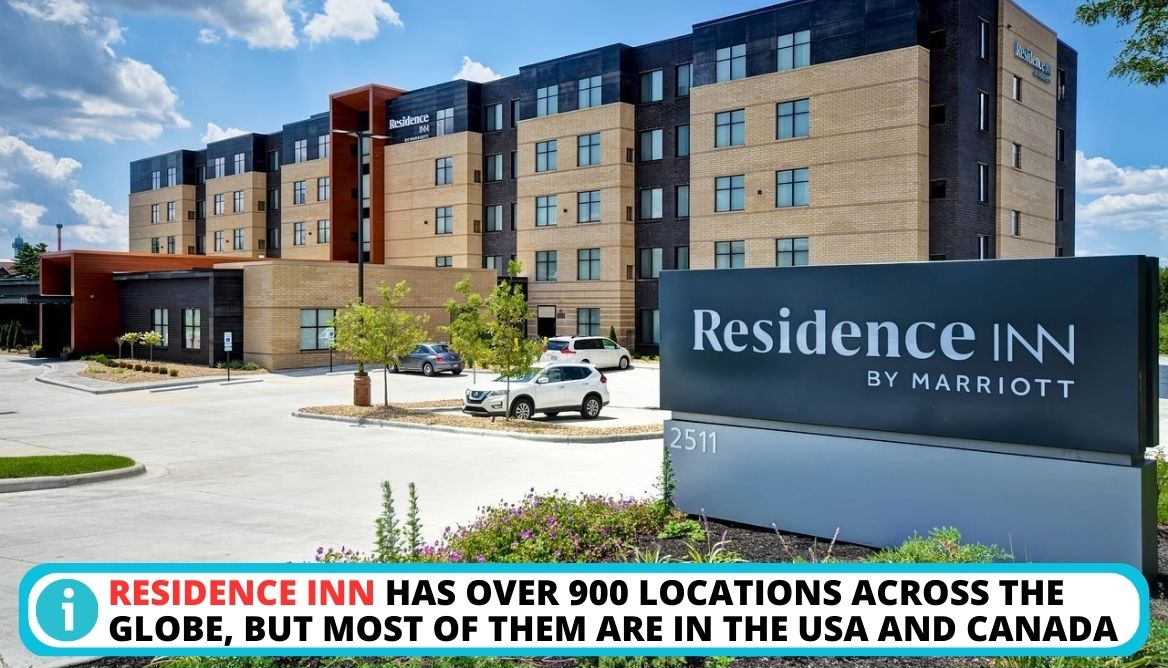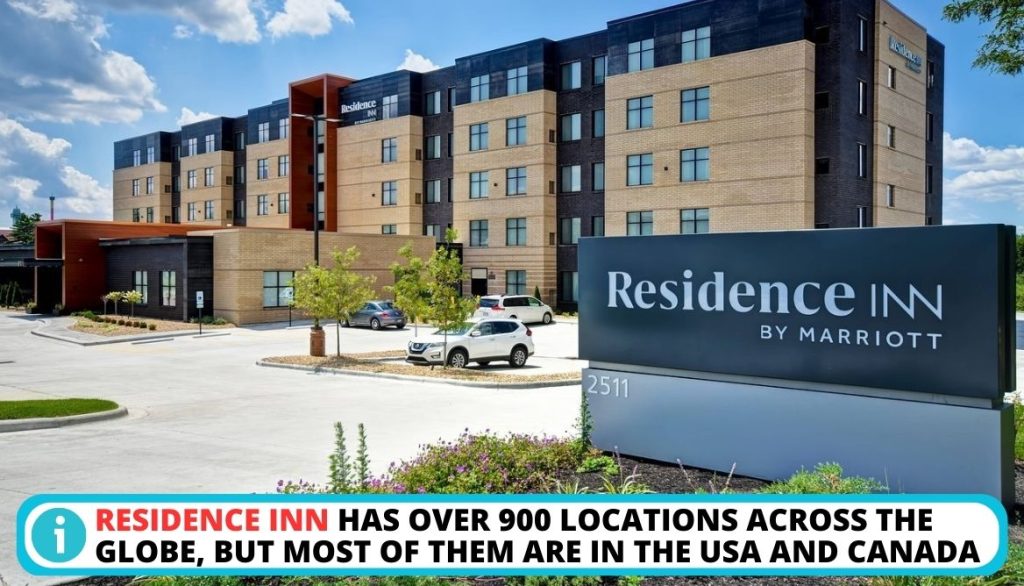 Courtyard
Courtyard is Marriott's largest brand with over a thousand locations worldwide, on every continent except Africa. However, due to this wide range of locations, the quality of the rooms can vary from unkept to luxurious.
Winner: There is a greater number of Courtyard locations across the world, making it easier for you to find a Courtyard than a Residence Inn.
5. Family Friendly
There are several factors for a hotel to think about when catering to families. Accommodations at Courtyard and Residence Inn are distinct from one another when comparing their suitability for families.
Residence Inn
For more extended visits, nothing beats the comfort and convenience of a house Inn, which typically includes amenities like
A fully-stocked pantry
Free breakfast
Wi-Fi
They are situated in suburban regions, close to leisure attractions, and offer studio, one-bedroom, and two-bedroom accommodations
For a lower price than Courtyard rooms, these are a fantastic option for families searching for a comfortable temporary residence.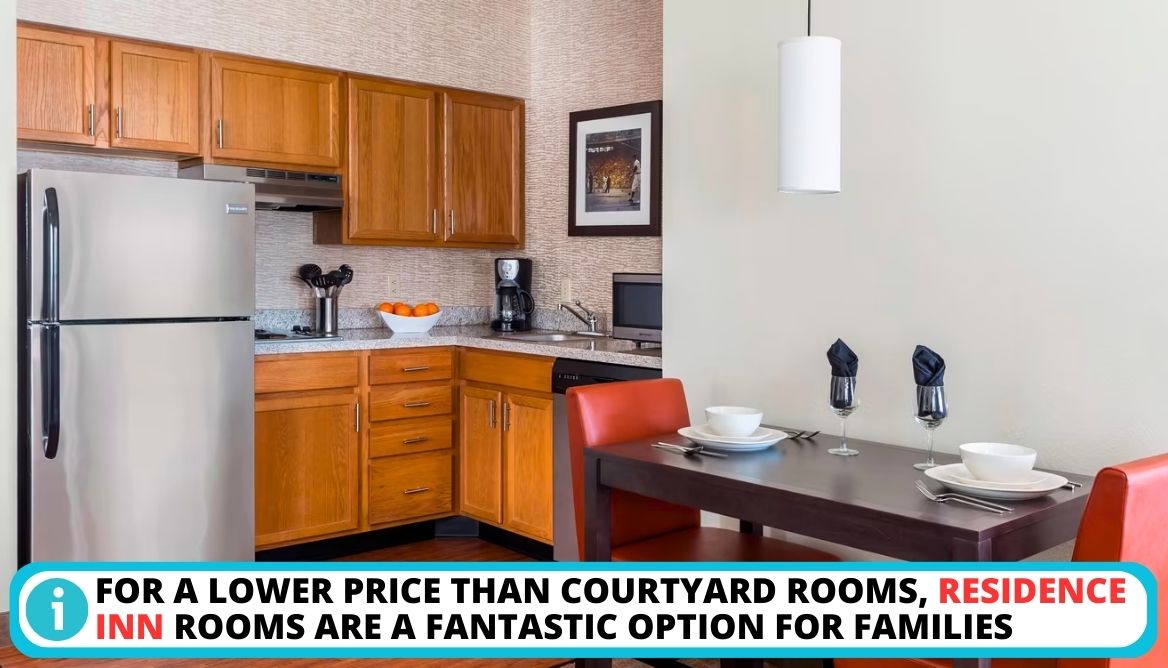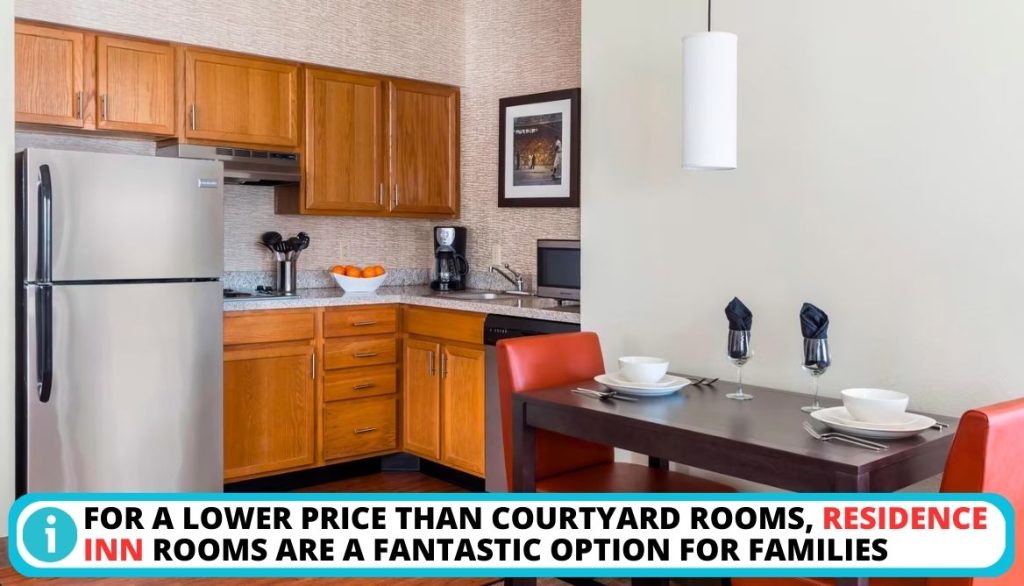 Courtyard
Families looking for a standard hotel can find what they need at the Courtyard Inn. The hotel features a typical room layout but is nonetheless comfortable thanks to its urban setting and swimming pools and other basic facilities.
They are not as cost-effective as Residence Inn hotels due to their restricted availability and higher rates.
Winner: Residence Inn is a clear winner if you are traveling with your family. A bigger space and amenities such as a kitchen are just a few of the family-friendly features of the Residence Inn.
Our Decision
Both rooms are a viable option to stay at, given they submit different experiences for different travelers. However, these differences lead to one brand providing an overall better experience.
Both are excellent choices to stay for a vacation abroad, however, there are some differences that will make you choose one or the other.
Residence Inn is more for families and for guests wanting a relaxed environment while Courtyard provides a basic hotel experience.
Even though the cost is a little higher, our personal choice would be to go with the Courtyard room. It has a higher standard than most Residence Inn properties which I prefer.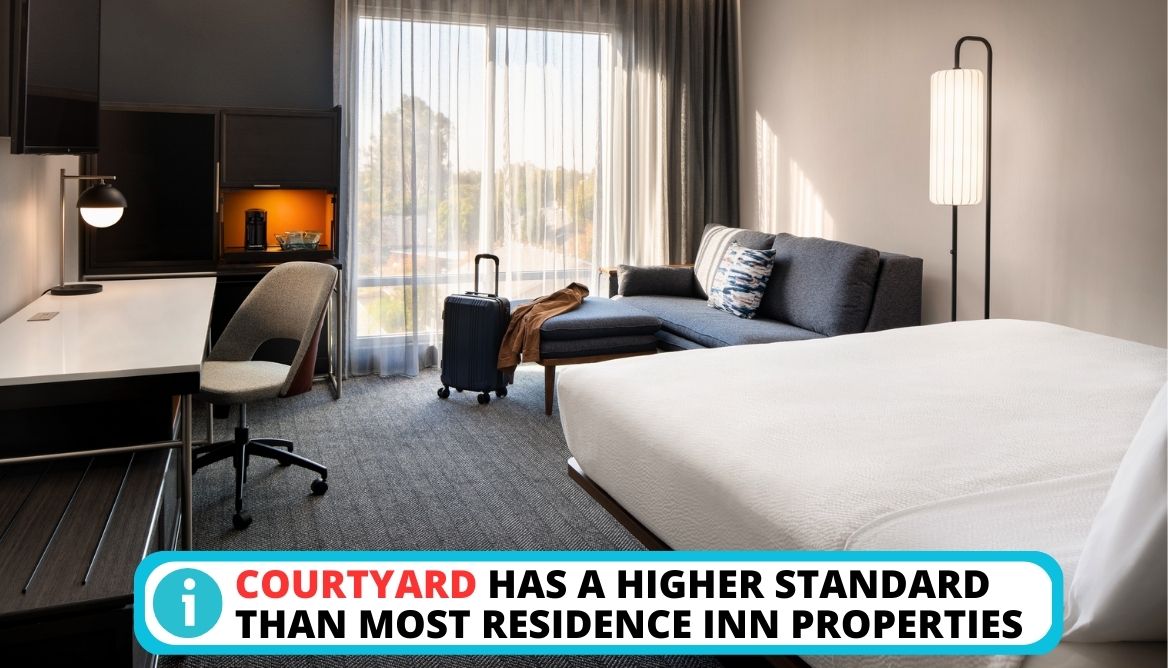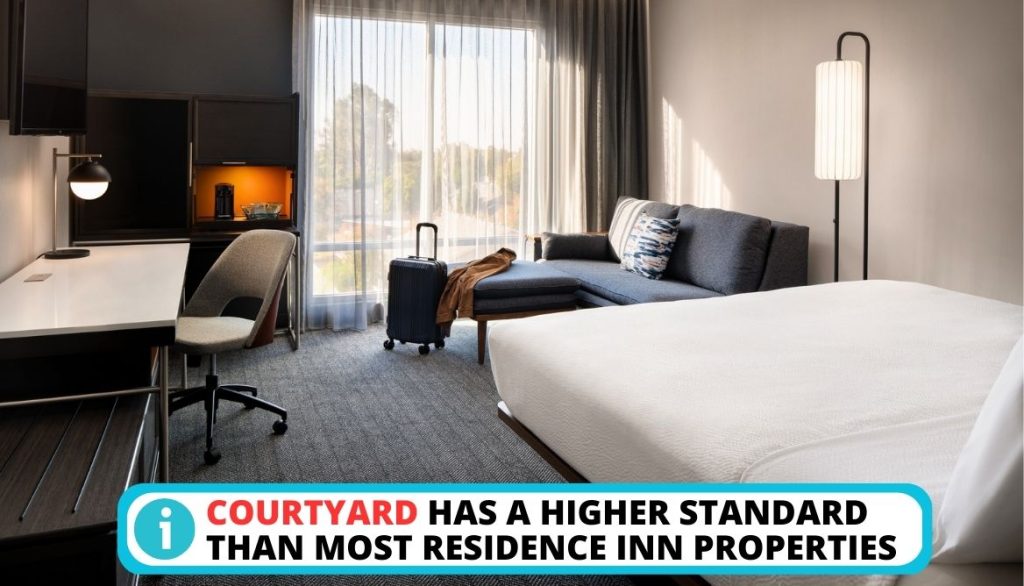 FAQ
What is the difference between Courtyard Marriott and Residence Inn?
The difference between them is that the Courtyard is located mostly within cities and provides a typical hotel feel while the Residence Inn is located mostly on the outskirts of cities and provides a calm home-like feel.
Is Courtyard owned by Marriott?
Yes, Courtyard is owned by Marriott.
Is Residence Inn part of the Marriott chain?
Yes, Residence Inn is a part of the Marriott chain of hotels.
Which country owns Marriott?
Marriott is a multinational company that was founded by J. Willard Marriott. It is not owned by any country but it is headquartered in Maryland USA.
What category is a Courtyard Marriott?
Courtyard Marriot is a brand of hotels owned by Marriott and it is a mid-priced offering catered towards mostly businessmen and couples. They are listed as category 3 or 4 on the Marriott Bonvoy program.
Conclusion
Marriott is the owner of most hotel brands and locations over the world, such as the Marriott vacation club and the Marriott executive apartments. This also includes the Residence Inn and Courtyard, which provide a great experience for tourists at a decent price.
Residence Inn is more catered towards a family experience while the Courtyard provides a hotel feel for guests on a short stay. In the end, choose the one that is best suited to your current needs and requirements.
Where will you decide to stay? Do you agree with our choice of staying? Let us know in the comments below.