Happy Wayfarer is reader-supported. When you buy through links on our site, we may earn an affiliate commission.
If you are planning a vacation to the Sunshine State, Florida, your itinerary must include a visit to the world's famous beaches.
Let's dive deep into the Cocoa Beach Vs Daytona Beach debate and determine which one suits your budget, and your shopping plans is the safest for your family and kids or has the wildest nightlife for your rendezvous.
Cocoa Beach or Daytona Beach: A Quick Overview
Let's compare some of the deciding factors side by side to get a quick understanding of what these two beaches offer.
Budget Required for 2 person's 7-day stay:

Family-oriented beaches with a calm vibe. Powdery white sand. 24 hours lifeguarded. Luxurious facilities and resorts for tourists. One-of-a-kind surfing experience.

Spring breaker's heaven. Dense, Hard-packed sand. Site for party freaks, nightlife lovers, sand sports, and motorsports enthusiasts.

Surf Museum and as "Surfing Capital". Kennedy Space Center. Cocoa beach Pier. Space Coast.

Daytona 500. NASCAR Driving Experience.

Surfing. Kiteboarding. Skating. Fishing. Kayaking. Beach Cruises. Shopping. Golfing. Community Events. Baseball. Beach Volleyball.

Snorkeling and Scuba. Paddleboarding. Shopping. Fishing. Parasailing. Jetskis. Spas. Go Karting. Motorsports.

Rikki Tiki Tavern. Port Canaveral. Cocoa Village. Ron Jon Surf Shop. Coconuts on the Beach Bar. Kennedy Space Center. Dinosaur Store.

Daytona Lagoon. Daytona International Speedway. Museum of Arts & Sciences. Daytona Beach Boardwalk. Ponce Inlet Lighthouse & Museum. Tomoka State Park. Daytona Beach Main Street Pier.

Canaveral Towers, Cocoa Beach Towers, Cocoa Beach Club, Beach Place Guest House, and Sandcastles Condos

Hard Rock Hotel Daytona Beach,

Hilton Daytona Beach Oceanfront Resort, Daytona Beach Regency, Holiday Inn Resort
Where to stay according to your budget
Best Budget in Cocoa Beach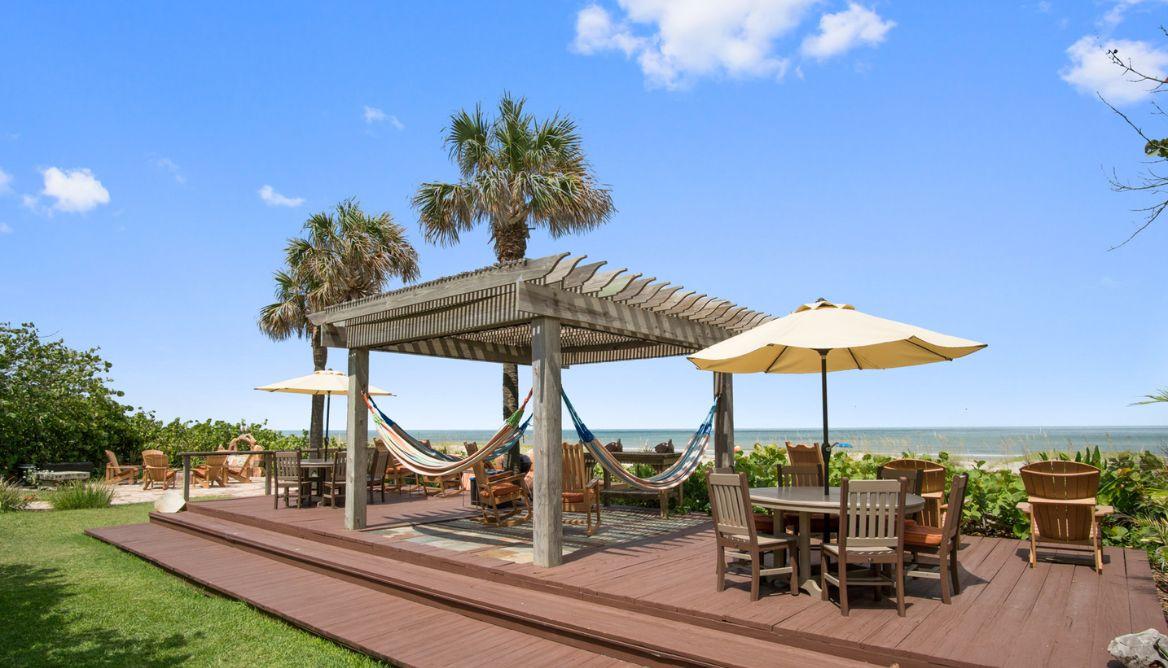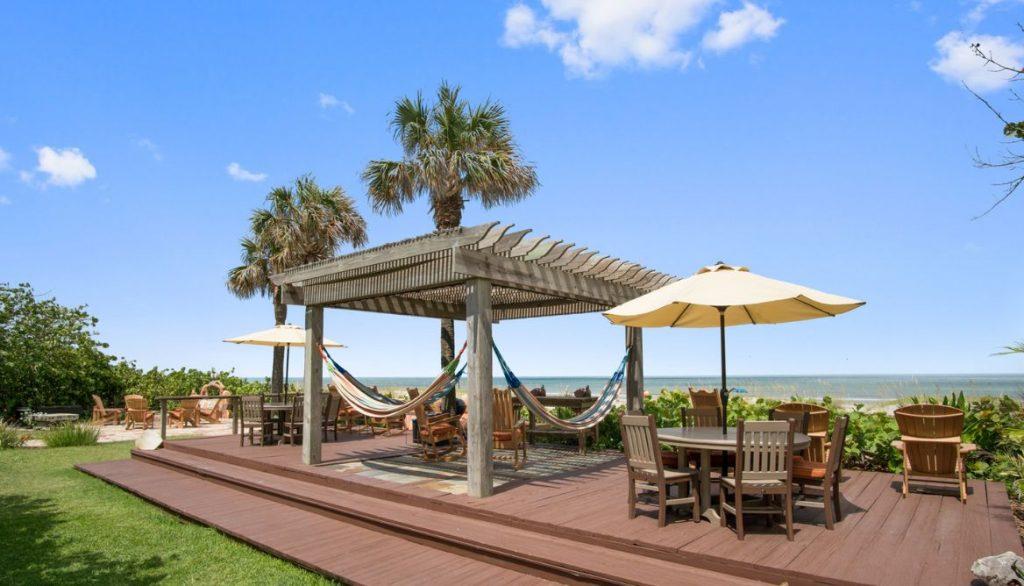 Beach Place Guest House is known for offering the best "value for money." The guest house has modern amenities with luscious oceanfront views.
The beach is a 10 minutes drive away. It has many restaurants and notable sites nearby, saving your transportation costs.
Beach Guest House apartments have their private bathrooms, kitchens, terrace, free parking, free wifi, cable tv, and DVD player. It also offers BBQ facilities.
Best Budget in Daytona Beach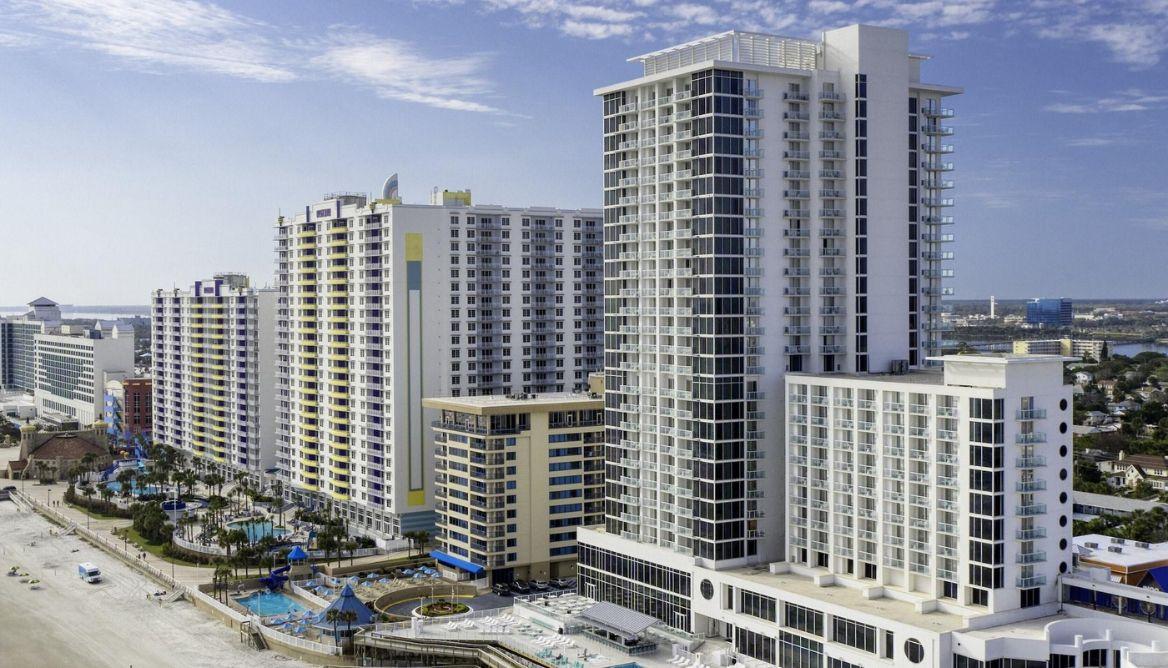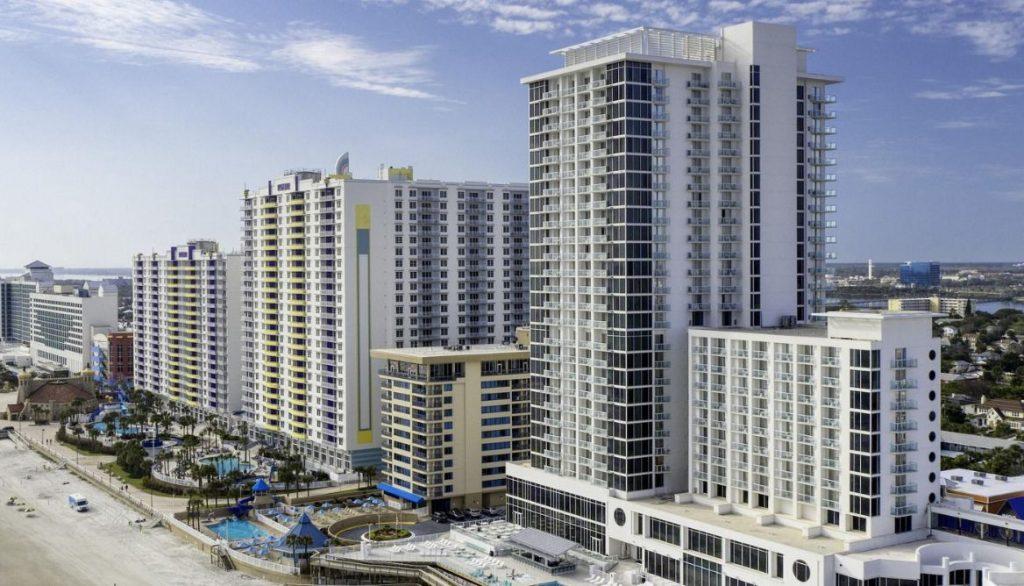 Daytona Grande Oceanfront Resort is people's go-to when looking for multiple facilities in one place while not exhausting the pockets. It is rated 8.4 by visitors for "value for money".
Daytona beach is only a few steps away. The rooms have separate coffee/tea makers and hot tubs. The property has heated pools, a sun deck, facilities for disabled guests, a fitness center, and a bar.
Cocoa Beach vs Daytona Beach: Which is the Better Choice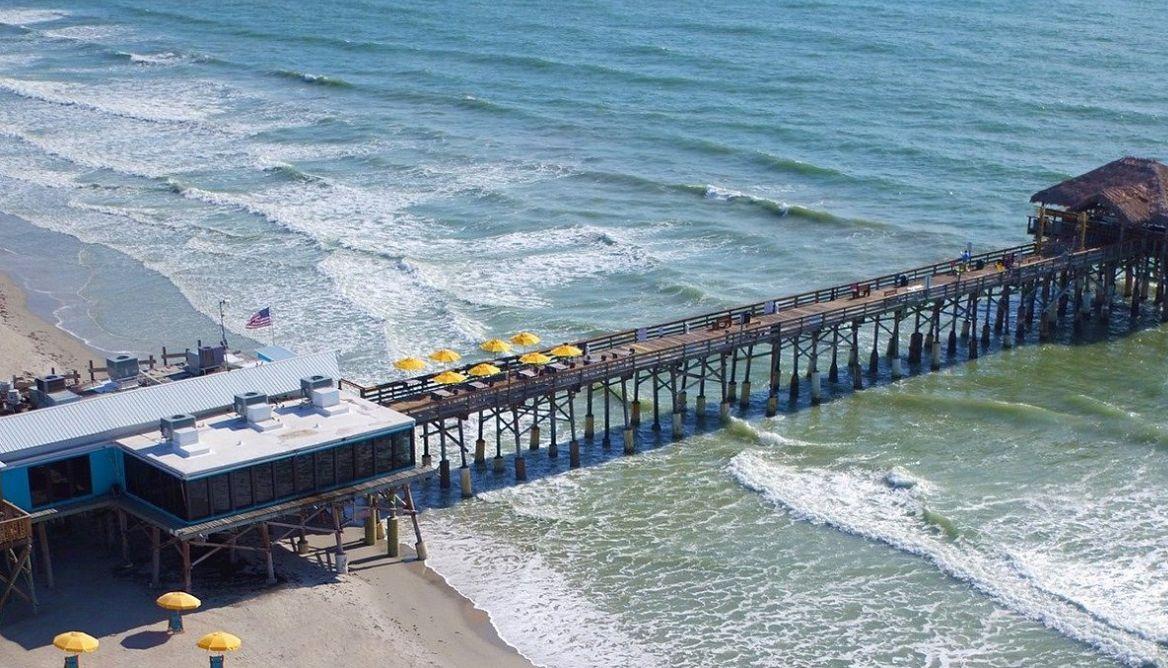 Cocoa Beach and Daytona Beach both promise range of fun-filled times but which is better depends on your preference.
If you are parents to little kids and have an elderly with you, you would like to be away from the rowdy crowds, and motor vehicles on the beach, in a calmer environment with a more, chill vibe. Cocoa Beach will be a better option for you as it is said to be a family-friendly destination.
Cocoa Beach has lower tides, great for newbies' surfing lessons. It also has Kennedy Space Center and Dinosaur Store which will interest the kids.
With its reputation as Party City young adult, college goers find Daytona beach as the best place to be. Daytona beach's vibrant nightlife with rave parties and thrilling NASCAR activities is what adrenaline junkies crave.
Young guns can unwind and blow steam off on Daytona's many bars, and clubs.
What is the best time of the year to visit Daytona Beach?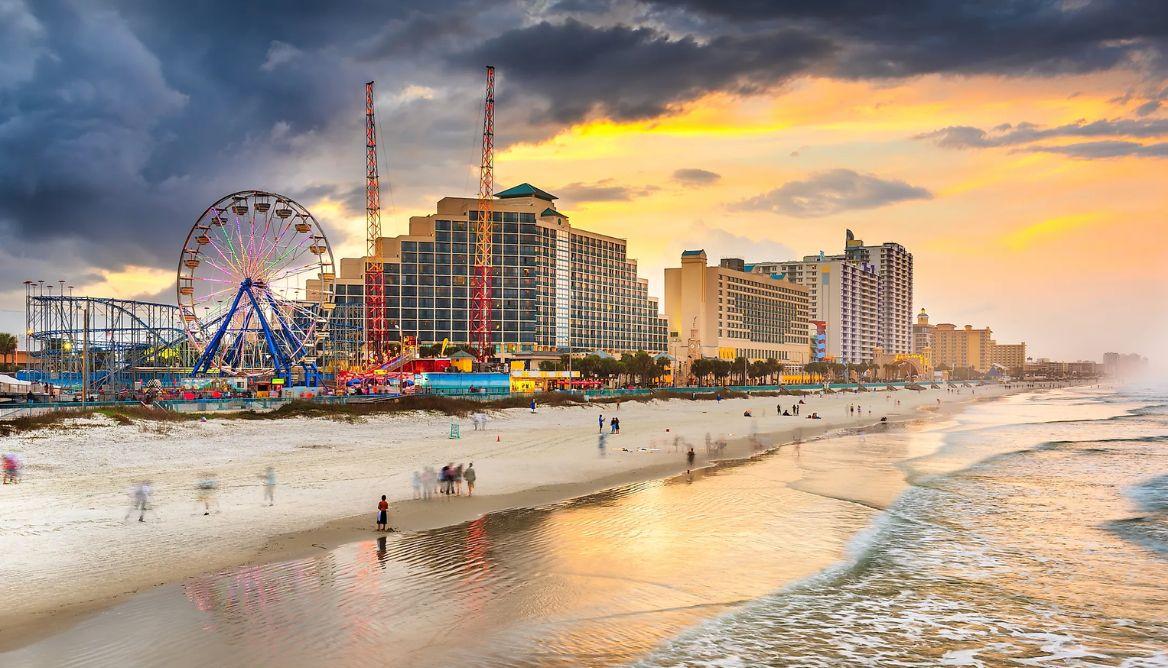 If you are looking to make your spring break a memorable one the best time to go is between early March to late April. The peak excitement is in the last weeks of March.
If you are wanting to watch the famous Daytona 500, it is scheduled in February, and Bike week is scheduled in October the following year.
If you are looking for a lesser crowded period whilst enjoying the pleasant weather late April to May is ideal.
Cocoa Beach Vs Daytona Beach for a family vacation?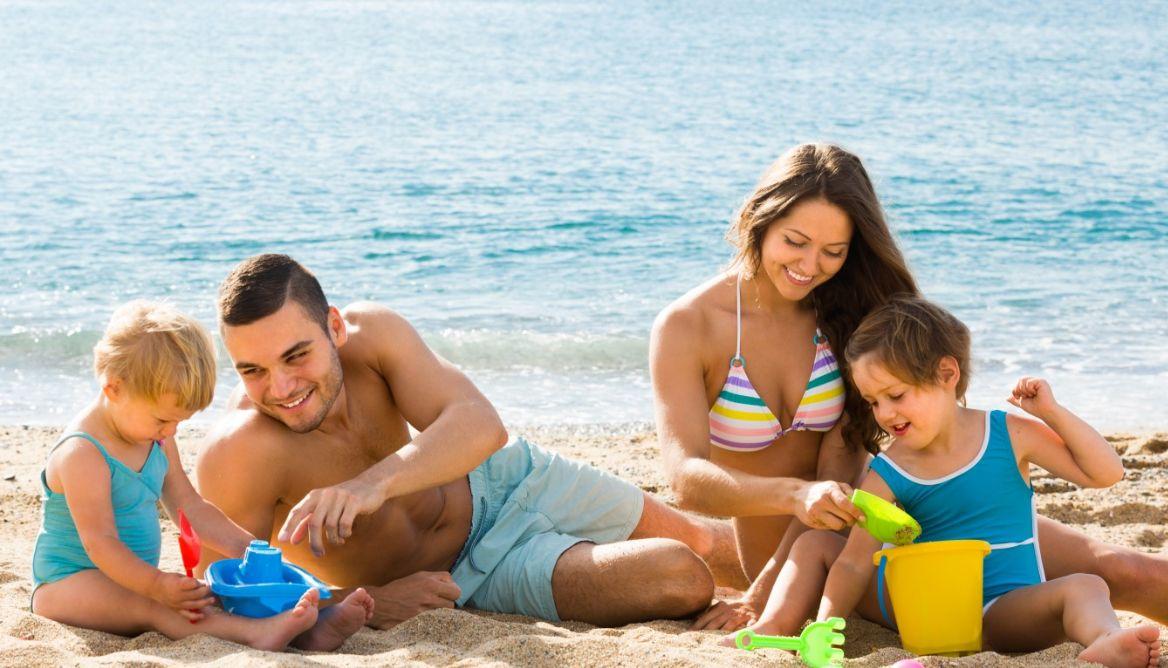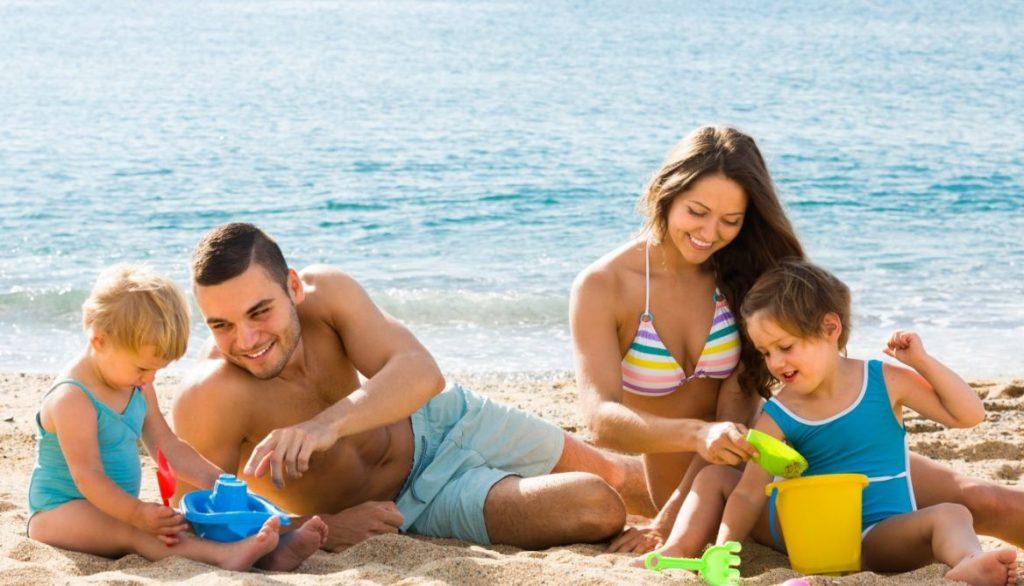 Cocoa Beach and Daytona are curated as the best beaches to vacation at with everything one needs on a summer trip. It makes it challenging to choose which one should be visited by a family.
Daytona has many attractions for kids such as Ponce de Leon Inlet Lighthouse, the Marine Science Center, and its pristine beaches but families are often disturbed by the young crowd Daytona's party scene pulls in.
If you want to visit Daytona beach with kids better come back home early before sunset to avoid the traffic otherwise families are always recommended to go to Cocoa Beach instead.
Cocoa Beach is Florida's famed space coast. It has the Kennedy space center to inspire kids to learn about Space. It has the world's largest surf shop known as Ron Jon surf Shop and School which offers Summer Camp and surfing lessons for 7 to 17 agers.
Cocoa beach is famous for Lori Wilson Park which has a designated area for dogs. Park offers beach equipment, umbrellas, and a huge pavilion for events, dining, and picnics along the coastline.
Keeping the infrastructure and ambiance in mind, Cocoa Beach is most liked by families.
Nightlife in Cocoa vs Daytona Beach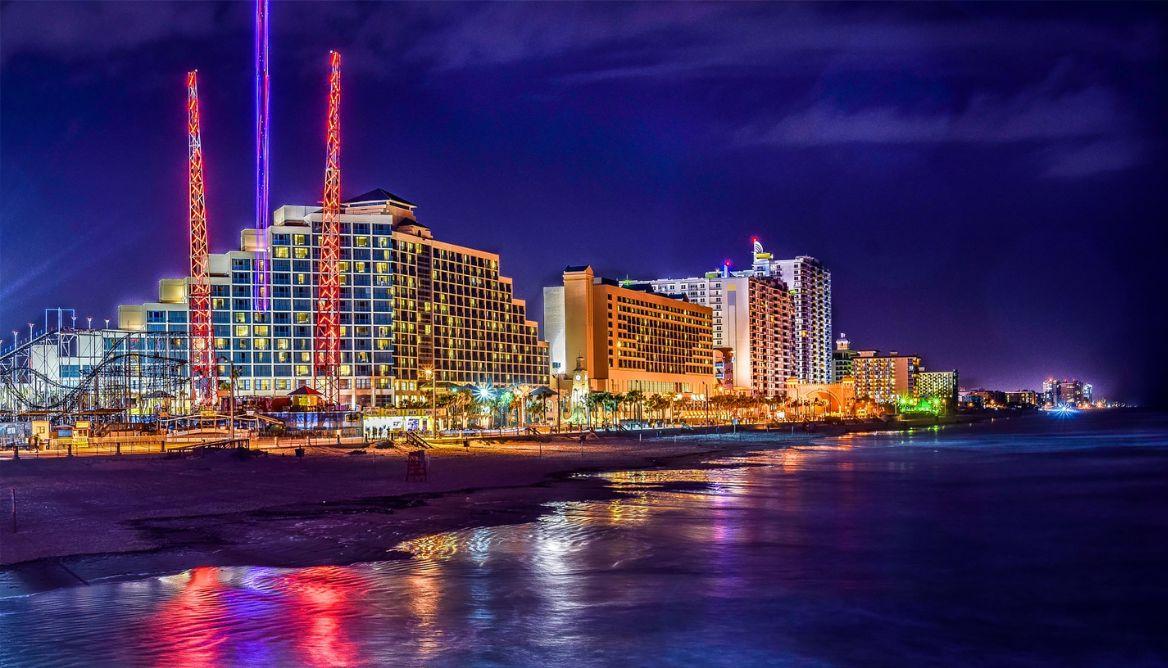 Cocoa Beach and Daytona Beach have the most colorful nightlives but they do have a notable contrasting vibe to them.
In Cocoa Beach, there are places to enjoy live music and drinks but you will not stumble on bars and pubs on every corner. There are extensive and exquisite options for dinner while sipping exotic cocktails.
The vibes are groovy, easygoing, and relaxed. The fun is definitely in the air as you breathe in the sweet ocean air as you unwind.
In Daytona, Beach night is always young, the same as its visitors. It is known as Partying Paradice. It will offer you the most electrifying and energized environment. The beach town frequently hosts free concerts, and racing events, and is spring break's hub.
You can shop or dine along the coast on the Daytona Beach boardwalk, and take a Ferris wheel to the top. It has the most luxurious resorts and hotels facing the great Atlantic ocean while clubs here are neverending.
Cocoa Beach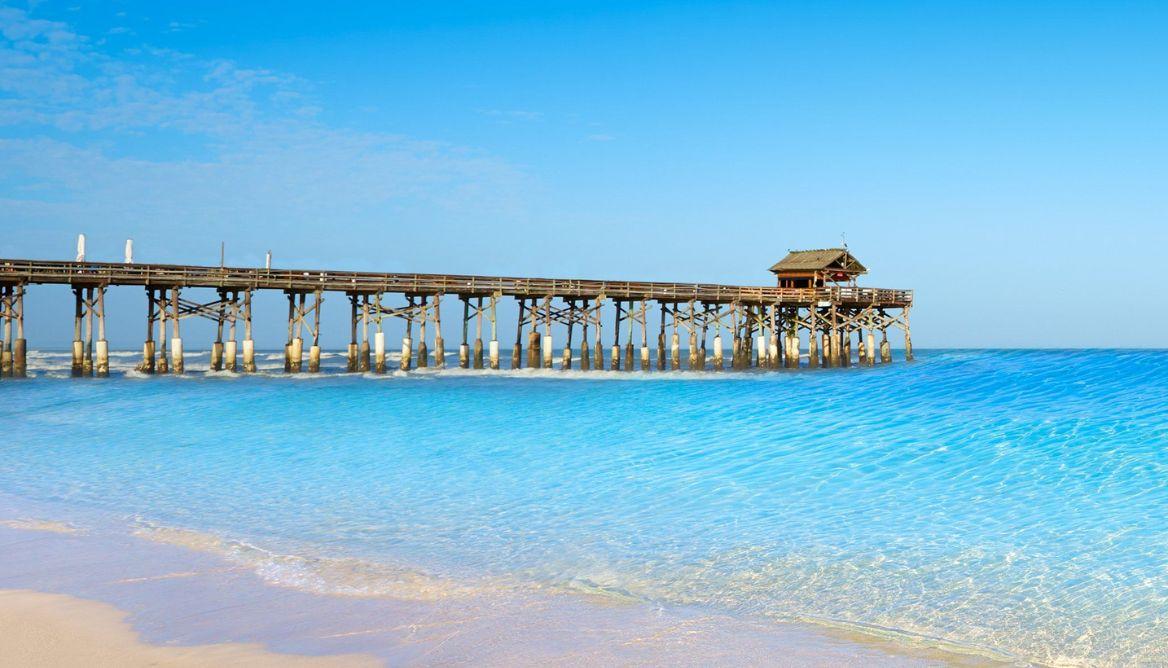 Cocoa Beach is not just any seaside. It has a lot under its belt to boost about. It is dubbed the Surfing Capital of the US. It is known for Cape Canaveral Air Force Station, Kennedy Space Center, high turfs, bluest waters, and powdery sand.
It has a rich history as it was founded in the 1860s and many buildings are still standing strong.
What makes cocoa beach unique and is it worth a trip? Let's deep dive and see.
Where Is Cocoa Beach?
Cocao beach town is located in Brevard County, which is on the central east coast of Florida, USA. It is adjacent to the Atlantic Ocean. It is less than 60 miles from Orlando.
What is Cocoa Beach known for?
Cocoa is dubbed as the Surfing Capital of the US for its tides and world-class surfing facilities. Popular destinations include Cocoa Beach Pier, Cape Canaveral Air Force Station, Historic Cocoa Village, and Ron Jon Surf Shop.
But that's not all! Cocoa Beach also has Nasa's Kennedy Space Center. You can witness satellite launches, visit the astronaut hall of fame and watch its various displays.
Cocoa also has a marine life facility, Banana River Aquatic Preserve. It is centered around kids and houses alligators, turtles, manatees, and dolphins.
Best Beaches in Cocoa Beach, Florida
Cocao Beaches entertains people of every age group. Its signature powdery white sand, numerous shopping centers, resorts, water activities, and relaxation services are some of the reasons these beaches are liveliest in the words for years.
Some of the places people keep loving and returning to are:
Cocoa Beach Pier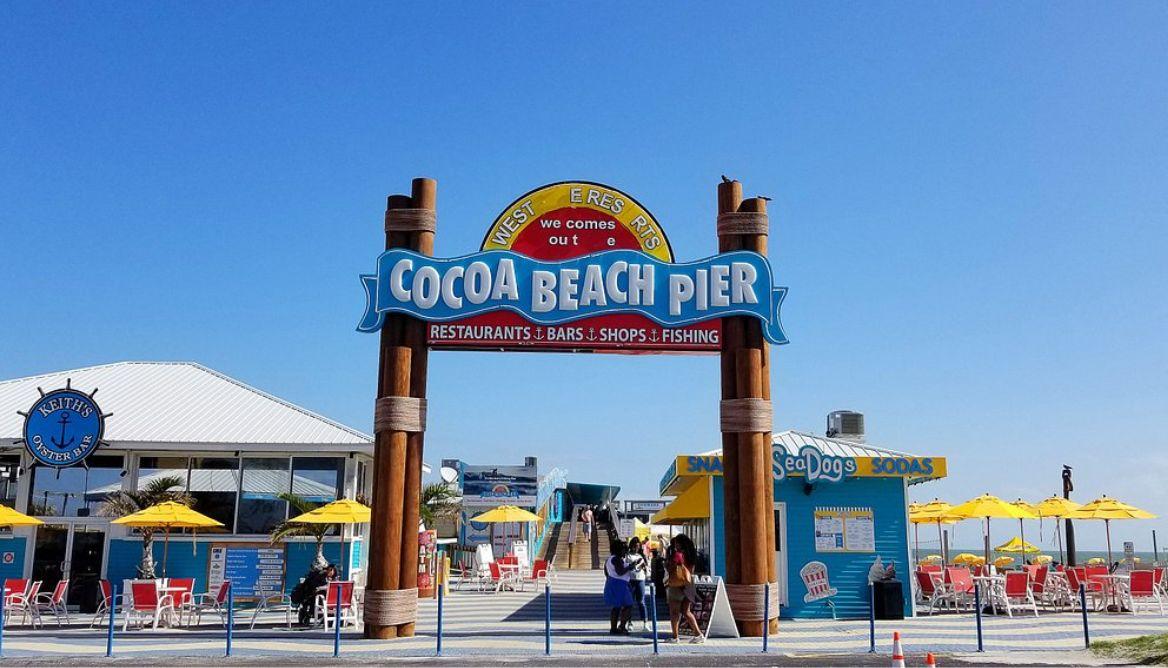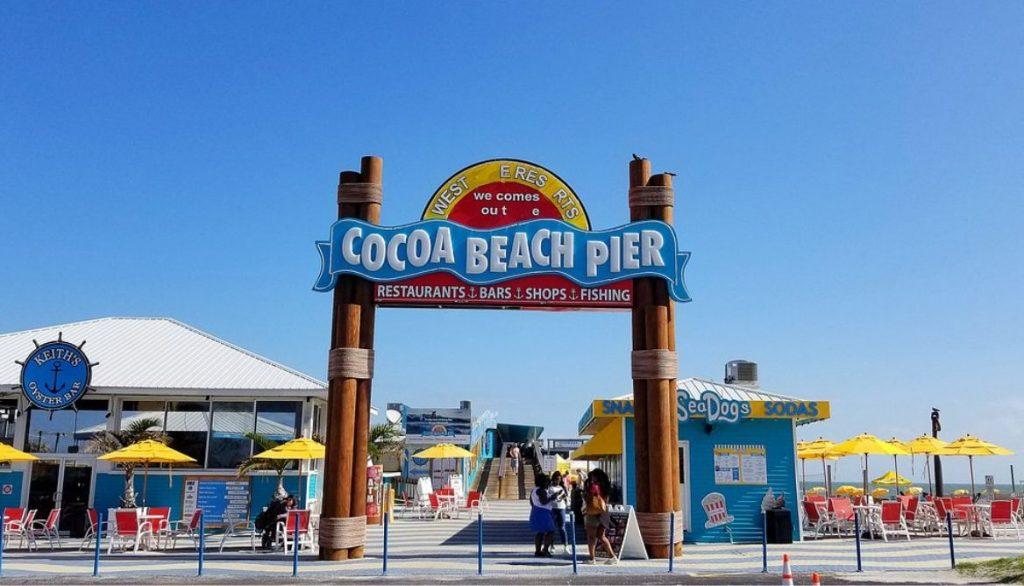 The most famous beach in the area is inarguably cocoa beach pier. If one is planning on visiting the town, Cocoa Beach Pier should be on the itinerary.
Its expansive size of 800 feet consists of areas for fishing and lounging under the sun. It has famous restaurants such as Rikki Tiki Tavern and has views of the ocean one would die for. It offers beachside delicacies and scrumptious foods made here that are found nowhere else.
Cocoa Beach Pier also has banquets and event halls for wedding and corporate events.
Canaveral National Seashore, Playalinda Beach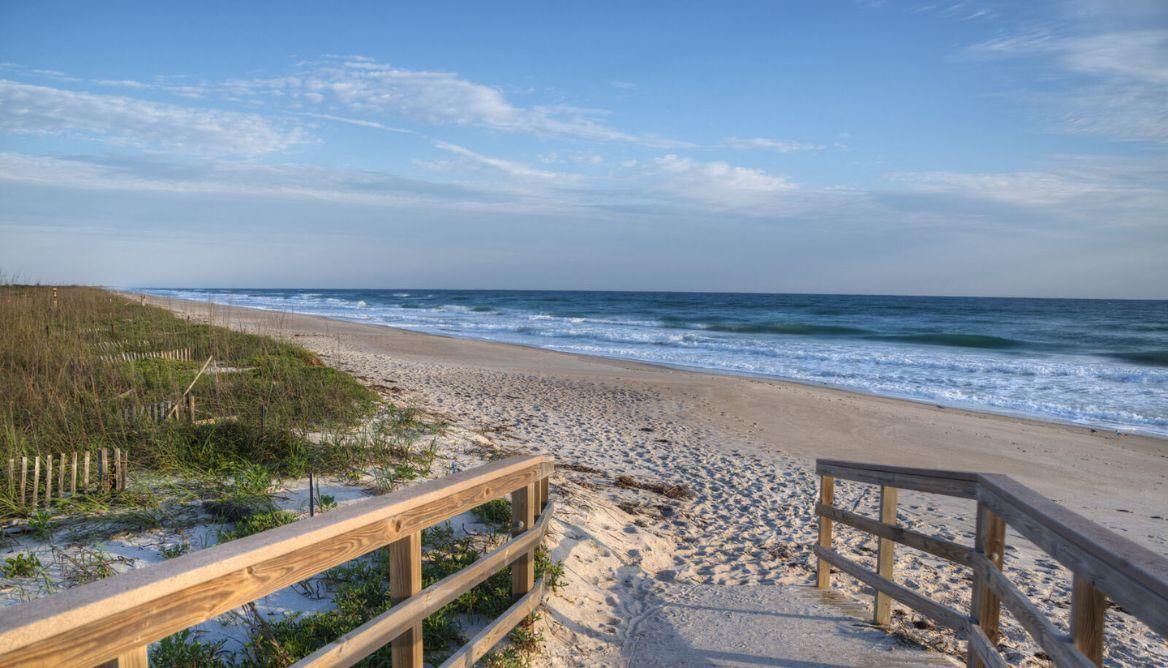 Playalinda beach is for the ones looking for a quieter environment with a lesser crowd and stand-stillness to enjoy nature at its best. It moves you away from the hustle-bustle of Cocoa beach and keeps you away from tourist traps.
It is an ideal destination for couples looking for a private, secluded time.
Its fluffy, rock-free sand, dunes, and steep beachside make for an awesome barefoot walk on the beach as well as sandcastles building. This beach welcomes swimmers and one can witness marine life such as sea turtles and dolphins here.
This beach is for quality time spent with loved ones and reconnecting with nature.
Lori Wilson Park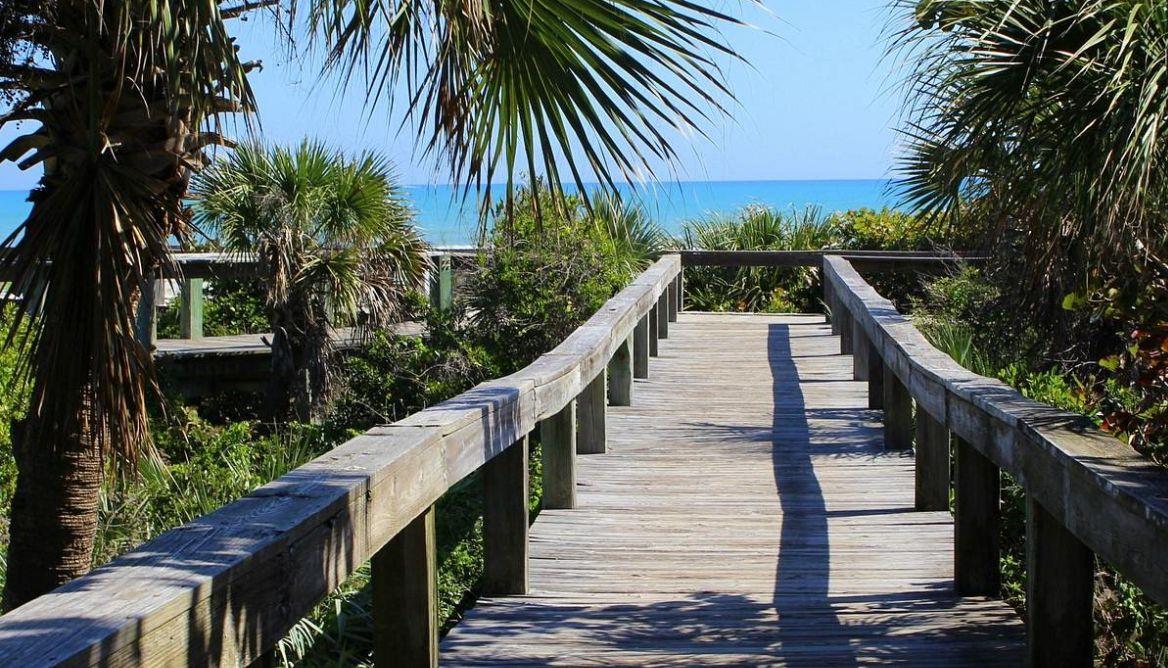 Wilson Park is a top-rated family-friendly destination because of the facilities it offers. Its Beach has lower tides perfect for a starter surfer. Its beach sand is thin-grained, latte colored, and feels sensual under bare feet.
Wilson Park's amenities include free parking, outdoor showers, restrooms, boardwalks, bubblers, and volleyball courts.
The Park has 2 pavilions, vendors for beach rental equipment, grills, playgrounds, and grassy areas.
Park has a birding trail that attracts migratory birds songbirds and painted buntings which are bound to make you awestruck. Wilson Park also has a Dog Park area designated so you can bring your pets along who will have the happiest time and vacation of their own.
Sidney Fischer Park Beach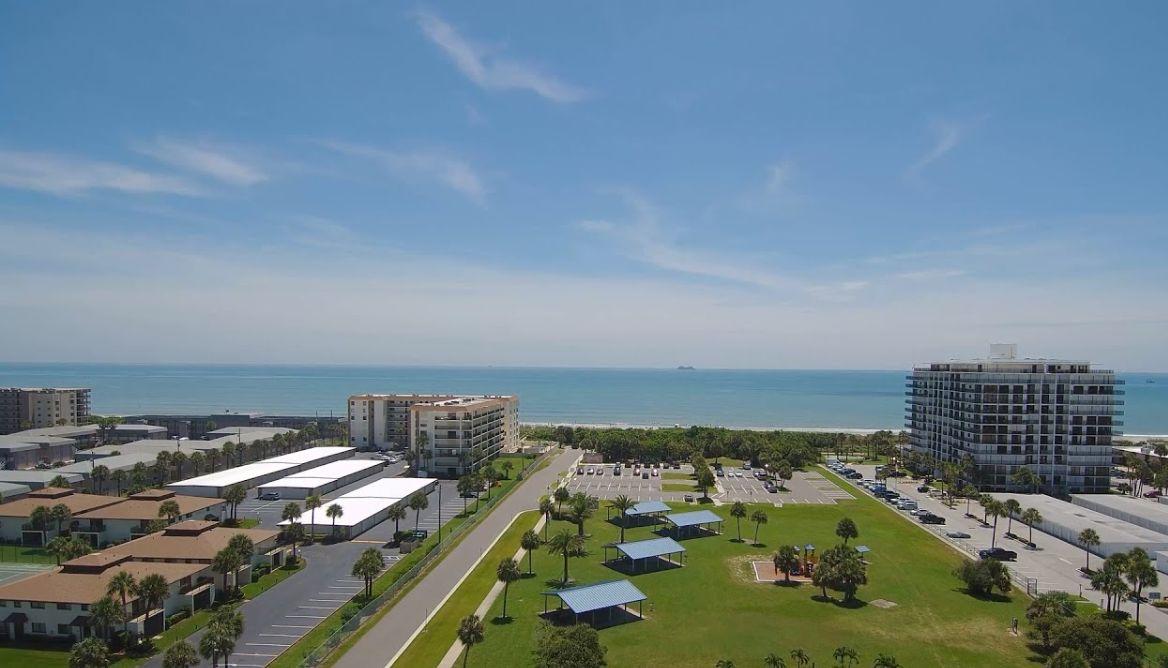 Sidney Fisher is another destination that is loved by families. It offers a 10-acre stretch for picnics, and lounging, and has showers and restrooms on the property. It opens early at 7 in the morning and closes at dusk.
Alan Shepard park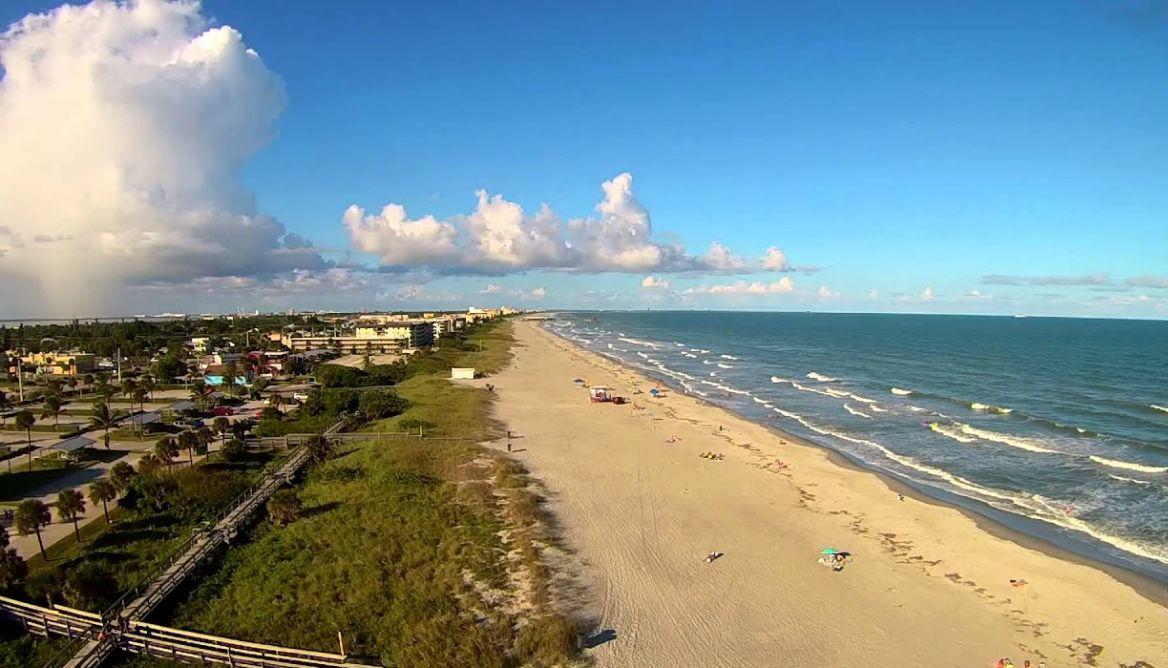 Alan Shepard Park is much loved by the people who arrive at cocoa beach town to see space launches. It gives a great view of the launches and is named after the legendary astronaut Alan Shepard.
It has an oceanfront view to it as well. 10 picnic pavilions, restrooms, bath houses, BBQ grills, and souvenir shops are just a walk away.
Dining in Cocoa Beach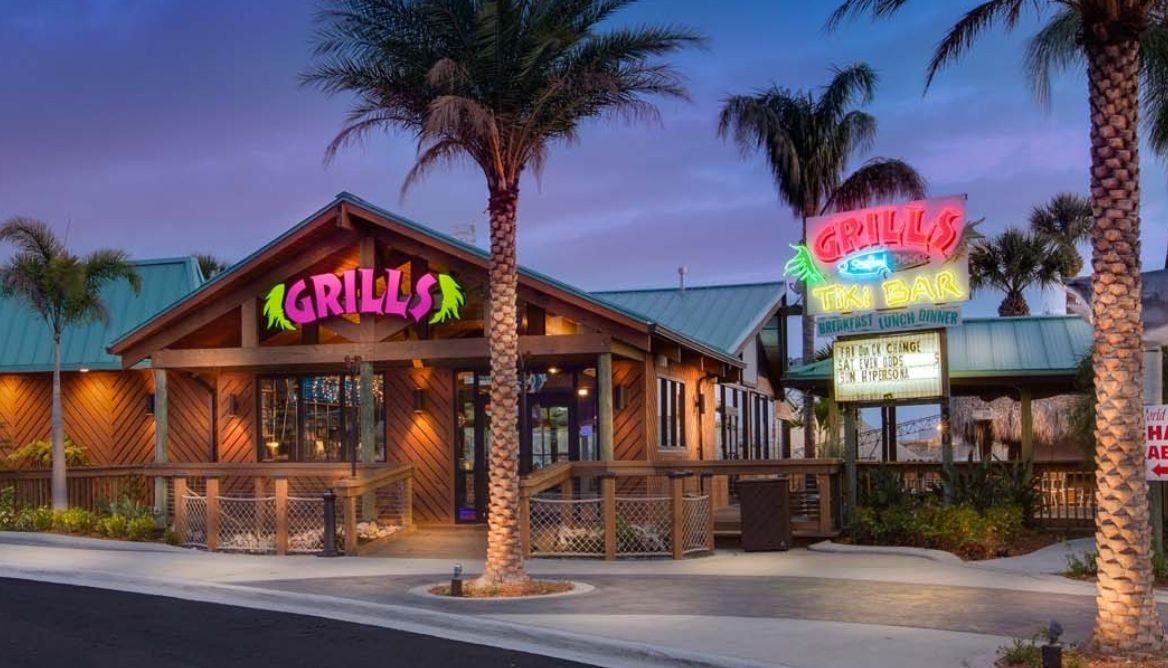 Cocoa Beach boasts a massive portfolio of food and dining options. You can find restaurants with fine dining, moderately priced food, or cheap eats whichever suits your budget.
Coconuts on the Beach is the area's famous restaurant because of its range of sea and land food, kids menu, live music, the tiki deck on the property, and the sea view.
Moderately priced options include Florida's Fresh Grill which offers steak but also has vegetarian options. Coasters Taphouse is famous for its burgers. Long Doggers' waffle fries are the most talked about.
The Tiny Turtle is a great option for a cheap-priced, delicious taste meal. Burrito and Quinoa bowls are appetizers to go with them.
Things to do in Cocoa Beach
Cocoa Beach is packed with activities and sites. The attractions alone have the pull that people plan vacations for the sites aside from the beaches.
Visit the Ron Jon Surf Shop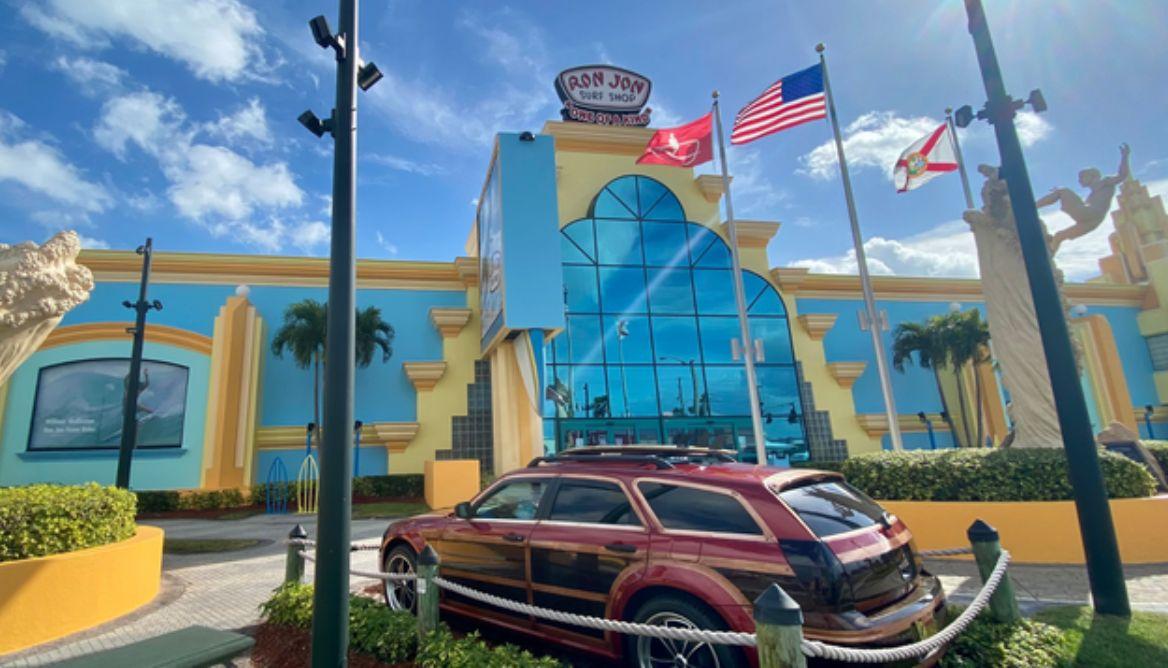 Ron Jon Surf Shop was founded in 1959. The largest surf boat shop is even a favorite of people who are not surfing fans.
Fat Kahuna's Beachside Grille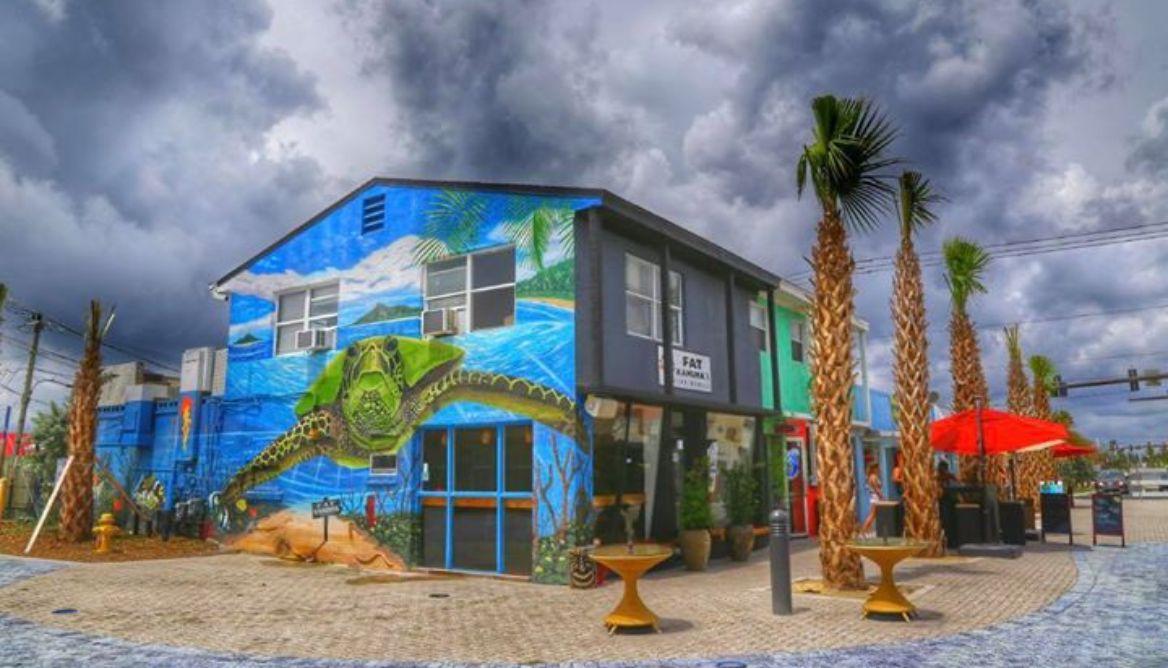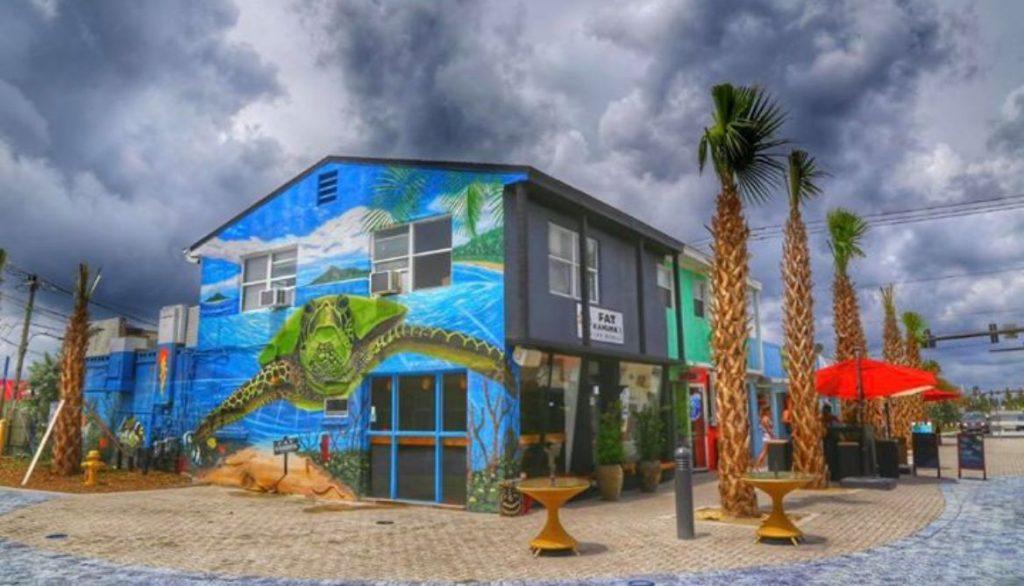 Fat Kahuna provides one with fine dining yet a casual atmosphere. It serves seafood, steak, and chicken but has vegetarian-friendly options as well. It has a kid's and dessert menu too.
It has outdoor dining available so you can chew on your food while breathing in the ocean air.
Cocoa Beach Skate Park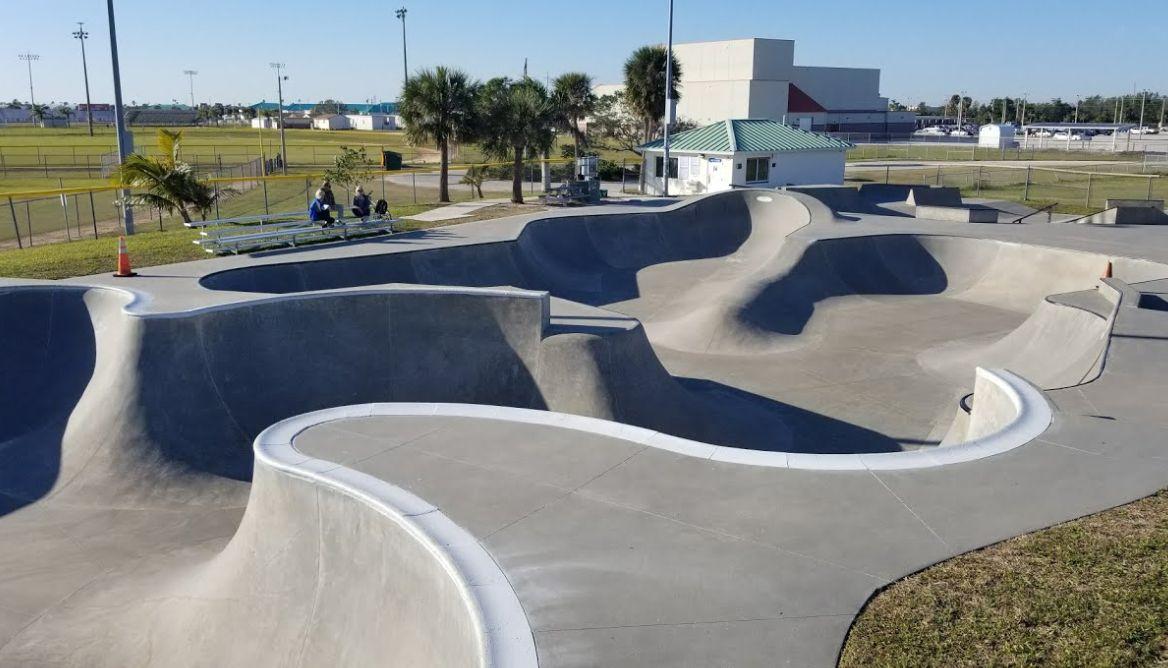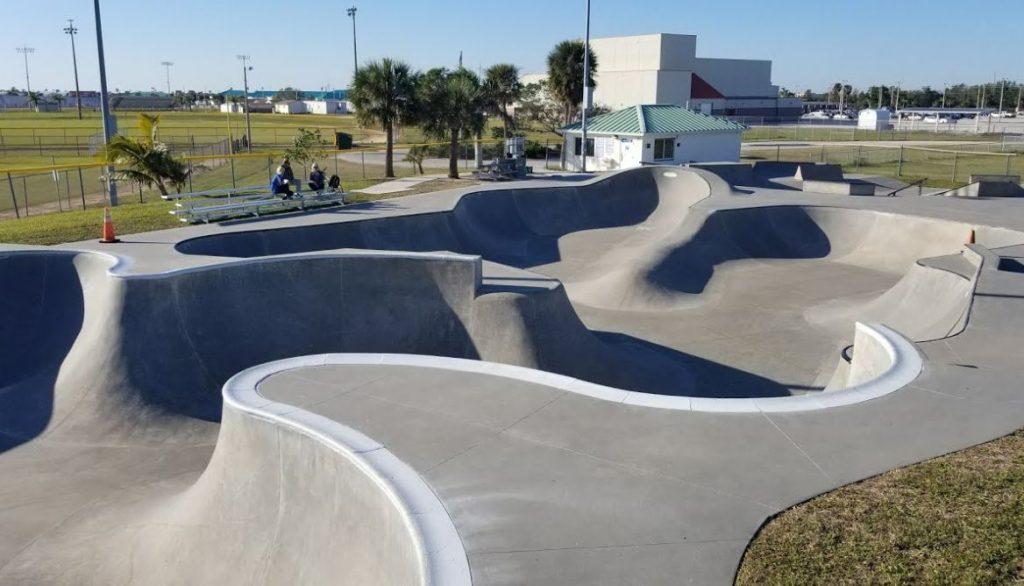 Cocoa Beach Skate Park is a huge hit with outdoorsy kinds and skate lovers. It has state-of-the-art bowls and courts. It also features a street-style court. Park has music, it can be booked for special events, and it does not have a huge crowd.
Explore Cocoa Beach's history at Cocoa Village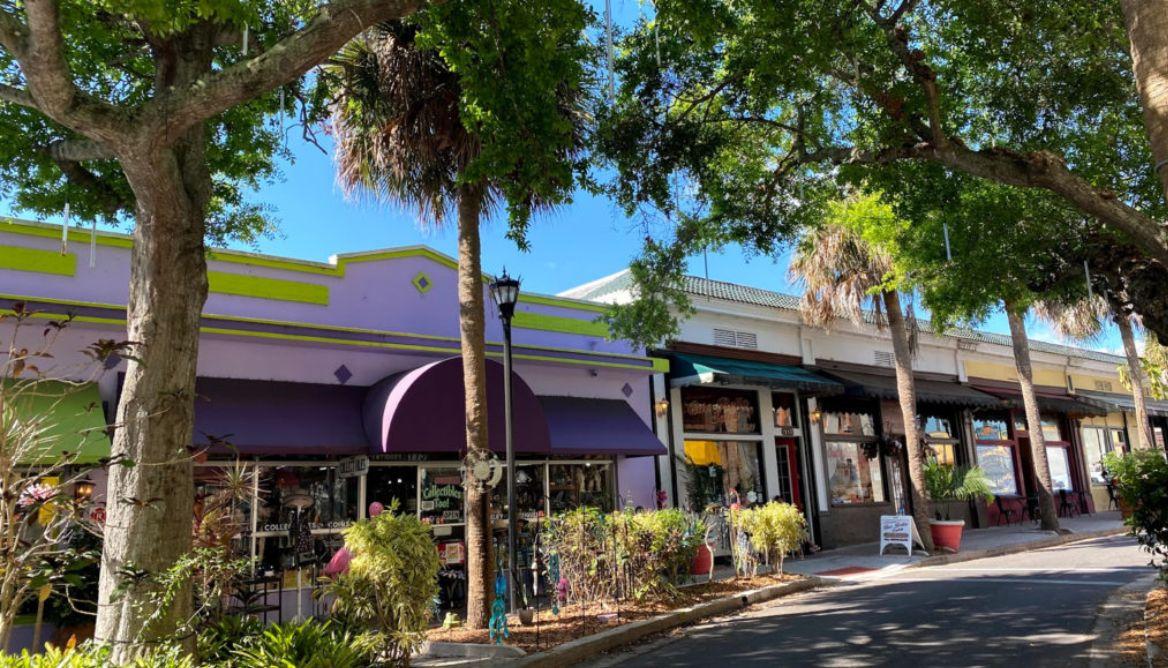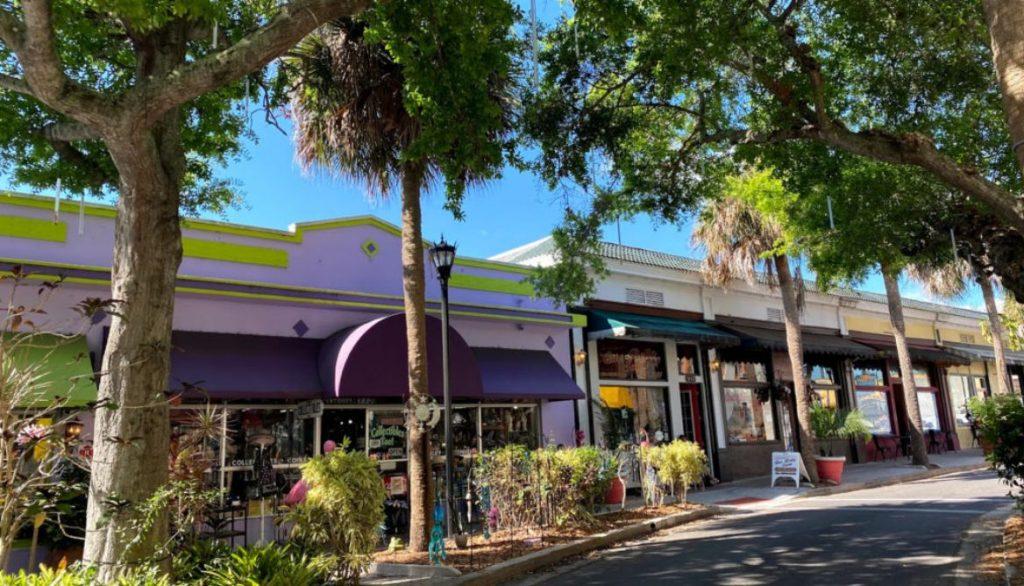 Historic Cocoa Village was founded in 1860 so naturally, it has accumulated a rich history to itself. It has Cocoa Village History tours and food tours. One can visit the Florida Historical Society and Gift Shop to learn about Florida and Cocoa Village's history.
Explore the Cocoa Beach Pier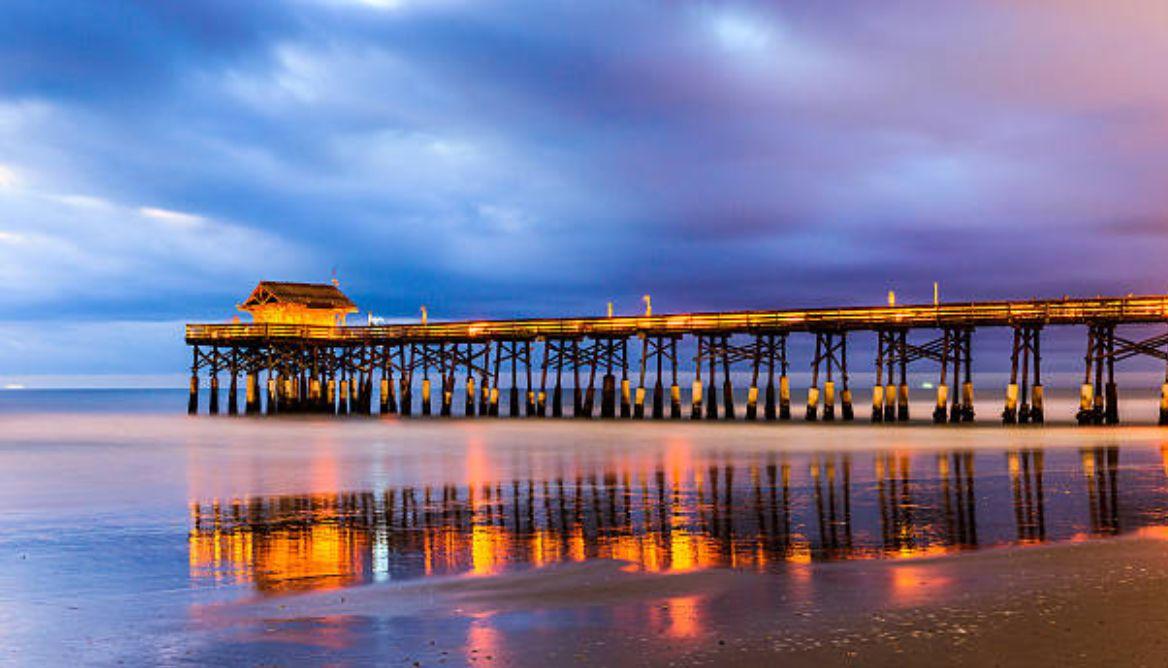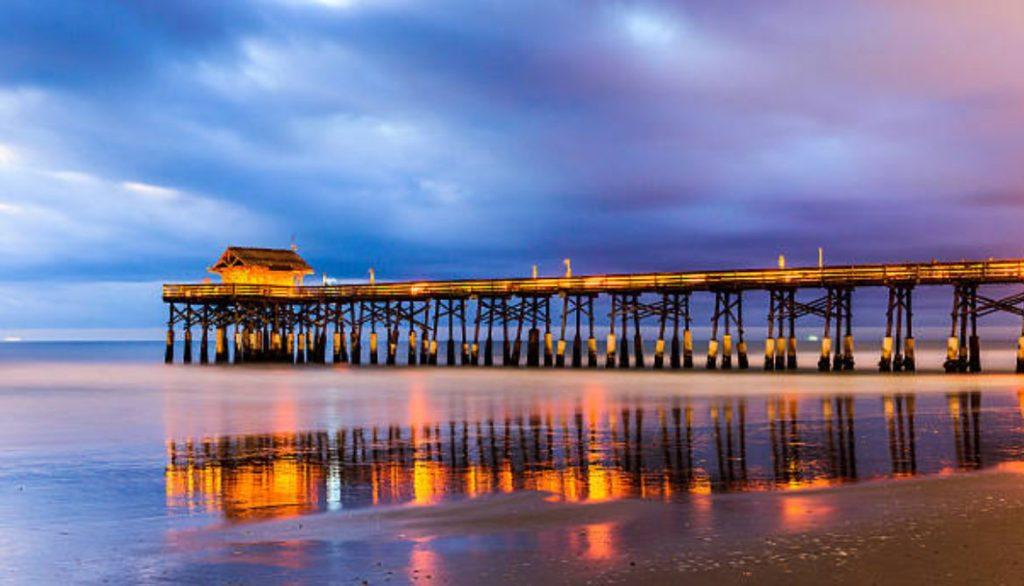 Cocoa Beach is an excellent getaway to enjoy the beach, the summer sun, the live music, the exotic marine wildlife, to fish, sip drinks, and have the seafood of dreams.
Explore the Kennedy Space Center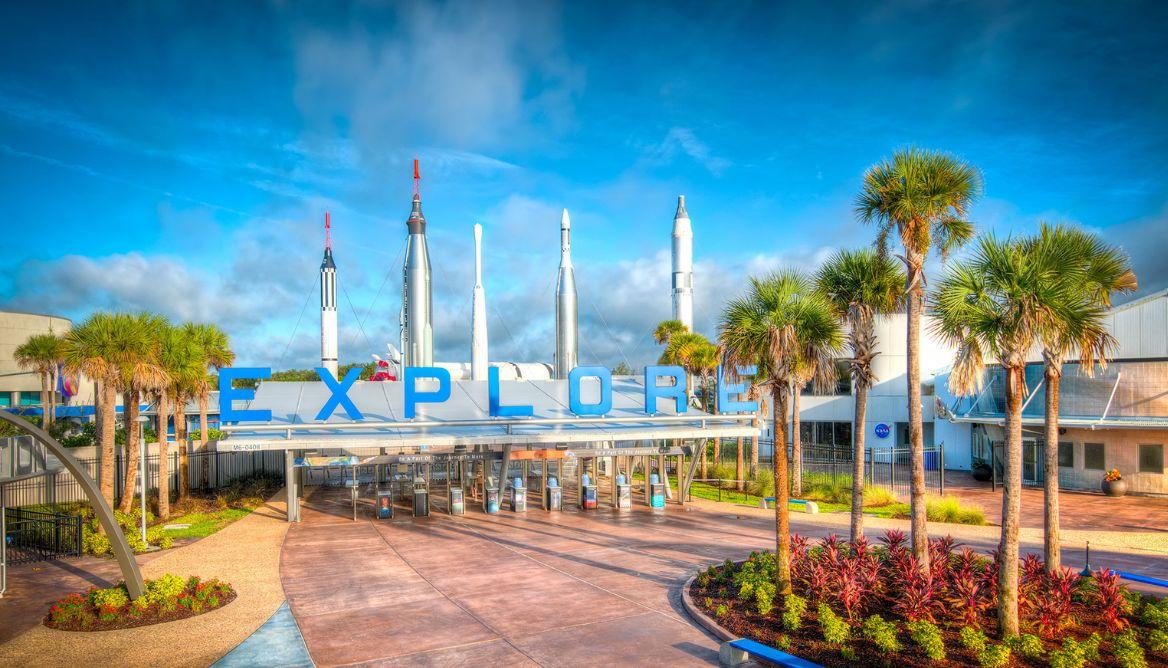 Kennedy Space Center has space crafts displays, space memorabilia, and interactive space-related exhibits to channel one's, inner astronaut.
One can experience a space shuttle launch here or visit the astronaut hall of fame to learn about mankind's unbelievable achievement: the way to space.
What is the best time of the year to visit Cocoa Beach?
To experience the pleasant weather, summer sun, strong waves, and partying atmosphere visiting cocoa beach between March to May is recommended.
If you want to save up on accommodation, avoid the spring break crowd, have a peaceful and relaxed time on the beach then avoid the peak months and visit between the ending week of October to December.
Best accommodation options in Cocoa Beach
Cocoa Beach offers a variety of accommodation options. You can an economical place to stay or if the pocket allows booking a luxurious suite.
Many visitors reviewed Beach Place Guest House as the best offering keeping in mind the cost they charge.
Canaveral Towers, Cocoa Beach Towers, Cocoa Beach Club and Chateau by The Sea Condos, and Sandcastles Condos are some other options we recommend.
Daytona Beach
Daytona beach is the world's most popular destination when it comes to beaches. It is a 23-mile stretch in Florida that borders the Atlantic ocean. It has Nascar fans beating hearts and is a hot spot for college kids on Spring Break.
What is Daytona Beach known for?
Daytona beach is famous for its hard-packed sand, luxurious beachside dining experience, multiple-star hotels and resorts, grandest beach parties, and motorsports as the city has Nascar headquarters.
Best Beaches in Daytona Beach, Florida
Daytona Beach pier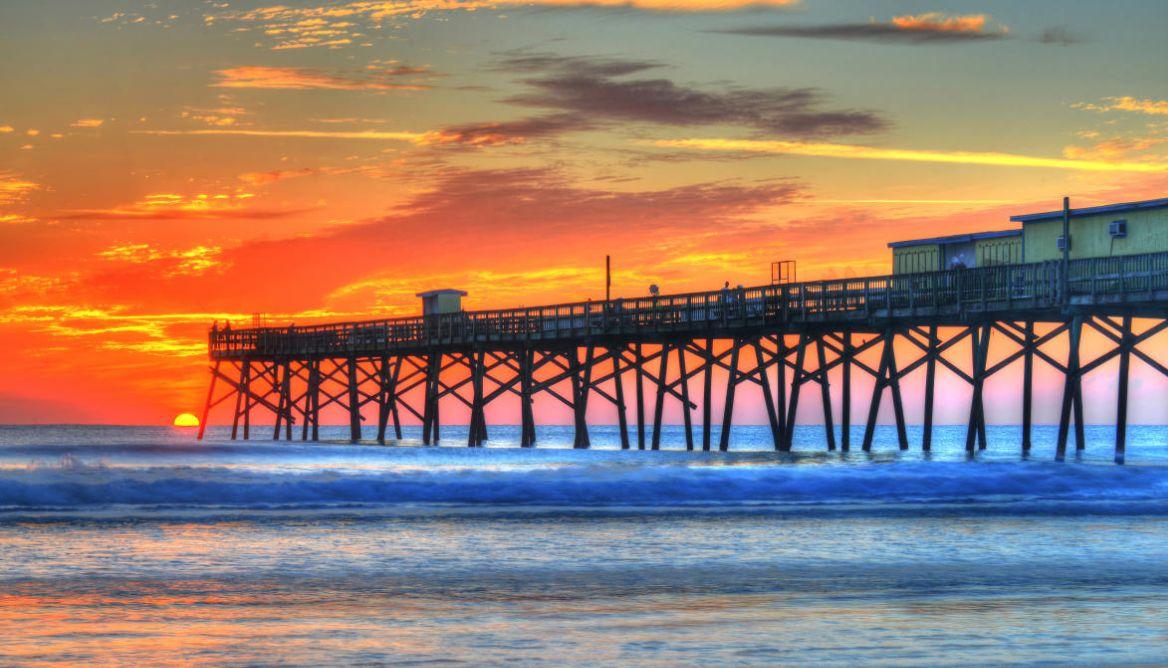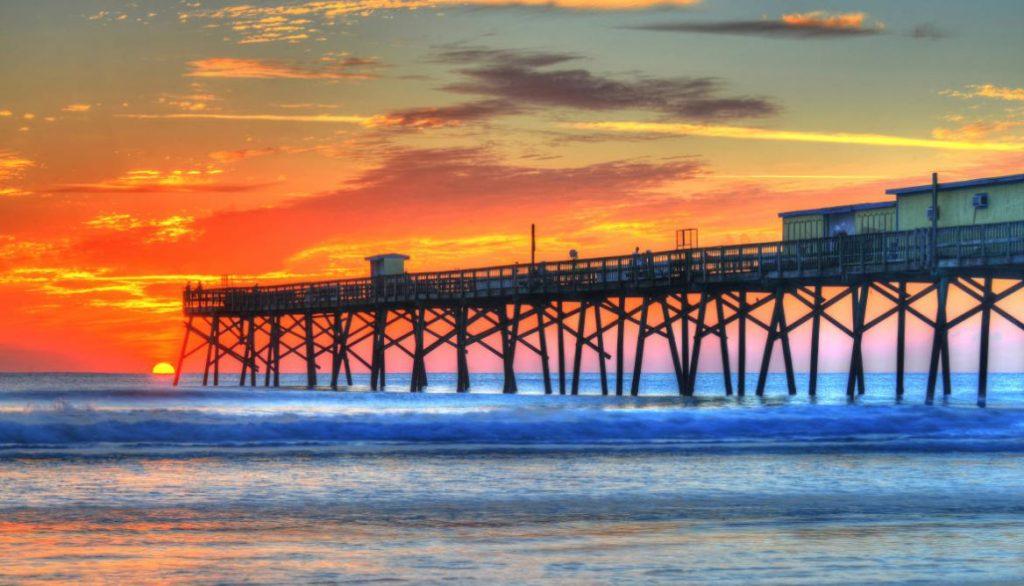 Daytona beach is 1000- a feet stretch and Daytona Beach Boardwalk and Pier have free and easy access. It is arguably the most popular destination in town. It offers thrilling amusement park rides, arcades, partying spots, bars, and pubs. The fun is tripled when the sun goes down.
Partying is not all to the place. You can fish, and look out for marine life such as dolphins, seabirds, and more.
Sun Splash Park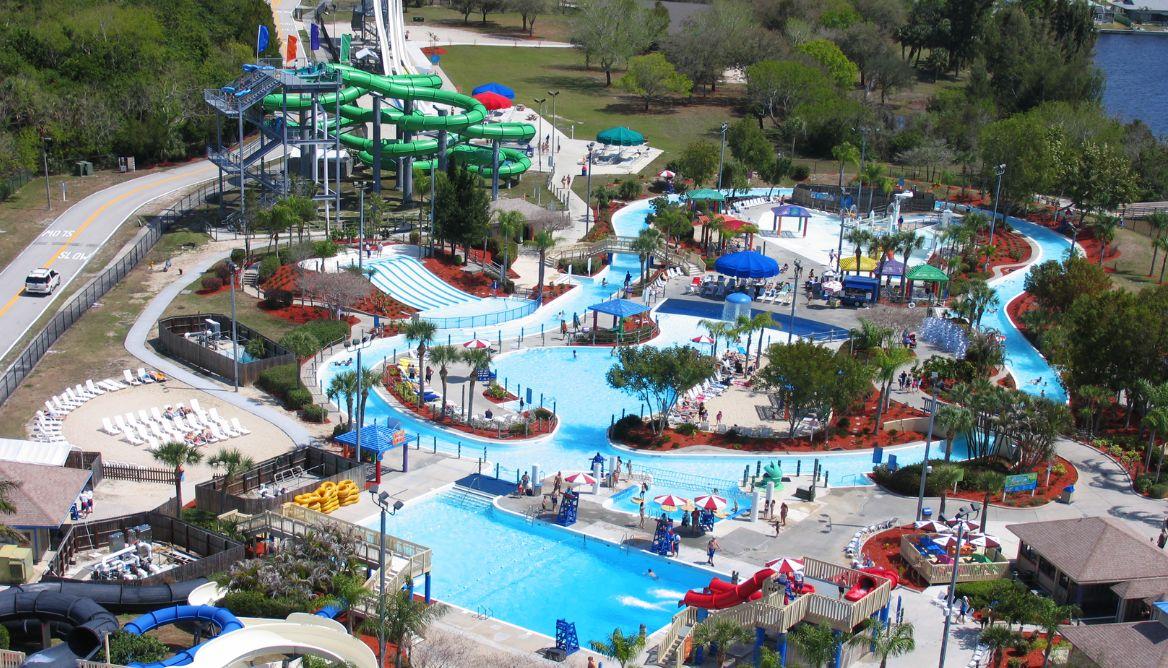 While Daytona beach attracts a young adult crowd, Sun Splash Park is the family-friendly and safest location for kids in this area. The lesser crowd and lifeguarding time ensure quality time with the family.
Bicentennial Park Beach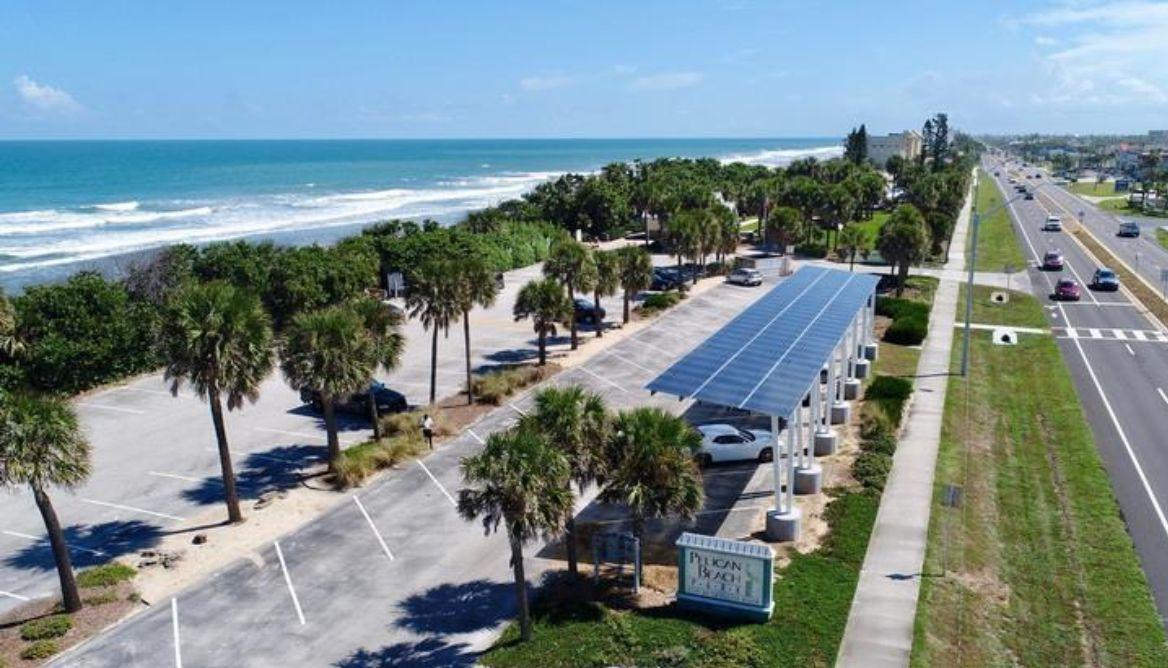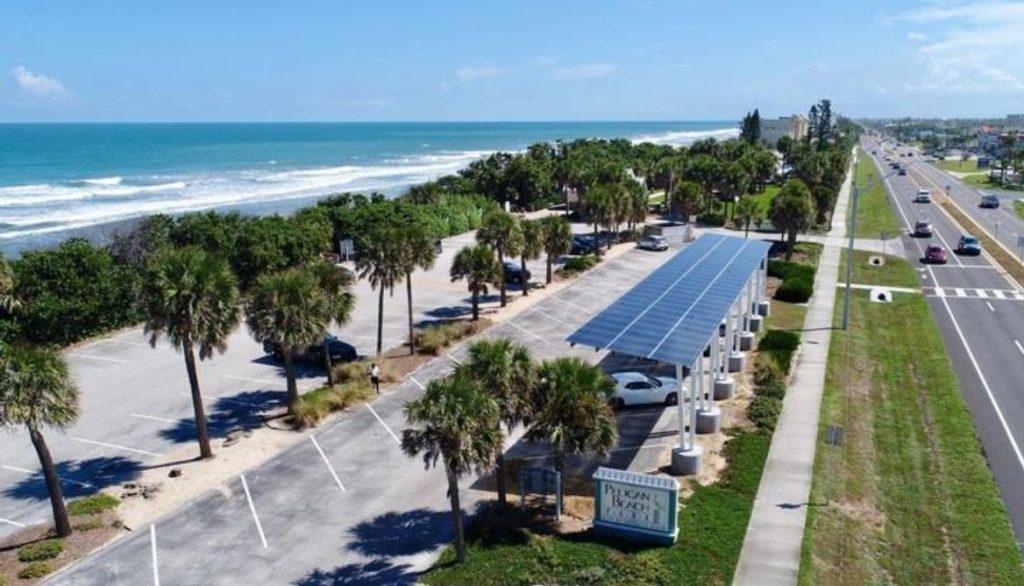 Bicentennial park beach is another spot if you are looking to get away from the rush of people. In December, it is noted that little to no crowd is present making it perfect for introverted people looking for some solitude.
It has easy access to the beach. The amenities include outdoor showers, restrooms, wheelchair-friendly access, shades, a large deck, volleyball court.
AI Weeks Sr. North Shore Park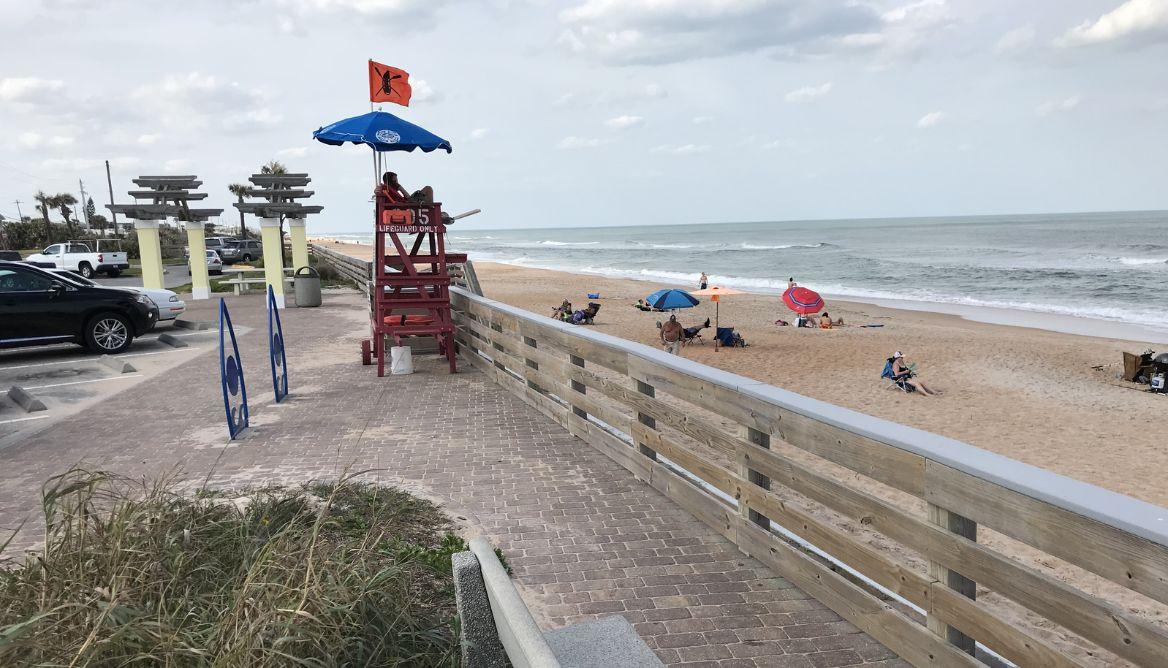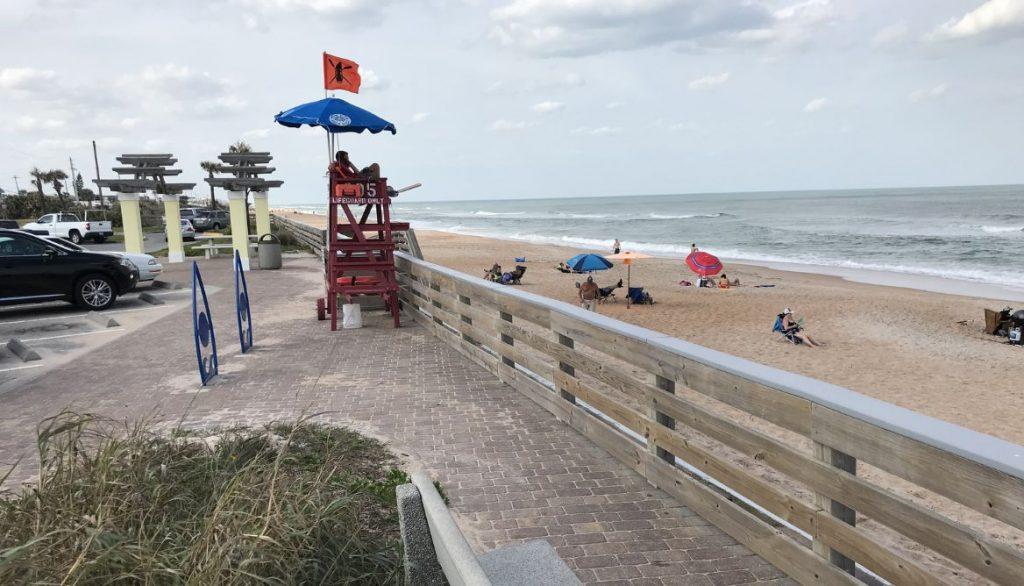 It is situated at Ormond beach which is 3.1 miles away from Granada Boulevard. The entry is free, and has wheel-chair access, BBQ grills, benches, and a spectacular view.
New Smyrna Beach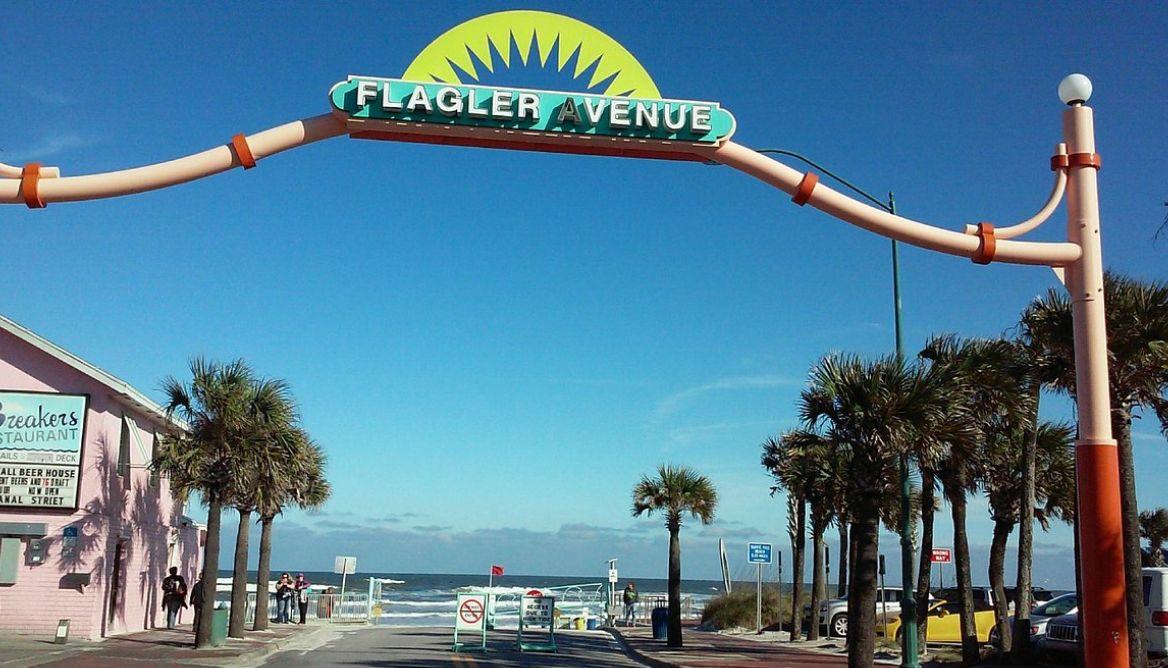 New Smyrna Beach is known for the activities it offers. It is loved by surfers, has boogie boarding and paddle boarding. Beach is year-round packed with event after events.
Authorities have also promoted its art scene, and its food offerings.
It also consists of an Intracoastal waterway and its sugary white sand to dip your toes in.
Dining in Daytona Beach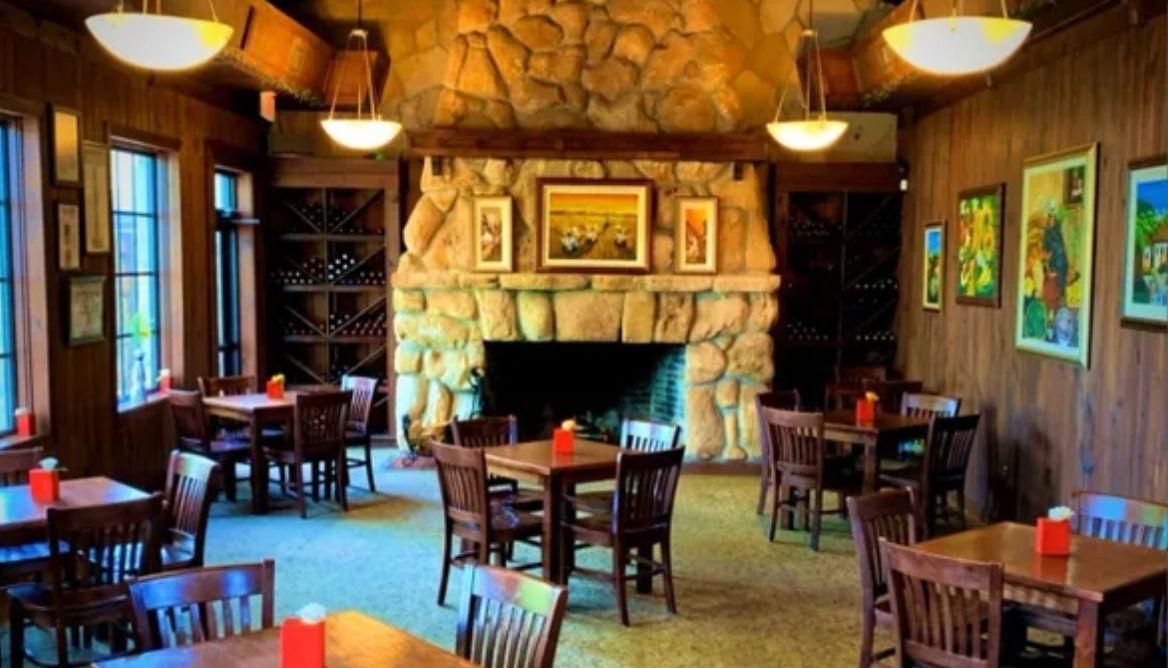 Food scene and partying in Daytona beach go hand in hand. Most restaurants offer outdoor dining so you do not miss out on the waves while you nib at your food.
Don Vito's Italian Restaurant makes the best "homemade" style food so do not have to worry about hygiene. Ravioli, eggplant parmesan, and chicken parm are all the rage here. It is only a mile away from the beach at international speedway boulevard.
Chucherias Restaurants' beef tenderloins are to crave. Hog Heaven Bar-B-Q's brisket is must-have.
For drinks and beet trust Dirty Harry's Pub & Package. They will fix you one that urges you to come back for more.
Things to do in Daytona Beach
Catch a thrilling NASCAR race at Daytona International Speedway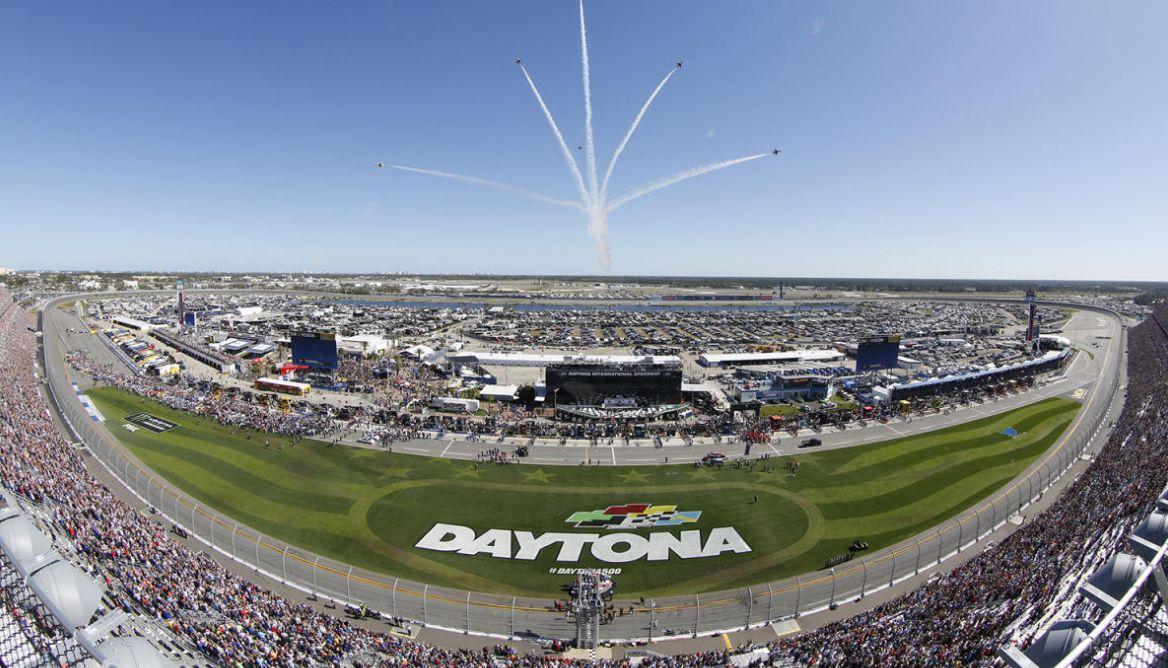 Daytona international speedway tour should be the top 3 things one should do if not the top 1 when in town as this is the reason Daytona reached its massive popularity.
The speedway was established 75 years ago, has a capacity of 125,000 fans, and one can witness priceless moments on tracks when racing cars battle it out for the first place. The adrenaline rush, roaring car engines, and heart-thumping thrills can't be experienced elsewhere.
Visit the Daytona Beach Boardwalk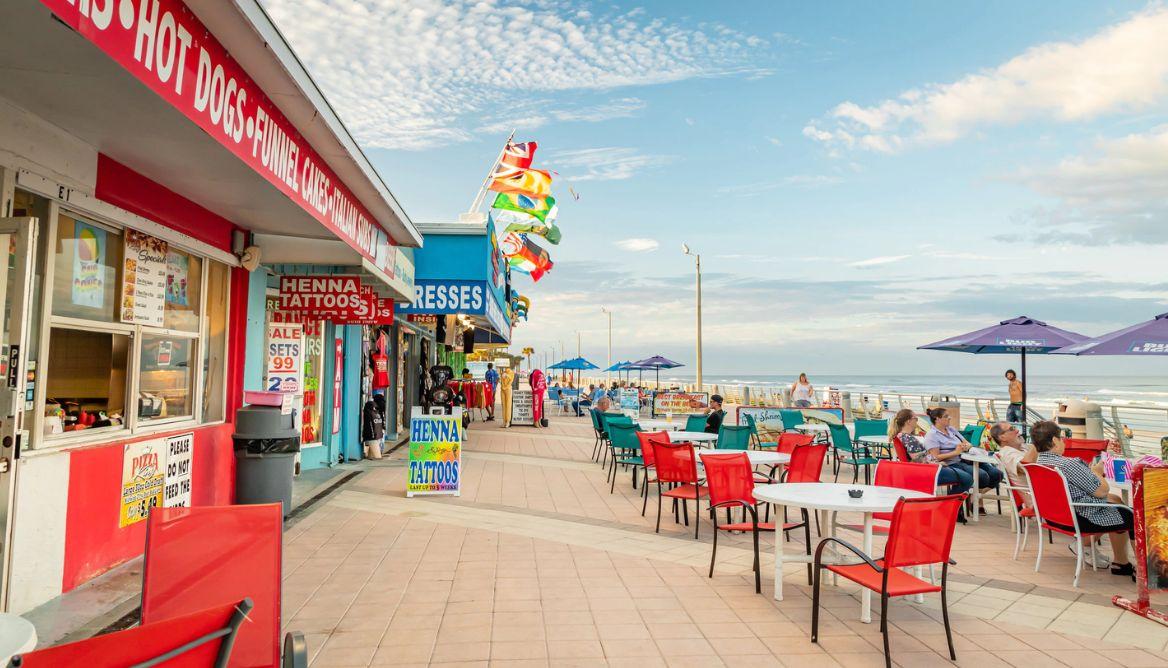 When visiting the east coast make sure you drop by the boardwalk. You can pass by restaurants, and shops, and you can wish as you fish for free and without needing your license.
Take an educational tour of the Marine Science Center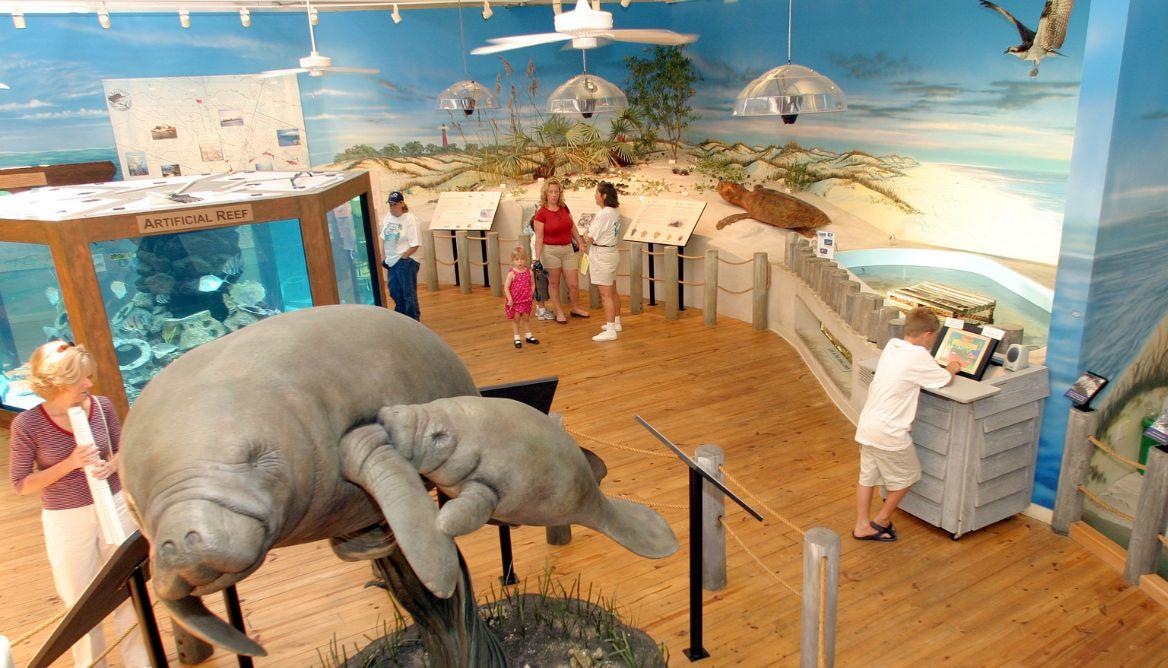 Marine Science Center should be on your bucket list. The facility has educational displays on the local marine wildlife, endangered species of the sea, and wonderous exhibits of the world underwater that will leave you awestruck.
Cocoa Beach vs Daytona Beach: Accommodation Options
If comparing Cocoa Beach vs Daytona Beach, accommodations have a difference in commercialism to it.
A lot of the accommodations in Cocoa beach can be secluded and away from the action, Daytona however has many hotels right at the seaside.
Best accommodation options in Daytona Beach
Daytona Beach has a huge variety when it comes to accommodation. Here are some sought options:
Couples can get a room for as low as $130 at Atlantic Ocean Palm Inn which offers a beach view, free wifi, parking, and a pool on the property, and even your pets are allowed to stay.
For a luxurious stay, condo-style suites are available in Max Beach Resort for $600. It has a living room, terrace, and separate bedrooms within the condo if your kids are with you. Property amenities include an exclusive bar, gym, banquet hall, game room, and pool.
How Far Is Cocoa Beach From Daytona Beach?
Cocao Beach is 79 miles away from Daytona beach if you take the shortest route.
Where Is Cocoa Beach in Relation to Daytona Beach?
Cocoa Beach is down south from Daytona beach. Like Daytona Beach, Cocoa Beach also is on the Atlantic ocean strip.
Cocoa Beach to Daytona Beach
The fastest route from Cocoa beach to Daytona beach is a 1 hour and 19 minutes drive. You can also take a bus to Daytona from Cocoa beach.
How Long Does It Take to Get to Daytona Beach from Cocoa Beach?
The fastest route from Daytona beach to Cocoa beach is a 1 hour and 23 minutes drive. If you take public transport travel time can extend to 3 hours.
Is Daytona Beach or Cocoa Beach Closer to Orlando?
Cocoa Beach is quite close to Orlando. It is only 1 hour away if you take FL-528 E which is 59.8 miles. However, taking I-4 W to Daytona beach is also 1 hour and 5 minutes away from Orlando which is 56.2 miles.
What Has Better Shopping: Cocoa Beach Vs. Daytona Beach?
Cocoa beach and Daytona have various things to offer when shopping. Cocoa Beach has Merritt Island Mall to shop for luxury items while the surf shop has all that is needed on the beach.
What's More Family-Friendly: Cocoa Beach Vs. Daytona Beach?
Cocoa beach is more family oriented and has a laid-back, fun environment.
Who has the best beaches Cocoa Beach or Daytona?
Daytona Beach is known as the world's most famous beach while Cocoa follows just after it. Both beach towns offer top-tier experiences and are not short of shopping centers, tourist spots, beach activities, stunning views, and picnic areas.
The contrast however is between the atmospheric energy, the ambiance, and the type of crowd.
Conclusion
In conclusion, the main difference is the vibe both beaches have. Families would like a peaceful, surrounded by greens and a natural environment of Cocao. Partying kinds and Nascar fans will love the buzzing and hubbub of Daytona.
Have you been to the two destinations? What was it like? Any notable anecdotes or something cool we missed out on?