Happy Wayfarer is reader-supported. When you buy through links on our site, we may earn an affiliate commission.
Long flights, especially when flying solo can be tedious and stressful. Travellers often try to pass the time by watching downloaded tv shows and movies.
And so we come to the all-important question: Can You Watch Netflix on a Plane? In a nutshell, sure, you can.
In this article, we'll explain all you have to learn to watch tv shows and movies on Netflix while travelling by aeroplane. So, without investing any more time, let's dive into this article and get all the information about using Netflix on a plane!
Could you watch Netflix On A Plane?
The most amazing thing about the Netflix streaming platform is that it allows you to download & save shows in advance to watch offline whenever you want, even when you don't have internet access.
In this way, you may opt-out and download movies that you want to enjoy on your plane while you're still planning your trip.
How to Watch Netflix on a Plane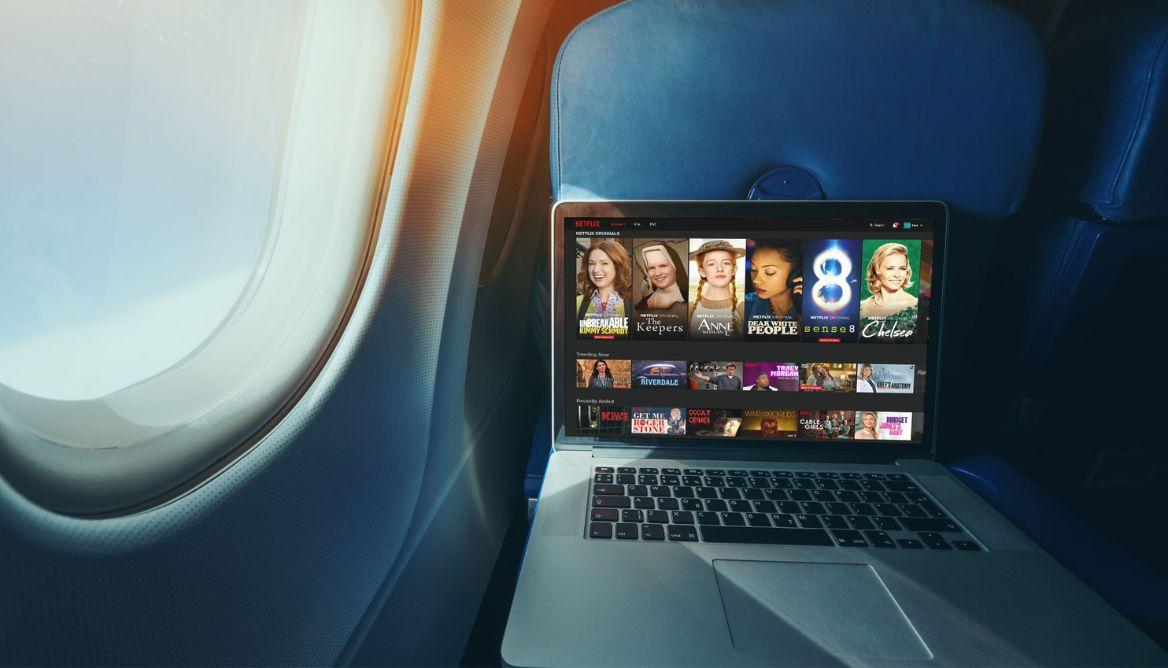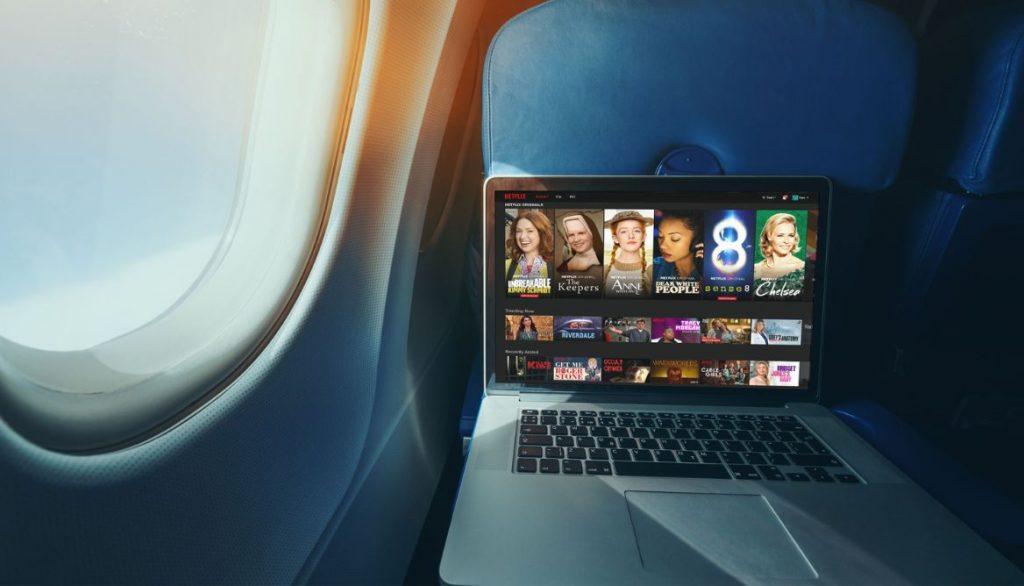 Before embarking, you should acquire a range of Netflix episodes and movies to watch for free on the flight.
Only the Netflix app permits you to download content for offline watching at a later time. You will be unable to get stuff if you're using a browser to visit Netflix.
Netflix also has applications for apple TV, gaming PCs, and other high-quality players, but they are not for use on the plane.
Watching Netflix In Airplane Mode
To visualize your favourite movies offline, Wireless headphones have become popular lately. If you belong to this group, you should be aware that aeroplane mode disables Bluetooth, making it impossible for your headphones to pairing.
By reconnecting your wireless Bluetooth headphones after activating aeroplane mode, you can still access Netflix while in this phase.
Watch Netflix On A Plane With An Internet Connection
First initiate, when in the air, you won't be able to use your wireless data internet connection. Preventing cellular data is "airplane mode's" intended function.
So if you want to stream Netflix while flying, you'll have to rely on the aircraft's Wi-Fi. It is quite costly to access Netflix with an internet connection due to the in-flight Wi-Fi and the constrained amount of data you are authorized to access.
The ones that offer Wi-Fi are very uncommon, so to save money and a significant amount of time it is best to download Netflix movies beforehand for offline viewing.
How to download and watch Netflix On a Plane Without WiFi?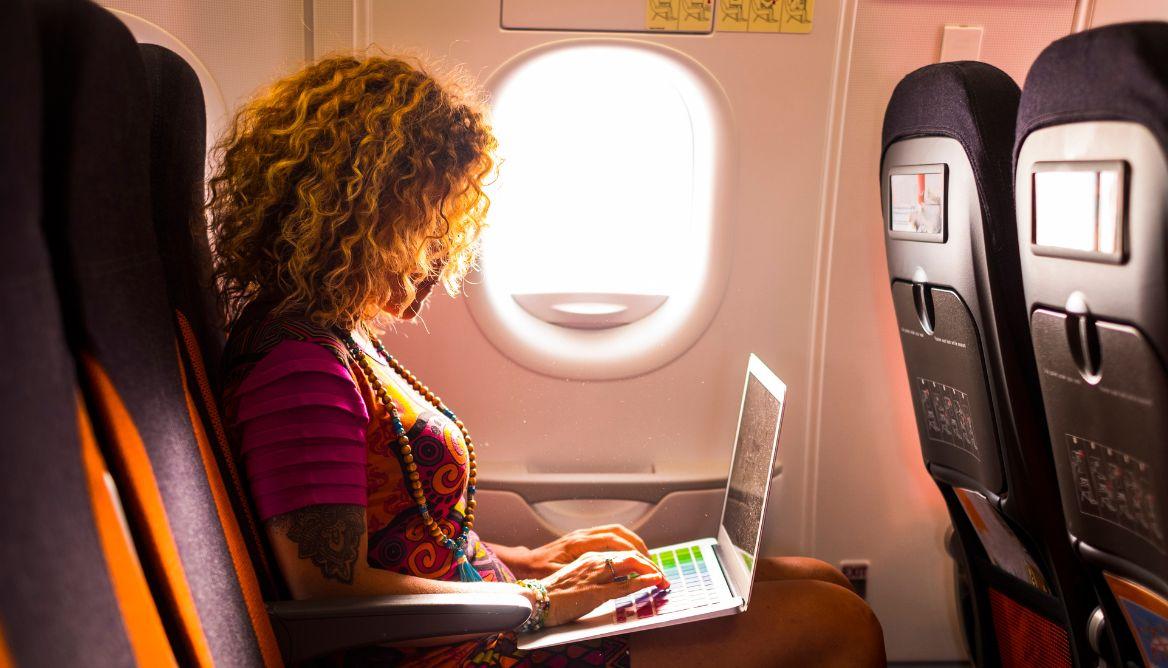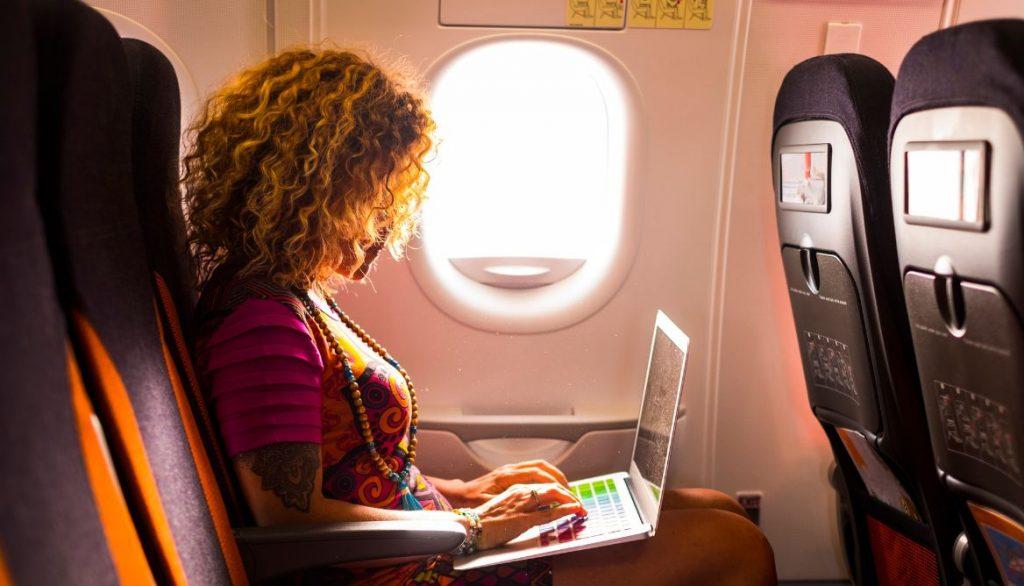 Do you have qualms about enjoying Netflix movies without WiFi? Netflix has made the method of downloading movies and TV shows smoother.
On a Laptop
You'll need the most latest version of the Netflix app to watch movies on your laptop while remaining disconnected from airplane WiFi. The Netflix app is free to download from the play store.
The process is very simple:
Select your favourite TV show and look for the download icon.
Or select the "available for download" option from the menu
Explore high-video quality TV shows and movies
Select the download icon after choosing a show or a movie
Go to the download section to see your movie or a show downloading
Simply click on to watch offline icon and enjoy your trip
At last, if you want to delete any movie or a show to make space for more then click the download icon and select delete download.
On a Mobile Device or Tablet
The process to watch Netflix on a mobile device or tablet is pretty same:
Open the Netflix app
Simply select tap for details after selecting the movie
Press download on the download button;
The best way to check the downloaded movies is by pressing the download icon. When a downwards arrow changes to a blue phone shape then, the Netflix content is downloaded to your mobile device or tablet.
The alternative way is to 'select the downloads' link, and you will see all the shows and movies available and enjoy watching Netflix offline.
Watch Netflix With Headphones On a Plane?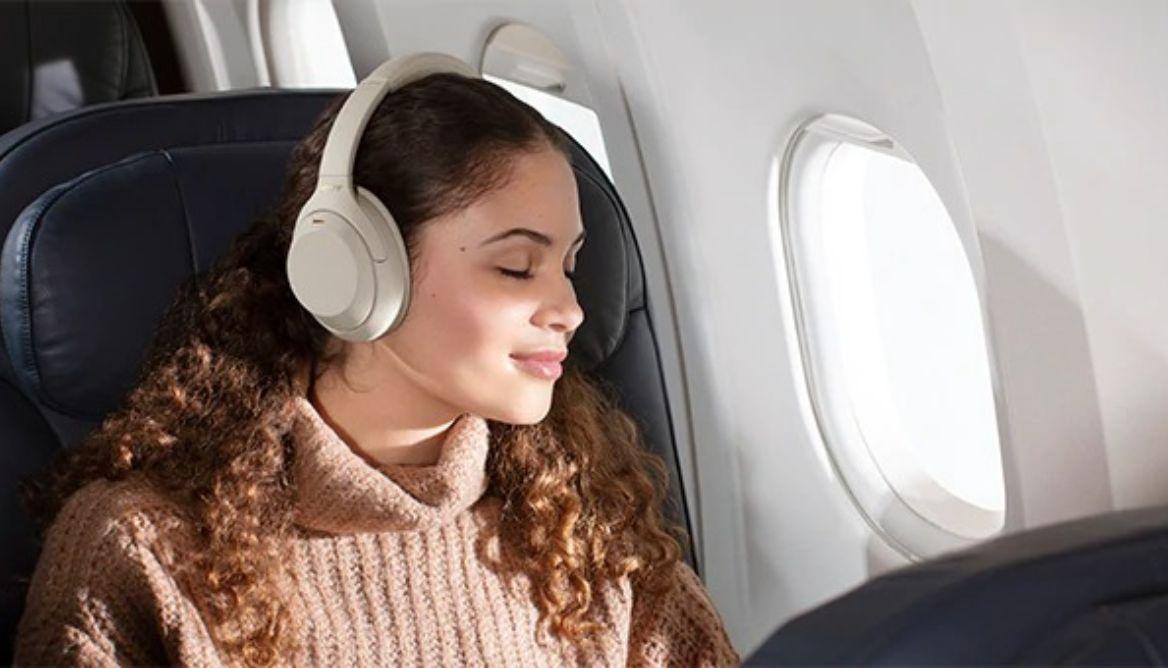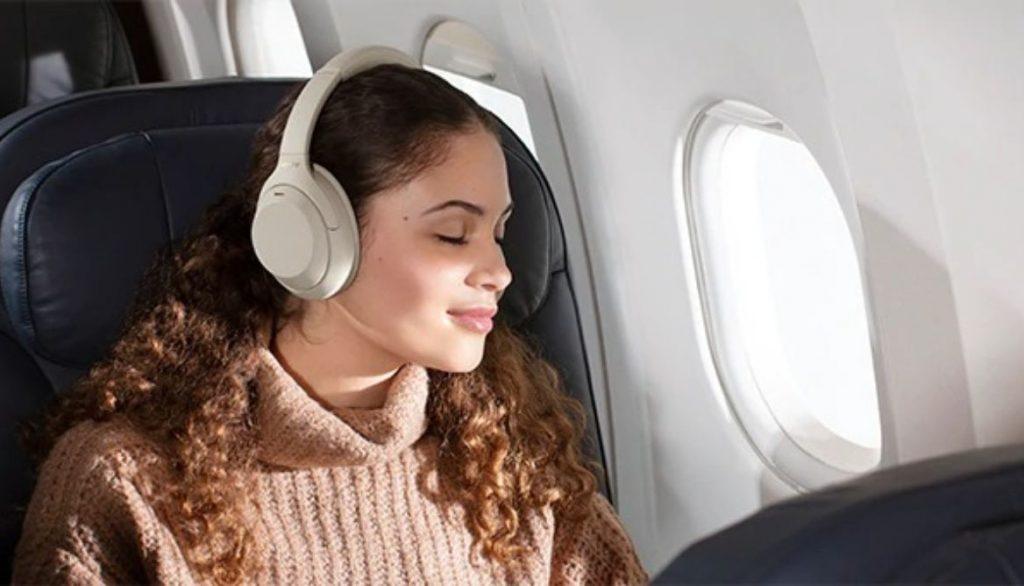 In order to watch Netflix with wireless headsets on board, you'll need to pair them with your device through Bluetooth.
To do so, you first activate the flight mode and then the Bluetooth feature.
As long as you have your device set to aeroplane mode, you may use Bluetooth on most flights and enjoy watching movies offline.
Are There Any Alternatives For Netflix?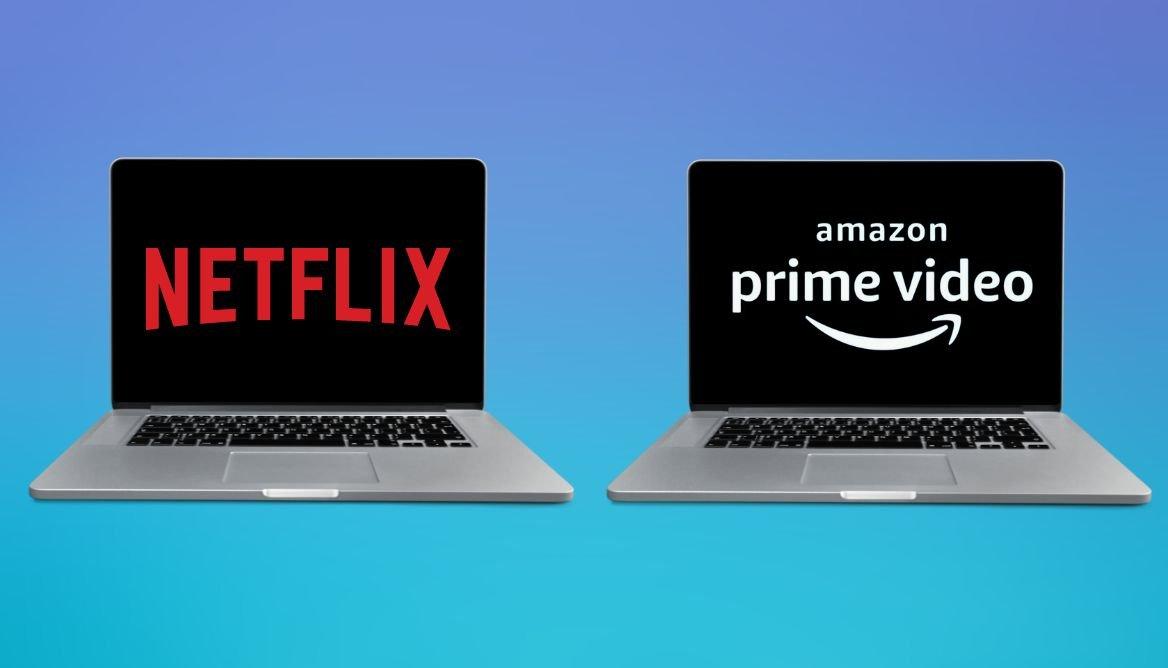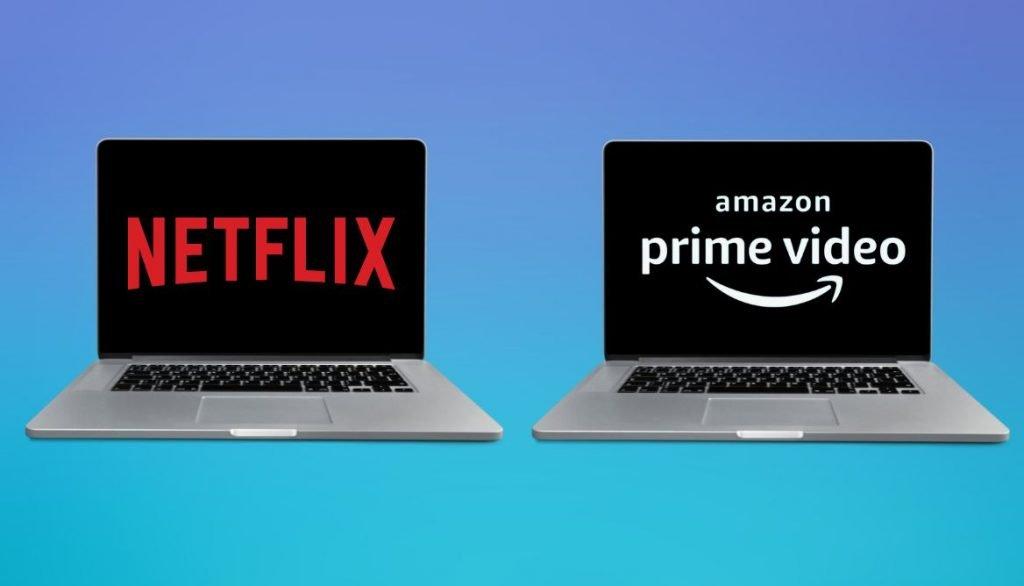 Affirmative! Amazon Prime Video is a top-choice alternative for streaming services that lets you download tv shows to watch later.
Other Important Things to Note About Watching Netflix on Planes
You Can Only Download Content on the Netflix App, Not the Website
In order to view Netflix content offline, you'll need to have the Netflix software installed on your phone before takeoff. Simply going to netflix.com won't give you access to their streaming library.
You're Limited to 100 Downloaded Titles on a Single Device
You won't need more than 100 episodes or series, but you may download far more if you're unsure or want varied alternatives depending on how you're feeling.
You Aren't Allowed to Watch Netflix During Takeoff, Landing, and Turbulence
As an individual, you can watch your favourite reality series while in flight, but you must adhere to the crew's instructions throughout the runway, touchdown, and turbulence.
When this happens, pause your broadcast and take off your earphones. You must do this to free up your attention in the event of an incident and prevent uncontrolled items from impeding emergency exits.
You Can Set the Download Quality in the Settings
Open the Netflix app on your cell, hit the profile icon, spot app settings, and click it, look for the "Download Video Quality" option to modify the quality of the videos you download. When the screen pops up, choose the quality of your download immediately.
To Save Cellular Data, You Can Set Netflix to Work Only When Connected to a WiFi
Utilize WiFi if you're downloading a lot of high-definition shows and movies before your travel. Pinching pennies on data. Put your phone on aeroplane mode when you're travelling, but if you must use mobile data, make sure Netflix only uses WiFi to prevent upfront charges.
To limit downloads to instances when you're connected to WiFi, open the Netflix app, touch your display picture, choose "App options," and then toggle on the "WiFi Only" checkbox.
Can You Watch Netflix on a Plane – FAQ
Will Netflix work in airplane mode?
You may watch Netflix while flying if you've already downloaded the series or TV show you want to view. Airplane mode won't prevent you from opening the app, but if you haven't downloaded any content beforehand, you won't be able to stream anything.
Can I watch Netflix when connected to airline WiFi?
You may stream Netflix on a plane, but be aware that some airlines will charge you to utilize their Internet service. In-flight WiFi is offered by just a subset of the world's largest airlines, and even then, not on all aircraft types, and it's generally rather pricey.
With prices averaging $5-10 per hour and $20-30 per day, it's more inexpensive to download Netflix series for offline viewing.
How do I download movies on Netflix for offline use on Mac?
Mac PCs are not yet supported by the app. The only supported devices are the Apple TV, iPad, and iPhone. As long as you have access to the plane's WiFi and your Mac browser, you can still see Netflix material, but only if you have a strong internet connection.
How can I download TV series on Netflix for offline use on Windows?
Download the app from the Microsoft app store to start watching Netflix on your Windows PC or laptop while you're away from an internet connection. Simply type "Microsoft Store" into the taskbar's search box to access it. Enter "Netflix" into the app store's search bar, and tap "Get."
Which streaming services can I watch on planes?
One could still watch TV shows and movies that you have downloaded on your smartphone, iPad, or notebook even if one can't access material through the plane's WiFi. The most well-known platforms that implement this include Amazon Prime Video, Netflix, and HBO Max. Simply complete your downloads before boarding the flight.
Will Bluetooth work in airplane mode?
The majority of Bluetooth-enabled products will remain functioning smoothly even while Airplane Mode is turned on. By syncing your Wireless earbuds to your streaming device when airplane mode is on, you can still access or watch Netflix offline.
Can you stream movies on an Airplane?
If you've downloaded the movies in anticipation, you may stream them while flying. You may still use the app while in flight mode, but you won't be able to access any Netflix series, programs, or movies if you can't download their material in advance.
Can you watch Netflix in Airplane mode?
Yes, in case you don't have access to an internet connection, Netflix allows you to download shows and view them later.
How many Netflix movies and TV shows can you download?
The number of downloads per device is capped at 100 at any particular period, but you are encouraged to use the subscription on as many devices as you wish. All of the videos you've downloaded in the past will be removed if you terminate your membership.
Conclusion
Your question as to whether or not you can stream Netflix on the plane has a positive and resounding yes. Nonetheless, this may cost you more than you expected, depending on your chosen strategy.
So, connecting to the Wi-Fi before taking off and downloading your most fav movies to your phone makes watching Netflix on planes a snap. You may now relax and get easy to enjoy the flight by watching movies you downloaded from Netflix.
What are your thoughts regarding this? Do you prefer downloading a movie beforehand or looking out for in-flight WiFi? Let us know in the comment section below.