Happy Wayfarer is reader-supported. When you buy through links on our site, we may earn an affiliate commission.
Can you order pizza to a hotel? This is a question that the majority of travelers ask, especially when they are exhausted. Food delivered to your hotel, office, or home can be the best thing to be happy about. Now I have some good news for you. You can have pizza delivery services right to your hotel room without leaving the comfort of your bed.
However, most hotels have some policies and restrictions on food delivery services. So, your pizza place or restaurant should be aware before accepting your order. In this article, I will take you through hotel policies on food delivery, limitations and precautions on pizza delivery, and tips and tricks for hotel pizza delivery.
Can You Order Pizza to a Hotel?
The majority of hotels permit pizza delivery, while others do not allow it:
Hotels have the discretion to allow or deny pizza deliveries on their premises.
Some hotels can get pizza delivered to your hotel room, while others allow pizza delivery only at the gate.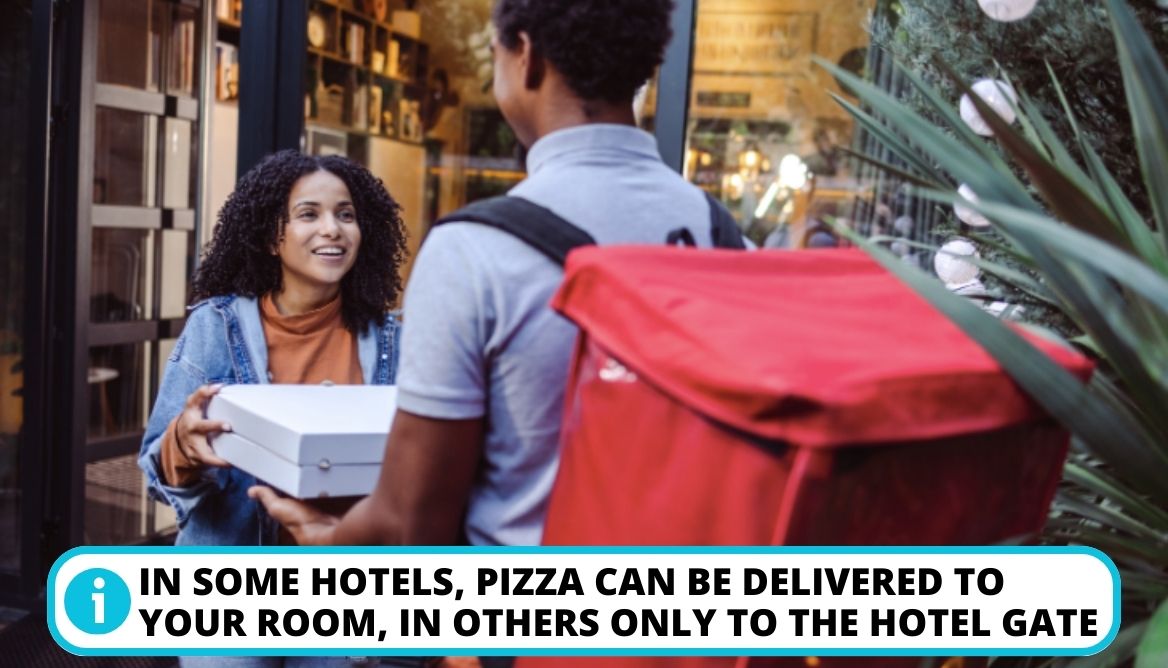 The good thing is that once you order pizza through a phone or food delivery apps, the pizza place might warn you that you'll need to get your order outside the hotel. Alternatively, they can use the app to say that their services are unavailable at that hotel. Some of the hotel chains where you can order pizza include:
The Sheraton Washington Hotel;
Marriot;
Hilton.
Hotel chains that do not allow ordering of pizza include:
La Quinta Inn & Suites by Wyndham San Antonio Riverwalk.
Important! It is advisable to know the hotel rules to see what you can get within the hotel room or outside.
Hotel Regulations Regarding Food Delivery
Regarding ordering food to your hotel room, it's essential to grasp the policies of the hotel you are living in. Certain hotels might enforce specific rules or restrictions regarding the delivery services they permit, whereas others may necessitate you to be present to receive your food.
Discover some of the factors to consider before making an order:
1. Hotel Regulations
Every hotel has some rules when it comes to food delivery. Here are some of the hotel regulations:
Food deliveries should be made at the front desk, apart from directly to your hotel room.
Some hotels allow delivery services from specific restaurants.
Hotels may specify the time and delivery hours to avoid disturbance to other guests and also for security purposes.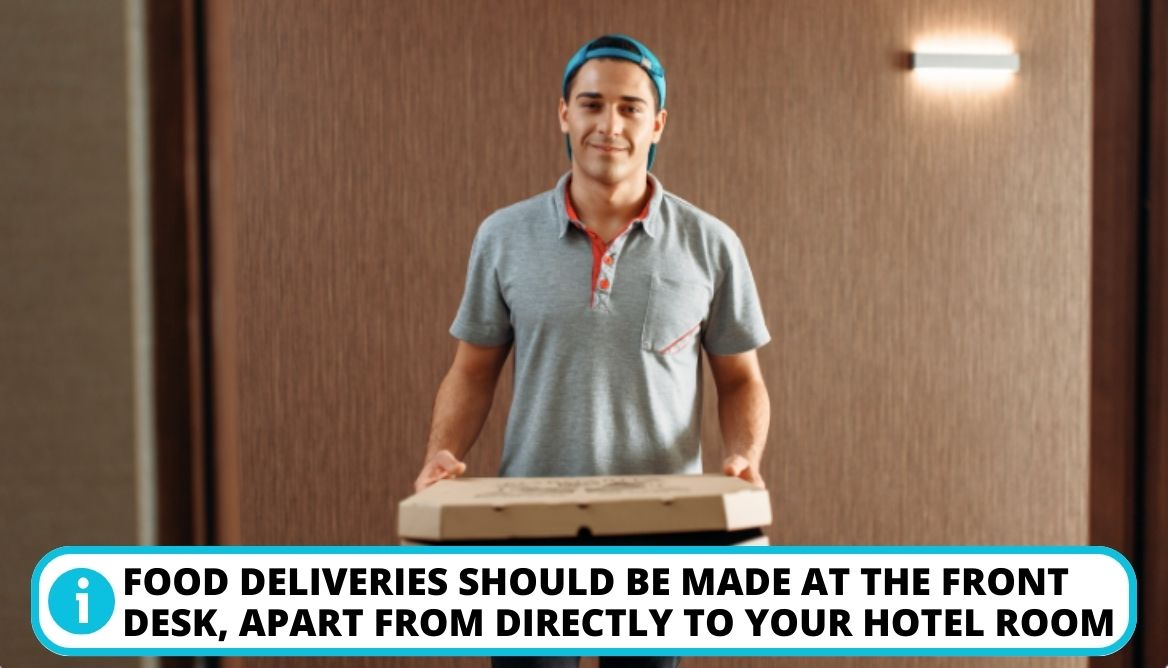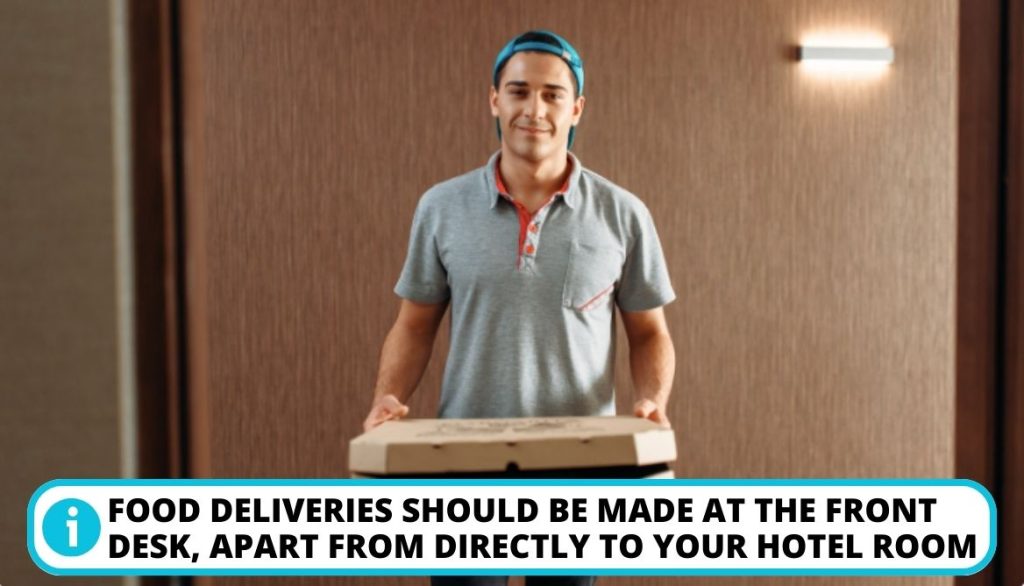 2. Delivery Fees
Depending on your hotel, some might cost an extra fee for food delivery or include it in the cost room price. Therefore, before making any order, check out if your hotel has a delivery fee. Some premises charge fees for:
In-room dining;
Cost of staff time;
Handling;
Delivering the order to the guest's room.
3. Delivery Hours
Certain hotels allow 24-hour food delivery, whereas others have restrictions on when they can accept delivery services. So, checking if they can accommodate your preferred delivery timeframe is essential.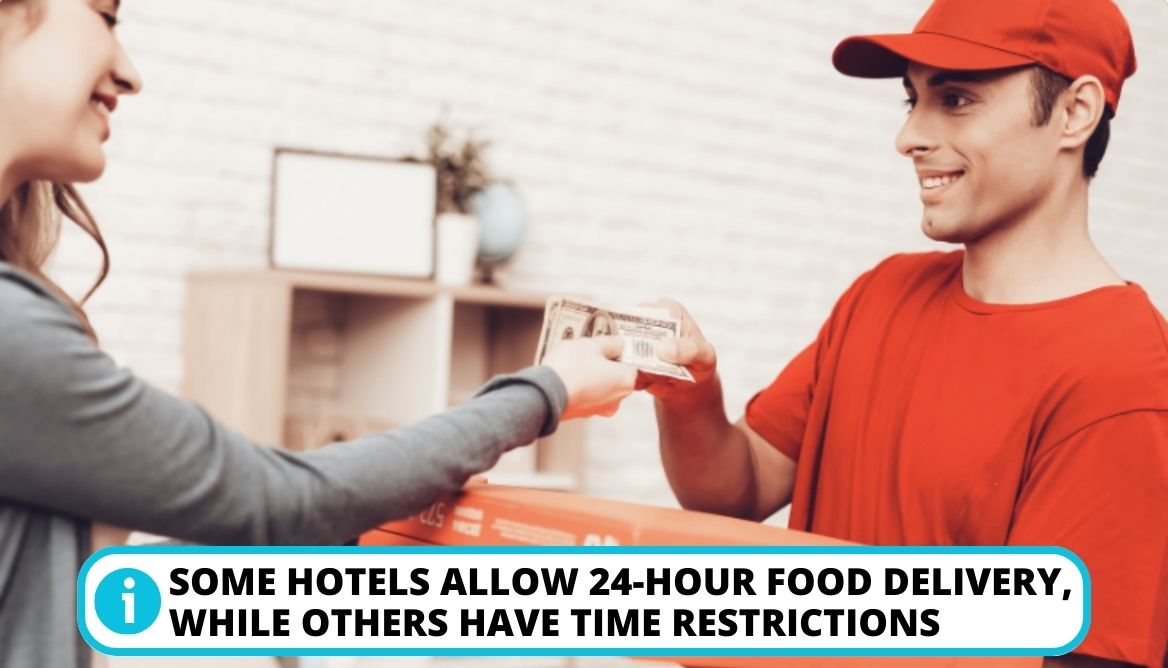 4. Accepting Deliveries
Most hotels will accept food delivery on your behalf at the front desk, but some may require your presence for acceptance.
Constraints When Requesting Food Delivery to Your Hotel Room
Are you ready to place an order for breakfast or get pizza delivered directly to your hotel room? You might be curious if requesting food delivery to your hotel room is prone to any limitations. In reality, it hinges upon the hotel. Due to health and food safety considerations, some hotels may prohibit delivering external food.
So feel free to order snacks from your local pizza places and follow these steps to minimize any problems for a smooth ordering pizza delivery experience.
Look For Problematic Signs
Some premises display explicit signs that forbid outside food from being delivered to a hotel. While this doesn't necessarily mean getting a pizza delivered is off the table, it can be a bump in the road.
Here are some of the problematic signs you should keep an eye on:
Higher-end hotels may restrict delivery drivers from accessing guest rooms for delivery service.
Hotels that feature a fast-casual dining restaurant either within the hotel lobby or nearby will try to get you to dine at their establishment.
Rigorous parking personnel may give the delivery person a hard time when it comes to parking while delivering food.
Front desk staff can be notably overly concerned. They can create a snag for the driver by disallowing them from delivering the pizza to your room number.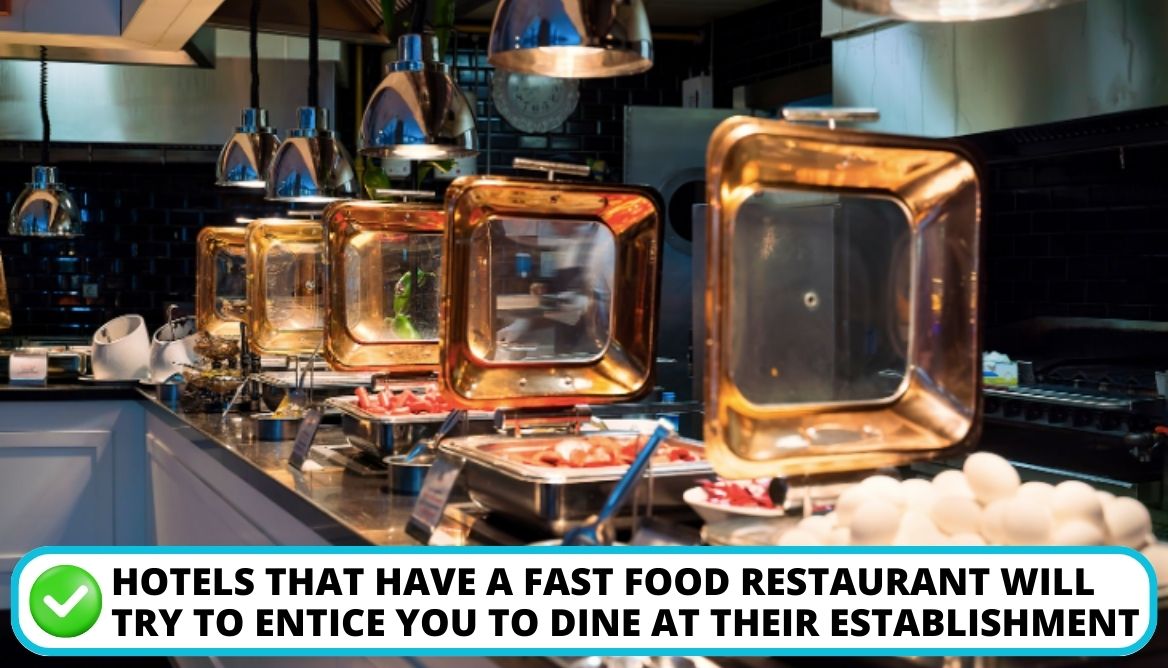 Verify With the Front Desk
It's always advisable to contact the front desk to inquire what their delivery policy is, . Let us look at some of the benefits you will get after confirming with the front desk:
If you need to meet the driver in the lobby, notifying the front desk will make them alert you when the order arrives.
The reception staff might just escort the delivery person to your hotel room door.
If you're in a new city, checking with the receptionist in advance has an additional advantage. They can provide you with a recommendation for a top-notch pizza place that offers high-quality delivery service.
Certain hotels have agreements with local pizza places. They can arrange your order and inform you when it arrives.
Conduct Proper Research
Before placing your order, research different food delivery apps and websites for pricing. Some pizza places are costly for hotel deliveries, especially if the location is far away, while others don't.
To better compare which pizza place is suitable for delivery, make it in advance to avoid ordering pizza while you are hungry. Here are some benefits of doing your research:
For budget-friendly, you will be in a position to identify which pizza places are cheaper since some restaurants are costly.
Helps you define whether you will have your pizza delivered to your hotel room door or if you'll need to make your way to the lobby.
Lastly, it will assist in pre-determining the tipping methods. This can potentially save you time and awkwardness during the delivery.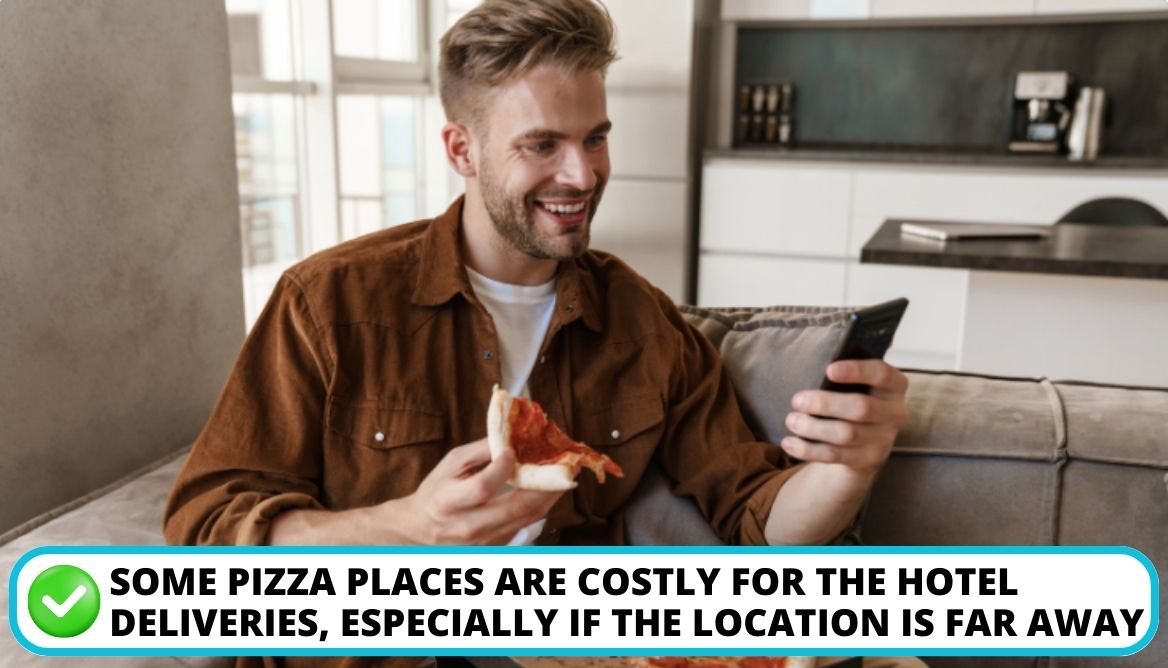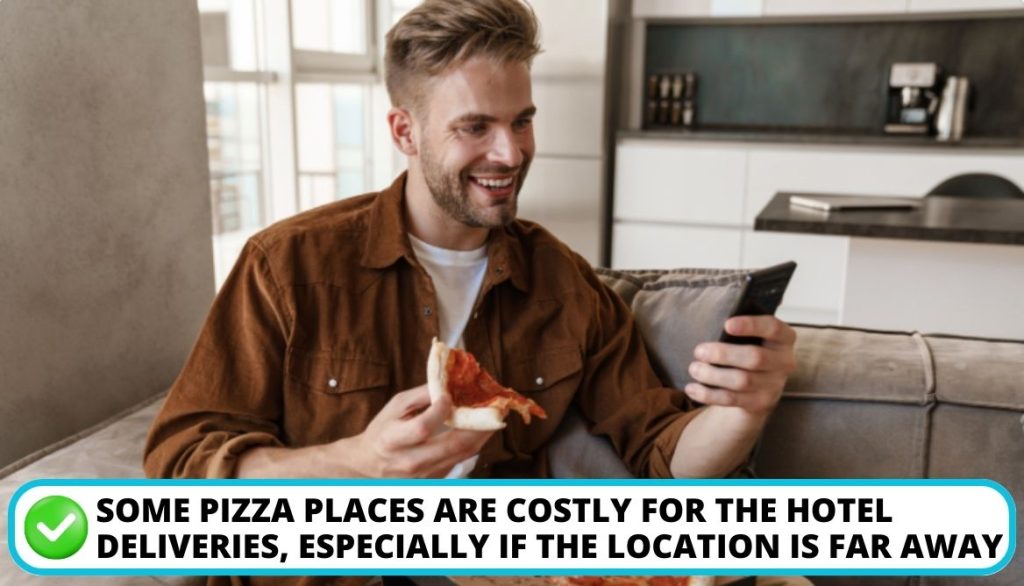 Strategies and Tricks for Receiving Pizza Delivery at a Hotel
Indulging in a local pizza during your vacation should be one of the best highlights. If you are interested in gettingpizza delivery, take a look at these tips on how to efficiently get pizza delivered to your hotel room quickly and easily.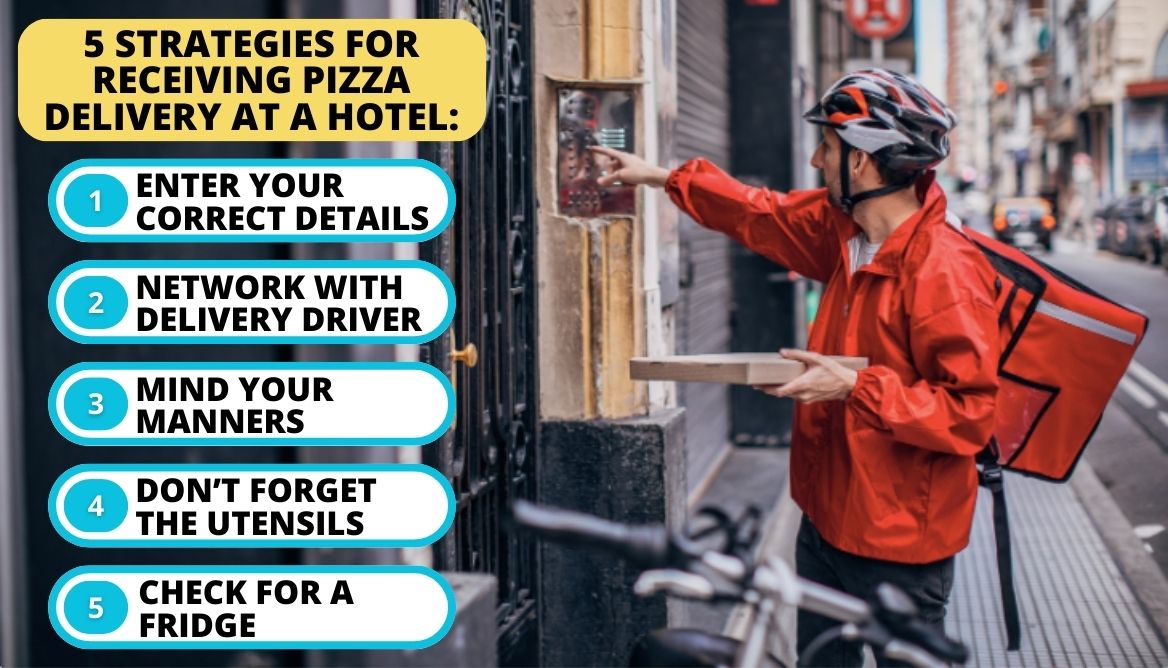 1. Give Your Correct First Name, Last Name, and Room Number
Sometimes, overnight managers might get wary of the delivery personnel. Ensure you include your correct first name, last name, and room number when ordering.
2. Delivery Driver Networking
In some cities where delivery happens more often, delivery drivers and hotel staff work together often. If a restaurant gets pizza delivered to a hotel repeatedly, and once the hotel accumulates a specific number of orders, they'll provide free pizza to the front desk.
You can save that amount by enjoying the free pizza provided that you behave well and are friendly with the reception staff.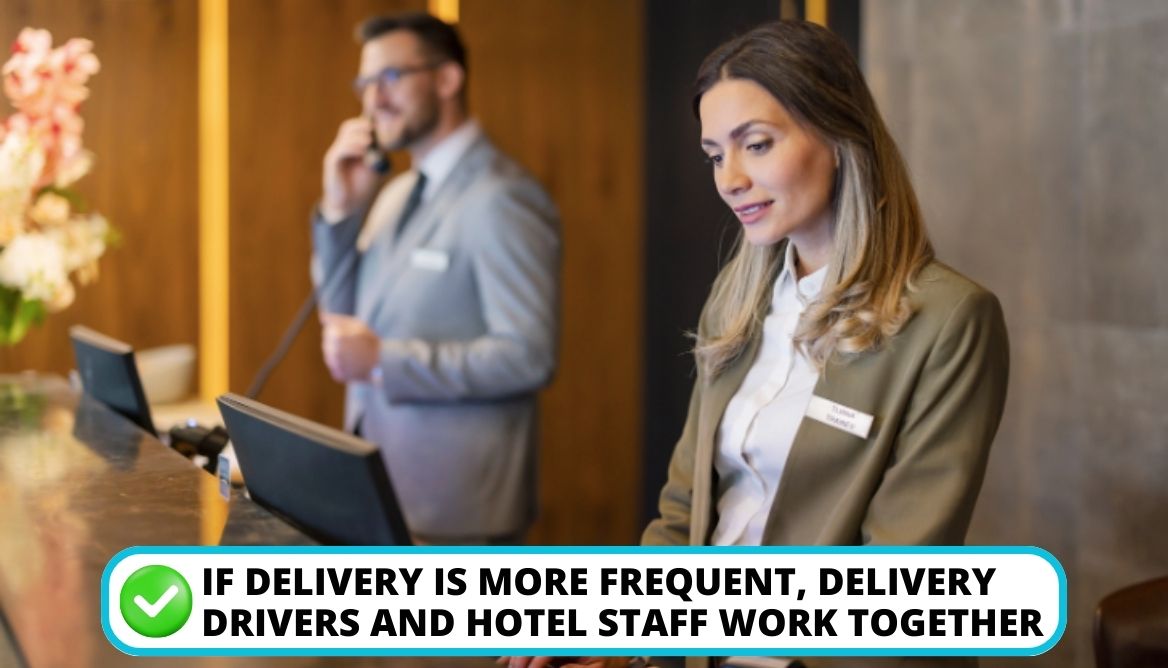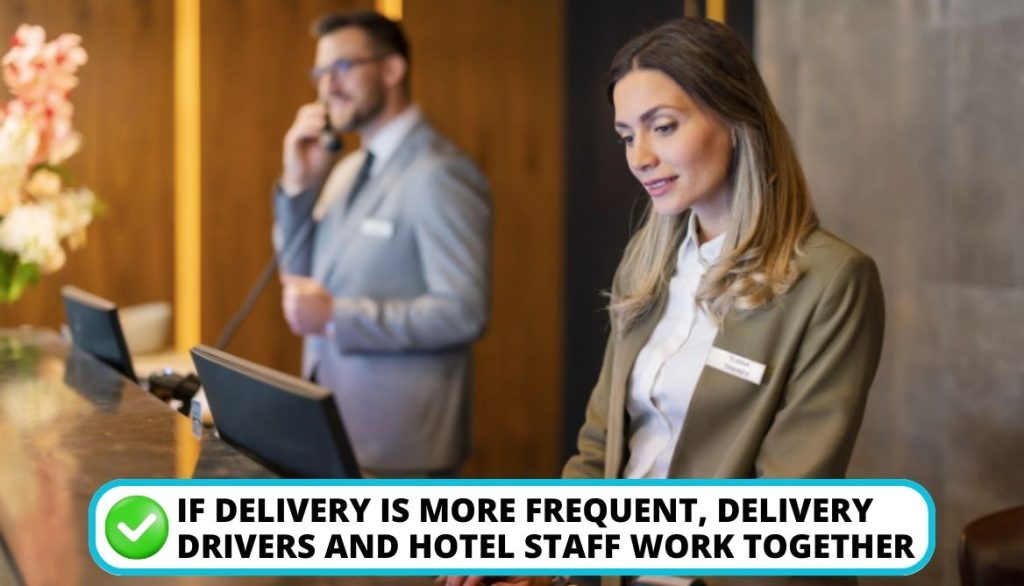 3. Mind Your Manners
While most people think that the delivery driver must wait for you, in case you delay. No, it's essential to be punctual and save time by being available at the meeting place with the delivery driver.
If the driver has to wait for you, they think you are rude. Furthermore, you are also delaying the additional deliveries to attend to. Many delivery services provide tracking options and even send a considerate message when the driver approaches.
4. Don't Forget the Utensils
Although eating a pizza does not require many utensils, you can go straight to the box and use your hands. In case you need a knife or any other plate to use, make sure to include it when making your order. If they can't get you one, request one from the hotel.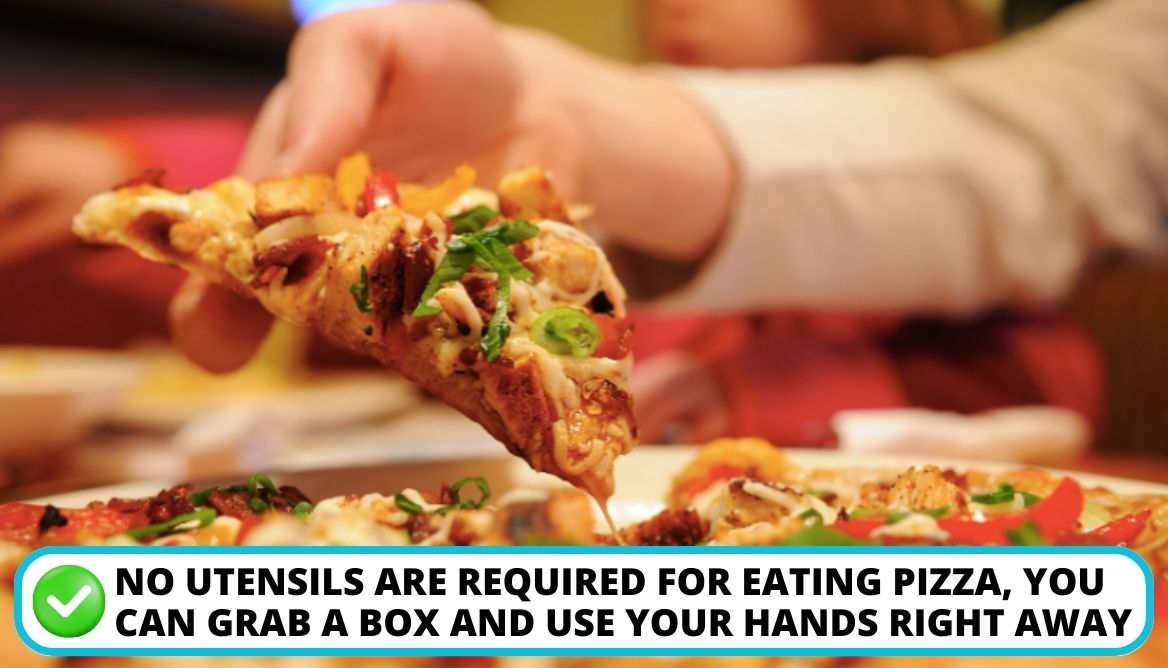 5. Check for a Fridge
What will you do to your pizza leftovers in case you are satisfied? It is essential to check for a fridge in your hotel room to store leftovers. If your premise does not have a fridge, you can always check if the reception staff wants any. Leftover pizza brightens up anyone's day.
Safety Measures to Follow When Placing a Pizza Order
Check out the following safety precautions before ordering pizza:
First and foremost, ensure that you order from a reputable restaurant with positive reviews.
Prefer calling the eatery directly to relying on a third-party delivery service, which can result in misunderstanding and miscommunication.
Ensure you provide clear instructions and correct names to the delivery person, like arranging a meeting in the lobby instead of allowing access to your room.
Lastly, refrain from disclosing your credit card details over the phone before verifying the restaurant's authenticity.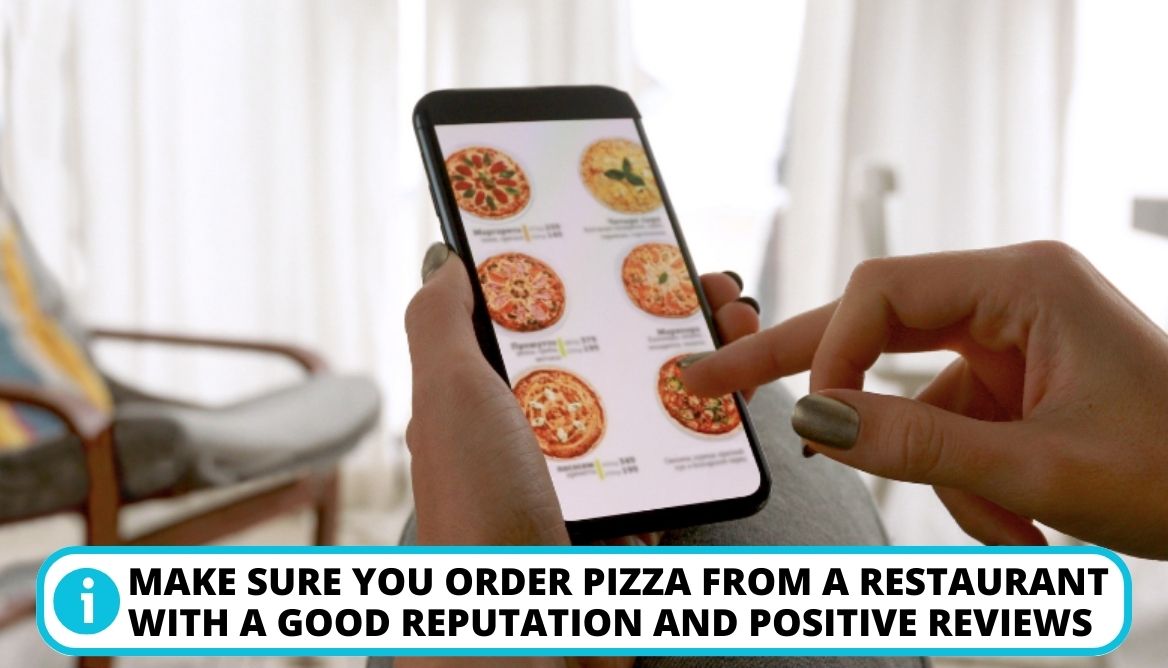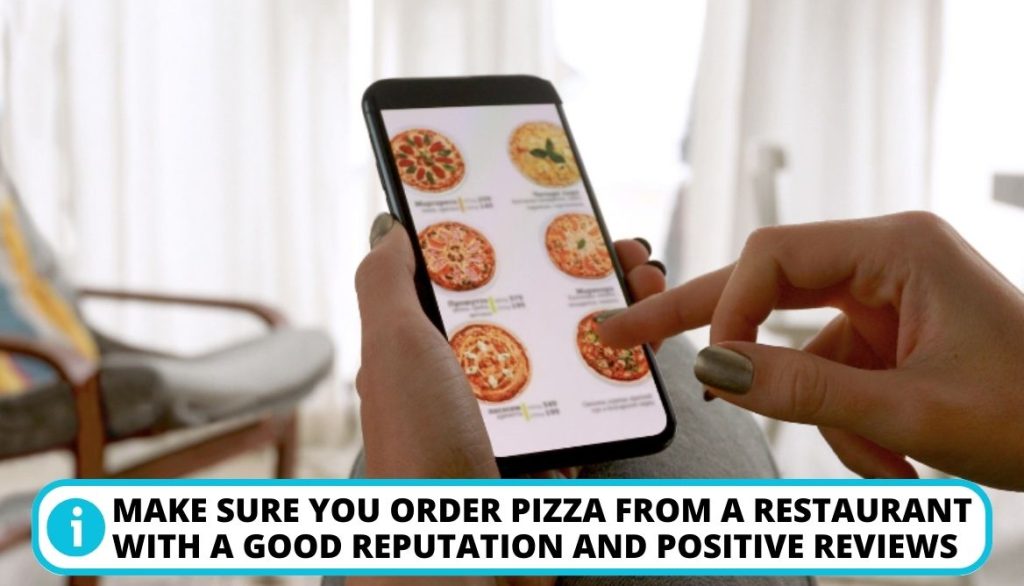 Alternatives to Pizza Delivery
If you are not in the mood, it is not a must to have pizza delivered to you. There are several alternatives, provided that the hotel staff allows it. Let us explore some of these alternatives to pizza delivery:
1. Room Service
Many hotels provide in-room dining options beyond pizza, such as salads, sandwiches, pasta, and various entrees. Consult the in-room dining menu or contact the front desk to see what selections are available.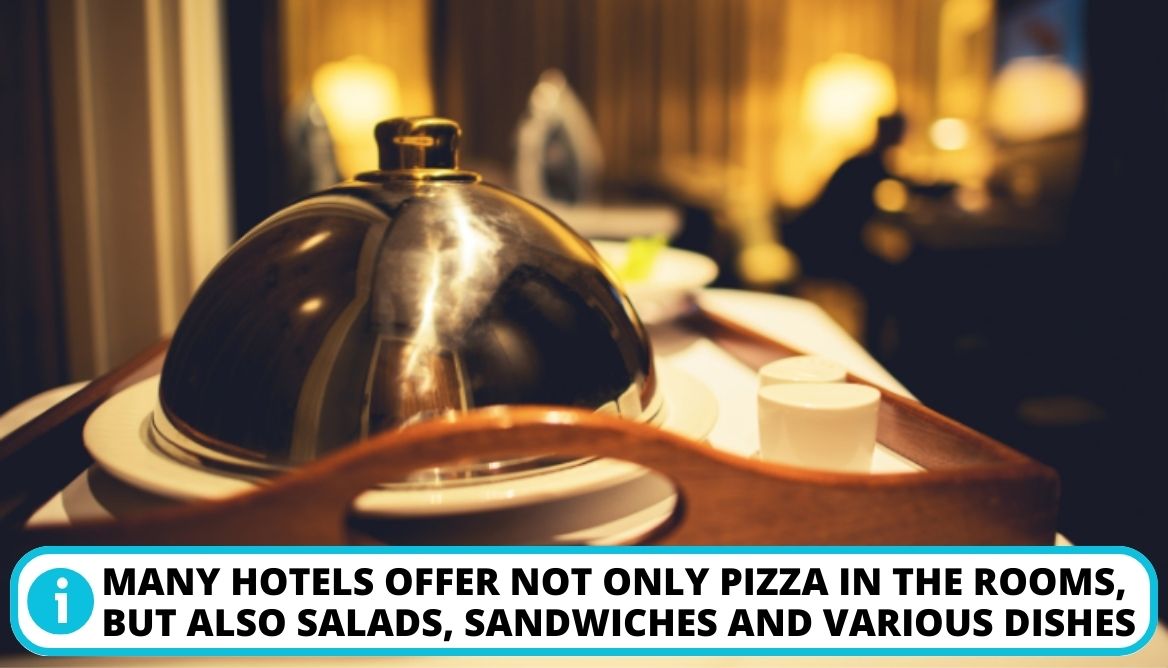 2. Grocery Delivery
The majority of hotel rooms are equipped with a kitchen; if you have access to it, contemplate using a grocery delivery service to stock up on ingredients for preparing meals. This can often be a more economical option than opting for food delivery services.
3. Local Cuisine
When visiting new places, contemplate trying the local cuisine. Explore nearby eateries or ask the hotel staff for suggestions on unique and genuine dining encounters.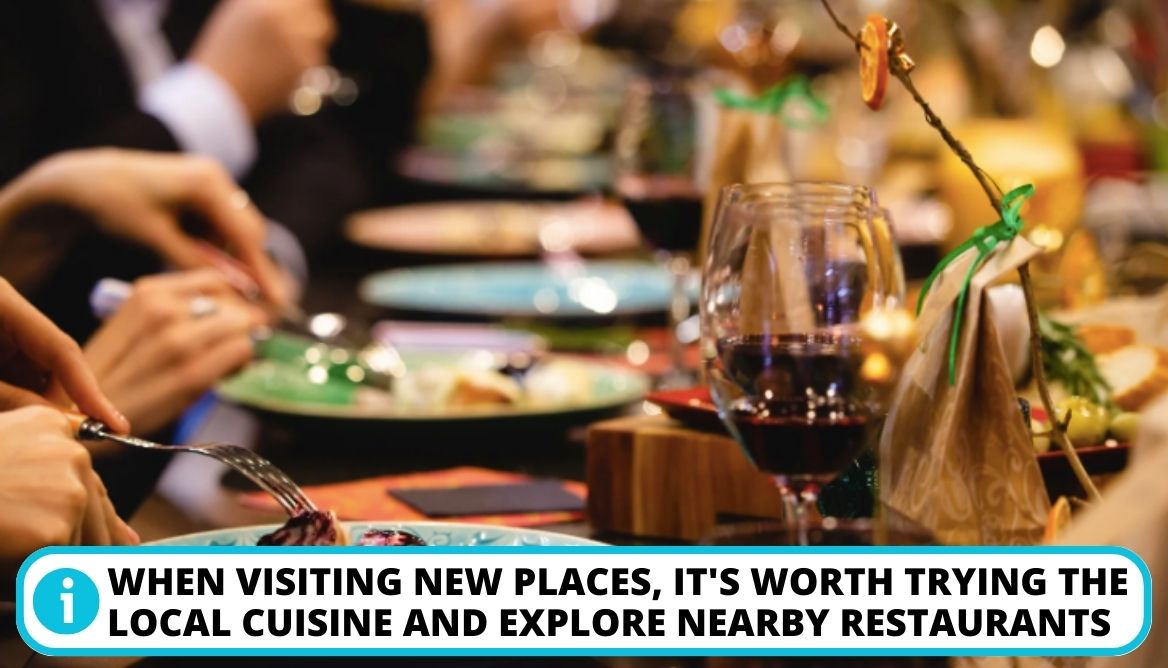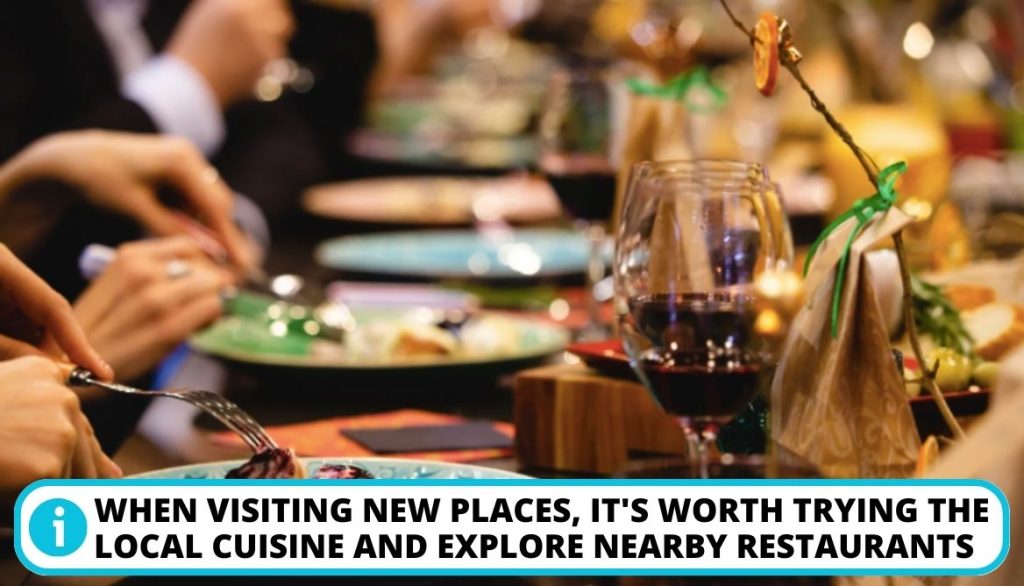 4. Takeout
If you are seeking a quick and hassle-free option, consider ordering takeout at a nearby restaurant and bringing it to your hotel room.
FAQ
What if the Delivery Driver Has Trouble Finding My Hotel or Room?
If the delivery driver encounters difficulties in finding your room, contemplate meeting them in the hotel lobby or another conveniently accessible spot. If he cannot locate the hotel, get in touch with Pizza Hut staff or the driver directly and provide accurate directions.
Can I Tip the Delivery Driver?
Yes, It's certainly advisable to tip food delivery drivers whether they are walking, cycling, or driving. Typically ranging from $3 to $5 depending on the meal's expense, their delivery's difficulty, and the distance they have covered.
Can I Order Beverages Along With the Pizza Delivery?
Yes, you can order beverages along with the pizza delivery. This is because most hotels offer delivery services, including pizza, beverages such as Coke, and many others.
Is It OK to Order Food at a Hotel?
Yes, it is ok to order food at a hotel. But be careful, some hotels do not allow ordering food. You should check the policies and regulations at the front desk.
Can You Get Domino's Delivered to a Hotel?
Depending on hotel policies, you can get Domino's delivered to a hotel.
Conclusion
Can you order pizza to a hotel? Of course, yes, getting pizza delivered to your hotel room is possible. However, you must check in with the front desk, look for problematic signs, and conduct your research before making an order. Because some hotels restrict food delivery.
Lastly, if the delivery person brings your order directly to your door, be sure to provide a generous tip. All in all, arranging for pizza delivery to your hotel room can be hassle-free as long as these crucial guidelines are considered.
Have you ever ordered pizza at a hotel during your travels? What safety tips or unique experiences can you share from your pizza delivery adventures on the road? Let us hear from you in the comment section.