Happy Wayfarer is reader-supported. When you buy through links on our site, we may earn an affiliate commission.
Travelers often face long layovers between connecting flights, leaving them with considerable downtime at the airport. The burning question on their minds is, "Can you leave the airport during a layover?"
The answer to this question is not a simple "yes" or "no," because it depends on various factors. Let's explore 8 essential considerations that aviation enthusiasts must be aware of before venturing out of the airport, from visa requirements to the duration of the layover!
Can You Leave the Airport During a Layover?
During air travel, stopovers are common when your flight has a layover at an intermediate airport before reaching your final destination.
Layovers can vary in duration, from a few minutes to several hours, depending on the airline and flight route.
While certain layovers may be brief enough to remain within the airport, others offer plenty of time for passengers to venture outside and discover the layover city.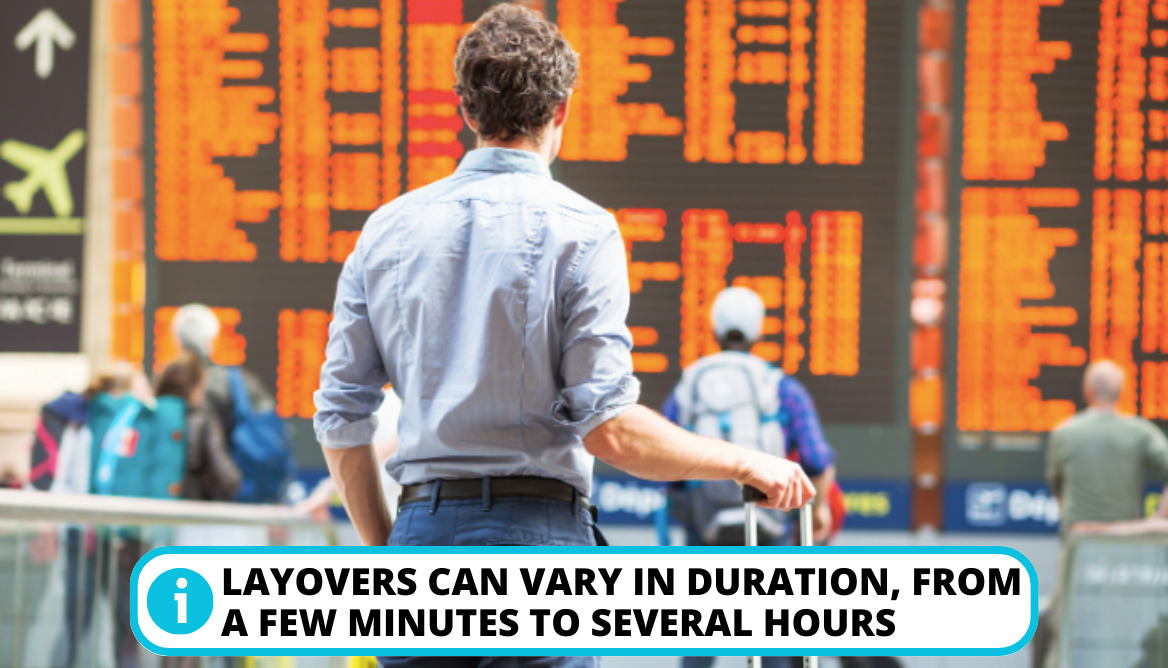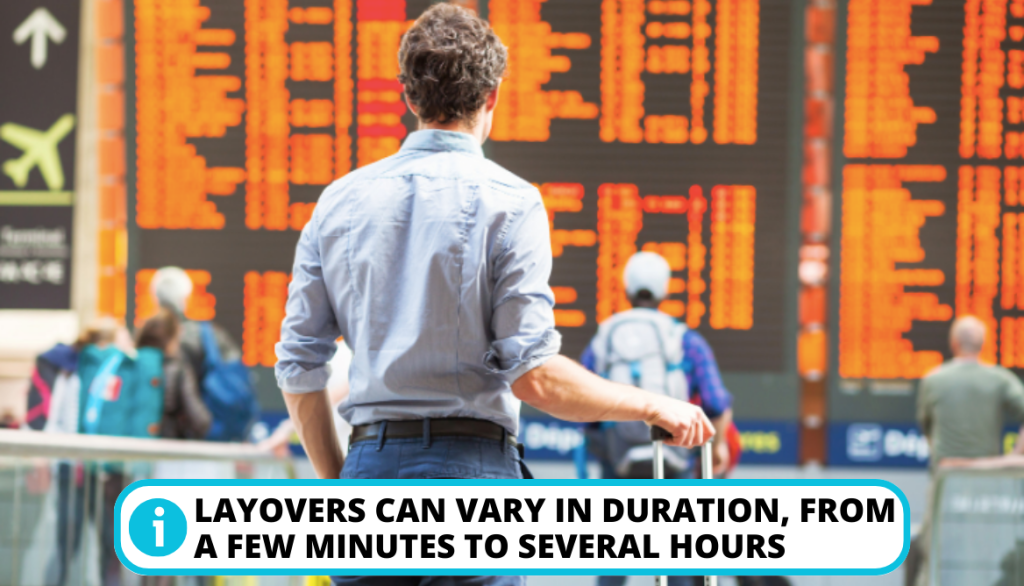 Important! The layover flight rules and regulations regarding leaving the airport depend on the type of flight and the country involved.
There are generally two types of flights that determine the rules for leaving the airport during a layover:
1. Domestic Flights
Domestic flights are flights within the borders of the same country, where the departure and the final destination are both located within that country. For domestic flights, passengers typically have more flexibility in leaving the airport since they are not crossing any international boundaries.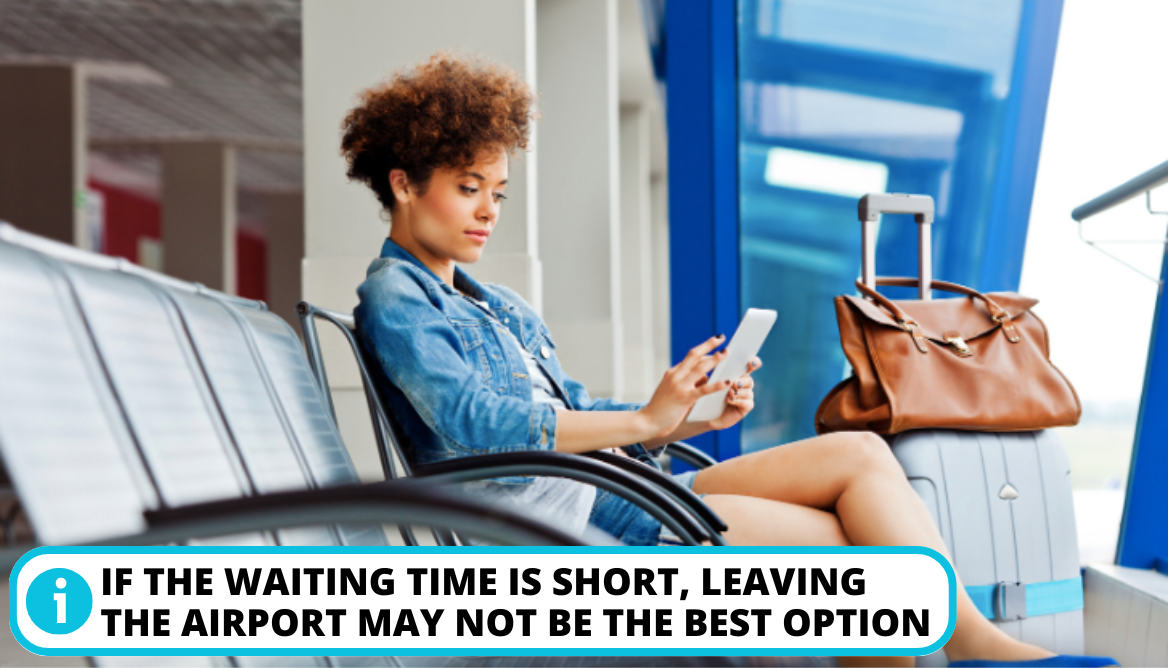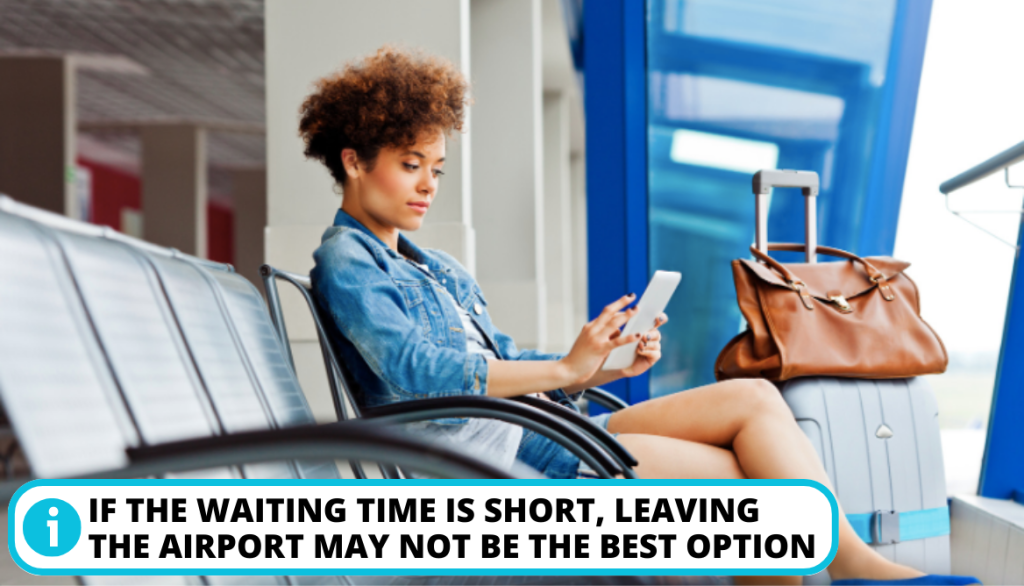 Therefore, they may leave the airport terminal and explore the new city or local attractions during the layover. However, there are some essential factors to consider before you plan your adventure during a domestic flight:
Duration of Layover: The time frame of the layover plays an important role. If the destination is far away from the airfield, and your layover is short, leaving the airport might not be a good option. Because you risk missing your connecting flight. Conversely, longer layovers offer more opportunities to venture outside.
Security Procedures: In domestic flights, passengers are also subjected to security protocols such as scanning and passing through a metal detector when re-entering the airport. Ensure you have enough time to undergo security screening before your next flight.
Luggage: If you leave the airport during a domestic layover, whether short or long layover, remember that you'll need to carry luggage with you or store it securely at the airport.
2. International Flights
Layover on international flight can be more complicated due to customs and immigration procedures. Many airports allow travelers to leave the airport during an international layover, however, certain conditions must be met: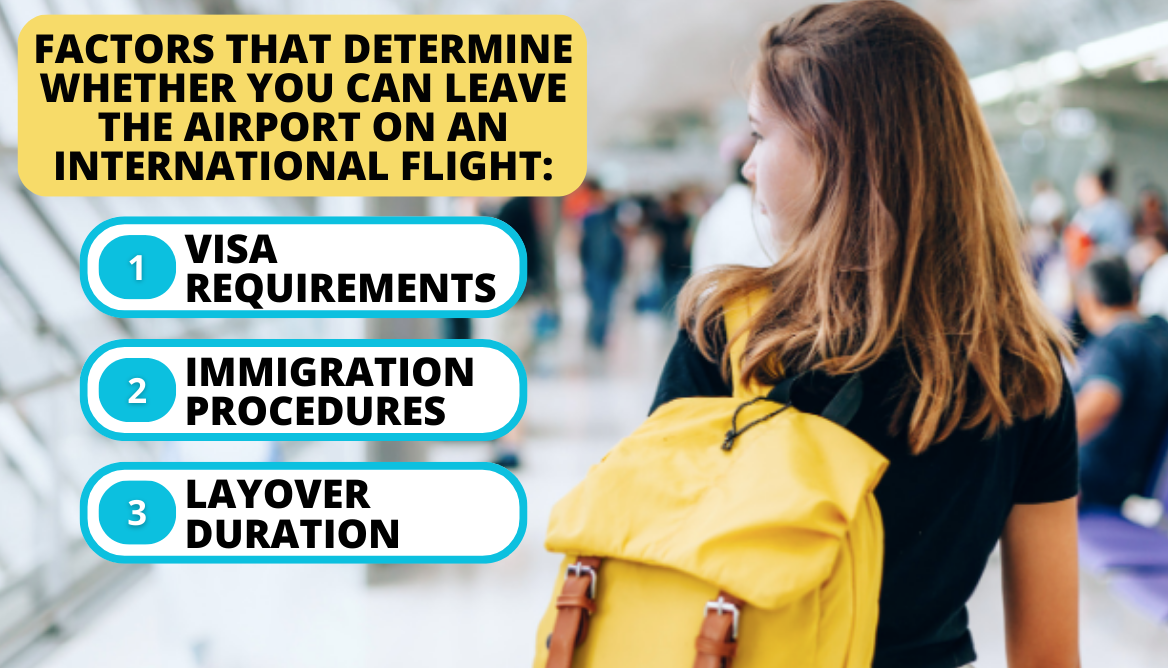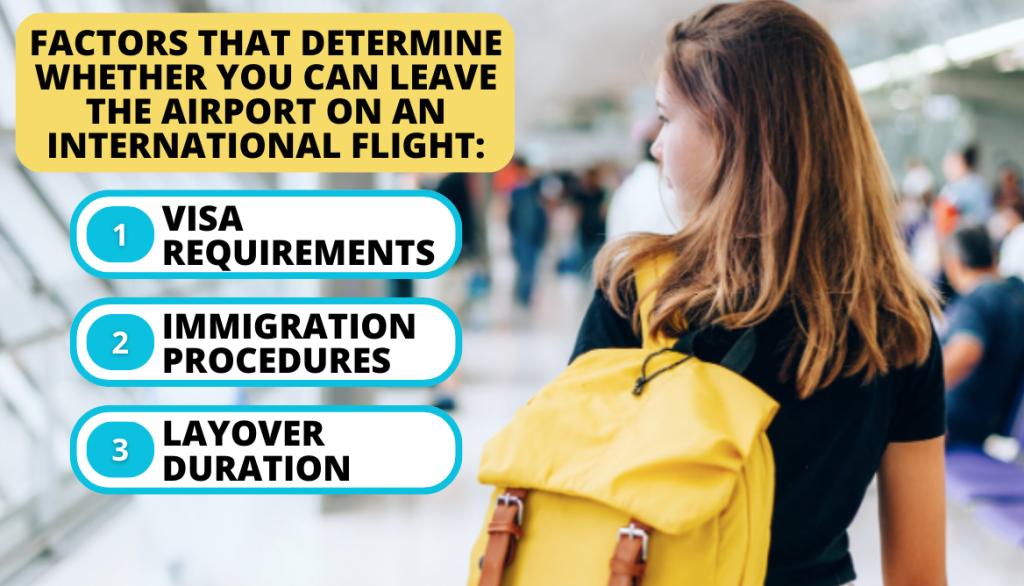 Visa Requirements: If you wish to exit the airport during an international layover, you must check whether you need a transit visa or are eligible for a visa waiver in that country. Visa rules vary depending on your nationality and the layover country. Familiarize yourself with the rules ahead of time.
Immigration Procedures: When leaving the airport during an international layover, it is important to go through the immigration and customs of the new city. Ensure you have all the necessary travel documents, such as your passport and any required visas, to enjoy your tour smoothly.
Layover Duration: Similar to domestic flights, the layover duration is essential. Due to time constraints, leaving the airport during a short international layover might not be feasible.
How Long Should a Layover Be to Leave the Airport?
For domestic flights is recommended layover time of at least 4 to 6 hours to leave the airport and explore the nearby city or attractions. However, the most suitable layover duration to exit the airport will depend on the distance from the airport to the layover destination and the aim of your trip.
This timeframe allows sufficient time to:
Clear immigration and customs;
Navigate transportation to the city center;
Have a few hours to sightsee or enjoy a meal.
However, if you are traveling internationally, a 12 to 24-hour-long layover may be more appropriate. This will ensure you have ample time to explore without rushing back to catch your connecting flight.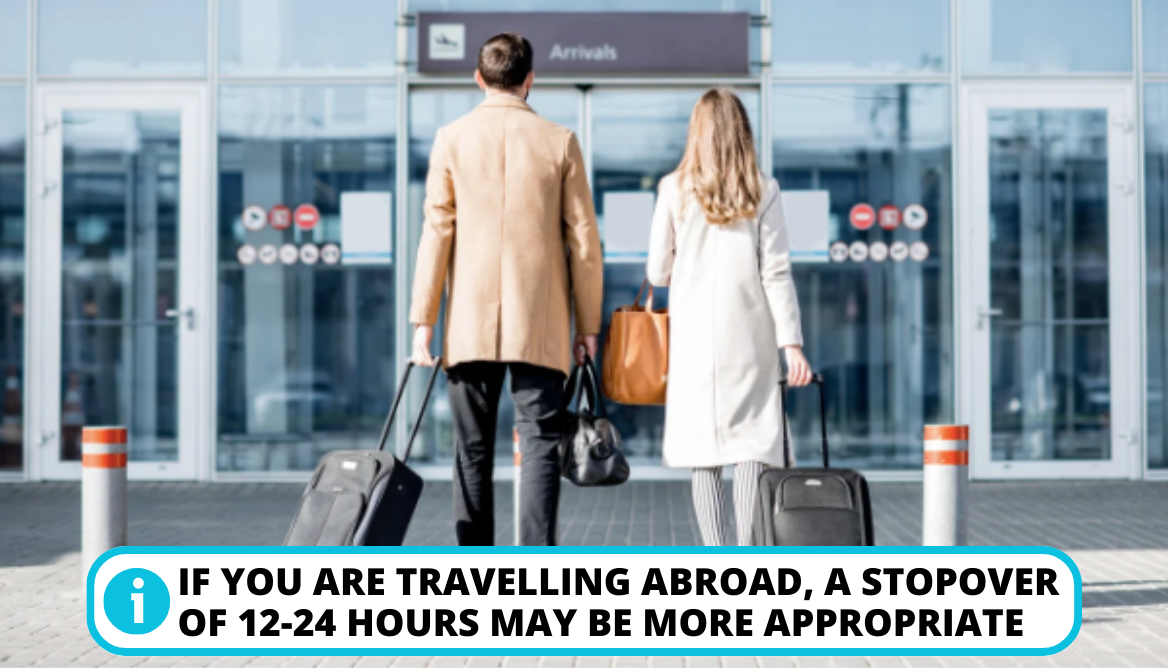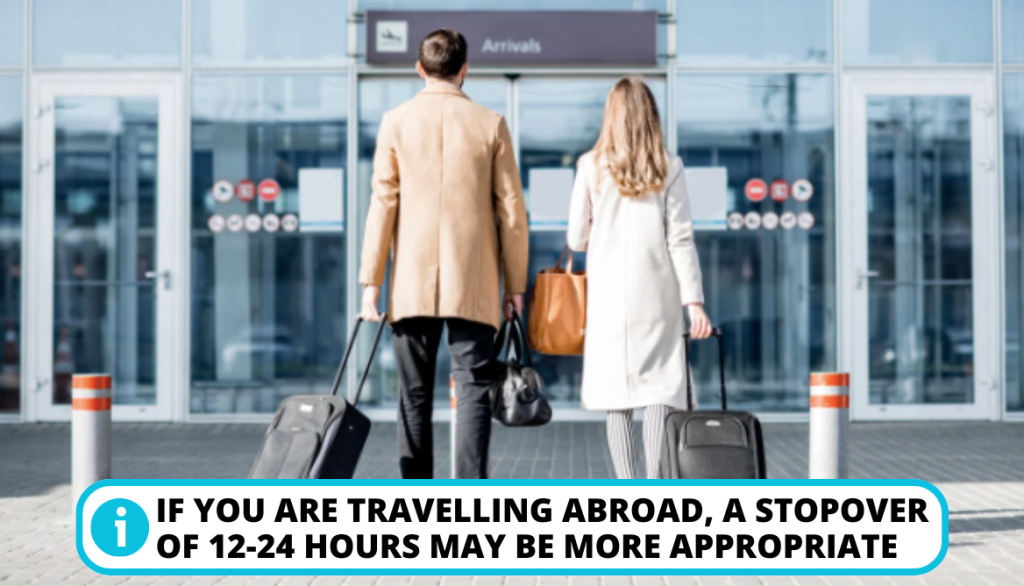 Why Leave the Airport During a Layover?
Many travelers wonder whether leaving the airport is worth it during a long-haul flight. While stepping out of the airport might initially seem daunting, taking advantage of a layover to explore can turn a mundane waiting period into a memorable mini-adventure.
A layover allows travelers to explore a new city and nearby attractions, get something to eat, or visit a lounge within or outside the airport to shower and freshen up.
Let's discover a few reasons why leaving the airport during a layover can be a great idea:
1. Sightseeing and Cultural Immersion
Leaving the airport, whether on a domestic or international flight, allows travelers to:
Experience the local culture and attractions of the layover city.
Take memorable adventures and spontaneous discoveries.
Capture stunning photos that you will use as the memorable of your trip.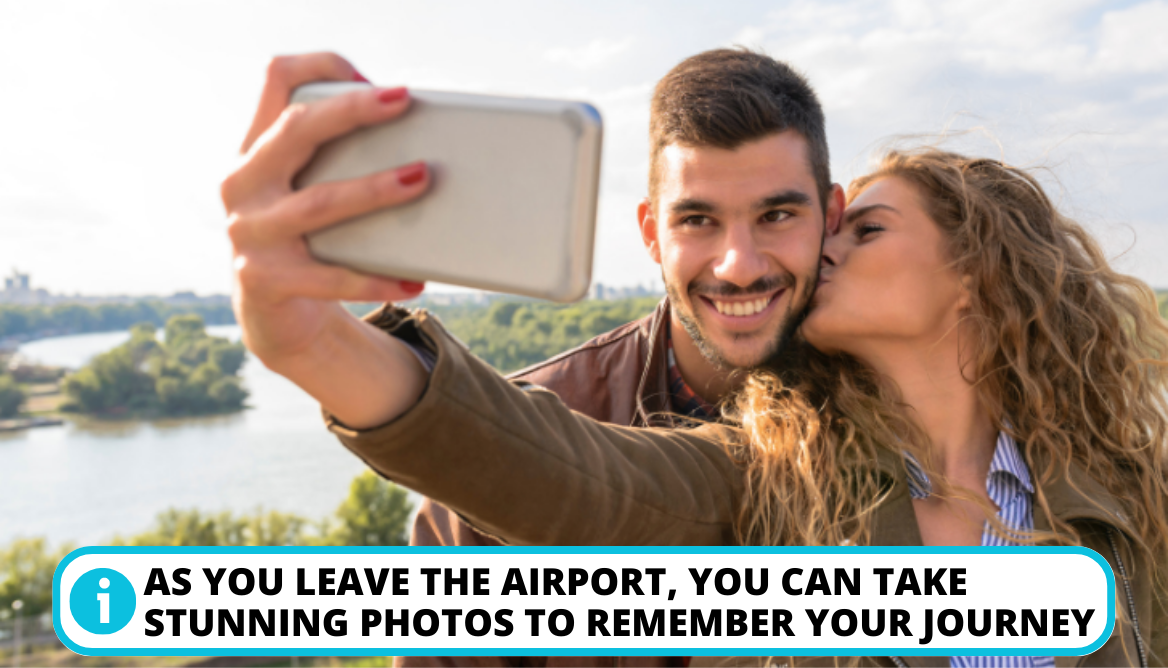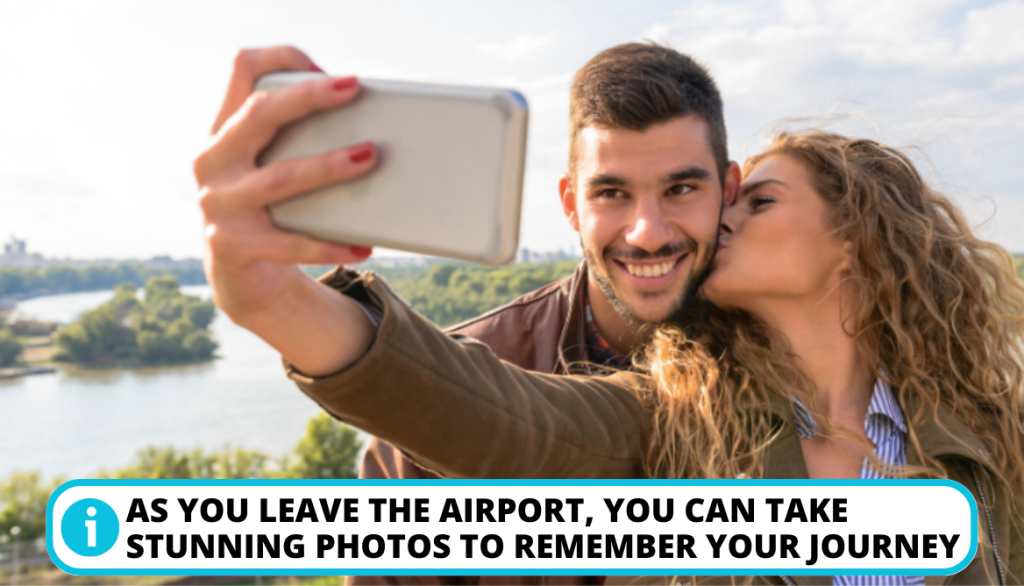 2. Taste Local Foods
Imagine having a layover at an airport during a long journey, with hours of idle time between flights. It can be quite tedious. Break the monotony by visiting nearby restaurants to enjoy the local cuisine.
Venturing beyond the airport allows you to explore diverse regional dishes you wouldn't find in airport restaurants and expose:
Unique flavors;
Ingredients;
Culinary traditions.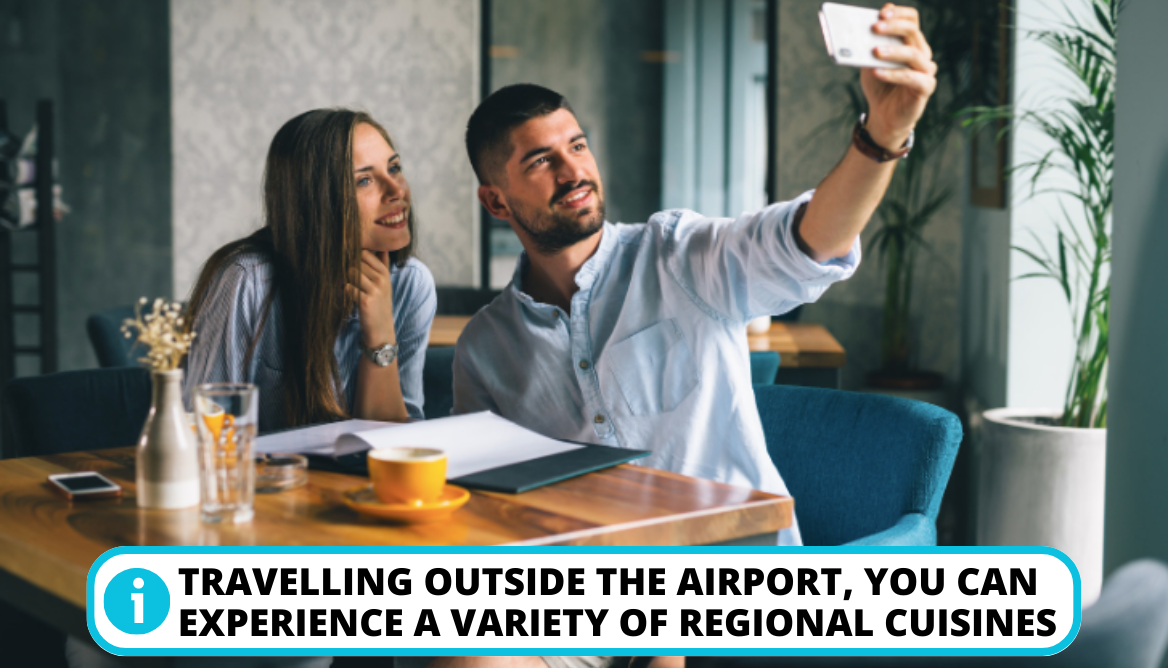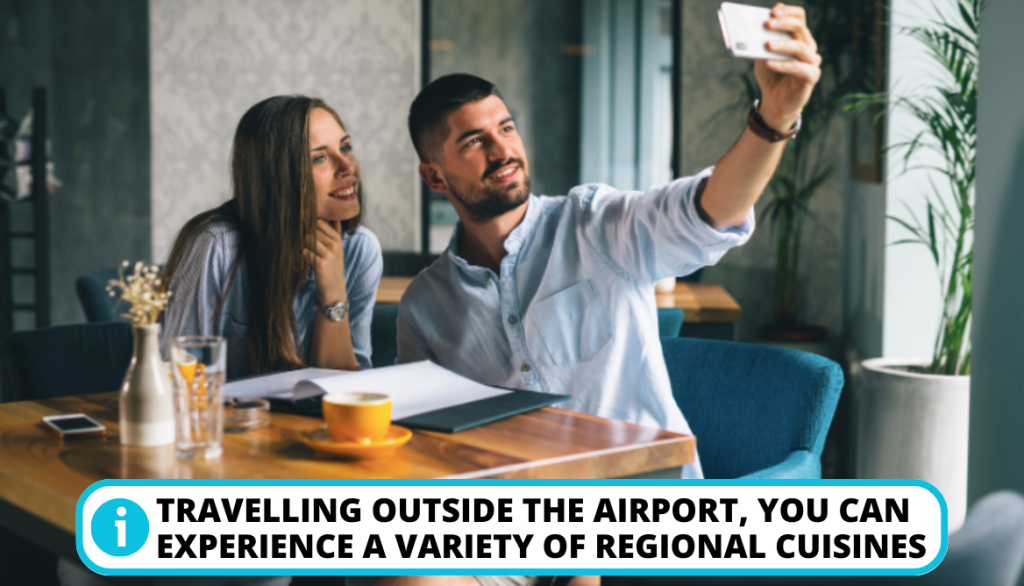 3. Relax in a Hotel or Get Pampered
Sometimes, layovers can be pretty long, especially for international flights or when there are limited direct flights. Leaving the airport to relax in a nearby hotel or SPA can be an appealing option to maximize your layover time:
If you encounter an overnight layover, the hotel provides a comfortable bed and a quiet environment to rest and recharge.
A hotel room lets you take a refreshing shower and feel rejuvenated, ready for the second flight, enhancing your overall travel experience.
You can also visit airport lounges and get pampering services such as massages, manicures, and facials.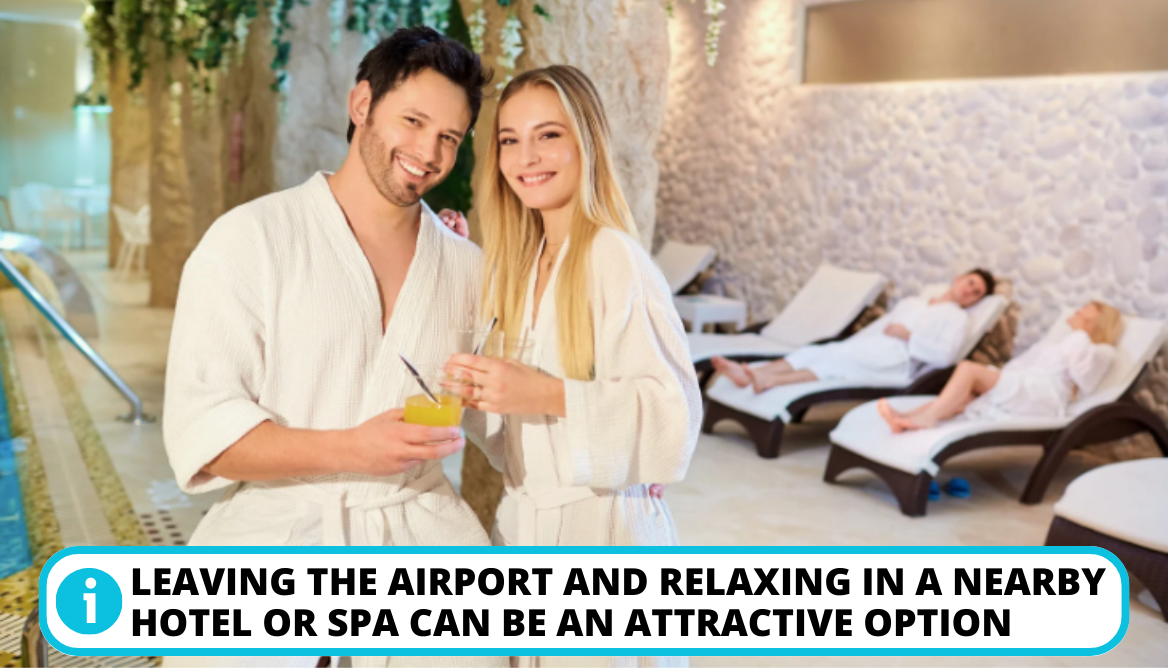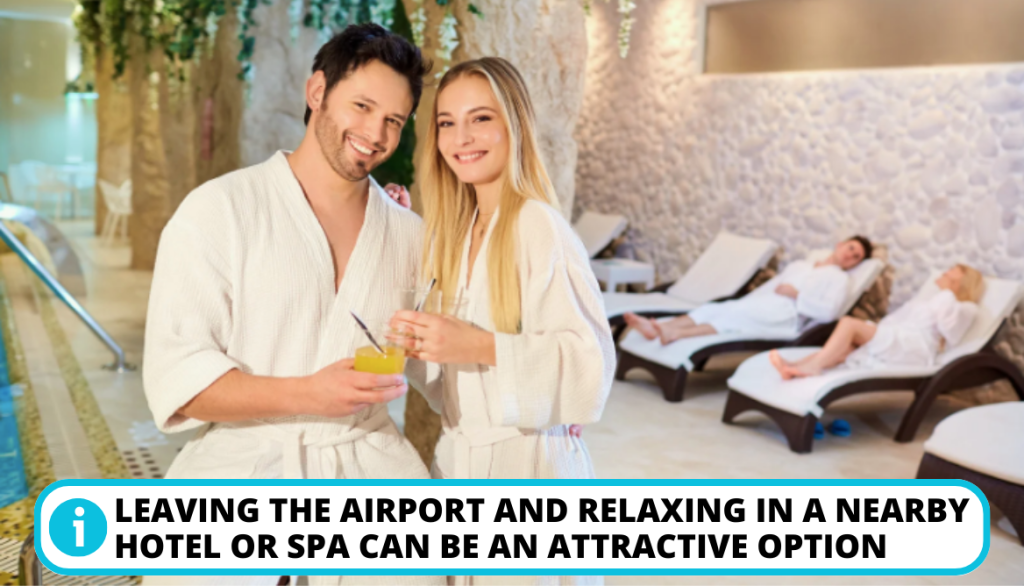 8 Important Considerations Before Exiting the Airport During a Layover
Layovers can provide an excellent opportunity to explore new places, especially if they are of substantial duration. However, leaving the airport during a layover also has potential risks and logistical challenges that travelers should consider.
Before leaving the airport on a layover, it's essential to consider several factors to ensure a smooth and stress-free journey. Here are some of them:
1. Identification of Connection Type: International or Domestic
Some countries might have specific visa requirements for international flights, even if you don't plan to leave the airport. To explore the layover city, check whether you're eligible for a transit visa.
In contrast, there is no need to worry about visas in domestic layover since you are already legally present in the country. Let's explore some additional reasons to know whether it is an international or domestic connection: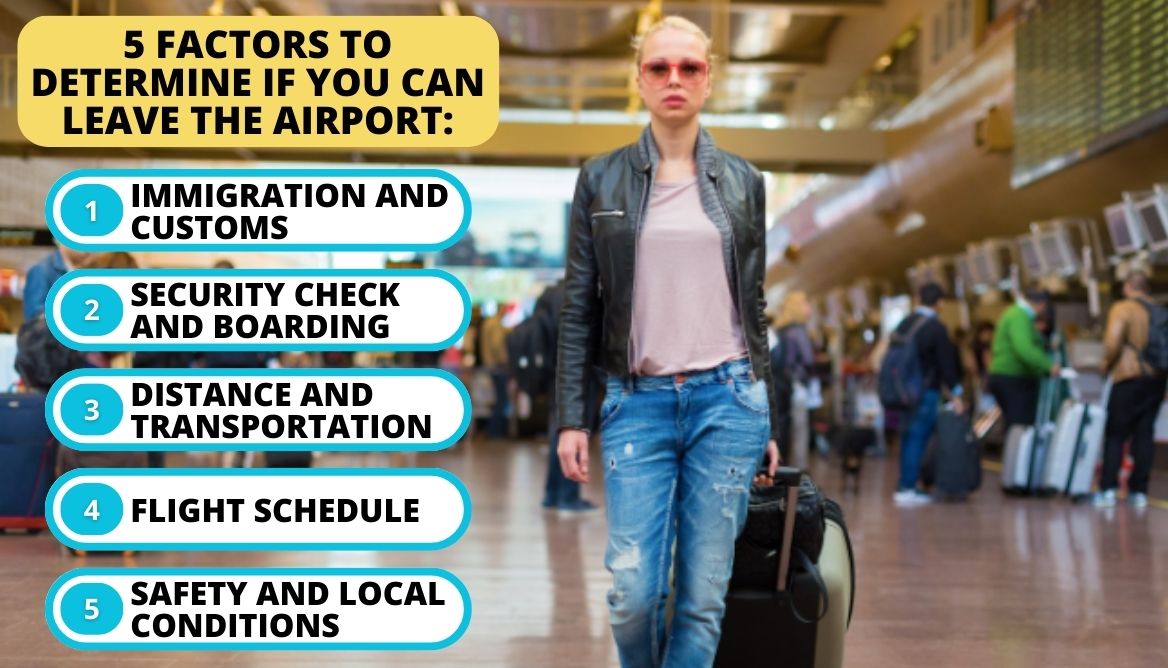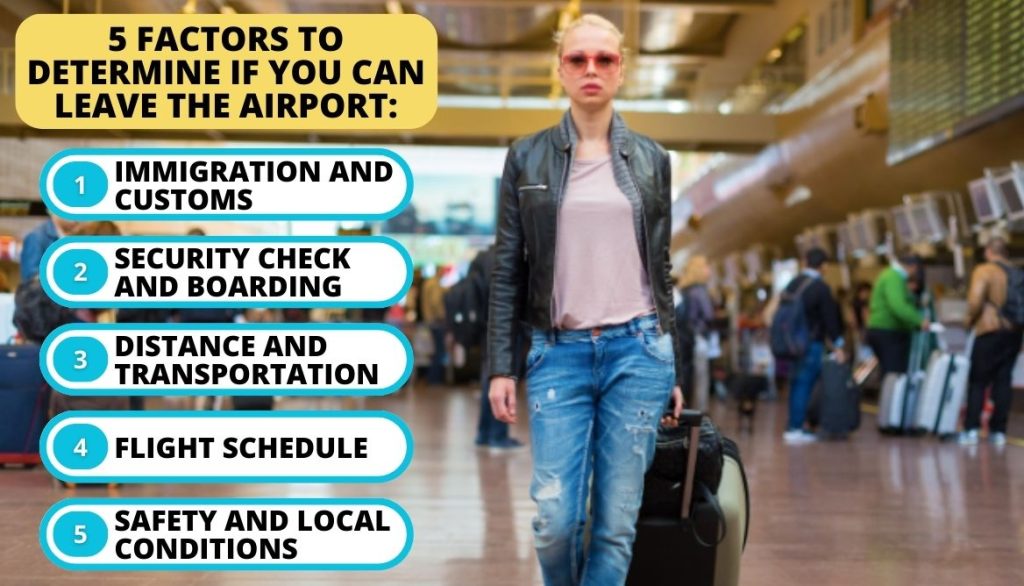 Immigration and customs: If you have an international connection, you will likely need to go through immigration and customs at the layover airport before catching your next flight. This process can take varying amounts of time, depending on the efficiency of the airport and the number of travelers.
Security check and boarding: Leaving the airport during a layover means you'll have to go through security checks again upon re-entering. This process can take time and may cause delays.
Distance and transportation: The distance between the airport and nearby attractions might influence your decision. If the layover is relatively short, it might be impractical to venture too far from the airport, especially for international flight. The same applies to long layovers; ensure you are around the airport gateway on time.
Flight schedule: The overall flight schedule and layover duration will also be crucial. You may be more inclined to leave the airport and explore the layover city if you have a long layover and ample time between flights.
Safety and local conditions: The safety and security situation in the layover city is an important consideration. If you're unfamiliar with the place or it has a reputation for potential risks, you should exercise caution when deciding whether to leave the airport.
2. Visa-Free Access
Before taking action, verifying your eligibility to leave the airport's international zone during a layover and enter the country you are visiting is essential. Thoroughly research the visa requirements for the current country and plan accordingly.
Remember: This applies solely to international flights.
Let's discover some key facts about visa-free entry:
Time to acquire the visa: You can acquire a visa upon arrival or by applying for one in advance; however, if you opt for a visa on arrival, factor in some extra time for that (an hour or two in certain countries).
Know the visa laws: Become acquainted with their destinations' entry regulations, terms, and prerequisites before visiting them. This will depend on your passport, country, and stay length.
Know the type of visa: For other nations, you must obtain a transit or tourist visa beforehand or upon arrival.
Charges: There will be charges linked to the visa, and these costs differ depending on the country.
3. The Covid-19 Entry Restrictions
In addition to considering your travel itinerary, it's essential to be mindful of the Covid-19 entry restrictions enforced by the layover country, especially for international layovers. As these requirements are subject to Frequent changes, staying updated and informed on the latest guidelines is crucial before your journey.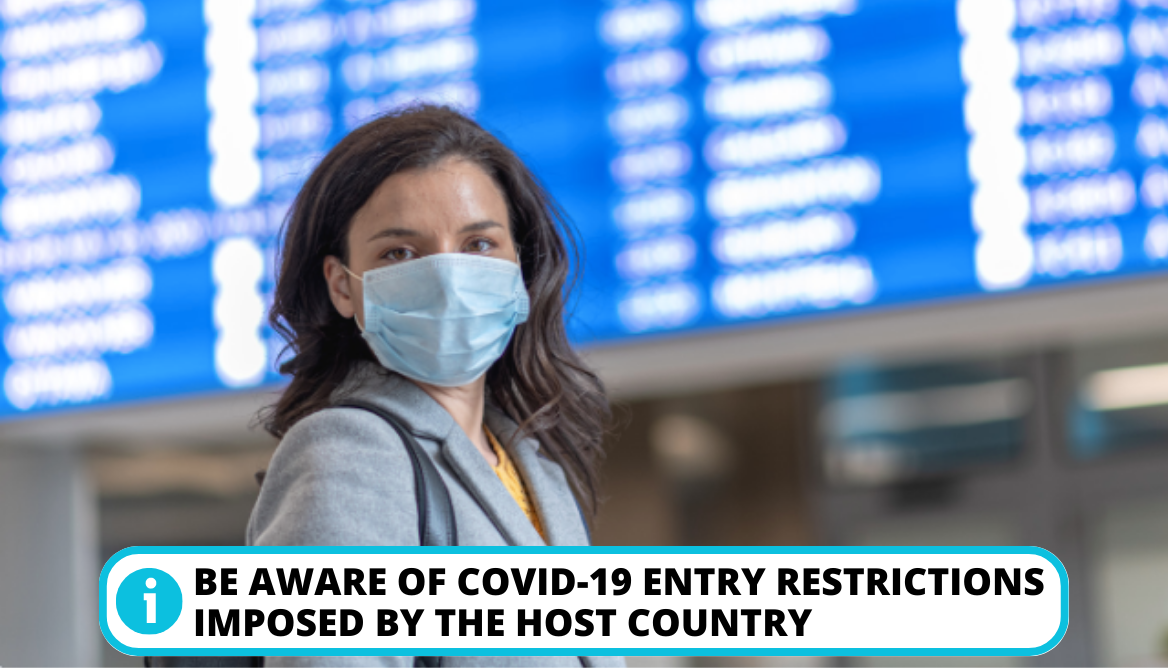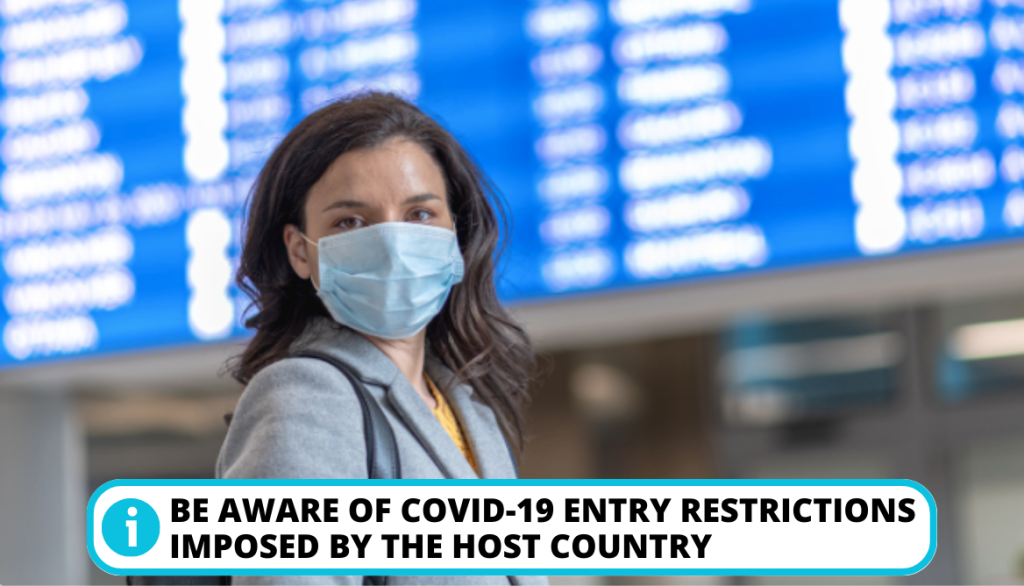 Important! To exit the international zone and enter the country, it is essential to present a valid vaccine certificate and a negative Covid-19 test result obtained within a specified time frame.
4. Check In During Layovers
Can you leave the airport during a layover without checking in? The answer is "No" If you have yet to check in, you might miss important updates and announcements about your next flight, leading to confusion and potential missed connections.
Benefits of checking in during layover:
Get updates: Checking in for your connecting flight allows the airline to notify you of any changes in the flight schedule or gate assignments.
Saves time: If you check in in advance, you will have extra time to explore the layover city, as you can avoid waiting in line to check in again. Online check-in might still be available if you have yet to check in for both flights during the initial part of your journey.
Peace of mind: By checking in during your airport layover, you ensure that your onward flight is confirmed and your seat is secured.
5. The Distance From the Layover City to the Airport
The distance between an airport and the city it serves is an essential factor to consider before leaving the airport during a layover. Because the distance from the airport to the city directly affects how long it will take to reach your desired destination:
A longer distance means a potentially longer travel time, impacting your layover plans.
If you have a short layover, a far-off airport might not leave you enough time to explore the city comfortably.
Also, airports closer to the city center usually have more convenient and frequent transport services like:
Conversely, airports far from the city might have limited transportation choices, which could be less efficient or more expensive.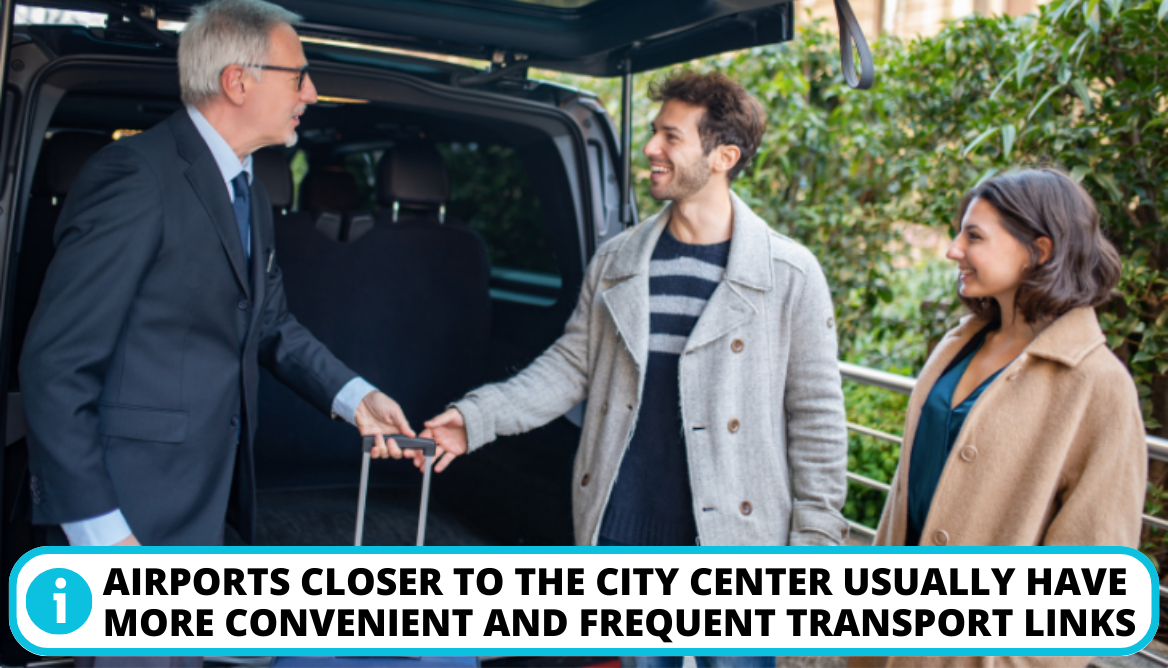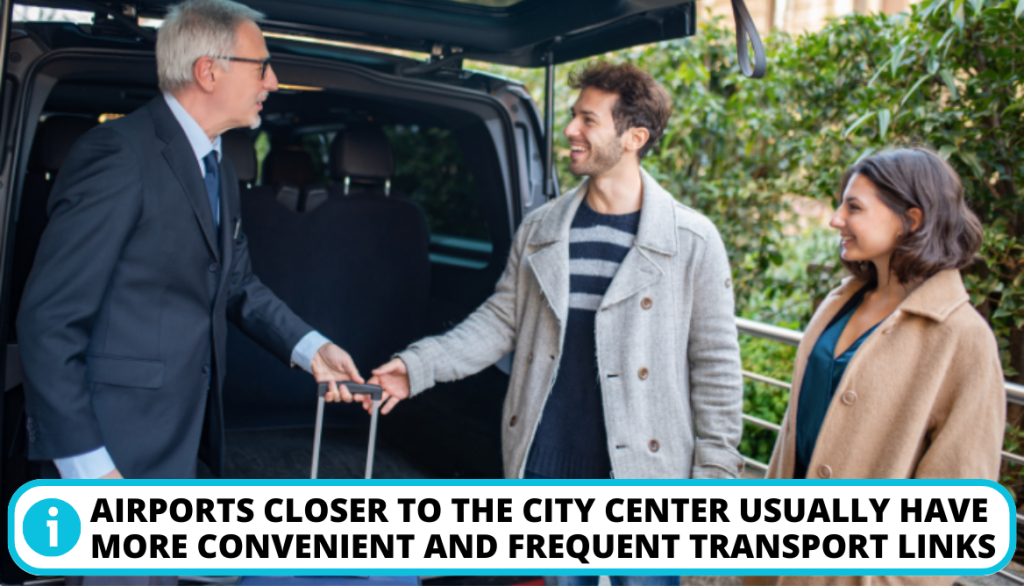 6. Traffic in Airport Proximity
The airport's proximity to the layover city is essential, as traffic conditions can significantly impact travel times.
Even if the airport is typically about an hour's drive away from the city, during rush hour in bustling metropolises with severe traffic congestion, the commute might extend to two hours.
Staying near the airport during a layover allows travelers to quickly connect to their next flight without navigating through a new city or dealing with transportation logistics.
This saves valuable time and reduces the risk of missing the connecting flight.
7. Pre-arrange Your Tour
With a limited window of 6-12 hours between your two flights, the opportunity for sightseeing becomes relatively narrow, considering factors like:
Traffic;
Transit to and from the layover city;
Immigration procedures.
Prearranging your tour during an airport layover maximizes your limited time. Also, it allows you to venture beyond the airport, discover new destinations, and check off another location from your travel bucket list, even if you have only a few hours to spare.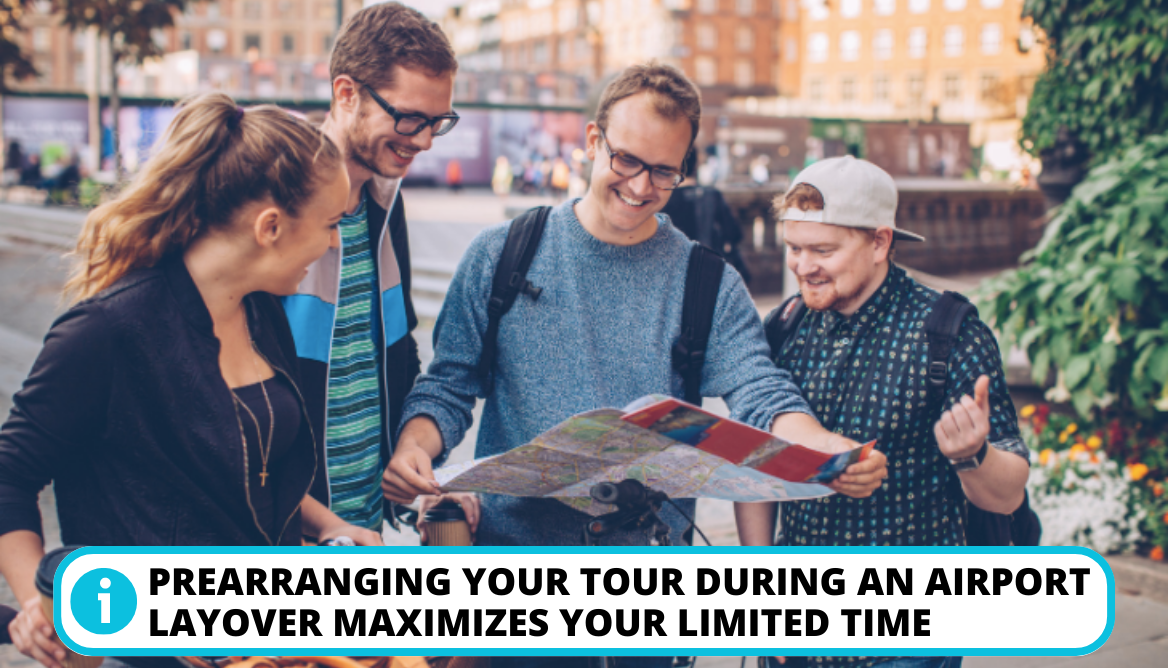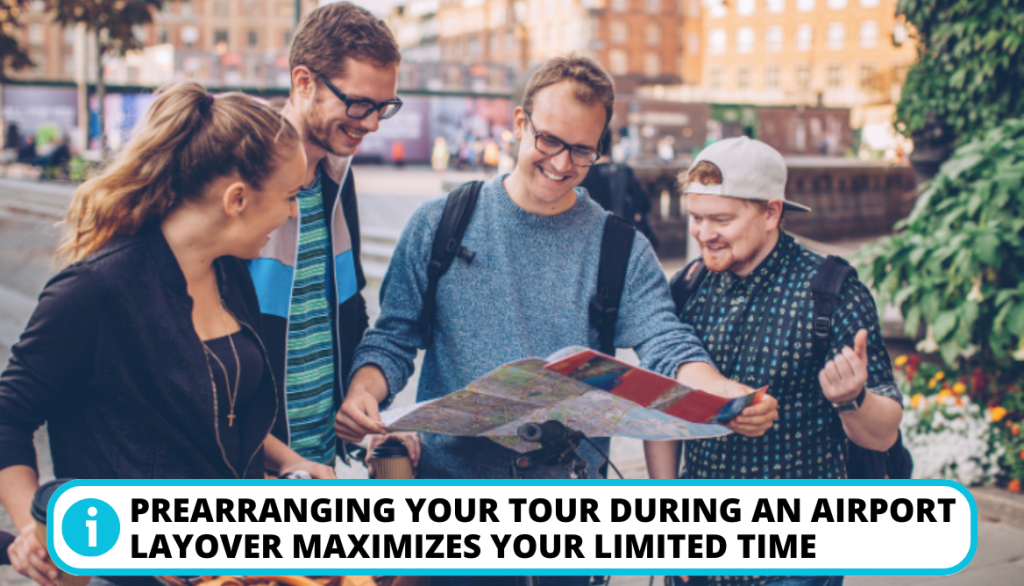 8. Worthness of Layover
Consider whether it is worthwhile to venture outside the airport during a layover of just a few hours. If you don't find the reason for leaving the airport, it is better to remain there to reduce the risk of missing your connecting flight.
FAQ
What happens if you leave the airport during a layover?
If you leave the airport during a layover, you may risk missing your connecting flight. Most airlines, especially for international flights, require passengers to be present at the gate well before the departure time of the next flight.
How long should a layover be to leave the airport?
A 4-hour layover is sufficient to venture outside the airport and discover the city. However, this layover time is contingent on the airport's vicinity, the time of day, and the processes involved in immigration and customs.
What are the rules for layover flights?
Layover flight rules include Minimum Connection Time (MCT), through-checked bags, immigration and customs, and same ticket vs separate ticket. These rules vary depending on the airline's policies and the countries involved. Therefore it is important to consult with the airline or travel intermediary before booking your layover flights.
Can I go out of the airport during an international layover?
You can leave the airport during an international layover, depending on the country's immigration and visa policies. Some countries allow passengers to leave the airport without a visa for a limited time, while others require a transit visa or restrict passengers. Always check the specific requirements and regulations of the country you're transiting through before leaving the airport.
Can I leave the airport if my layover is 6 hours?
Yes. You can leave the airport during a 6-hour layover, but consider immigration and security clearance times to ensure enough time to return for your connecting flight.
Can I take an overnight layover?
Yes, an overnight layover is a night in a connecting city during your journey to your final destination. Many airlines and airports allow for overnight layovers, especially on long-haul flights or when no convenient connecting flights are available.
Conclusion
Can you leave the airport during a layover? Before deciding to leave the airport during a layover, several crucial factors need to be considered, including visa requirements, duration of the layover, local transportation options, and airport security regulations.
You can leave the airport if your connection lasts at least 4-6 hours for domestic flights and 12-24 hours for international flights.
Have you ever encountered problems with connecting flights? Please share your experiences in the comments section!