Happy Wayfarer is reader-supported. When you buy through links on our site, we may earn an affiliate commission.
Can you bring tea bags on a plane? If you are confused by this question you are in the right place! Keep reading revealing if you could bring tea bags on a plane as hand luggage or checked luggage regarding the TSA rules. So, let's get started!
Can You Bring Tea Bags On A Plane: TSA Rules
According to the Transportation Security Administration's guidelines, you are allowed to take tea bags with you either in your carry-on bags or checked bags but you need to follow some specified guidelines such as;
Bringing tea bags in a simple pack or their original packaging for easy manual screening and inspection by airport security officials.
Your tea should be appropriately packed in a way that it will not leak out of the seal.
The quantity of your tea should not be more than 340 grams if you want to pack it in your hand luggage.
Although you could take as much quantity as you want in your checked bag so far it does not exceed the specified weight by your Airline.
Consider the destination country's regulations on imported food items.
As for traveling within the USA, you are not prohibited to carry tea bags with you from one location to another.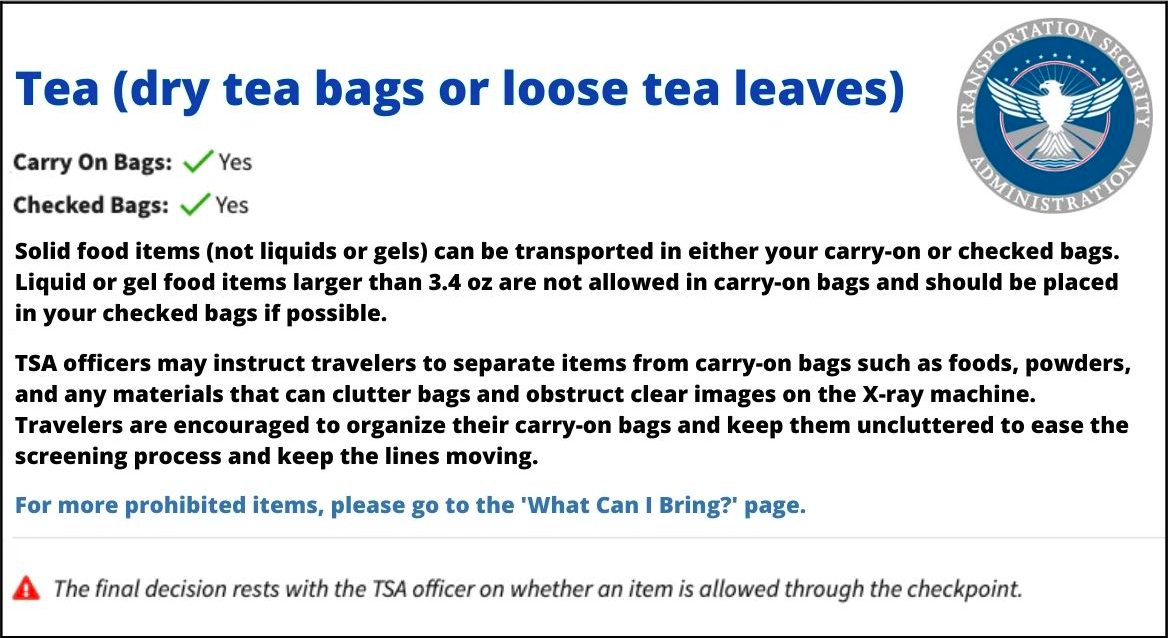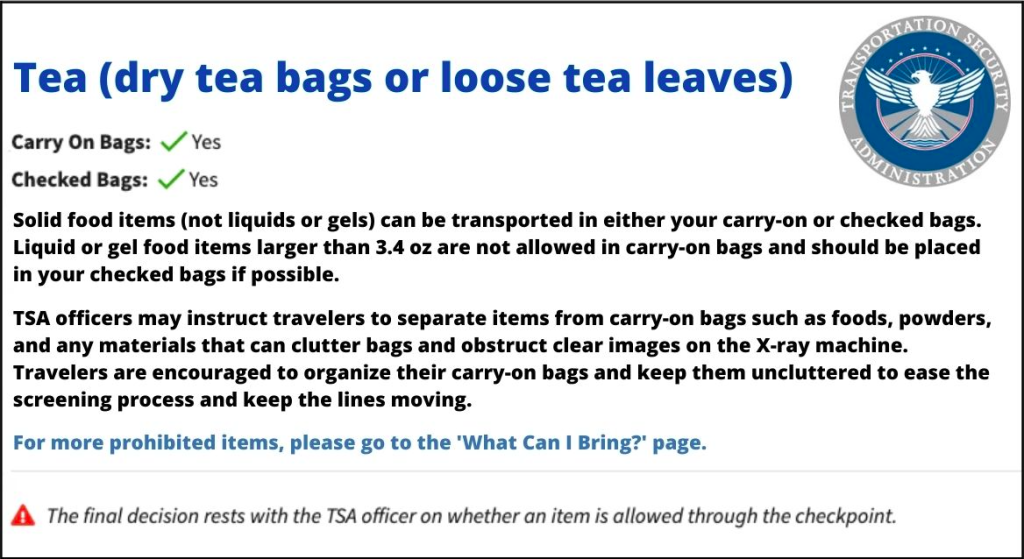 Can You Bring Tea Bags On A Plane In a Hand Luggage?
Yes, you are allowed to take both liquid, powdered tea, or loose-leaf tea with you as hand baggage but it should not exceed 100ml in fluid and not more than 12 ounces in powdered form.
Remember that your tea packaging will be influenced by whether you want to consume it on the plane or you just want to keep it in your carry-on luggage. So, either way, bring tea bags in the appropriate container.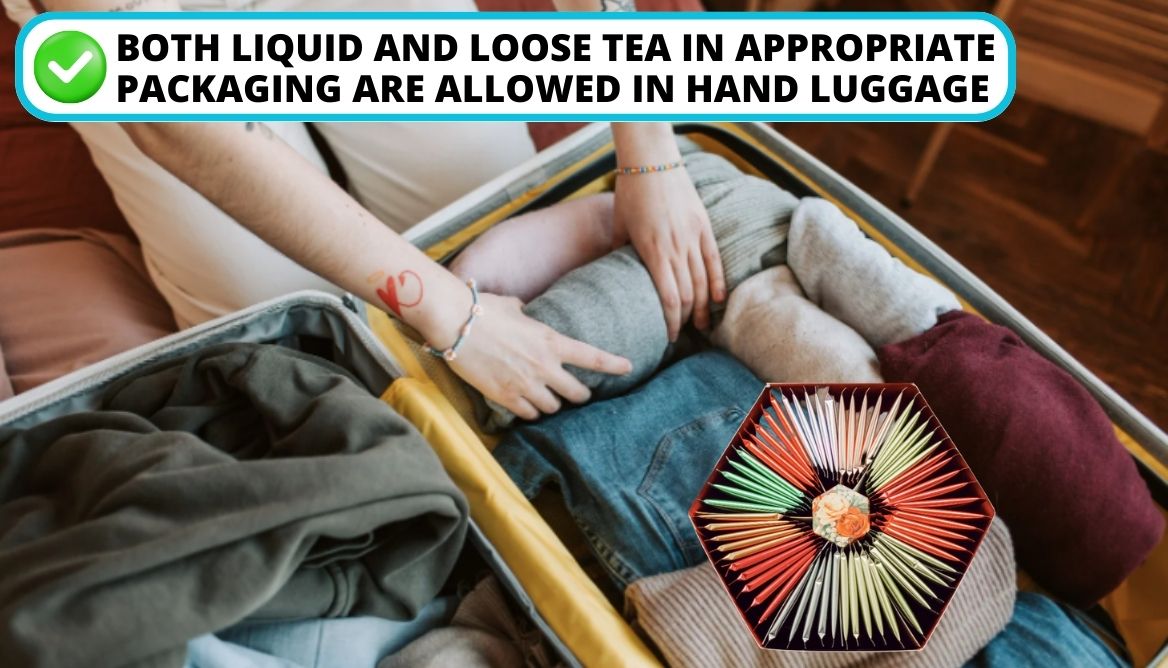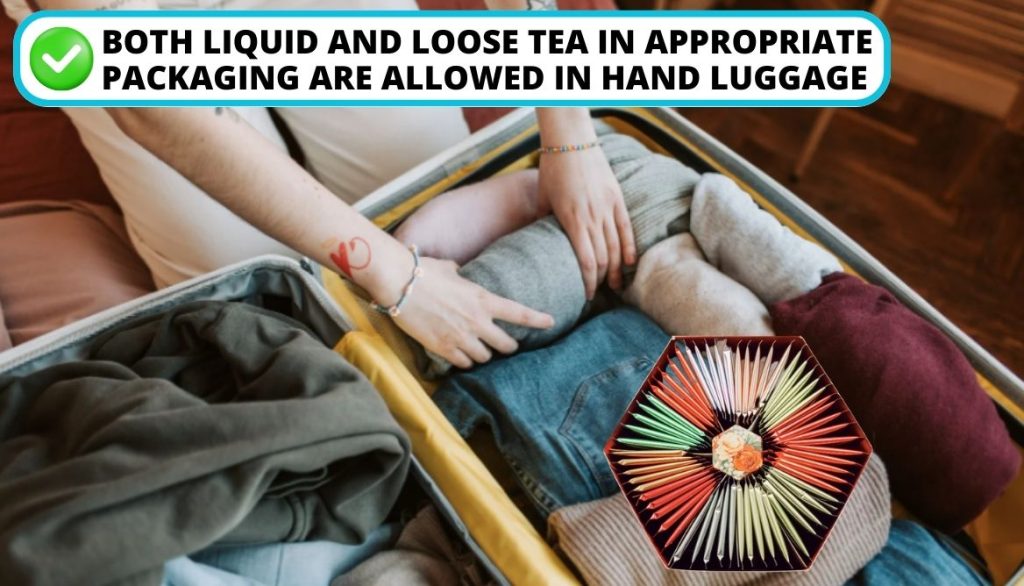 Tips For Carrying Tea In Your Hand Luggage
The following are tips that can help pack your tea either for consumption or other purposes in an acceptable way for stress-free screening and journey.
For consumption
If you intend to sip your tea while on the plane then you need to do the following;
Leave your tea bags in their ready-to-drink pack to avoid spilling.
Use a double-wall disposable or reusable cup with a lid for your liquid tea to protect it from dirt as well as to retain the temperature you want to drink it onboard.
Avoid drinking loose-leaf tea in the airplane as the leave might swell up which you might want to remove aside. Removing them might get the airplane littered if you do not dispose of them properly.
But, if you do take loose tea leaves then you should soak it some hour before your flight so that you can easily remove the leaves before entering the airplane and you could take your liquid tea later on board.
Transportation Security Administration does not restrict drinking your own tea onboard once you follow their specific amount of 3.4oz container but you need to check your Airline's rules if they accept it.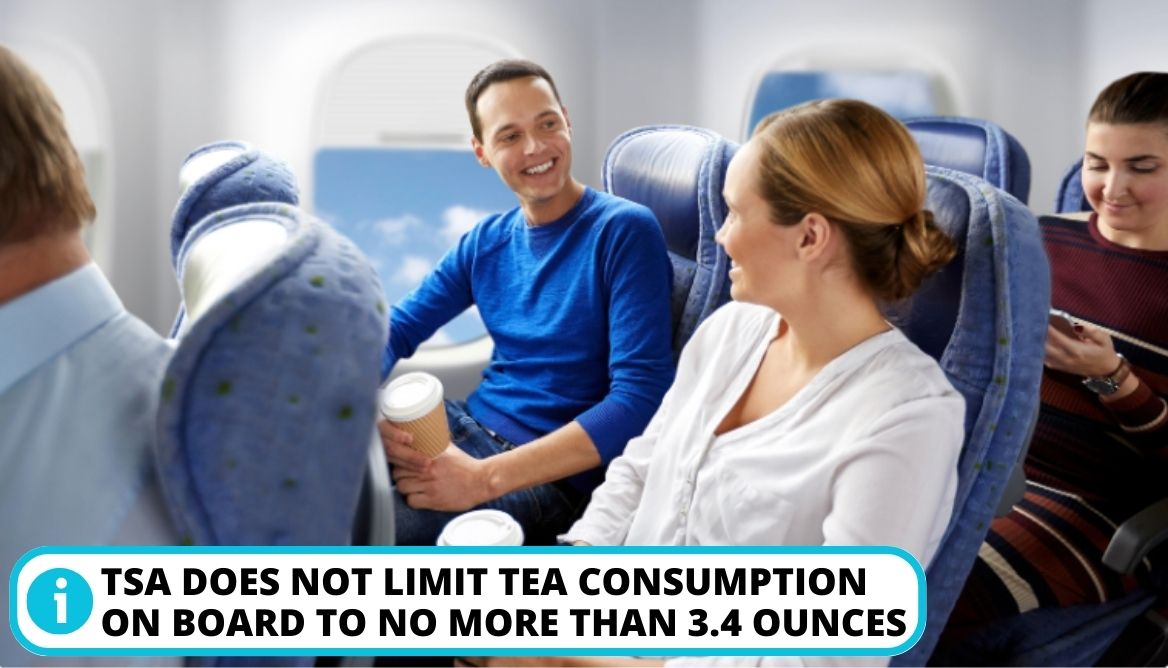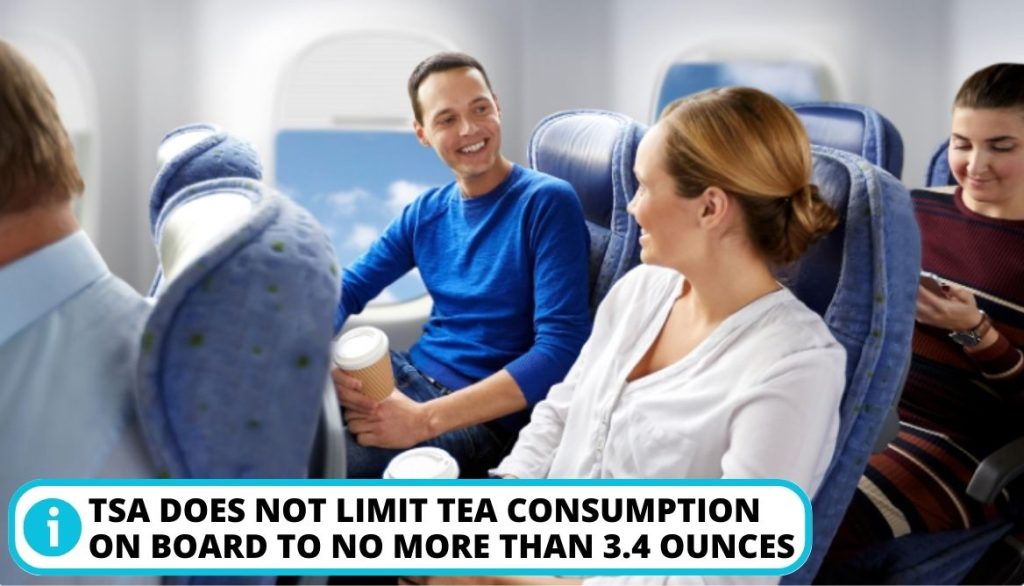 For Other Purposes
You might need to bring tea bags or other tea items with you for other purposes like gifting your loved one, or scarcity of your favorite brand at your destination among others. Here are a few recommendations that can help you;
Carry loose tea leaves and dry tea bags in your hand luggage using separate containers from other food items for easy removal when you are asked to screen your bag.
It is better to pack tea bags in their original packs from their manufacturer to maintain their unique label and authenticity; also to protect the tea from leaking or spilling.
Carry liquid tea using sealable bottles and makes sure it sits well in a suitable place in your carry-on luggage to avoid messing up the airplane.
Do not pack too much quantity more than needed as this might cause unnecessary interrogations by the security officers as that may be suspicious the tea is meant for commercial purposes.
It is good you keep your receipt and bring it along with you when traveling with your tea as the security officials might request it to be sure it is not a stolen item.
Check your destination policies concerning prohibited food items to avoid embarrassment at the airport checkpoints.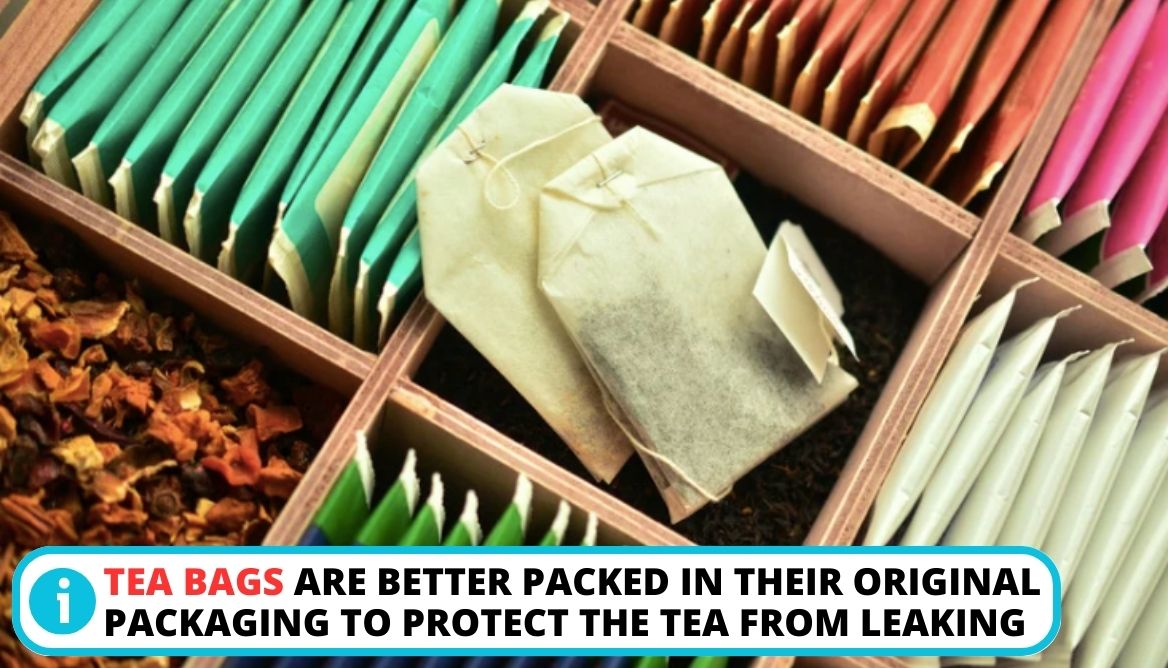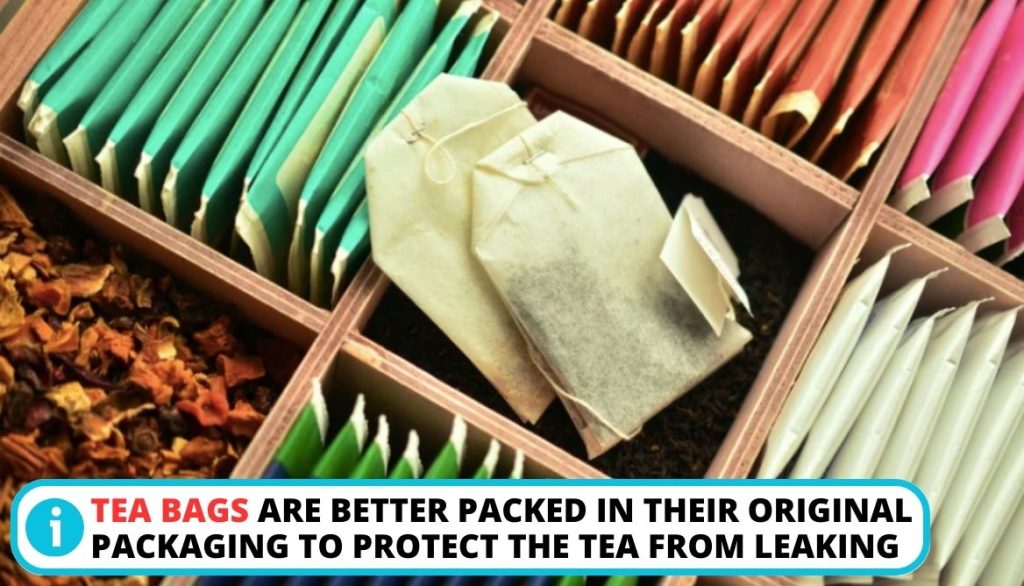 Important! Above all, always check the Transportation Security Administration and your Airline's website for up-to-date guidelines and information concerning traveling with food items.
Can You Bring Tea Bags On A Plane In Checked Luggage?
Absolutely Yes, You are allowed to pack more than 12 ounces or 340 grams of tea in your checked-in bag in as much as you store them in sealed containers, bottles, zip-lock bags, etc.
But you need to be extra careful when you are taking black tea or homemade tea along with you because it might turn out to be a harmful item or drug during screening.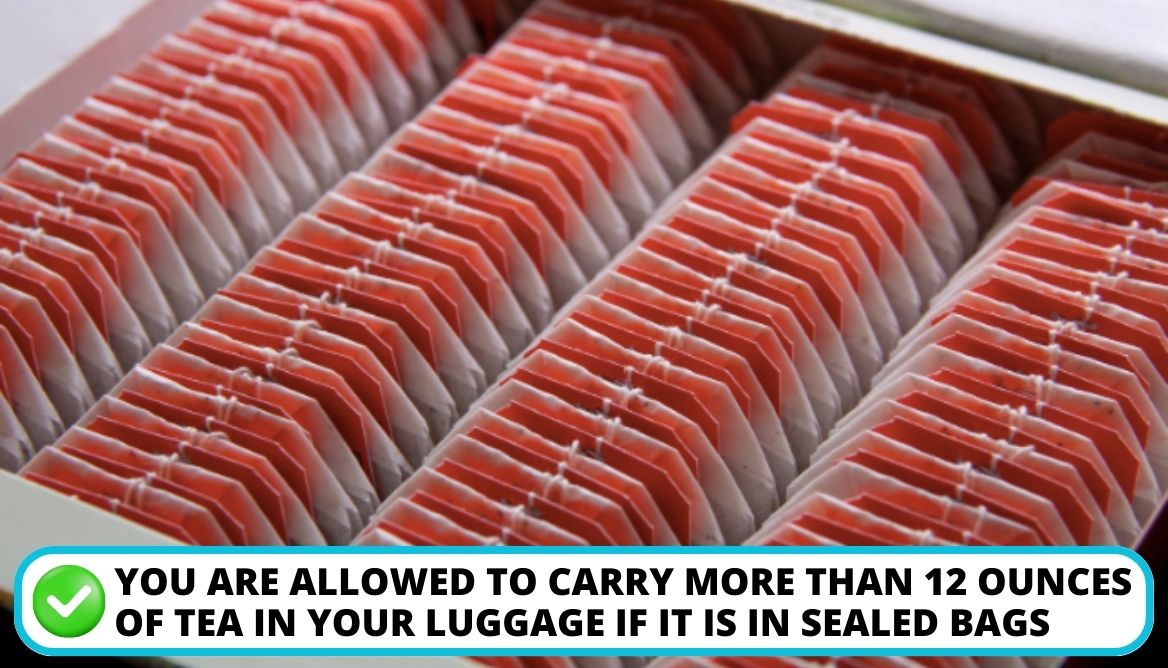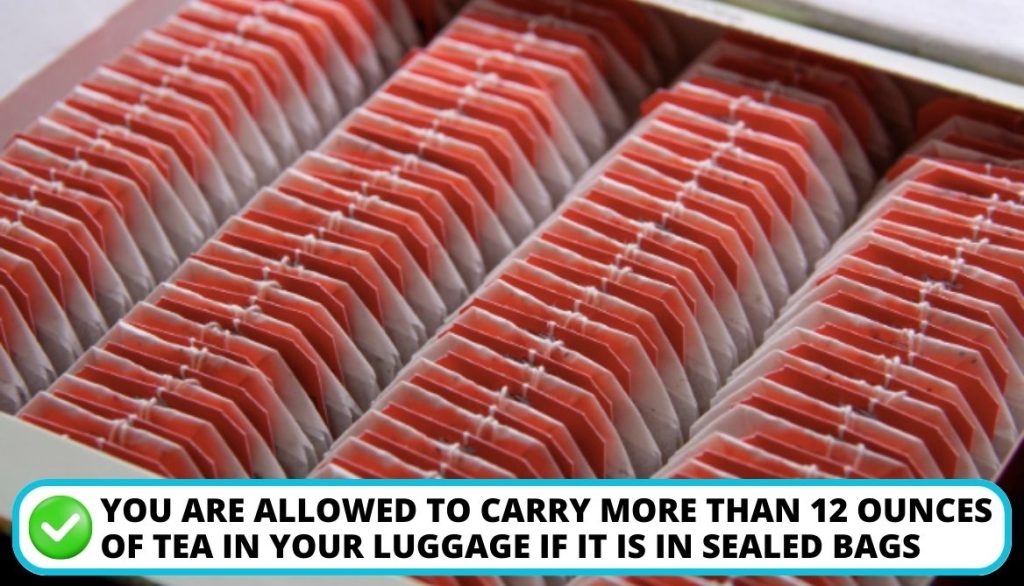 What Other Tea Items You Can Bring On a Plane
There are no restrictions on the type of tea you could take with you on a plane in as much they are not banned at the destination country and they do not contain drugs. Here is a list of tea commonly accepted by TSA officers;
Tea bags;
Loose-leaf tea;
Liquid tea.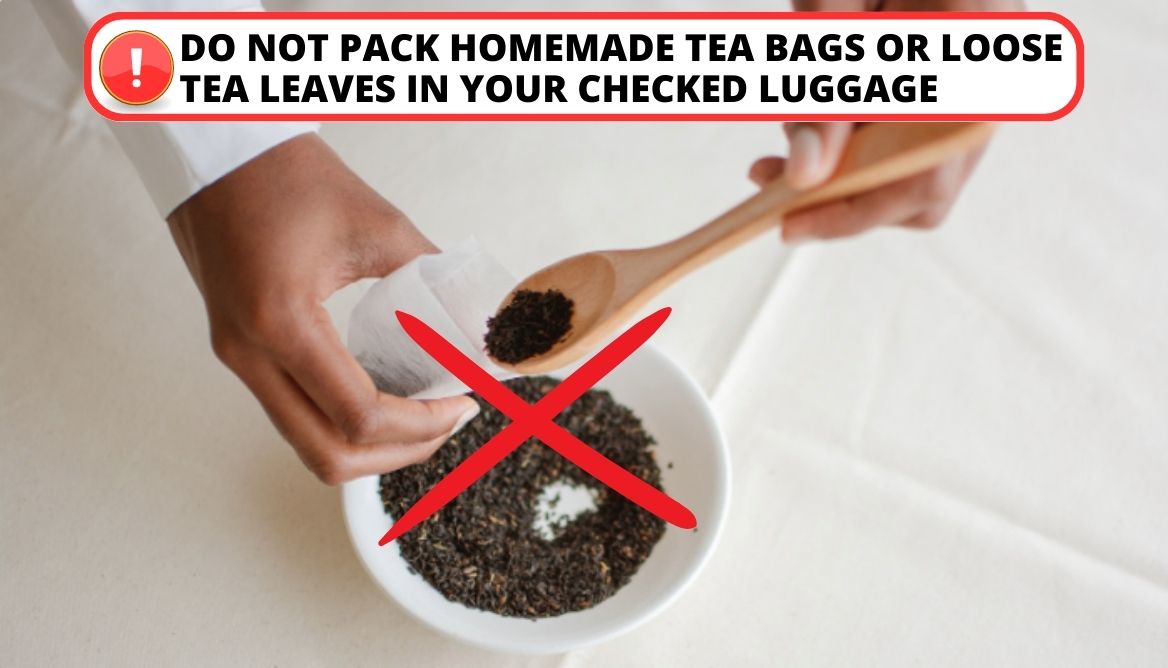 Below are some recommendations you might need;
Pack tea bags or loose tea leaves in their retail container or nylon to avoid spilling in your luggage when unpacking or during the screening process and keep your receipt handy for evidence purposes.
Carry Liquid tea in tightly transparent bottles to avoid leakage during transit and they should not contain any residue of leaves or tea bags in them to ease the screening process.
Tea is better in its original packages from its manufacturers because they have labels and a list of ingredients used which might ease your screening and keep you innocent at the TSA security checkpoints if by chance they sight any harmful content or drug.
Do not pack homemade tea bags or loose tea leaves in your checked luggage, you know all checked baggage goes through screening, and the X-ray machine or the screening dogs could mistakenly detect your content has drugs.
Lastly do not pack loose tea leaves or tea bags on a plane in too much quantity as the TSA officers know that the amount needed for a journey is meant to be moderate.
Do You Have to Declare Tea Bags to Customs?
Yes! You will have to declare tea in your bags in the form given to you by custom security at the airport. Although, there might not be an issue when it comes to bringing your tea bags, so far it does not exceed the amount specified by the TSA rules and it does not contradict the rules of the land you are heading to.
You can be only suspicious if the X-ray machine detects your tea as a drug but put your mind at rest because you are not guilty until proven otherwise. So get yourself prepared by following the tips below;
Be sure that your tea does not contain any dairy product like milk or creamer such as bubble tea, coco tea, premix tea, etc, which is commonly prohibited by some countries.
Always give the correct amount of tea you are carrying with you in the form provided to you by the customs official at the airport.
Also, as we have said earlier, keep your tea in the original packing from its manufacturer for evidence purposes.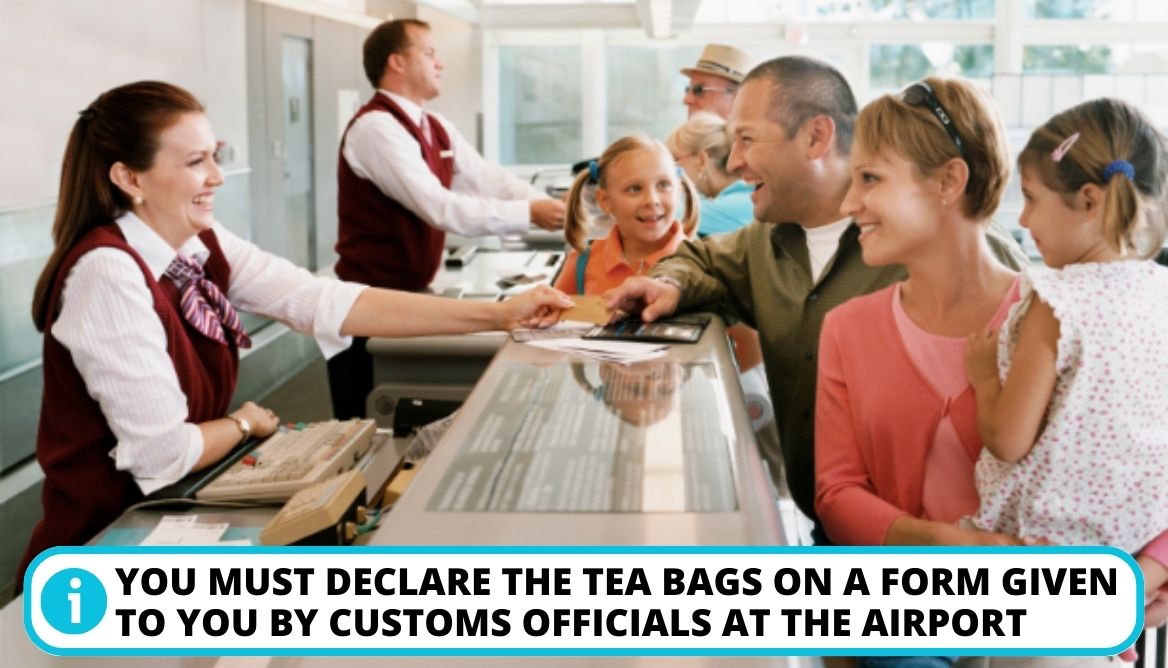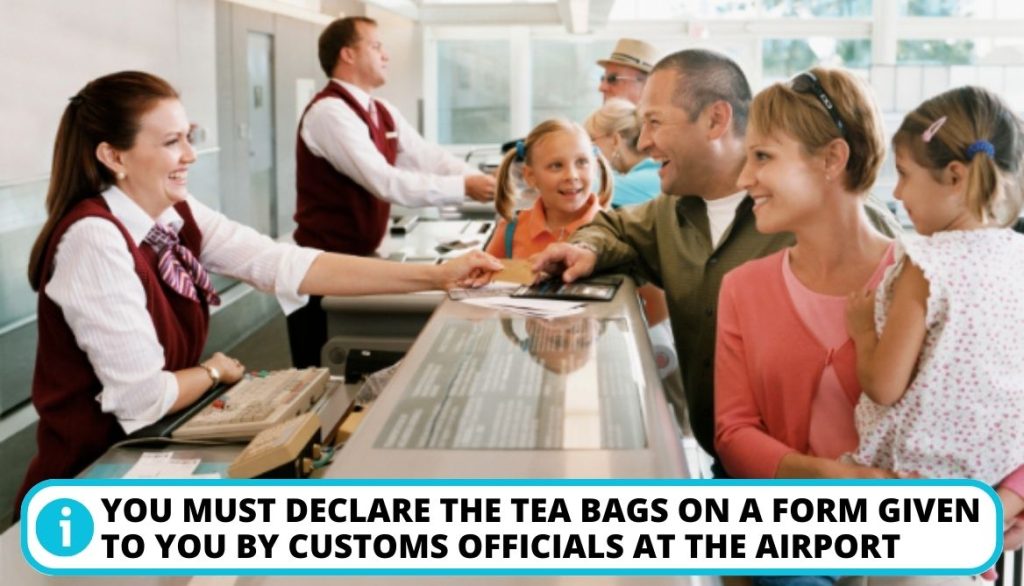 Does Carrying Tea Internationally Attract Customs Duty?
Custom duty may be imposed on the tea you are carrying but it depends on the country you are going to. For example, if you are traveling from the USA to Bangladesh, or Switzerland, etc bringing tea bags with you may cost you extra charges.
While China, Saudi Arabia, and Japan do not impose a customs duty on tea importation because they categorized it as an Agricultural product.
Also, the United state imposes taxes on tea coming from other countries while European countries do not charge duties for products coming from member countries.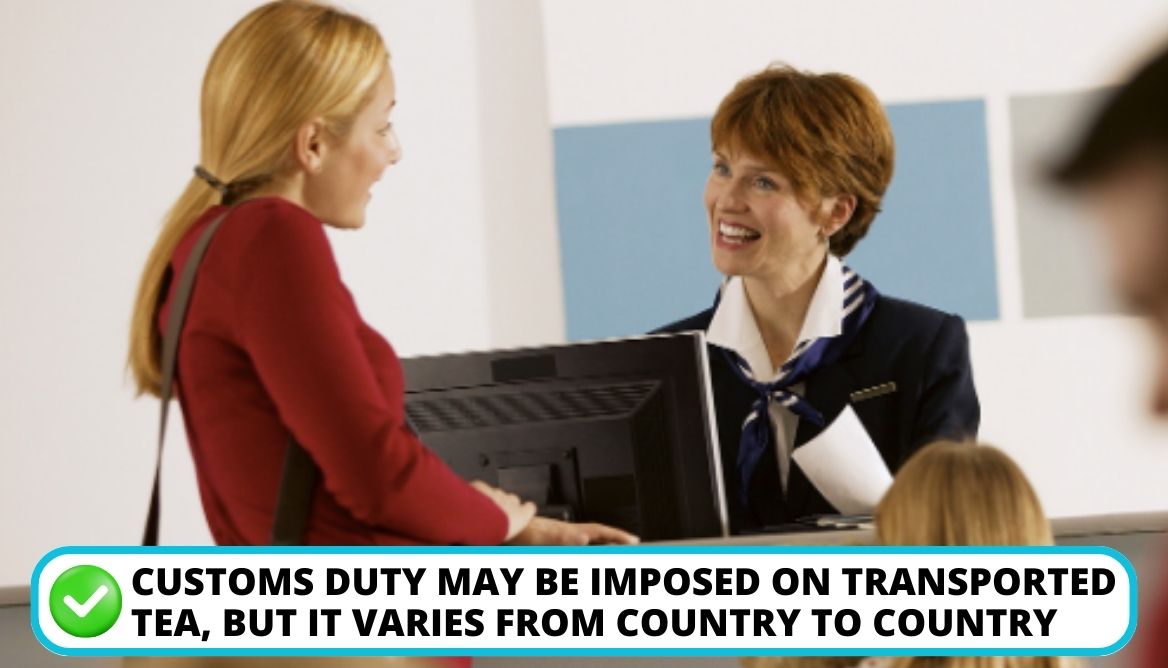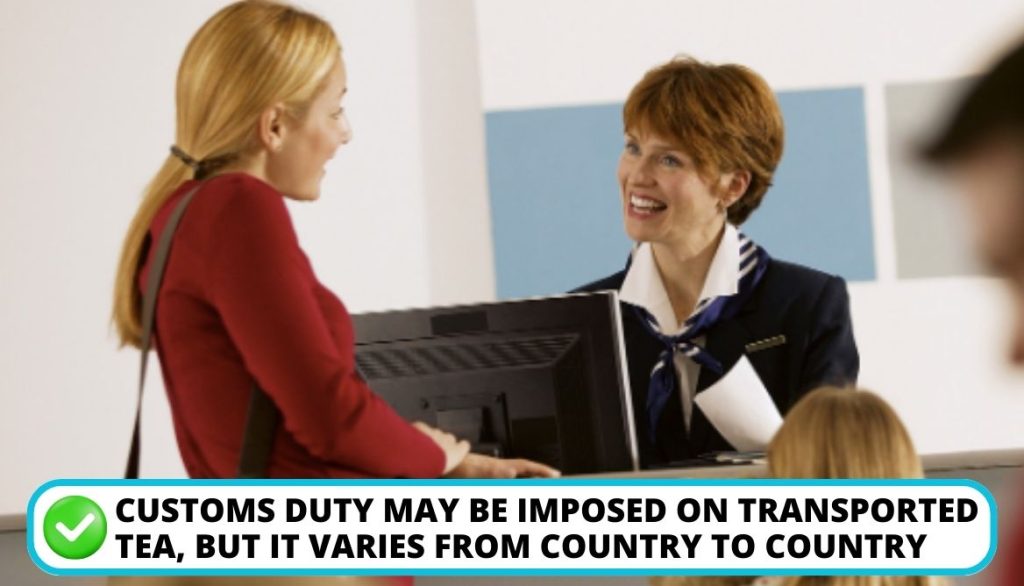 FAQ
How many tea bags can I take on a plane?
The amount of tea bags you can take with you depends on the weight of each bag. The TSA policy allows you to take a total of 12 ounces of tea in your carry-on baggage, in which you can take 3 tea bags weighing 4 ounces each or you rather take 4 tea bags weighing 3 ounces each.
Can you travel internationally with tea bags?
Yes, you can travel internationally with any type of tea either tea bags, loose-leaf tea, or liquid. However, some countries may not allow you to bring in food items like tea for security purposes so be sure to check the customs regulation of the country you are going to.
How do you store tea for travel?
The best way to store your tea when traveling is to leave the tea bag in its retail pack to maintain its unique label and content list. While your loose tea should be packed in tightly sealed containers or zip-lock bags to avoid spillage.
How long do tea bags stay fresh?
Your tea bag can stay fresh for 6 months to 12 months so far you did not remove it from its original pack from the company and this can also depend on the type of tea.
Conclusion
Carrying tea bags with you on board is not prohibited by TSA rules or any airline so far you follow the laid out rules and regulations concerning traveling with food items. Although, you will need to check your destination country if there is any law regarding tea importation before taking it with you.
You are allowed to take a total of 12 ounces of tea in your cabin luggage, while you can exceed this quantity for your checked luggage. But you need to be careful not to take too much so you do not get queried by the TSA officials at the checkpoints. Also, the best way to store your tea is to keep them in its retail condition.
What type of tea do you love drinking? Tell me your favorite in the comment section. Thanks for reading.