Happy Wayfarer is reader-supported. When you buy through links on our site, we may earn an affiliate commission.
When traveling by air for the first time, it can be difficult to know what to carry in your bag, for example, can you bring a speaker on a plane or other portable electronic device with you? To avoid being dismissed, you will endeavor to take only what is necessary while also taking the airplane regulation into account.
Today, let's discuss common airline restrictions, including whether you can carry speakers on a flight, and a thorough TSA guide of some US Airlines for 2023. So, let's begin right away!
Can You Bring a Speaker On a Plane?
Speakers are sound-enhancement equipment used for improved listening. But carrying them on a plane is debatable because there can be restrictions for various reasons. Because every nation and airline has its own rules and regulations that you must follow.
You can bring Bluetooth speakers on a plane in as much as the speaker is not too large. Also, if the speaker is powered by lithium-ion batteries, some airlines may restrict you to take it as carry-on luggage and instead require that you place it in your checked bags, while others may forbid you from taking it with you at all.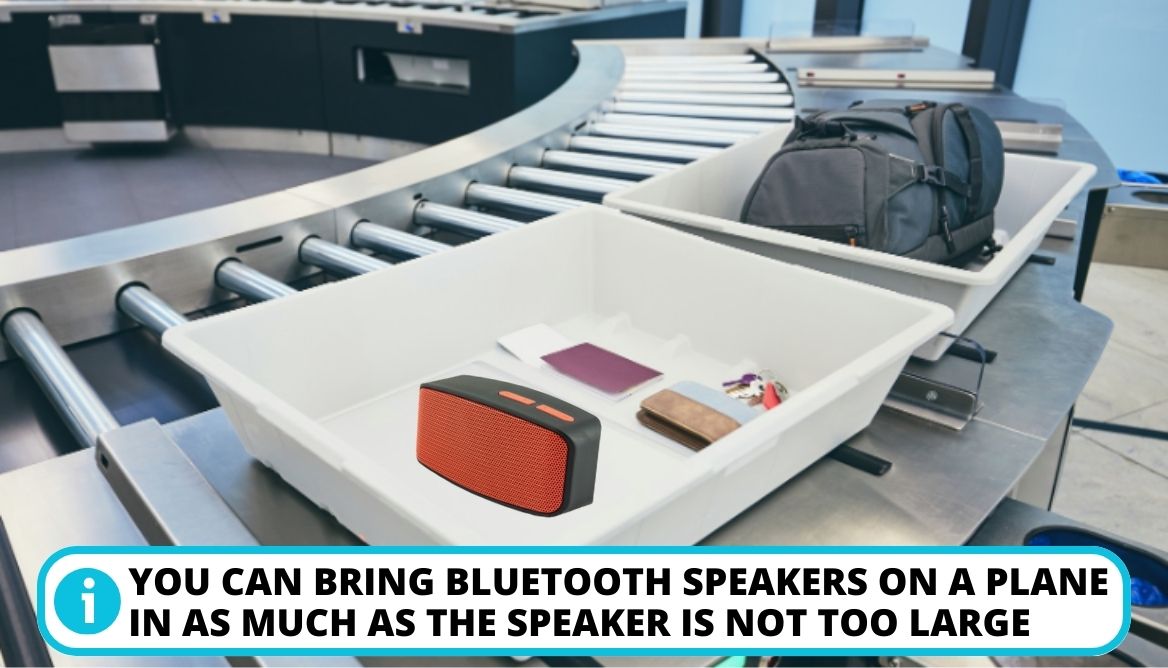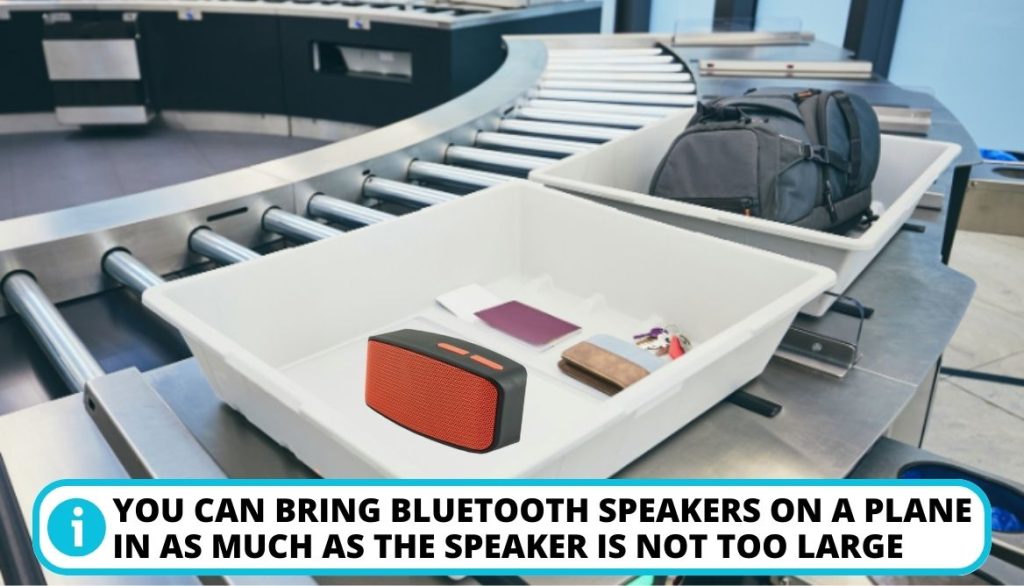 Bringing A Speaker on Domestic vs International Flights
The regulations and penalties are the same whether you are flying domestically or internationally, but they vary by nation, airline, and bag or luggage you want to keep your speaker. The TSA doesn't restrict portable devices like phones, speakers, laptops, etc so far it meets the conditions specified by your Airline.
But batteries that power these devices are regulated such as lithium-ion or metal which totally prohibited in checked baggage but permitted in hand baggage. The reason for this is that lithium-ion batteries could cause a fire risk, so they can be easily noticed and controlled by the crew onboard if an explosion happens.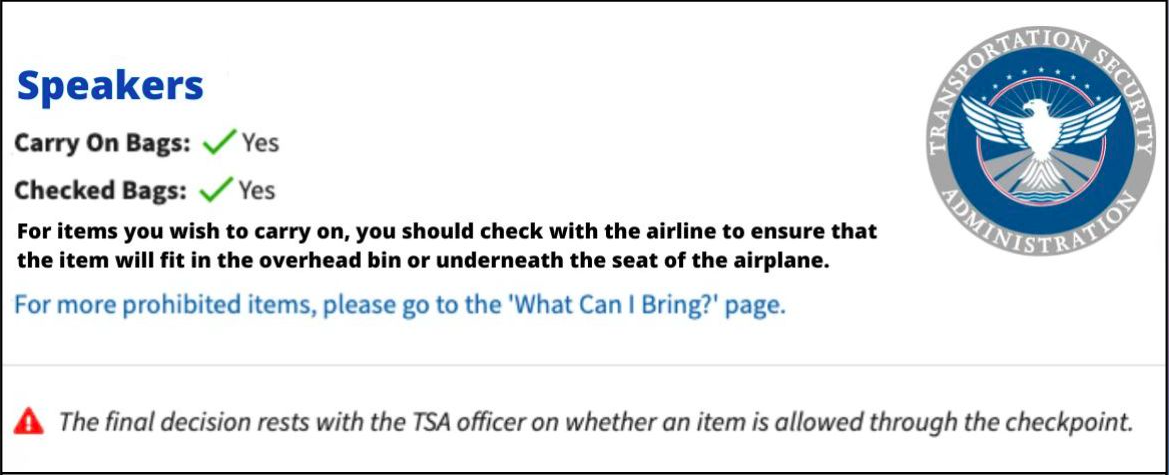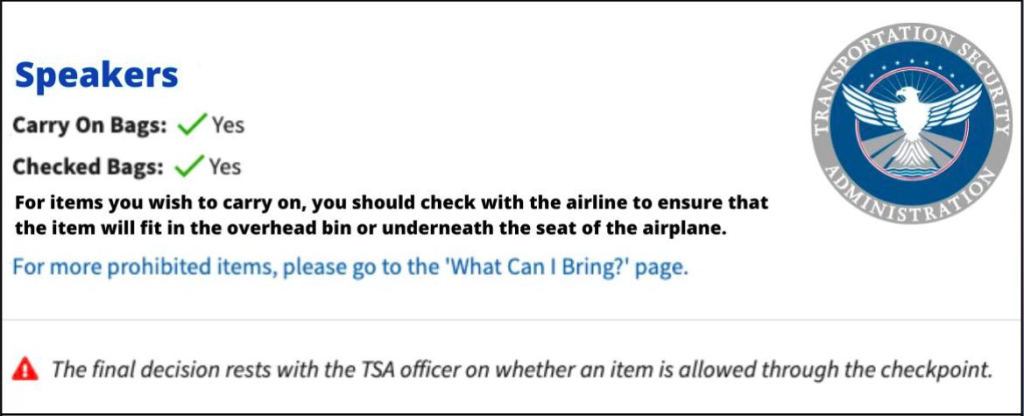 Airlines Restrictions When Bringing A Speaker On A Plane
The regulations concerning bringing a speaker to a flight on various airlines across the country, common airline restrictions on battery-powered portable speakers, and speaker size limits are detailed below according to the Transportation Security Administration guideline.
Ok, let's analyze each one separately:
1. Alaska Airlines
Most Portable speakers are allowed as carry-on luggage in Alaska Airlines in as much as they are packed in a case that is specifically made for it. The following rules also apply;
If the speaker is powered by lithium-ion batteries, it must also be easily detachable without the use of any equipment, whether you are packing it in your carry-on baggage.
The detachable battery must have a capacity of less than 100 watt-hours, and you must wrap it in plastic to prevent it from coming into touch with metals.
Alaska Airlines strongly advises against using speakers with non-removable batteries, even if they are not composed of lithium.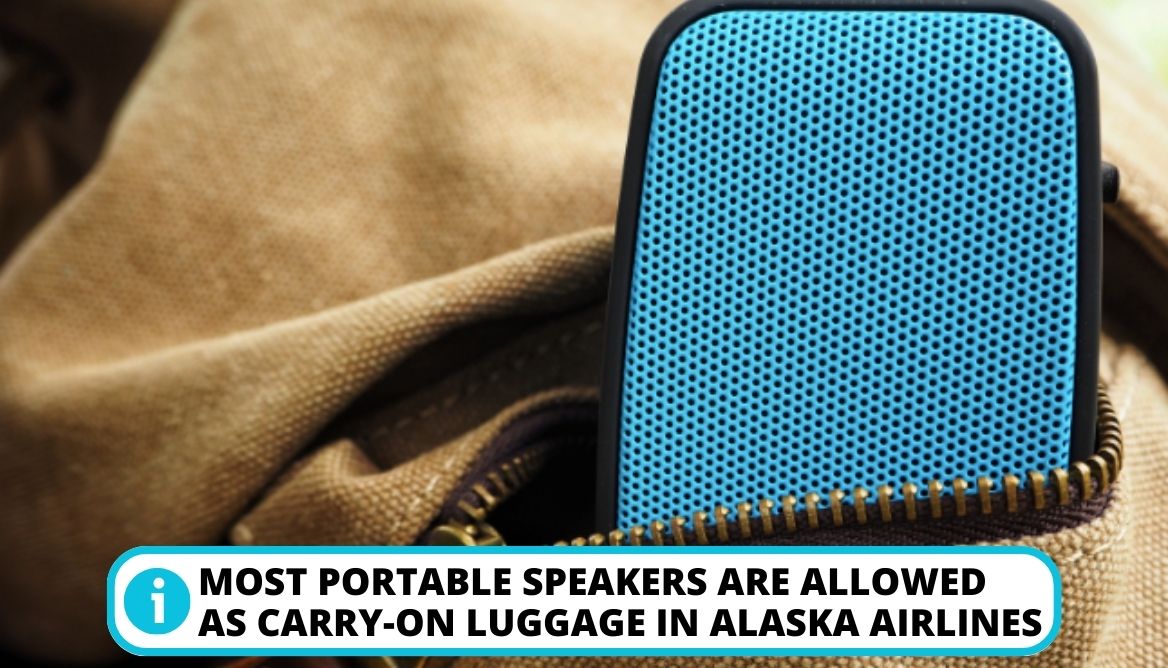 2. Allegiant Air
Allegiant Air allows portable electronic devices like cell phones, AirPods, Bluetooth speakers, wireless speakers, and others with an overall dimension of 62 inches and they should weigh 40 lbs at a maximum.
You are also allowed to travel with speakers using lithium-ion batteries with 100 watts per hour.
The batteries must be must removed from devices and should be placed in the cabin using appropriate packaging.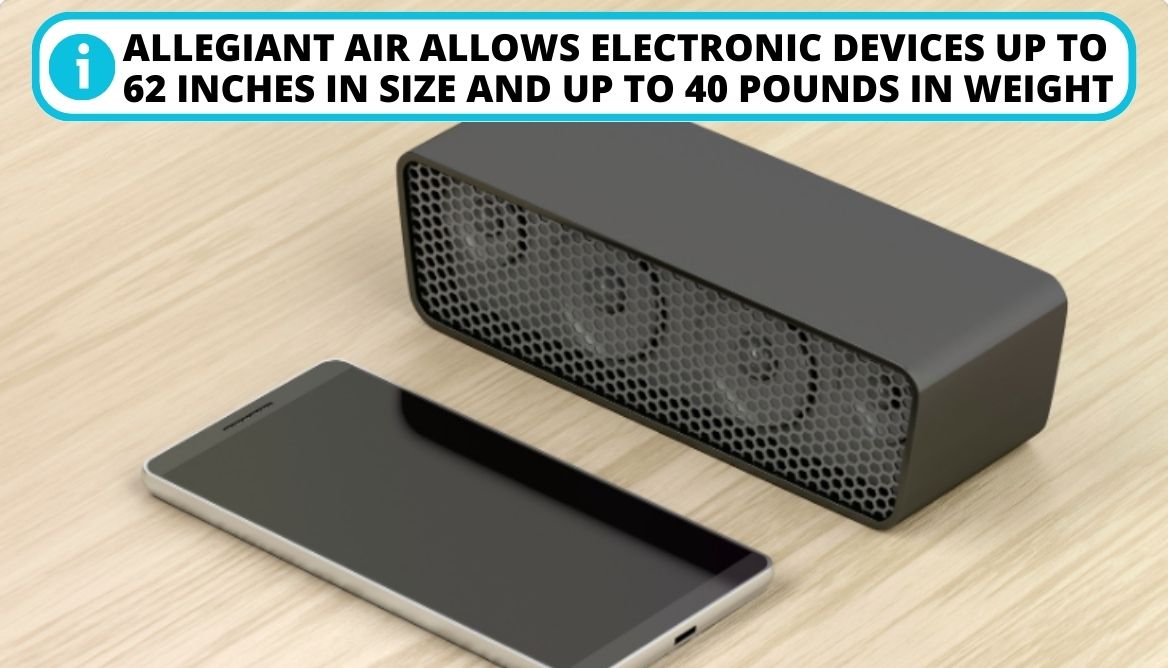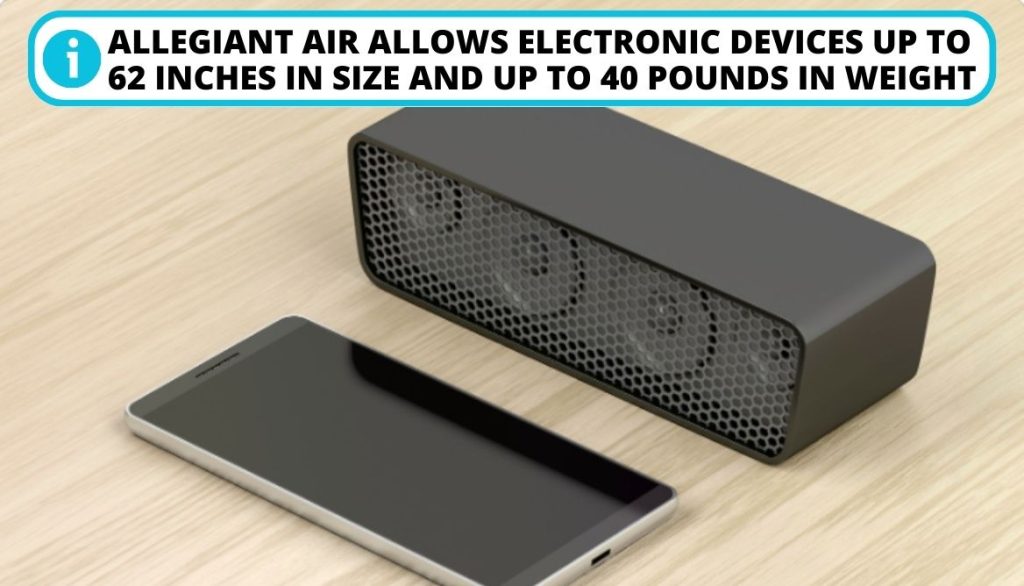 3. American Airlines
There are rules applying to unique items like speakers on a plane on American Airlines but they are fewer restrictions compared to Alaska Airlines. The rules for your speaker on American Airlines are;
For domestic flights, you keep two or more speakers in your checked-in luggage with a combined weight of no more than 100 pounds and a maximum speaker size of 320 cm or 126 in.
Regarding international flights, the entire dimension of your suitcase must not be more than 320 cm and the length of any side of your speaker should not exceed 43 inches or 110 cm.
If you wish to carry your Bluetooth speaker on a plane then it should be able to fit in the available space in the aircraft and it should be 22 in x 14 in x 9 in or 56 cm x 36 cm x 23 cm in dimension.
You are allowed to travel with a speaker powered by a lithium-ion battery but the power should not exceed 100 – 160 Watts per hour and it could be two or more spares in your carry-on bag.
If you are putting your Bluetooth speaker in your checked bag, please remove the lithium-ion batteries from your portable speaker and place them in your hand luggage in separate plastic bags.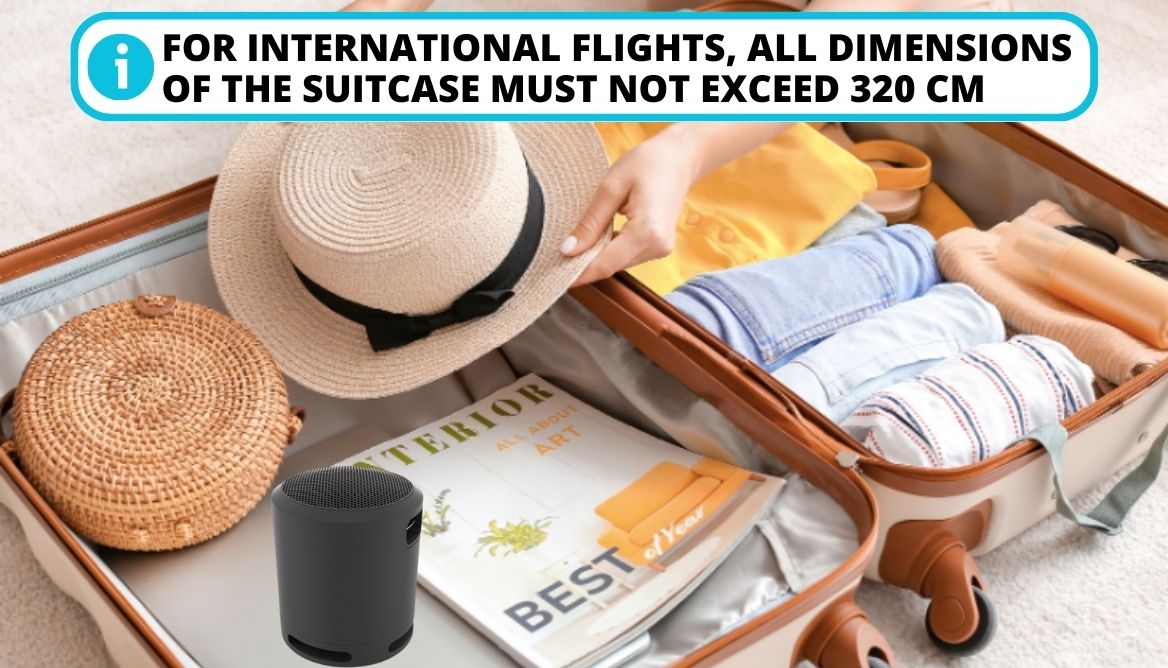 4. Delta Airlines
Delta Airlines allows you to bring speakers as checked-in luggage with a weight of not more than 50 lbs. Other rules that apply include;
The speaker set should have a maximum length of 62 in.
You are allowed to add an extra 20 lbs to the existing 50 lbs for your speaker weight per bag if you are traveling using their business or first-class accommodations.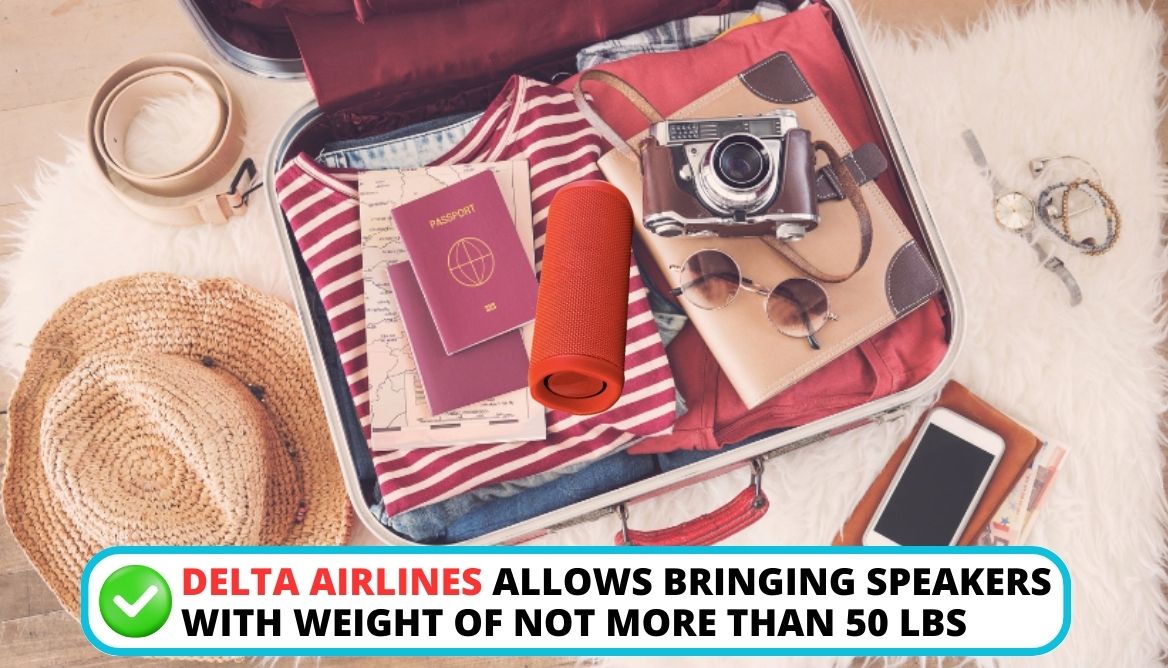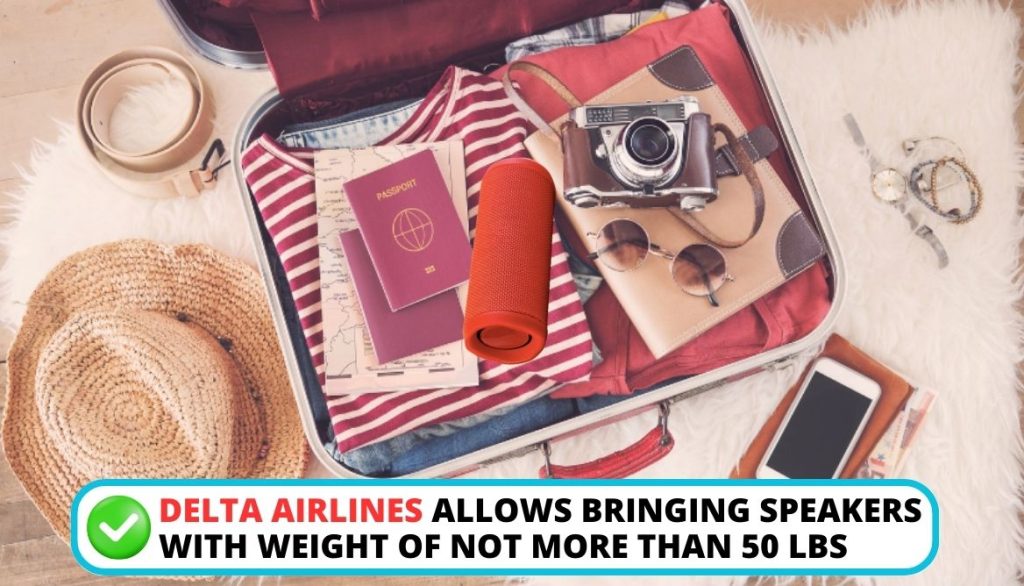 5. Frontier Airlines
Frontier Airlines do not limit you from bringing video and audio devices like Bluetooth speakers and normal speakers on a plane but you need to take note of the following rules;
Your speaker's battery should be installed in it when you pack them in your checked baggage.
As for hand luggage, you can carry no more than two loose lithium batteries with you in zip-log plastic packages or retail packaging from the company.
Also, the dimension of your Bluetooth speaker should not exceed 24 inches in height, 10 inches wide, and 16 inches in length, with a weight of not more than 35 lbs per carry-on baggage. you are allowed to fit your Bluetooth speaker of the above size in your overhead compartment or under the seat using a backpack, suitcase, or wheel bag for better packaging.
if you intend to pack your speaker in your checked bags then the acceptable weight is 40 lbs with a dimension that must not exceed 62 linear inches.
A lithium-ion battery is permitted but the battery's weight must not be more than 2 grams or it could be less per battery.
If you are putting the lithium-ion battery in your checked baggage, then the battery weight must be 8 grams or less per battery and you could take two with you either as a carry-on suitcase or in your checked bag.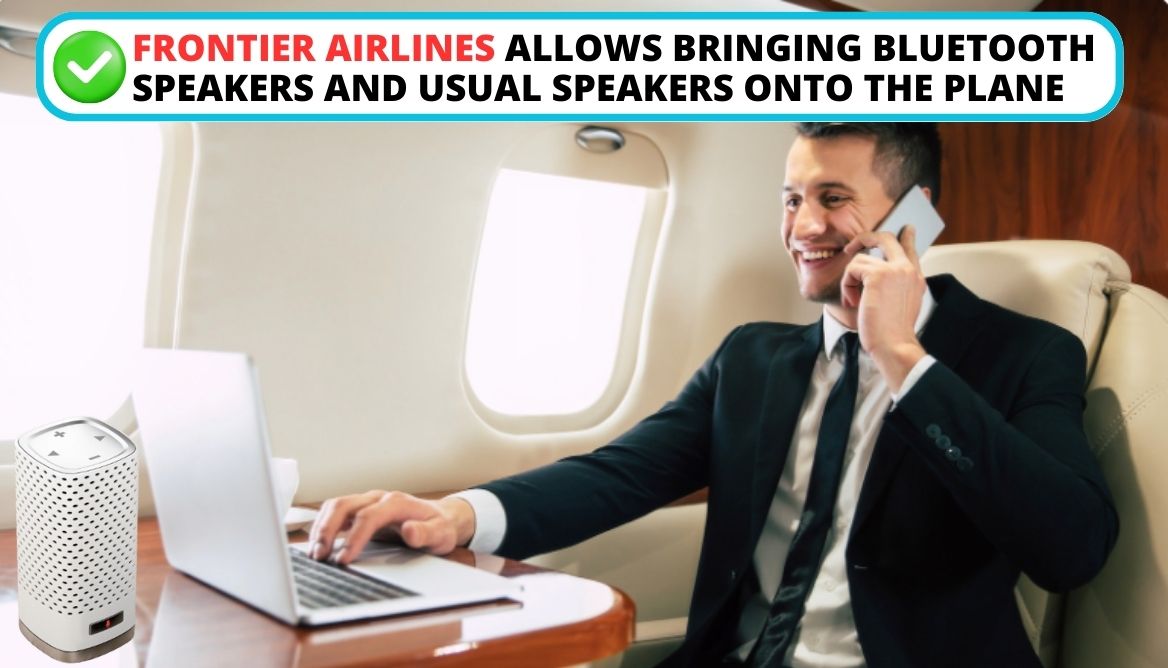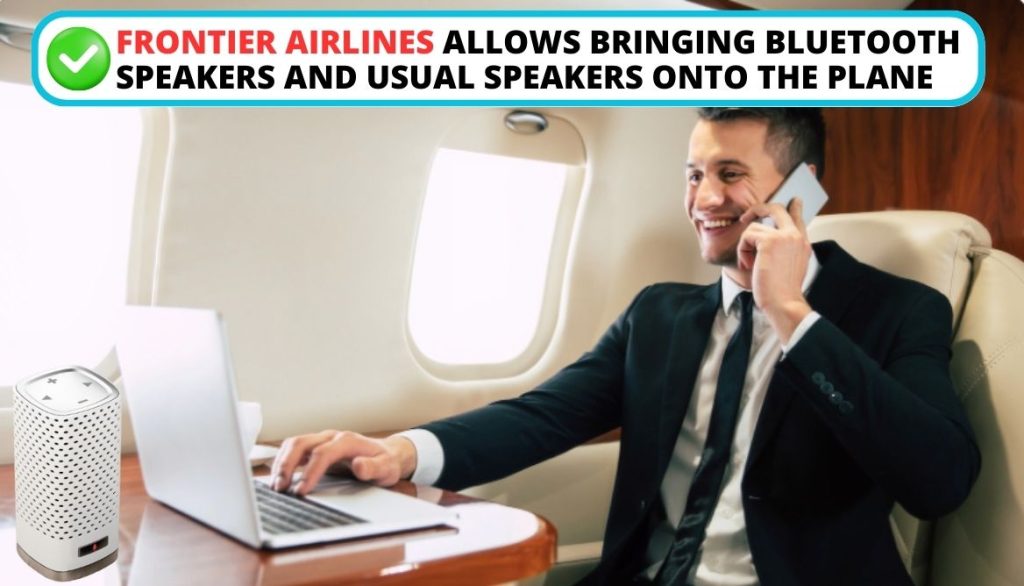 6. JetBlue Airways
Only portable devices smartphones, cell phones tablets, and other similarly sized devices are allowed on Jet Blues but if you are so sure that your Bluetooth speaker or wireless speaker is the size of the acceptable devices mentioned then rest assured it will be permitted on board.
Your Bluetooth speaker size should not be more than 17 inches long, 13 inches wide, and 8 inches high.
If you are putting it under your seat but the dimension can be 22″ L (55.88 cm) x 14″ W (35.56 cm) x 9″ H (22.86 cm) you are putting it in the overhead bin including the case you packed it in.
There is no weight restriction for carry-on bags on JetBlue Airlines but be sure your Bluetooth speaker can be lifted into the overhead bin without assistance if it does not fit beneath the seat.
You are allowed to transport in checked baggage your portable devices but you should put them off and protect them from accidental activation.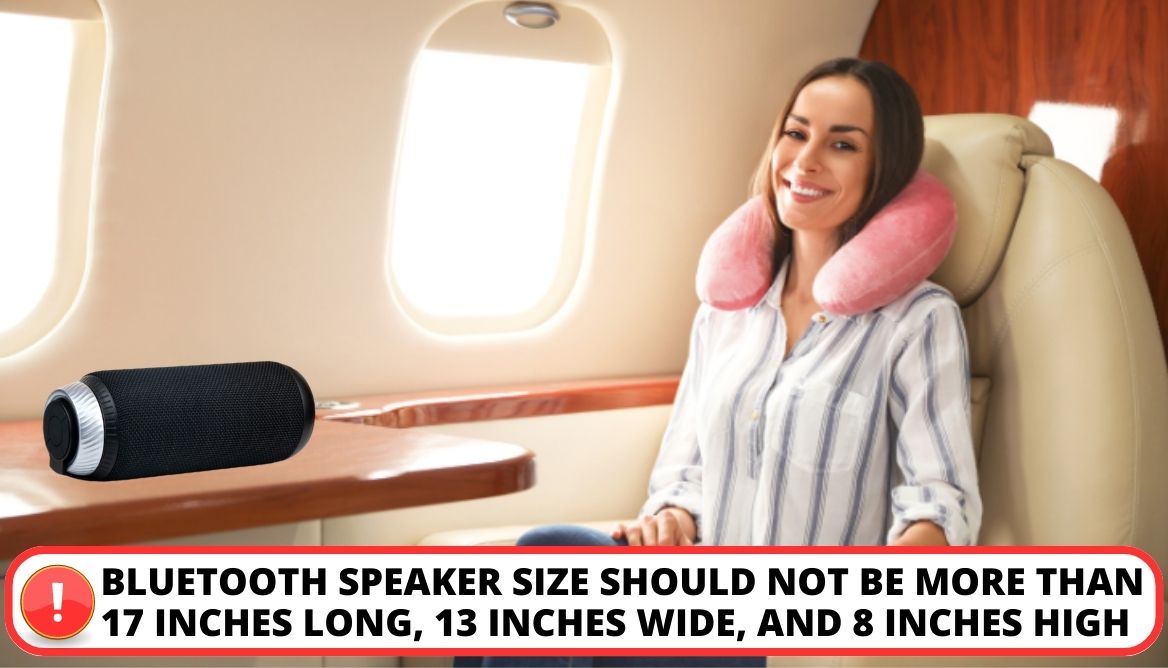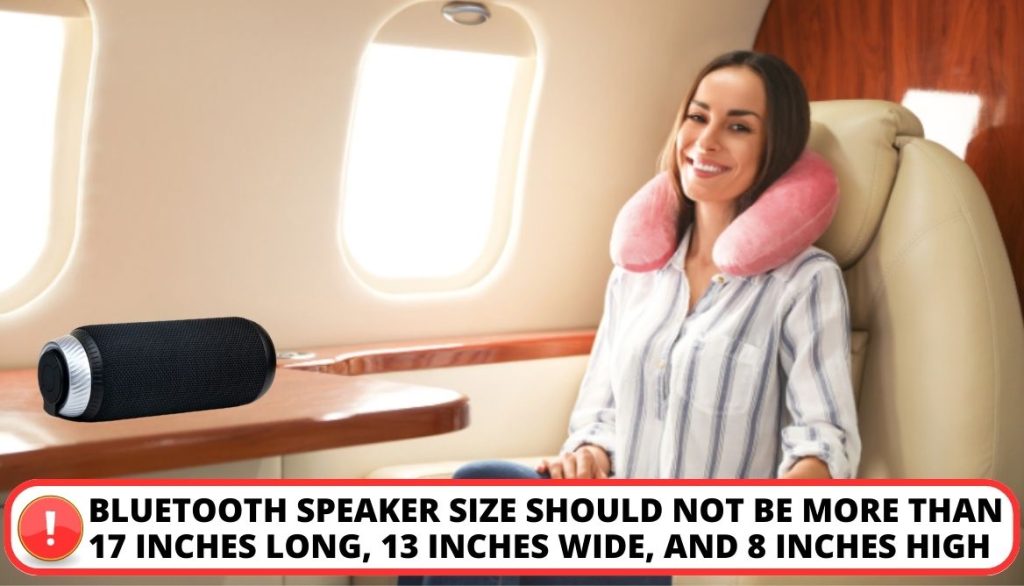 7. Southwest Airlines
Passengers are allowed to bring personal items and electronic portable devices like a purse, portable Bluetooth speaker, laptop, etc on board but you must put all devices in its case. You are also allowed to put 20 extra batteries or chargers with you. Other policies are;
You should pack all your Spare batteries in your carry-on baggage. Defective or damaged Lithium-ion battery is highly prohibited for safety reasons.
If you are putting your Bluetooth speaker with other belongings in your checked bag, then your bag should not weigh more than 50 pounds and its dimension should not exceed 62 inches in size.
As for our carry-on bag, the size should not be longer than 24 inches, 16 inches wide, and 10 inches high to be able to fit in the overhead cabin or under the seat. Any of your carry-on bags that exceed this dimension will be checked.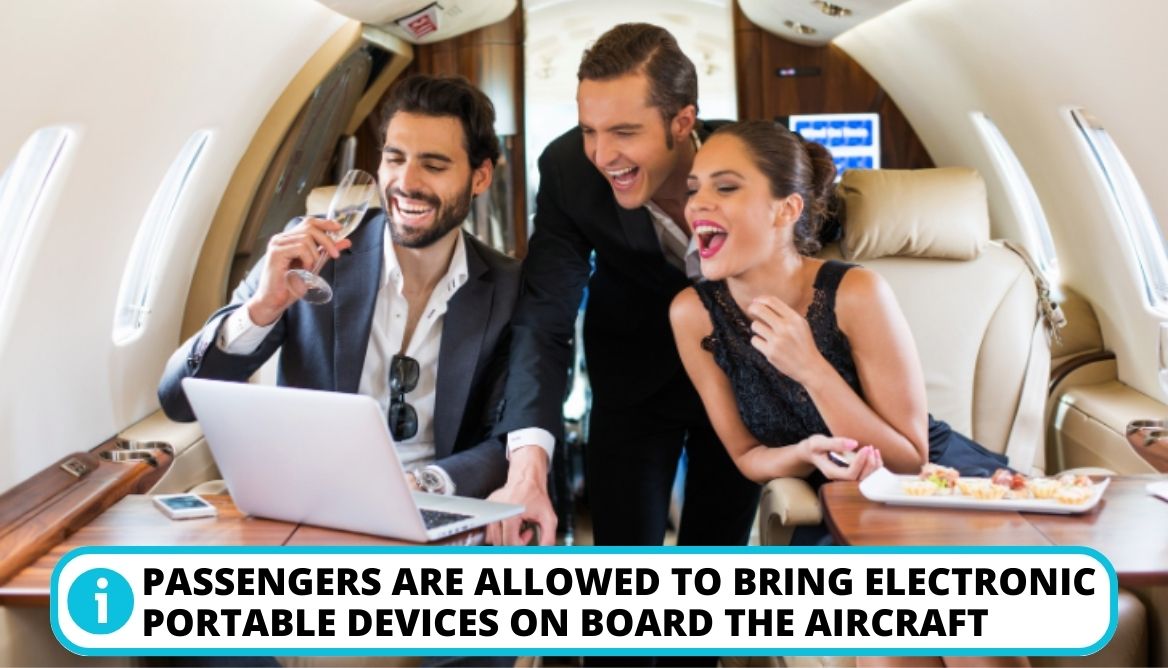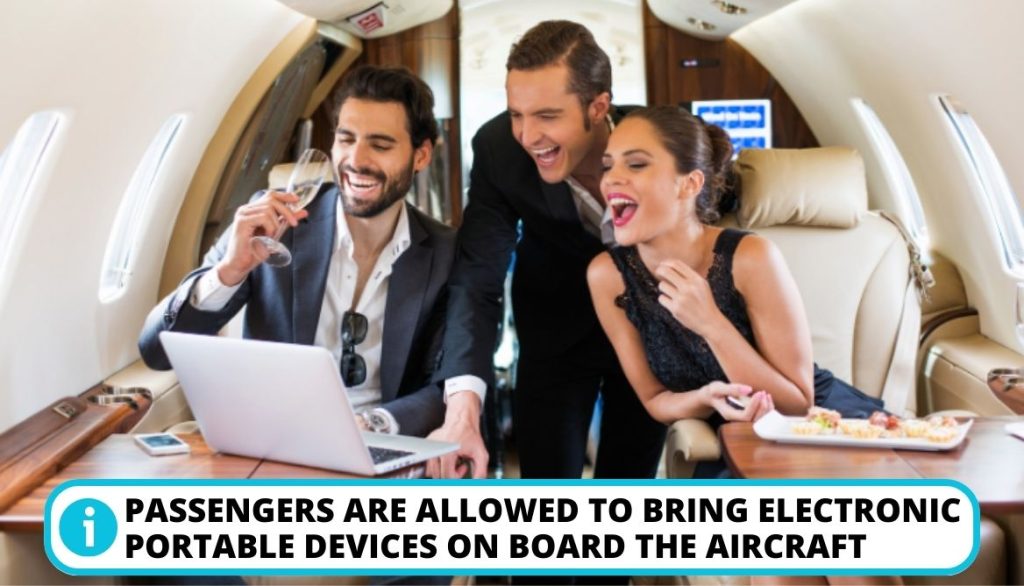 8. Spirit Airlines
Spirit Airline allows you to take a Portable bluetooth speaker with a lithium-ion battery that must not exceed 100 watts per hour with a content of 2 grams but you are not allowed to bring any spare lithium batteries with you. You should also take note of the following:
Your speaker dimensions should not be more than 18 x 14 x 8 inches for you to carry it on board including the case with its wheels and handles.
The maximum weight your speaker should weigh with or without other items in your checked bag should not exceed 18.1 kilogram or 40 lbs with a dimension of 158cm.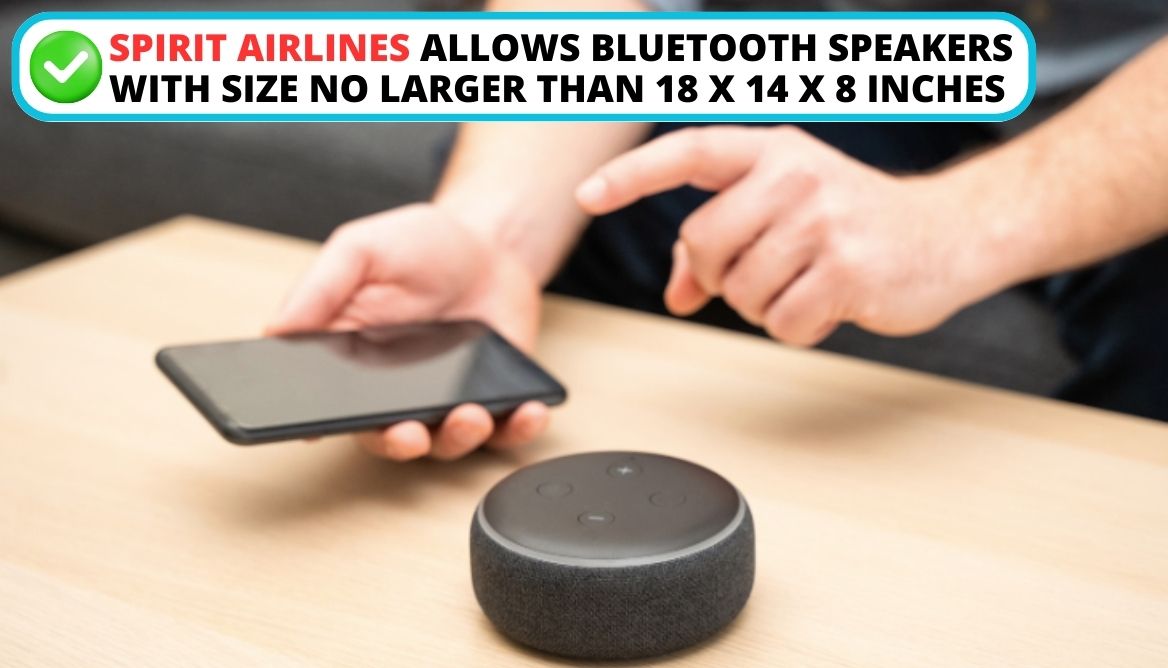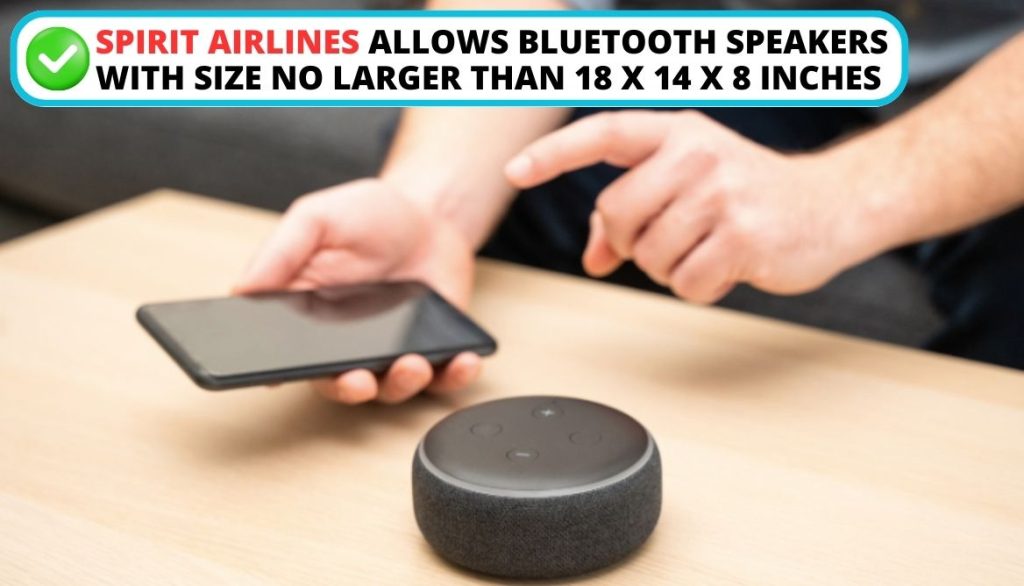 9. United Airlines
United Airlines' policies regarding Portable speakers are similar to Spirit Airlines except that you are not allowed to travel with Portable bluetooth speakers with non-removable batteries.
You are also allowed to bring spare batteries with you in hand baggage.
Your speaker's size should not be longer than 22 cm, 25 cm wide, and 43 cm high including its case.
Your carry-on baggage containing your portable speaker should be 9 in long, 14 in wide, and 22 in long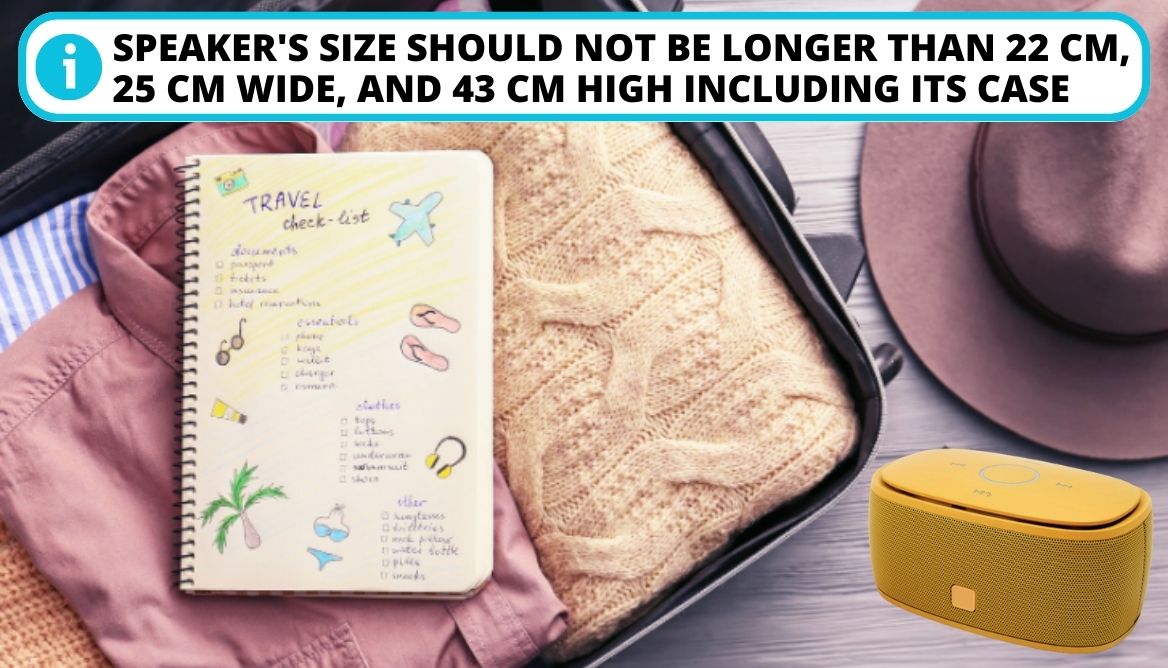 Note: All your Bags either hand baggage or checked luggage should not exceed these limits specified by the Airlines you are using as there will have an additional charge for each overweight and oversized bag.
All bags weighing 100 pounds or more are not accepted by most Airlines in the US. Additionally, bags in excess of 110 linear inches will not be accepted. Spirit Airlines does not accept bags that exceed 100 pounds (45 kg) or bags with dimensions more than 80 linear inches (203 cm).
Bringing a Speaker on a Plane In a Carry-On and Checked Luggage
As we have enumerated above concerning each airline, you can take your speaker with you on the plane following the specified size and dimension stated by your Airlines and TSA regulations.
The table below shows different types of speakers allowed on planes either in your carry-on baggage or checked bags.
| | | |
| --- | --- | --- |
| | | |
| Wireless or smart speakers: | | |
| | | |
| | May not fit as carry-on luggage | |
| | | |
| | | |
| Dolby atmosphere speaker: | May not fit as carry-on luggage | |
| | | |
| | | |
| | | |
| | May not fit as carry-on luggage | Maybe be too long for Airline approval |
| | | |
| | May not fit as carry-on luggage | Maybe be too long for Airline approval |
Tips for Safe Travel with Bluetooth Speakers
Traveling with a speaker on a plane with you might be necessary if you have a tangible occasion you want to use them for, making it indispensable. But here are a few tips that can help you have a stress-free journey.
Carry portable speakers that do not exceed the dimension and size specified by your Airline for both your carry-on bags and check-in luggage.
Put off your speaker and remove the batteries from your speakers on a plane.
Do not fully charge the speaker you are keeping in your checked baggage.
Pack your speaker's batteries in plastic bags and prevent them from coming in contact with metallic objects because lithium-ion batteries pose risks of explosion in aircraft when not properly packed.
Lastly, always check your Airline website for recent updates on permitted and restricted items including charges for extra items of luggage.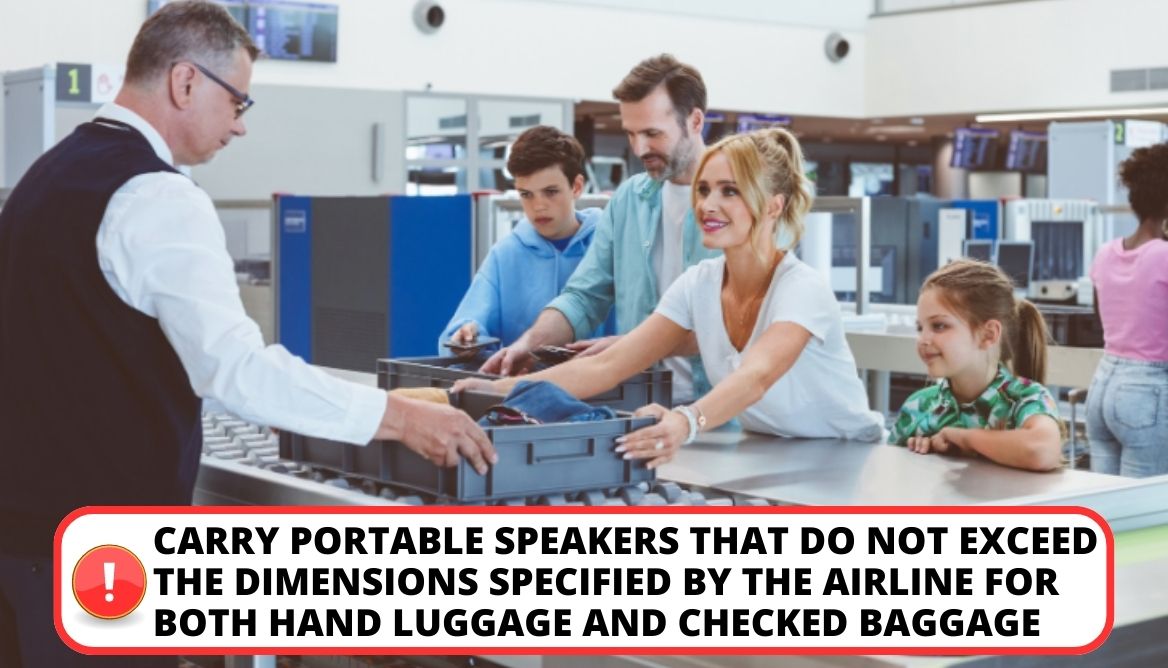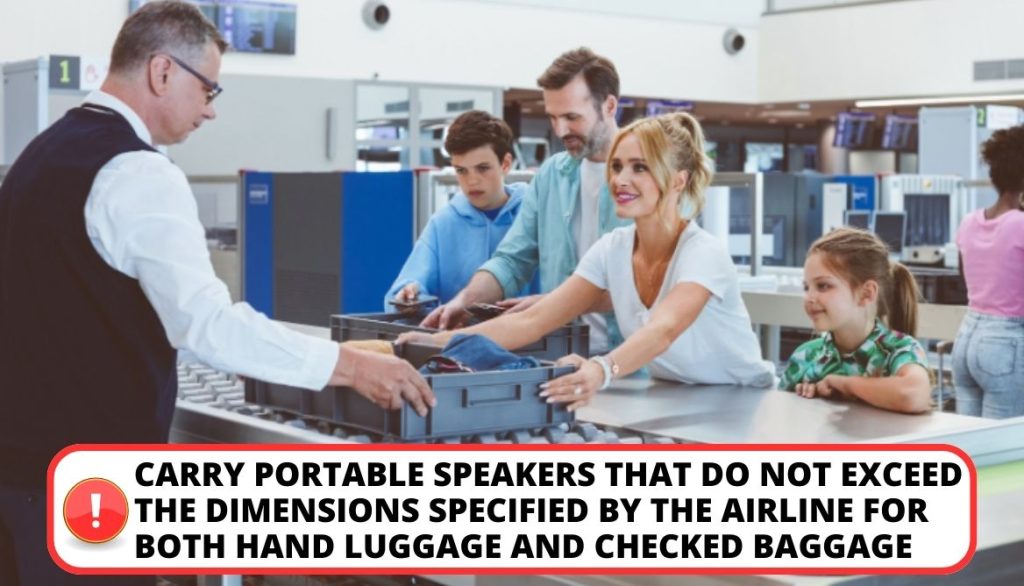 Why Not Use a Speaker During the Flight?
Although speakers are allowed on planes, most Airlines will restrict you from using your speakers during flights, not because of their own interest but to maintain a serene and conducive environment for other passengers.
FAQ
Can I carry a sound bar on international flights?
According to TSA rules, there is no specific speaker prohibited so far it can fit in the aircraft. Soundbars are very long than the acceptable dimension accepted by most Airlines which may not be suitable for Air travel.
Are AirPods allowed on planes?
Yes, AirPods are portable electronic devices that are permitted on board according to the Federal Aviation Administration policy in 2013.
Do Bose speakers have lithium batteries?
Yes, Bose speakers are mini speakers powered by rechargeable lithium-ion batteries.
Can I take the speaker in the cabin luggage?
Yes, you can keep your speaker in the cabin luggage so far it can enter either the overhead bin or under your seat. Always check your airline's bag size and dimension specification before taking your speaker with you on board so it can conveniently fit in the cabin.
Can I bring a Large Speaker On a Plane?
Yes, You can bring large speakers on a plane as a checked item but not as a carry-on item because their size and weight might be too large to fit in the overhead compartment or under the seat. Note that if your speaker's weight is more than 100 pounds, then it would not be allowed by any Airline.
If I Can Bring My Speaker As Carry-on Luggage, Can I Use It On The Plane?
No, You can not use your speaker on the plane. Using your speaker on the plane will cause disturbance to other passengers.
Conclusion
There are no issues with taking a speaker on a plane, however, each airline has put restrictions in place that are specific. If you wish to bring a speaker on the airline as hand luggage, you need to be aware of where it will fit, such as under a seat or in the overhead compartment.
The standard size of the portable speaker that can fit in a carry-on bag should be 22 inches in length, 14 inches in breadth, and a height of 8 inches. The speaker's battery must be considered if it is your checked luggage, but often lithium-ion batteries are allowed following safety precautions.
Have you ever taken a speaker with you on Air travel? Tell us about your experience with the airport security and safety officer. Thanks for your comment.