Happy Wayfarer is reader-supported. When you buy through links on our site, we may earn an affiliate commission.
The Bethany Beach vs Rehoboth Beach debate has been ongoing for a long time now. I'll tell you from my own experience choosing between the two can be problematic since each has something unique.
But don't worry! Keep reading and I'll tell you what I loved about each trend and what disappointed me. I'll also give you tips on what to do in each place, what food to eat, and where to stay to get the most out of your trip.
So without further ado, let's get to the comparison!
Bethany Beach vs Rehoboth Beach Comparison Chart
I'd like to start with a quick comparison to give you a first impression of Bethany Beach vs Rehoboth Beach. Check out the table below:
| | | |
| --- | --- | --- |
| | | |
| | | |
| | | |
| | | |
| | Beautiful, less crowded beaches | |
| | | Iconic, vibrant boardwalk |
| | | |
| | Limited dining options with some local charm | Abundant restaurants with a more diverse cuisine |
| | | |
| | Vacation rentals,cottages, and resorts | Hotels, condos, and vacation rentals |
| | | Extensive shopping with boutique stores, opportunities |
| | Seasonal events and festivals | Year-round events and cultural activities |
| | Easier to navigate by car | More congested traffic during peak season |
Bethany Beach Pros and Cons
Picture yourself standing on the sandy shores of Bethany Beach, Delaware, where the beautiful views of the ocean waves wash your worries away. But, like any other place, there are advantages and disadvantages. Let's look at the pros and cons: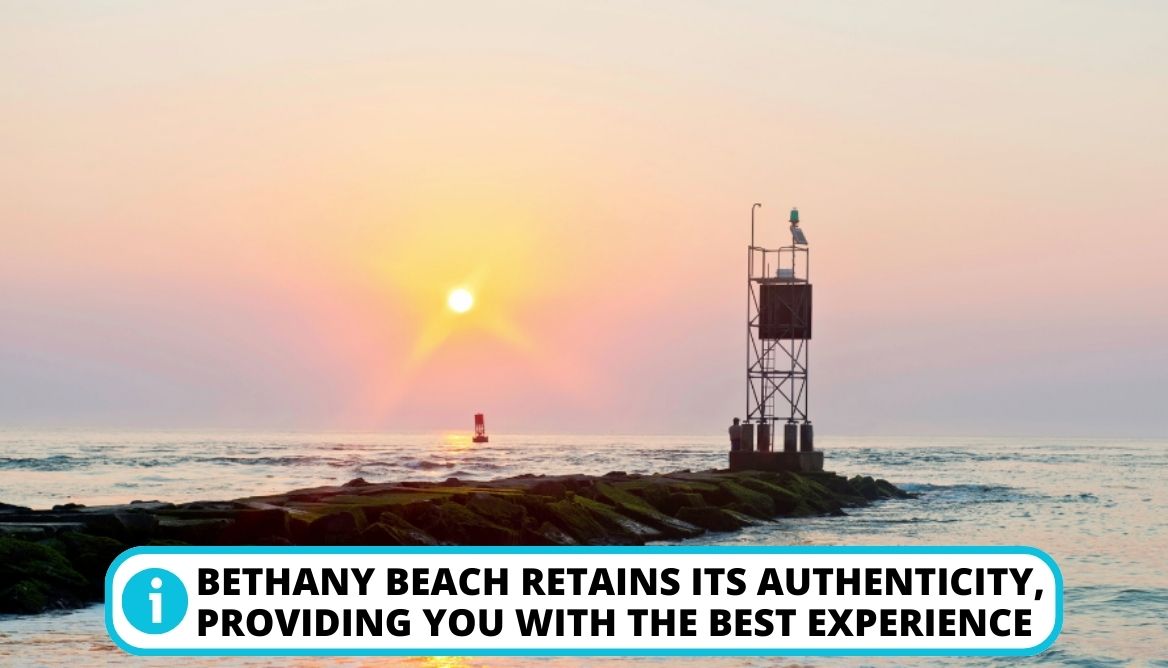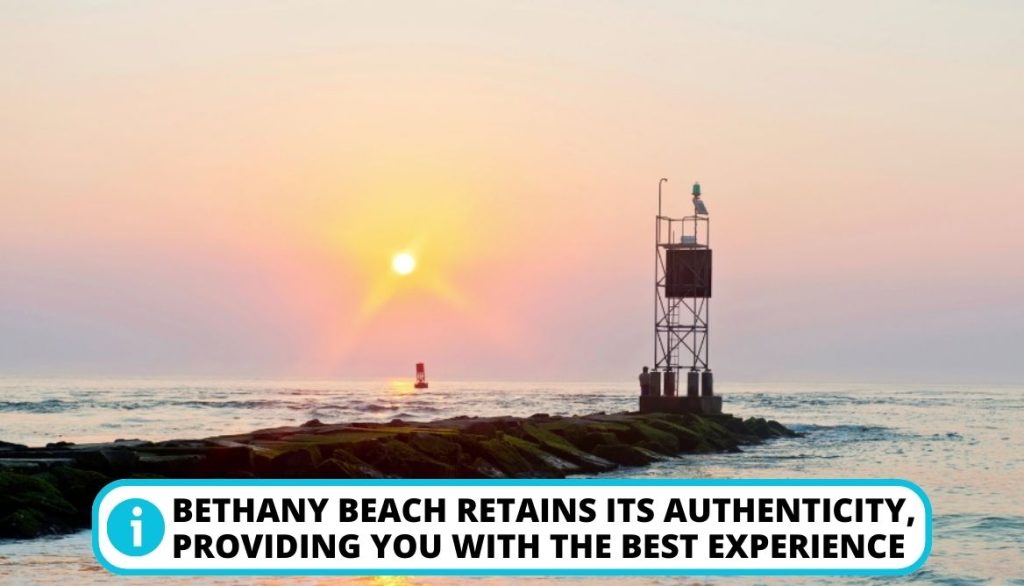 Pros
Basking in the gentle sun on Bethany Beach's pristine shores, you can't help but be amazed by its serene, family-friendly vibe. Let's look at some of the pros:
It has Relaxing Beach Vibes: At Bethany Beach, I experienced a tranquil vacation where you can relax on the serene shores without the noisy crowds.
Perfect for Families: It's the kind of place where you can picture building sandcastles with the kids and enjoy free summer concerts, making it a great choice for families.
It Gives you a Small-Town Charm: Imagine wandering along the charming boardwalk, exploring unique shops, and feeling like a part of the welcoming community.
Authentic Coastal Experience: Unlike some touristy hotspots, Bethany Beach retains its authenticity, providing you with the best experience.
It has a Natural Beauty: For those who love the great outdoors, the area is a treasure trove of natural beauty, with nearby state parks and wildlife areas.
Cons
But amid the serenity and small-town allure, Bethany Beach can occasionally have some drawbacks, especially for those who crave bustling nightlife and year-round action. Let's dive into some of them.
It has a Quiet Nightlife: If you're seeking a vibrant nightlife scene, you might find Bethany Beach a bit too quiet after the sun sets.
It's Quiet during the off-season: In the off-season, the beach town can get quite peaceful, which is great for some, but others might miss the buzz.
Limited Parking Spots: Finding a parking spot during the peak season can be a real challenge, and parking rules are seriously enforced.
It's relatively expensive: The coastal charm comes with a price – the cost of living, especially housing, can be on the steep side.
Unpredictable Weather Patterns: Being on the coast means occasional weather challenges, so keep an eye on the forecast and be prepared for storms and flooding.
Watch the video below to see what to expect in Bethany Beach.
Rehoboth Beach Pros and Cons
Located on the Delaware coast, Rehoboth Beach offers a unique escape with its beautiful views and lively boardwalk. Let's dive into the pros and cons.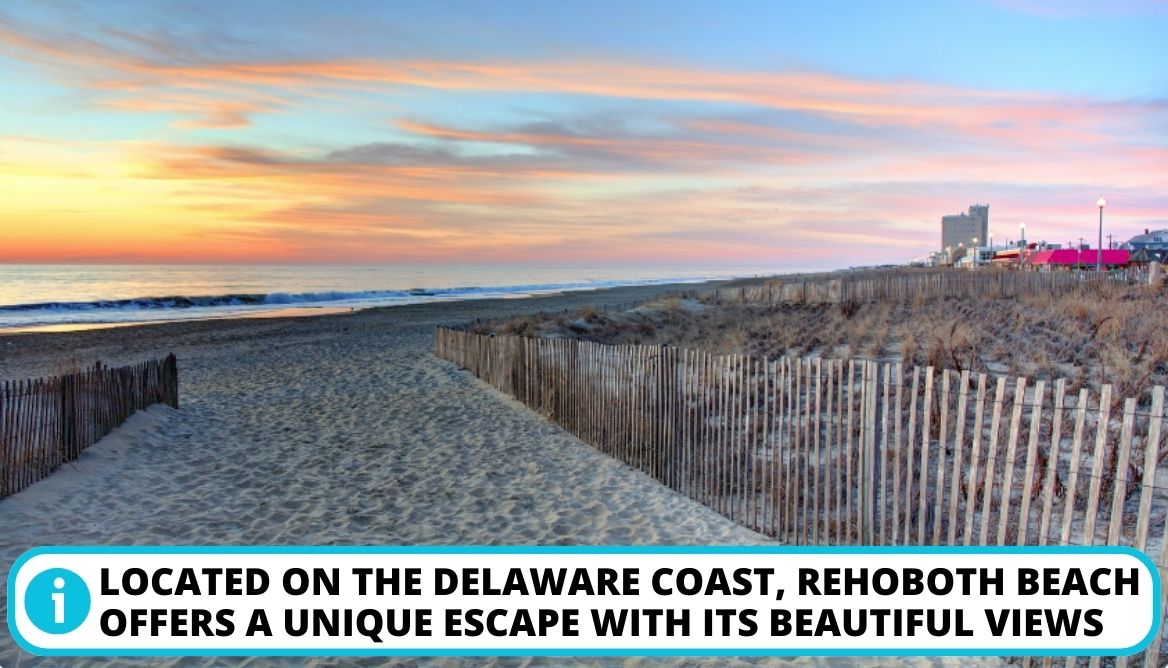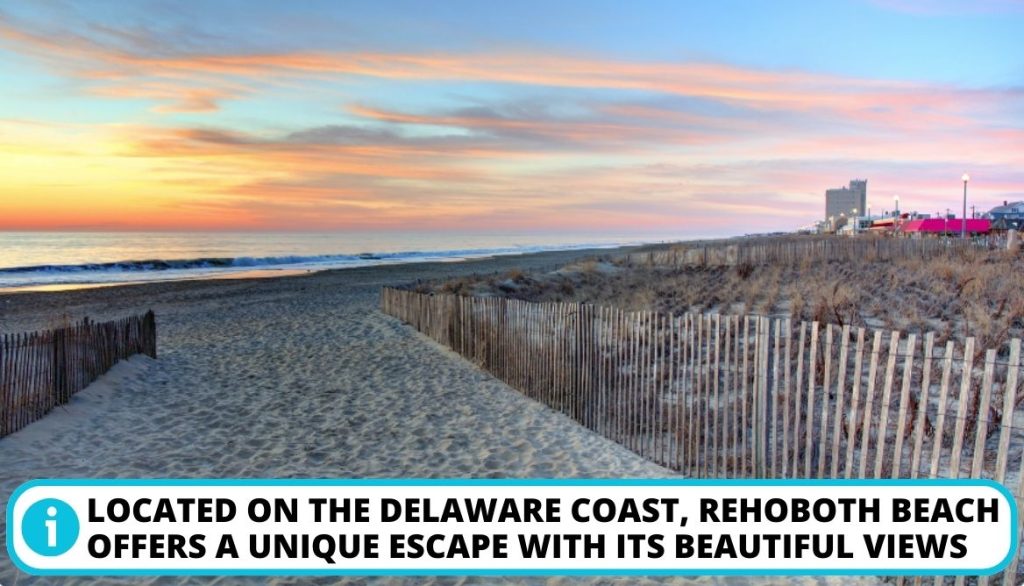 Pros
Imagine strolling along Rehoboth Beach's beautiful shores, feeling the sun on your skin – it's the stuff of dreams for many. Now, let's uncover the pros of this coastal gem.
It Has Gorgeous Beach Vibes: Imagine yourself soaking in the sun on the sandy shores of Rehoboth Beach. The ocean breeze and gentle waves create a serene atmosphere.
A Great Place for Family Fun: It's like a mini paradise for families. The boardwalk and amusement park make it perfect for creating unforgettable memories with your loved ones.
Retail Therapy: Whether you're into high-end brands or prefer unique, locally crafted items, you'll find shopping opportunities that suit your style.
It's a Foodie Paradise: Rehoboth Beach boasts a culinary scene that'll satisfy your taste buds. From fresh seafood to diverse cuisines, it's a food lover's dream.
Has Year-round Entertainment: There's always something happening, from jazz festivals to Halloween celebrations. You'll never get bored in Rehoboth Beach.
Cons
Yet, even in this coastal paradise, not everything is always smooth sailing. Rehoboth Beach, like any destination, has its share of cloudy moments. Let's explore some of the cons you might encounter.
High crowds during the Summer: Picture crowded streets and packed beaches during the summer. If you seek solitude, this might not be your ideal spot in peak season.
It's an expensive Lifestyle: Living here can be a bit heavy on the wallet. Be prepared for higher costs, particularly for housing and dining out.
It has unpredictable weather: Mother Nature sometimes throws surprises, including unexpected storms. Keep an eye on the weather forecast.
Heavy Traffic: Navigating through town can be frustrating when traffic piles up, especially during tourist rushes.
Limited Public Transit: Public transportation options are a bit scarce, so having your own wheels can be a lifesaver.
Bethany Beach vs Rehoboth Beach: Detailed Comparison
Bethany Beach and Rehoboth Beach, both located in Delaware, are popular coastal destinations with unique characteristics. Here's my detailed comparison of these two beach towns to help you decide which one suits your preferences:
1. History & Culture
Before we dive into the details, let's compare the history and culture of Bethany Beach vs Rehoboth Beach.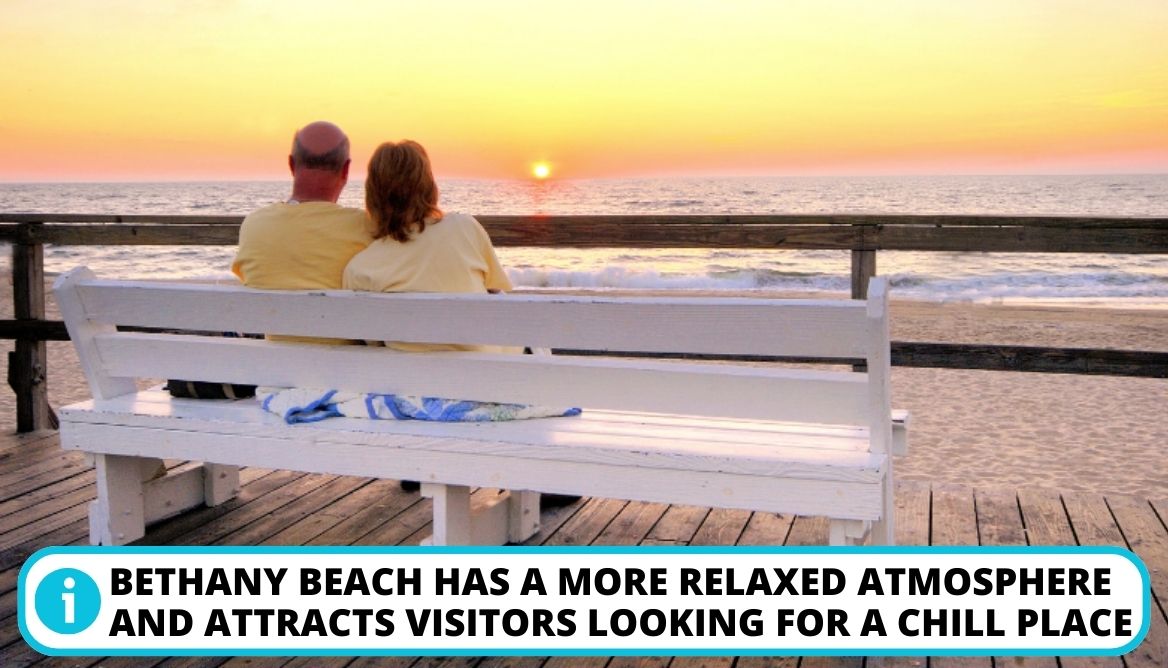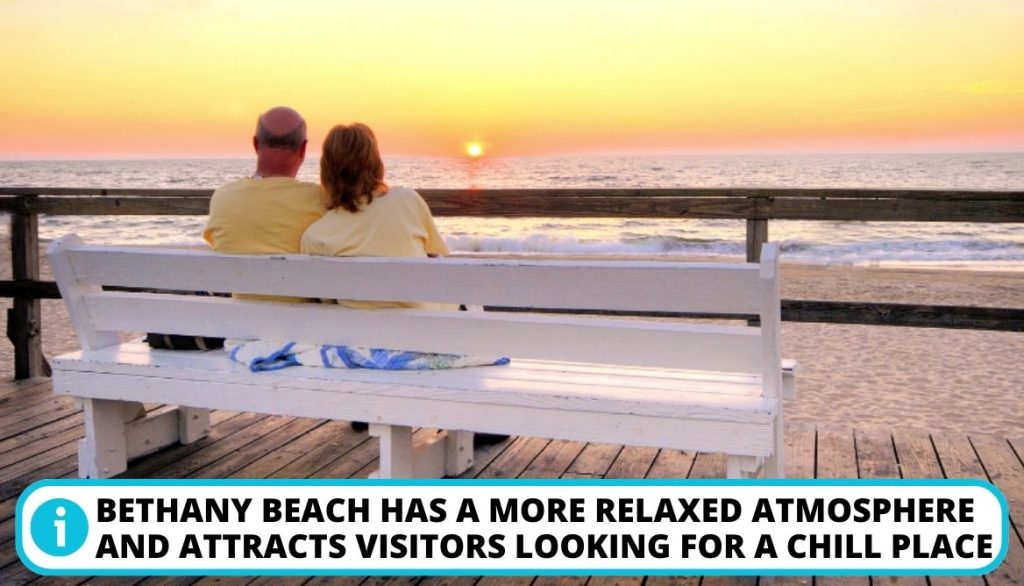 Year Founded: Bethany Beach was founded in 1901 and is well known for its peaceful and family-friendly destination. It has a well-preserved atmosphere which makes it a great place for those seeking tranquility. Compared to Bethany Beach, Rehoboth was founded in 1873 and it's a lively town that became a resort with thriving art scenes.
Culture: Bethany Beach has a more relaxed atmosphere and attracts visitors looking for a chill place. Rehoboth Beach gives you a more artistic atmosphere with many art galleries and cultural events.
Architecture: Both of these towns offer a blend of classic beach cottages and more modern structures. But, Rehoboth Beach steps ahead with its delightful downtown area, graced by historic buildings and lovely tree-lined streets.
Community Involvement: Both towns genuinely celebrate local events and festivals. Bethany Beach shines with its family-friendly gatherings, such as outdoor movies and concerts. Rehoboth Beach offers an array of events, from film festivals to art shows, to cater to various tastes and interests.
2. Accessibility
Accessibility is a crucial factor when choosing a vacation spot. Let's check out how Bethany Beach vs Rehoboth Beach compare in terms of accessibility.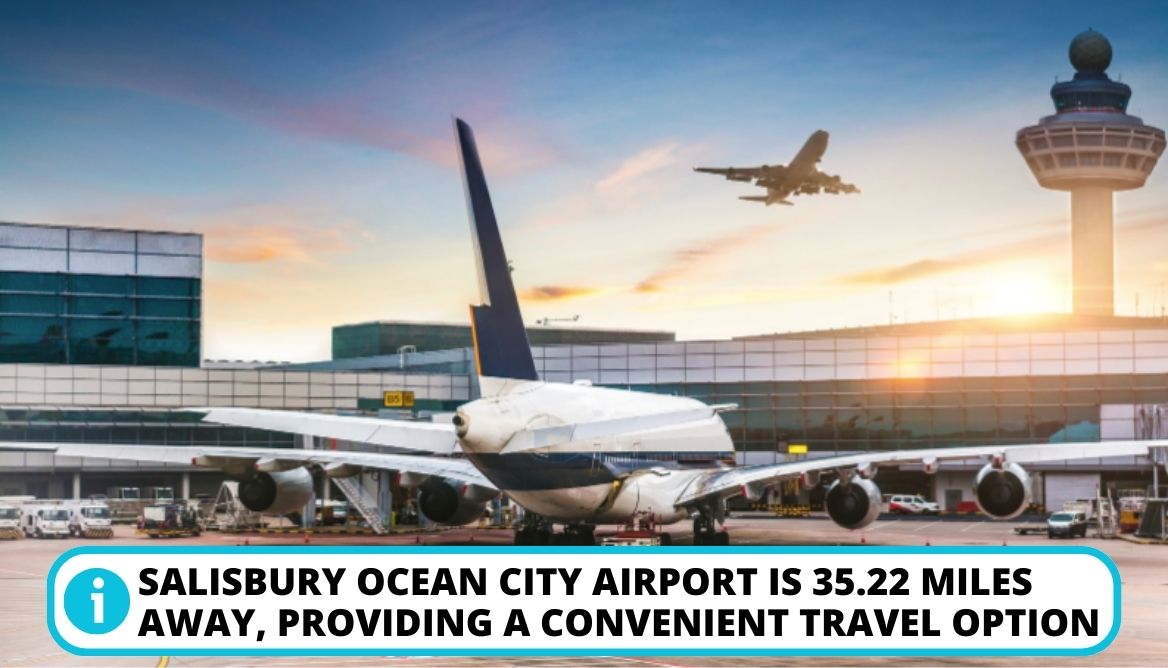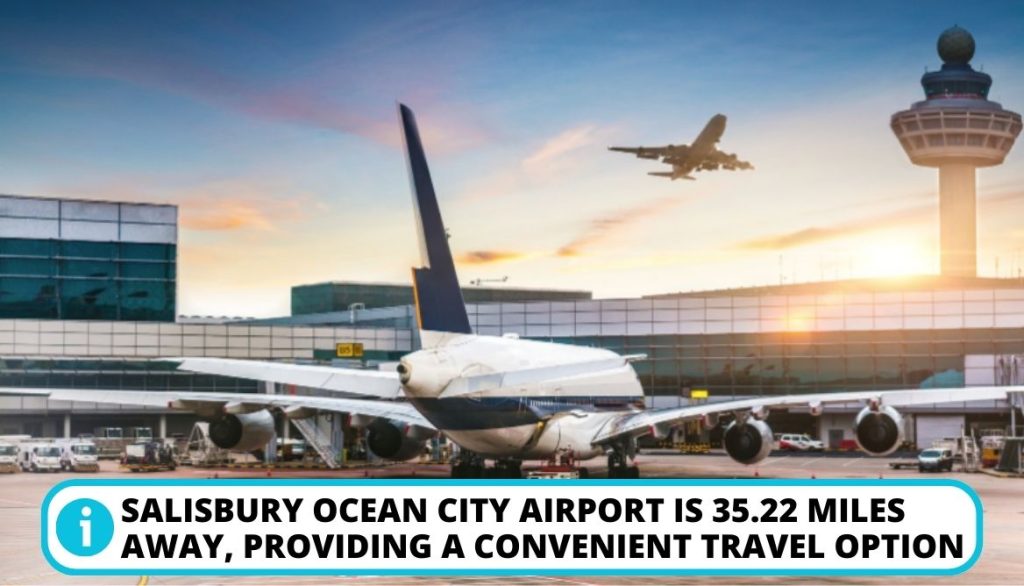 Bethany Beach: The nearest airport is Salisbury (SBY) Airport, about 28.4 miles away. Other nearby airports include Philadelphia (PHL) at 93.5 miles, Baltimore (BWI) at 97.9 miles, and Reagan Washington (DCA) at 109.8 miles. You can reach Bethany Beach from Salisbury Airport by car, taxi, or Uber.
Rehoboth Beach: The nearest airport is Salisbury-Ocean City (SBY), just 35.22 miles away, providing a convenient travel option. Travelers can also consider Atlantic City, located approximately 57.48 miles away, or Philadelphia Airport, at a distance of around 80.39 miles. When it comes to the journey from Rehoboth Beach to Bethany Beach, it's a short 13.5-mile long drive usually taking about 22 minutes.
3. Bethany vs Rehoboth Beach: Which One is More Family Friendly?
Are you planning to take your kids on a beach vacation? No sweat! Bethany Beach and Rehoboth Beach have plenty of family-friendly fun and activities for them to have a great time. Let's look at what each place has to offer.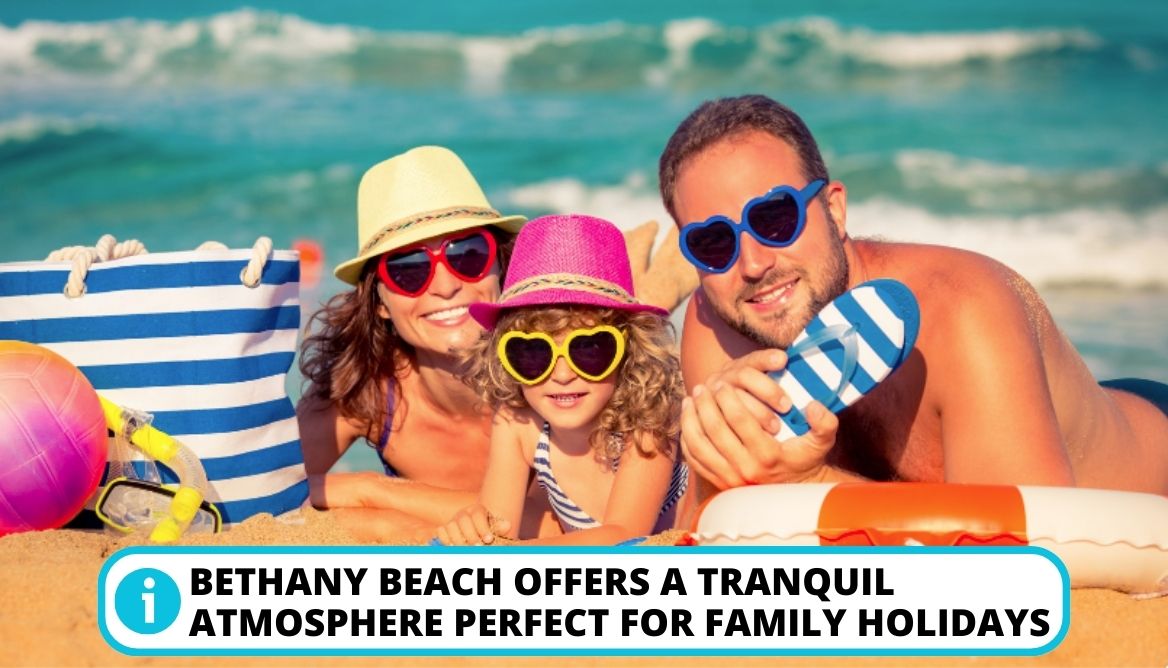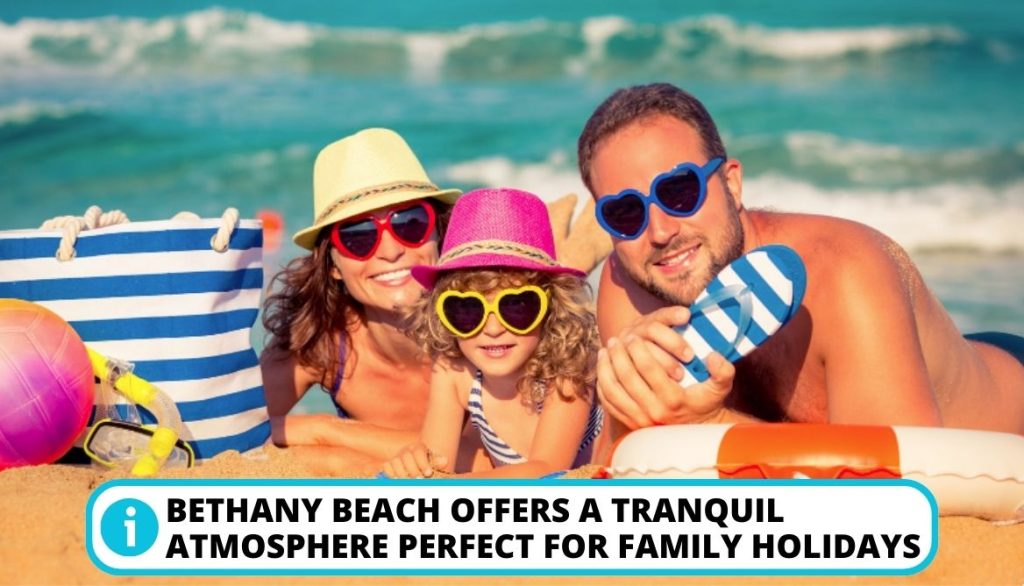 Bethany Beach: Bethany Beach, gives you a calm and family-friendly atmosphere with its beautiful beaches, perfect for a family vacation. You and your family can participate in the many fun activities like mini-golf and go to family events.
Rehoboth Beach: Rehoboth Beach, on the flip side, brings a family-friendly vibe with a bit more thrill. The exciting boardwalk is a hit with families, offering a bunch of children's activities like amusement rides, arcade games, and even a neat little amusement park.
Bethany Beach is your destination if you're looking for a peaceful, relaxed family vacation. On the other hand, Rehoboth Beach is where you'll find a livelier family experience with loads of activities to keep everyone entertained.
4. Cost
When you're planning a beach vacation, it's only natural to think about how expensive it will be, right? So, let's compare Bethany Beach and Rehoboth when it comes to expenses.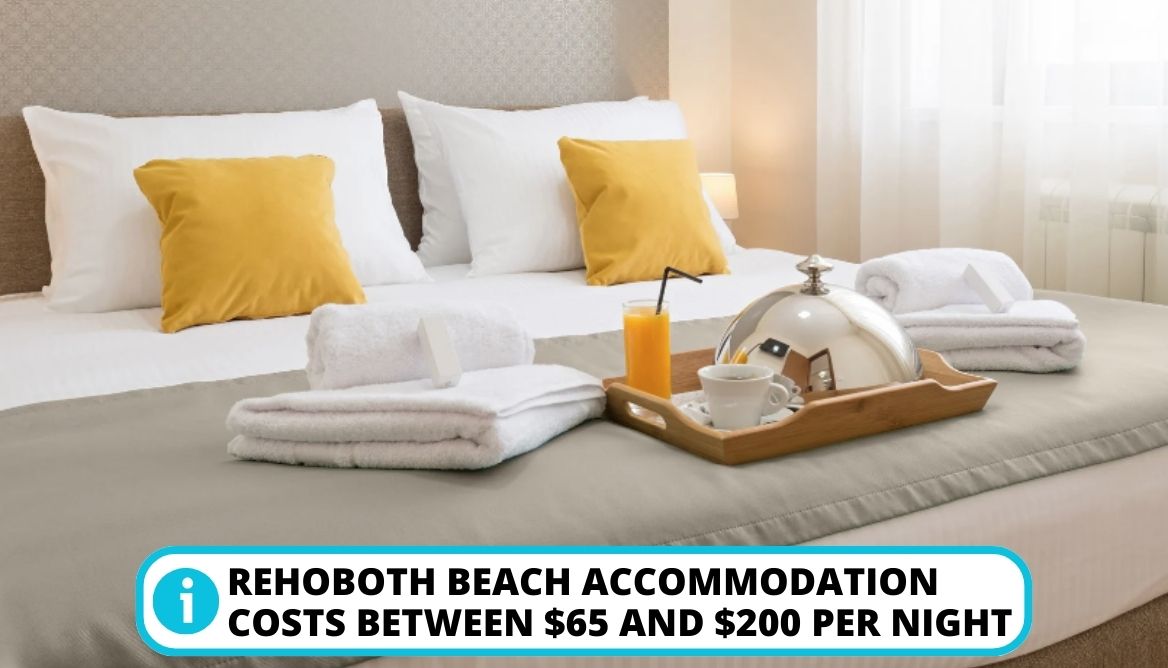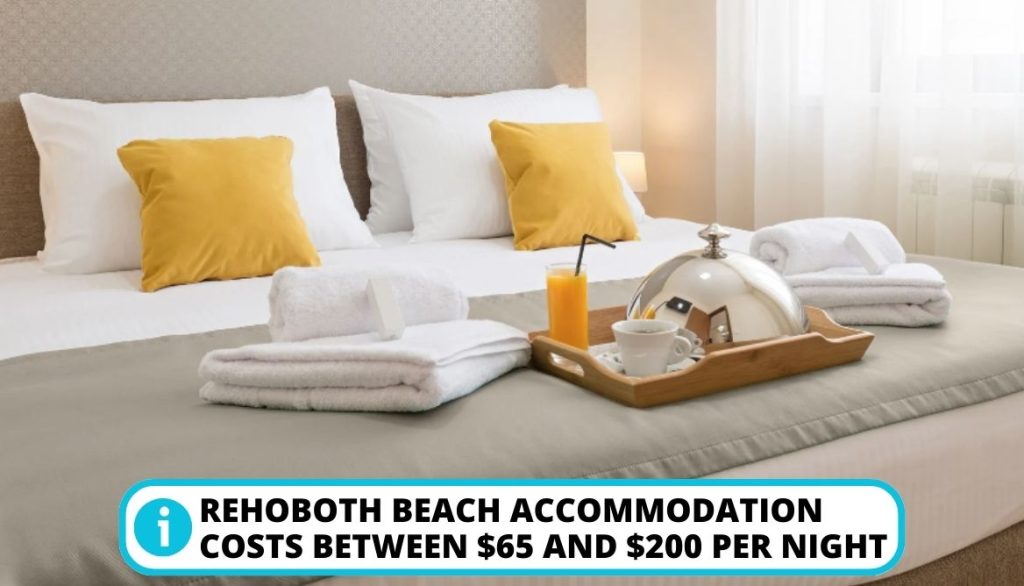 Accommodation: At Bethany Beach, prices range from $117 to $241 per night for a double room. On the other hand, Rehoboth Beach charges $65 to $200 per night.
Dining: Eating at a mid-range restaurant like Patsy's in Bethany Beach will cost around $20 to $50 per person. Conversely, You can expect to pay between $15 and $30 per person at an average restaurant like The Blue Hen in Rehoboth Beach.
Shopping: Rehoboth Beach offers more affordable shopping options with budget-friendly stores like Fifer's Country Store that let you shop on a budget. Bethany Beach has more upscale shops and malls like Island Furniture Studio, which charges high prices.
5. Weather
Bethany Beach and Rehoboth Beach, being close neighbors along the Delaware coast, share quite similar weather characteristics: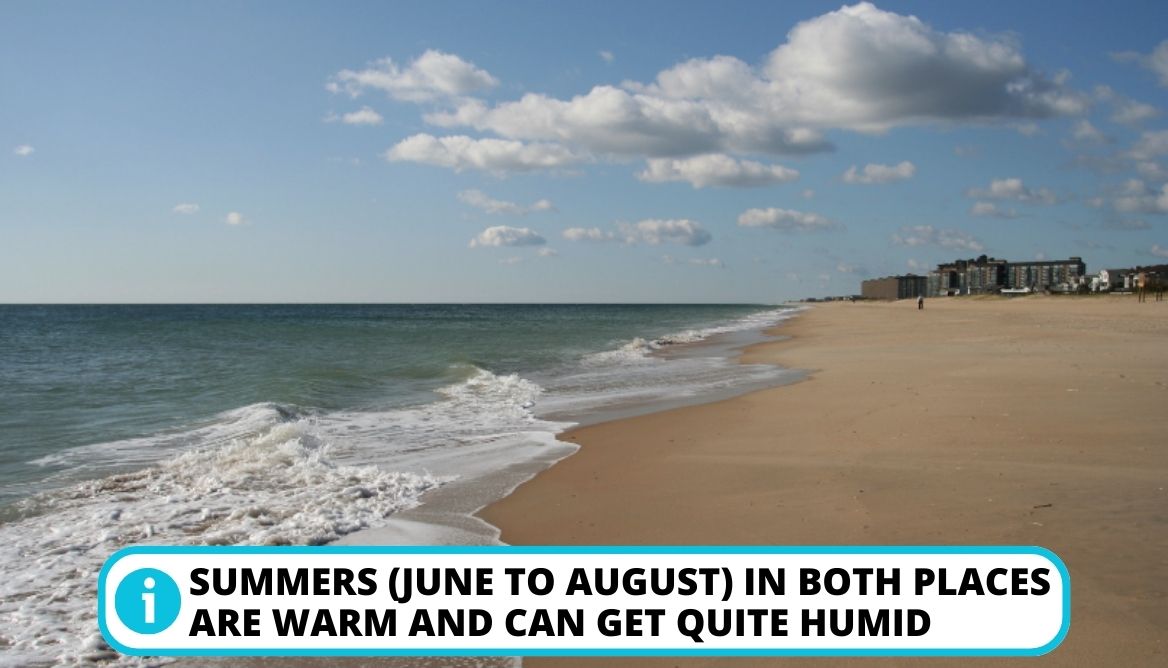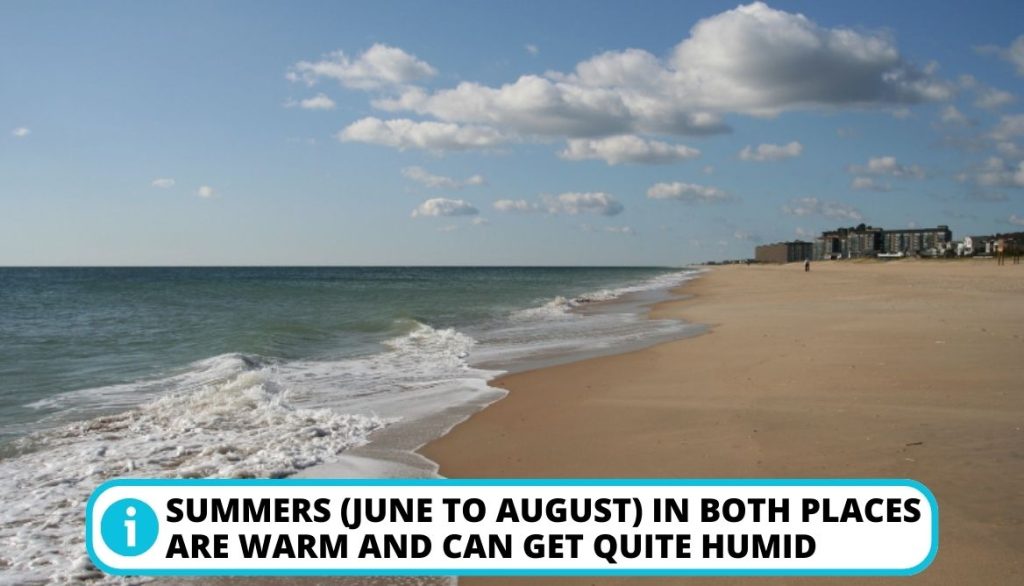 Climate Type: They both enjoy a humid subtropical climate.
Summer Vibes: Summers (June to August) in both places are warm and can get quite humid. You're looking at average high temperatures in the upper 70s to low 80s Fahrenheit (around 25-30°C) for Bethany Beach and Rehoboth Beach.
Winter: Winters (December to February) are cooler, with average high temperatures typically in the 40s and 50s Fahrenheit (around 4-15°C).
Rainfall: Throughout the year, both towns experience moderate rainfall, with a bit more rain during summer.
6. Attractions
Let's dive into what makes these two beach towns special and find the one that suits your ideal beach town getaway.
Bethany Beach Attractions:
Bethany Beach offers a serene coastal getaway, with a charming boardwalk, pristine state parks, and family-friendly activities.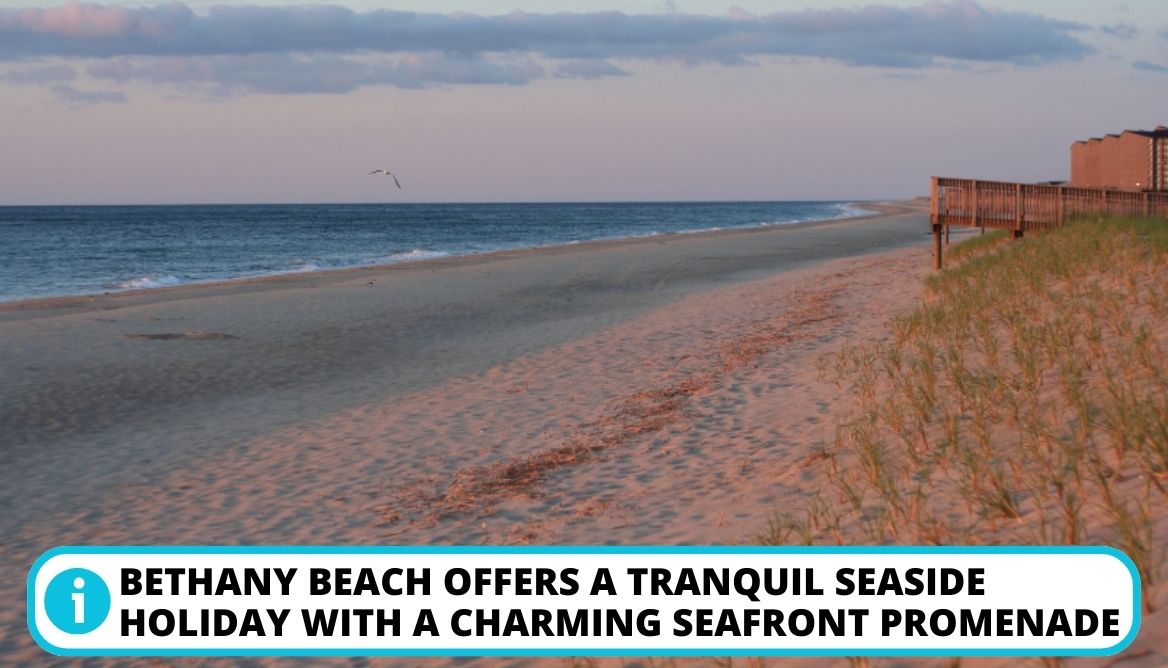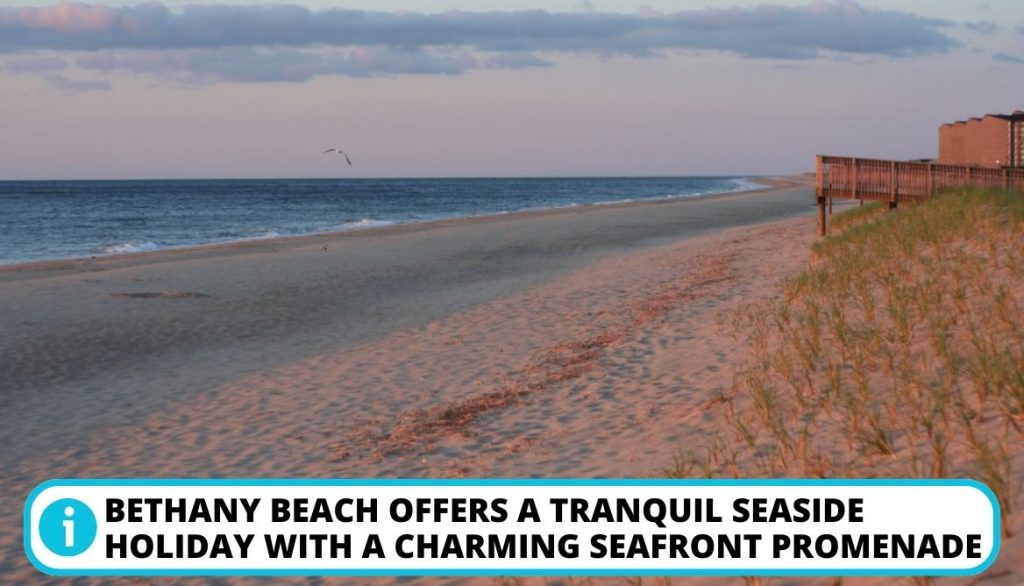 Bethany Beach Boardwalk: Picture a lovely boardwalk where you can take strolls while soaking in the breathtaking ocean views.
State Parks: Nearby, some fantastic state parks like Delaware Seashore State Park are perfect for nature lovers. You can explore trails, do a bit of fishing, and even spot some wildlife.
Quiet Beach Vibes: Bethany Beach has this wonderfully serene vibe, perfecting for quality relaxation and family bonding.
Mini-Golf: If traveling with the family, you'll find charming mini-golf courses and other fun activities around town.
Outdoor Movies and Concerts: During the summer, the town comes alive with outdoor movie nights and concerts, making it an ideal place for family-friendly entertainment.
Rehoboth Beach Attractions:
Rehoboth Beach boasts a lively boardwalk, amusement rides, cultural events, shopping havens, and aquatic adventures, creating an exciting beach experience.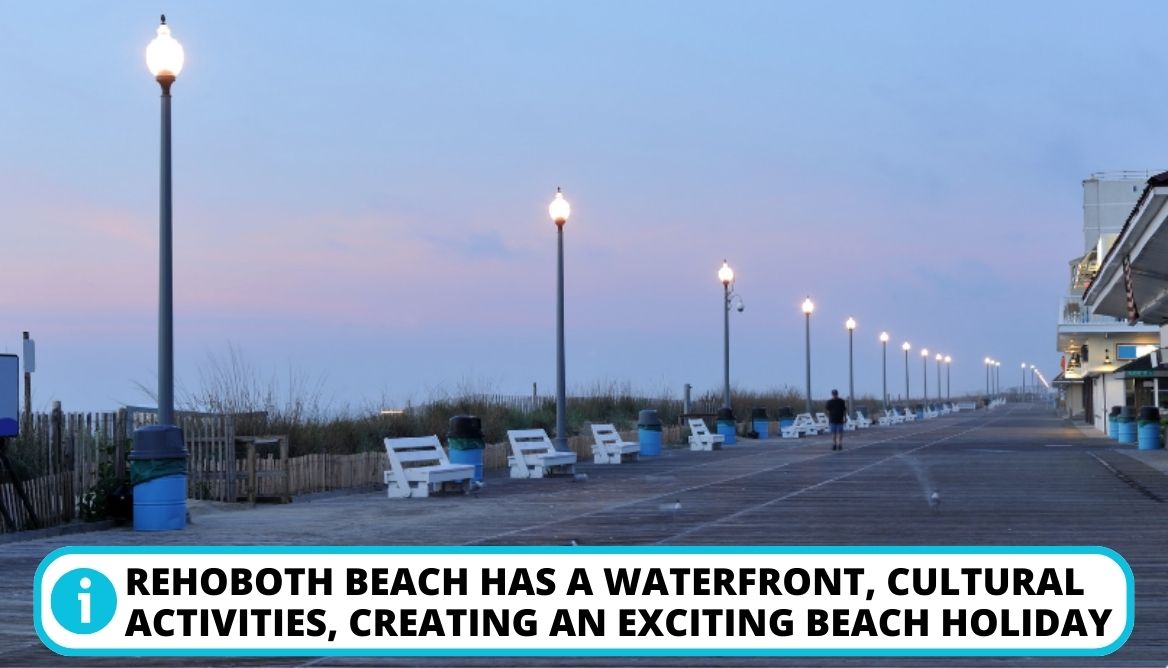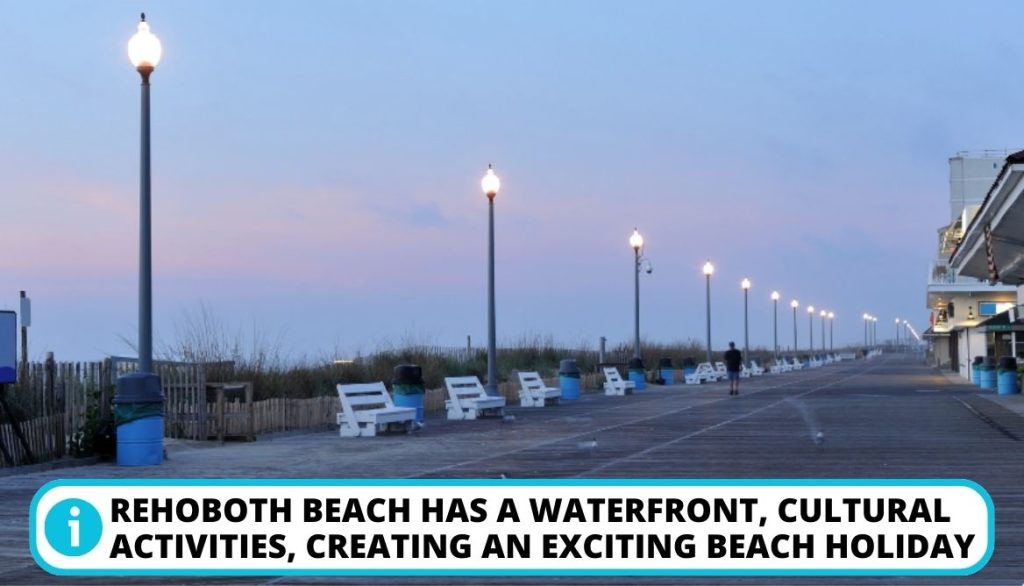 Rehoboth Beach Boardwalk: Now, picture a bustling boardwalk that's all about fun, with amusements, arcades, and a vibrant atmosphere.
Amusement Rides: Yep, you guessed it. The boardwalk is where you'll find amusement rides, which means fun for families and thrill-seekers.
Cultural Events: Rehoboth Beach loves to celebrate culture and the arts. They've got a calendar full of events and festivals throughout the year.
Shopping: Shopaholics, this one's for you. Rehoboth Beach is a shopper's paradise, with cool boutiques and stores to explore.
Water Activities: Do you like taking water adventures? Then you're in luck. You can easily rent a kayak or paddleboard and hit the water for aquatic fun.
Both towns offer fantastic beach experiences, but Bethany Beach is about peaceful family time. At the same time, Rehoboth Beach cranks it up a notch with relaxation and thrilling activities.
7. Safety
When you're planning your beach vacation, one of your top priorities is undoubtedly ensuring a safe and enjoyable experience. Let's dive into the safety measures of tjese Delaware coastal destinations.
Bethany Beach
Bethany Beach takes safety seriously, offering peace of mind to visitors. Let's explore the measures that make it a safe haven for your beach getaway.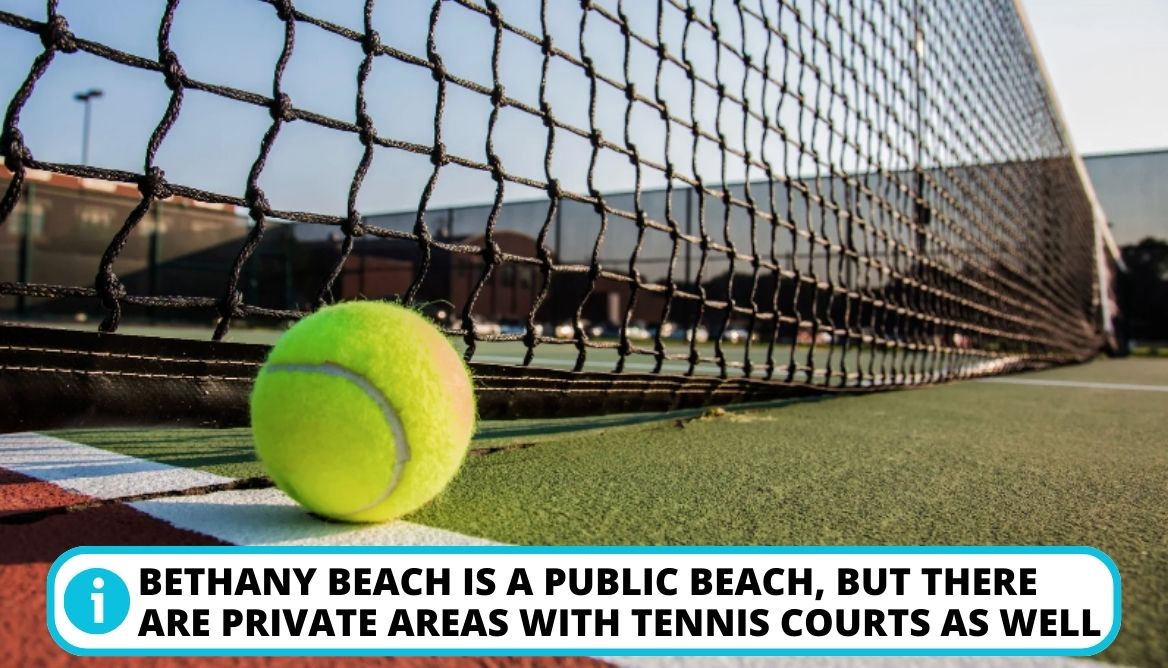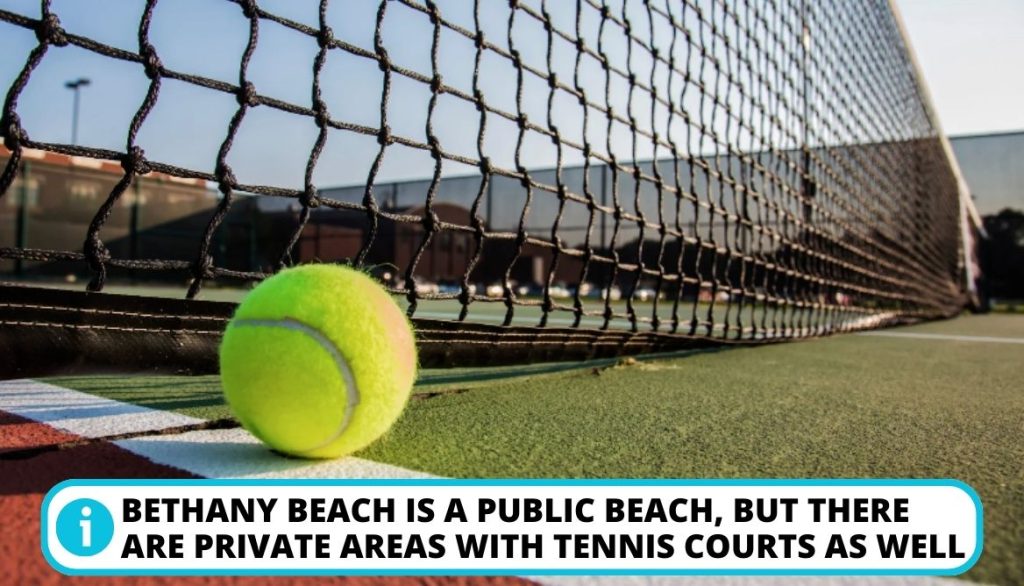 Public Beach with a Touch of Privacy: Bethany Beach is a public beach, but it also offers private areas with tennis courts, playgrounds for the kids, and the del a lovely gazebo.
Shopping Stroll on the Boardwalk: One of the highlights of Bethany Beach is its inviting boardwalk, lined with diverse shops. What makes it even better is that it's not as crowded as some other tourist spots, providing a leisurely shopping experience.
Safety Awareness: On the safety front, it's good to be aware that Bethany Beach reports a relatively higher crime rate. With about 48 reported crimes per thousand residents, this might seem high for a town with a population of roughly a thousand people, setting it apart among communities of its size.
Rehoboth Beach
Rehoboth Beach, with its lively atmosphere, also prioritizes safety. This vibrant destination offers a range of safeguards to ensure visitors have a secure and enjoyable experience. Let's delve into the measures that make Rehoboth Beach a welcoming and safe choice for your beach vacation.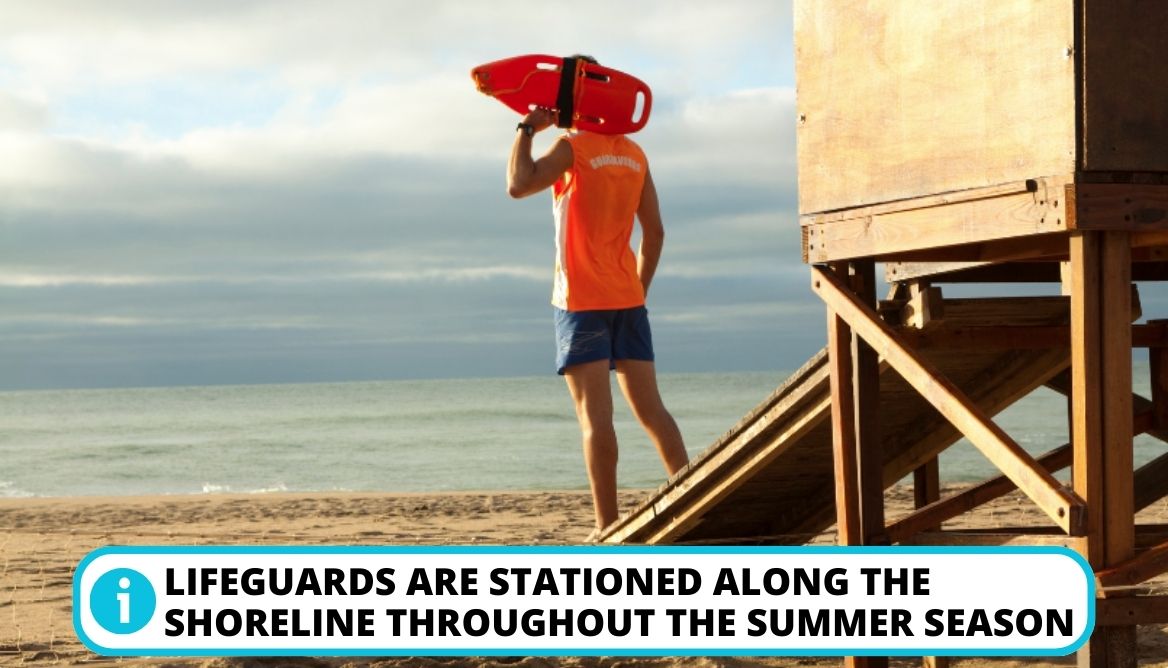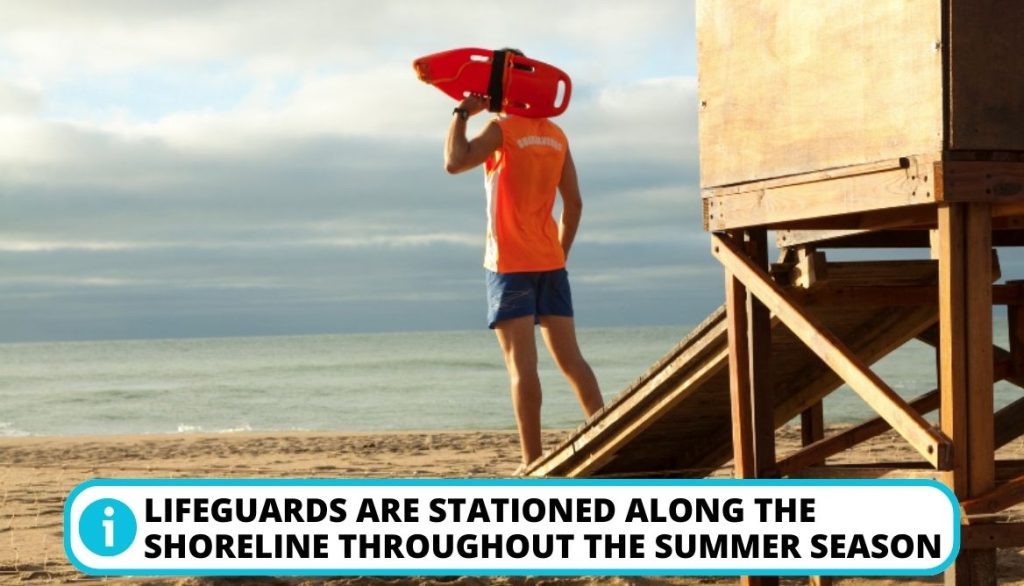 Comparative Crime Rates: However, it's essential to be aware that Rehoboth Beach reports a higher crime rate compared to Bethany Beach, with approximately 69 reported crimes per thousand residents. This higher figure could be attributed to the larger number of visitors who flock to this popular destination.
Beachside Safety: The good news is that both towns prioritize beach safety. They have dedicated lifeguards stationed along the shoreline during the summer season, ensuring that swimmers and beach-goers are in good hands. It's a comforting presence that lets you enjoy the beach with peace of mind.
Although both places don't have a major security crisis, Bethany Beach is considered to be much safer than Rehoboth Beach due to the lower crime rates.
8. Night Life
As the sun sets and the day turns into night, the beach towns of Bethany Beach and Rehoboth Beach transform into vibrant hubs of nightlife and entertainment. While both offer after-dark experiences, the two towns cater to different tastes regarding evening activities. Let's explore the nightlife scenes in Bethany Beach and Rehoboth Beach to help you choose the one that aligns with your preferences.
Bethany Beach
As the sun dips below the horizon, Bethany Beach transforms into a serene yet charming coastal town, offering a unique nightlife experience different from its daytime atmosphere. Discover the evening delights of Bethany Beach.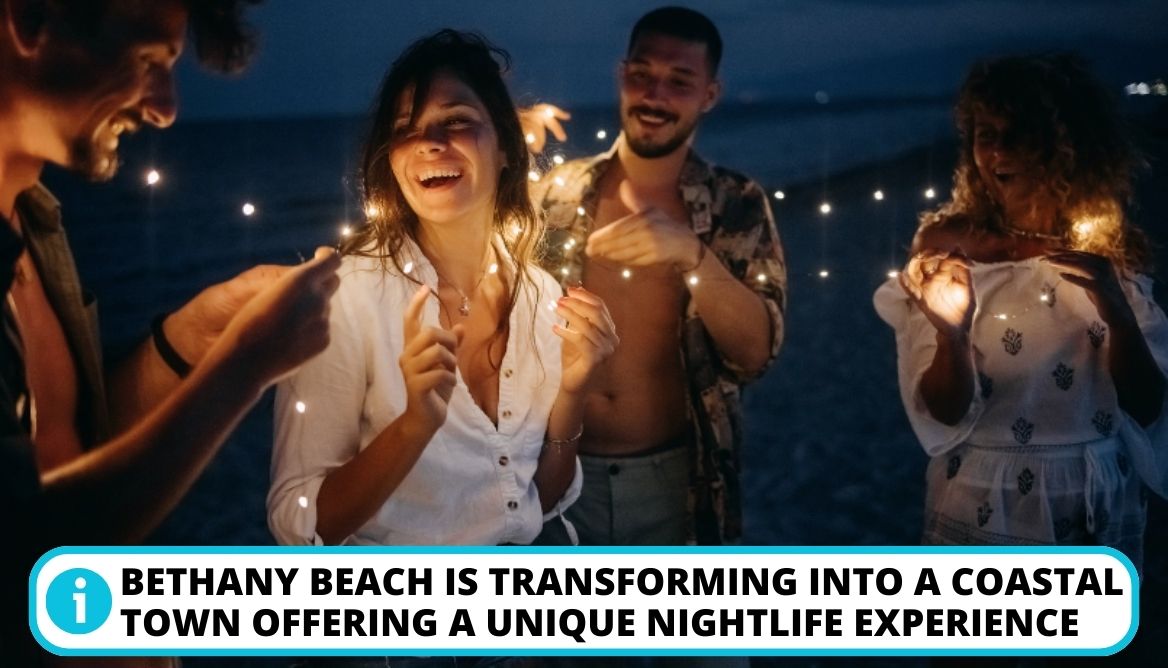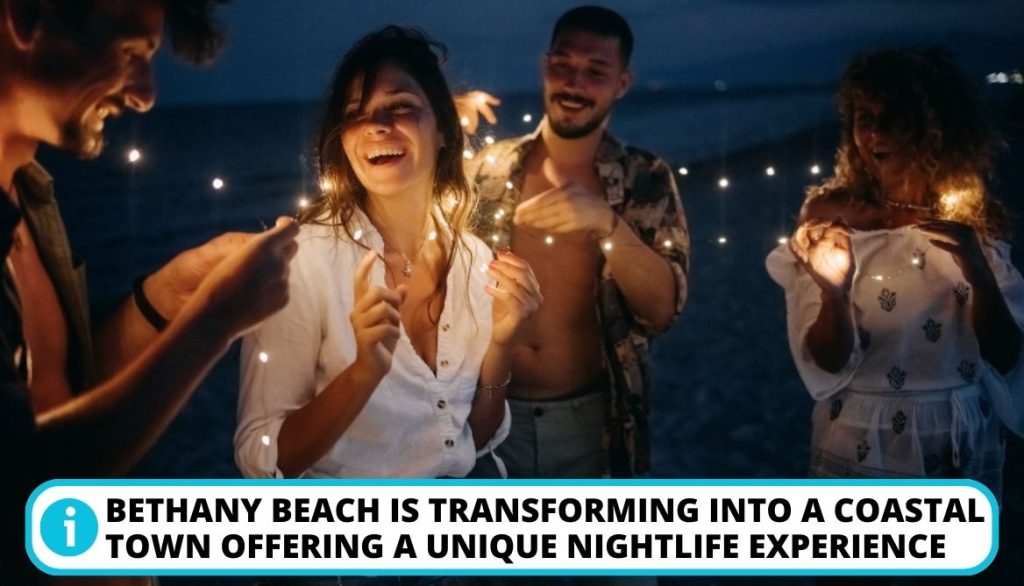 Serenity by the Seashore: Bethany Beach retains its reputation as a peaceful, family-oriented destination as the night falls. The nightlife here leans towards the quieter side, making it an excellent choice for those who prefer a laid-back evening by the Atlantic ocean.
Intimate Dining Experiences: You'll discover a charming selection of restaurants and eateries, ideal for a cozy dinner. Bethany Beach may not be a bustling nightlife hub, but it offers a delightful dining experience, with establishments like the 14 Global, focusing on quality over quantity.
Family-Friendly Nighttime Bliss: The family-friendly spirit of Bethany Beach extends into the evening hours. Open-air movies and live music concerts during summer create a relaxed yet enjoyable atmosphere suitable for all ages.
Rehoboth Beach
As the sun sets, Rehoboth Beach comes to life with a dynamic and diverse nightlife, perfect for families, couples, and solo adventurers. Experience the vibrant nights of Rehoboth Beach.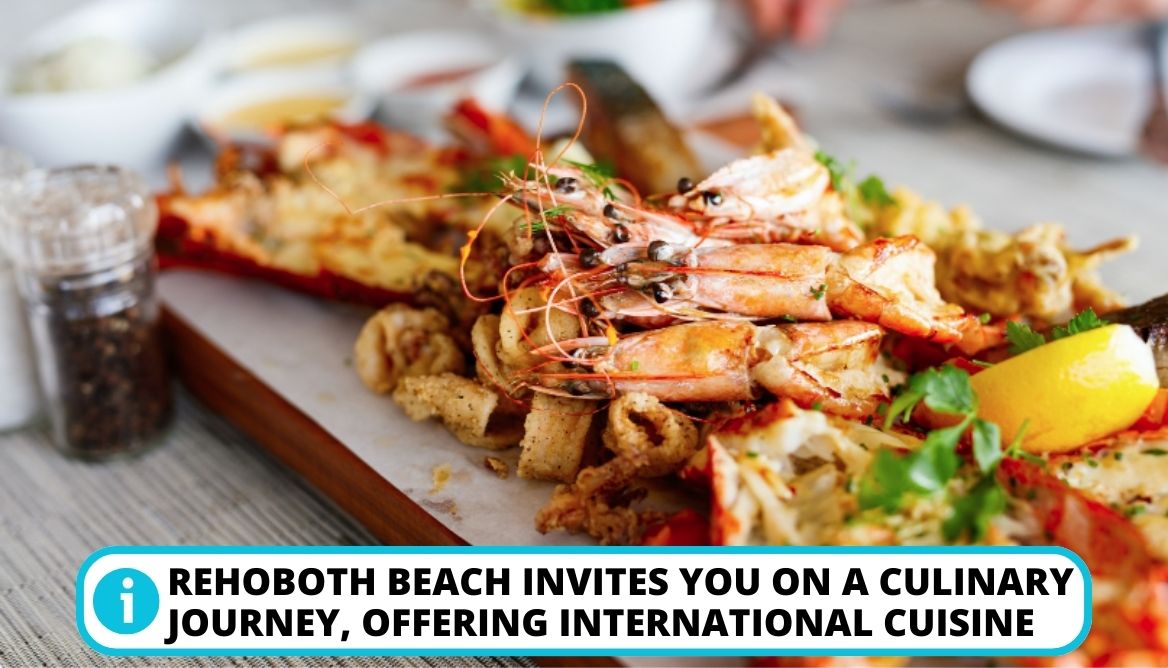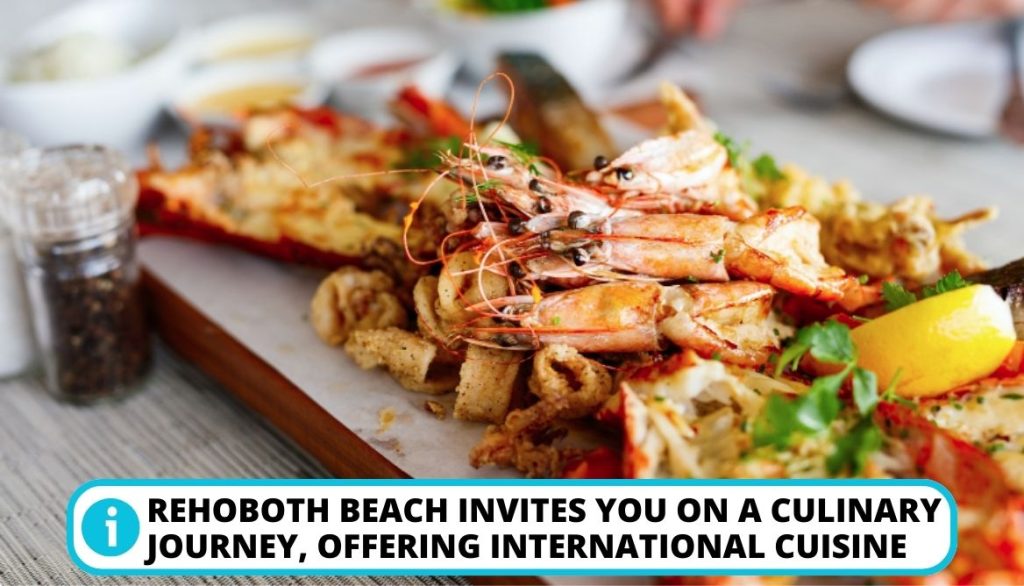 Vibrant Nights for All: Rehoboth Beach truly comes alive with a vibrant and energetic atmosphere when the sun sets. It's a place where families, couples, and solo adventurers can all find their niche. I've personally experienced the diverse nightlife scene, and it's truly something to behold.
A World of Culinary Exploration: Rehoboth Beach is a food lover's paradise. There is everything for you from upscale restaurants to cozy eateries like Bluecoast Seafood Grill, offering international flavors. Whether you're in the mood for a romantic dinner or a late-night snack, Rehoboth Beach invites you on a delightful culinary journey.
An Abundance of Entertainment: Exploring Rehoboth Beach's entertainment options is a treat. Bars, clubs, and live music venues like The Rusty Ruder cater to various tastes. The boardwalk has rides, arcade games, and even an amusement park.
Rehoboth Beach has a more active nightlife compared to Bethany beach due to the multiple activities that you can enjoy.
9. Accomodation
When you're planning a beach escape, one of the exciting parts is choosing where to stay after a day filled with beach adventures. Let's explore the places you can stay during your vacation.
Accommodations in Bethany Beach
In Bethany Beach, you'll find accommodations that embrace a cozy and inviting atmosphere. From charming vacation rentals to intimate bed and breakfasts and smaller hotels, this town offers a variety of lodging options tailored to make you feel at home. It's the perfect place to unwind after a day of beach adventures.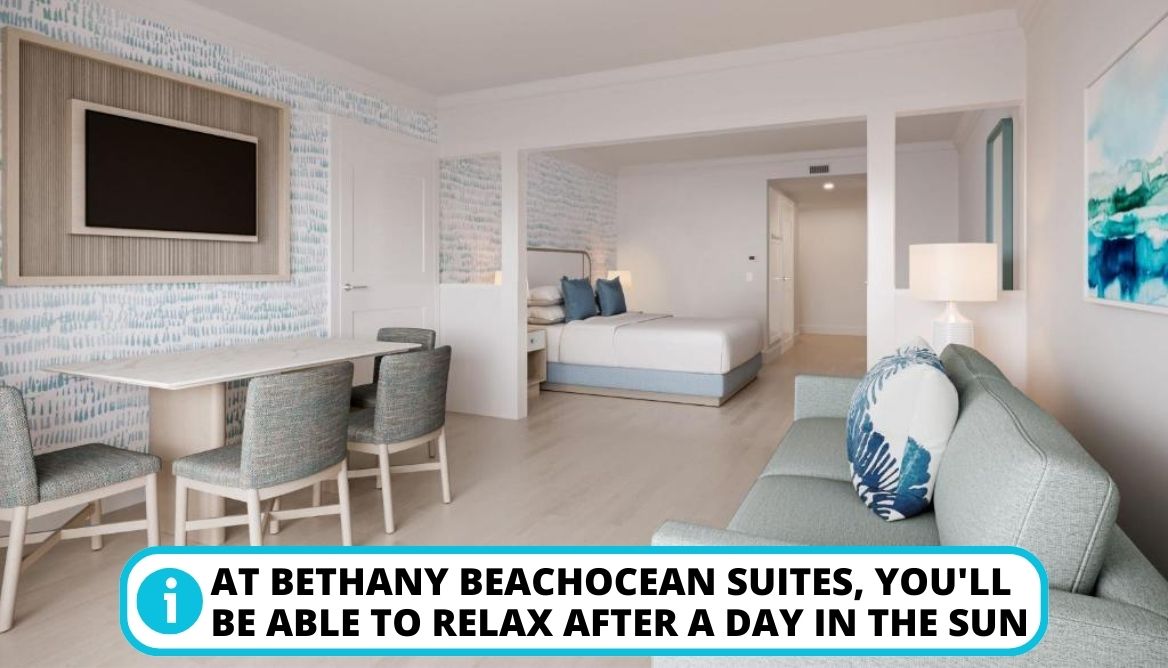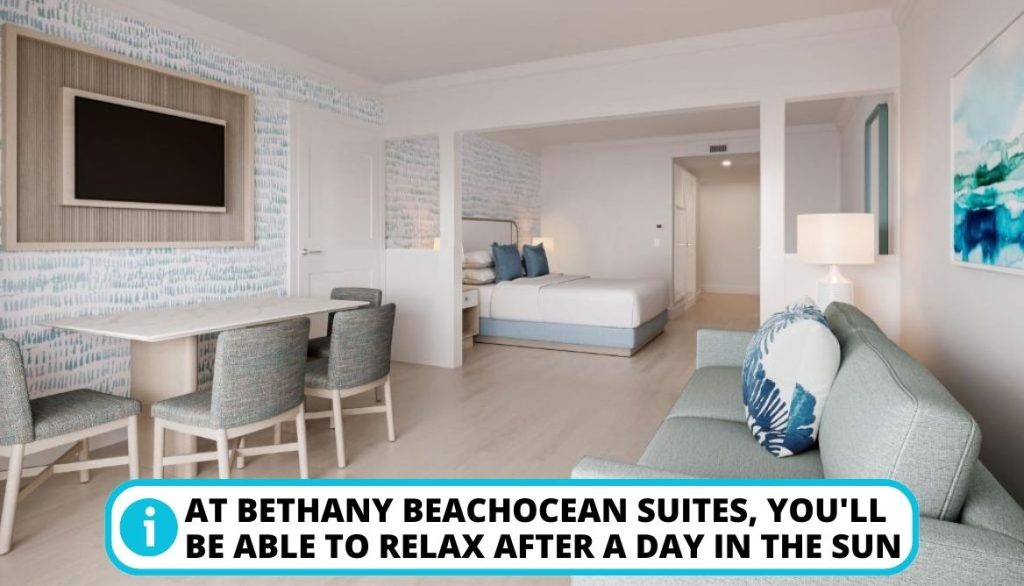 Warm and Welcoming: You'll find a lovely mix of accommodations in Bethany Beach. From charming vacation rentals to cozy bed and breakfasts like The Addy Sea and smaller hotels, it's like coming home to a warm and welcoming place.
Diverse Appeal: The town's a spot for every kind of traveler. Whether you're here with your family, your special someone, or a bunch of friends, a cozy space like Sea Colony is just right for you.
Comfort and Relaxation: Bethany Beach accommodations are all about making you feel at ease. It's all about unwinding at the Bethany BeachOcean Suites after a day of soaking up the sun and exploring the coast.
Accommodations in Rehoboth Beach
Rehoboth Beach opens the door to a wider world of accommodations. Beyond vacation rentals and charming bed and breakfasts, you'll discover larger hotels and restaurants designed to cater to a broader range of preferences and budgets.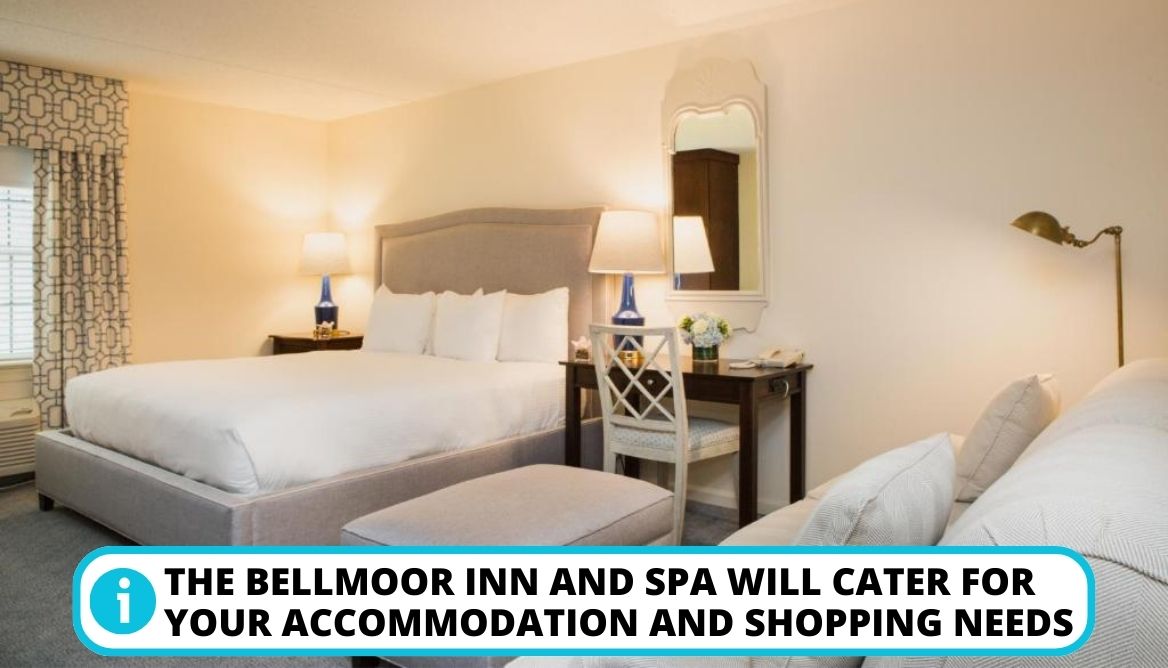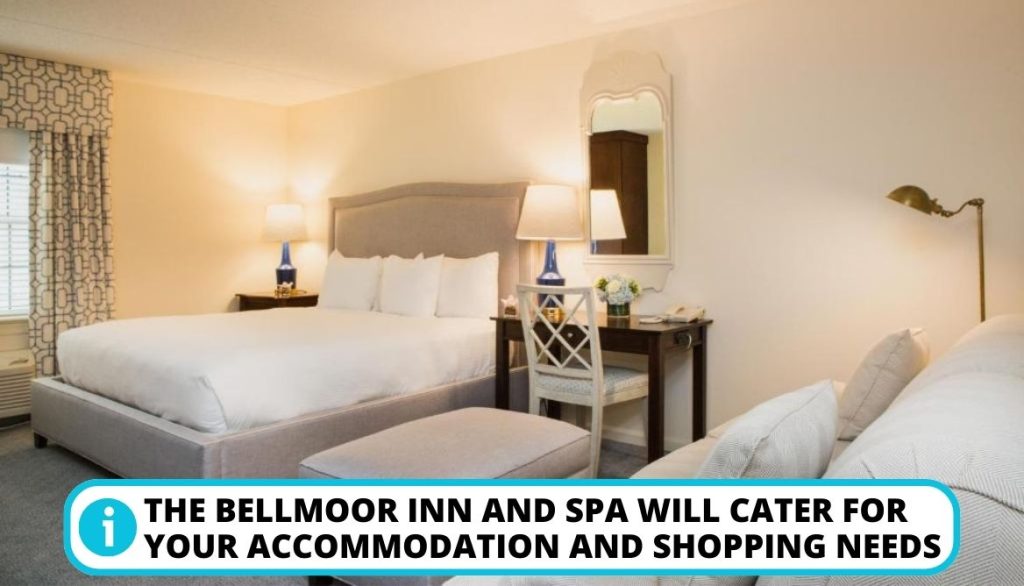 A World of Choices: Rehoboth Beach opens the door to a world of accommodations. Besides vacation rentals and those cute bed and breakfast places, you've got bigger hotels and resorts like the Boardwalk Plaza Hotel to pick from, perfect for different tastes and budgets.
For Every Style: Whether you're the type who craves more amenities or loves a lively atmosphere, Rehoboth Beach knows how to roll out the welcome mat. There's a spot to match your unique style like The Bellmoor Inn and Spa that caters for your accommodation and shopping needs.
Create Memories: Staying in Rehoboth Beach is all about creating lasting memories. Their accommodations are built to make your stay memorable, with establishments like the Henlopen Hotel to pick from. It's about experiencing a beach getaway just the way you like it.
Both beaches offer idal accommodations set ups for different users. Based on your preference and needs, you can choose one between Bethany Beach and Rehoboth Beach. Click the link below to watch a video on places to stay in the Delaware beaches.
10. Shopping
When it comes to shopping, both Bethany Beach and Rehoboth Beach are unique in their way. Let's dive into the shopping scenes of these two beach towns and discover what they offer.
Bethany Beach Shopping
Bethany Beach offers a charming and more relaxed shopping experience. You'll find a variety of boutique shops, art galleries, and specialty stores lining the streets. Some notable spots include: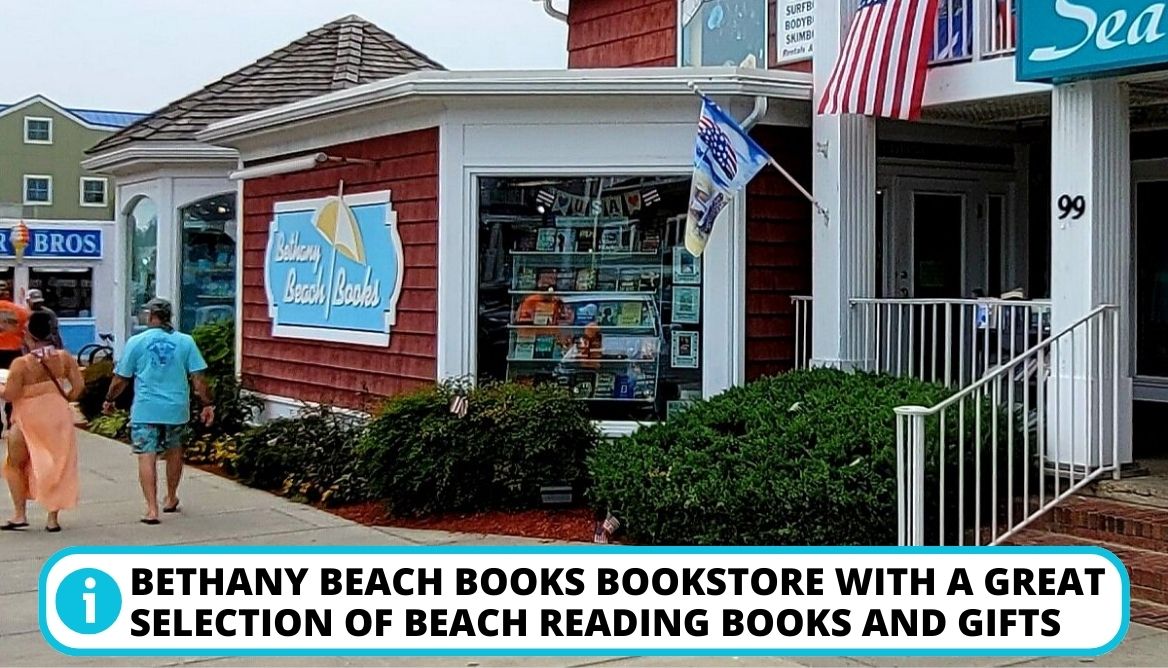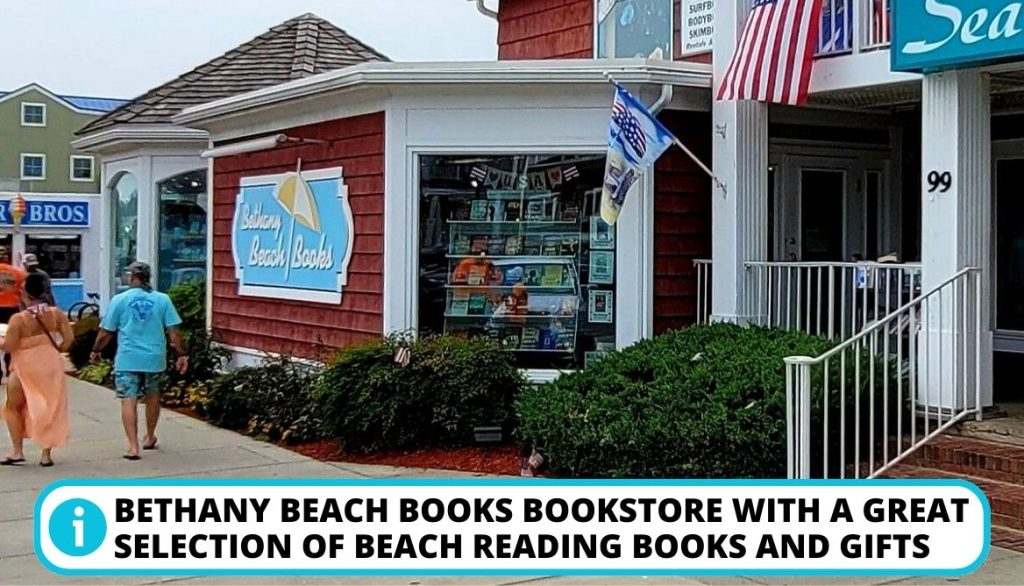 Bethany Beach Books: A cozy independent bookstore with a great beach read and gift selection.
Tideline Gallery is an art gallery showcasing local and regional art, perfect for enthusiasts.
Mango's: A boutique offering beachy clothing, accessories, and gifts.
T-Shirt Factory: Customize your t-shirt or choose from a range of fun designs.
Rehoboth Beach Shopping
Rehoboth Beach boasts a more diverse and bustling shopping scene. The town is known for its diverse shopping options, including outlet stores and a lively boardwalk area with various shops. Notable spots include: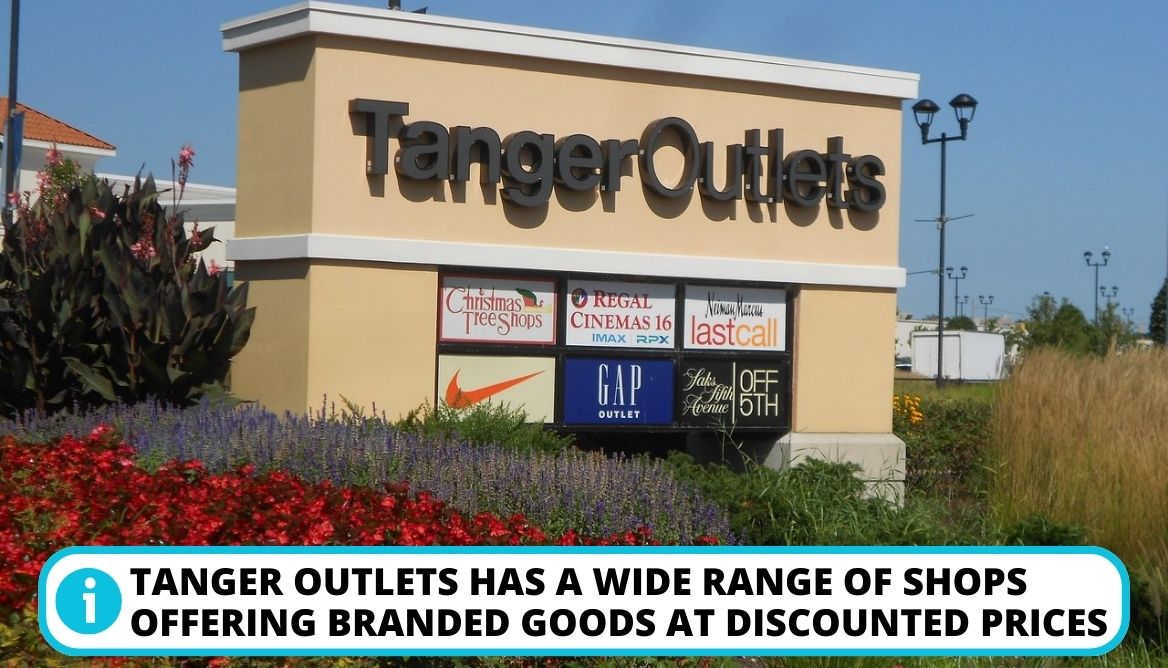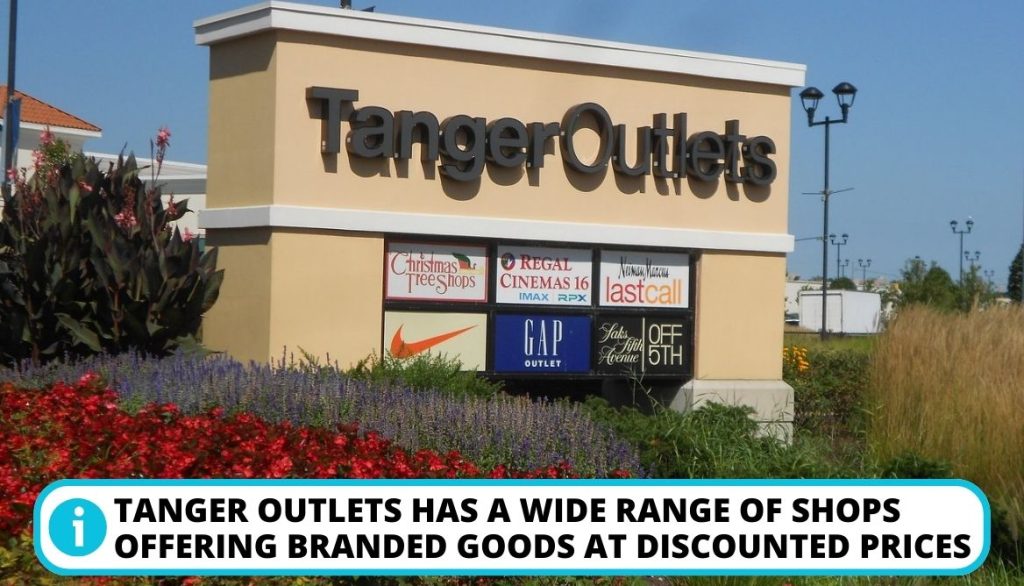 Tanger Outlets: A shopping haven with a wide range of outlet stores offering brand-name goods at discounted prices.
The Shops at Rehoboth Mews: An area featuring a mix of boutiques, art galleries, and specialty shops.
Rehoboth Beach Boardwalk: Stroll the boardwalk and explore souvenir shops, clothing boutiques, and candy stores.
First Street Station: A hub for unique gifts, clothing, and home decor.
Rehoboth Beach shopping offers a more extensive selection and is perfect for shoppers looking for a wider variety of products, from brand-name items to beachy souvenirs. Click the link below and see a video on where to shop in Rehoboth Beach.
Bethany Beach vs Rehoboth Beach: Tourist Experiences and Reviews
In addition to my impressions of the two destinations, I'd like to share with you more opinions from other travelers and here's what they had to say:
Review 1
Maddambutterfly306 on Trip Advisor had the following Bethany Beach experience:
"I love this beach; it's way better and cleaner than Ocean City. The positives outweigh the negatives. However, there are negatives, so they don't get 5 stars. They are ridiculous with the parking fines. If you are a minute late they will fine you. Then there is the sand. I've been to plenty of beaches and have never had sand that is so difficult to get off you. You will be cleaning that sand off for weeks!"
Review 2
Discover74686 had the following to say about Rehoboth Beach:
"I love staying here. Everything from the awesome staff to cookies and milk in the evening. The location is perfect; rooms are clean, with nice linens, comfy beds, and fantastic complimentary breakfast, wine, and cheese happy hour. I have stayed here before, but my friends have not. They will be back!" 
Which One Should You Choose?
After comparing these two delightful beach destinations, it's time to make your decision: Bethany Beach or Rehoboth Beach? Both have their unique charms, so let's break it down based on the categories we've discussed.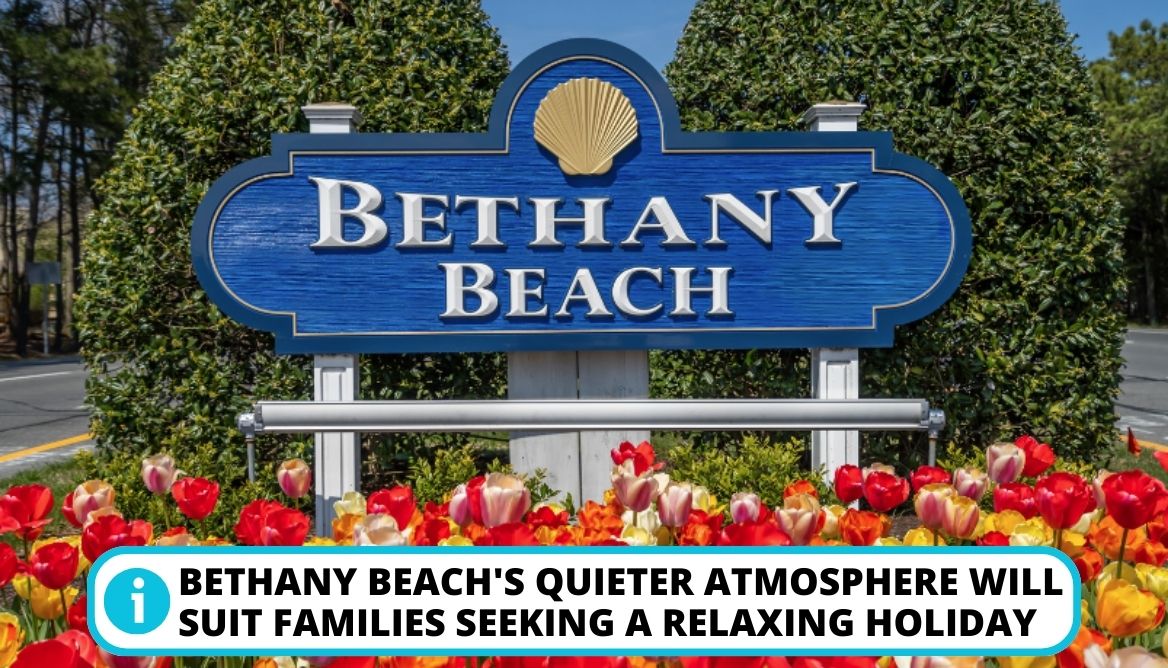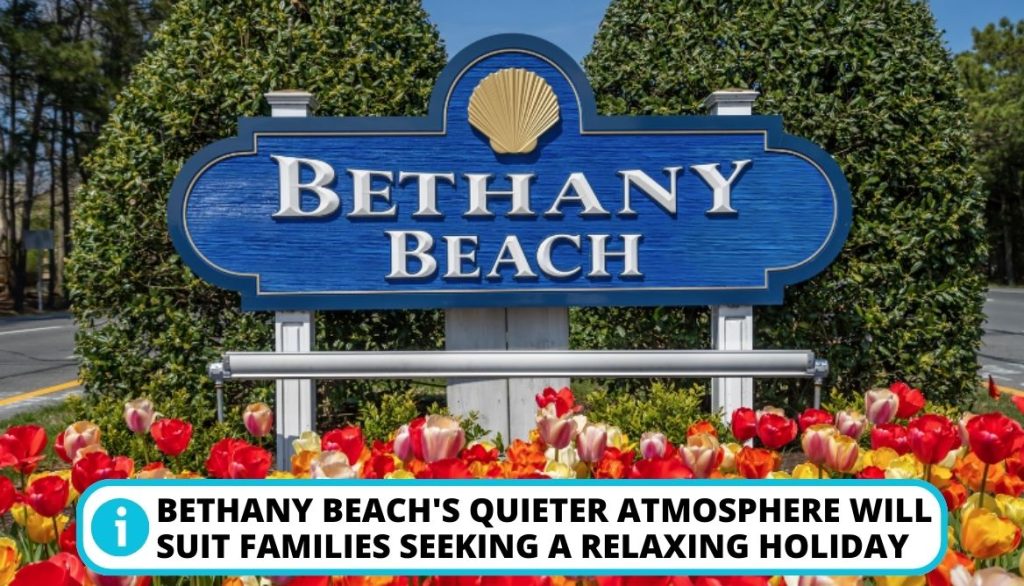 Family-Friendliness and Children's Activities: Both destinations offer engaging options for kids of all ages, ensuring family-friendly activities. Bethany Beach's quieter atmosphere may be more suitable for families seeking a peaceful vacation, while Rehoboth Beach has more lively family entertainment options.
Shopping: Rehoboth Beach wins in the shopping category with boutique shops, outlet malls, and unique stores, making it a shopping paradise. Bethany Beach offers a more relaxed and quaint shopping experience with smaller shops.
Beaches: Bethany Beach has more serene, uncrowded stretches of sand. It's quieter and not crowded, just like Fenwick Island. Rehoboth Beach has a livelier atmosphere with a bustling boardwalk, catering to those who prefer excitement and a vibrant beach scene.
Attractions and Activities: Both destinations offer a variety of attractions and activities, making it more about personal preferences. Rehoboth Beach has a beach and boardwalk, while Bethany Beach offers a more laid-back atmosphere.
Costs: Rehoboth Beach is the more affordable option, making it a budget-friendly option for travelers. If you want more luxury, Bethany Beach offers a more luxurious experience at a higher price.
In the end, it all comes down to your personal preferences. Whether you're seeking a peaceful or lively atmosphere, Bethany Beach and Rehoboth Beach have something special.
FAQ
Is Bethany Beach the same as Rehoboth Beach?
Bethany Beach and Rehoboth Beach are separate coastal towns in Delaware, each with a unique atmosphere and offerings. While they share some similarities, such as beautiful beaches, they also have distinct characteristics. Bethany Beach is known for its peaceful, family-friendly vibe, and Rehoboth Beach is famous for its lively boardwalk and nightlife.
Why is Rehoboth Beach famous?
Rehoboth Beach is famous for its vibrant boardwalk, which features amusements, dining options, bars, live music venues, and a bustling atmosphere. It's also known for its diverse culinary scene, offering various dining experiences.
Is Bethany Beach or Ocean City better?
The choice between Bethany Beach and Ocean City depends on personal preferences. Bethany Beach is known for its quieter and more relaxed atmosphere, while Ocean City, Maryland, is a larger and livelier destination with more extensive entertainment options.
Can you swim in Rehoboth Beach?
Yes, you can swim in Rehoboth Beach. It has designated swimming areas, and lifeguards are typically on duty during the summer season to ensure the safety of swimmers and beachgoers.
Does Rehoboth Beach Require Beach Tags
No, Rehoboth Beach does not require beach tags. It is a public beach; visitors can access it without needing beach tags or fee.
Conclusion
As I wrap up the comparison of Bethany Beach vs Rehoboth Beach, it's evident that each has its unique charm, catering to different vacation preferences. Bethany Beach offers a serene and family-friendly escape, while Rehoboth Beach provides a livelier atmosphere with a bustling boardwalk and diverse entertainment.
So, which one speaks to your heart for that perfect beach vacation? What factors matter most to you when making your choice? I'd love to hear your thoughts.